Last Updated on November 16, 2022 by Paroma
There is no dearth of winter getaways in California, the Golden State of USA. Thanks to mild winter weather in most parts, there are plenty of places to visit in California in winter to escape that dreaded cold that grips most of the northern hemisphere. Besides the obvious choices of popular cities such as San Francisco, Los Angeles and San Diego, there are several other winter destinations in California which offer a variety of activities for your enjoyment, be it wine tasting, dining al-fresco, relaxing on a beach, hiking, swimming, surfing, i.e. pretty much all the things you wish you did rather than being bundled up at home all the time.
As a California resident of 10+ years who has traveled quite a bit throughout the state, I hereby present 12 amazing warm(er) weather places in California that are perfect foils to a dreary winter and will spoil you with a variety of things to do, see and enjoy outdoors.
From small Northern California coastal towns to (somewhat) lesser known cities and attractions, these are some of the best places to visit in California in December (or even January). This is my way of showing you how much this state has to offer beyond the major cities that have been done to death. All these California getaways are dog friendly with many dog friendly hotels and airbnbs so don't leave your pup behind if you're visiting!
Disclaimer: My blog posts may contain some affiliate links. Clicking on them may earn me a small commission at no extra cost to you for purchase of the product. Thank you!
Winter getaways in California #1. Mendocino
Mendocino is just filled with all things magical-beautiful beaches, lots of good restaurants, breweries and wineries galore and best of all the Giant Redwoods, for which California is famous. Also, let's not forget the coastal hikes and scenic vistas, perfect for whale watching from the coast, which is one of the best things to do in California in December!
The neighboring towns of Fort Bragg, Willits, Leggetts, Hopland and Ukiah are equally fun places to explore in and around Mendocino county. No wonder, this coastal town easily qualifies as one of the most romantic getaways in Northern California.
Board the Skunk train to take you through the Redwoods, join a beer trail or drink your volume in wine through the Highway 128 wine road in Boonville or maybe just go kayaking on the upper Russian River with your pup! The choices are endless when visiting one of the best places in California in winter.
Places to go in California in December #2. Calistoga (Napa Valley)
Calistoga is the northernmost town in Napa valley-the world famous appellation in California (one of many wine regions in the state) where good times and good wine are the name of the game. This once sleepy farmland of a town is now buzzing with posh wineries (many being dog friendly), great restaurants and lots of spas, thanks to the natural geothermal activity in this region and you can read my complete Calistoga guide here to learn more about them .
Not into guzzling wine? No problem! What makes Calistoga one of the more unique destinations in Napa valley is its other attractions-such as the Petrified Forest (a geological wonder) and a mini Old Faithful Geyser!
Best winter destinations in California #3. Healdsburg (Sonoma County)
Did you know that Sonoma, and not Napa, is the birthplace of wine in California? Now that you do, head right to Sonoma county come winter and thank me later! Sonoma county is filled with some of the hottest destinations that are home to dozens of boutique wineries and epic restaurants with Healdsburg being its crown jewel.
With wineries in dry creek road and Russian River valley serving wines ranging from the best Zinfandels and Cabernets to luscious Pinot Noirs and lots of famous restaurants with outdoor dining, there is never a dull moment in Healdsburg for wine and food lovers. Winter is the best time to visit this California town as a road trip from San Francisco since it gets unbearably hot during summer.
Other things to do in Sonoma county: explore Bodega Bay on Sonoma Coast for some of the best beaches in California or the beautiful western Sonoma town of Sebastopol for more affordable wine tasting.
Where to go in California in Winter #4. Sacramento
Sacramento, the often ignored capital of California, makes it to this list because frankly, this city deserves way more attention than it gets. A super hot summer is definitely not the time to visit California's capital, but winter is the perfect excuse to drive 2 hrs north east of San Francisco and check out the largest number of farm to table restaurants thriving in this city as well as some of the most beautiful street art that you'll ever see!
Sacramento is also a great stopover place if you are on your way to Lake Tahoe (one of the many options for a day trip from Sacramento), a popular destination for winter sports. Stroll through Old Town, take a walk along the Sacramento river, visit the California State Railroad Museum, step into the Capitol building and maybe even go for some good old wine tasting in nearby Lodi, the Zinfandel capital of the world-and you'll have one of the most epic winter getaways in California, far away from the holiday crowd!
California winter getaways to explore #5. Marin County
Marin county is that part of Northern California that stretches from north of Golden Gate Bridge in the south to all the way up to Bodega Bay in the north. This part of California is a microcosm in itself with nature and urban life blending in harmoniously and with a bazillion things to do, even in winter.
Be it the artsy charming Sausalito (lots of galleries, secret beaches, restaurants and public art plus one of the last functioning lighthouses in California, aka Point Bonita Lighthouse), a bustling Mill Valley (where you can hike up to a waterfall in the middle of the city) or nearby Larkspur and Tiburon filled with spectacular vistas and hiking trails amongst the redwoods, Marin county is one of the best places to visit in California in December.
However, the best part of Marin county is undoubtedly the hiking trails in Mount Tamalpais State Park, visiting the world famous Redwood grove aka Muir woods, taking in the spectacular Golden Gate Bridge views from Marin headlands and Muir Beach lookout and last but not the least, exploring Point Reyes National Seashore. This ecological preserve has a Tule Elk reserve, pristine beaches, Point Reyes Lighthouse, a rare meadery and is the source of Northern California's finest cheese and oysters.
Best places to visit in California in December #6. Santa Cruz
Santa Cruz, a surfers paradise, may have pushed itself into a box owing to its insanely crowded boardwalk, but there is much more to this town than just riding the waves or a ferris wheel.
In fact, Santa Cruz has so much to see/do if you ditch the boardwalk-right from the majestic coastal Redwoods (including a rare dog friendly Redwood park), pristine beaches to a bustling downtown filled with good eats and murals plus wineries showcasing the best of the Santa Cruz mountain appellation and the colorful Venetians in nearby Capitola.
Blessed with mild weather year round, this beach town aka dog friendly getaway is is as cozy as it gets and is definitely one of the best winter getaways in California to experience the laid back California life. With lots of outdoorsy activities and urban attractions, Santa Cruz is one of the best winter escapades in the state. Don't just make it a day trip while visiting from San Francisco, go for an entire weekend to see it all!
Where to go in California in Winter #7. Carmel-by-the-Sea
Honestly, Carmel-by-the-sea is the one spot that you want to be when visiting California in winter! This seaside town, just 2.5 hours south of San Francisco, is oozing with European flair and has some of the best beaches in the state. It is also one of the prettiest stops on an L.A. to San Francisco drive. Carmel is extremely dog friendly and has many dog friendly hotels for all budgets!
What this means is great food, lots of wine tasting, beautiful flower laden narrow lanes, many quaint and fun boutique shops, salt in your hair and some sand in your toes time at Carmel beach. If that is not enough, venture out of downtown a little bit and enjoy hiking in nature at Mission Trail Park or stop by the Carmel Mission built in 1797 and is one of the oldest Missions in the state.
There are two scenic road trips that are not to be missed when in Carmel. First, is the 17 mile drive which is essentially a loop between Carmel and neighboring Monterey that showcases some of the most symbolic landmarks of California such as the lone Cypress and Pebble Beach.
Second is Big Sur, that 77 mile drive along the Pacific coast/Highway 1 which is perhaps the most scenic drive in USA! The trip from San Francisco to Carmel along Highway 1 is extremely scenic too with many sandy beaches and charming small towns along the way!
Other things to do near Carmel in Monterey Peninsula: Check out Pacific Grove, another charming beach town that is more affordable to stay and has fantastic beaches as well as a purple super bloom along the coast in Spring.
Winter getaways on California's central coast #8. San Luis Obispo county
California's central coast is home to several amazing cities and towns such as San Luis Obispo (home to Cal Poly), San Simeon, Pismo Beach, Paso Robles, Morro Bay, Cayucos and Cambria. Although I am lumping them together under one country, that in no way means that these are just a single entity. On the contrary, there is plenty to do and see in each of these places in California even in the dead of winter and they are all close to each other for convenience of visit.
I am talking of taking advantage of the beach life in San Luis Obispo (home to Cal Poly) and Cayucos, exploring Morro Bay on a "Tiki boat" while admiring the volcanic Morro Rock jutting out majestically from the water, taking in the coastal views at Moonstone beach and Fiscalini ranch in Cambria, doing some serious wine tasting in Paso Robles, enjoying a beach day at Pismo Beach and watching an epic sunset at San Simeon Cove.
While you are here, don't forget to check out the elephant seal rookery to see the sunbathing cuties in San Simeon as well as the majestic (and tragically unfinished) Hearst Castle which forms an important part of California's history.
Warm weather destination in California to visit in winter #9. Santa Ynez Valley
Santa Ynez valley is the one secret that Californians have guarded closely over the years, until the move "Sideways" disclosed its charm to the rest of the country (watch it if you haven't)! Home to some of the most picturesque wineries in the world, this fertile valley is dotted with some of the most beautiful small towns in USA. If you are in search of lesser known winter getaways in California, this is the place to be.
Winter is the perfect time to visit Santa Ynez valley since it gets pretty hot in summer in the valley. Start off with a self-guided tour of the flower fields and murals in Lompoc and indulge in good food and wine down Bell Street in Los Alamos, a blink and you'll miss it town that used to be a horse carriage changing station, but is now the hottest food and wine destination in California.
Next, explore the nearby Los Olivos or Buellton (where Sideways was filmed) and marvel at the cute as button city of Solvang, the Danish Capital of the state which looks like a page straight out of a Hans Christian Andersen fairytale. Don't forget to check out the many wineries surrounding Solvang once you have had your fill of all things Danish (windmills, pastries, art and architecture).
Get $65 off your first Airbnb booking by clicking this link

Best winter destinations in California #10. Santa Barbara
Wondering where to go in California in winter? Then look no further than the model California beach town, aka Santa Barbara. This is where your sun and sand dreams come true along with a vibrant downtown filled with boutique stores, good eats and drinks. The Old Mission and Presidio of Santa Barbara are equally impressive and worth visiting once you've had your fill of the beach.
Honestly, Santa Barbara is that California city best enjoyed in winter since the weather no longer hot and is quite nice, the beaches are fun to be on and there is nothing more Californian than al-fresco dining in the middle of December under a bunch of swaying palm trees! Santa Barbara can be easily covered as a weekend trip from Los Angeles and is a sunny slice of California to visit during December or January.
Santa Barbara is extremely dog friendly, so please don't leave your pup behind on your winter vacay!
Where to go in California in winter #11. Ojai
If you've had your fill of beach destination to check out in California in winter, then let's move more inland to the artsy town of Ojai, a very popular weekend retreat for Los Angelinos. This town is filled with beautiful boutique stores, lots of good restaurants and of course, wineries and tasting rooms.
For those of you not into wine, stop by Revel Kombucha Bar to sip some of their delicious locally made kombucha and don't forget to check out Bart's Books, the largest independently owned and operated outdoor bookstore in USA.
Best places to visit in California in December/January #12. Palm Springs and Joshua Tree
Ending this guide to winter getaways in California with one of my favorite places to visit in Southern California, aka Palm Springs! Palm Springs is this stylish city in the Sonoran Desert of Southern California and is known for its hot springs, art deco, spas and glamorous hotels. Don't forget to dine at King's Highway (Ace hotel), marvel at the desert flora in full display at the Moorten Botanical Gardens and take the Aerial tramway that takes you 8500 ft above the desert floor!
Palm Springs is the perfect base for those attending the famous Coachella Music and Arts festival in nearby Coachella valley (home to Palm Desert), but for lovers of arid landscapes, a special treat awaits a mere 45-50 drive from the city. I am talking about Joshua Tree National Park, i.e, acres of protected wilderness in the Mojave desert of California that is home to Joshua Trees, plants belonging to the Yucca family.
The desert landscape of Joshua Tree is spellbinding beautiful and almost otherworldly! I highly recommend getting up early to catch a desert sunrise and exploring the Cholla cactus trail. Joshua Tree is best visited in the winter since desert temperatures soar to astronomic highs in summer, when it is no fun hiking around.
Joshua Tree is not only good for hiking and night-time photography (thanks to some of the clearest skies in California), but also has some really hidden gems and hole in the wall spots for breakfast or lunch, as endorsed by none other than Anthony Bourdain!
Get $65 off your first Airbnb booking by clicking this link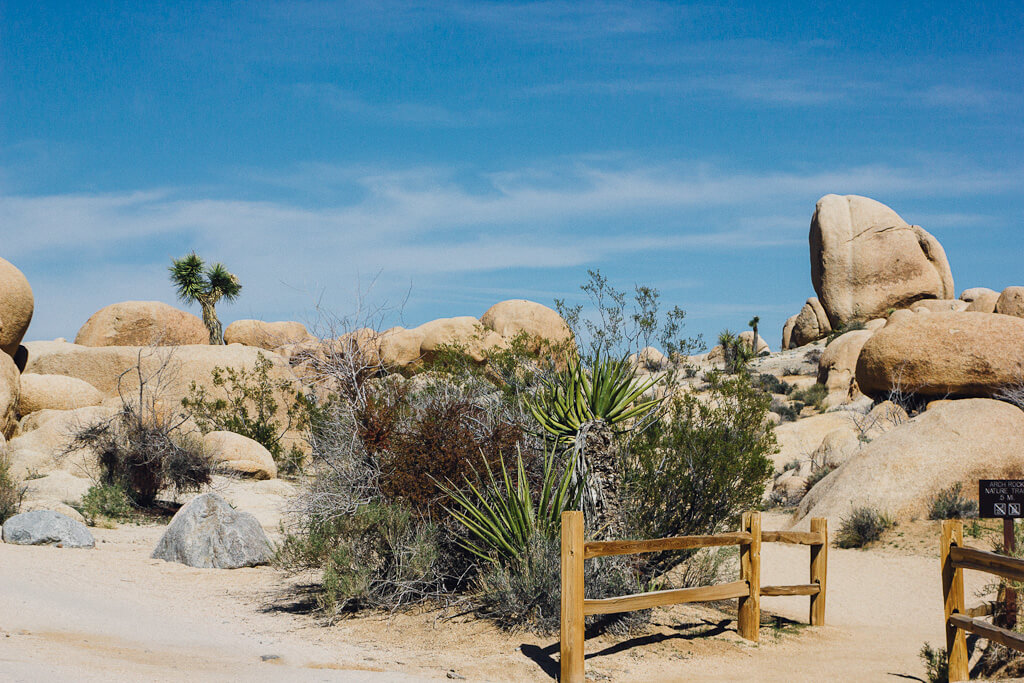 I hope you enjoyed reading about these 12 places in California that are perfect for a winter getaway! Do check them out as day trips or during the weekend if you are visiting one of the major cities so as to get a real feel for the diversity of California. Thank you so much for stopping by.
Like this post? Pin it for later

«