Last Updated on August 18, 2022 by Paroma
Wondering about all the amazing things to do in Mill Valley over a long weekend? This perfect Mill Valley weekend itinerary has it all! From discovering the best of downtown Mill Valley (restaurants, shopping, art galleries and more) to the best hikes and from walking through serene Redwood groves to finding the most magical waterfalls, Mill Valley is the perfect weekend getaway from San Francisco that you're guaranteed to fall in love with!
Disclaimer: This post may contain some affiliate links. Clicking on them may earn me a small commission at no extra cost to you for the product. Thank you for supporting free content on this site!
A WEEKEND GETAWAY TO MILL VALLEY, CA (MARIN COUNTY)
Mill Valley is a small town in Marin County near the shimmering waters of the Richardson Bay. It is about 12-15 miles north of San Francisco across the Golden Gate Bridge and is the perfect destination for either a day trip or a weekend getaway from San Francisco. It is about 90 miles south-west of Sacramento, which is why you could also visit it as a day trip from Sacramento, at the very least to explore the famous Muir Woods.
WHY SPEND A WEEKEND IN MILL VALLEY?
As a San Francisco resident, Mill Valley is hands down one of my favorite places to visit in the Bay Area, thanks to its proximity to the city, its dog friendly attractions (I travel all over California with my pups), a vibrant downtown filled with good restaurants and shopping and its quintessential Northern California small town charm. Plus, the Redwoods and easy hikes leading to some of the most spectacular waterfalls in the Bay Area are a huge plus for us, as is the blissful, laidback nature of the town itself.
There are at least 20 good reasons to visit Mill Valley (which is what this post is all about), but the number one draw is that it is mostly unknown to tourists who only explore Sausalito in Marin county and do not venture any further. Sausalito is a really beautiful Northern California beach town, but there is so much of Marin that is left unexplored, even by Bay Area locals. Hopefully, this guide will nudge you to discover the best things to do both in and around Mill Valley over a long weekend or as a romantic getaway from the Bay Area.
TRANSPORTATION OPTIONS
The best way to get to this town is obviously by driving from anywhere in the Bay Area, especially if you're planning to visit the world famous Muir Woods and hike in Mount Tamalpais. If you're not planning to drive, then you have to take the Golden Gate Transit (route 130) and Marin Transit (route 17) buses to Mill Valley bus depot.
I have visited Mill Valley countless times over the last 12+ years of living in San Francisco, since it is even easier to get to than cross the Bay Bridge to the East Bay and is one of the quietest 4th of July getaways from the city.
I have explored pretty much every nook and cranny of this tiny town, all its delicious spots and hiked several times in this region with my dogs Babu (RIP) and Gunda. In this post, I will be showcasing the pristine beauty of this part of Marin, along with dog friendly tips (this is a very dog friendly town) to help you discover yet another small town in Northern California that you should visit.
WEATHER AND BEST TIME TO VISIT MILL VALLEY
Mill Valley has good weather year round, with cooler mornings, warm afternoons and colder nights-it never gets the fog as we do in the city, which by the way, makes for a breathtaking view from some of the hiking lookout points that I will be pointing out to you. Winter brings in rain but overall Marin County is one of the most beautiful winter getaways in California, so you can visit throughout the year.
IS MILL VALLEY DOG FRIENDLY?
Yes, Mill Valley is extremely dog friendly, with downtown, restaurants and hiking trails welcoming dogs on leash. In this guide, I have pointed all the dog friendly places in Mill Valley since we always travel all over California with our dogs (Babu and Gunda).
DOES MILL VALLEY HAVE A BEACH?
No, it does not. But Sausalito, which is literally south of Mill Valley is home to several beaches in Marin Headlands, such as Rodeo Beach and Black Sands Beach. Muir Woods is in Mill Valley and you can travel further west to Muir Beach or hike the 7.5 mile long Dipsea trail from Mill Valley to Stinson Beach.
HOTELS/LODGING IN MILL VALLEY
When in Mill Valley, you can stay at one of these four highly rated hotels: Acqua Hotel (dog friendly but limited rooms available and they are all on the first floor), Mill Valley Inn , Holiday Inn Express and Mountain Home Inn
BRIEF HISTORY OF MILL VALLEY
Mill Valley gets its name from the first ever saw mill built by John T. Reed in the mid-1830s in what is now the Old Mill Park. This mill was used to cut wood for the San Francisco Presidio.
Prior to the arrival of Europeans, Mill Valley was originally inhabited by the Coastal Miwoks (they lived all over present day Marin County and north up to Bodega Bay). European arrival as well as Missionization heavily disrupted and uppended their lives. Currently, 1,000 registered members of the Federated Indians of Graton Rancheria remain in this region which includes both the Coast Miwok and the Southern Pomo.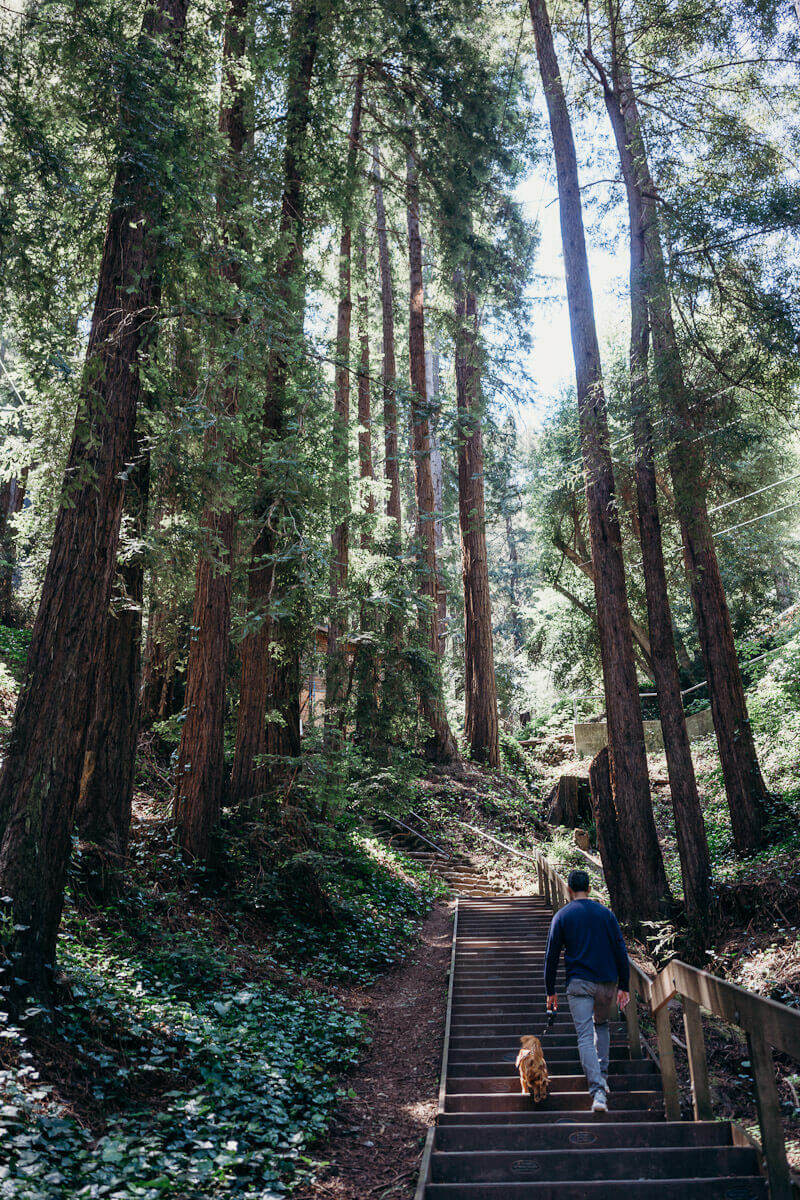 THE BEST THINGS TO DO IN MILL VALLEY, CA: A LONG WEEKEND ITINERARY
Mill Valley extends from the junction of Tennessee Valley Road and Highway 1 in the south to Camino Alto Open Space Preserve in the North and encompasses Mount Tamalpais (the highest point in Marin County) and Muir Woods on the west with the Richardson Bay flanking it on the east.
There is something for everyone in this Marin County town (including your precious pups), and in this post I am going to give you the "dirt" on 20 ways to spend an amazing long weekend in Mill Valley, plus bonus attractions that are nearby. By the time you're done reading this post, I am sure you'll be raring to make Mill Valley your next weekend getaway!
1) EXPLORE DOWNTOWN MILL VALLEY
Mill Valley has a tiny downtown, running along E. Blithedale and Throckmorton Avenues along with a lively plaza with live music and dance performances. Although small, this downtown has tons of good restaurants, art galleries, cafes and boutique shopping stores to keep you busy. Charming nooks such as the leafy, shaded El Paseo Lane and Redwood Trees intercepting the buildings provide a distinctly different feel to this downtown that is quintessentially very Northern Californian (i.e. the harmonious blend of urban life with nature).
2) STOP BY MILL VALLEY LUMBER YARD
The lumber yard is a collection of restaurants and shops and is a must visit if you're looking for local shopping and yummy food. It is a stone's throw (0.3 miles) away from downtown and is located on Miller Avenue. There is plenty of parking here, but do try to come in early since it gets really busy on the weekend.
When in the lumber yard, you have to get breakfast at Flour Craft Bakery or crepes at Millie's Crepe et Creme, stop by the cute as heck pet store Fideaux (if you are lucky to be owned by a dog or cat), pick up local goods from Makers Market and climb up the rickety wooden stairs to visit the art studio of Victoria Mimiaga, a local artist who excels in oil paintings.
3) CHECK OUT THE ART GALLERIES IN DOWNTOWN MILL VALLEY
Downtown sure has several art galleries that you can wander through-our favorites are Kim Eagles-Smith Gallery (23 Sunnyside Ave) and Seager Gray Gallery on 103 Throckmorton Avenue. Poet and/the Bench is another beautiful gallery and gift shop on El Paseo lane that we always stop by to check out local art and sculpture.
4) SHOPPING IN MILL VALLEY
Downtown Mill Valley is a paradise for small boutique and speciality shopping, all showcasing local artists or carrying unique home decor goods. I love Poet and/the Bench (a curated gallery and store in La Paseo lane), The Goods, Fez and Surf and Sand in downtown. Makers Market is another wonderful stop in the MV lumber yard selling all kinds of California made products. For home furniture, check out the very expensive, yet stylish Prevalent Projects on Throckmorton Avenue and drop by the Monarch for antique finds from India.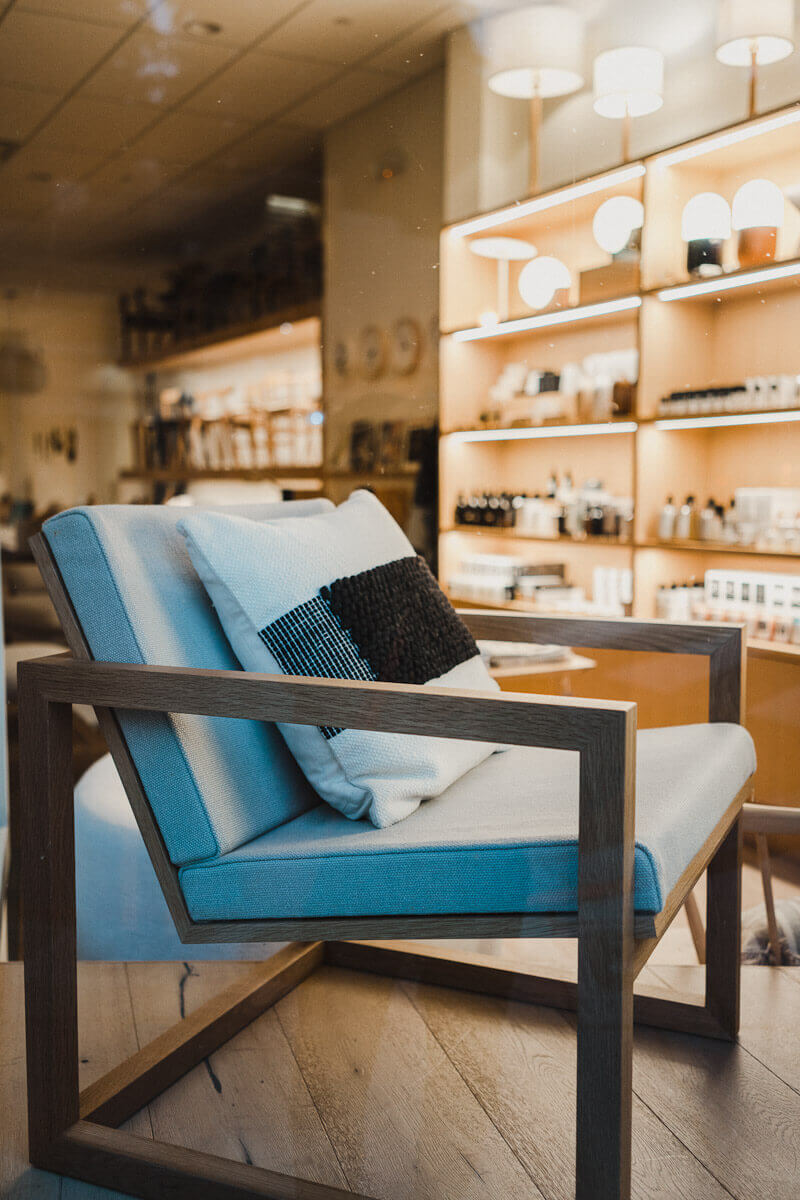 5) CHECKOUT THE MILL VALLEY DEPOT CAFE AND BOOKSTORE
This bookstore meets cafe is right off the plaza and is perfect for browsing books, getting your morning coffee, sandwiches, salads and even dinner (they are open late till 9 PM). They have plenty of outdoor space and are dog friendly.
6) DINING IN MILL VALLEY: WHERE TO GO FOR BREAKFAST, LUNCH AND DINNER
There are so many yummy options to dine in this tiny town that a long weekend is definitely not enough. Having been here many times, here is what I recommend:
a) Gravity Tavern: good for breakfast and brunch (has dog friendly outdoor seating)
b) BooKoo: fast, casual south Asian street food with outdoor seating
c) Sol Food: lip smacking Puerto Rican food (they also have an outpost in San Rafael)
d) Avatar's Punjabi Burritos: Punjab meets California in Avatar Singh's establishment (he has several all over Marin county) for a snappy meal. Outdoor seating is available for gulping down a spicy, Indian burrito with your pup
e) Paseo: A Californian Bistro: This is one of the best places for either brunch on weekends, happy hour or dinner in Mill Valley. The food and drinks are great but the outdoor seating in the leafy El Paseo lane is just out of the world charming
f) Bungalow 44: First of all, the food is absolutely delicious (they are open for dinner only). Second, try sitting outside on their covered patio. Third, get a reservation, especially if sitting outside; this restaurant is bonkers popular
g) Prabh: This Indian restaurant does North Indian food right and the charming outdoor seating just adds to the mood. Don't go for the brunch south Indian fare offered on weekends (dosa etc) but stick to dinners on weekdays
h) Playa: Playa's airy indoors and covered patio plus outdoor space is perfect for their flavorful Mexican cuisine. Great for both lunch and dinner (and dog friendly too)
i) Kitchen Sunnyside: This chain from San Francisco (famous for Sweet Maple and Kitchen Story) serves yummy generous portion sized breakfast and brunch in Mill Valley with outdoor seating
j) Flour Craft Bakery: This is the number one bakery in Mill Valley (located in the lumber yard) that you should flock to for coffee, speciality drinks, baked good, pastries, open faced sandwiches, salads, yummy toasts and sourdough waffles!
k) Millie's Crepes et Creme: Located at one end of the lumber yard, their crepes are pillowy soft pieces wrapped in love with each bite being simply heavenly. Their savory crepes are good, but the warm gooey nutella crepe is just out of this world
Except Sol Bar, all these restaurants and cafes mentioned here are dog friendly since they have outdoor seating. The Mill Valley lumber yard is extremely popular with dog parents since there is an abundance of outdoor seating here.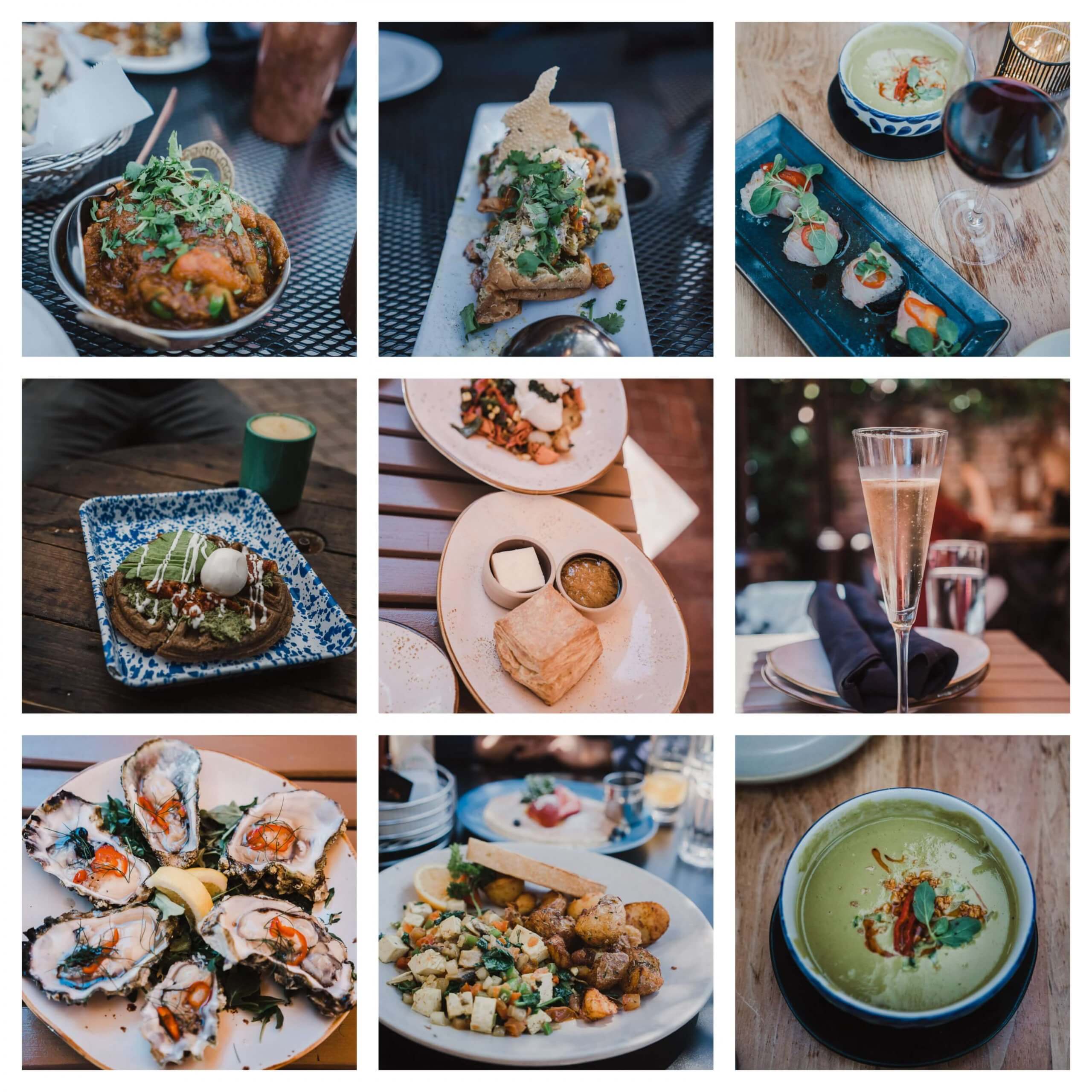 7) RELAX WITH A GLASS OF WINE AT THE PASEO BISTRO HAPPY HOUR
Paseo Bistro has a fun happy hour from 3-6 PM on Tuesdays-Fridays and also after 2 PM on weekends. Relax in their dreamy outdoor space in El Paseo Lane with bar bites and a glass of wine after a day of hiking or shopping (whatever floats your boat).
8) CATCH A PLAY AT MARIN THEATRE COMPANY
Marin Theatre Company is the pride and joy of performing arts in the entire Bay Area and where I caught a performance of "A Steady Rain"- the best play of my life to date. If you're staying for a weekend in Mill Valley, definitely get tickets to a play here.
9) TAKE A WALK IN OLD MILL PARK
About 0.4 miles from Throckmorton Avenue lies a whole different world of tranquility, i.e. the Old Mill Park which is a dog friendly Redwood grove and also home to the cute as heck Mill Valley Public Library. There is nothing more relaxing than strolling through this shaded, blissful haven during a hot summer day with the comforting sound of the gurgling Old Mill Creek keeping you company.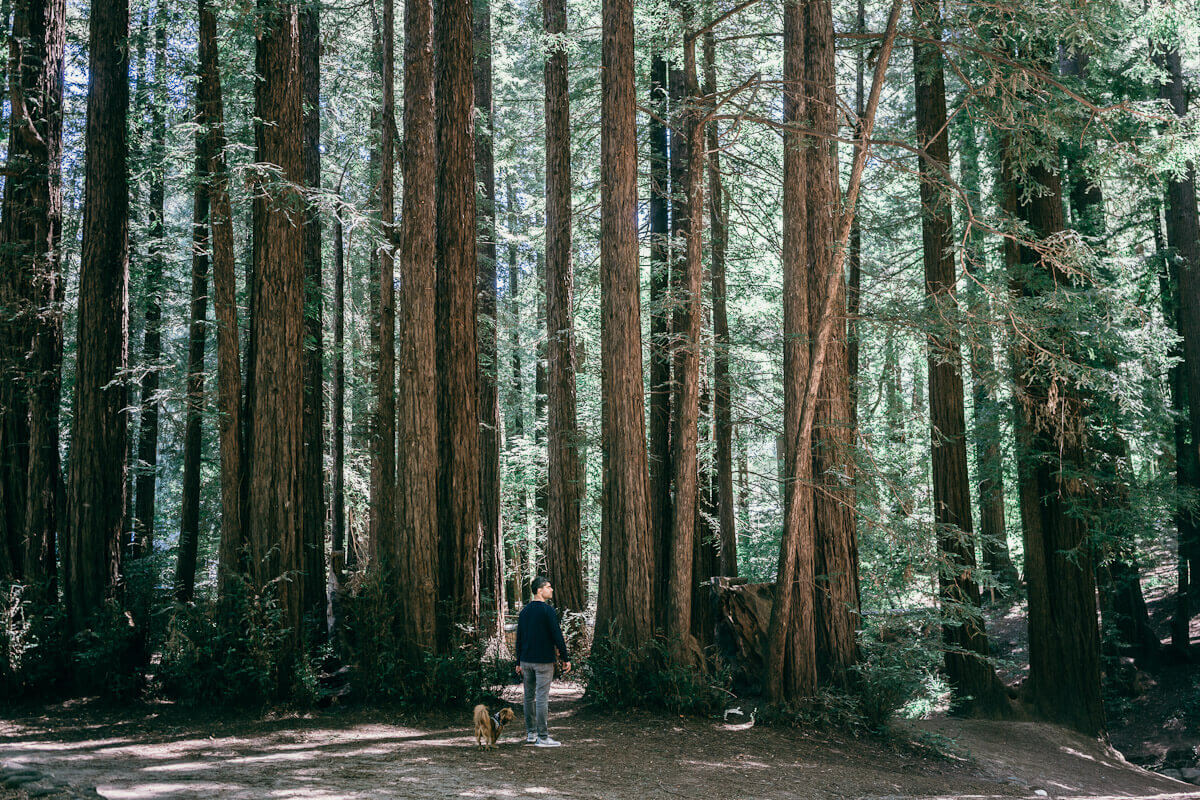 10) STOP BY THE MILL VALLEY PUBLIC LIBRARY
Nestled inside the Old Mill Park is the public library, which is one the most charming spots in town. Built in 1966, this 27,000 square ft. building standing amidst the Redwoods has arched wooden beam panels and retains the original hand-crafted walnut furniture by Art and Tripp Carpenter (father-son duo and master woodworking artists) as well as many original oil paintings by Ray Strong and Ludmilla Welch.
11) HIKING IN MILL VALLEY: GET ON THE DIPSEA TRAIL
This is one of the most famous (and tedious) hikes in Marin County that takes you all the way to Stinson Beach via a 7.5 mile trail.The trailhead starts from near Old Mill Park and unfortunately dogs are not allowed on the main trail after you tackle the several flights of stairs (don't worry, there are plenty of other Mill Valley hikes that are dog friendly as you'll find out in this post).
At the trailhead, you go up a long flight of wooden stairs followed by a short flight of very steep stone stairs (there are guard rails on the side for safety) and then turn right and go up another flight of stairs. The elevation is 1500+ feet and the route is 7.5 miles round trip to Stinson beach. The name for this trail comes from the Dipsea Race, the oldest trail race that started in 1904.
12) DISCOVER CASCADE FALLS
Would you believe if I told you that one of the most beautiful waterfall hikes in the Bay Area is a mere 3 miles from downtown Mill Valley? This dog friendly hike through a small Redwood Park is right on Cascade Drive, about 2 miles from Throckmorton Avenue. The actual falls is inside the park, about a mile or so from the park entrance sign.
The path is shaded with little elevation and will take you to the falls. Perfect for hikers and dogs of all ages, this falls is best visited in spring (March-May) when the waterfall is gushing down in full force. Visiting Cascade Falls is undoubtedly one of the best things to do in Mill Valley!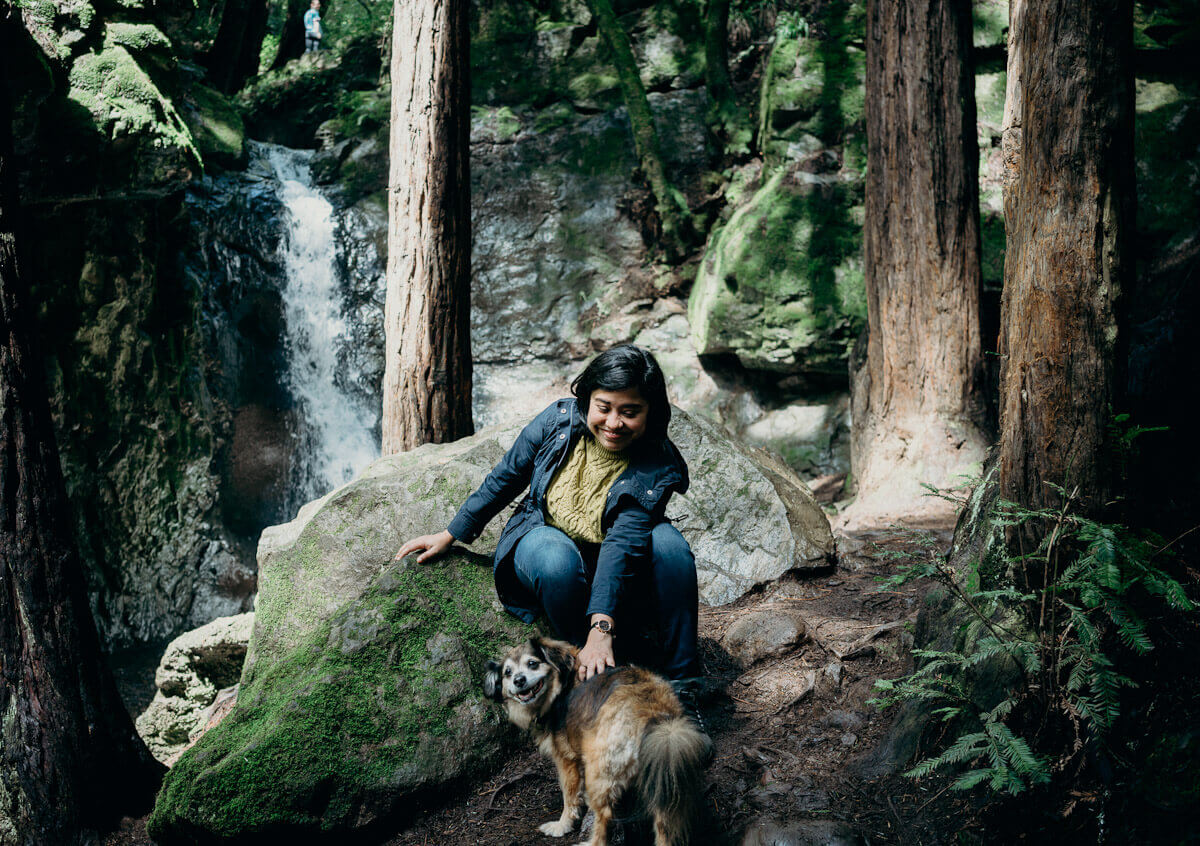 Babu and I at Cascade Falls. Babu was my very first dog and lived up to the ripe old age of 17. Cascade Park was one of his favorite places to hike.
13) ENJOY THE VIEWS AT BAYFRONT PARK
This is a lovely park on the edge of the water with an off-leash play area for dogs and faces the Pickleweed Inlet stream. Perfect for morning walks with dogs, this park is also flanked by the 5 mile paved Mill Valley-Sausalito bike path that is part of the Bay Trail.
14) HIKE OR BIKE THE BAY TRAIL
The Bay Trail in Marin passes right by the BayFront Park and Bothin Marsh Preserve and is extremely popular with joggers, bicyclists and of course dog parents with their pups on leash. If you don't have a bike, you can easily rent one from Tam Bikes on 357 Miller Avenue or Mad Dogs and Englishmen in the Mill Valley lumber yard.
15) WALK THROUGH THE CAMINO ALTO OPEN SPACE PRESERVE
This 170 acres of open space preserve lies at the foot of Mount Tamalpais and has three easy-moderate hikes in fire roads criss crossing the area. Dogs are welcome on leash on the trails and off-leash but under voice control on the fire roads. The easiest hike to tackle is the Escalon Fire Road from which the Camino Alto and Del Casa Fire Roads bifurcate off after a short distance.
This open space preserve has several entrances and you can park at the junction of Overhill Road and Escalon Drive to get onto the Escalon Fire Road. The trail is wide and does not have a whole lot of elevation, which makes it a pleasant, easy hike for all levels of hikers.
16) FUEL UP AT EQUATOR COFFEE ON HIGHWAY 1
This popular coffee chain in Northern California has two locations in Mill Valley, one of them being in downtown. But skip that one and head straight to the stop on Highway 1 (where it meets Tennessee Valley Road) because this location is supercool with an amazing gallery wall and lovely outdoor seating where you can bask in the sun and sip your coffee.
Equator Coffee outpost on Highway 1 is part of the Proof Lab Surf Shop selling surfboards and apparel. There are two very popular beer gardens in the adjoining space and these are Hoom Fish Co. at Proof Lab Beer Garden (has a lovely dog friendly patio) and The Junction Beer Garden. You could also check out the native plant nursery nextdoor and the colorful murals.
17) DISCOVER CUSHING MEMORIAL AMPHITHEATRE
The Cushing Memorial Amphitheatre (see Google Map below for location) is a nice segue into hiking in Mount Tam with trails (Easy Grade and Bootjack trails) surrounding a beautiful open air amphitheatre where the seats are carved out of rocks. Dogs are welcome on leash here and the meandering Bootjack trail connects to the Old Stage road where dogs are also welcome. If you're planning to catch a play at the amphitheatre, you can board a shuttle provided by the Mountain Play Company to avoid driving into Mt. Tam.
18) HIKE TO MOUNT TAMALPAIS EAST PEAK
Mount Tamalpais is the highest point in Marin County and has some of the best hiking trails with gorgeous views in all of Mill Valley. Although most of the trails are off-limits to dogs, there are quite a few really good ones where leashed dogs are welcome. One such solid dog friendly hiking trail in Mill Valley is the Verna- Dunshee trail that starts right from the Mt. Tam East Peak overlook area with killer views of the San Francisco Bay.
Mt. Tam East Peak area is right next to the Mt. Tam Visitor center (the park is open every day from 7AM – sunset) and is located about 11 miles west of downtown Mill Valley. Drive all the way to the visitor center, park your car and pay the self registration fee of $7 or $8/vehicle (please carry cash on yourself) and head straight to the overlook point.
From there you can either go up the 0.3 mile steep incline along the Gardener Fire Lookout trail to a spectacular view of the Bay, the Bay Bridge and San Francisco or get on the Verna Dunshee trail on the left that goes past the Mt. Tam gravity car barn. The Verna Dunshee trail is a nice 0.7 mile loop and is paved with guard rails where you can stop to admire the views of the San Francisco Bay (which almost looks like a lake in the distance).
19) VISIT MUIR WOODS NATIONAL MONUMENT
Named after the famous environmentalist John Muir, Muir Woods National Monument is the world famous Old Growth Redwoods grove that people flock to from all over the world. You can either drive in (parking is very limited and advanced reservation is required) or catch a shuttle or get on one of the many conducted tours departing San Francisco if you don't have a car.
With 6 miles of trails, this grove is a fantastic place to spend an entire day amidst the serenity of the mighty Redwoods, and is easily one of the best things to do in Mill Valley. Find all the details of getting here via the Parks website, including advanced reservations needed to visit the park. Please keep in mind that Muir woods does not allow dogs, but Muir Beach which is only 3 miles away from the grove and Muir Beach overlook (a fantastic stop on your San Francisco to Mendocino drive) absolutely do.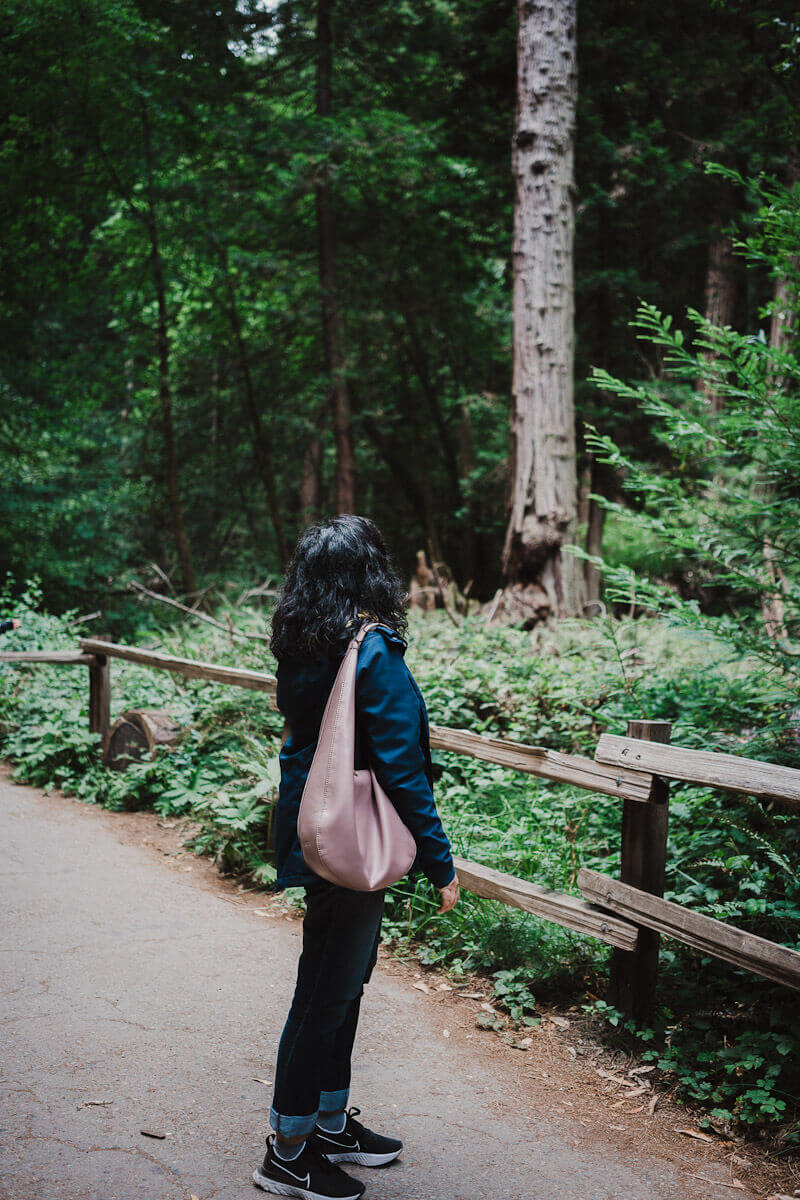 20) ATTEND A FESTIVAL IN MILL VALLEY
Mill Valley is known for year round cultural activities, such as the Mill Valley Fall Arts Festival and the famous annual Mill Valley Film Festival, which is attended by Hollywood stars (yes, the likes of George Clooney have been to the screenings). Do try to catch one of these if you are in the Bay Area or visiting.
Finally, here is a Google map of all the places covered in the post:
THINGS TO DO IN MARIN COUNTY (NEAR MILL VALLEY)
There is a lot going on around Mill Valley in terms of other cute small towns in Marin County as well as plenty of hiking and outdoor activities. All these places and spots are about 10-20 min drives from downtown itself and if you have time (or are planning to visit repeatedly) then bookmark this section of all the fun things to do in Marin county close to Mill Valley:
a) Hike the Dawn Falls Trail in Baltimore Canyon (Larkspur), north of Mill Valley-this is a serene dog friendly trail known only to locals that leads to its namesake falls. Best visited in Spring when the waterfall cascades down in full force.
b) Get on the Old St. Hilary Open Space Reserve in Tiburon (east of Mill Valley) for a near 360 degree view of San Francisco, Angel Island and Golden Gate Bridge. The other super beautiful trail is the Tiburon Historical Trail that runs from Blackie's pasture all the way to the Donahue depot in downtown Tiburon. You can get on the Old Rail Trail at Blackie's pasture and continue walking for 2.5 miles with amazing views of the water till you reach Main Street. Both trails are dog friendly.
c) Check out downtown Larkspur on Magnolia Avenue and relax with some wine and charcuterie-cheese board at Backstage winery and tasting room. Dolliver Park is a dog friendly Redwood grove at the end of Magnolia Avenue which you should definitely check out.
d) Explore the cutest small Marin town of Ross-get some yummy veggie pizza at our favorite Tony Tutto and admire the Marin Art and Garden Center-a heritage landmark which is free to the public (and dogs)
e) Discover San Anselmo-the best kept secret of Marin County. This charming town is the birthplace of the Star Wars series, thanks to its resident George Lucas! Lucas also donated two amazing statues-that of Indiana Jones and Yoda which now stand ona fountain at the Imagination Park in downtown. When in San Anselmo, get lunch at Kientz Hall and gelato at San Anselmo gelato
f) Spend at least half a day at Sausalito, south of Mill Valley. Sausalito is known for its hidden black sand beach, the dog friendly Rodeo Beach, lots of dog friendly hiking trails , best views of the Golden Gate Bridge from Marin Headlands and of course the art galleries and restaurants overlooking the Bay on Bridgewater.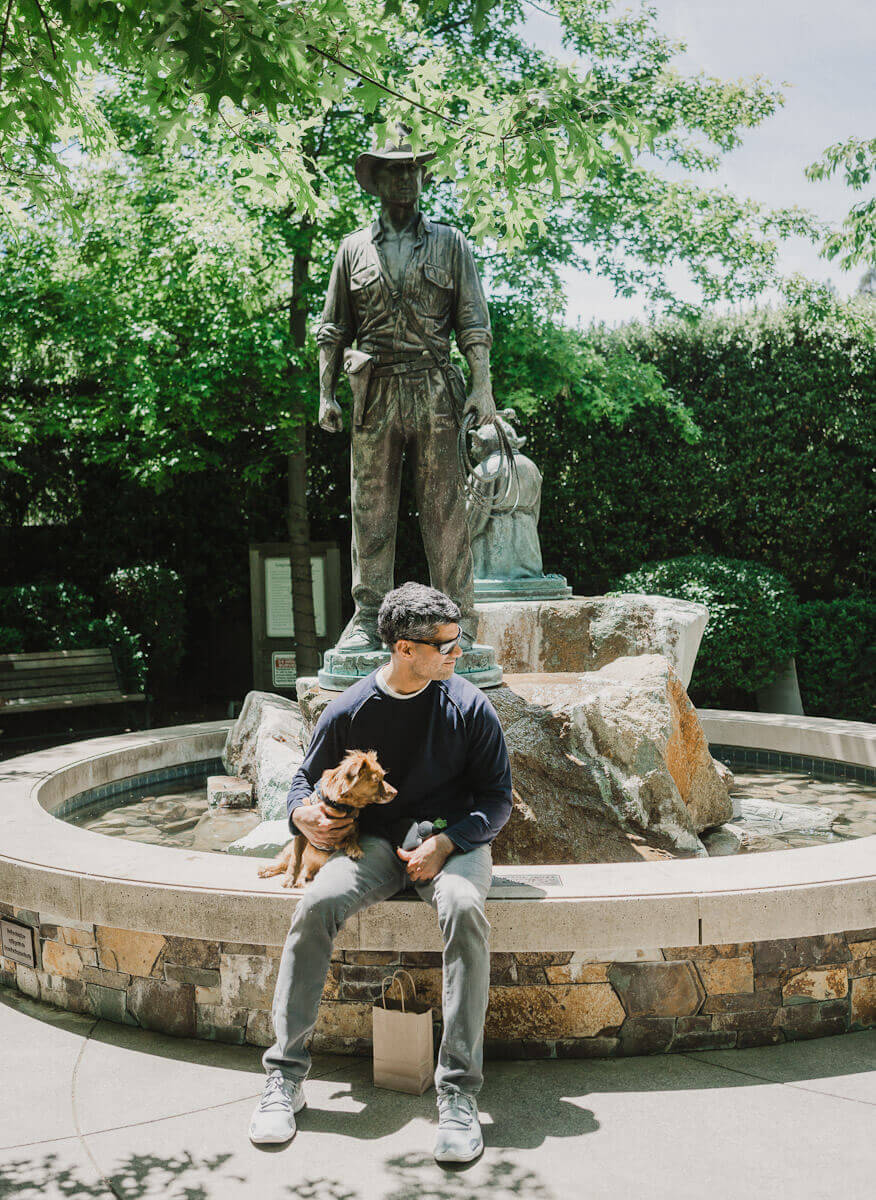 This brings me to the end of yet another California post on the best things to do in Mill Valley in Marin County. I hope you enjoyed reading how to spend a weekend in Mill Valley with all the fun things to do (along with your dog) and will plan a visit soon. Thanks a lot for stopping by and safe travels!

LIKE THIS POST? PIN FOR LATER

«