Last Updated on March 30, 2020 by Paroma
If you are looking for dog friendly hiking trails to waterfalls in the Bay Area, then you are in luck because this part of California has several gorgeous waterfall hikes waiting for you to explore and several of these Bay Area hiking trails with waterfalls allow dogs on them. In other words, if you want to go hiking to see these gorgeous Bay Area waterfalls with your hike loving dogs, then you have come to the right post where I detail three amazing options for super dog friendly waterfall hikes in the Bay Area which are all in Northern California's beautiful Marin County, north of the Golden Gate bridge.
In this post, I will be talking about dog friendly hiking trails leading to Cataract falls at Mt. Tamalpais, Cascade falls in Mill Valley and Dawn Falls in Larkspur.Cataract falls is special because it is the only waterfall hike that is dog friendly amidst all Mt. Tam hikes. Cascade Falls is located in a tranquil park in Mill Valley and is the easiest of all Bay Area hiking trails with waterfalls. Finally, Dawn Falls Trail in Larkspur is a great alternative to the crowded and popular Muir woods. So let's get on to this post that talks about our waterfall hikes with our dog, Babu!
Waterfall Hikes Bay Area: CATARACT FALLS, Mt. TAMALPAIS
Bay Area receives a lot of winter rain (which might seem a bit unusual to you) but that means only one thing and that is gushing Bay Area waterfalls in spring. If you visit Bay Area during this time and are an avid hiker seeing hiking trails to waterfalls, then you definitely should get onto the cataract falls trail!
Your cataract falls hike will begin at Mount Tamalpais, towering over Marin county with its slopes filled with spring flowers and beautiful waterfall hiking trails. Although most Mt. Tam hikes and the state park itself is forbidden for four legged kids, a short drive up reveals the watershed area, where dogs can be on leash. The cataract falls marin county trail head, starting from the junction of east and west Ridgecrest leads to its namesake, i.e. the most beautiful and popular waterfall in the Marin county, namely Cataract Falls.
The website bahiker.com describes in great detail about the different trails, apart from cataract falls trail in this region and provides precise directions to get to the falls. To see the falls gushing in full force, its best to visit in Feb/March just after the spring rains. Cataract falls hike is a strenuous one and is a total of 6.4 miles loop from the trailhead to the falls, and the trail is partly covered with regions of light (via open fields) and shade.
For the sake of your dog as well as your well being, it is advisable to start this waterfall hike early so that the sun does not beat down too much on you. Wear appropriate hiking gear and footwear and carry some water and light snacks for the hike. If you stay on the cataract falls trail, you will eventually get to the falls with the help of several posted signs along the way.
Starting the cataract falls hike early is a good idea since it helps you snag a parking spot in the tiny lot. The cataract falls trail head starts from an open, sunny meadow with flowers all around and then quickly moves into a stony terrain interspersed with wooden bridges that you have to cross to keep on going.
There is a picnic area just before you reach Cataract falls, so if you are enthusiastic enough, you can carry some brown bag lunch with you. Finally, once you reach the fall, the descent becomes steep, but you can get down all the way to the gurgling stream or make your way up through the rocks to face the falls. We saw one of the dogs having a field day swimming in the stream whereas our little one was content in watching from the sides (he is not a big fan of water).
The falls, although much more subdued due to a continuing dry spell when we visited, still gushed down and gurgled over the rocks. The current appeared to be pretty strong as the water plunged down and into the creek below. The sight of the white, foamy water as it fell with great force over the rocks, was so beautiful to behold that it made is forget all our sweat and huffing and puffing. This was definitely one of the best waterfall hikes we've been to and I highly recommend it to seasoned hikers with pets looking for hiking to Bay Area waterfalls.
Waterfall hikes Bay Area: CASCADE FALLS, MILL VALLEY
Cascade falls, Mill Valley is in a small park and is a short drive away from San Francisco. True to its name, Cascade falls is a a beautiful cascading body of water, and although a small fall, the water was gushing in full force thanks to the winter rain!
There is a path that leads up from the falls and the trail winds up further. This hike is moderately strenuous but watch out for the loose rocks. We did not see any signs of dogs being prohibited from entering and saw several locals with their pooches heading up there and so were very happy to take our Babu with us.
This is one of the most accessible waterfall hikes in Bay Area and can be easily completed in a few hours. The cascade falls trail is covered with a dense canopy of trees and so hiking to this Bay Area waterfall is easy. The upward trail ends at a paved road for cyclists and cars, so please watch out if you have your dog with you and remember to leash him/her before you hit the road. Overall, I highly recommend this dog friendly waterfall hike in the Bay Area, mere 30-40 min from the city, for hiking and visiting the beautiful waterfall. For more information, visit this article in SFgate from 2014.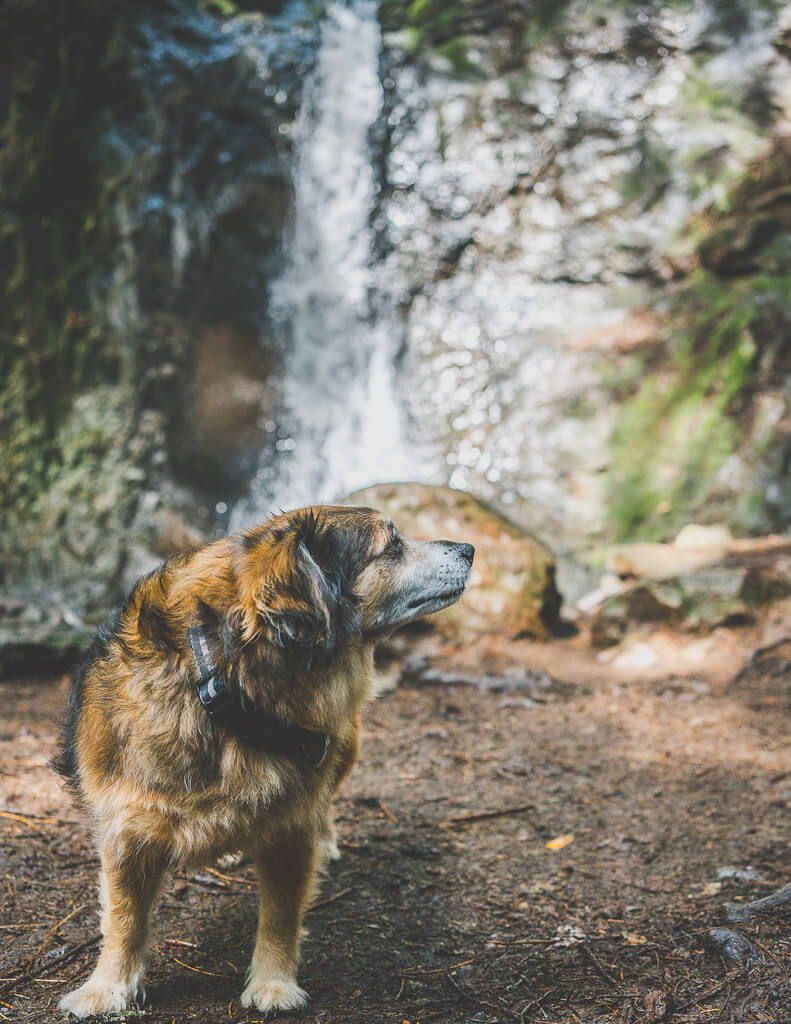 Dog friendly hikes to waterfalls in the Bay Area: DAWN FALLS, LARKSPUR
The Dawn falls trail in Larkspur, Marin County is a beginner's trail that leads right to a beautiful waterfall that comes alive during spring. The trail leading to the waterfall is a relatively easy one with a 2.7 miles loop to the falls and back. This is one of the best dog friendly waterfall hikes in the Bay Area and a must do for its tranquility and greenery. Since the trail is pretty shaded by a thick canopy of Redwood trees, hikes in the summer are also pretty doable.
It takes about 30 minutes to drive to Madrone Avenue from San Francisco, where the Dawn Falls trailhead (you can also find it on Google Maps) is located. Although parking is difficult to find on the narrow, meandering Madrone Avenue, we did not struggle too much with it during both our visits. Come early and try to find parking on the side of the road, preferably before a "no outlet street Echo Place" sign as suggested by Yelper Caroline S.
Once you get off the road you will find a bridge across the Larkspur creek from where the Dawn trail begins. You can either walk along the upper trail or get down to a parallel path with the Larkspur creek flowing to your right. The falls are on your right if you walk along the upper trail. For those planning to take dogs on this waterfall hike in Marin county, please carry ample water and food for your pups. Goes without saying that you need to wear sturdy footwear, especially in spring when the ground gets all wet and slippery. On your way back from the hike, don't forget to stop by Picco's, a dog friendly pizzeria in downtown Larkspur for some tasty pizza to fill your bellies.
I hope you enjoyed reading this post on dog friendly waterfall hikes in the Bay Area, which is one the many dog friendly hiking trails in this region. Thank you so much for stopping by and I hope this post has inspired you to explore the beautiful outdoors in the Bay Area with your pup! You can read all our California adventures right here!
LIKE THE POST? PIN IT HERE