Last Updated on November 28, 2021 by Paroma
Are you visiting Napa with your dog(s) and wondering where to go wine tasting in California's premier wine destination? Luckily for you, I have done the legwork by curating the very best dog friendly wineries in Napa, based on my multiple travels to Napa valley with my dog, Babu. Rest assured, these recommendations for dog friendly Napa wineries are 100% authentic (gleaned from my many wine tasting outings) and should absolutely be part of your dog friendly Napa itinerary!
Disclaimer: My blog posts may contain some affiliate links. Clicking on them may earn me a small commission at no extra cost to you for purchase of the product. Thank you!
Owing to the 2020-2021 health advisory, Napa wineries on this list may have modified their pet policies. Plus, all wine tasting is strictly by appointment only for the foreseeable future. Although I try to keep this post as updated as possible, please call/email before you make your reservation online to confirm if dogs are allowed during wine tasting.
Dog friendly wineries in Napa
Napa valley, comprising of the cities of Napa, Carneros, Oakville, St. Helena, Yountville, Rutherford and Calistoga is about 1.5 hrs north-east of San Francisco and is synonymous with California wine country where people flock from all over the world to taste the very best of New World libations.
With rolling hills covered in vineyards stretching for miles, wineries big and small beckoning wine lovers and some of the best restaurants in the world enticing you with their California-influenced cuisine, this part of the state is breathtakingly beautiful to say the least! No wonder then that Napa is considered one of the most romantic getaways in Northern California!
Napa is also quite dog friendly and much like wineries in nearby Sonoma that welcome dogs, there is no dearth of dog friendly wineries in Napa. Infact, many winemakers have furry companions who may greet you upon your visit, as you can see in these books on Wine Dogs of California.
Well behaved dogs on leash are welcome in many Napa wineries, either in the tasting room or in the outdoors (patio/garden) and sometimes in both. Best of all, Napa is only 1.5 hrs away from San Francisco and makes for an excellent Bay Area day trip!  Before you go, here are some important things to know before you plan a dog friendly wine tasting in Napa valley.
Tips for dog friendly wine tasting in Napa
Here are some helpful tips to keep in mind while planning a dog friendly Napa itinerary that includes wine tasting:
Dogs must be well behaved to be allowed for wine tasting in Napa, i.e. no aggressive dogs allowed. Dogs should be on leash at all times during the tasting and under supervision of their owners. They should not be allowed to stray off or mingle with other guests on their own (unless of course the guest is another dog lover coming up to you voluntarily to pet your fluffball!). I highly recommend bringing treats and water (these collapsible dog bowls are great for travel) along with you to keep your dog engaged during wine tasting.
Napa is known for its bold, red wines which are mostly Cabarnets. If you are not into full bodied wines, choose Sonoma or Lodi, both of which boast of many beautiful dog friendly wineries.
As I have explained in my first time visitors guide to Napa, wineries here are either large and touristy (walks ins accepted) or small and exclusive (requiring appointments).  I highly recommend going to smaller boutique wineries with your dogs for a more relaxed wine tasting experience. Due to the 2020-2021 health advisory currently in effect in California, all wine tasting is by appointment only and reservations can easily be made online, over phone or via email.  
Several wineries may offer conducted tours of their facilities and vineyards for an additional fee. In case you are planning to join one, please confirm if dogs are allowed there as well. Unless you specifically have a service dog (who are allowed everywhere), most tours are off-limits to dogs.
Unlike other wine growing regions in California such as Lodi or Sonoma or Santa Ynez valley, wine tasting in Napa costs a pretty penny. The tasting fees starts upwards of 25 USD and can hike up to 75 USD, depending on the winery and the flight of wines selected. Of course, several wineries waive the tasting fee or provide a discount on purchase of one or more bottles of wine or if you are a wine club member.
My favorite Napa valley dog friendly wineries
Here are some of the best Napa wineries that welcome dogs based on my wine tasting experiences with Babu, our Tibetan Spaniel mix who has been all over California. Please enjoy responsibly!
Dog friendly wineries in Napa 
The city of Napa is filled with many dog friendly hotels, wineries and restaurants welcoming dogs. The famous Oxbow market is also in Napa which is home to many eateries, stalls and kiosks featuring Northern California goods and produce. Here are some of our favorite places to go wine tasting during a weekend trip to Napa with our dog.
This dog friendly Napa winery is an estate winery that overlooks acres of land that once housed famous race horses (which is why the name). In its modern avatar, it is now home to some of the best cabernets in Napa Valley.
At Black Stallion, you are greeted with a spacious tasting room and a sprawling shaded patio that overlooks the estate vineyards. Here, visitors can relax on deep cushioned patio seats as they savor both red and white varietals with some delicious charcuterie pairing. This dog friendly winery welcomes well behaved dogs on leash and is perfect for first time dog parents visiting Napa.
Chimney Rock winery is one of the most beautiful wine tasting venues in Napa, boasting of a Spanish Mission style majestic white building towering over rows and rows of vineyards. The winery specializes in some of the best handcrafted cabernet sauvignons from the heart of Napa's Stag's Leap district. 
Wine tasting with your dogs at Chimney Rock is a relaxing affair in a shaded, centrally located patio at your own assigned, individual table. Although pricey, I highly recommend checking this place out for the ambiance and the friendly service.
Note: A rep from Darioush reached out to me to inform that only service dogs are allowed on their premises now (as of July 2021) since they have now introduced a food pairing with their tasting. 
A staple on all Napa winery lists featuring the most beautiful jewels in the valley, there is nothing plain or average about this extraordinary Persian themed winery on the Silverado trail. Stemming from the passions of owner Darioush (75 and still going strong) who fled Iran prior to the Islamic revolution and found his true calling in wine-making after a grocery business stint in Los Angeles, this winery is a feast for the eyes with wine tasting a true luxury experience! 
As you enter through its pearly gates, you will be welcomed by a giant cauldron with a lit flame and then pass into the beautifully manicured garden (if accompanied by pups) or the incredibly tasteful dining room via a courtyard boasting of tall Persian style pillars, a homage to the owner's roots. Keep in mind that this one of the costliest one tastings in the valley, starting with $65 for their signature flight of 4 (comes with the tastiest olives and pistachios to munch on as you sip wine).
I personally was extremely wowed by the ambiance (they have a mini museum of Persian arts inside the tasting room in case you want to get a sneak peak) and the hospitality, but the Chardonnay also hit the spot!
Dog friendly wine tasting in St. Helena and Yountville
Both St. Helena and Yountville are known all over the world as luxury destinations for not only some of the best wineries but fine dining since they are home to 3 Michelin star restaurants such as Restaurant at Meadowood (an unfortunate casualty of the devastating California Glass fire from 2020) and Thomas Keller's French Laundry. Here are some of the wineries welcoming dogs in these two towns.
Tucked away in one end of South Whitehall lane in St. Helena, this women owned and operated winery is one of the most beautiful dog friendly wineries in Napa with a zen tasting experience unmatched by any other winery in the valley. This winery loves dogs and sustainable practices alike and is a certified organic business with 12 acres of vineyards growing mostly zinfandel grapes and some cab.
All wine tasting is in their beautiful outdoor garden overlooking the vineyard where you'll be surrounded by olive groves, lemon and pomegranate trees. Owing to their attention to detail and personalized service, the tastings are times and reservations are required. They are also incredibly dog friendly, with the owners and assistant winemaker's dogs (one Labrador and two very friendly Golden Retrievers) roaming the property casually.
As of 2021, their tastings of 6 (mix of white and red estate wines-cabs, zinfandel and a very unique varietal that tastes almost like a Pinot Noir) cost $50. A single tasting fee is waived when you purchase 4 bottles. They also have snacks to go along with their tasting and you can also purchase small bites (charcuterie and cheese board) if you wish. Plus, they allow tasting friendly lunches onsite.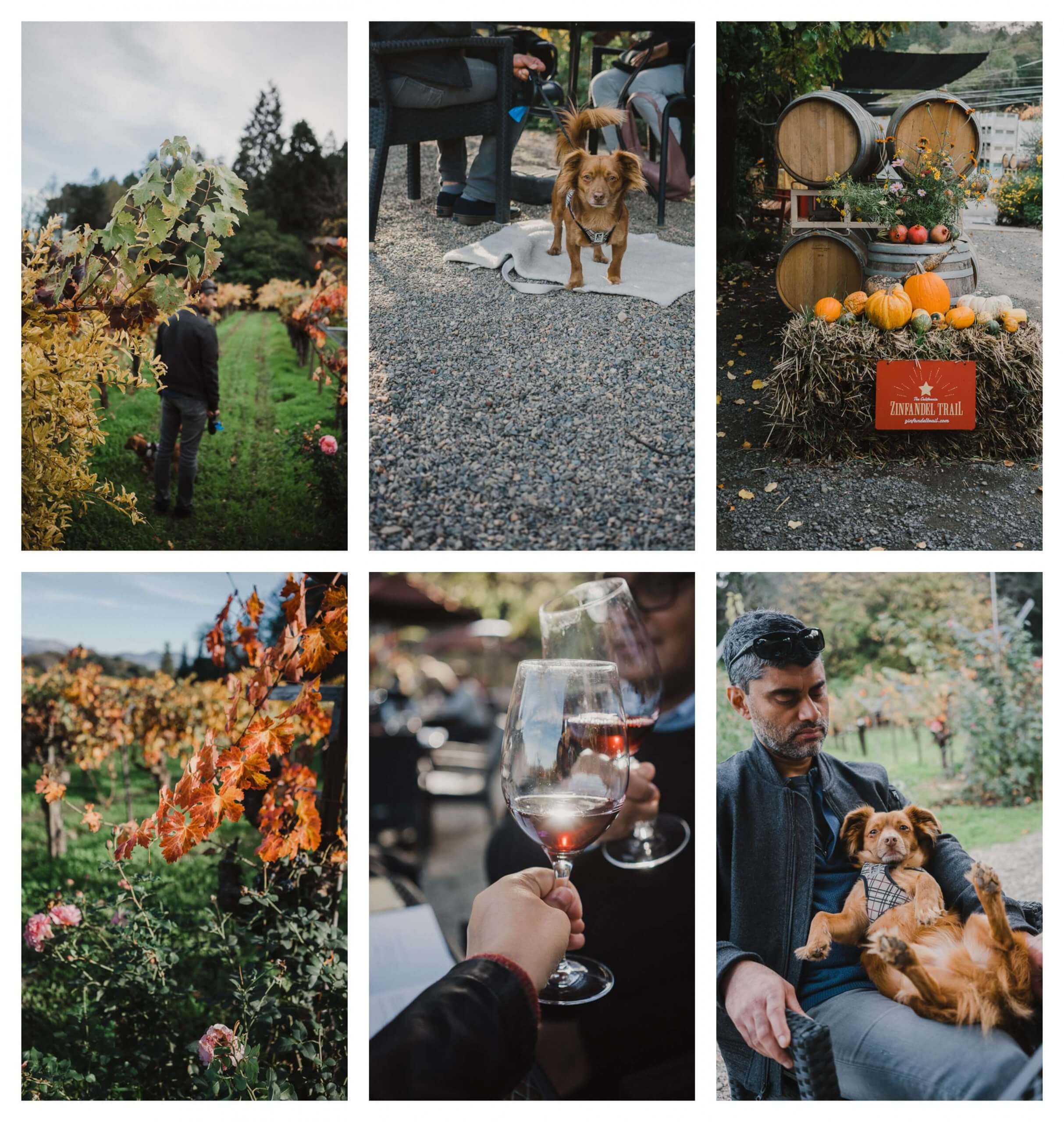 This beautiful dog friendly winery in St. Helena is very popular with wine enthusiasts and provides an unique wine tasting experience. Wine tasting is outdoors with the tasting area adjacent to a lush, green lawn punctuated with some really cool and funky sculptures overlooking the adjoining vineyard (you can spot some of their sculptures at the entrance of the winery as well). This winery specializes in Cabernet Sauvignon and Merlots, which is what Napa is mostly famous for. 
This winery in St. Helena not only has a cosy fireplace for wine tasting but also a spectacular gallery for people to enjoy.  Markham offers diverse varietals in both red and white sourced from the various appellations all over Napa. I especially enjoyed their Moscato and Petite Sirah. 
Notes for 2020-2021: Markham vineyards allowed dogs in 2016 (which is when we visited this winery). However, their policy might have changed recently, so please confirm before making your wine tasting appointment.
This is not a winery per se, but more of a tasting room in downtown Yountville that also doubles up as an art gallery (wine tasting is outdoors). However, the best part about wine tasting with your dog at this boutique place is the exceptionally friendly staff that will make your tasting experience extremely memorable. This is the reason why this place is widely known as the "friendliest tasting room in Napa valley".
I highly recommend getting the local cheese platter (sourced from JCB tasting salon nearby) that pairs extremely well with their wines, especially their chardonnay which is the crispiest I've ever tasted! Honestly, this is one of the best places to go for dog friendly wine tasting in Napa.
Dog friendly wineries in Calistoga
Calistoga is an extremely dog friendly town in Napa, and sits at the northernmost end of the valley, in the shadows of Mt. St. Helena that used to be an active volcano millions of years ago. Besides wine tasting, this is also a perfect winter getaway in California owing to its many geothermal spas for some much needed R&R. We've visited Calistoga many times with Babu and some of our favorite dog friendly wineries in Napa valley are located here.
This secluded, super dog friendly Napa winery (you will be greeted with a cheery yellow stop sign featuring an airedale as you drive in) is a must visited and should be included in your dog friendly Napa itinerary. 
Dutch Henry winery is located on the historic Silverado trail in and is famous for its small batch handcrafted wines crafted by owner and winemaker Scott Chafen.  Wine tasting fee is waived in lieu of purchasing a bottle, but best of all this is one of the few wineries in Napa where no prior appointment is necessary for wine tasting.
This winery not only has a shaded outdoor picnic area for wine tasting but also its very own vineyards surrounding the tasting room. I highly recommend visiting Dutch Henry for a quiet and relaxing wine tasting experience with your pup minus the crowds. 
Notes for 2020-2021: DH winery was badly affected by the California Glass fire in 2020 and is currently taking a break. It is supposed to reopen in 2021 and tasting is by appointment only, so please don't forget to make that reservation
This high end winery in Calistoga is one of the premier dog friendly wineries in Napa and one of the most beautiful wineries that I have personally visited. Although wine tasting here costs upwards of $40, the tasting room is bright, airy and has an understated elegance to it. Plus the staff is extremely friendly and will readily answer all your burning questions on wine during the tasting along with a handy map showing the different appellations in Napa.
 The estate surrounding the tasting room is simply breathtaking and you must take a stroll here while sipping on your precious wine. In case you're feeling self-indulgent, Clos Pegase is a great place to check out for some luxury wine tasting experience with your dog in Napa.
Note: As of 2021, this winery is no longer allowing dogs; but things may change so please call before you reserve
This is another dog friendly tasting room in Calistoga and has a very cozy, inviting vibe to it. The owner (Michael Swanton) is super friendly and will regale you with a very interesting back story about the origins of this boutique winery. It is a romantic story of second chances that inspired the tagline "love at first sip" for the winery. This is a perfect place for some no fuss wine tasting in Calistoga with your dog.
Dog Friendly Restaurants in Napa Valley
Wine tasting is hard work that needs to be rewarded with some lip-smacking food! Napa, being one of the premier culinary destinations in California has some of the best dog friendly restaurants with patio dining for you to have a delicious meal with your pup. Over my half a dozen visits mostly with my pups Babu and Gunda, here are my recommendations:
La Calenda (Yountville): the Oaxaca inspired restaurant helmed by executive chef Kaelin Ulrich Trilling, son of Susana Trilling, who is considered an authority on Oaxacan cuisine will not only wow you with moles and mezcal, but also a sunny patio. 
Coqueta (Yountville): This Spanish restaurant serving up tasty dishes and Tapas (their original outpost is in San Francisco's Embarcadero) has a shaded outdoor seating area.
Mango on Main: This tiny Thai restaurant in downtown Napa is big and bold on flavors and has a few chairs and tables outside for a dog friendly meal
Gott's Roadside (St. Helena and Napa): This insanely popular joint has multiple locations in the Bay Area and is known for its burgers, salads, sandwiches and tacos.
The Grove (Napa): The Grove is the in-house restaurant of the Culinary Institute of America (The CIA at Copia). They have a lovely outdoor seating area as well for you to enjoy delicious Mediterranean inspired cuisine with your pup.
Farmstead (St. Helena): This is another dog friendly restaurant in Napa which has a bustling outdoor patio equipped with heaters. Their deviled eggs are delicious and a must have. I highly recommend dog parents going there for lunch or dinner.
Solbar (Calistoga): This restaurant of the famous hospitality group Solage is extremely dog-friendly with a giant patio and a great place to include in your Napa itinerary for lunch or dinner. The food is top notch Californian-American with hints of Asian influence (think of lamb gyros with a twist or sweet potato chapatis) and all ingredients are locally sourced. Solbar is part of the Solage Hotel which is a dog friendly hotel in Napa.
Calistoga Inn & Brewery (Calistoga): is a dog friendly Napa restaurant has a lively and spacious outdoor seating where well behaved dogs are welcome. The food is essentially Californian American with seasonal ingredients. 

Where to stay in Napa with your dog: dog friendly hotels in Napa
Although Napa valley makes for a great day trip from San Francisco, I highly recommend staying here for a weekend to make the best of what this region has to offer, which is honestly A LOT. Napa can be a very expensive place to stay and the choices of dog friendly hotels in Napa are limited (but you can always scout out some dog friendly Airbnbs). Having been to Napa several times with Babu, here are my recommendations based on where we stayed:
Bear Flag Inn
Bear Flag Inn is one of the best dog friendly B&Bs in Calistoga with the owners Dennis and Marjorie being major pet lovers as well and parents to two dogs and a cat! The cottages spread across acres of greenery for your dog to run around and best of all, dogs are welcome here at no extra cost. Besides hot breakfast in the morning, they also have wine and snacks to enjoy in the evening with the wine coming from the grapes in the vineyard facing the inn. This is one of the best places to stay in Napa with your dog, as attested by a five star rating on BringFido.com
Enchanted Cottage
Looking for a relaxing getaway in Napa with your dog? Then choose the Enchanted cottage, another charming B&B in Calistoga that is both kid and pet friendly! You will be greeted with a basket of simple, yet hearty continental breakfast outside your door every morning during your stay. The cottage itself is spacious and comes with a fireplace that adds to its vintage charm!
Hotel Napa Valley
 Hotel Napa Valley is a pet friendly inn near downtown Napa was our most recent stay (2020) when visiting Napa with Babu. Here, not only do you get a spacious room, but the bathroom (complete with a fancy clawfoot Victorian tub) is humongous!  The complimentary handmade treats in the evening are a nice touch as is the free internet. Remember to call and confirm the availability of pet friendly rooms prior to making an online reservation.
Notes for 2020-2021: Pet policy, breakfast and happy hour arrangements might be different during these unprecedented times. Please confirm everything with the innkeeper/hotel manager prior to booking your stay.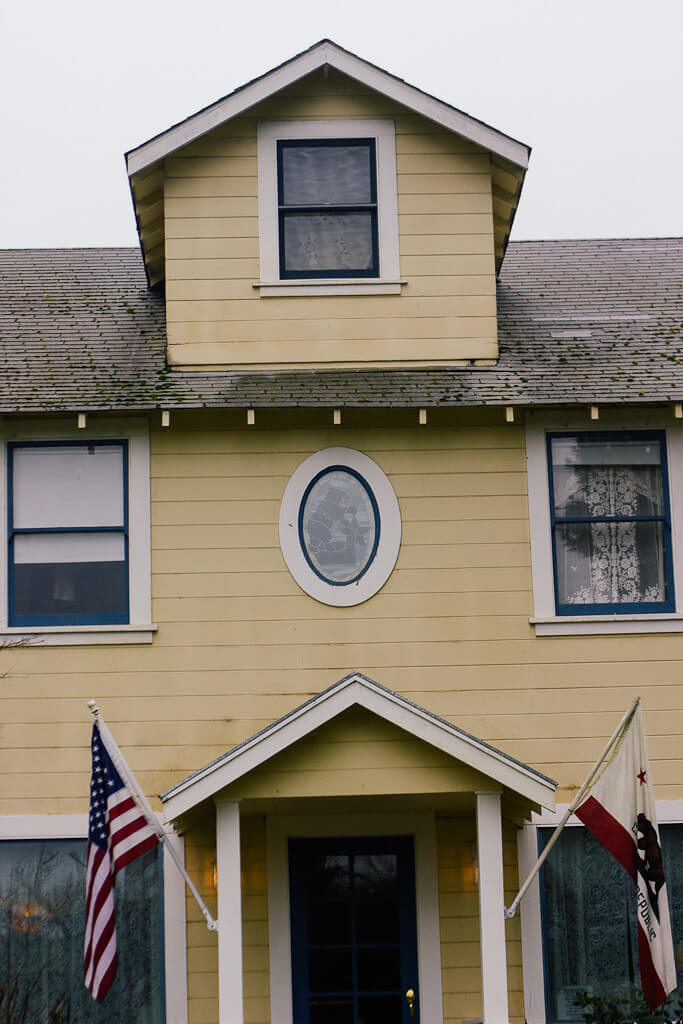 I hope you enjoyed this post on all the dog friendly wineries in Napa and are planning on visiting Napa with your pup. Thanks so much for stopping by and follow us on our California adventures with Babu right here!
Like this post? Pin it for later

 

«