Last Updated on November 14, 2021 by Paroma
Are you curious about visiting Solvang, the Danish Capital of USA (and one of the prettiest small towns in California) with your pup? Then I am here to help you make a terrific day trip or weekend getaway out of it with this dog friendly Solvang guide. In this dog friendly guide to Solvang, you will find all the info that you need on dog friendly Solvang hotels, restaurants, wine tasting and more to enjoy this fairy tale California town to the max with your puppy!
Disclaimer: This blog post may contains some affiliate links. Clicking on them to make a purchase may earn me a small commission at no extra cost to you for the product. Thank you!
Dog Friendly Trip to Solvang: What is so special about this town?
"Solvang" translates to "sunny fields" in Danish. One look at this city, in the heart of Santa Ynez valley in California's beautiful wine country, and you will understand why. This city, built by Danish educators in 1911, stands on 9000 acres of sun-kissed land adjacent to the historic Mission of Santa Ines.
Built to preserve good old Danish cultures and heritage, it is considered America's Danish Capital and was named by Sunset magazine as one of the "10 Most Beautiful Small Towns in the Western United States". 
Thanks to a friend's recommendation, I made it an impromptu addition to our road trip itinerary in December 2018 and made a day trip to Solvang with Babu, followed by a repeat trip in 2020 where we stayed in Solvang for a few days.
Turns out that Solvang is incredibly dog friendly and many businesses welcome canines with open paws:-) So without further ado, here is a dog friendly Solvang guide, listing Solvang attractions that welcome dogs, pet friendly hotels, restaurants and wineries. This post is updated with more information, thanks to our repeat visit with Babu in 2020.
Solvang is just an hour away from Santa Barbara, the beautiful dog friendly California beach town that everyone raves out and from Los Alamos, another trendy town in Santa Ynez valley.  Little over two hours drive south will take you to Los Angeles, which is also very dog friendly. All these towns and cities are excellent winter destinations in California and should be on your winter vacation list for sure!
Pet Friendly Hotels in Solvang
Starting off this dog friendly guide to Solvang with several pet friendly hotel options in and around Solvang.  We've now been to Solvang twice-once as a day trip from Paso Robles, and the second time for a three night stay to explore more of the Santa Ynez valley.
During our first visit to Solvang (a short day trip), we stayed at Chestnut Charmer, a dog friendly house that we rented via Airbnb (use this link to get $40 in travel credit, pretty please) in downtown Paso Robles. However, Solvang has many dog friendly hotels as well! These include The Landsby, Royal Copenhagen Inn, and Wine Valley Inn.
We visited Solvang again in October (2020) and ended up staying at the Royal Copenhagen Inn, right on Mission Drive. This dog friendly Solvang hotel charges $20/night per pet and has free wifi as well as free continental breakfast (delivered boxed to your doorstep as a no-contact method). 
Dog Friendly Solvang Guide: Best dog friendly activities 
Solvang is like a picture postcard town come alive, right from the colorful sleek houses (a la minimalist Danish architecture) to windmills, bakeries selling Danish and other Scandinavian delights along with the delightful windmills that added a touch of whimsy and made this place stand out amidst the familiar California landscape. There is also a permanent Jule Hus (Christmas House) store to give you the holiday feels anytime you visit!
You can simply Google "Solvang windmill" to take you to the most bustling part of town, aka "The Village" where you can park and walk down the main street/Copenhagen drive to take in the sights of the many attractions of Solvang.
You will be greeted with rows of colorful European style homes (built in the Danish architectural style of clean, geometric lines), antique stores, clock and watch shops, wine tasting rooms, restaurants and many quirky boutiques. Most of these businesses are dog friendly and bakeries/wineries have outdoor seating for dogs to join in.
Besides feverishly snapping photos of the several windmills all around, do stop by the Little Mermaid statue (a replica of its famous sister in Copenhagen) and the Hans Christian Andersen museum, arguably Denmark's most famous literary figure. Known mostly for his fairy tales or fables/short stories for children, this museum atop a bookstore is free to enter and best of all dog friendly!
The museum hosts Andersen's many memorable literary works like the Snow queen, Little Match girl, Little Mermaid and so on, as well as a replica of his home in Odense, Denmark, his portraits and a bust. Being a big fan of H.C. Andersen's work (although for children, his stories always had a dark, grim undertone or tragic ending), a visit to this museum was definitely the highlight of our day trip to Solvang.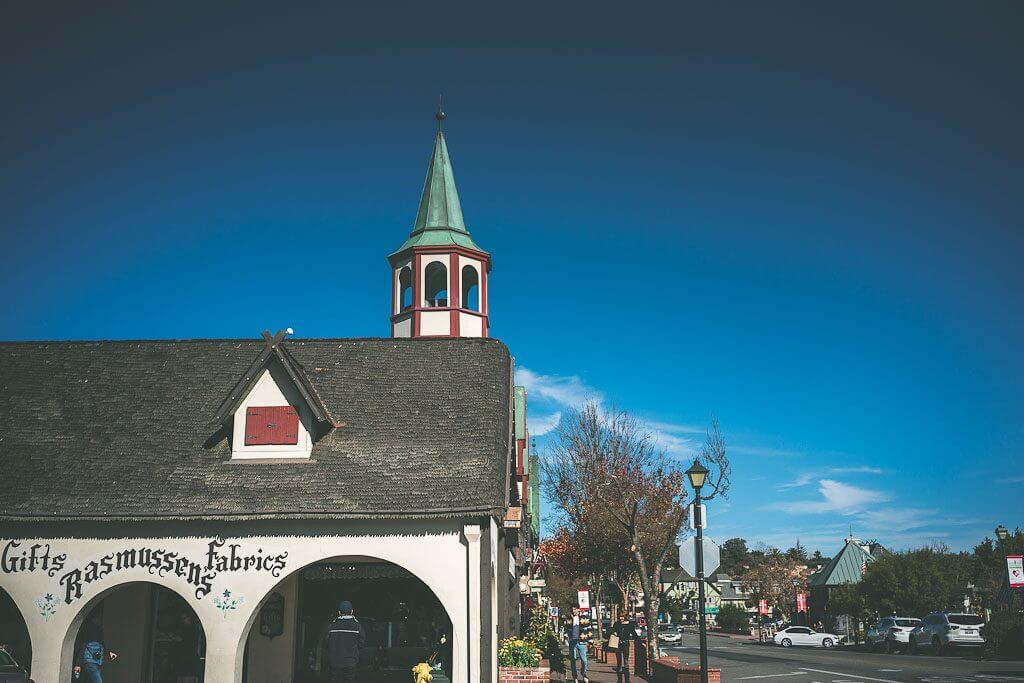 Finally, this is something which we totally lucked out on is spotting an ostrich and emu farm as we drove out of the village and where Babu was allowed (they seem to allow small sized dogs in). Essentially the birds roam around in acres of open field behind a sturdy, tall fence and you can buy ostrich food ($1/bowl) to feed them. Ostrich are aggressive and hungry(much like me who is "hangry" most of the time), so it is important to read all posted rules to have a pleasant experience.
Babu was so surprised with this "fowl acquaintance" (pun intended) that he did not know how to react and stood with a puzzled expression on his face on the other side of the fence as we fed the birds. Bottom line is that if you have a small dog who does not get super excited, he/she may be allowed in. It's always good to ask at the front desk to make sure before you purchase your tickets, much like what we did.
Dog Friendly Restaurants in Solvang
Dog friendly Solvang obviously has several restaurants where you can enjoy a delicious meal al-fresco with your pooch. We started off with some yummy Danish pastries (not to be confused with the American "Danish") and coffee from Birkholm's Danish bakery and cafe that we enjoyed with Babu at their adjacent outdoor seating.
Other notable bakeries with outdoor seating are Olsen's Danish village bakery and Mortensen's Bakery, both of which have yummy traditional danish baked goods and other pastries along with an impressive line of hot beverages.
For lunch, visit Fresco Valley Café, which has a beautiful dog friendly patio. Judging by the number of dogs there, this dog friendly restaurant seemed to be a great hit with pet parents. Portions are on the larger side, but flavorful and there are several vegetarian options.
Finally, they also have a menu exclusively for dogs (how awesome is that?) where the meat is unseasoned for your dog's safety. We ordered chicken off that menu (came in bite size chunks) and Babu lapped it up! Another dog friendly restaurant in Solvang with outdoor seating is Chomp Burgers which is right next to the little Mermaid statue.
For dinner, definitely check out First & Oak, a charming restaurant in the Mirabelle Inn in Solvang. Their patio dining allows dogs and they serve delicious seasonal fare from California! Reservations are highly recommended to dine here.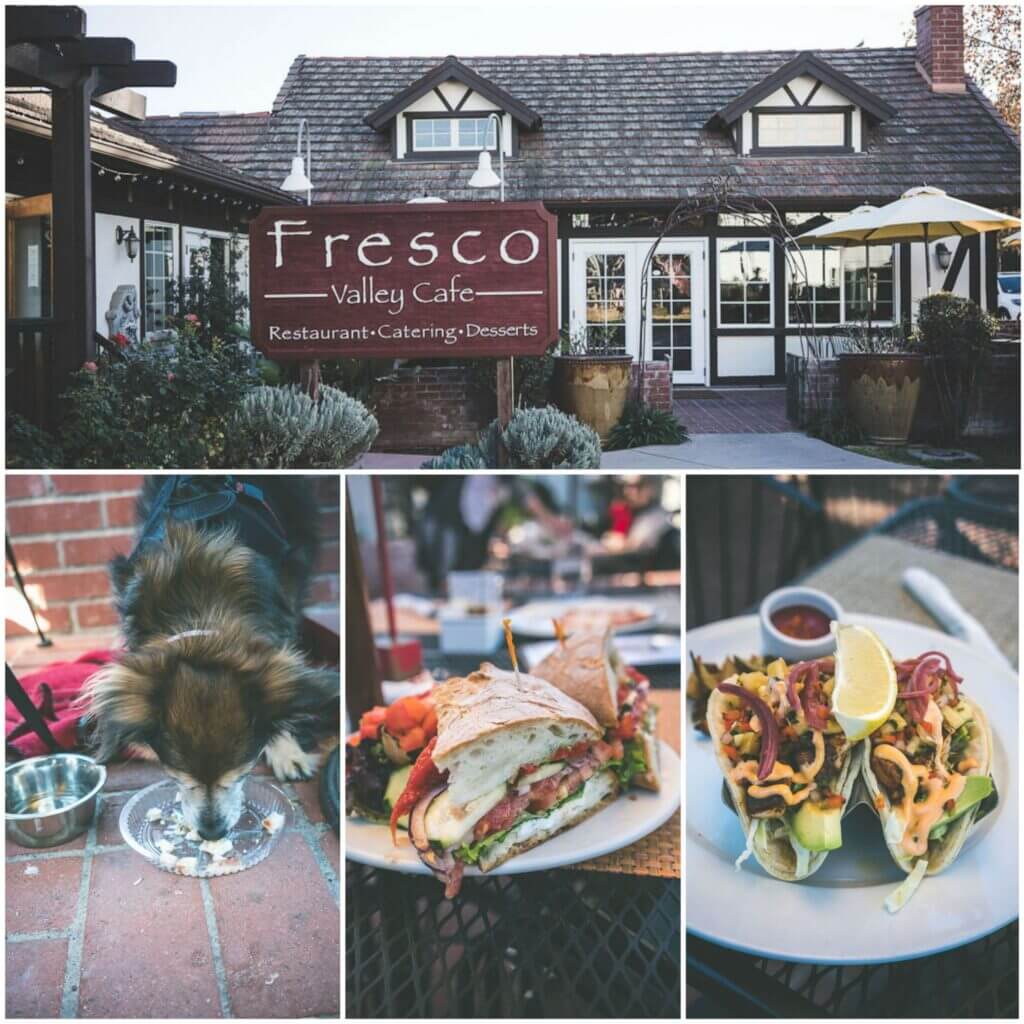 Dog Friendly Wine Tasting in and around Solvang
a) Wine tasting in Solvang Village
Ending this dog friendly Solvang guide with wineries/ wine tasting, because, what good is a trip to California's Santa Ynez valley without tasting the world famous California grapes? Solvang has a bunch of dog friendly wineries/wine tasting rooms such as Presidio winery, Carivintas winery and the one which we visited, aka Wandering Dog Wine Bar.
This tasting room , dedicated to the memory of one of the rescue dogs of the owners, is made for dogs and humans to have a good time. Dogs are welcome inside while humans choose one of several tasting options (I went for a pouring of five red wines for $15).
At Wandering dog the tasting fee is forfeited upon purchase of one of their bottles.  During our visit, we found the person behind the counter to be incredibly friendly who explained about the grape and its source for every pouring. Since I am the only one who loves a drink in that party of four (no wine was ever offered to Babu except for the odd poser photo, FYI) we did not try out other wine bars to keep my reasonable sobriety intact.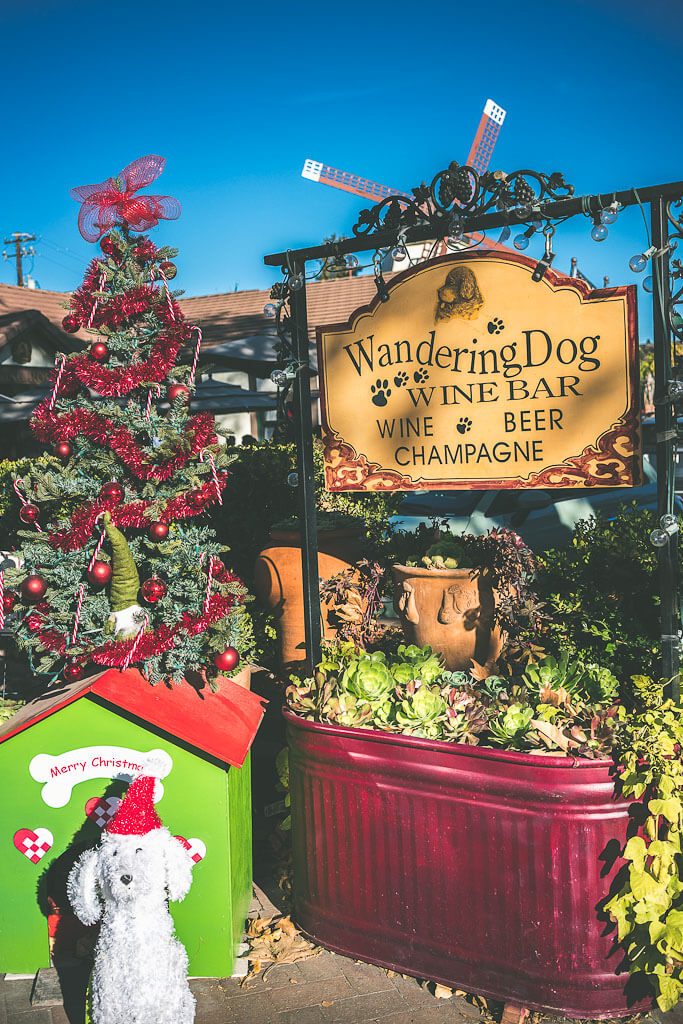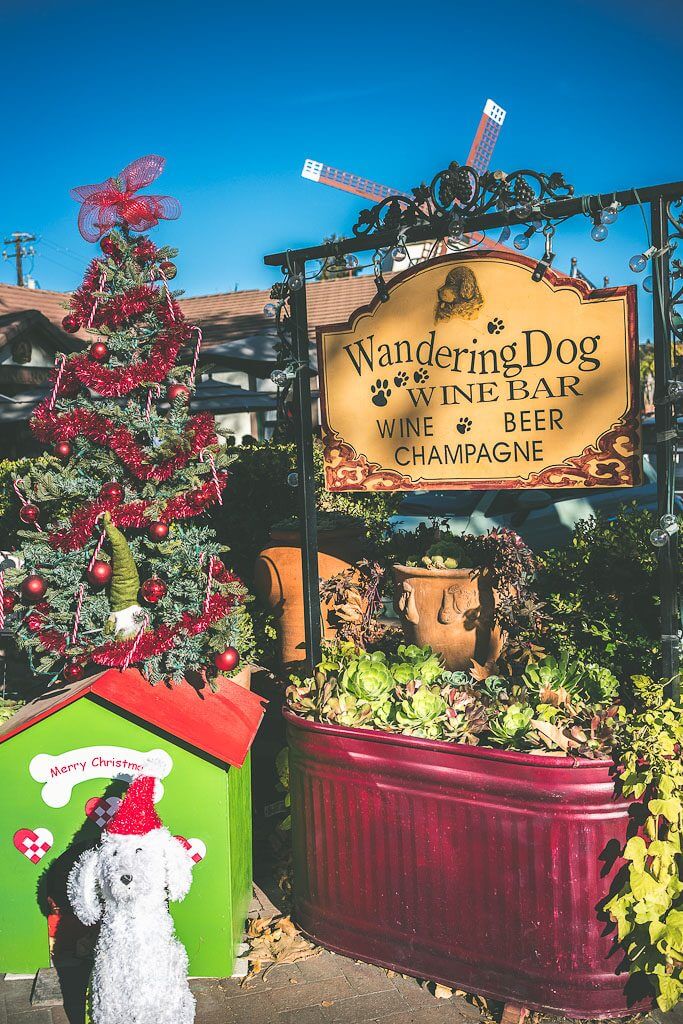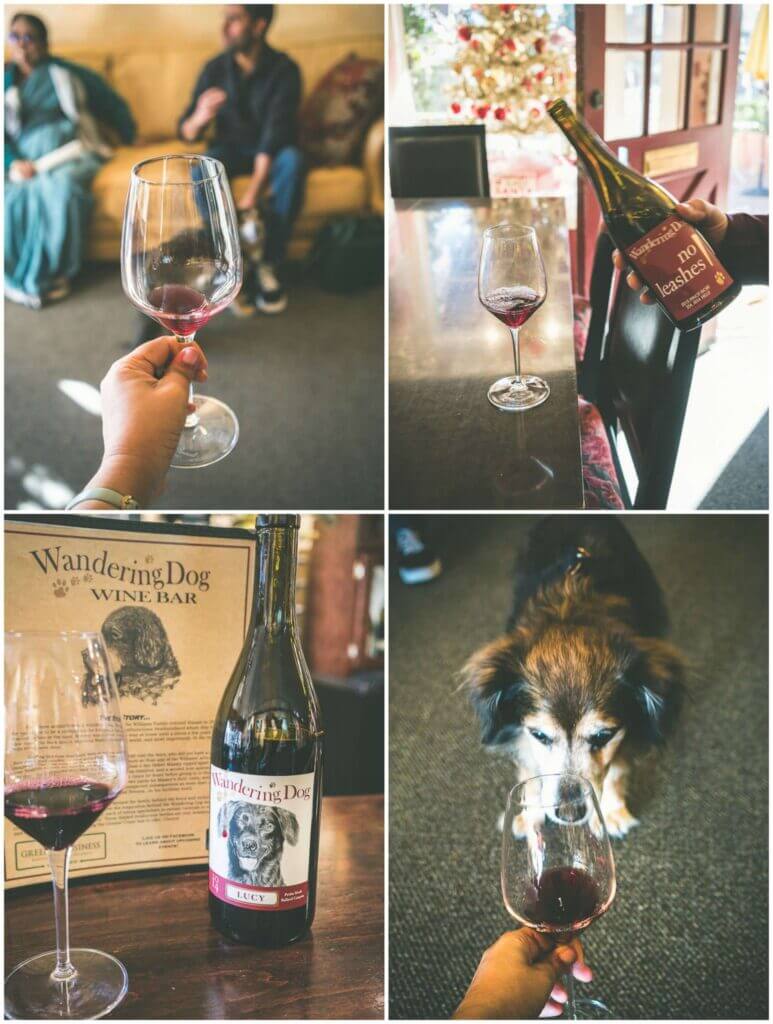 b) Dog friendly wineries around Solvang
Solvang is blessed to be nestled in the Santa Ynez valley, which abounds in wineries big and small, many of which are dog friendly. I highly recommend stopping by these following wineries for a dog friendly wine tasting!
1)Sunstone winery: Wine tasting does not get any better than at this dog friendly Santa Ynez winery, a private family owned winery where you can taste some delicious estate wine in the shade of a Tuscan style chateau, flanked by lavender fields and vineyards. A pour of 6 wines (red and white) costs $20. 
2) Shoestring winery: This Solvang winery is currently allowing guests to buy either a glass or bottle of wine to enjoy in their open space surrounding the tasting room. They also have horses and goats on their property!
3) Roblar winery and vineyards:  This dog friendly Santa Ynez winery allows wine tasting in their 40 acre vineyard in a shaded patio overlooking a beautiful garden. They also have a food menu to go along with their wine.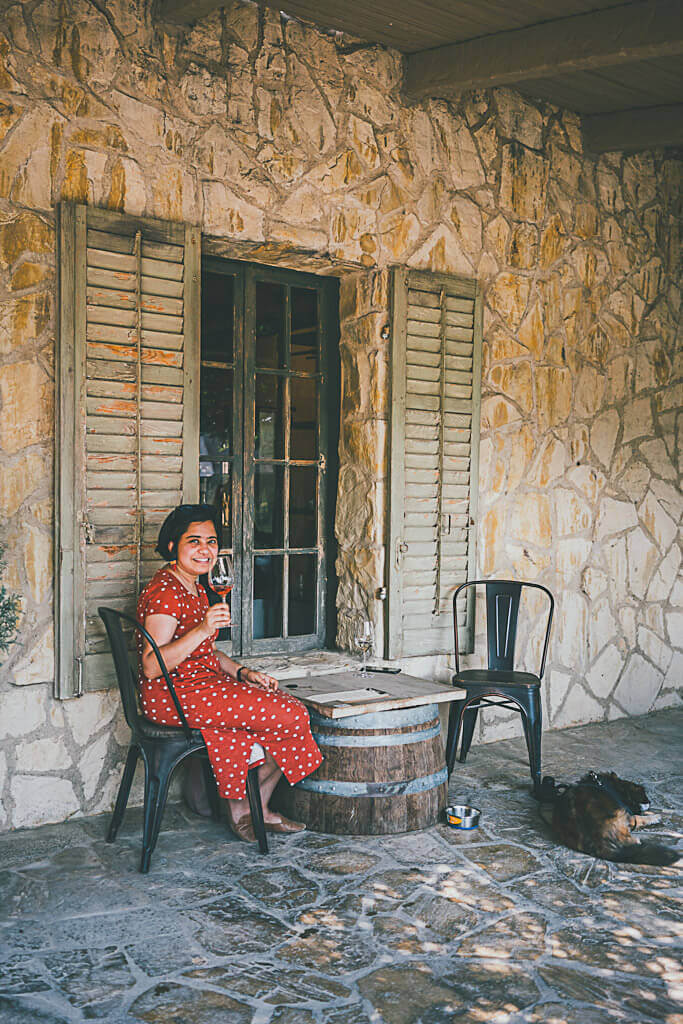 For those of you pet parents with several wine lovers in your group (after all, wine is best enjoyed in good company), here is a complete list of other dog friendly wineries by the Solvang Tourism board.
I hope you enjoyed reading this dog friendly Solvang guide and are making plans for your own day trip to Solvang, or even better, an overnight stay with your best friend!
Dog or no dog, visiting Solvang should definitely be on your list to partake of Solvang's charming European ambiance and relish a slice of beautiful Denmark in California, minus the costly transAtlantic flight fare. Finally, if you are owned by a dog and are looking for adventures in California with your pooch, I have you covered via my numerous dog friendly travel and hiking posts that are "paw"some!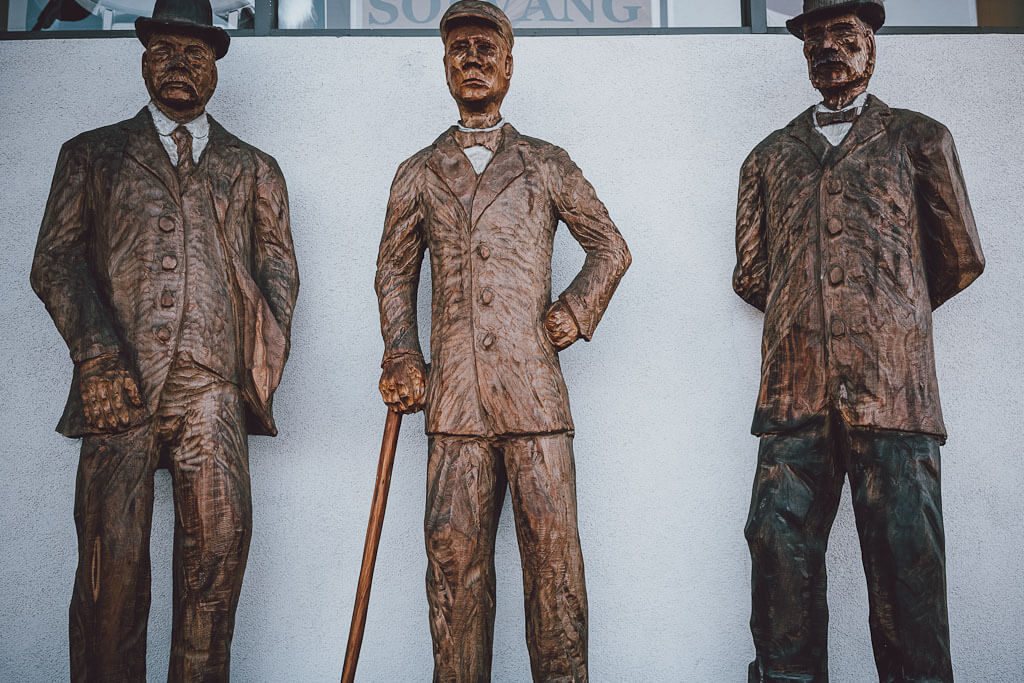 Like this post? Pin it for future by hovering over the images below

«