Last Updated on November 16, 2022 by Paroma
Bringing your dog to California's central coast and wondering where to go for dog friendly wine tasting in Paso Robles? You're in luck cause I have some amazing dog friendly wineries in Paso Robles lined up just for you, based on my tried and tested experience aka multiple trips! These beautiful dog friendly Paso Robles wineries and their pup friendly ambiance are sure to be a winner in your book, so keep on reading. As usual, I have included everything else that you need to know about a dog friendly "wine-cation" in Paso, i.e. the best dog friendly Paso Robles restaurants and dog friendly hotels in Paso.
Disclaimer: This post may contain some affiliate links. Clicking on them may earn me a small commission at no extra cost to you for the product. Thank you for supporting free content on this site!
DOG FRIENDLY WINERIES IN PASO ROBLES, CALIFORNIA
Paso Robles is one of the trendiest wine tasting destinations in California and located in San Luis Obispo County, about 206 miles south of San Francisco in California's central coast region. If you love wine, definitely check this part of the central coast out as your next weekend getaway from San Francisco.
Located midway between San Francisco and Los Angeles, this city is known for its myriad wineries, tasting rooms and olive groves-attracting wine lovers from both Northern and Southern California. Much like my previous wine tastings with Babu (and now, Gunda) in Napa, Sonoma, Carmel Valley, Clear Lake and Lodi, Paso Robles too has many dog friendly tasting rooms and wineries for dog parents.
The best way to go about planning your dog friendly wine tasting in Paso is to consult the list on the Paso Robles Wineries website which has all the wineries (with a helpful dog logo next to their names to indicate that they welcome pups) listed. It was definitely very helpful for me to shortlist the wineries to go to with Gunda, who has previously been with us to Pismo Beach, a dog friendly beach town near San Luis Obispo.
(Psst… SLO county is home to many amazing Northern California beach towns…catch them all in this post)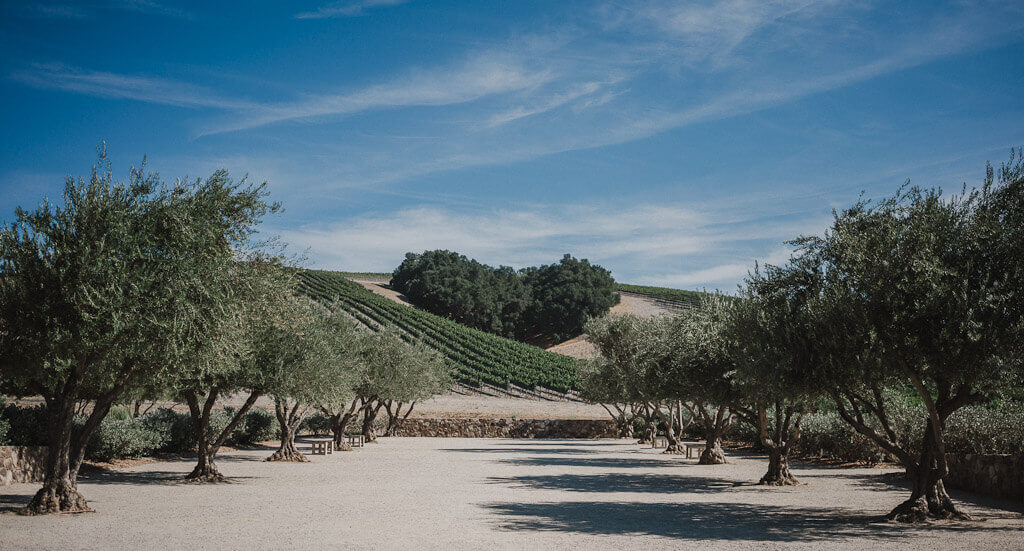 Above: Niner winery
OTHER DOG FRIENDLY GUIDES TO CALIFORNIA CENTRAL COAST THAT YOU MAY LIKE:
THE BEST DOG FRIENDLY WINERIES IN PASO ROBLES:WINERIES ALLOWING DOGS FOR TASTING (INDOORS + OUTDOORS)
Finally, without further ado, here are some of my favorite dog friendly Paso Robles wineries based on my own experience. This list will obviously continue to grow, so keep an eye out for more new additions. The prices are reflective of 2021 tastings which can change over time. Same goes for meals and pet policies of wineries that keep on changing, so please confirm everything prior to your arrival, i.e. contact the winery prior to making your reservation.
This dog friendly tasting room in downtown Paso Robles will bowl you over with its friendly service and the luscious Spanish varietals! Best of all, dogs are also allowed inside the tasting room, which is open pretty late (till 8 PM). You can taste a flight of 6 wines (a mix of white and red) for $20 or go for the all Reserve tasting for $35. The grapes are sourced from vineyards in San Luis Obispo, Templeton and Paso.
Beside Diablo Paso, the other spot for late night wine tasting is Jeffry's Wine Country BBQ in Norma's Way Alley, which has a huge patio and is dog friendly. Cendré Wines is also another cute spot for wine tasting in the evening with some outdoor seating available.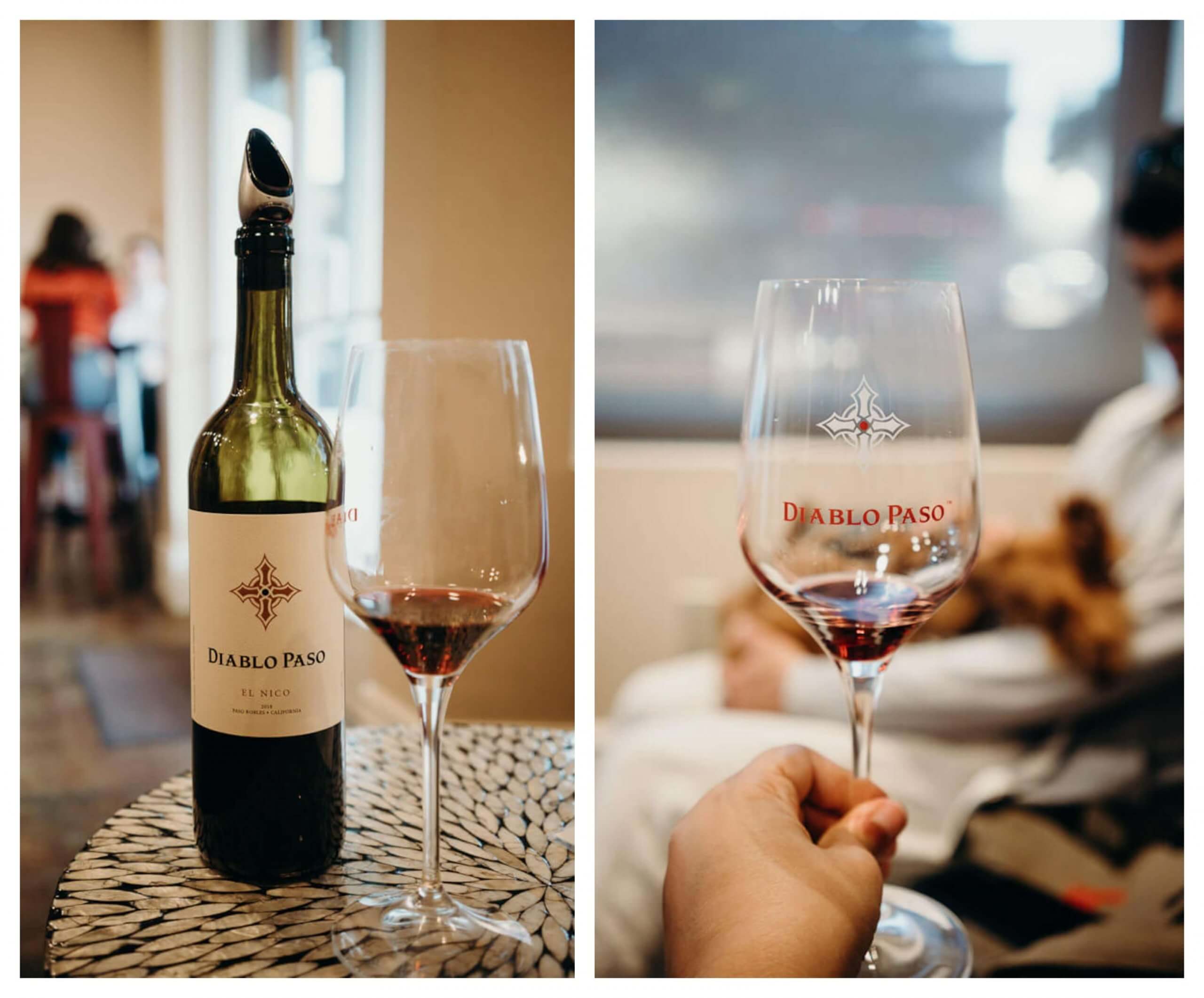 Tooth and Nail winery is an extremely popular dog friendly Paso Robles Winery showcasing wine, food as well as love music continuing till 6 PM surrounding a chateau. You can either go for a mix of white and red tasting for $30 or all Reserve reds for $40. Our tasting was in a shaded patio and we went for a mezze platter to accompany our wine. If you want a quieter and more attentive experience, I highly recommend going for earlier tastings.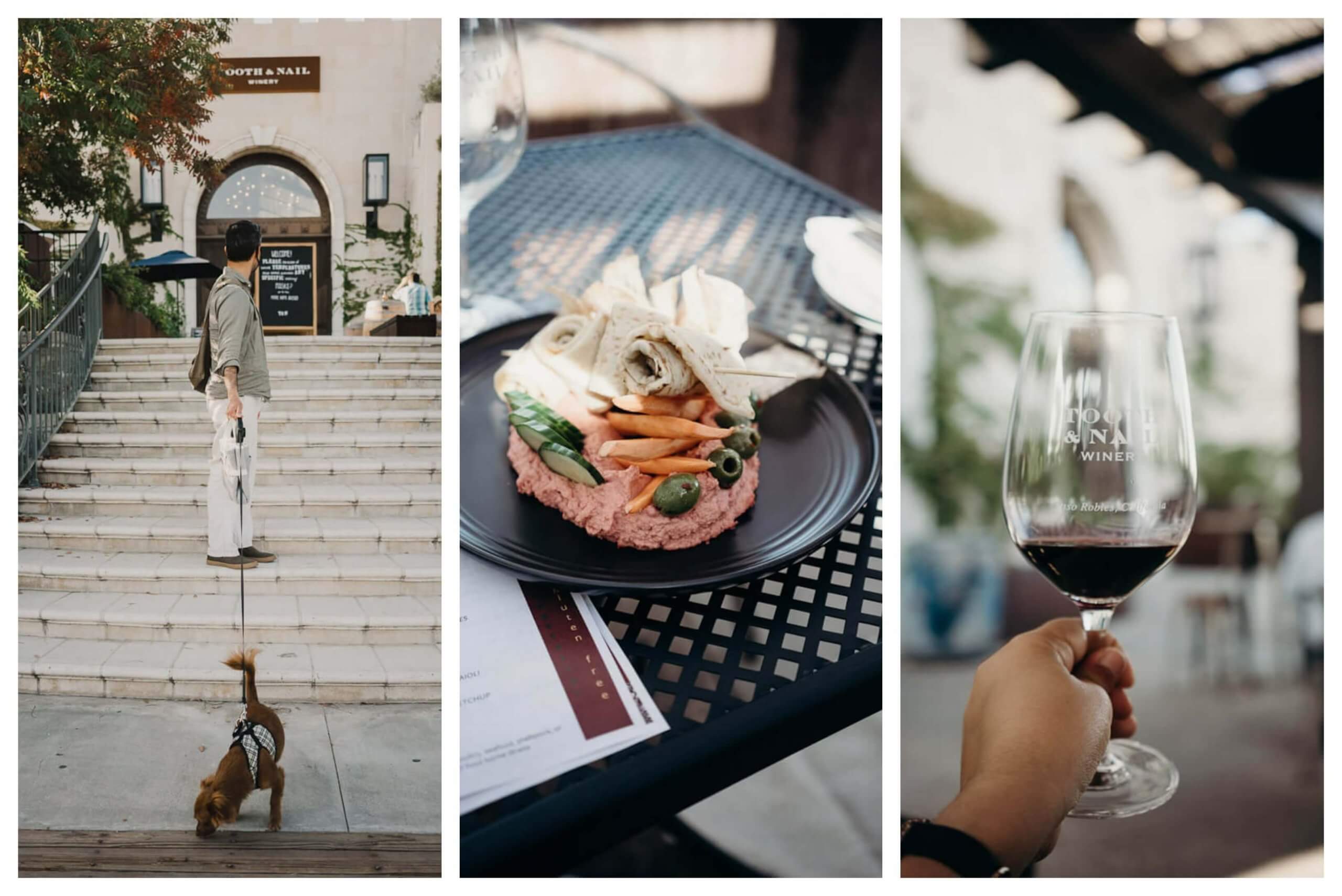 Eberle is German for "Little Boar" which explains the statue of a boar greeting you at the winery and boar photos all around and on the wine label as well. This winery is kind of unique, cause the tasting is free. You only pay a small fee for the wine cave tour when you book the appointment.
The cave tour (where dogs are allowed) lasts about 15 minutes where a staff member takes you through their wine making process, through the fermentation room and then finally into the cave lined with oak barrels. The tour is educational and fun and I highly recommend joining it!
The actual tasting occurs at assigned tables all over a beautiful patio overlooking their estate vineyards. You get to taste one white (Chardonnay) and four estate reds, of which the "Full Boar Red" was definitely my favorite Cabernet to enjoy!
This winery's tagline is "French DNA with a Paso personality" because of their wines, i.e. all Rhone varietals! You can go for a regular tasting for $15 or a pricier reserve tasting for $25 and the tasting fee is waived with a purchase of 2+ bottles or signing up for the wine club.
Tasting is outdoors with your pup in a shaded verandah area. CASS has a terrific food menu (which we did not partake of) and also a very nice store indoors selling merchandise and local products such as olive oil and the famous local Leo Leo gelato
NINER WINE ESTATES
(OUR FAVORITE PET FRIENDLY WINERY IN PASO ROBLES)
Beside Diablo Paso, this was hands down my favorite wine tasting experience and one of the best gastronomic experiences in Paso! This dog friendly winery in Paso Robles is not only known for its wines (a good selection of whites and Reserve reds) but also its food which was delicious!
Seriously, you have to pair your wine tasting with lunch over there (just thank me later). You will be seated in a shaded patio looking onto a stone building and a delightful herb garden, from which the chef sources his ingredients.
The rolling vineyards surrounding the winery are the source of their Silhouette de Cour grapes. They also have a gift shop indoors selling local jams, Big Sur salt and winery merchandise including a Pinot Noir scented candle which I almost bought:-) I absolutely loved our leisurely wine tasting and the ambiance of this place and recommend it to all dog parents who are looking for some R&R in Paso.
Two magic words-Pinot Noir and dog friendly was what lured us to this completely accidental find during our very last trip to the Central Coast. Windward Vineyard specializes in Pinot Noir with 15 acres of land producing some excellent grapes which are nurtured by the cool Pacific Breeze blowing in from the Templeton Gap. Tasting is at a very reasonable $15 for four estate Pinots, so run don't walk if you're a Pinot lover to this winery which is open 7 days a week from 10:30AM.
This is an incredibly dog friendly Paso Robles winery with both indoor tasting room welcoming dogs and an outdoor patio overlooking their beautiful vineyards. Plus, the low key relaxed vibe of the tasting room and friendly service is just unbeatable!
Walk-ins are highly welcome, but I suggest early afternoon for a visit since they tend to get busier as the day progresses. They also have special events such as pizza nights and paella cookouts, so please keep an eye on their Instagram account for special activities. Tasting fee is not charged if you purchase 2 bottles.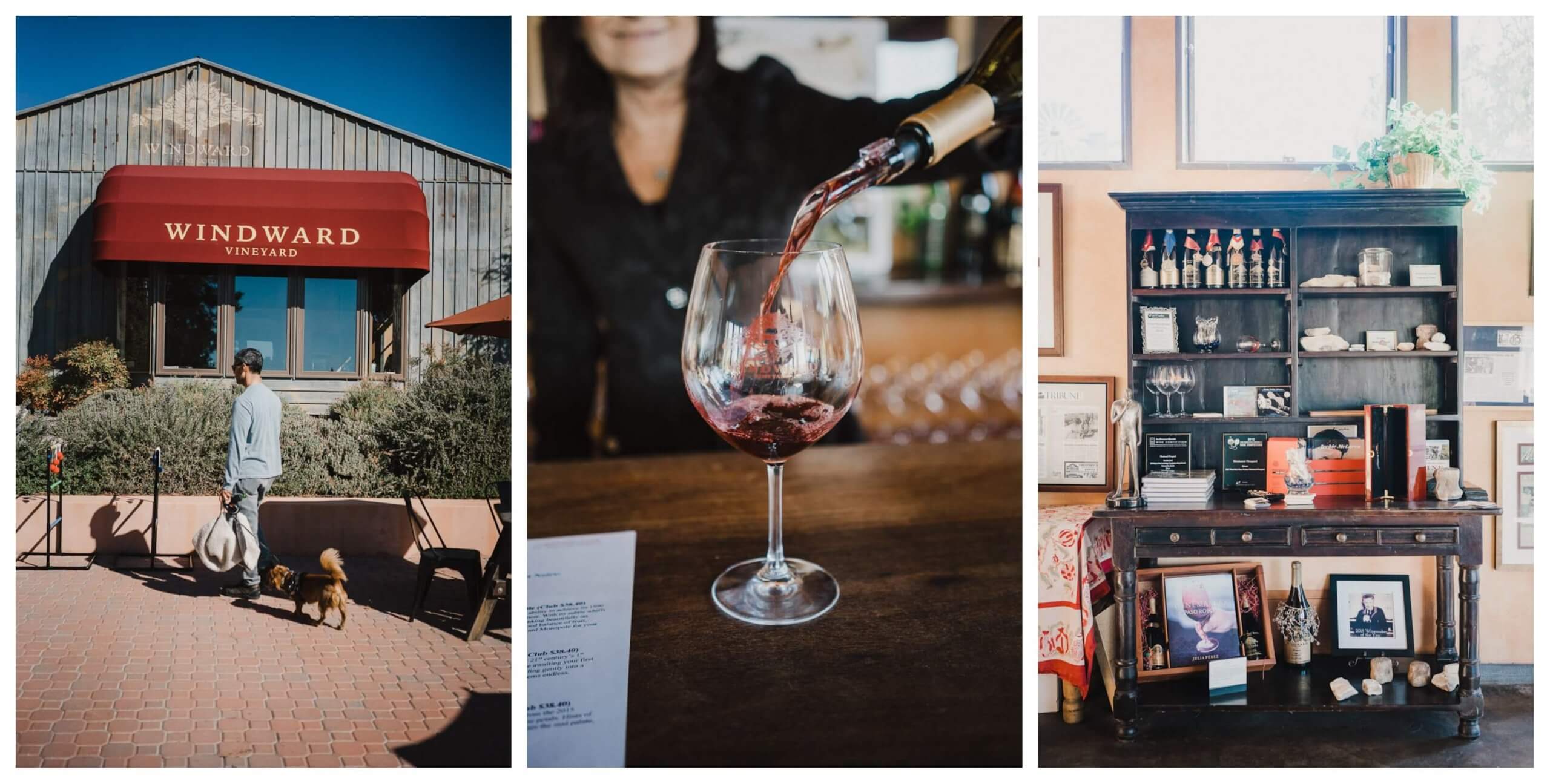 DOG FRIENDLY RESTAURANTS IN PASO ROBLES
Good food and good wine are a match made in foodie heaven and if you're seeking a good time in Paso Robles, be prepared to note down all these delicious nooks bursting with flavor that I am about to reveal to you. All of these are and around downtown Paso Robles and yes, all of them are dog friendly spots to have a yummy breakfast, brunch, lunch or dinner!
Except Winter and early Spring, the weather in Paso is favorable for outdoor dining almost throughout the year. So it is not surprising that most restaurants in downtown Paso have patios or plenty of outdoor seating provided and are therefore naturally dog friendly. Here are some of my recommendations based on the food and the ambiance:
THOMAS HILL ORGANICS BISTRO AND WINE BAR
This charming restaurant in downtown Paso not only has stellar food showcasing the best of the central coast, but was also voted as the one with the most beautiful patio for dining, and it is easy to see why. The shaded patio with lots of greenery provides a welcome respite from the heat and is perfect for your pup to chill as you savor a delicious meal. Highly recommend their tacos and gazpacho soup for a light, summer lunch.
AMSTERDAM COFFEE
This popular coffee shop not only has an envious selection of caffeinated beverages to get your day started but also a scrumptious breakfast menu to go along with it. Outdoor seating ensures that your pup can join while the stylish indoors is inviting with lots of greenery (read, very well maintained plants).
NEIGHBORHOOD CAFE AND JUICE BAR
This beautiful cafe is an instant hit for its aesthetics-high beam ceiling with lots of wood, plants and minimalist decor but its variety of juices, smoothies and breakfast items (cue in the avocado toast and matcha pancake) are also lip-smacking delicious. They have some outdoor seating so come in early for your breakfast fix.
FISH GAUCHO
This is undoubtedly one of the most popular restaurants in downtown Paso Robles with tall, arresting cacti guarding its entrance. Although there is plenty of outdoor seating, they were kind enough to allow Gunda inside for lunch (probably because is so freaking cute-clearly I am biased). They serve killer Margaritas and hearty Mexican seafood, including Yucatan and Oaxacan dishes. Our server lady was really nice and even got out treats for Gunda made in a local pet shop.
PASO MARKET WALK
Paso Market walk is an indoor food hall with several stalls operating inside selling everything from fancy meals to vegan sandwiches to Ramen as well as local plants and gifts. This hall showcases the best of Paso Robles merchants.
They have plenty of outdoor seating which makes them very dog friendly. The popular restaurant Finca serving Baja and Sonora style Mexican fare (with outdoor seating) is also part of this establishment (they do not accept reservations).
If dining at the Paso Market Walk, you will be spoiled for choices. I highly recommend Vreamery (a vegan cheese shop and melt bar with yummy sandwiches), at least one Ramen tasting from Momotaro Ramen, wine and some farm-to-fork vegetarian fare from Paso Robles Wine Merchant and a scoop of gelato from Leo Leo gelato.
LA COSECHA
This dog friendly Paso Robles restaurant has generous covered outdoor seating and serves yummy pizzas.
NEGRANTI CREAMERY
Negranti is a local creamery in Paso, with several locations including one in downtown near Norma's Way alley. Their specialization is sheep's milk ice cream and their strawberry basil is a treat on a hot summer day. They do have some outdoor seating to enjoy a cone or cup with your pup.
PLANNING A DOG FRIENDLY WINE TASTING TRIP TO PASO ROBLES? HERE ARE THE FAQs
As always with my other wine tasting experience, I have shared my experiences in detail to help you choose the dog friendly Paso Robles winery that is the right fit for you and your pup. Here are some other helpful tips to keep in mind while visiting Paso Robles with your dog:
WHAT CAN YOU DO WITH DOGS IN PASO ROBLES?
Go Wine tasting in its many dog friendly wineries-I have listed so many in my post!

Explore downtown Paso with many dog friendly businesses (tasting rooms, stores and restaurants)

Take your dog to Sherwood dog park

Visit other towns on the coast such as San Luis Obispo or Cambria for visiting dog friendly beaches and hikes
ARE DOGS ALLOWED IN SENSORIO?
Unfortunately, no. Only service dogs and emotional support animals are allowed at Sensorio. Service dogs are trained animals and you need a bonafide certificate from a doctor for an emotional support animal to qualify as such. See the Sensorio website for details.
HOW TO GET TO PASO ROBLES
Paso Robles is equidistant between San Francisco and Los Angeles. You can fly into any of the major airports like SFO, LAX or even SBA (Santa Barbara airport, which is the closest one) and drive from there. It takes about 3.5 hours to get from San Francisco (where I live) to Paso along 101S without any stops and under favorable traffic conditions.
Driving along the coast (i.e. Highway 1) to get to San Luis Obispo and then east towards Paso is another route option, but will take much longer. However, the upside is that you'll get to drive through Carmel and Big Sur, my favorite destinations on the Central Coast (I even have all the best stops between SF and Carmel lined out in this post for your convenience).
BEST TIME TO VISIT PASO ROBLES WITH A DOG
Undoubtedly late Fall (end of October and November) or Spring (April-June). Summer is terribly hot in Paso since it is inland with temperatures soaring to 105F (41C)! Winter brings rain and having been to Paso twice during Christmas holidays in December, I can testify that it is pretty quiet during the holiday season, especially between 24-31st.
TIPS FOR DOG FRIENDLY WINE TASTING AT PASO
Well behaved dogs on leash are allowed in all the dog friendly wineries in Paso Robles

Reservations are needed almost everywhere and it is also a great idea to notify the winery that you'll be bringing dogs so that they can arrange for your tasting (and lunch if you wish to eat) outdoors

Dress appropriately for the weather since your tasting will be outdoors if visiting with dogs. Summers are oppressively hot and winter can get pretty cold

It is best to come in early for a tasting (i.e. in the morning) if you're visiting in summer to avoid the heat

Paso Robles wineries get pretty crowded during holiday weekends-please keep that in mind while making your reservation because it is the exact opposite of a relaxing wine tasting experience

Downtown Paso Robles is where all the action is with restaurants, stores and an unbelievable number of wine tasting rooms, many of which are dog friendly. Several of them are open late till 7-8 PM and even beyond, which is perfect for those visiting during summer when the nights are cooler.
DOG FRIENDLY HOTELS IN PASO ROBLES
Paso Robles is expensive and finding dog friendly hotels that do not cost an arm and a leg can be tricky, especially over holiday weekends. We managed to have a very comfortable and pleasant stay at the Oaks Hotels and Suites, which is merely a mile away from downtown.
Spacious rooms with kitchenette, friendly service, ample onsite parking, free wifi and a mere $40 fee for your dog's entire stay made it a winner in our books. Oaks Hotel allows for up to 2 dogs per room with a weight not exceeding 75 lbs.
I must mention here that Oaks Hotel also provides free hot breakfast in their dining room, but dogs are not allowed there. Since you cannot leave your dog in the room alone at any time, we decided to have out breakfast elsewhere during our stay (thank goodness we did cause downtown Paso has some really good dog friendly cafes that I am going to tell you about).
That brings me to the end of another dog friendly wine tasting adventure in California! I hope this post on dog friendly wineries in Paso Robles and all the delicious dog friendly restaurants have inspired you enough to put Paso on your list of dog friendly destinations! Thanks a lot for stopping by and please follow all my dog friendly adventures in California here.
LIKE THIS POST? PIN IT TO SAVE FOR LATER
«