Last Updated on June 14, 2022 by Paroma
Are you looking for some amazing dog friendly activities in Carmel, California? Then let this dog friendly guide to Carmel show you the best things to do with your dog in California's most dog friendly coastal town. This dog friendly Carmel guide is based on our multiple trips to this coastal town over the last 10 years and is filled with lots of ideas on what to do with your dog in Carmel!
WHY IS CARMEL THE BEST DOG FRIENDLY TOWN IN CALIFORNIA?
Carmel-by-the-sea is a quaint little coastal town in the Monterey Peninsula next to the Pacific Ocean and is known for its European charm, pristine dog friendly beach, natural beauty, cute as heck downtown, plenty of dog friendly stores and restaurants and best of all, zero fireworks during fourth of July. Owing to its beauty and year round good weather, it is a coveted Northern California romantic getaway and one of the prime winter destinations in California.
Carmel is perhaps the most dog friendly beach town in Northern California as a result of which we've visited this seaside town many times over the last 10+ years on our road trips from San Francisco. Downtown Carmel-by-the-sea is perfect for exploring over a weekend with your dog, with secret alleyways, charming courtyards and many dog friendly businesses. 4th of July fireworks are banned in Carmel, making it one of the top getaway for dog parents with anxious pups.
This post is my guide to all pet parents to showcase how incredibly dog friendly Carmel is by providing details on a ton of things you can do in Carmel with your dog starting from dog friendly hotels, beaches, restaurants and wine tasting rooms that welcome dogs.
Disclaimer: This post may contain some affiliate links. Clicking on them may earn me a small commission at no extra cost to you for the product. This teeny tiny commission helps support my blog hosting and other maintenance costs. Thank you!
THE BEST TIME TO VISIT CARMEL WITH DOGS
Carmel is a popular destination year around for Bay Area locals, so it is hard to escape the crowds even in off-season. The best way to beat the crowds is to arrive during weekdays (Monday-Thursday) when it is pretty quiet all around. Carmel is an excellent place to escape the July 4 fireworks, especially for sensitive dogs like Babu since fireworks are banned in the city.
Because of its mild weather, Carmel is also the perfect winter getaway in California and is the gateway to Big Sur, one of the most scenic stretches along Pacific Coast Highway. The stunning 17 mile drive, one of the best dog friendly road trips in California, also passes through Carmel and is one of the many reasons to visit Monterey county.
HOW FAR IS CARMEL FROM THE BAY AREA?
Carmel is 125 miles south of San Francisco and is a 2.5 hours drive along the scenic route of Highway 1 (2 hrs if you take the inland route). It is only 1 hr 20 mins away from San Jose and can easily be a day trip from the Bay Area. I highly recommend driving down the coastal Highway 1/Cabrillo Highway to enjoy some of the most scenic stops between San Francisco and Carmel.
HOW CAN YOU GET TO CARMEL?
You will need to get your private vehicle and drive if you're coming in from the Bay Area or flying into SFO or SJC airports (SJC/San Jose International airport is the closest major airport to Carmel). For those visiting from abroad, you need to rent a car to drive to Carmel. You can easily rent a car at the SFO or SJC airports or any major city in the Bay Area.
Another option is Monterey regional airport (MRY) which is minutes away from Carmel and serves limited destinations with a handful of Airlines (Alaska and United are the two prominent ones). It might get really costly to fly into MRY from most parts of the country, so it is best to fly into SFO or SJC and drive down to Carmel.
WHERE TO STAY WITH YOUR DOG IN CARMEL: DOG FRIENDLY HOTELS
a) Cypress Inn
We have been to Carmel a whopping eight times now with our dog Babu, and have always been amazed at how many dog friendly hotels are present in this small California town welcoming dogs. Of all the pet friendly Carmel hotels that we've stayed, the most memorable one undoubtedly was the elegant boutique hotel Cypress Inn, owned by yesteryear actress and animal activist Doris Day. No surprises that the Inn is the best dog friendly hotel in Carmel with everything geared towards the comfort of your canine companion.
The hotel has its own restaurant (Terry's lounge) with both indoor and outdoor seating welcoming dogs, but advance reservations are recommended in this dog friendly Carmel restaurant since it is super popular due to its delicious cuisine (Californian American focusing on fresh catch) and because it welcomes dogs.
Our room, albeit small, was very beautifully decorated and came with a plush blanket and water bowl for Babu (things that I really appreciate). Plus attendants make the rounds in the evening handing over complimentary chocolates to every room, so I guess it cannot get better than this.
Breakfast is your typical continental fare and is complimentary, but the best part of the restaurant is its lounge with a fireplace (nesting a real, crackling fire in its hearth) that seals the deal. The lounge is open to all visitors for a drink or for guests to cozy up with their dogs as they listen to live music. On Saturdays, there is a live musical performance by a Liza Minnelli-esque lady who will charm you with her soulful crooning.
b) Briarwood Inn
Cypress Inn is the most popular and definitely pricey dog friendly hotel in Carmel, and gets booked very quickly, specially for the July 4th weekend. Another pet friendly Carmel hotel, where we have stayed repeatedly, is Briarwood Inn bed and breakfast, a cute little inn minutes away from downtown which welcomes dogs and also has complimentary breakfast.
They do have some restrictions based on your pet's size, so please enquire before you book! Both times we arrived to spacious, well kept rooms (larger ones can accommodate up to three people) with a fireplace and they had thoughtfully laid out a doggie treat on our bed! We loved our stay there both times and highly recommend it to pet parents looking for more economical options for budget dog friendly hotels in Carmel.
c) Green Lantern Inn
Green Lantern inn is another of the many dog friendly hotels in Carmel allows up to two pets per room (an additional charge of $35 is applied per pet) and is located a mere 5 blocks from the popular Carmel beach. The inn not only has a charming lobby where freshly made hot complimentary breakfast is served but also equally dainty cottages that are spacious on the inside.
We stayed at the "Carmel Hideaway"/Laurel cottage which is a little more secluded since it is kind of at the back of the inn and is accessible by a flight of stairs. This inn is possibly the most economically viable option of the three places that we've stayed at in Carmel and thus recommended for visitors who want something more than the bare-boned Motel 6. Parking is also included but arrive a little early for check-in since the parking lot is tiny.
DOG FRIENDLY THINGS TO DO IN CARMEL
a) Dog Friendly beaches in Carmel
Carmel beach
Carmel-by-the-sea has a fair share of some of the most dog friendly beaches in California. The most popular, and also dog friendly beach in Carmel is undoubtedly Carmel beach at the very end of Ocean avenue, where man and canine can have a jolly good time frolicking in the sand even in the dead of winter, thus making this Northern California beach town a perfect winter getaway destination in California.
Being on the coast, Carmel experiences foggy mornings and warmer afternoons, so do pack accordingly while going to the beach, dress in layers and do not forget the sunscreen. The beach is super popular and gets crowded pretty quickly, so it is best to arrive early to snag a spot in the sand.
Garrapata beach
If you are looking to leave the crowds behind at Carmel beach, Garrapata beach, a secluded dog friendly beach in Carmel on the way to Big Sur, is definitely the beach to visit. It's a fairly straight road along Highway 1 and once you reach the beach, you get onto a well cordoned off trail that leads to stairways leading up to the beach. It is a white sand beach with lots of kelp around.
As is the case with all beaches in NorCal and Central Valley, the water and the weather itself is cold, windy and chilly. So please dress appropriately! Dogs on leash are welcome on the trail and on this pet friendly Carmel beach. If you arrive in the morning, you will have the beach pretty much to yourself to enjoy the salty air and solitude.
This place is an excellent lookout spot for California gray whale migration and has dense, native vegetation all around. Pretty summer flowers blooming all around plus the foamy waves gave us many picture-perfect shots.
b) Dog Friendly hikes in Carmel
If you are in the mood to hike in Carmel with your dog, may I suggest Mission trail park and Nature preserve? This is a dog friendly hiking trail in Carmel which meanders through miles of green wherever the eyes can wander. We hiked for only a mile or so of the five miles, but this is definitely one of those non tedious, beginner level dog friendly hike that everyone can enjoy at a relaxing pace! The trail head is close by to downtown Carmel and is either a 20 min walk or 7-8 min drive.
c) Exploring downtown Carmel
Downtown Carmel is super dog friendly to boot and dogs are allowed in almost all stores (unless they sell food/edibles) and as a result you can explore most of downtown Carmel with your dog without any problems! Every corner that we turned too was beautiful and charming with flowers or secret paths/tiny green Shangri-la like gardens tucked in! Not to mention the extremely cute and quaint store signs, unexpected red doors (my favorite) , cute boutiques and art galleries strewn everywhere!
Simply enjoy strolling around in downtown and take in the pretty sights of flowers blooming, tiny little shops and quaint, delightful signs everywhere. Carmel is such a tiny town with residential areas adjacent to the business center/heart of the city, that everything can be covered within a day on foot if you are simply wandering around, making it an excellent Bay Area day trip from San Francisco.
Downtown Carmel has many hidden gems that you will stumble upon as your walk around. One of them is a delightful secret garden tucked away in an alley (next to Carmel bookstore) or beautiful flower lined cobbled pathways in small lanes adorned with local shops and restaurants.
Because of the weather, most people dine al-fresco with their dogs and most restaurants here have that option. Finally, do not forget to get some chocolates from Lula's or peep into the Alice in Wonderland gift shop if you are visiting!
d) Dog friendly wine tasting at Carmel-by-the-sea
Dog friendly Carmel-by-the-sea has lots of wine tasting rooms and Galante Vineyards has the oldest of them all. This tasting room serves five pours of red and white (for a very reasonable $20) and all the wines are from their estate grown grapes. Outdoor tasting welcomes well behaved dogs gladly! I also highly recommend Dawn's dream winery which is a cute little dog friendly wine tasting room in downtown Carmel.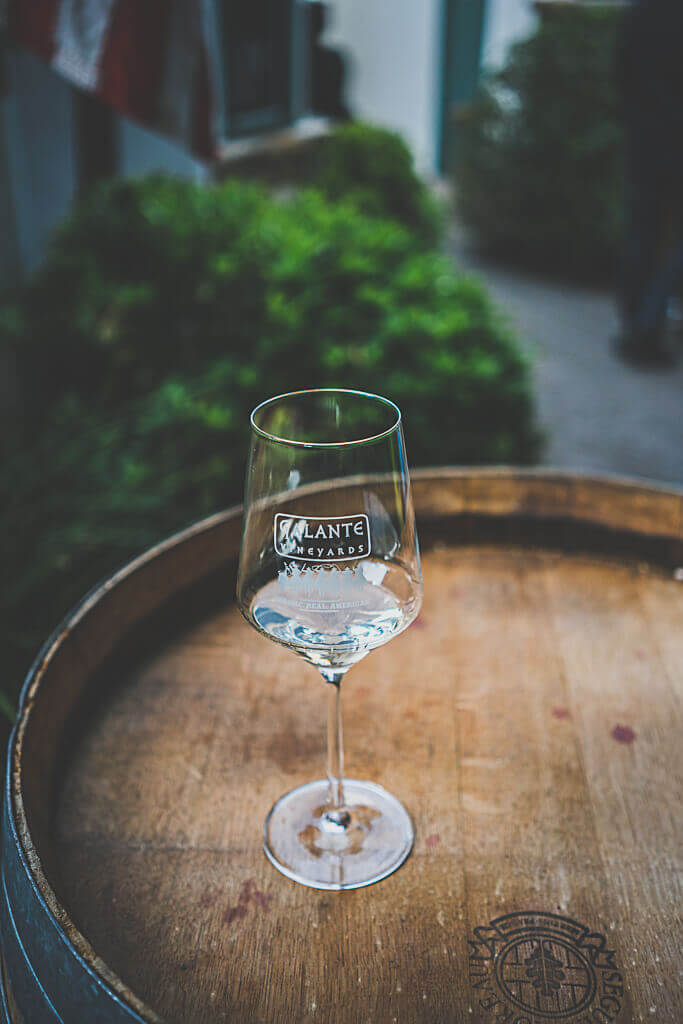 The third dog friendly wine tasting room that you must visit, for their excellent service, wine and addictive breadsticks is none other than "Scratch wines". The winemaker has several chickens, which is why the name "scratch" and the wines are grown from grapes sourced all over the central coast. Here too, five pours cost $20, the fee being waived upon purchase of a bottle.
For more on wine tasting at Carmel, read this excellent guide on Carmel wine walk by-the-Sea! You can also read our dog friendly wine tasting adventures in Napa, Sonoma and Lodi to find out more dog friendly wineries in California.
DOG FRIENDLY RESTAURANTS IN CARMEL
Carmel was definitely built for dog-lovers and offers plenty of dog friendly restaurants (much like in Santa Cruz, another dog friendly destination) to choose from. Almost all restaurants here are very welcoming to dogs with outdoor seating areas or beautiful patios. That is not all, many businesses (those not selling food items) welcome dogs in their establishments and also keep a bowl of water outside for thirsty pooches.
We explored quite a few dog friendly Carmel restaurants during our repeat visits and loved our dining experience at all of them. Before I start, I must warn you that advance reservations are a very good idea at these pet friendly Carmel restaurants if you are visiting with your dog over a busy holiday weekend because all outdoor spots are taken by similar pet parents who are visiting.
Some of the places we dined with Babu are as follows:
a) Dinner at Carmel Bistro Giovanni, a small Italian bistro with a beautiful patio and a very welcoming server. Like most restaurants around, the food had a Mediterranean influence with fresh local flavors that were light to the palate and featured seasonal, local catch. We loved the food and highly recommend this dog friendly dining place to all pet parents planning a visit to dog friendly Carmel.
b) Lunch at Basil Restaurant, another very popular spot with locals and visitors, specially dog-owners owing to their heated patio. Advanced reservations are highly recommended. The only downside to this place during our visit was that service was incredibly slow, but if you have all the time in your hands then this is a great dog friendly Carmel restaurant to dine because of the food alone!
c) Dinner at Cypress Inn, our hotel (with prior reservation) and fortunately we got a seat at the beautiful courtyard at their super popular dog friendly restaurant/Terry's lounge where dogs simply lounge in the courtyard (wrapped in comfy blankets) near your feet as you dine. You can also reserve an indoor seat since they have a special dog friendly section inside for pet parents.
d) Lunch at a charming dog friendly Carmel restaurant named Casanova, which is closest to Ocean avenue. We loved the mediterranean/french fare and the tiny courtyard where we could relax and enjoy our meal with lots of dogs near tables all around!
e) Dinner at the popular mediterranean joint Mundaka, which again had outdoor seating and mouth watering Tapas as well as delicious Sangria.
f) Breakfast at Village Corner, another dog friendly Carmel restaurant with a welcoming fire-pit to keep you warm on chilly Carmel mornings, which is also one of the very few restaurants open on 4th of July. Breakfast was omelette for S and buttermilk pancakes for me and then we headed off north, back to the city!
g) Brunch at Stationaery (restaurant and coffee shop) in a cute little alley with plenty of outdoor seating. They serve delicious Californian-Asian influenced fare. Do not forget to order their dungeness crab sandwich!
h) Lunch on multiple times at the dog friendly restaurant Cultura Comida y Bebida, an Oaxacan spot serving lip smacking delights like Tlayuda (Oaxacan partially fried or roasted tortilla with toppings) and Chapulines (these are spicy, fried grasshoppers and you can order a bite sized portion if you are feeling adventurous). They have a wide selection of Mezcal to go along with the food.
i) For those interested in some sweet indulgence, Carmel Bakery (open on July 4th as well) , Little Swiss Cafe selling Cheese blintzes (serving breakfast), and Patisserie Boissiere with fresh baked good and french pastries (plus savories for lunch) offer the perfect opportunity to do so and must not be missed. As of August 2020, Patisserie Boissiere has commenced outdoor seating that welcomes dogs.
There are many other dog friendly restaurants in Carmel and if you are staying at the Cypress Inn, they will provide you with a list of all the pet friendly restaurants in downtown! Bring Fido also has some excellent recommendations that you can read here.
Dog Friendly scenic drive from Carmel: 17 mile loop
Ending this dog friendly guide to Carmel with one of the best road trips in California that is also, you guessed it right, dog friendly! I am talking about the famous 17 mile drive that loops between Carmel in the south and Monterey in the North that takes you through famous points along the coast such as Lone Cypress and Pebble beach.
This is definitely one dog friendly activity that you must indulge in while coming to Carmel from the north or if you have some time on your hands and want to venture out of downtown.
Dog friendly half day trip to Carmel Valley
Carmel Valley lies 12 miles east (inland) of Carmel by the Sea and is known for its beautiful wineries and tasting rooms in Carmel Village and along Carmel Valley Road. Many of these wineries are dog friendly. You can read my guide on the most beautiful dog friendly Carmel Valley wineries for a half or full day trip to the Valley from the coast for some leisurely wine tasting (Pinot Noir and Chardonnay).
I hope you enjoyed reading this dog friendly guide to Carmel by the sea, a safe haven for dogs during 4th of July and an excellent place with all things dog centric!
If you enjoyed reading this, do read my other dog friendly destination guides in California such as my hometown San Francisco dog friendly guide and trips all over California to Mendocino, Sausalito, Pt. Reyes, Sebastopol (Sonoma), Santa Cruz, Sacramento, Calistoga (Napa), Santa Barbara, Solvang, Los Angeles and many other places.
Like this post? Pin it here

«