Last Updated on June 14, 2022 by Paroma
Are you looking for the best dog friendly hotels in Carmel, California? Then I have you covered in this very post where I have scoured out 10 pet friendly lodgings (hotels, B&Bs and vacation rentals) in Carmel-by-the-sea at all price points. I have visited Carmel for more times than I can count over the 10 years of living in San Francisco and have stayed in several of these places myself with our dog Babu! So without further ado, let's find out more about these dog friendly Carmel hotels to figure out where to stay in Carmel with your dog, no matter what your travel budget may be.
Disclaimer: This post may contain some affiliate links. Clicking on them may earn me a small commission at no extra cost to you for the product. This teeny tiny commission helps support my blog hosting and other maintenance costs. Thank you!
Please bear in mind that due to the ongoing public health crisis, many hotels may have changed their breakfast, happy hour and housekeeping policies. It is your responsibility to confirm that your requirements are met prior to booking the hotel.
Dog friendly hotels in Carmel: Helpful tips for first time visitors
Carmel by the sea, a charming seaside town on the California Coast, consistently ranks as one of the most dog friendly small places in the state and is one of the most beautiful winter getaways in California. If you're wondering where to take your anxious pup to escape 4th of July fireworks, head to Carmel.
It takes about 2-3 hours to get to Carmel from San Francisco and is one of the best road trips from San Francisco to embark on. I highly recommend driving down the coastal Highway 1/Cabrillo Highway to enjoy some of the most scenic stops between San Francisco and Carmel.
It is also your gateway to Big Sur, one of the most scenic California road trips along Highway 1 (Pacific Coast Highway) that you should embark on (dog or no dog) as well as the popular 17 mile loop between Carmel and Monterey. No wonder, this Northern California beach town is also a super romantic getaway in Northern California!
This pup friendly town also boasts of an astonishing number of dog friendly hotels, inns and B&Bs where you can stay with your dog for a jolly good time. However, this is a very popular dog friendly destination which means most places are booked in advance most times of the year.
Plus, not hotels have the same kind of amenities (wifi, parking, pool, proximity to beach) and many of them have limited dog friendly rooms. So before you book that dog friendly Carmel hotel, here are some things to keep in mind:
Carmel by the sea vs. Carmel valley
Carmel encompasses both Carmel-by-the-sea which is right on the coast, next to the Pacific Ocean and also Carmel valley, which is more inland and to the east. Although Carmel valley is known for its ranches and wineries, its dog friendly lodging options are more limited compared to Carmel by the sea and are mostly luxury hotels and inns. Also, it gets oppressively hot during the summer over here which is no fun for your dog!
On the other hand, Carmel-by-the-sea is where you have a lot of choices for pet friendly hotels.
Plus, downtown Carmel (where all the action is) is right next to Carmel beach, a famous dog friendly California beach which will woo you with its soft sand and azure blue waters. Many Carmel hotels welcoming dogs within a few blocks of the beach; plus the pleasant weather and access to beautiful downtown with charming courtyards and boutique stores makes Carmel-by-the-sea much more amenable to staying with your dog.
How expensive are these dog friendly hotels in Carmel?
Although Carmel is one of the best dog friendly getaways in Northern California, it is sadly also one of the more expensive places to stay in California, thanks to its popularity. Being a haven for dogs, especially during July 4 (no fireworks are allowed in Carmel), dog parents routinely flock to Carmel from the Bay Area and stay for at least a weekend.
You will not find budget dog friendly motel chains like Motel 6 or La Quinta in Carmel by the Sea. All hotels in downtown Carmel range from relatively affordable inns to downright boutique and luxury hotels-none are truly " extreme budget" like Motel 6.
I have pointed out several relatively lower budget options for staying with your dog in Carmel, but understand that these might be snagged up quickly (so book your stay ASAP if you're planning to visit). Plus, most hotels charge an additional pet fee which hikes up the base prices.
When is the best time to find budget dog friendly lodging in Carmel?
If you're visiting Carmel on a budget, your best bet to finding affordable dog friendly lodging options at Carmel is to either stay at nearby Monterey, visit during the off season (anytime except summer) and that too during the week from Mon-Thursday (weekends are crazy crowded throughout the year) or simply cover Carmel as a day trip from San Francisco (it is a 2.5 hr drive). All this or make your plans at least 1-2 months in advance to get the best options and hotel rates.
Hotels/Inns vs Vacation Rentals: Which should you book?
Let's face it, finding a good dog friendly hotel in California is not always easy. Plus, 3-4 star rating hotels charge higher pet fees per pet per night. I've often found myself in such a position when traveling all over California with Babu and during those times dog friendly Airbnbs as always come to our rescue, such as in Mendocino, Lodi or Sonoma.
However, if you are planning to stay in Carmel with your dog, booking on a vacation rental is really an overkill unless you are looking for a secluded, luxury experience (more on that later).
Given the number of choices you have in terms of dog friendly hotels, inns and B&Bs right in downtown Carmel, which are often cheaper than these vacation rentals, I'd say just stick to the former instead of looking for a vacation rental in Carmel that allows dogs.
Do Carmel hotels welcome cats and other pets?
I need to address this question because someone once left a snarky comment on my Instagram post shared by Carmel Tourism (one of the few little moments under the sun that my tiny blog has enjoyed in the past). The comment was whether or not his/her pet iguana would be as welcome in "pet friendly" Carmel as dogs. Clearly, my use of "pet friendly" was a little cavalier and not too inclusive. Since then, I have been pretty mindful of labeling all our outings with Babu as dog friendly only.
In that same spirit of transparency, I want to be clear that this post caters specifically to pet friendly hotels in Carmel that certainly welcome dogs. Their policy definitely varies on other pets, with some hotels making it very clear about not allowing cats (sorry cat parents!).
Other hotels may not have a very clear policy on which other kinds of pets are allowed on their premises, so please feel free to reach out to the hotel management prior to your booking if you have a pet other than a dog. I remember one hotel manager telling us in Santa Cruz that they had even allowed a pet peacock in their hotel!
General pet policies in Carmel hotels
It goes without saying, but all pet friendly hotels in Carmel have their own set of rules and guidelines on how to stay with their pets on their property. Please obey those at all times. This includes not leaving your pet unattended in the rooms at all times, having your pet on leash when enjoying dining in shared spaces and cleaning after your pets when using public spaces in the hotels. Please don't be the careless pet parent that spoils it for the rest of us and follow all rules diligently!
In this guide, I have tried to spell out everything as clearly as possible based on the information I gathered by either staying at the hotel or from the website or by calling the hotel. However, hotel policies on pets keep on changing, so it is your responsibility to call and confirm prior to booking.
Budget dog friendly hotels in Carmel
Now that we've gotten the small print out of the way, here are some of the relatively budget-friendly options for staying with dogs in Carmel. The nightly stay ranges from less than $100 to less than $200 per night (pet fees may be extra).
Address: Carpenter Street between 1st and 2nd Avenue
Amenities: Free high speed wifi, room comes equipped with fireplace, kitchenette, microwave and refrigerator, free parking onsite, garden for guests to enjoy
Nightly base stay cost: less than $100 when booked on Tripadvisor
Pet policy: Both dogs and cats are allowed, only two pets per room with maximum weight of 40 lbs (18 kg) per pet. Pets should not be left unattended in their rooms at any time. Pet fee is $25/night/pet.
Contact: (831) 293-8390, [email protected]
Carmel Resort Inn is one of the oldest inns in Carmel, harking from the 1900s and is conveniently located a minute's drive away from Highway 1 and within a few miles of Pebble Beach along the famous 17 mile loop between Carmel and Monterey, Carmel Mission Basilica and Point Lobos State Natural Reserve. Both downtown Carmel and the beach are a brisk 10-20 minute walk away.
There are 31 cottages and suites on this property and they cater to all kinds of travelers-from families to folks on business. Not all cottages are for pets, so please immediately call the inn after your reservation or at the very least declare your pets while checking in. Pets are also welcome to enjoy the resort garden.
View this post on Instagram
Address: San Carlos Street between 3rd and 4th Avenue
Amenities: Free high speed wifi, heated swimming pool, free parking (off-street), dry saunas, view deck areas, HD cable TV
Nightly base stay cost: less than $200
Pet policy: Dogs, cats and even parrots allowed (they don't have restriction on pet type, but please call prior to booking if you have an unusual pet), only two pets per room. Pets should not be left unattended in their rooms at any time. Pet fee is $30/night/pet. There is currently no restriction on pet size but that is on a case by case basis so please call and confirm (they've allowed dogs up to 90lbs in their rooms).
Contact: (831) 624-2745, [email protected]
Hofsas House prides itself on adding a touch of European flair to lodging options in Carmel. The hotel, located conveniently in downtown Carmel, has a very Scandinavian exterior and will remind you of the Danish homes in Solvang down in Santa Ynez valley. Hofsas House is again a 16 minute walk away from Carmel beach and is within a few minutes drive to Highway 1, that leads to Big Sur and Los Angeles.
Hofsas House also offers free continental breakfast during your stay with fresh pastries from a local bakery as well as tea/coffee/orange juice. However, the best part about booking a room at Hofsas House is getting to know which rooms are pet friendly in advance by checking the "Pets" box while making a booking. This is why I highly recommend booking a room from their website directly.
Address: 7th Ave &, Casanova St
Amenities: Free high speed wifi, breakfast, free parking, fridge, Cable TV
Nightly base stay cost: less than $200 (non-suite rooms)
Pet policy: Dogs are allowed upto 50 lbs each (2 pets per room) with an additional pet fee of $35/pet
Contact: (831) 900-4829, [email protected]
Green Lantern Inn is tucked away in one corner of Carmel and is just a block away from the hustle and bustle of downtown. Best of all, it is a mere 777 steps away from Carmel Beach, making it one of the more affordable dog friendly hotels in Carmel closest to the beach. Unless you are booking suites (which may not be dog friendly), the Carmel Hideaway"/Laurel cottage (where we stayed) is pretty affordable. This inn also has free parking but the lot is pretty small so either arrive early or find street parking.
Only a few rooms (such as Carmel Hideaway) are dog friendly and they are not indicated clearly as "pet friendly" while booking. Your best bet would be to call before you book on Booking.com (to score a deal) to confirm which of the rooms are pet friendly.
As for the room itself, Carmel Hideaway is small, yet comfortable with slanted ceiling beams and comes with a cute sitting area. The cottage is tucked away on the back so it is pretty quiet. The property has a small garden for your dog to enjoy as well.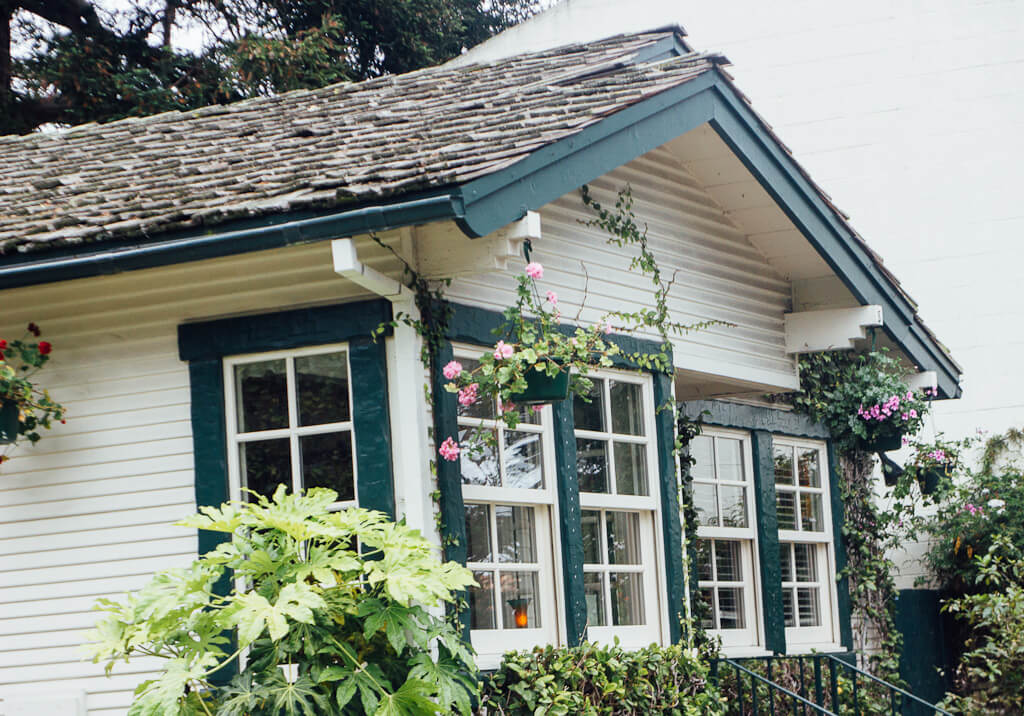 Address: San Carlos St. between 4th & 5th
Amenities: Spacious cottage style family units and suites. Free wifi, refrigerator, coffee-maker available in all rooms. Rooms are equipped with fireplace. Parking is mostly off-street. Complimentary breakfast available. Afternoon port-sherry happy hour at lobby.
Nightly base stay cost: less than $200 for some units
Pet policy: Select rooms are pet friendly. There may have size restriction on dogs, so please call and confirm prior to booking.
Contact: (831)-626-9056
Briarwood Inn is a beautiful B&B in Carmel, just minutes away from the beach and right in the middle of downtown Carmel. This dog friendly B&B is also where we've stayed a whopping 6 times out of 8 visits to Carmel, thanks to being a reasonable budget option and a nice, clean, friendly experience while staying with Babu. The location is another huge plus with so many dog friendly restaurants and attractions right at its doorstep!
The cottage like family units are extremely spacious and chic, with a doggie treat laid out thoughtfully on the bed to welcome your pup. For dog parents visiting Carmel and looking for a nice, comfortable and pleasant stay, I highly recommend Briarwood Inn based on my experience. Since they have size (and possibly breed) restrictions, it is best to enquire prior to booking.
View this post on Instagram
Address: 4th Avenue & Torres Street
Amenities: 10 unit inn comprising of individual cottages each with their own secluded garden, 5 of which come with their own private patios. Each room is equipped wood burning fireplace. kitchenette, refrigerator, microwave. There is also sumptuous complimentary breakfast, afternoon wine and cheese happy hour, S'mores pit for your enjoyment. See room details here for each unit.
Nightly base stay cost: less than $200 for some units
Pet policy: Several of the rooms are designated as pet friendly, dog bed and treats provided.
Contact: (831)-624-6926, [email protected]
Carmel Garden Inn is everyone's favorite B&B in Carmel that is also dog friendly to boot! A clear favorite on Booking.com and also winner of the best Carmel B&B Golden Pine Cone Award in 2018 and 2019, this family run B&B sets the mood by greeting you with fresh, homemade chocolate chip cookies (and it just gets better and better with your stay) along with an amazing breakfast spread (can be made gluten free and vegan with advance request) and wine and cheese in the afternoons to go with homemade baked goods.
This dog friendly B&B in Carmel lists welcomes dogs in several of its 10 units, all of which have their own secluded garden to enjoy. Dog bed and treats are provided in dog friendly suites. However, please contact the inn prior to booking to confirm on number of dogs allowed and breed or size restrictions if any (some suites can accommodate only one dog).
Carmel Garden Inn is conveniently located in downtown Carmel and is within minutes of driving distance from the famous 17 mile loop, a 20 min walk away from the beach and a stone's throw away from some of the best restaurants (La Balena being one of our favorites) and wine tasting rooms in downtown.
Dog friendly boutique hotels in Carmels
Carmel has no dearth of speciality or boutique hotels catering to those dreamy getaways for people who can afford to indulge in some pricy R&R! I have stayed in one of these hotels (arguably the most famous) while I am recommending two more based on their fantastic reviews by other pet parents. The base nightly stay (minus the pet fee) for these dog friendly Carmel hotels range from >$200-$400.
Address: Lincoln & 7th Street
Amenities: Both Standard (King and Queen) and Deluxe rooms available with many amenities, free extended continental breakfast provided for guests. Dog friendly Terry's lounge (indoor dining along with outdoor patio dining), separate lounge with fireplace for dog friendly evening entertainment with musical guest. Parking is limited and mostly off-street.
Nightly base stay cost: Upward of $280
Pet policy: All rooms are pet friendly. Upto 3 pets/dogs allowed per room. A $30 pet fee is charged per night for 1 pet, $50 for 2 pets and $70 for three. Here is their complete pet policy.
Contact: (831)-624-3871, [email protected]
Cypress Inn, built by yesteryear actress and animal lover Doris Day, is a perhaps the most famous dog friendly hotel in Carmel and is a permanent fixture on all dog friendly travel articles on Carmel. Although it comes with a steep price tag, your dog will be spoiled here for sure during his/her stay!
At Cypress Inn, dogs are treated like family thanks to Doris Day's vision around which the hotel is centered. The rooms are definitely on the smaller side in this Mediterranean-esque villa of a hotel but come with a plush blanket and water bowl for your dog.
In addition, there are thoughtful touches like printouts of dog friendly restaurant suggestions and activities in Carmel and Monterey provided by the concierge. Doggie waste bags are also provided by Cypress Inn along with information on pet-sitters if you wish to have a night out without your dog.
Beside all rooms being dog friendly, you can enjoy indoor dining with your dog at Terry's Lounge, the hotel restaurant which serves Californian-American fare (limited seating available so please reserve ASAP). Guests with their dogs can often be seen dining in the beautiful heated courtyard. Dogs (that of guests and visitors) are also welcome to attend the evening musical session inside the lounge with a fireplace where a guest singer is brought in to entertain humans and canine.
We stayed only once at Cypress Inn with Babu but have dined at Terry's lounge at least one time during each one of our 8 or so visits to Carmel. If you really want to pamper your pooch, I highly suggest booking at least one night at Cypress Inn! Fair warning- you might be a bit disappointed with the room (it is overpriced) but you are paying for the experience. Please call or email them to inform that you'll be bringing your dog after you book online.
View this post on Instagram
Address: Mission St at 3rd Ave
Amenities: High speed Wifi, Flat TV, complimentary parking (rarity in Carmel), goose down feather beds, Fine Linen, eco-friendly toiletries, jetted bathtubs and gas fireplaces in some rooms.
Nightly base stay cost: Upward of $250
Pet policy: Select rooms are pet friendly. Only dogs allowed as pets, upto 2 per room and with weight limit of 70 lbs. There is a nightly fee of $35 for one dog and an additional $25 for a second dog. All dogs must be at least 6 month or older. Read their complete pet policy here.
Contact: (831)-624-2776, [email protected]
Tradewinds is certainly one of the most zen dog friendly hotels in Carmel and was voted 2020 Travelers Choice on TripAdvisor. This beautiful boutique hotel has Asian inspired rooms and a touch of luxury through their fine linen, goose down beds and Bali made Kimonos for you to lounge in after a shower in a jetted bathtub.
Dogs are welcome in most rooms but not all (the Serenity suites and Double/Double rooms do not allow pets) and the best way to book a room is either online from the hotel website where it is clearly listed if the room is dog friendly or not, or by calling them to reserve a pet friendly room or by booking via third party websites and adding a note to inform them that you'll be visiting with your dog (max 2 allowed per room).
Tradewinds is located on Mission and 3rd Ave, which is a quiet part of downtown Carmel. It is a 15 min walk from the beach and from the best of downtowns attractions.
View this post on Instagram
Address: Junipero St. & 8th Ave
Amenities: Guestrooms and suites feature a lot of luxury in-room amenities which are available for use by guests and also for purchase-such as robes, local wines from Pessagno and more. There is complimentary breakfast along with evening wine hour with cheese and antipasti. Complimentary cruiser bikes available to explore downtown Carmel. Free Wi-fi is available.
Nightly base stay cost: Upward of $300
Pet policy: First floor King size rooms are dog friendly. Only 2 dogs allowed per room, with a weight restriction of 30lbs. A $100 dollar non-refundable fee is required per dog for your entire stay (as per the latest 2021 policy that I confirmed on phone). Dog friendly rooms have access to courtyard. Dog bed and water bowls are provided.
Contact: (888) 565-1420, [email protected]
The 24-suite Hideaway is another boutique dog friendly hotel in Carmel which boasts of "casual elegance amidst incredible comfort" in the heart of downtown Carmel providing easy access to Carmel's attractions via their cruiser bikes. If you're a dog parent looking for a luxury retreat in Carmel-by-the-sea with your dog, this is definitely the hotel to choose.
With tons of in-room facilities to pamper you, breakfast in a charming courtyard and wine reception, you are sure to feel heavenly at this upscale dog friendly Carmel hotel. The steep non-refundable pet fee is a deterrent, but then again this is a luxury experience and something to be done once in a very rare while if your budget allows!
Luxury dog friendly hotels and vacation rentals in Carmel
Since this is a dog friendly hotel guide in Carmel for all budgets, it is natural that I end the post with at least one (in this case two) super high-end, luxury retreats with nightly stays upwards of $400. These luxury getaways in Carmel are the ultimate in indulgence and comfort (not to mention solitude) when it comes to visiting the Monterey Peninsula and possibly a once in a lifetime indulgence (cause the price tag is pretty steep). Here are my recommendations:
View this post on Instagram
Address: 26200 Carmelo St
Amenities: Each of the four luxury cottages come with their own private yard and fireplace. All cottages have free wireless Internet, Hi Def TVs with streaming video in the living room and flat screen TVs in the bedroom. An extended continental breakfast is included in the room rate that is delivered to your cottage each morning.
Nightly base stay cost: Greater than $400
Pet policy: All cottages are dog friendly. Other pets are also allowed but they must be well behaved and quiet. No size or breed restrictions apply. There is a modest fee of $30/per night for one dog and $45 for two. Doggie bags are provided at the office and also a helpful list of pet sitters is available should you have plans in Carmel that do not allow dogs. Read their complete pet policy here.
Contact: (831) 626-4006, [email protected]
Lincoln Green Inn comprises of a set of 4 luxury cottages in Carmel each of which come with their own private backyard and are surrounded by a lush, blooming garden. All cottages are pet friendly but unfortunately dogs are not allowed to use the garden in this dog friendly inn in Carmel.
The B&B is known for its 5 star rating on TripAdvisor, the luxurious bed linen, warm reception with flowers and delicious breakfast delivered to guest rooms daily. Plus, it is only 3 blocks away from Carmel beach!
Although they allow all kinds of pets, it is always a good idea to notify the Inn about your pet prior to booking for confirmation.
Address: 55 Riley Ranch Road
Amenities: Luxury ranch with guest cottage located on approximately 7.5 acres with breathtaking views of Carmel Bay, Pebble Beach and Point Lobos. 4 Bedrooms and 4 bathrooms with a King Suite opening to an expansive deck. The Queen room has sliding doors leading to the deck. Full kitchen, washer/dryer, refrigerator, fireplace, wooden deck and Wi-fi are some of the many amenities offered. The guest cottage has two rooms and comes with a king bed, full bath, kitchenette and laundry.
Nightly base stay cost: Greater than $600 (minimum stay of 4 nights required)
Pet policy: Well behaved dogs allowed on Acorn Ranch Home and Guest Cottage. Upto 2 dogs are allowed with an additional fee of $195. Dogs have access to deck/patio and the grounds.
Contact: 831-917-7773, [email protected]
No doubt there are a lot of dog friendly hotels in Carmel, but if you are looking for the ultimate luxury retreat to spoil you rotten with your pup in tow and have the moolah to spare, then this vacation rental by Whisler and Riley properties (maintained by Point Lobos Rentals) is perfect for when visiting Carmel with a dog.
Although there are four properties to rent here, it is the main Acorn Ranch home (with a guest cottage) that welcomes dogs. This luxury retreat is near Cabrillo Highway/Highway 1 and right across Point Lobos State Natural Reserve, one of the most stunning natural getaways on your way to Big Sur! However, dogs are not allowed at Point Lobos (insert sad face), but Acorn Ranch Home more than makes up for it with access to the outdoors and dog yard with Ocean views.
The main ranch home provides an opulent, luxurious experience like no other and is a secluded private getaway. You get some expansive views of Point Lobos and Pebble Beach all from the privacy of your deck. Simply curl up in front of the fireplace with a good book and wine, admire the views from the deck or simply explore the 7.5 acres property surrounding the home. The price tag is through the roof, but this is the ultimate in luxury when it comes to staying with dogs in Carmel.
I hope you enjoyed reading this post on dog friendly hotels in Carmel and have found helpful tips and suggestions on where to stay with your dog during your Carmel visit. I have tried my best to provide several recommendations on dog friendly Carmel hotels for all budgets so that no matter what you can afford, you will have nothing but a hasslefree dog friendly vacation in Carmel enjoyable to the max! Thanks so much for stopping by!
Like this post? Pin it for later!

«