Last Updated on June 14, 2022 by Paroma
Are you a wine lover raring to explore a world of California wines beyond Napa and Sonoma? Then let me entice you with the enthralling world of Carmel valley wineries gracing Monterey County, one of the best wine growing regions in California. Swaddled by the Santa Lucia Range, this wine region has some of the best Pinot Noir and other fruit forward wines that you'll love (not to mention the added bonus of the surrounding scenery punctuated with some really good restaurants). Bookmark this post for your next Carmel Valley wine tasting, I guarantee you'll have a great time!
Disclaimer: This post may contain some affiliate links. Clicking on them may earn me a small commission at no extra cost to you for the product. Thank you for supporting free content on this site!
Carmel Valley is the verdant patch of greenery bordered by the Santa Lucia Mountains that are a rugged mountain range on the Central Coast of California, only 11 miles from the coast. Being in the rain shadow slope of the mountains gives the valley its characteristic mediterranean like weather and enough coolness from the Monterey Bay breeze to grow some of the best Pinot Noir and Chardonnay grapes.
Not to be confused with Carmel by the Sea, a charming coastal town that is only 12 miles away on the coast in Monterey Peninsula, Carmel Valley is a popular destination wine tasting and dining-two perfect ingredients for an R&R filled weekend getaway from San Francisco.
The Carmel Valley AVA is one of the most prominent in California and showcases wineries from both Carmel and Cachagua Valleys. The wineries and vineyards are located mainly along Carmel Valley road that runs through it and the Carmel River snakes through the valley floor. The epicenter of the valley is the town of Carmel Village where most of the action, i.e. hotels, inns, restaurants and tasting rooms are.
With some amazing tasting rooms where wine tasting does not cost an arm and a leg (unlike Napa Valley) and some really good dining options, Carmel Valley is another gem in California's wine country that is a must visit. And in this post (based on my travel), I am going to give you all the details on how to plan your Carmel Valley wine tasting getaway. I have also included a Carmel Valley wineries map at the very end of this post for your convenience.
If you've read my previous posts on wine tasting in California (see my dog friendly winery recommendations in Napa, Sonoma, Paso Robles, Solvang and Lodi), you know that this, i.e. chilling in a winery, is pretty much my favorite activity with my dogs Babu (2004-2021) and Gunda (2021-present).
My Carmel Valley wine tasting trip was with a dear friend who brought her two adorable puppies along with her-so naturally all the Carmel Valley wineries recommended here are dog friendly (as are the restaurants).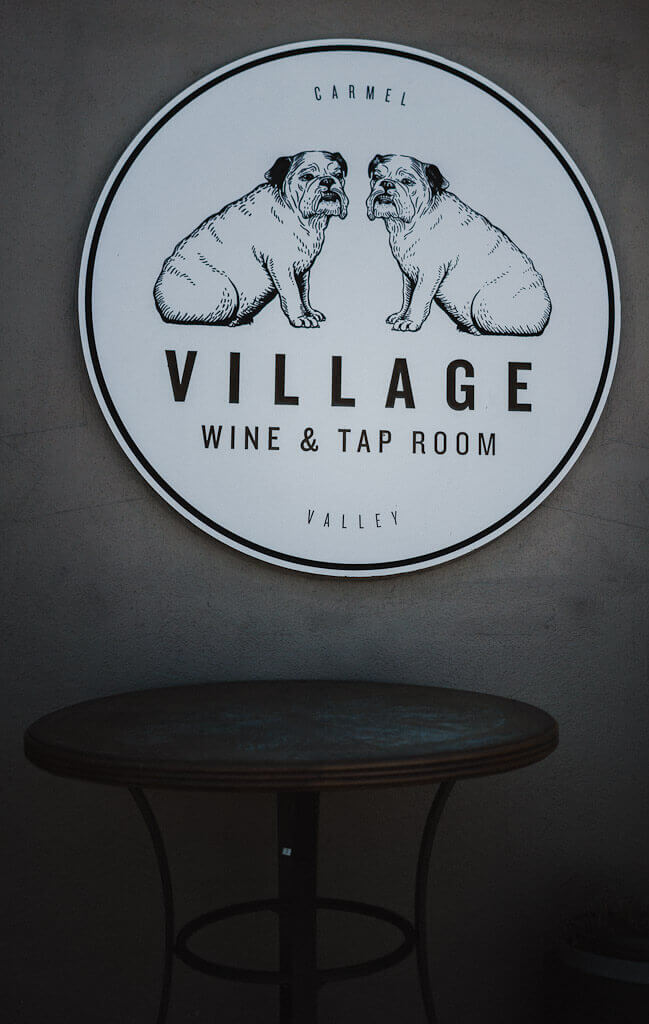 PLANNING A WINE TASTING IN CARMEL VALLEY? HERE ARE THE FAQs
If you've never been to the California Central Coast or are not too familiar with Monterey Peninsula or simply have Carmel Valley confused for its more popular cousin Carmel-by-the-Sea (a fantastic romantic destination in Northern California that is also a great day trip from San Jose in the South Bay and a 4th of July refuge for fearful dogs), then this section is for you. Keep on reading to find all the logistics for a hasslefree dreamy getaway to Carmel Valley.
IS CARMEL VALLEY THE SAME AS CARMEL-BY-THE-SEA?
Not at all. Carmel by the Sea (commonly referred to simply as "Carmel" by Bay Area folks) is on the California coast and 12 miles west of Carmel Valley.
A weekend at either destinations (or a mix of both) is always a great idea. However, Carmel Valley is specifically for those looking for wine tasting with a glass of Pinot Noir or Chardonnay. Carmel by the Sea is definitely way more touristy and popular, thanks to its European flair meets California cool with the beach, food, shopping and fairytale like cottages.
HOW FAR IS CARMEL VALLEY FROM SAN FRANCISCO BAY AREA?
Carmel Valley is 127 miles south of San Francisco and 78 miles south of San Jose. The closest largest international airport is the Norman Y. Mineta San Jose International Airport (SJC) which is 81 miles to the north. Both San Francisco (SFO) and Oakland International Airports (OAK) are also not too far off and are about 113 miles north of Carmel Valley.
Carmel Valley is a popular wine tasting destination for those on the Central Coast, especially for folks from San Luis Obispo County which is about 151 miles south. During our visit, we met a group of women on a weekend getaway who were working their way up from Paso Robles (another premium wine tasting destination in central California) , Pismo Beach and Cambria.
HOW TO GET TO CARMEL VALLEY IN MONTEREY COUNTY?
The best, and also the easiest way to get to Carmel Valley is to jump in that car of yours and keep on driving south. If you don't have a personal vehicle, you can rent it at any of the major airports (SFO, OAK, SJC) or in any major city in the Bay Area.
The fastest way to get to Carmel Valley is via CA-101S and CA-68W that leads to the scenic route of Laureles Grade that plunges straight into the Valley. This drive is about 2-2.5 hours depending on where you start in the Bay Area and traffic conditions permitting.
You could also take the extremely scenic route of CA-1/Highway 1/Pacific Coast Highway all the way from San Francisco to Carmel by the Sea and then drive southeast onto Carmel Valley Road. While you will be rewarded with plenty of scenic stops and beaches along the way (such as the beach towns of Half Moon Bay and Santa Cruz), this will be a significantly longer trip distance and timewise compared to inland CA-101.
Not in the mood to drive to Carmel Valley? I hate to break it to you, but there are no easy public transit options or wine tours from the Bay Area that will take you to Carmel Valley (very much unlike San Francisco to Napa).
Your best bet is to get on the southbound Monterey Airbus departing SFO and SJC airport terminals that will take you to the Monterey Transit Plaza from where you can hop onto the Monterey-Salinas Transit route 24 bus (known as the Carmel Valley Grapevine Express) that will take you the valley.
WHAT IS THE BEST TIME TO VISIT CARMEL VALLEY?
Unlike the coastal Carmel by the Sea that enjoys mild weather throughout the year, Carmel Valley is inland and experiences much higher diurnal temperature fluctuations. Days are bright and warm and pretty hot in Summer while nights are notorious for plunging temperatures in the Winter.
I recommend Spring and early Summer when it's green all around with wildflowers blooming everywhere and a chance to see migrating gray whales if you're coming down the coast or the overwintering monarch butterflies at Natural Bridges State Park in Santa Cruz.
A bit offseason means you'll be avoiding the big summer crowds even on a weekend. We visited in March and although the days were warm and sunny, the nights were pretty cold. Thankfully many restaurants have heated patios, so even if you're visiting with dogs you will feel toasty!
ARE CARMEL VALLEY WINERIES DOG FRIENDLY?
YES! Many wineries in Carmel Valley are dog friendly since they have outdoor tasting and welcome well behaved dogs on leash. Some even allow them into their airy indoors for an afternoon of relaxed wine tasting and lovingly offer treats or a bowl of water. All wineries in Carmel Valley mentioned here are 100% dog friendly, so PLEASE do not leave your precious puppies at home if you're planning wine tasting in Carmel Valley.
WHERE TO STAY IN CARMEL VALLEY
Unless you are staying at the uber luxury Carmel Valley Ranch, I recommend staying right in the heart of Carmel Valley Village which is brimming with all the tasting rooms and restaurants. You can easily hop from one tasting room to another without the hassle of driving if you stay in the village. Bernardus Lodge and Spa is another luxury stay option in the valley.
I recommend Little European Lodge , Carmel Valley Lodge (dog friendly) or Contenta Inn as more affordable options (this is where we stayed with our pups). Contenta charged $120 for two dogs (one big and one small) for two nights stay and our room was a spacious 2 bedroom one with a cute outdoor patio. Plus, we had free wifi and parking.
WHAT ELSE IS THERE TO DO BESIDES WINE TASTING IN CARMEL VALLEY?
There is so much to do in Monterey County that one weekend is definitely not enough to check out its many offerings. Start off with exploring the Monterey Peninsula and the towns of Carmel-by-the-Sea, Pacific Grove and Monterey for their amazing beaches, the Monterey Aquarium and the scenic 17 mile drive that loops between Carmel and Monterey.
Just south of Carmel, Highway 1 continues as Big Sur, one of the most romantic stretches of the coast in the world. You can start your Big Sur adventure in Point Lobos State Natural Reserve and go all the way to Hearst Castle in San Simeon which is in San Luis Obispo county. February and March are pupping season for the elephant seals at the elephant Seal rookery in San Simeon which is a sight to behold!
Monterey county has much to offer inland along 101-S as well. For starters, the Santa Lucia Highlands appellation comprising of 50+ wineries and vineyards lies on the eastern slopes of the mountain range along River road south of Salinas and near Soledad.
Beside the historic California Missions in San Juan Bautista and Soledad, inland Monterey is also home to Pinnacles National Park, the smallest of the nine in California which is home to gigantic spires and the previously near extinct California Condors who've made a comeback here.
THE BEST CARMEL VALLEY WINERIES AND TASTING ROOMS TO VISIT
I have been wine tasting all over California for the last 12 years (ever since I moved to San Francisco and decided to dive straight into the nearest oak barrel) and I really don't know why it took me this long to get down to Carmel Valley.
The tasting rooms here are some of the most beautiful ones that I've ever been to and the atmosphere is very relaxed and inviting. The staff is knowledgeable, passionate and friendly and they put you immediately at ease, no matter your level of familiarity with wine. I highly recommend making reservations prior to your visit (some places are visitation by reservation only) while the more casual ones welcome walk-ins.
For obvious reasons, the main business days for tasting rooms are Friday-Sunday. If you're in on a Monday, it gets even better at a tasting room where there's practically no one else in sight. For that reason alone, I recommend wine tasting in Carmel Valley over Saturday-Monday rather than Friday-Sunday.
Not all tasting rooms and wineries in Carmel Valley are dog friendly. So if you're curious about a tasting room that is not on this list and want to bring your pup along, please check prior to making your reservation. Always have your dog on leash and keep an eye on her/him during your tasting. And now without further ado, here are the Carmel Valley wineries that you should totally check out:
FOLKTALE WINERY: THE MOST POPULAR AND BEAUTIFUL WINERY IN CARMEL VALLEY
Address: 8940 Carmel Valley Road

Hours: Monday, Thursday, Friday & Saturday: 11:30 – 6:30, Sunday: 10:30-5:30,Tuesday & Wednesday: Closed
I am going to start this list off with what is considered the prettiest and most beautiful winery/tasting room in Carmel Valley, and that distinction undoubtedly goes to Folktale Winery which is a mere 10 minute drive from Carmel Village.
This dog friendly winery boasts of vineyards and a vibrant garden spread over 15 acres of land surrounding a Castle like stone building that looks straight out of a fairy tale! They practice sustainable viticulture and specialize in Pinot Noir and Chardonnay.
Folktale winery is best visited for brunch or lunch in their outdoor garden patio which welcomes dogs. The food is great and you can do a mini tasting of a flight of three or get a glass of their delicious Pinot Noir to pair with your food. They also have a fantastic gift shop indoors which you should check out for home goods and decor. Visits are by reservation only and a $15/adult advance is required for booking.

HOLMAN RANCH TASTING ROOM
Address: 18 W Carmel Valley Road

Hours: Thursday-Monday: 12-6 PM
Holman Ranch Estate boasts of a sprawling winery and vineyard on 60 Holman Road that is open to tours and tasting by appointment but their tasting room only establishment in Carmel is one that you MUST visit, especially on a Monday when you'll have the whole place to yourself (like we did and LOVED). You can make a reservation here for parties of 1-6 (dogs welcome).
For starters, the tasting room is awash in rich, warm inviting tones like a cozy lodge where you'd want to curl up with a good book beside the fireplace. They also have plenty of outdoor space both in front and on the back (which is shaded and oh so comfortable) for an outdoor tasting.
Their wines were some of the best fruit forward ones that I've ever tasted-starting from a sparkling wine to a rose of Pinot Noir to other delicious Pinots completing the tasting. All the grapes come from their 20 acre winery. Although tasting is at a pricier $35/person it is waived off with a 3 bottle/person purchase (trust me, you will not want to leave empty handed). The service is impeccable and we even got a small box plate of munchies to nibble on with our pours.

JOYCE WINE COMPANY
Address: 1 E Carmel Valley Road

Hours: Tasting room open daily from 12-6 PM
The minute you step into the tasting room at Joyce, you feel all your stress melting away with a pair of gossamer wings gently lifting you up the ground in a state of pure bliss. The airy, plant and light filled tasting room not only has an ethereal, relaxing vibe but also has the added charm of allowing your pups to join in for a tasting both indoors and outdoors.
Much like the other wineries in the Valley, Joyce too specializes in Pinot Noirs, but the Gamay Noir was my favorite in the flight of five wines that we tasted. The winemaker is Russell Joyce who works closely with local vineyards to source grapes and make this delicious wine showcasing the best of Monterey's AVA.
The wine was so good (and so was the service) that my friend signed up to be a wine club member (this is where her past transgression of membership at an Oregon winery was promptly forgiven because she is Oregonian and all). I highly recommend stopping by Joyce for an afternoon of some of the best wine tasting in the valley! Tasting fees are waived on purchase or wine club membership.

BERNARDUS WINERY
Address: 5 W Carmel Valley Road

Hours: Tuesday-Saturday, reservations recommended at 11 AM, 1 and 3PM (walk-ins accepted based on availability)
Bernardus is another dog friendly winery with a huge outdoor space with not only a relaxed, friendly service but also some delicious cheese and charcuterie boards to go with that wine tasting. They have four generous pours of mostly reds at $20 and the ambiance is really fun and informal.
The seating is spaced apart sufficiently so that you don't feel cramped while tasting. The staff was super chatty and friendly (their photo is on the Visit Us section of the website and they are genuinely as happy as they look in this photo to work here) and they even had treats for the pups. The indoor tasting room is spacious and tastefully decorated. They do require reservations for tasting and I highly recommend doing so especially if you're going to bring your pups.
PARSONAGE WINERY
Address: 19 E Carmel Valley Road

Hours: Monday – Friday: noon to 5pm, Saturday & Sunday: 11am to 5pm (Last seating for wine tasting: 4:15pm)
Parsonage is a delightful family run boutique winery and vineyard with a tasting room in Carmel Valley that is dog friendly, with grapes sourced from their own small but mighty vineyard nearby.
They have a covered outdoor seating area where you can enjoy their regular or reserve flight of wines (they have two tasting options) which are all reds, because they are known for their bold reds that is a bit unlike the other wineries around. We started off with a Pinot Noir and ended with a Syrah with two blends in between.
The brightness and boldness of Parsonage wines also reflects in the interior of the tasting room which is touted as an art gallery and it is easy to see why-the walls are adorned with the prints of actual quilts made by Mary Ellen Parsons who is the owner of the winery. The colors and the intricacy of the quilts are simply eye catching and they also serve as the artwork for the bottle labels. I highly recommend Parsonage for an afternoon of wine tasting and checking out some amazing art!

CARMEL VALLEY WINERIES MAP
As promised, here is the Google Map showing locations of all the wineries/tasting rooms that we visited in Carmel Valley. The complete Monterey County wine map can be found here for wine enthusiasts.
WHERE TO EAT IN CARMEL VALLEY: RESTAURANTS AND CAFES
It is common knowledge that good food and good wine go hand in hand. And, thankfully Carmel Village has plenty of both for a one or two night getaway.
Besides brunch at Folktale winery, I recommend dining at Cafe Rustica (their wood fired pizzas are great but so is everything else), Corkscrew cafe and Roux (Roux accepts cash or payment by Venmo only) for dining (both outdoor and indoor). All these places are dog friendly and Roux has outdoor heaters for a chilly night. Plaza Linda restaurant has good Mexican food if you're in the mood for something different while Thai Village offers takeout only.
For breakfast, Wild Goose Cafe is a great place for a quick morning coffee and pastries in the valley and they have outdoor seating (they seem to have bad TripAdvisor reviews from visitors due to a grumpy man who worked there previously but we met with a very sweet woman behind the counter who was super friendly). Kathy's Little Kitchen is another solid breakfast place to checkout when in the Valley.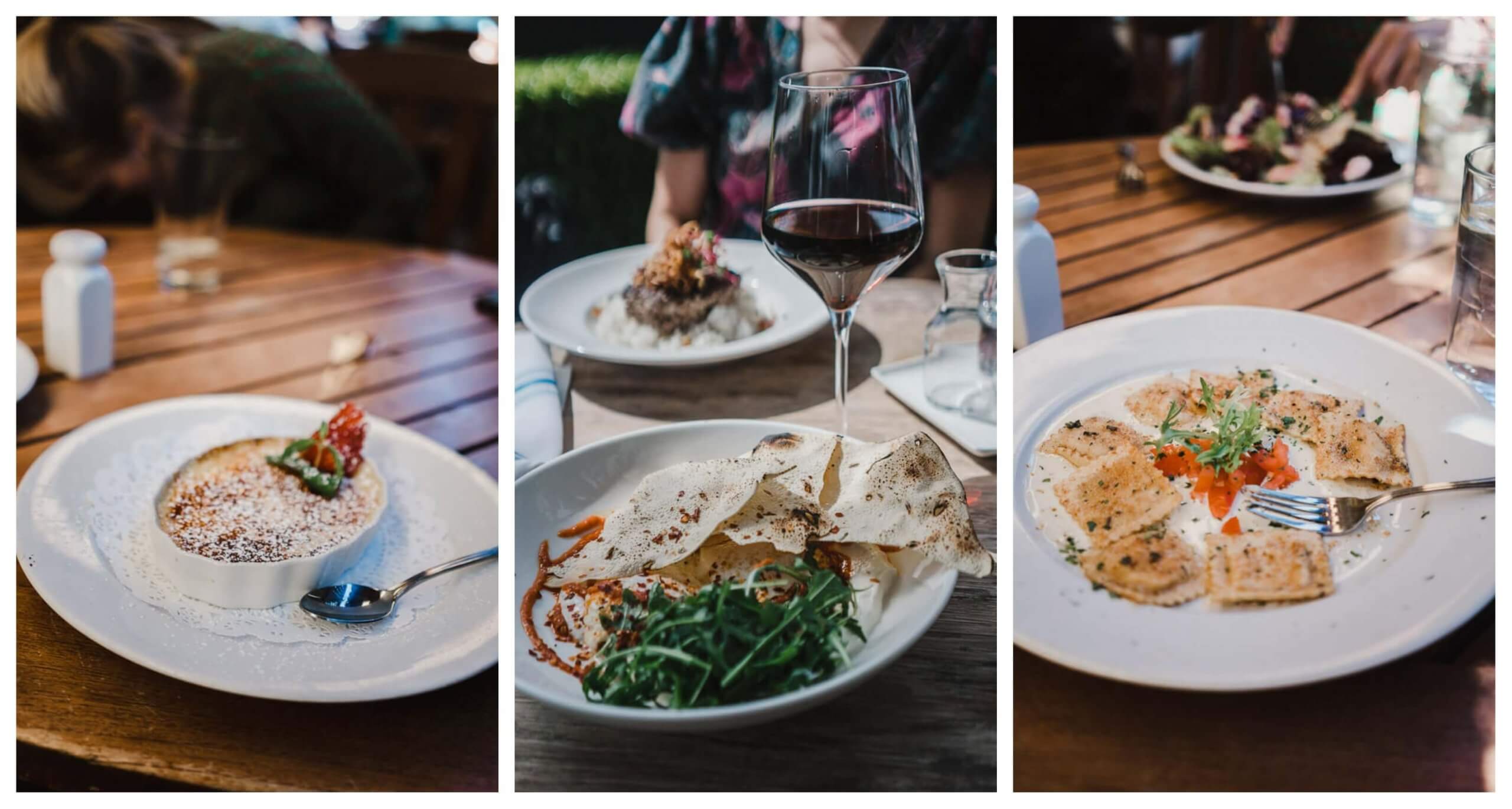 That brings me to the end of another wine tasting adventure in California which was made memorable yet again thanks to the company of my friend and her sweet puppies. I hope you enjoyed reading this post on the best Carmel Valley wineries and are sufficiently enthused to plan your own Carmel Valley wine tasting getaway. Thanks a lot for stopping and safe travels!

LIKE THIS POST? PIN IT FOR LATER

«