Last Updated on June 11, 2022 by Paroma
If you're planning to spend 1 day in Pinnacles National Park, California, then this is the guide to read and plan a hasslefree trip. This post on the best things to do in Pinnacles National Park in one day not only covers the best day hikes in Pinnacles, but also provides valuable information on the caves in Pinnacles, driving, parking, camping and other amenities (including where to eat and stay).
Having just returned from my very own day trip to Pinnacles National Park, I am here to give you all the details on making your trip to this smallest and most newly minted National Park in USA as smooth as possible! So please keep on reading and don't skip any of the sections.
Disclaimer: This post may contain some affiliate links. Clicking on them may earn me a small commission at no extra cost to you for the product. Thank you for supporting free content on this site!
Pinnacles National Park is the smallest of the 9 National Parks in the state and is located in Monterey County, about 2-2.5 hours south of San Francisco if you drive down CA-101S, making it a perfect destination for a road trip from San Francisco. Spread over 26000 acres, this National Park is so named after the towering "Pinnacles" or gigantic spires rising above the wilderness, like sentries of nature.
Formed by volcanic action and tectonic plate activity (the infamous San Andreas fault passes right by this area), Pinnacles National Park is also home to Talus caves (where several rare species of bats reside) and the near extinct California Condor which is making a return to the wilderness, thanks to a successful captive breeding program, that calls Pinnacles home.
A trip to Pinnacles National Park means a day of hiking, marveling at the landscape that is a geological wonder, condor spotting if you're lucky enough, rock climbing for those of you into this outdoor activity and checking out the Talus caves that this park is known for.
With a little bit of planning, you can definitely cover quite a bit (i.e. at least 2-3 hikes) in 1 day in Pinnacles National Park and in this guide, I am going to spare no details on where to stay, eat and hike inside Pinnacles. Hopefully, these tips based on my experience will help you craft a memorable getaway to Pinnacles minus the logistic hassles.
Read my other California National Park Guides here:
VISITING PINNACLES NATIONAL PARK IN CALIFORNIA: MUST READ SECTION
If you've been a long time reader of my blog, you'll know that I one of those city-slick urban people who is bit lost when it comes to hiking in the outdoors (not a complete amateur either, I have hiked quite a bit in San Francisco).
Moreover, I've always found National Parks a bit overwhelming, thanks to the many things to do and see there, including the miles of hiking trails. Unlike city travel guides, I tend to have my National Park itineraries more relaxed because I am not sure how the day will play out or how many hikes I will be able to tackle.
During our trip to Pinnacles, I decided to not plan much (except booking the hotel) which was not such a great idea overall. Thankfully my friend who was driving, did figure out several important logistics which saved us a lot hassle and headache, such as when to enter the park, where to eat etc.
In the spirit of sharing, I am going to go over ALL THESE DETAILS in this post so that you don't have to worry about anything except the best things to do in Pinnacles National Park!
Despite its small size, Pinnacles is an extremely popular National park to visit thanks to its proximity to the Bay Area (it is an excellent day trip from San Jose) and there are some logistical issues you need to know for a enjoying the best hikes and sights inside the park. So don't skip this section and read it carefully! You WILL thank me later.
WHERE IS PINNACLES NATIONAL PARK IN CALIFORNIA?
Pinnacles National Park is in Monterey County and is an easy Bay Area day trip if you drive down CA-101S. Depending on where you live in the Bay Area, you can get there in 1.5-2.5 hours.
For those flying in out of state, SFO (San Francisco International) airport is 111 miles north, OAK (Oakland International) airport is 109 miles north and SJC (San Jose International) airport is 80 miles north of Pinnacles. You will have to drive to Pinnacles in your own or a rented vehicle-there is no public transportation access from the Bay Area.
Pinnacles National Park has two entrances-the eastern and the western entrances and you CANNOT DRIVE THROUGH THE PARK TO GET FROM ONE ENTRANCE TO THE OTHER!
Both entrances have visitor centers but only one (i.e. the eastern entrance) has campgrounds which is the only permissible camping area inside the park. FYI: "Pinnacles Visitor Center" on Google Maps refers to the main visitor center on the east entrance.
If you're planning to see the Bear Gulch caves or camp, then take the exit right after Gilroy towards Hollister to enter the park from the east entrance. For the west entrance, keep on driving along 101S towards Salinas and beyond to Soledad which is the closest town near the west entrance. From Soledad, you have to turn east on CA-146 to get to the park. Although paved, this is a narrow road so please be careful while driving.
WHEN IS THE BEST TIME TO VISIT PINNACLES NATIONAL PARK?
Unlike the Monterey Peninsula (home to cute beach towns like Carmel and Pacific Grove and wine tasting getaways like Carmel Valley), Pinnacles is located inland inside Monterey County and thus has high diurnal fluctuations in temperature. Since most of the trails at Pinnacles have little to no cover, summers are really hot with the sun beating down on you (it is actually advised not to hike between 1-3 PM to avoid sunstrokes).
My vote goes to Late Fall, Winter and Spring (October onwards) as ideal months for visiting Pinnacles when the weather is cooler and it is lush and green all around. Best time would be February-May when it is not so rainy, the caves are open, wildflowers are blooming and daytime temperatures are manageable for hiking. We visited on an unusually warm weekend in February when it was really hot and sunny come midday.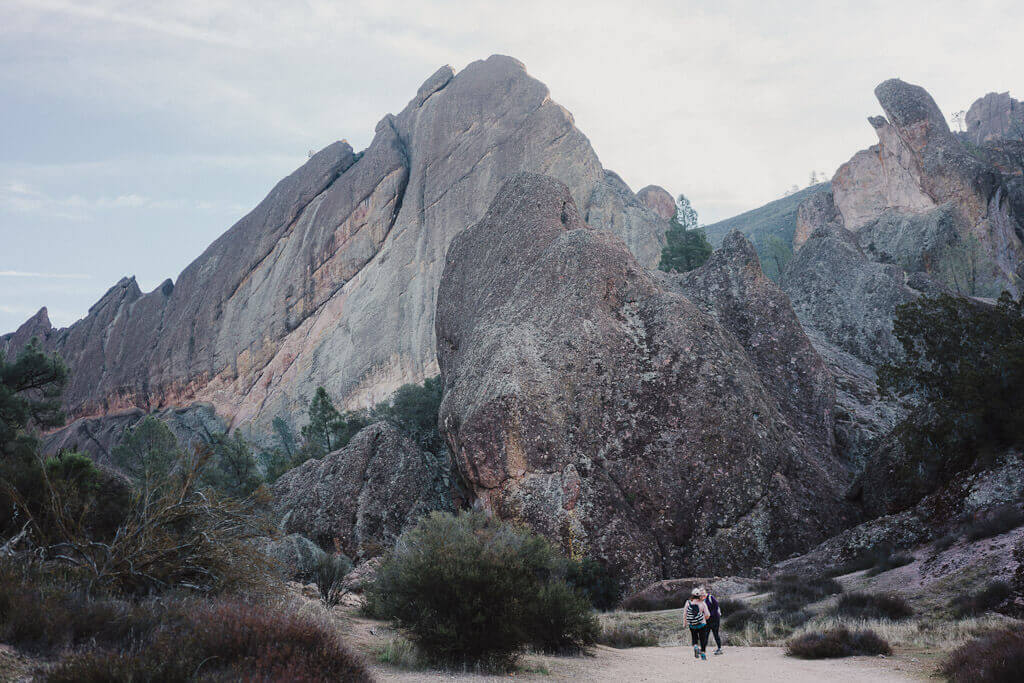 WHERE TO STAY NEAR PINNACLES NATIONAL PARK
As I hollered before, Pinnacles has two separate entrances to it (east and west) and you cannot drive through the park to get from one end to another, thanks to the Gabilan Mountain Range right in the middle (this park is in the southern portion of this coastal mountain range).
There are hiking trails from both entrances and so depending on which trail you want to get on or what you want to do inside the park will dictate your choice of entrance and where you'll be staying near the park.
For those of you interested in exploring the Balconies Caves trail in Pinnacles, you will be choosing the western entrance. The town of Soledad is closest to this entrance (only 20 minutes drive) and has a few motels and Inns. We stayed at Motel 6 (formerly known as Valley Harvest Inn) right on Front Street where other lodging and restaurants are. Right next to it is Motel 8 which is also another lodging option.
Our stay at Motel 6, Soledad was comfortable but nothing to rave about. The property was still transitioning from previous management and the construction signs were still visible everywhere. Our room had a small fridge and a microwave, but was missing a few small amenities such as coffee machine and cloth hangers. One thing that we found odd was a funky, manure like smell wafting in the air outside our motel (inside our room was doused in air freshener and was fine).
Motel 6 has discontinued morning breakfast due to the ongoing health crisis (2020-2022) but they have a restaurant onsite (Windmill) open from 8AM-10PM for dining. However dining in Soledad is not a big issue as there are several cafes and decent restaurants around. You can also drive 30 mins up north to the bigger city of Salinas for more dining options.
If you're planning to see the Bear Gulch Caves or hike from the Bear Gulch Area, then you'll need to stay near the east entrance. Most people camp at the designated campground in the park or stay in King City (which lies to the south of the park and is midway between the west and east stations).
WHERE TO EAT NEAR PINNACLES NATIONAL PARK: RESTAURANTS AND CAFES
There is no food to be found inside Pinnacles NP unless you are on the east side which has a small campground store for groceries. The towns closest to the east entrance are King City to the south (31 miles) and Hollister to the north (31 miles) for decent food options.
If visiting Pinnacles from the west entrance, you will found Soledad and Salinas as the two closest towns, with Soledad being only 10 miles away and Salinas being 29 miles to the north of Soledad (30 minute drive).
I highly recommend an pre-hike early breakfast at the very popular La Plaza Bakery (they open at 4AM) which has yummy Mexican breakfast and baked goods (including the delicious drink Champurrado made of masa harina that I drunk buckets of in Oaxaca).
During our visit, we also ate at Mangia on Main (an Italian restaurant) and First Awakenings (a popular brunch spot) in Salinas, both of which are located on Main Street.
The Monterey Peninsula with the charming beach towns of Monterey, Pacific Grove and Carmel (a super romantic getaway from the Bay Area) is an has way more choices for dining, but is more than an hour's drive to the west of the park. I recommend an early dinner in the peninsula rather than breakfast or lunch because that will just take time away from exploring the park. You can read my Carmel guide for restaurant recommendations.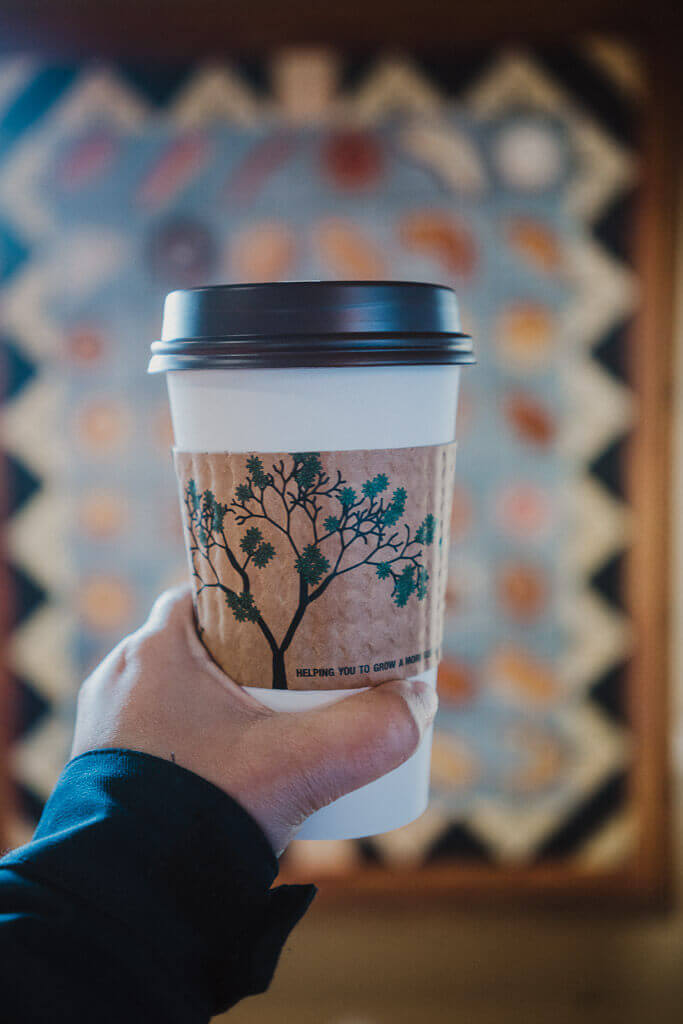 CAMPING INSIDE PINNACLES NATIONAL PARK
Camping at Pinnacles National Park is only allowed on the designated campground near the eastern entrance/east station. Campgrounds allow pets. The campground offers tent and group camping, along with RV sites. Each tent and group site has a picnic table and fire ring.
Most RV sites have electrical hookups and share community tables and barbecue pits. Water is located throughout the campground. Coin-operated showers and a dump station are available. The swimming pool is typically open from middle of April through the end of September, depending on the weather trend. The campground also has a small grocery store that is open daily from 9:30 AM-5 PM
Camping tent and RV sites can be reserved up to 6 months in advance, and group sites can be reserved up to 12 months in advance. To make reservations, go to recreation.gov or call (877) 444-6777.
PARKING INSIDE PINNACLES NATIONAL PARK
There are several parking spots inside the park, with the two main ones being near the visitor center/entrances on the east and west. For the west entrance, there are separate parking lots near the Jawbone trail and the popular Balconies Cave trail.
The Balconies cave trail starts from the Chaparral parking lot which is a 7 minute drive from the west entrance and gets filled up very quickly, i.e. by 9AM. So if you want to hike this trail, plan to come in by 7:30 AM when the park west entrance opens. The west entrance is open daily from 7:30AM-8PM PST. The east entrance has 24/7 access to hiking trails but no overnight parking is allowed.
Please bear in mind that if you exit the park for any reason (such as lunch) and re-enter, you might not be able to find parking, especially at the parking lots near popular trailheads such as the Chaparral area.
I advise strongly to bring in plenty of snacks and water so as not to exit the park till you've had your fill of hiking. For your convenience, both Chaparral parking area and west entrance station have restrooms if you are visiting West Pinnacles. There is also a picnic area with benches and grills at Chaparral.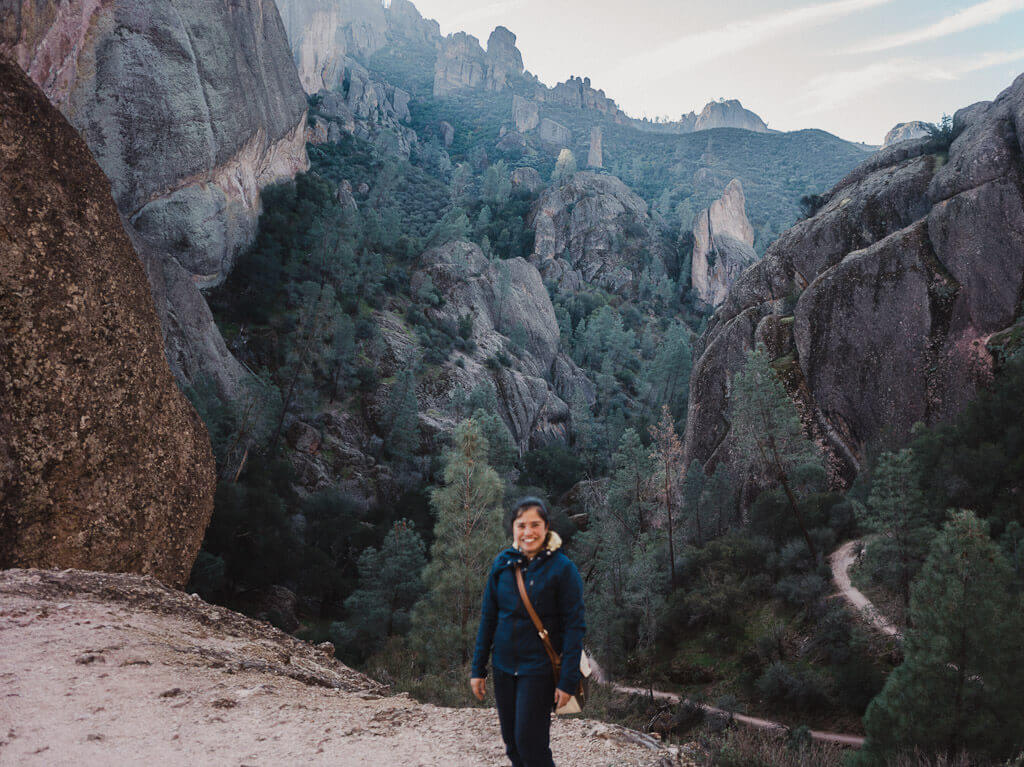 IS PINNACLES NATIONAL PARK DOG FRIENDLY?
No. Like almost all other National Parks in California (with the exception of Yosemite where I've been with my dog and to some extent Joshua Tree), dogs are not allowed on any trails inside the park. Dogs are only allowed in picnic areas, campground, parking lots, and on paved roads and must always be on leash.
PINNACLES NATIONAL PARK HOURS AND ENTRANCE FEES
Pinnacles National Park is open 365 days a year, 7 days a week with no advanced reservations required as of Feb 2022. The west entrance is open from 7:30 AM to 8PM PST. On the east entrance, hiking trails are accessible 24/7 but overnight parking is not allowed.
Although the main visitor center of Pinnacles is on the east entrance, the west entrance has a small visitor center as well. Irrespective of where you enter from, you will have to pay $30/vehicle which is the standard National Park fee that is valid for 7 days. You could also purchase the Pinnacles National Park Annual Pass for $55.00 that is valid for 12 months for the pass assignee and his/her group entering the park in a single, non-commercial vehicle.
As always you can use your America the Beautiful pass ($80) to enter for free (buyer plus entire group entering the park in a single personal vehicle). This pass is super value for money if you are an avid National Park visitor in USA since it covers the entrance fee at all NPs and national wildlife refuges as well as day-use fees at national forests and grasslands managed by the Bureau of Land Management, Bureau of Reclamation, and US Army Corps of Engineers.
OTHER IMPORTANT TIPS FOR SPENDING ONE DAY AT PINNACLES
When hiking at Pinnacles, please dress in layers and wear very sturdy hiking shoes (it was nearly 0C/32F on a February morning when we started out hike and my hands sans gloves were nearly frozen with cold). Also make sure you are adequately protected from the sun (bring hat and/or sunglasses) since day time temperatures can get extremely high with the sun beating down on you.
Come to Pinnacles loaded with plenty of food and water because there is NO FOOD inside the park (except that tiny campground grocery store on the east entrance side). We packed in snacks from Trader Joe's and ate them at the Chaparral picnic area after our hike.
If you're exploring the Balconies or the Bear Gulch Caves, bring in waterproof shoes since flash floods may occur and you might have to wade through. Also, please bring a headlamp to keep your hands free as you navigate the caves.
THINGS TO DO IN PINNACLES NATIONAL PARK IN ONE DAY
BEST DAY HIKES IN PINNACLES NATIONAL PARK
Hiking is the predominant activity in Pinnacles National Park. There is really nothing much to do in this small National Park (the smallest of all 9 in California) other than get on one of the many hiking trails to enjoy the pristine beauty and the changing landscapes of this wilderness which is a protected habitat for endangered species.
If hiking is not one of your passions, then you won't enjoy this park as much, although I have tried my best to point out relatively easy day hikes in the following section. I am not a big hiking aficionado by any means but luckily for people like me Pinnacles has easy-moderate level hikes to enjoy on a day trip and see quite a bit of the park.
Overall, there are about 15 hiking trails of all levels, elevations and grades at Pinnacles for visitors to enjoy. If you are planning to spend one whole day in Pinnacles, you should pick 2-4 hikes depending on the time of the year you visit, your fitness level and seasonal closures.
I have divided this section on hiking in Pinnacles National Park based on those accessible from the west and east entrances. I only have experience hiking from the West Pinnacles side and will point out my favorite day hikes in Pinnacles in this part of the park, which are meant to be easy-moderate in nature and can be enjoyed by those who are not as avid hikers as me.
WEST PINNACLES HIKING TRAILS
BALCONIES CAVES-CLIFF LOOP
Trailhead: Accessible from the Chaparral area parking lot which is 7 mins drive from the main west entrance/west Pinnacles contact station/visitor station
Distance: 2.4 miles round trip
Elevation: 100 ft
Time: 1-1.5 hours (We completed it within 2 hours)
Level: easy to moderate with the exception of some rock scrambling in the Balconies Talus Cave which personally was very scary for me cause I am such an non-pliable, claustrophobic vertigo-ridden sloth with no flexibility in my limbs
The balconies cave loop is undoubtedly the most popular hiking trail from west Pinnacles and starts from the Chaparral area parking lot. This is a loop and the recommendation is to do it clockwise. This trail crosses up and over the Balconies Cave, then comes down to join the Old Pinnacles trail (that starts from the east entrance), which leads back through the cave.
This is also the very first hike that we tackled during our one day at Pinnacles National Park. I highly recommend this hike because of the scenic viewpoints, the gigantic rock formations and also the famous Balconies cave. The Old Pinnacles Trail (that starts from the Old Pinnacles Trailhead on the east) is also accessible from this trail loop.
This hike is really scenic and takes you along some incredibly arresting vista points and largest rock formations in the park. My scariest moment was the entrance near the cave (it is blocked by some precariously perched rocks and you need to cautiously navigate them) but nothing prepared me for the near vertical rock scrambling through the cave where I felt very scared and claustrophobic going up the rocks in what seemed to be the darkest, narrowest and longest path to sunlight ever.
The Balconies cave is a Talus cave made by boulders tumbling into steep, narrow canyons from the cliffs above. Balconies and Bear Gulch Caves are home to the rare Townsend's Big-Eared Bat who nest, hibernate and breed here. Please be careful and do not speak in loud voices inside the cave as you pass by so as not to disturb the nesting bats. Both caves are subject to seasonal closures and it is best to check their status before you plan your hike.
PREWETT-POINT TRAIL
Trailhead: Accessible from the West Pinnacles Contact/Visitor station right next to the parking lot
Distance: 0.9 round trip
Elevation: 70 ft
Time: 0.5-1hr
Level: easy
If you're not an avid hiker like me, but still want to get a great snapshot of the Pinnacles, then go on this trail ASAP. This is one of the easiest and most beautiful day hikes at Pinnacles accessible from the West Contact Station. This gentle hike leads to a spectacular view of the Hain Wilderness with the towering Pinnacles at an overlook point.
The trail has very little shade and is best tackled before noon. A few minutes into this trail, you will see the path bifurcate with the left trail leading to the Jawbone trail which will take you all the way Jawbone parking area and then further to the Chaparral parking area.
JAWBONE TRAIL
Trailhead: Accessible from the Prewett-Point Trail
Distance: 2.4 miles round trip
Elevation: 560 ft
Time: ~1 hr
Level: easy to moderate
The Jawbone trail is another relatively easy day hike to tackle in West Pinnacles. It will take you all the way from the Prewett-point trail to the Jawbone parking area and then further onto the Chaparral parking area. The descent into the chaparral area can be steep but you will get excellent views of the North Chalone Peak, High Peaks, and the Balconies Cliffs along the way. During winter, the gurgling of the West Fork Chalone Creek will keep you company as you hike.
THE MOST CHALLENGING TRAILS IN WEST PINNACLES NATIONAL PARK (CHAPARRAL PARKING AREA)
Beside the ever popular Balconies Caves trail, the Chaparral parking lot is also the starting point for three more strenuous and time consuming trails reserved for the staunchest of hikers (or if you are plain curious to see the California condors) to take you all the way up to the High Peaks or Pinnacles that the park is known for. These are the Juniper Canyon Loop, North Wilderness Trail Loop and the High Peaks to Balconies Cave Loop.
I personally did not venture of any of these hikes since due to their difficulty level, but if you are very outdoorsy then by all means go for it. Juniper Canyon loop is a 4.3 miles round trip that takes about 2-3 hours with an elevation of 1215 feet on a trail along switchbacks to take you all the way up to the High Peaks.
The High Peaks trail is not for the faint of heart aka someone like me (I saw a video of hikers doing this extremely challenging near 90 degree hike at the visitor center and could feel my heart thumping like crazy just by looking at the screen) but this also takes you all the way up to the Pinnacles from where you can see the condors. There are hooks or holdings and railings along the sides of the peaks for climbing assistance. This trail is an 8.4 miles loop which will take 4-5 hours to complete.
EASY DAY HIKE FROM EAST TO WEST ENTRANCE AT PINNACLES NATIONAL PARK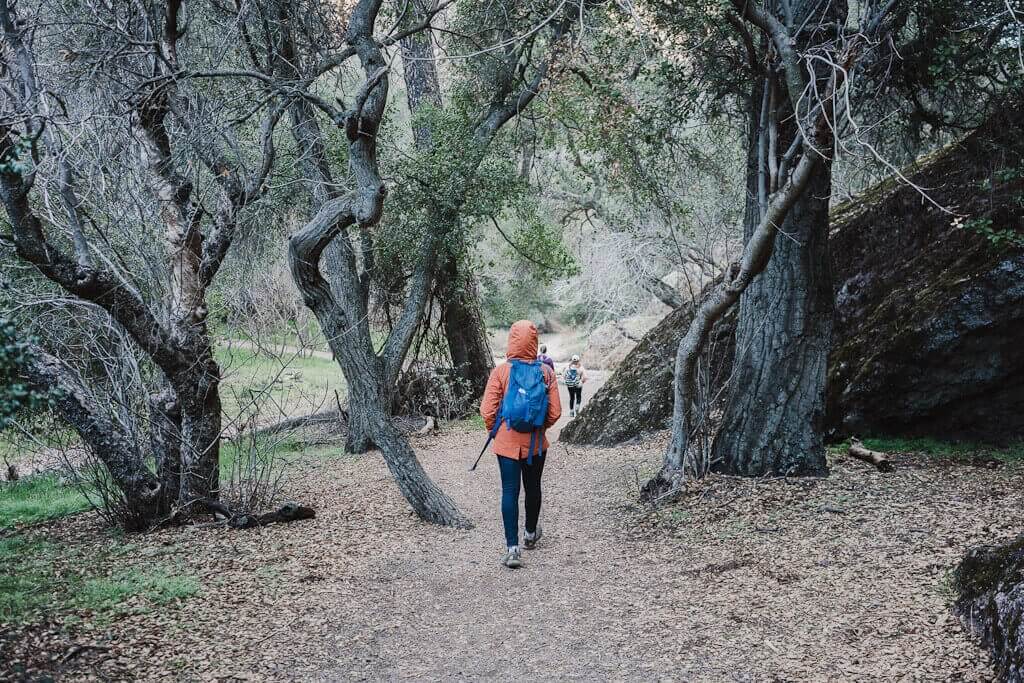 As is obvious to you at this point (and if you've read my easy day hikes at Yosemite post) that hiking to me needs to be a stress free affair where I get to stop and smell the roses. Rock climbing, steep ascents and tackling monstrous gains is not my idea of enjoying nature, thanks to my vertigo playing truant.
As a result, I often look for relatively flat hikes in National Parks where I can enjoy the scenery and take in the views without sweating over the possibility of twisting or breaking a clumsy body part of mine.
For that reason, the Old Pinnacles Trail to Balconies cave (starting from the Old Pinnacles trailhead at the parking lot) and the Pinnacles Visitor Center to Balconies Cave trail that connect the east entrance to the west are also my kinds of day hikes at Pinnacles.
Both these trails are long hikes (5.3-9 miles) but also easy-moderate with a maximum elevation of 300 ft, with the Old Pinnacles Trail being a part of the longer trail starting from Pinnacles Visitor Center.
EAST PINNACLES HIKING TRAILS
Driving from west to east entrance station takes about an hour as you have to go around the southern rim of the park through King City. Being on the west side and having spent a better half of a very warm day hiking, we decided to not drive that extra one hour to the east side.
The east side has hikes for all levels with the Moses Spring to Rim Trail Loop (starting from Bear Gulch Day Use Area) being the one which takes you to the other talus cave in the park, aka the Bear Gulch Cave.
The Bear Gulch Cave has two sections of which the lower, main section remains open for much of the year, while the upper additional section is rarely open for more than a few weeks each year to protect the endangered species of Townsend's big-eared bats residing there. The lower is completely accessible even when the upper section is closed. Here is the schedule for the seasonal opening of the cave (check the status before you go).
>>DOWNLOAD THE PINNACLES NATIONAL PARK TRAIL MAP HERE<<
WEST PINNACLES VISITOR CONTACT STATION
The visitor center on the west entrance is a small but mighty one and deserves a visit to not only pick up some souvenirs but to also learn about the geology of the park and its many conservation efforts with local Native American population like the Amah Mutsun Tribal Band and Chalon Indians who work with park rangers to protect this precious wilderness.
During our visit, we saw a small exhibit of the rocks from the park describing the formation and geology of the Pinnacles. We also saw a fantastic 11 minute video of Pinnacles which included the early work done in the park for creating those hikeable steps and guard railings in the High Peaks. The two very nice staff members in the center started the video for us and we really enjoyed learning more about the park from the exhibits and the video.
CHALONE VINEYARD
Monterey County is home to one of the best wine regions in California and Chalone Vineyards combines the best of both worlds-spectacular views of Gavilan Mountain range combined with luscious central coast wine. This winery is located right on CA-146 and is the oldest winery in Monterey county and the only winery in the Chalone American Viticultural Area.
Known for its estate grown Chardonnay and Pinot Noir, make an appointment for a tasting experience like no other at the tasting room offering a grand view of the National Park. The tasting room is open from Thursday-Sunday and visits require appointments.
STARGAZING AT PINNACLES

Whether or not you're camping at Pinnacles, take a moment to enjoy the inky night sky that the park is blessed with, thanks to being miles away from any kind of urban center. Enjoy stargazing like thousands of visitors and follow the International Dark Skies practices for an enjoyable experience.

I hope you enjoyed reading this post on the best things to do in Pinnacles National Park with the best hiking trails and all other useful information that I've provided. Thanks a lot for stopping by and safe travels!

LIKE THIS POST? PIN IT FOR LATER!

«