Last Updated on July 28, 2022 by Paroma
Are you visiting Point Reyes National Seashore and wondering what to do there? If so, this post is just perfect for you. I've visited Point Reyes several times over the last 11 years and have curated just the right list of things to do in Point Reyes for a weekend getaway. Hopefully, you'll love this Point Reyes list of things to do (including dog friendly things to do in Point Reyes) as much as I have!

Disclaimer: My blog post may contain some affiliate links. Clicking on them may earn me a small commission at no extra cost to you for purchase of the product. Thank you!
POINT REYES NATIONAL SEASHORE: THE GEM OF WEST MARIN COUNTY
Point Reyes National Seashore is a strip of land separated by water from California's mainland and is a federally protected area comprising of thousands or acres of wilderness, protected wildlife sanctuaries, California's jaw-dropping coastline, beautiful beaches and is of course the source of all of Northern California's cheese and oysters. Point Reyes is one of the best winter getaways in California. and an easy weekend trip or even a day trip from San Francisco!
This post is about everything you need to know on what to do in Point Reyes for a weekend getaway from San Francisco. I have also tried to showcase how dog friendly Point Reyes is by pointing out all the places that allow dogs in Point Reyes, dog friendly dining and hotels. Since fireworks are not allowed here, Point Reyes is a quiet Bay Area getaway for dogs during the July 4 weekend.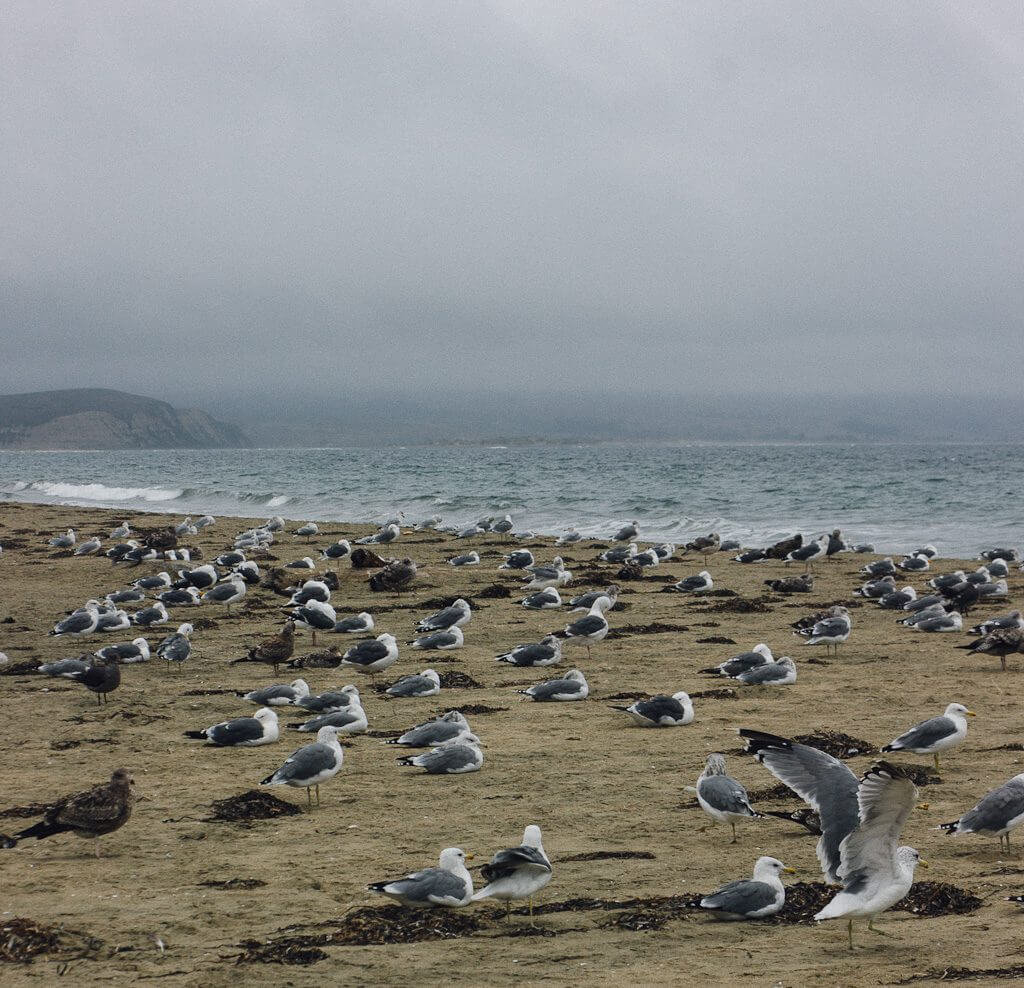 BEST TIME TO VISIT POINT REYES
I highly recommend visiting this charming Northern California beach town in spring to see the wildflowers in Spring as well as the snoozing elephant seals at Chimney Rock! Keep in mind that Spring is also the breeding season for the snowy plover which is when several sections of some beaches may be off limits to humans and dogs (if visiting with a pup). Summer and Fall are great for visiting too. Winter can get even foggier and rainy.
HOW TO GET TO POINT REYES
Point Reyes lies about 54 miles north of San Francisco. You will need a car to drive there, either along the scenic route 1 starting from Mill Valley or the inland (and faster) 101N. Renting a car is pretty easy in San Francisco.
DRESSING FOR POINT REYES
Much like most of Northern California coastal towns, Point Reyes too gets a lot of coastal fog. Plus, it is pretty windy and chilly along the coast and the beaches are pretty cold. Dress sensibly in layers to keep yourself warm. Because of the tons of outdoor activities that you'll be exploring, remember to wear hiking shoes.
HOW DOG FRIENDLY IS POINT REYES?
I have been to Point Reyes several times, most of which were with Babu, the apple of our eyes/our furbaby (he passed away in February of 2021 after years of traveling all over California. Being a US National Park that is also a prime wildlife refuge, many places and outdoor activities are inaccessible to dogs (and understandably so).
However, there are still quite a few things to do in Point Reyes with your dog if you plan properly. This includes beaches and some hikes that welcome dogs along with a few other attractions. I have been to all of these places with Babu and have mentioned them in detail here. Please be a responsible dog parent and obey posted signs at all time. Your dog should be on leash everywhere and please, for the love of everything sacred, pick up after your dog and dispose the dog waste in trash.
Read my other Marin County guides here:
BEST THINGS TO DO IN POINT REYES
Finally, here are some of the best things to do in Point Reyes as gleaned from my past trips. Point Reyes prizes itself on having some of the most beautiful beaches in California as well as scenic hikes and other breathtaking viewpoints, not to mention the abundance of cheese, oysters and freshest of catches. Here are some of my favorite Point Reyes activities:
POINT REYES BEACHES
DRAKE'S BEACH
Of the many things to do in Point Reyes, visiting one of the many pristine beaches dotting the shoreline definitely features at the very top. Being a piece of land jutting out from the side of California's coast, Point Reyes is blessed with a magnificent coastline on one side and the calm waters of the Tomales Bay on the other which is saline rich and thus home to many oyster farms.
Drake's beach, named after the famous British explorer Sir Francis Drake (who set foot on these sandy shores hundreds of years ago and was reminded of his native Bristol by the natural coves in the surrounding) is one of the best beaches to spend some time at Point Reyes.
Being a Northern California beach, it does get quite chilly due to the cold winds out there and so if you do visit, please remember to bundle up. We strolled for some time to a beach left almost entirely to us and then decided to scoot off to our next destination once we could no longer bear the cold, damp air all around. Drake's beach is not dog friendly (see the sign in the photo below).
Drake's beach
DOG FRIENDLY BEACHES AT POINT REYES
Of all the beaches at Pt. Reyes, only three are dog friendly, which are Kehoe beach and trail (which happens to be the only trail where dogs are allowed), Limantour Beach and Point Reyes/Great Beach. Besides this, there are several beaches lining Tomales Bay that are accessible to dogs only on kayaks and you can download this helpful PDF on all these dog friendly beaches.
We visited Kehoe beach during our very first trip to Point Reyes with Babu and then Dillon Beach near Marshall (on the mouth of Tomales Bay) on our third trip (with Babu), since this beach is very popular with dogs. The vehicle entry fee is $10 for Dillon beach and although characteristically cold like other Nor Cal beaches, this is definitely pretty crowded!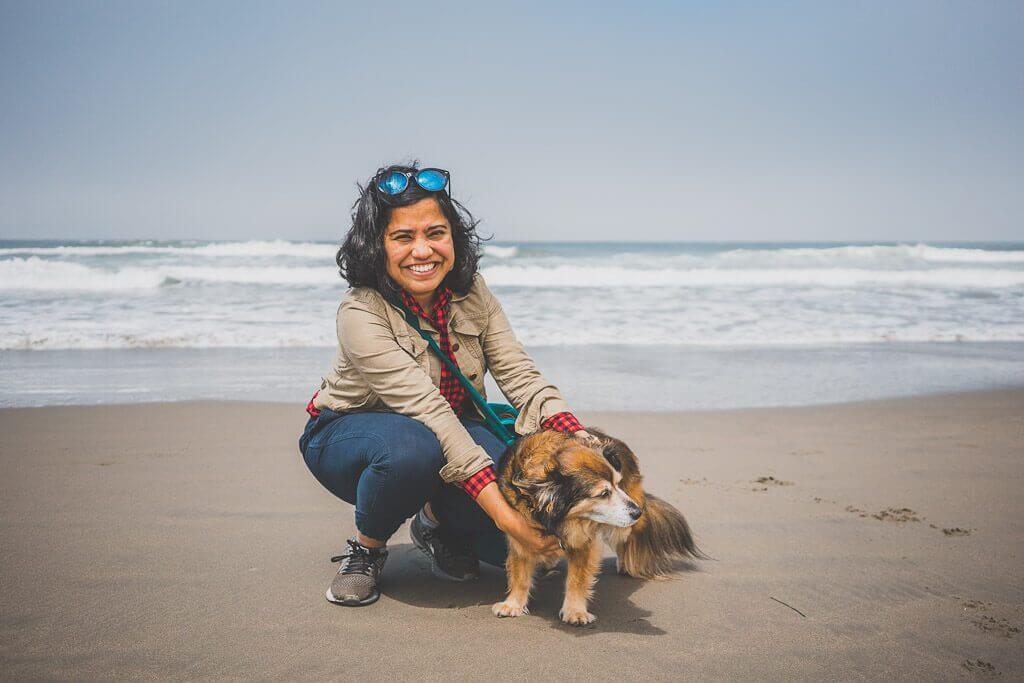 Dillon beach
Kehoe beach (dog friendly)
ELEPHANT SEAL SIGHTING AT CHIMNEY ROCK
Next in my what to do in Point Reyes Guide is Chimney Rock, which is best experienced in Spring when the wildflowers are in full bloom (Jan -March) and the elephant seals are in their birthing season.
Once you get out of the parking lot, you simply walk down the paved road till you hit an enclosed area which serves as the lookout point for elephant seals that call this part of the shore their home and can be seen nesting with a pair of binoculars or a telephoto lens. We had neither, so we used some of our imagination, some extreme eye muscle squinting and decided to take a few photos of the natural beauty all around.
As you walk back and cross the parking lot, another paved road will take you all the way towards the Historic lifeboat station, responsible for saving many a crew members' lives during ship wreck in this notoriously rocky and treacherous coastline.
The station was decommissioned in 1969 but is sometimes open to the public in spring when this area attracts many tourists. To read more about the lifeboat and experience the heartbreak and valor of California's maritime history, see this link. Dogs are not allowed at Chimney Rock.
TULE ELK RESERVE
Visiting the Tule Elk reserve is one of the most unique things to do in Point Reyes. My hankering to see these majestic creatures, once nearly extinct and then reintroduced safely to this part of USA, is what brought me to Point Reyes again (read about our first trip here to dog friendly Kehoe Beach).
This is the only dedicated elk reserve in North America and is home to about 250 of them. Fall is the best time to view them in their full glory and if you are lucky enough, you will see full grown bulls locking antlers over the possession of a harem of ladies. More information on the elks can be obtained from the Tule elk website. As is obvious, this elk reserve is off-limits to dogs.
Tule Elk Reserve is also a great place to indulge in some coastal hiking. The Tomales point trail heard starts from this now abandoned Pierce Point ranch and goes all the way to the Ocean bluffs for a mean 8 mile hike, with breathtaking views of the coast and Limantour beach below. As with any other wild animal reserve, please obey all posted signs for your safety and that of the wildlife.
We hiked about half way and then made our way back, with me being extremely dejected for not having spotted a single one from decently close quarters till we met the park rangers on our way back who had set up their binoculars and telescopes on the trail and at the trailhead to view them up close and personal through the lenses. Saw the resting females, the guarding bull with his majestic antlers and learned many a fun fact about them. Overall, mission (somewhat) accomplished!
POINT REYES LIGHTHOUSE
Any Point Reyes sightseeing guide is incomplete without a visit to Point Reyes lighthouse. You definitely need to plan properly for this visit because like most others, this one too has special visiting hours (Fri-Mon, 2:30-4:30 PM) and the lens room is only open up to 4 PM.
The road to the lighthouse is closed from Dec-March due to perilous winter conditions (read strong winds to knock your socks off). For current lighthouse conditions and timings, visit the website here. If interested, there is also a sea lion lookout point that leads down Sir Francis Drake Blvd, to catch a glimpse of them roosting in the Sea Lions Cove. Dogs are not allowed at the lighthouse.
It is best to arrive early to see Point Reyes lighthouse, i.e. when the lighthouse opens, since there will be a swarm of people trying to do the same and so the parking lot gets pretty full and you have to try your luck fitting your car on the side of the main road.
Once you get past the visitor center, you will quickly realize that this is a lighthouse like no other, i.e. it is not perched on a rock at the edge of the water. Instead, you have to descend an unending flight of rocky stairs to get to it. The steps down and the painful hike up are all worth it because the lighthouse is a beauty and its history are fascinating. Plus who can resist the fiery red moss covered rocks flanking the steps?
The lighthouse was built in 1870 in this location to warn mariners of the danger of crashing into the rocks, because this shoreline was and continues to be one the foggiest and most jagged of all coasts in USA. The 2nd order Fresnel lens used to pulse light out every five seconds to guide the ships out of danger's path and the fog horn (one is still functional today) added as an additional warning. The lighthouse is no longer functional but an automated flash light still exists warning the ships from a distance.
POINT REYES SHIPWRECK
The shipwreck at Point Reyes is a stone's throw from the Inverness Store and is definitely one of the most popular attractions in this region (plus it is dog friendly!).This is definitely one of those fun things to do in Point Reyes which you can enjoy with your dog.
Fun fact about this shipwreck: This decaying S.S. Reyes used to be a fishing boat in its heydays and was saved by impassioned photographers and curious tourists from removal when the wetlands restoration firm took over the conservation efforts. This "ship" with the original words "Point Reyes" still painted across it stands tethered to the shore and is worth visiting to collect some memorable moments from your Point Reyes visit.
CYPRESS TREE TUNNEL
One of the most romantic things to do in Point Reyes is a pit stop at the beautiful Cypress tree tunnel lane, a serene spot with a canopy of Monterey cypresses forming an overhead arch for an impromptu photoshoot. As for us, we clearly look awkward trying to fit in one frame but the place sure was enchanting. Google maps will get you there and more information can be found here. Goes without saying that there is no pesky sign asking dogs to stay off and so they can very well be part of the family photo!
HIKING IN POINT REYES
There are many fantastic hiking trails in Point Reyes National Seashore, but sadly most of them barring the Kehoe Beach trail are not accessible to dogs. If unlike us, you're bigtime into hiking then I suggest you checkout the Chimney Rock Trail, The Elephant Seal Overlook Trail and the Tomales Point Trail that goes through Tule Elk Reserve. Here is a complete list of all the hiking trails at Point Reyes.
DOG FRIENDLY HIKING TRAILS IN POINT REYES
If you're looking for dog friendly hiking trails in Point Reyes, then you'll have to be content with the sole Kehoe Beach trail to the west of Tomales Bay. However, if there are quite a few dog friendly trails in the Point Reyes area, i.e. east of Point Reyes Station.
The two dog friendly hiking trails in Point Reyes are the Cross Marin Trail at Lagunitas leading to a Redwood Grove in Samuel P. Taylor State Park and Randall Trail accessible via Highway 1. You can read more details about these trails and many others in Marin county in my dog friendly Bay Area hiking post.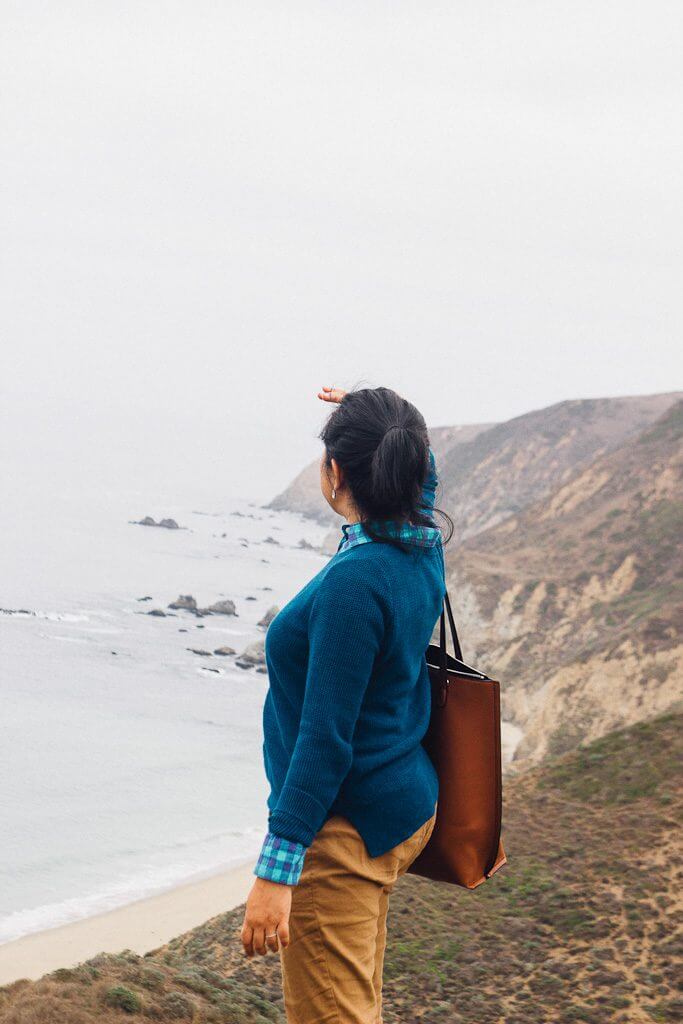 POINT REYES RESTAURANTS
One of the most enjoyable things to do in Point Reyes is to eat some of the best local cheese and oysters that you possibly can because this is the cheese and oyster supply central for Northern California. In case you were wondering where to eat in Point Reyes, let me regale you with plenty of options, right from Point Reyes station all the way up to Marshall.
POINT REYES STATION
Point Reyes station has several dining options and quite a few of them have dog friendly patios. All of them, true to being part of Marin county, had sustainable catch, local and seasonal produce showcasing the best of Point Reyes in wine, cheese and of course mussels and oysters (this is the reigning dairy capital of California and is known for its oyster farms such as the famous Hog Island Oyster Co for which there is a mile long line in San Francisco).
For starters, we hit up Cafe Reyes for dinner (a wildly popular spot) for pizza with wine as their wood-fired pizzas are not to be missed. If you are not a big cheese person, do let the server know and they will not drown your food in cheese. Cafe Reyes is one of the few dog friendly restaurants in this area and although they have a patio for alfresco dining, it does get really cold and chilly in the evenings.
We also had dinner and breakfast at the Station House cafe, another great place showcasing northern Californian cuisine. Bovine Bakery is the hotspot for breakfast and chai latte and don't forget to check out the cute farmers' market that pops up every Saturday. We got ourselves a horchata mix from one of the vendors, which is seriously so good!
COWGIRL CREAMERY
You cannot leave Pt. Reyes without checking out the insanely famous cantina by Cowgirl Creamery, the pride of Marin county and one of the most popular creameries in California. The creamery store not only sells yummy hot sandwiches, soups and salads, they have their full product line (read all kinds of cheese) laid out there for selling as well as many other food products and kitchen appliances from from local Californian merchants.
The store was definitely a treat for locavores like me. Highly recommended for foodie visitors to sample a slice of California's immense bounty. We had a great lunch over veggie and meat sandwiches plus a to die for earl grey panna cotta on the picnic tables in the grassy lawn outside. Dogs are not allowed inside the store but you can definitely enjoy a meal outside with them.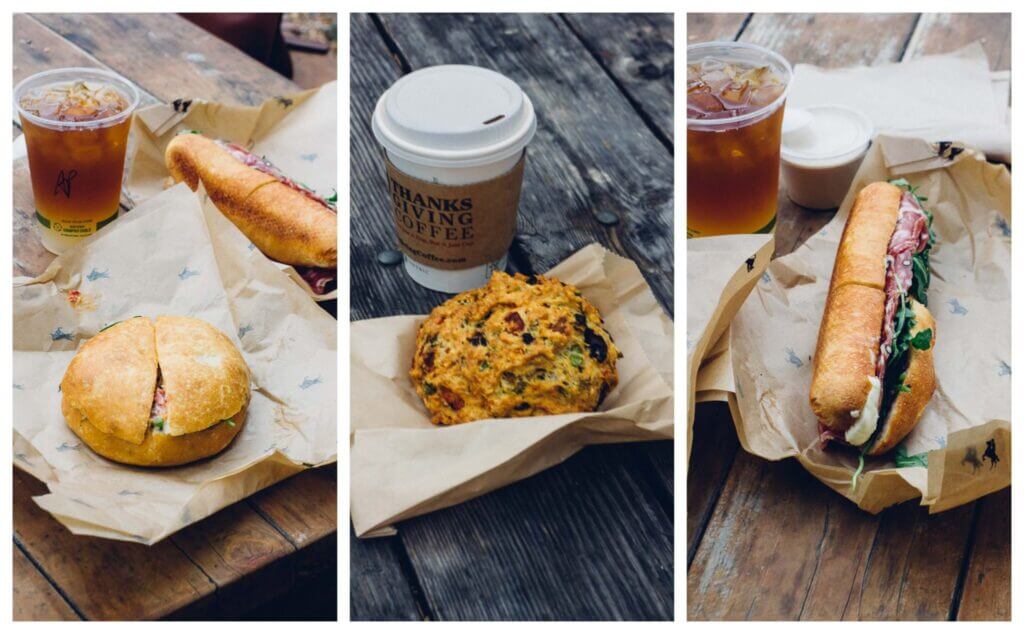 Besides dining at Cafe Reyes at Point Reyes Station, Marshall too has several dog friendly restaurants at Point Reyes. Nick's Cove at Marshall has its own patio dining as well as a "dining in the shack" option where you order the food at the bar, pick it while waiting at the shack on the boardwalk and then proceed to dine at the shack itself.
This option is available upon prior reservation and for those particularly blustery evenings when the wind and cold make it difficult to dine outside. Tony's Seafood restaurant, super popular for its grilled oysters, is also dog friendly and a must stop dining spot for delicious seafood, something that you must have on the California coast if your diet permits!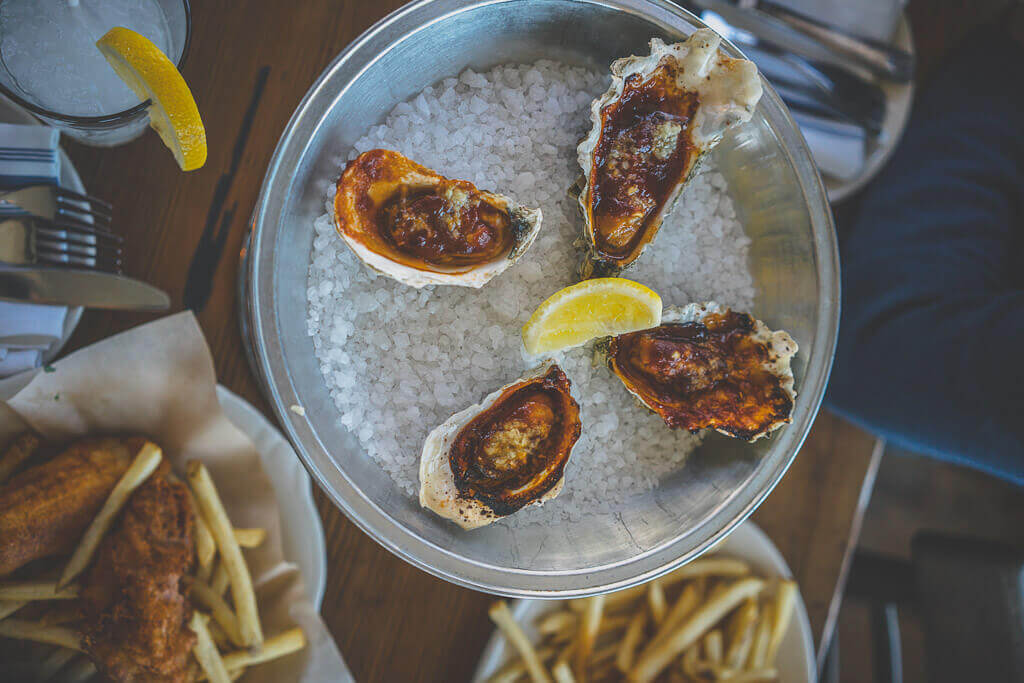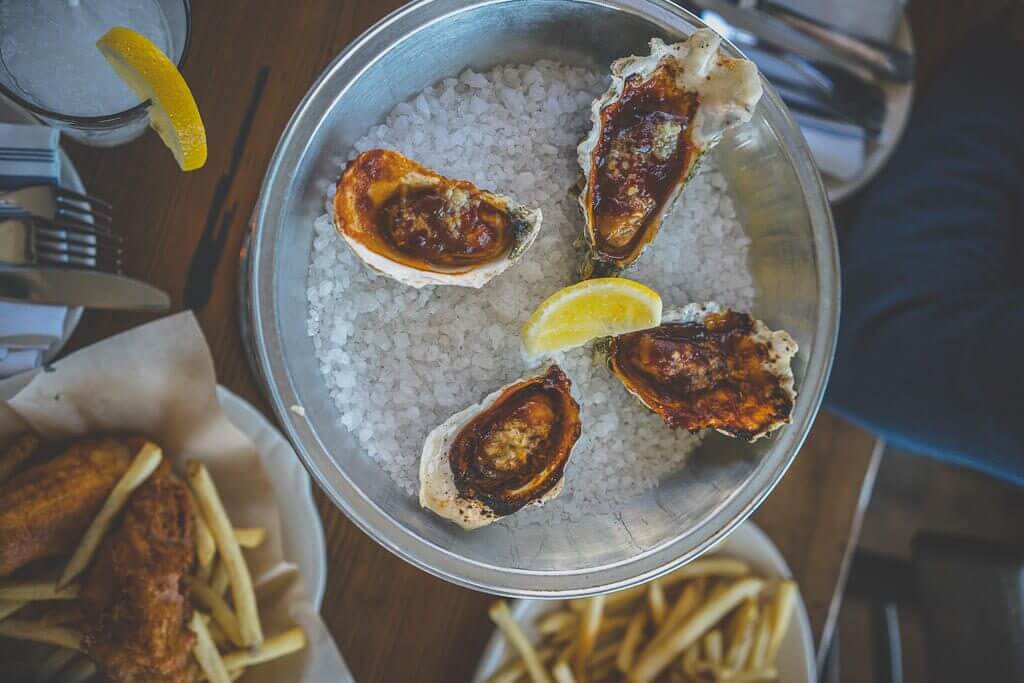 Finally, Due West Tavern at Olema is another excellent dining spot at Point Reyes with outdoor dining available (dog friendly). The adjacent cafe and marketplace is great for grab and go snacks and coffee.
WINE TASTING AT POINT REYES
Point Reyes is no Sonoma or Napa, but it does have a few spots for wine tasting. One of them is actually a one of its kind meadery that makes fermented honey wine or "mead". I am talking about going on a tasting trip to Heidrun Meadery, that specializes in champagne style mead.
Tasting of four meads is $ 15/person and a tasting plus tour comes to $ 25. Between sips of the bubbly, I found out that the flavor of the mead comes from the honey which in turn depends on the flower pollinated by the bees. So cool! The meadery is located in a certified Bee farm (no harmful repellants or pesticides used) filled with beautiful summer blooms and the tasting room is equally inviting.
The other place to hit up for wine tasting is none other than Point Reyes Vineyards which doubles up as an inn where you can even book an overnight stay so that you don't have to venture far for your wine. I am not sure about how dog friendly the living arrangements are but the vineyard sure is!
The tasting room does not allow dogs but there is an outside patio as well as a shaded area and surrounding garden with benches that are all dog friendly! For a mere $10, I had a fantastic wine tasting experience comprising of both red and white wines made from local grapes.
The ladies at the tasting room were extremely nice, knowledgeable and showered Babu with a lot of affection. For those of you looking for more wine tasting option, Sonoma county is only a short drive north and there are plenty of wineries in Healdsburg and Kenwood to quench your thirst!
WHERE TO STAY IN POINT REYES (INCLUDING DOG FRIENDLY HOTELS)
This national seashore is a narrow strip of land jutting into the Pacific ocean and so lodging options are limited. Besides Point Reyes station, the towns of Olema, Inverness and Marshall have accommodations that you can check out. Based on my personal experience, here are the places I recommend:
a) Cottages at Point Reyes Seashore: This is a series of beautiful cottages on a sprawling property adjacent to the beautiful Tomales Bay which are very dog friendly and charge a small fee ($ 20) for staying with a pet. The cottage grounds are dog-friendly but dogs have to be on leash at all times.
b) Nick's Cove: Nick's cove at Marshall is not only a popular lodging venue but also famous for its restaurant and dog friendliness. Although expensive, you get to stay in beautiful cottages, some of which overlook the water. They have a very helpful staff and the concierge even provides ideas on lots of dog friendly things to do around here plus tips on where to eat and things to do.
Breakfast is free and for a change, really delicious and is delivered to your room every morning. Best of all you can order several treats for yourself (cheese platter, oyster plate etc) anytime of the day and it will be delivered to you (of course, you will be charged for it).
Olema house (only 5.5 miles from Inverness) is another excellent dog friendly place to stay in Point Reyes. This lodge spans over four acres of land, is perched right on coastal highway 1, has 24 private rooms and is highly rated for their yummy breakfast! I am planning to book it for my next trip to Point Reyes since it seems to be more reasonable in price than Nick's Cove.
My memory does not serve me right as to where exactly we stayed in 2016 during our second trip to Point Reyes sans Babu, but you can click here to compare prices on all Point Reyes Hotel options!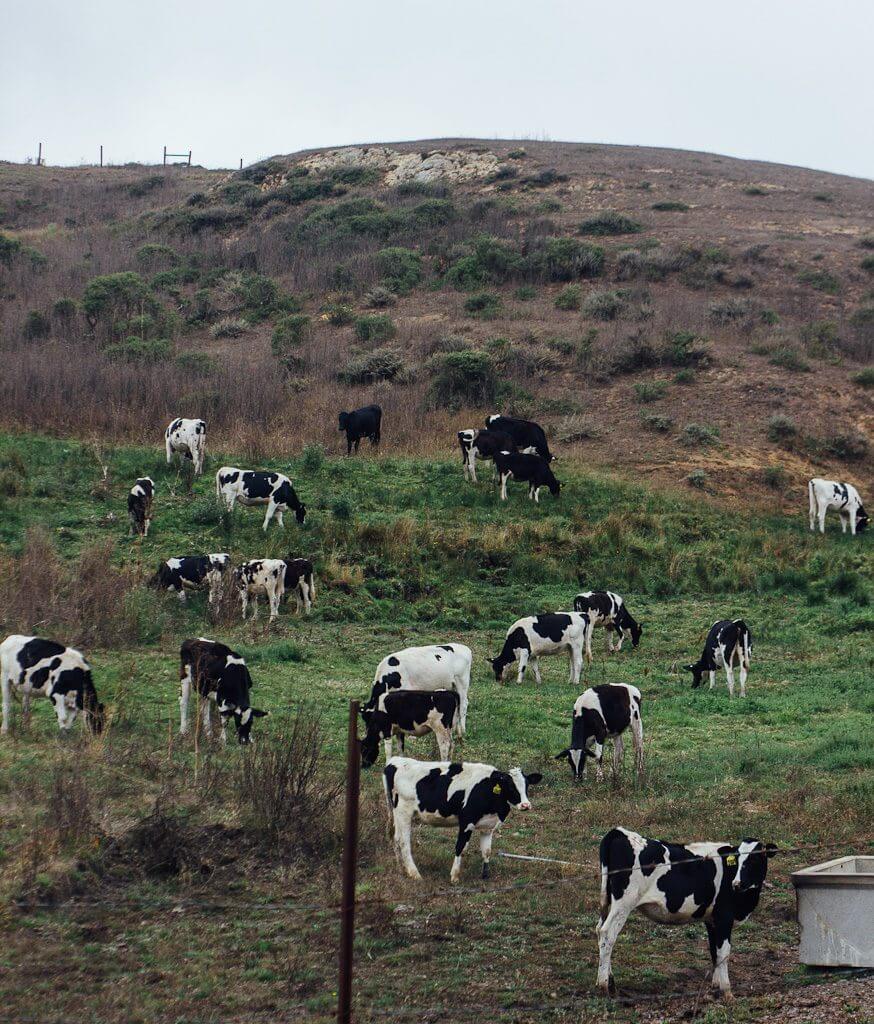 I hope you enjoyed this post on all the amazing things you can do in Point Reyes with additional dog friendly tips. Point Reyes is not only an excellent weekend getaway from the hustle and bustle of city life but the perfect example of how beautiful and abundant natural wilderness can be, thanks to the efforts of conservationists and scientists. Thanks a lot for stopping by!
Like the post? Consider pinning it!

«