Last Updated on July 28, 2022 by Paroma
Wondering where to take your dog on 4th of July to escape the loud fireworks? As someone who's spent 11 July 4th holidays in San Francisco with possibly the world's most fireworks fearing dog, my number one mission has been to avoid the city at all costs and spend the holiday weekend in some of the quietest parts of the Bay Area. Keep on reading to find quiet dog friendly places for 4th of July where you can escape the fireworks in Northern California for a guaranteed peaceful Independence day weekend!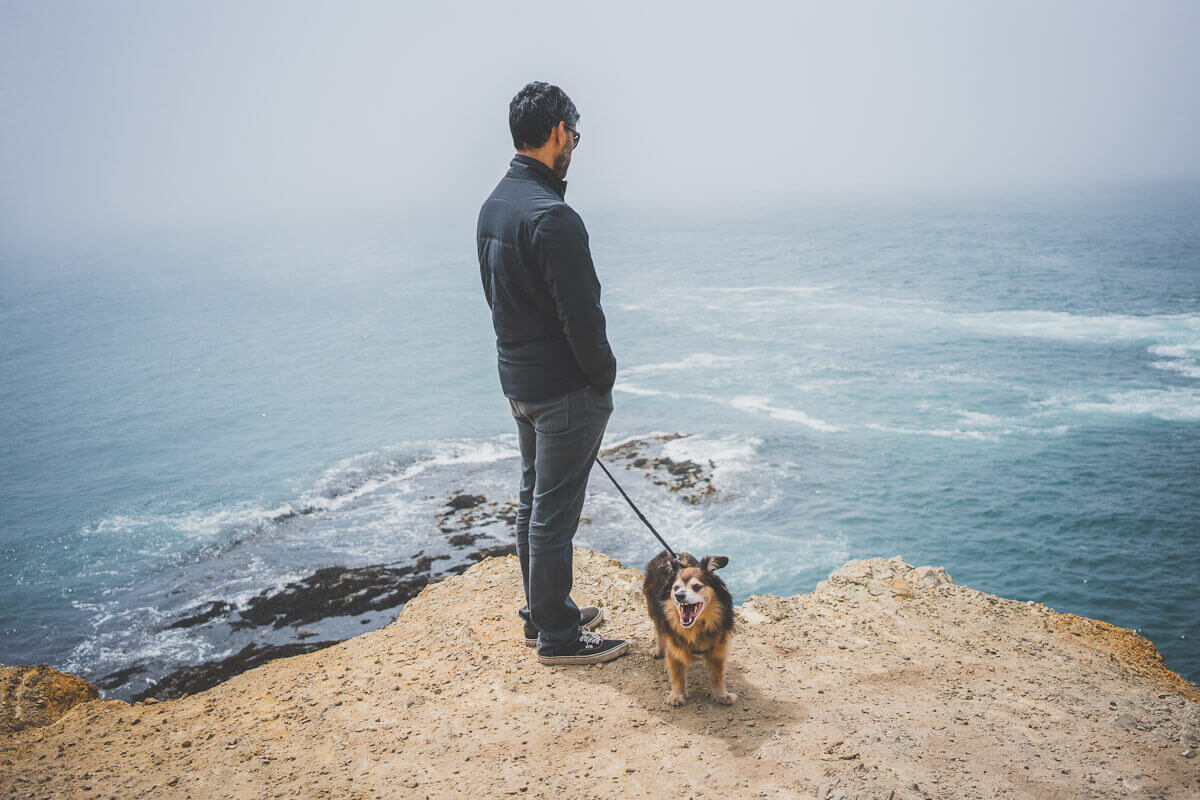 Disclaimer: This post may contain some affiliate links. Clicking on them may earn me a small commission at no extra cost to you for the product. Thank you for supporting free content on this site!
WHERE TO TAKE YOUR DOG ON 4TH OF JULY IN NORTHERN CALIFORNIA
Fourth of July is the day that USA celebrates its independence with much fanfare, flag-waving and of course fireworks. And, although the bursting fireworks lighting up the sky are a grand visual spectacle enjoyed by millions, they are an absolute nightmare for companion animals/pets/our fur babies, many of whom are traumatized by the loud, recurring booming noises which seem to be thundering out of nowhere.
4th of July and sometimes days leading up to (or an entire week for of those of us living in big cities) is the scariest and most stressful day for pets and pet parents alike. Many pets shiver, shake, tremble and pancake to the ground as they are paralysed with fear while there are reports of several others going crazy and escaping their homes out of sheer fear. I know all of these too well because I've lived for 11+ years with a very fearful dog for whom (and for us by association) 4th of July was nothing short of a death sentence.
Babu, our very first dog was the cutest adorable Tibetan Spaniel mix, whom my husband had rescued for the San Jose SPCA when he was a wee 1 yr old. He lived upto the ripe old age of 17 (he passed away of abdominal cancer) and gave us immeasurable joy over those years as we traveled with him all over California.
He was also extremely fearful of fireworks, so much so that 4th of July would turn out to be extremely traumatic for all of us, with him shaking and shivering like crazy and us trying to comfort him all night long in every way possible-with a thundershirt, or in the bathroom (where he would stay up all night cowering and shaking) and CBD oil.
Although fireworks are illegal in San Francisco, we've lived in one of the many neighborhoods where fireworks would go off repeatedly for days leading upto 4th of July, which made matters 10 fold worse (SF has a huge illegal fireworks problem by the way and the police are drowned with calls that week from frustrated pet parents). Our present neighborhood is quieter, but there are "jerks" who still set off fireworks on the night of the 4th.
As a result, the number one mission in our lives was to find quiet, dog friendly places in Northern California (i.e. in or near the Bay Area) where we could escape the loud fireworks and with proper planning, we've had quite some success in the last 11 years where we've sailed past the July 4th weekend with our sanity and Babu's mental peace intact.
Babu was the epicenter of our lives (it hurts me a lot to use the past tense here) and his well being meant everything to us. I know many pet parents share the same sentiment as I do and will do anything to escape the July 4th fireworks for the sake of their pups. So, in that spirit here are my tips and some of the best quiet places for 4th of July where you can take your dog in Northern California.
These are a mix of places in the Bay Area and road trips from San Francisco that you can go on to cover the entire holiday weekend. I have personally been to all these places, so this information is 100% authentic and tried and tested. I hope you will find this post on where to take your dog on 4th of July useful if you're a pet parent living in San Francisco Bay Area or visiting Northern California.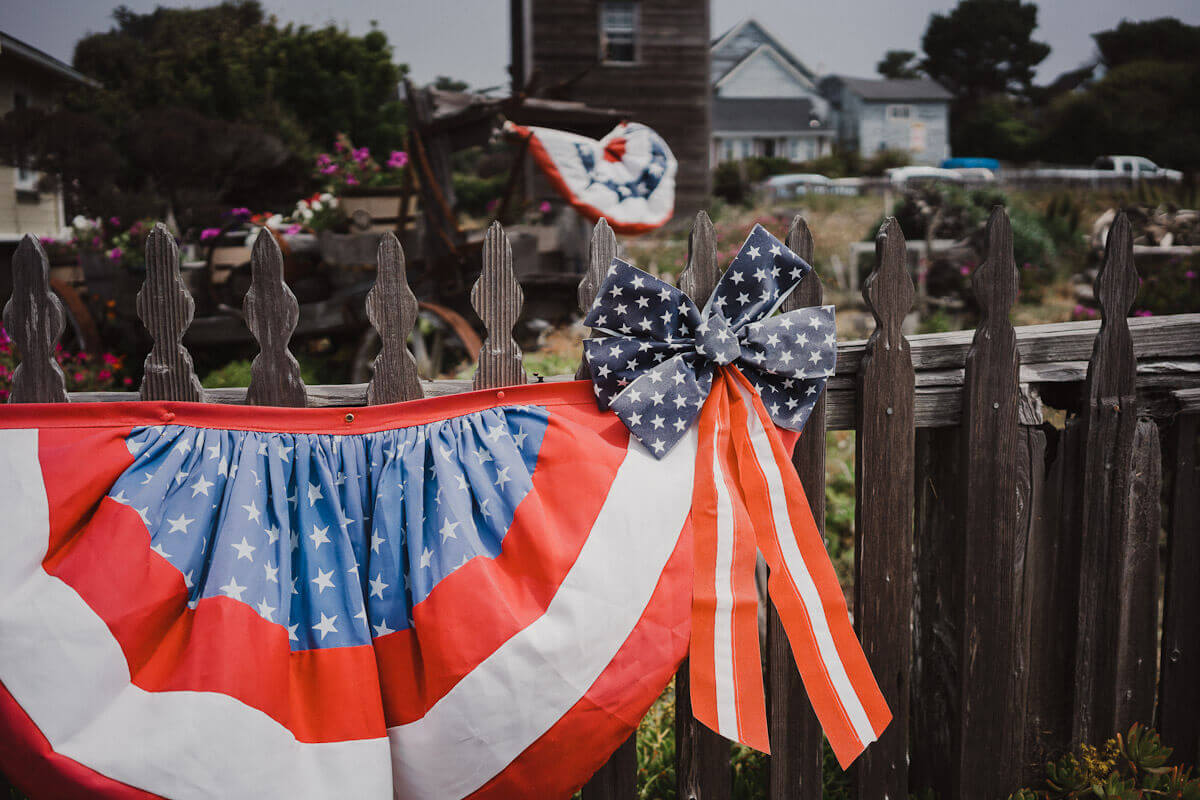 TIPS ON FINDING QUIET DOG FRIENDLY PLACES FOR 4TH OF JULY TO ESCAPE FIREWORKS
a) Avoid big cities in the Bay Area such as San Francisco, Oakland, Berkeley, San Jose etc on July 4th weekend. Fireworks in most cities are illegal but people violate rules often.
As a resident of San Francisco for the last 12 years, I can vouch for the fact that although San Francisco is super dog friendly (we have lovely dog parks, dog friendly hiking trails and dog beaches), July 4th weekend is NOT the time to spend in the city with a fearful pup. Skip the city and retreat to a smaller town (we have plenty of them in the Bay Area and you can read about them in this weekend getaways from SF post of mine).
b) This post is all about my suggestions and experiences in finding quiet places for the July 4th weekend where you can escape the fireworks completely or to a large extent. If you're planning to go to any of these destinations that I mentioned, please book your hotel rooms at least one month in advance cause they sell out pretty fast (there are many fearful pet parents in the Bay Area looking to escape the terror unleashed on that weekend just like you).
c) July 4th weekend is also when temperatures are soaring all over Northern California, including the Bay Area. Only coastal beach towns enjoy mild to moderate weather in Northern California; the interiors experience pretty high temperatures come summer. I suggest sticking to the coast for balmy weather and not opting for an inland destination to avoid getting baked in the July heat.
Many parts of the California coast have a fragile ecosystem and so fireworks are specifically prohibited there. All the more reason for you to escape to the coast (I will tell you exactly where) if you're looking for quiet dog friendly places to ride out 4th of July.
d) Fireworks in small towns in Northern California are very well controlled and in designated spots only. You can Google "4th of July fireworks" with the name of the town you're planning to visit to see where the nearest fireworks venue will be and choose your destination accordingly.
e) If you're into camping with your dogs, you definitely have more choices by escaping to more remote or far flung locations along the coast or high up in the Sierras. Simply look for dog friendly campgrounds, get your permit or reserve or spot in advance because they book up pretty quickly for the Independence Day holiday weekend and you're all set!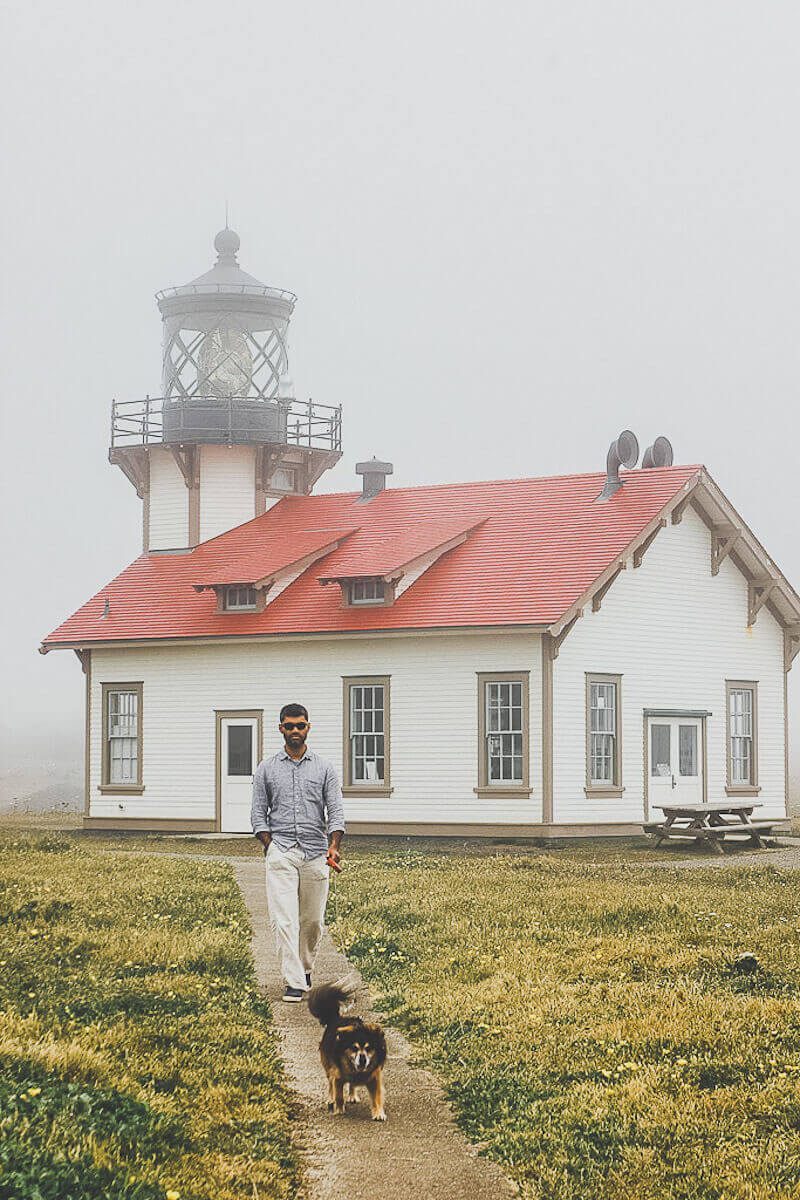 MY TRIED AND TESTED QUIET PLACES FOR 4TH OF JULY IN AND NEAR BAY AREA
Here are my top recommendations for where to go with a fearful pup on July 4th weekend to escape the death knell, aka firework display. I have personally been to all of these places with Babu over the 11 years that I was fortunate enough to spend with him and have had 100% success in having a peaceful July 4th weekend without him being traumatized. Learn more about where to take your dog on 4th of July for a blissful weekend getaway by avoiding the ear deafening fireworks:
1) CARMEL BY THE SEA
Dog friendly hotels: Read my complete guide to Carmel hotels allowing dogs here
Carmel by the Sea is hands down the winner in this 100% guaranteed no fireworks town in Monterey Peninsula that is a favorite of all pet parents from all over the Bay Area, come July 4th. Having been to Carmel a whopping 10 times in these 12 years (out of which 6 have been for the July 4th weekend), I can vouch for this destination as being the safest place to be when it comes to the Independence day weekend. Just don't venture to neighboring Monterey at night (where fireworks are set off) and you'll be golden.
The fireworks ban in Carmel is enforced very strictly and so it is naturally a haven for pet parents with anxious fur babies. The only downside to it is that hotels are booked pretty early or the prices are pretty jacked up because of the high demand. Fortunately, I have just the right post for dog friendly Carmel hotels for all budgets that you can read. As for what to do in Carmel with your pup, here is my mega detailed post in all the dog friendly activities that this charming beach town has to offer.
When in Carmel, you can also explore the adjacent town of Pacific Grove during the day or go on the 17 mile scenic drive between Carmel and Monterey which is also a fun dog friendly road trip to embark on. If you are visiting for several days, check out the inland Carmel valley (only 12 miles east of Carmel) which has lots of amazing dog friendly wineries. A San Francisco to Carmel road trip along Highway 1 is really cool by itself with plenty of amazing stops along the way.
2) BIG SUR
Dog friendly hotels: Big Sur Lodge
Big Sur is 90 miles of California's Central Coast that is as dreamy the paens dedicated to it in poetry and prose. It extends from just south of Carmel by the Sea all the way to San Simeon in San Luis Obispo county.
A Big Sur road trip with some of the most beautiful stops along Highway 1 is one that you'll cherish forever and you can there are many romantic things to do in Big Sur for those of you looking for a couples weekend getaway in Northern California. One more thing-Big Sur is extremely fragile and so fireworks are a big no no anywhere along the coast between Carmel and San Simeon. Needless to say, this is the perfect place to escape to for the July 4 weekend.
If you're planning to spend the July 4 weekend in Big Sur, you have to plan well in advance because dog friendly lodging is really sparse unless you're camping in Pfeiffer Big Sur State Park campground or Riverside campground. Big Sur Lodge which is located right inside of Pfeiffer Big Sur State Park is one of the few affordable dog friendly hotels in Big Sur (see their pet policy here).
Dogs are not allowed on almost all hiking trails in Big Sur except a few in the Ventana wilderness, Silver Peak wilderness and Pfeiffer Big Sur State Park. I recommend going on the easy peasy Warden's Path and River Path loop which are 0.5 miles of boardwalk trails right next to the lodge inside Pfeiffer Big Sur State Park.
The lack of hiking trails is made up for by access to beaches with several dog friendly beaches on the coast for your pup to enjoy. Garrapata State Park and Beach, Sand Dollar Beach and Pfeiffer Beach with purple streaks in the sand all allow dogs.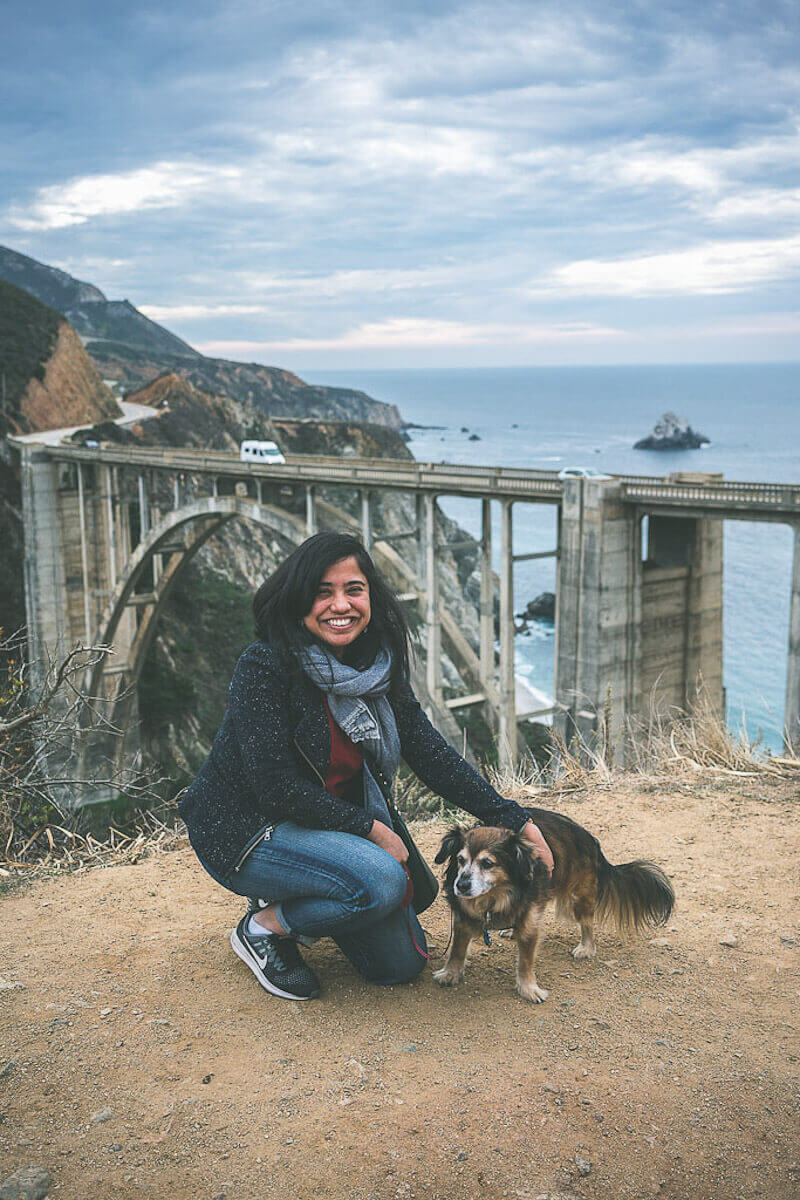 3) POINT REYES NATIONAL SEASHORE
Dog friendly hotels: Nick's Cove, Olema House
Another safe bet for a quiet retreat for July 4 with your pup is Point Reyes National seashore, which is a section of west Marin county that juts out into the Tomales Bay and is about 35 miles northwest of San Francisco. This part of the Bay Area is actually an ecologically protected region and falls under the jurisdiction of the US National Parks network.
Point Reyes is also home to the only Tule Elk reserve in USA and several endangered bird and sea mammal species that flock to the beaches for birthing and so fireworks are strictly off limits in this sensitive habitat. Although there are no hiking trails in Point Reyes National Seashore that allow dogs, the Cross Marin Trail in Lagunitas and Randall Trail in West Marin are dog friendly trails (you can find details in this bumper dog friendly hikes post of mine).
Most beaches in Point Reyes are off-limits to dogs but there are three solid dog friendly beaches that you can still explore. Of these, Kehoe Beach and trail are the favorites of all pet parents (Limantour Beach and Point Reyes Beach also allow dogs). You can read my guide to Point Reyes to craft your itinerary and find dog friendly things to do in this part of Marin county.
If you plan to stay in Point Reyes over the July 4 weekend, I suggest staying either along Marshalls, Olema or Inverness for a quiet experience. There are dog friendly restaurants in both Marshalls and Olema as well as the popular Point Reyes Station.
4) MILL VALLEY
Dog friendly hotels:Acqua Hotel
This quiet little town in Marin county lies about 13 miles north of San Francisco across the Golden Gate bridge and is the place to go to if you're wondering where to take your dog on 4th of July at the last minute.
This town, once home to a sawmill in 1836, is flanked by the western and northern shores of the calming waters of Richardson Bay and the eastern slopes of Mt. Tamalpais (which has a wonderful dog friendly hiking trail leading to a waterfall). Mill Valley is home to second-growth Redwoods and the world famous Muir Woods National Monument which is an old growth coastal redwoods grove.
The low key charm combined with its dog friendly downtown, hiking trails and the Old Mill Park which is basically a rare dog friendly Redwoods grove makes Mill Valley a perfect hideout for the July 4 weekend. The nearest places where fireworks are set off are about 7 miles away in Sausalito and Tiburon, so you're still some distance away from the dreaded noise that can drive your pet bonkers.
The only downside to choosing Mill Valley as a quiet place for July 4th is the lack of dog friendly hotels (there is only one, i.e. Acqua Hotel in the actual town). You have to resort to mostly vacation rentals (Airbnb or VrBO) but given how this place is a very local's only spot in the Bay Area and not a tourist hotspot, you can definitely find a few places near Throckmorton Avenue (downtown) to stay in like we did in the past.
There are plenty of dog friendly things to do in Mill Valley and you can read my Mill Valley guide for more inspiration, such as outdoor dog friendly dining, dog friendly walks through Old Mill Park, enjoying the gurgling Cascade Falls (see details on this hike here), hiking in Camino Alto Open Space Reserve, getting onto the Bay trail at Bothin Marsh Preserve and checking out other dog friendly scenic hikes in nearby Tiburon and Larkspur. Muir Beach Overlook is 6.5 miles west of Mill Valley and is a dog friendly spot with spectacular views of the California coast.
5) BODEGA BAY
Dog friendly hotels: Sonoma Coast Villa (we loved our stay here)
The foggy Sonoma coast along Highway 1 is not only famous for its wineries, state parks and pristine beaches (all must visit stops on a San Francisco to Mendocino road trip), but is also far away from fireworks show in inland Sebastopol, which is 16 miles away. So if you're wondering where to take your dog on 4th of July, this is where you want to be.
Although the entire Sonoma coast from Dillon Beach to Gualala is conducive for a quiet July 4 retreat, I am partial towards the tiny town of Bodega Bay which has been immortalized by Alfred Hitchcock in his movie "Birds". We visited Bodega Bay during the last July 4th weekend with our new rescue pup Gunda (who by the way is totally unfazed by fireworks) and loved our peaceful long weekend vacation.
Bodega Bay lies on the southernmost end of the Sonoma Coast and is perfect for spending the July 4 weekend with your furbaby. First of all, there are plenty of dog friendly beaches here to enjoy some time in the sand and sun.
Next, you get several amazing dog friendly hiking trails, vista points and restaurants serving some of the yummiest chowder in California. The tiny town of Bodega is also a must visit to see some of the iconic buildings where the movie was filmed. You can read my Bodega Bay guide for all the details right here (includes the most magical dog friendly misty Redwood grove that you should not miss at any cost).
Sonoma Coast Villa is the perfect dog friendly hotel to stay in if you're visiting Bodega Bay for the July 4 weekend. This hotel is located on a 68 acres of lush, green property, gardens, walking trail, and a lawn for playing bocce ball and mini golf.
Amenities at SCV include a breakfast hamper delivered to your room in the morning, crazy good wifi, free parking and best of all, movie nights on the projector in the lawn, pizza Fridays with a mobile pizza chef (on most Fridays) and smores beside a crackling fire to set the mood. The most endearing part of this place is that it is very dog friendly and pups are happy campers here with lots of space to romp around! Upto two dogs of any size are permitted with an $50 charge per stay.
6) JENNER
Dog friendly hotels: Jenner Inn, Timber Cove Resort
Jenner is the Sonoma coast town right on Highway 1 where the Russian River empties itself into the Pacific Ocean. Since it is on the coast, fireworks are prohibited here and so rest assured your July 4 weekend here will be a quiet, tranquil one. When in Jenner, do check out the many dog friendly beaches such as Jenner Beach, Russian Gulch State Beach and Goat Rock Beach.
Jenner is also home to the historic Fort Ross State Park (with a fortress from the Russian settlement days) which you should definitely check out with your dog. This is one rare state park where dogs are allowed inside the buildings that are remnants of the Russian settlement and part of the fortified compound.
Jenner Inn and Timber Cove Resort are two solid dog friendly hotels in Jenner. Although Timber Cove Resort is pricey, you should definitely grab some lunch at on the ocean viewing patio of Coast Kitchen, their in-house restaurant with your dog (dress warmly as it gets pretty windy on the coast). The resort grounds offer gorgeous views of the coast and are perfect for an after lunch walk.
The other delicious place to grab lunch with your pup, and that too on an outdoor lawn overlooking the Russian River is Cafe Aquatica, right across Jenner Inn. They have good food, even better coffee and lattes and the atmosphere is just so fab and blissful!
Jenner is a short drive away from Gualala and Point Arena which are in Mendocino County. Gualala is famous for the scenic coastal hikes of Gualala point regional park (an excellent spot for whale watching in winter) while Point Arena is known for the unique Bowling Ball Beach which can be accessed in low tide to see bowling ball like shiny, large rocks. Both these places are dog friendly
7) GUALALA
Dog friendly hotels: Gualala Country Inn (they charge a very reasonable $10 pet fee for your entire stay), Surf Motel
Located on the North coast/Mendonoma coast, Gualala (pronounced Wah-la-la) is the southernmost point on the Mendocino coast and right to the north of Jenner. This quiet beach town on Highway 1 was our 2022 Fourth of July getaway and I am happy to report that things were as quiet as a mouse in the town.
Fireworks are at least 10-15 miles north of where we stayed, i.e. Gualala Country Inn and we could not hear as much as a bang over the Independence day weekend. So yes, Gualala gets a huge thumbs up from me if you are looking on where to take your dog on Independence day weekend to escape the dreadful fireworks.
I have an entire post on Gualala for you to find the best dog friendly things to do, but let me tell you right off the bat, you'll be hitting doggy jackpot if you choose Gualala for your July 4th destination to escape the fireworks. First of all, you can hike the super mellow coastal trail, aka Gualala Bluff Trail from either behind the Surf Motel or Trinks Cafe that has spectacular views of the river and the estuary.
Second, spend your day hiking in the extremely dog friendly Gualala Point Regional Park which has a gorgeous coastal trail and well as a dog friendly beach. Stop by the main parking lot to see the beautiful Sakha Serges and then drive to the visitor center from where you can either walk down the bluff trail to Gualala point, get onto the Salal beach trail or simply cut across the meadow to the beach.
Spend some time marveling at the artwork and outdoor art installations at Gualala Arts Center which is smack dab in the middle of a Redwoods grove. If you are planning to hike in the Redwoods, then you need to make a camping reservation at the nearby dog friendly Gualala River Redwood Park which is a campground site only and not for day use.
Gualala has no dearth of dog friendly cafes and restaurants.Trinks is good for breakfast and lunch with an outdoor space, i.e. green lawn right by the river while Cove Azul Bar and grill welcomes dogs on their balcony overlooking the entire highway 1.
You can also get drinks indoors with your pup at St. Orres, a luxury lodging with an incredible Russian/Scandinavian Stave design (they have pet friendly cottages amidst a redwood grove) where the owner Rosemary Campiformio simply loves dogs!
Finally, when in Gualala, visit the 151 year old Point Arena Lighthouse with your pup. The lighthouse is about 19 miles north of Gualala and allows dogs on ground and in the museum store and gift shop. The actual town of Point Arena is very cute as well and you can stop by for lunch or breakfast.
8) MENDOCINO
Dog friendly hotels: Little River Inn, Sweetwater Inn & Spa
Mendocino is one of the most beautiful dog friendly small towns in Northern California to visit anytime and is not a bad option for July 4 either. This was our very last July 4 getaway with Babu in 2019 right before his cancer diagnosis and we enjoyed the one last Independence day parade in town with him. We've visited Mendocino over half a dozen times in the last 11 years and always come back to it for its dog friendly restaurants, hikes and beaches. Read my complete dog friendly Mendocino guide for details.
Fireworks in Mendocino county are permitted at Todds Point in Fort Bragg which is about 10 miles north of Mendocino. Fort Bragg has spectacular coastal hikes and world famous beaches such as Glass Beach which welcomes dogs. You can spend half a day at Fort Bragg to enjoy its many dog friendly attractions and return to Mendocino for a quiet evening.
Mendocino is also the gateway to the mighty coastal Redwoods that California is famous for. Although dogs are not allowed anywhere in the Redwood National Parks system, you could easily drive through the Chandelier tree (a mighty Redwood with a cutout in its trunk) in Leggett, where Highway 1 merges with 101N to form the Redwood Highway that takes you all the way to the Oregon border (you can read details on our Northern California road trip here).
And that brings me to the end of this list of some tried and tested quiet places to go on July 4 with your dog to escape the fireworks in and around Bay Area (Northern California). I hope you will find this guide useful if you are the parent of an anxious pup and will be able to have a calm and peaceful holiday weekend. Thanks a lot for stopping by and safe travels.

LIKE THIS POST? PIN IT FOR LATER

«