Last Updated on March 24, 2022 by Paroma
If you're looking for some of the best dog parks in San Francisco for your pup to play around, then you've come to the right place, err..post! As a resident dog mom who has been to pretty much all the dog parks during these 11+ years of living in San Francisco, I've compiled a list of my absolute favorite San Francisco dog parks which have everything that you need for your pup to have a blast.
From leash free dog play areas to miles of hiking trails and from absolute panoramic views of the city to heavenly lavender shrubs, these 15 SF dog parks are a must visit for every dog parent!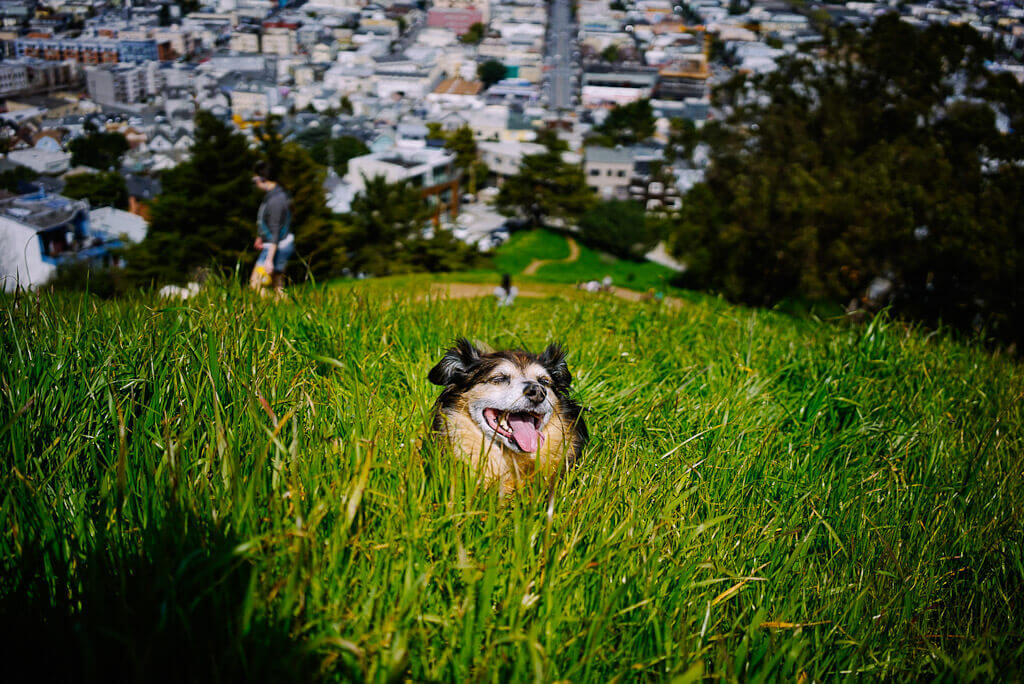 Disclaimer: This post may contain some affiliate links. Clicking on them may earn me a small commission at no extra cost to you for the product. Thank you for supporting free content on this site!
DOG PARKS IN SAN FRANCISCO: CHOOSE THE PARK THAT IS RIGHT FOR YOU
San Francisco is puppy haven. We have more dog parks than children's playgrounds with leash free areas, tons of hiking trails and most of them have amazing views, since the city is pretty hilly with lots of amazing view points that happen to be dog parks, i.e. win, win, win in my book if you ask me!
If that is not all, we also have dog friendly open spaces, plenty of urban hikes with dog friendly trails and over half a dozen dog friendly beaches for a day under the sun and sand. As you can see clearly see, with so many choices, a dog's life in San Francisco is anything but boring or sad!
San Francisco dog parks are in a league of their own and pretty diverse. Despite the small size of the city (we are only 49 square miles!), our over two dozen neighborhoods crammed in this 7*7 square each have a grassy patch for canines to gambol around, no matter how small.
Our parks range from big, well defined spaces with all kinds of amenities (leash free dog play+ restrooms + children's playground) to smaller ones with terrific views of the city to downright huge, sprawling spaces with tons of dog friendly hiking spots. No matter what kind of dog you have, there is always a dog park in San Francisco that is just right for you.
As a San Francisco resident (11 years and counting), I have pretty much covered all the dog parks in the city with Babu (my Tibetan Spaniel Mix who passed away earlier this year) and Gunda (the adorable terrier mix whom we adopted a few months ago).
Although it was difficult to whittle down the list of SF dog parks to 15, I have tried to include a variety of parks in different San Francisco neighborhoods so that you can pick the one based off an activity that you enjoy the most with your pup, be it hiking or a leisurely stroll on the grass or simply taking in our grand views.
Finally, our dog parks are simply amazing-they are well maintained grass-filled playgrounds with lots of local flora, dense groves of trees and native vegetation to provide an enriching experience for your pup. Plus, many of them provide spectacular views of the city!
So if you're visiting San Francisco with your dog, please do me a favor and take her/him to the nearest dog park in the city, hopefully with these handy recommendations steering you to the right park. Read more for helpful tips to visit a park nearest to you when in San Francisco.
TIPS FOR VISITING SAN FRANCISCO DOG PARKS
a) All dog parks have plenty of street parking nearby. The gigantic ones like John McLaren park have designated parking lots scattered all over the park. There is plentiful of parking even in Golden Gate Park, no need to pay $$$ for parking garages.
b) None of the dog parks in San Francisco are fenced, although several of them have concrete perimeters around them and are accessible by a flight of stairs, i.e. they are raised off the ground by a few feet. Smaller dog parks are most often at street level. Unless your dog is on excellent voice recall, please do not take him/her off the leash the minute you enter the park for their safety.
c) Only certain designated spots, i.e. dog play areas are leash free (this is because our parks are shared by a lot of non-dog people and children). Please obey all posted signs, pick up after your dog and dispose off the poop bag in trash cans (don't leave them behind like an irresponsible j**k).
d) Many dog parks have children's playgrounds/play-areas and sports areas (tennis courts etc). Dogs are not permitted in either of those places.
e) Please be mindful that not all dog parks have restrooms. So plan accordingly. In this post, I will point out the ones that do.
f) All kinds of dogs play around in off-leash areas and it does get pretty crowded on weekends. If your dog has aggression issues, please consider walking them on our very walkable streets and do not bring them into dog parks.
MY FAVORITE DOG PARKS IN SAN FRANCISCO
As I mentioned before, it was hard to narrow down this list of dog friendly parks in San Francisco to a dozen, given that there is pretty much one dog park tucked away in almost every neighborhood in the city. I have chosen these parks based on their diverse topography, availability of leash free play areas, hiking trails and of course nearby attractions that are also dog friendly. Here are my recommendations:
THE MOST POPULAR DOG PARKS IN SAN FRANCISCO
These dog parks simply have it all. Equipped with leash free play areas, restrooms, water fountains for your thirsty pup and plenty trees as well as grass covered grounds to enjoy, your dog is guaranteed to have a good time. My favorites are:
Neighborhood: Western Addition/NOPA
This park is flanked by the famous Painted Ladies, aka the row of colorful Victorian houses that pretty much epitomize San Francisco and are a must see attraction when in the city. With a designated leash free area, lots of grass and paved paths as well as restroom and water fountains, this park is a huge hit with local dog parents (used to be our go to park when we lived in Western Addition, one of the coolest neighborhoods in SF). This is the perfect spot for a picnic in SF or to grab a coffee from the cute Lady Falcon Coffee Club truck that shows up daily.
Nearby dog friendly attractions: Japan Town (the outdoor Buchanan Mall), shopping and outdoor dining on Divisadero and Fillmore streets, Jefferson Square Park (a smaller but pretty nice dog park in Western Addition)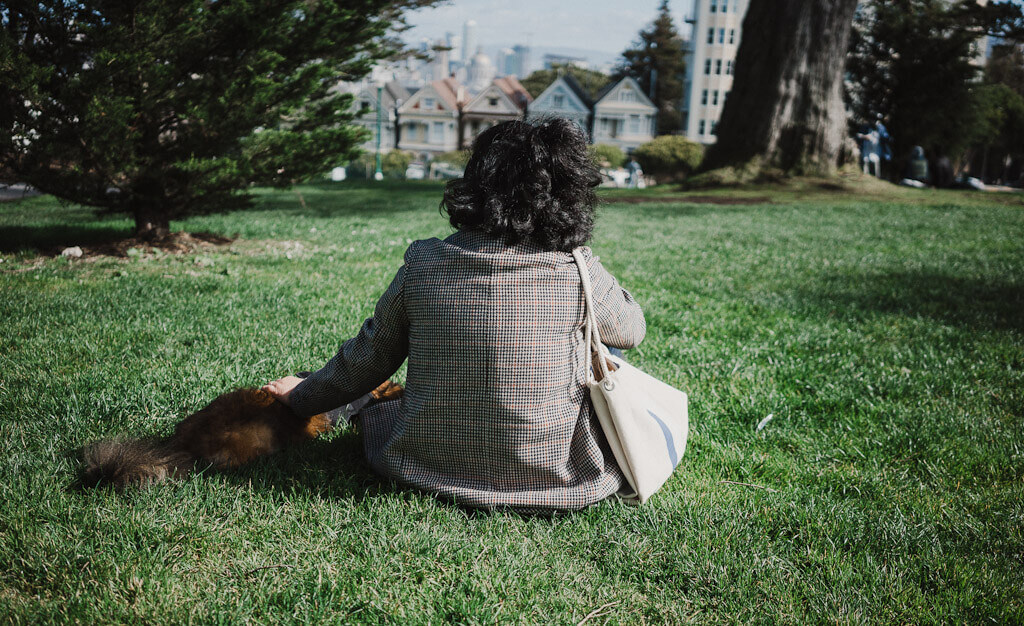 Neighborhood: Pacific Heights
The Pacific Heights neighborhood is not only known for its palatial mansions, terrific views and manicured gardens but also this well maintained patch of green that is a huge hit with dog parents living around here. The 12 acre Alta Plaza Park has all the amenities of Alamo Square Park (their layout is pretty similar as well), including a leash free play area, and also boasts of expansive views of the neighborhood. Park is accessed by a flight of stairs leading from the main street.
Nearby dog friendly attractions: San Francisco's Presidio Branch Library surrounded by a beautiful garden/grounds that is dog friendly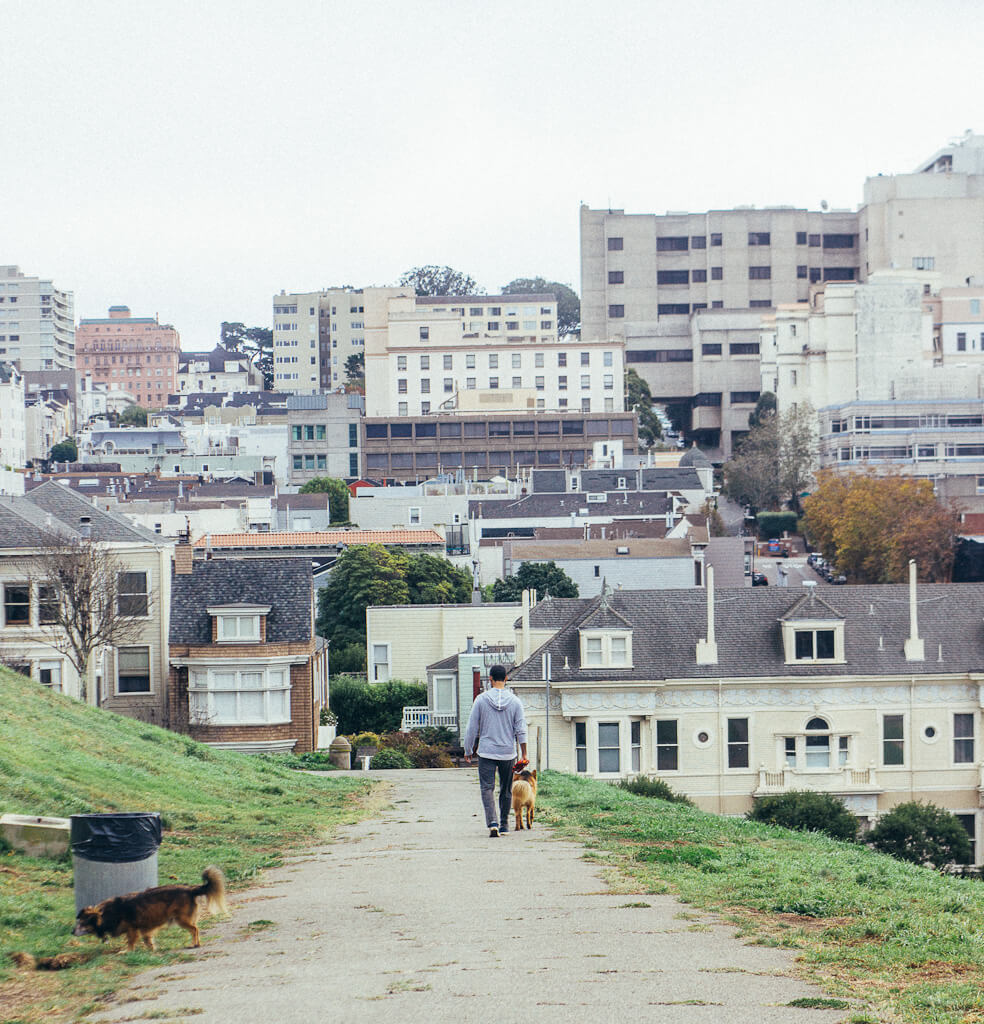 Neighborhood: Nob Hill
Lafayette Park overlooks the beautiful neighborhood of Nob Hill, its steep slopes and magnificent buildings. This different corners of this expansive, tiered park are fun to explore with your pup after he/she is done romping in the leash free section with other furry friends. Lafayette park has huge patch of lush lavender grove that fills the air with a heavenly fragrance come summer. Park is accessed by stairs leading from the main street. There are restrooms in the park as well.
Nearby dog friendly attractions: Shopping and dining on Polk Street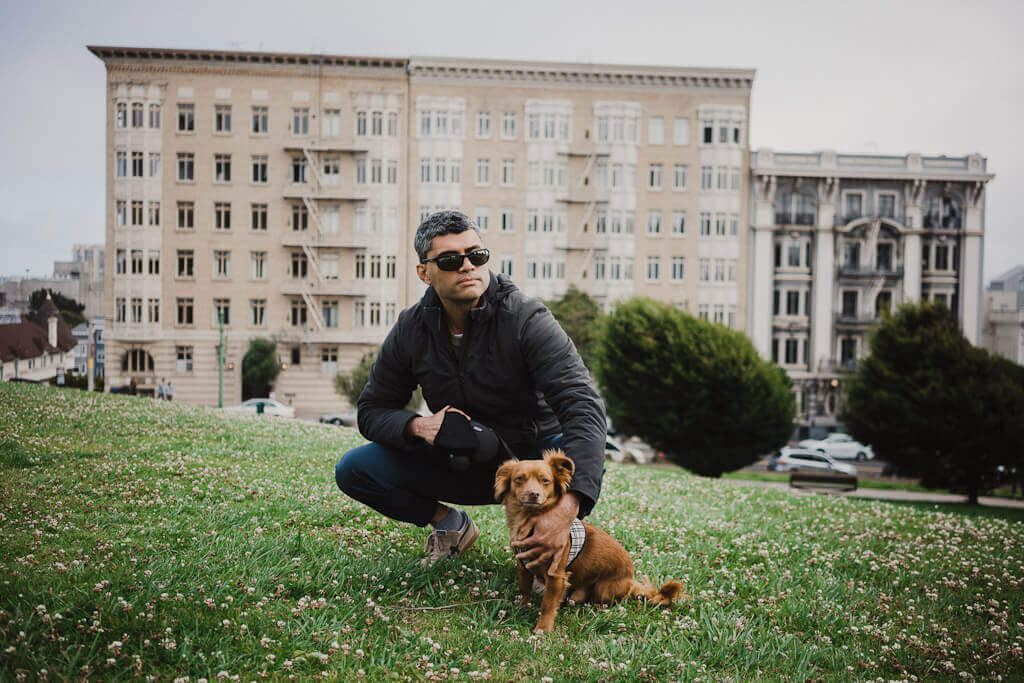 Neighborhood: Panhandle/Richmond/Sunset
Golden Gate Park is San Francisco's 1000 acre oasis with so many attractions packed in it that it will take you a good one week to see it all-I've lived in the city for 11+ years and I still discover something new in the park on every visit. Although the park has many dog friendly trails (just walking down the wide paved John F. Kennedy drive dissecting the park is pretty cool), the Hoover Redwood grove and Strawberry Hill are two dog friendly sections of the park that you should definitely check out.
The Hoover Redwood Grove is near the west entrance of the park located at 20th Avenue and Lincoln way with parking available along MLK drive. This grove of Coastal Redwoods is a serene spot for walking as well as picnicking in the grassy area around it. Planted in 1930 to honor war casualties, this grove is also home to native flowers such as currants, Huckleberry and Redwood Sorrel.
My absolute favorite dog friendly spot in Golden Gate Park is Strawberry Hill-a man-made, artificial island in the middle of Stow Lake. Not only is there a nice paved road to explore this island, but it is also strewn with many attractions such as an artificial waterfall, the Golden Gate Pavilion, bridges arching over the lake and several benches nearby for a picnic. A must visit for all dog parents!
Nearby dog friendly attractions: Most of park outdoors (except the Shakespeare garden) have dog friendly trails. The Rose Garden at John F. Kennedy drive is also dog friendly and a must visit during spring in San Francisco.
SAN FRANCISCO DOG PARKS WITH SPECTACULAR VIEWS
San Francisco was built on hills as testified by its steep slope-y streets that will put your stamina (and those gams) to test. So it comes as no surprise that we have some terrific viewpoints to take in those sweeping sights of the city, the glistening bay and our famous Golden Gate Bridge (the orange bridge that makes heads turn). Funnily enough, all these viewpoints are in dog parks or dog friendly open spaces which means it's a win win for all fellow dog parents out there!
These parks are smaller, may not be equipped with restrooms and not all of them have designated dog play areas. Dogs should preferably be on leash unless they are on excellent voice command because of the hilly nature of these parks surrounded by steep climbing trails/paths that may or may not have stairs.
Also, please remember to dress in layers since it can get pretty windy up there since most of these parks are on elevated areas or hillocks. Street parking is available for all of them. I recommend checking these out:
GRAND VIEW PARK
Neighborhood: Golden Gate Heights
Known for its really grand views of the city skyline reaching all the way out to the Bay, what makes this dog park in San Francisco even more attractive for visitors are the flights of colorful, tiled steps (known as the famous "16th Avenue tiled steps" at 16th Avenue and Moraga street) that lead up to it. Dogs should preferably be on leash since this park is very popular with tourists. There is another equally colorful flight of stairs nearby which you can find on my hidden gems in San Francisco post!
Nearby dog friendly attractions: Hidden Garden steps, Mt. Sutro open space reserve (has some amazing SF urban hikes that are dog friendly)

Neighborhood: Corona Heights/Ashbury Heights
This park is more of a hillock (since it towers over its surroundings like a mound) and the climb uphill can be pretty steep, especially if you're trudging up the Corona Heights trail accessible from the 15th street entrance where the tennis courts are. However, once you manage to make that 1 mile uphill climb, you will be rewarded with fantastic views of the city. This park has a dedicated play area for pups at the corner of Roosevelt and Museum way as well as restrooms.
Nearby dog friendly attractions: Buena Vista park, the vibrant neighborhood of Castro

Neighborhood: Bernal Heights
Bernal Hill is an elevated hillock and part of the Bernal Heights park, which is one of the most popular dog parks in San Francisco offering some of the best views of the city. Once atop the hill (accessible by either a paved road wrapped around it or winding dirt trails), you will witness a breathtaking 360-degree panorama comprising of the San Francisco Bay, the Golden Gate Bridge, downtown SF, San Bruno Mountain and the East Bay hills on a clear day.
It is not uncommon to see dogs run off-leash on the hill, which also serves as an off-leash play area for them. Bernal Hill is accessible via Bernal heights boulevard. Parking is available on Folsom street and on nearby streets.
Nearby dog friendly attractions: Cortland Avenue in Bernal Heights with dog friendly cafes and shops (check out Bernal Star's breakfast on the patio)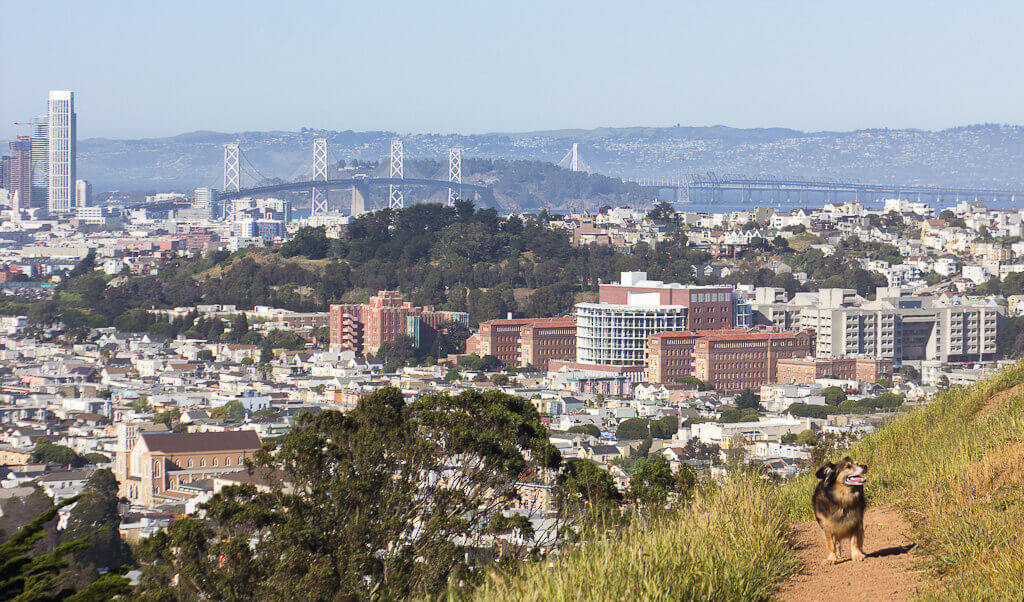 BUENA VISTA PARK
Neighborhood: Haight-Ashbury/ Ashbury Heights
Buena Vista Park is the oldest park in San Francisco and is home to secluded, winding trails as well as one of the city's few remaining coast live oak groves. The icing on this cake are the scenic views and a very popular enclosed area dedicated to dog play. This is a really serene park for walking your dog due to the thick canopy of trees providing natural shade.
Nearby dog friendly attractions: Corona Heights park, Haight street (plenty of outdoor dining, shopping and vibrant murals)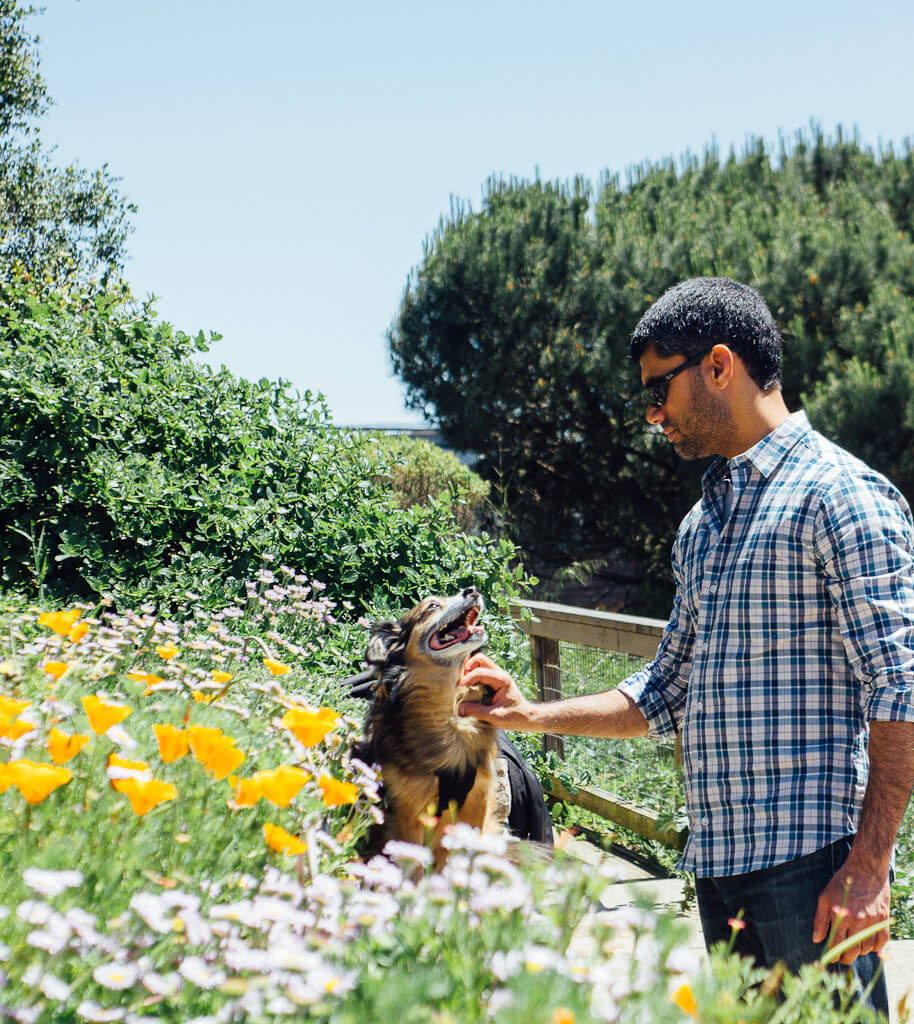 Other dog parks with great views: Mt. Davidson park, Tank Hill Park (details in my dog friendly guide to San Francisco)
DOG PARKS IN SAN FRANCISCO WITH HIKING TRAILS
Although majority of dog parks in San Francisco have several dog friendly hiking trails, I am including these three parks exclusively for the labyrinth of hiking trails that they offer along with some other very unique attractions. Here are my favorite parks to go hiking with your dog in San Francisco:
Neighborhood: Portola/Excelsior/Visitacion Valley/Sunnydale
This is the second largest park in San Francisco and is befittingly named after John McLaren, the "grandfather" of Golden Gate Park. This 312 acre San Francisco dog park is massive with many hiking trails, a dedicated dog play area with spectacular views of the city, a Redwoods grove picnic area, a labyrinth of paved trails known as "Philosopher's way" and a tranquil McNab lake in a smaller park aptly named "Duck park" owing to dozens of ducks and some swan calling the lake home.
If that is not all, there is also a McLaren labyrinth near the dog play area which is a bit of a trek to get to, but is a lot of fun! There is also the Jerry Garcia amphitheater for Shakespeare in the park days or to just rest on a hot day after hiking with your dog. Wear shades and bring plenty of water since most of the park's hiking trails are in the open.
Owing to its massive size, there are many parking lots scattered all over the park. I highly recommend exploring the 2.7 mile Philosopher's way with 14 musing stations scattered over different points, each of which features a plaque with a quotation, info on park history or other interesting trivia. The project was a partnership between the San Francisco Arts Commission and the San Francisco Public Utilities Commission. The trailhead is located at 1229 Mansell Street and starts from the parking lot.
Neighborhood: Presidio Heights/Inner Richmond/Jordan Park
Nestled in the southwestern corner of San Francisco's Presidio (the one where you have some amazing local dog friendly beaches with unbelievable views of the Golden Gate Bridge), Mountain Lake Park is actually a popular dog park with a paved path leading to a tranquil lake that is adorned with plaques and information on the park and lake.
What makes Mountain Lake so special is the fact that it is San Francisco's very last surviving natural lake and the only one in the Golden Gate National Recreation Area spanning over 80,000 acres. This lake is where Spanish Captain Juan Bautista de Anza and his men camped on the shores for 2 days after a 1500 mile long journey from the south and decided to build their military fort, aka the "Presidio" right here.
Although the Presidio does not a dearth of dog friendly trails, Mountain Lake remains one of our favorite places to hike and take in some natural beauty in the Presidio. You can access the park from either Park Presidio boulevard or 15th Ave or by walking down Pacific Avenue past the Presidio Golf course.
Nearby dog friendly attractions: Baker Beach, Lobos Valley overlook
Neighborhood: Glen Park
What makes Glen Canyon park the most unique of all dog parks in San Francisco is that it is literally at the edge of a canyon. Although there are several dog friendly trails to choose here, my personal favorite is the Glen Canyon trail that can be accessed from the intersection of Elk and Chenery streets. The trail length is 1.8 miles (this is a moderate-difficult trail) and is best experienced in Spring with the wildflowers blooming everywhere.
SAN FRANCISCO DOG PARKS NEAR BEACHES
Not only do we have over half a dozen dog friendly beaches in San Francisco (several being leash free), we also have some really cool dog parks near them. Here are the two that I like the most:
LINCOLN PARK
Neighborhood: Outer Richmond
Lincoln park is one of those special dog parks in San Francisco that only locals know of, including the colorful steps that lead up to it. Dedicated to Abraham Lincoln in 1909, this 100 acre park borders Land's End in the north and hosts many attractions such as the Legion of Honor Arts Museum as well as many scenic coastal trails.
This slice of green is airy with a clear trail marked for walking that ultimately leads to the Land's end coastal trail once you reach the end of the park. This is a dog friendly hiking trail that reveals beautiful views of the coast and the Golden Gate Bridge.
Nearby dog friendly attractions: Land's End Coastal Trail, Land's End labyrinth

Neighborhood: Outer Richmond
Sutro Parks is adjacent to the steps leading to the Sutro bath ruins at Land's end, which has a coastal trail offering fantastic views of the coast as well as the Golden Gate Bridge. This park stands in the place of what used to be the estate gardens of Adolph Sutro, the 24th mayor of San Francisco.
Lush greenery, solitude, blooming roses, a majestic statue of the huntress Diana (one of the many offbeat photo spots in San Francisco) and a majestic view of Ocean Beach (also dog friendly) are the prime offerings of this park.
Nearby dog friendly attractions: Ocean Beach, Land's End Coastal Trail, Land's End labyrinth
SMALL DOG PARKS IN SAN FRANCISCO
Dog parks in San Francisco come in all sizes, and some of the smaller ones are really popular with the locals, especially in busy neighborhoods where an inviting patch of green makes dog parents come together and build a community of loving neighbors (an increasing rarity in San Francisco). Just so they are not overlooked, here are two of my favorite small dog parks in San Francisco:
DUBOCE PARK
Neighborhood: Duboce triangle/Lower Haight
This park is the lifeline of these two quiet neighborhoods in San Francisco and is adjacent to popular Duboce Park cafe as well as Harvey Milk Center for Arts. Although less than a block wide, you'll find plenty of folks walking or sitting with their dogs here to chit-chat with neighbors or fellow dog parents. Since the park is at street level, it is advised to keep your dog on leash at all times.
Nearby dog friendly attractions: Scott Street labyrinth
PANHANDLE PARK
Neighborhood: Panhandle
This is a long, narrow stretch of green, i.e. park that serves as a "panhandle" to the Golden Gate Park and starts from the corner of Stanyan and Fell Streets. This long, yet narrow stretch of park is not only dog friendly but has restrooms, a mini basketball court, gym equipment for public use and paved paths meandering through the park itself. Since this park is shared with pedestrians, joggers, bikers and occasional skateboarders, dogs should be kept on leash while walking.
Nearby dog friendly attractions: Golden Gate Park
AAANNNDDD… that's a wrap! I hope you enjoyed reading about my favorite dog parks in San Francisco and have made plans to visit at least one of them during your visit to my city. I have tried to showcase some of the most beautiful and diverse parks in San Francisco to relax and enjoy with your pup (which is why I left out Mission Dolores-the noisiest, most crowded park in SF's Mission neighborhood) and I hope you find a park that is just the right fit for you and your dog from this list. Thanks a lot for stopping by!
Like this post? Pin it for later

«