Last Updated on September 21, 2021 by Paroma
Are you looking for the best photography spots in San Francisco that are a little offbeat? Are you tired of the same old Instagram spots in San Francisco and looking for hidden attractions and novel photo locations in San Francisco to stand out from the crowd? Then this post is for you! Having lived in San Francisco for 10+ years, here is my list on all the offbeat things to do in the city including the best San Francisco photo spots that may not be the most popular tourist attractions, but are sure to light up your feed!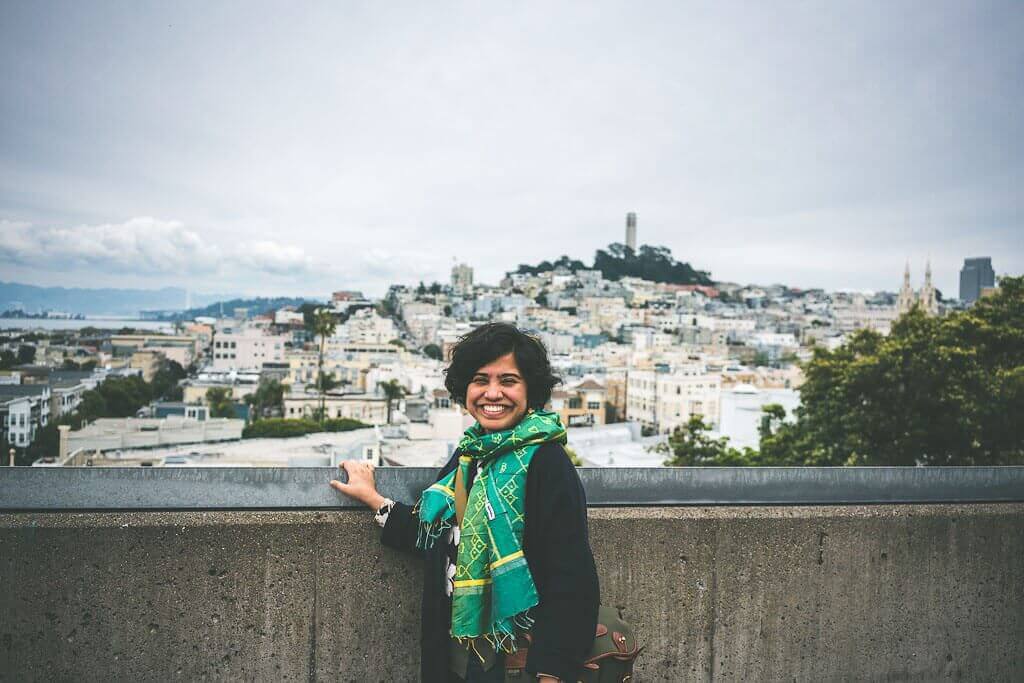 The best San Francisco photo spots: Hidden spots and lesser known gems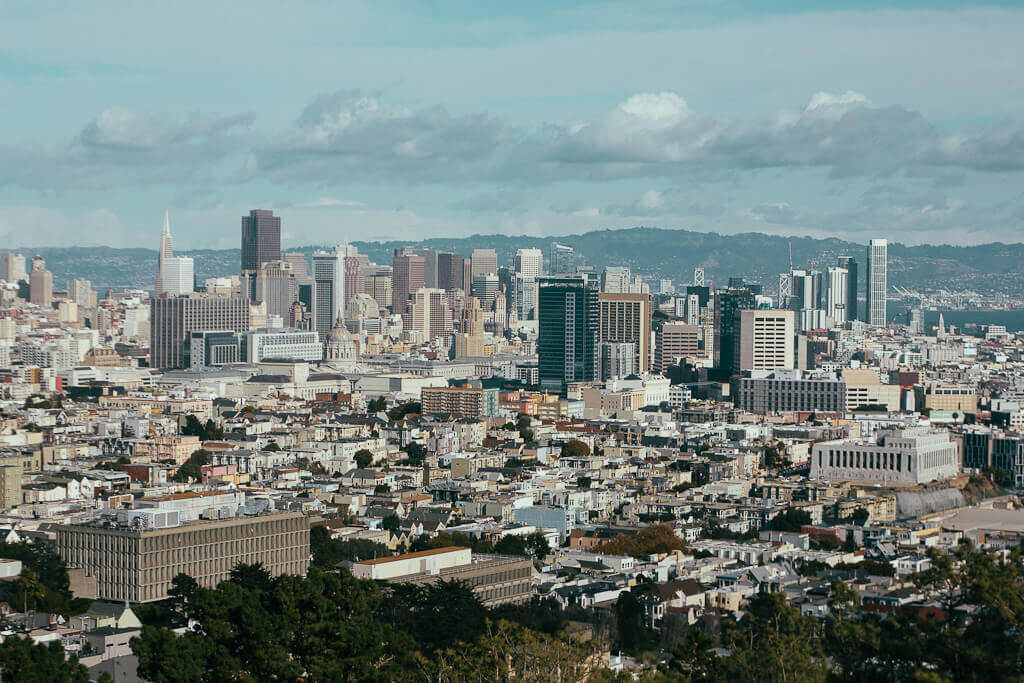 San Francisco is only 49 square miles but has plenty of photography spots, both well known and hidden. Although there are many places to take amazing photos in San Francisco, such as the Golden Gate Bridge, the mosaic steps on 16th Street, Painted Ladies near Alamo Square, Palace of Fine arts, Sutro Baths, Presidio Beaches or Twin Peaks, (from where you can get a breathtaking view of San Francisco), my post will take you to some of the best spots in San Francisco for photos that are off the beaten path.
As someone living in the city for 10+ years, here is my list of lesser known secrets that double up as the best photo spots in San Francisco. These San Francisco secrets reveal a lesser known side of my adopted home. Scroll down to see what they are and find these best photography locations in San Francisco compiled in one handy Google Map at the very end.
Besides, there are also some insider tips and information on the best places to take pictures in San Francisco, based on my experience. So, without further ado, let's get started on these (mostly) lesser known/talked San Francisco's secret photo spots!
Disclaimer: This blog post may contains some affiliate links. Clicking on them to make a purchase may earn me a small commission at no extra cost to you for the product. Thank you!
Note: All photos featured here are my own and shot using either my Canon DSLR Rebel Series or Sony Mirrorless cameras
Best photo spots in San Francisco #1 Lyon Street Steps
Neighborhood: Pacific Heights
People go gaga over the super Instagrammable 16th street mosaic steps, but there are so many other flights of stairs in San Francisco that are equally beautiful, albeit in a different way. One of my favorite photo spots in San Francisco is undoubtedly the Lyon Street steps that provide a panoramic view of the Palace of Fine Arts with the glistening waters of the Bay as a backdrop.
Set in the posh neighborhood of Pacific Heights, it is also steps away from San Francisco's Presidio, which is home to several beautiful hiking trails, beaches such as Baker and Marshall's beach and the famous Inspiration point. Arrive early to avoid joggers and other avid tourists, though it is still a relatively way less visited spot in San Francisco compared to the 16th street steps.
Best photography locations in San Francisco #2 Carlos Santana Mural
Neighborhood: Mission
San Francisco's Mission district is famous for it's murals apart from being the Latino culture and gastronomic centerpoint of the city. Though most mural loving people rush to the famous Clarion Alley (one of the most popular photo spots in San Francisco) to see a bevy of murals (and you totally should), one on my favorites still remains the legendary guitarist Carlos Santana (who BTW lived in SF's Mission) mural on 19th and Mission street.
The mural is by San Francisco's very own artist Mel Waters and you can read this excellent article on this iconic street art in San Francisco, which is a superb backdrop for your "gram"! Finally, before posting any of your Instagram worthy mural moment on social media (especially on a platform that you tend to monetize), read this information on Mural copyright and fair use. Mel Water has also painted some amazing murals in Sacramento (California's capital), which you must check out!
San Francisco photography spots #3. Cupid's Span
Neighborhood: Embarcadero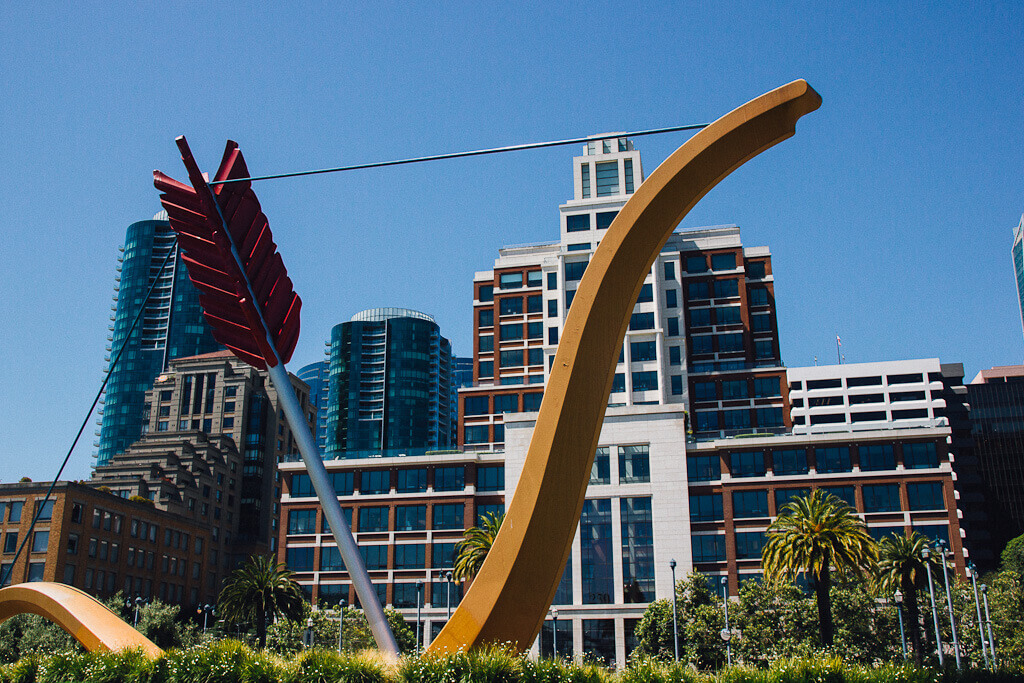 It is very difficult to visit San Francisco and not fall in love with it. So it totally makes sense to have this giant bow and arrow sculpture aka Cupid's Span on this list of best San Francisco photography spots where you should stand arms wide open and declare your love for my city.
The sculpture overlooks the Bay with the city skyscrapers providing an excellent backdrop. The Ferry building of San Francisco is close by and is a must visit for it's mega farmers' market every Saturday from 11AM-2PM.
Best places for pictures in San Francisco #4 Mt. Davidson park
Neighborhood: Near Twin Peaks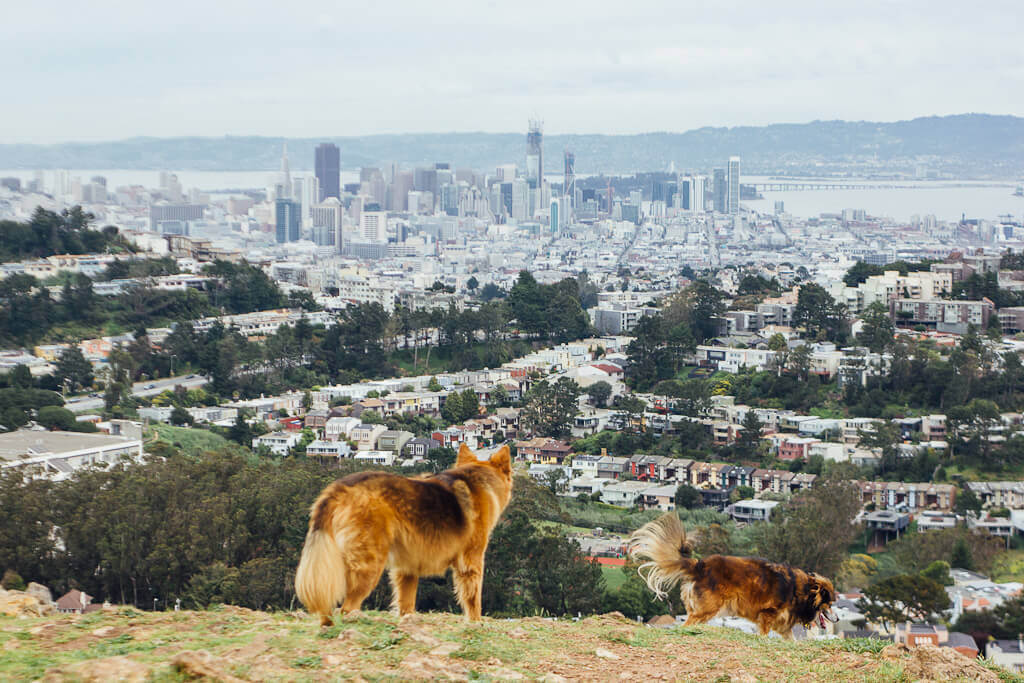 Although there are at least seven locations in San Francisco offering some of the best panoramic views of the city, those that are obtained from Mt. Davidson Park are a class apart. Perched at 928 feet and surrounded by greenery that is all misty and magical (thanks to our fog), the views from this park are hands down the best in the city and easily qualify as one of the best San Francisco photo spots and one of the many dog parks in the city.
The cityscape offered here definitely is an Instagram keeper and is one of the best places to take pictures in San Francisco. This park is dog friendly, as are several others in the city.
Best locations for photography in San Francisco #5 Famous legs
Neighborhood: Haight
"Those famous legs" aka a pair of fishnet stocking clad legs wearing sexy red stilettos and dangling scandalously from the window of a Victorian house greets all those who care to stop by in the bustling iconic hippie neighborhood of Haight.
Just stand beneath them or gape from a distance for your memorable San Francisco moment filled with sass and to add some sass to your Instafeed! While you are there, explore this vibrant and one of a kind San Francisco neighborhood (one of my favorites) for it's murals, food and bars.
Hidden photo spots in San Francisco #6 Land's end Labyrinth
Neighborhood: Outer Richmond/ Land's End
If you want that one Instagram spot in San Francisco that sets your feed on fire, I have a whopper for you right here. Lands end labyrinth, tucked away in one corner of San Francisco's Land's end, is part a flight of fancy, part spiritual and a whole horse load of hiking and tenacity to get to. This is one of the many hidden gems scattered in San Francisco that will delight you with its whimsy.
Although there are several ways to get to this San Francisco photo spot, here is how (and the simplest way) to find it if you retrace my footsteps. Google directions to "Lands end lookout point" where the last stop (if you are driving) will be El Camino del Mar. Park at the main or side parking lots (USS San Francisco memorial parking lot) and go down a long flight of stairs to a paved landing.
Turn right from there (towards Eagle's point as shown on the sign) and keep on walking on the paved path (that soon becomes a trail) and follow directions to Mile Rock beach (a secret beach with gorgeous sunset). Take the first flight of steps down towards this dog friendly San Francisco beach and then immediately turn right and take the leftmost fork of the trail (do not go down the second flight of stairs unless you want to go to the beach) to reach a huge jutting rock that overlooks the Lands end labyrinth, a circular structure made of concentric lanes of rocks lined neatly.
You can go further down to the actual labyrinth and get a gorgeous view of the Golden Gate bridge and the ocean, but for that iconic San Francisco photography spot, hike with a buddy who will take a photo from the said rock as you climb down for a 360 degree view. This place does get crowded afternoon onwards and so please come as early as possible. Be warmly clad as Lands end is very chilly and foggy in the morning.
Best places to take photo in San Francisco #7 Diana the Huntress
Neighborhood: Outer Richmond (Sutro heights park)
This is another of San Francisco's photography spots that is not so well known and is pretty closeby to Lands end, being located in the Sutro heights park. A statue of the Goddess Diana, associated with flora and fauna in Roman mythology, is located right here and makes for a very picturesque sight amidst the briar roses during summer.
The statue is from the collections of Adolph Sutro, the owner of Sutro baths and San Francisco's mayor who bought it in Europe. Besides the statue, Sutro heights park offers stunning views of San Francisco's Ocean Beach (one of the many dog friendly beaches in SF) and beautiful pastel colored hacienda style houses in the adjoining neighborhood, which are also very Instagram worthy.
San Francisco's Instagram worthy spots #8 Chinese pavilion
Neighborhood: Richmond/Sunset (Golden Gate Park)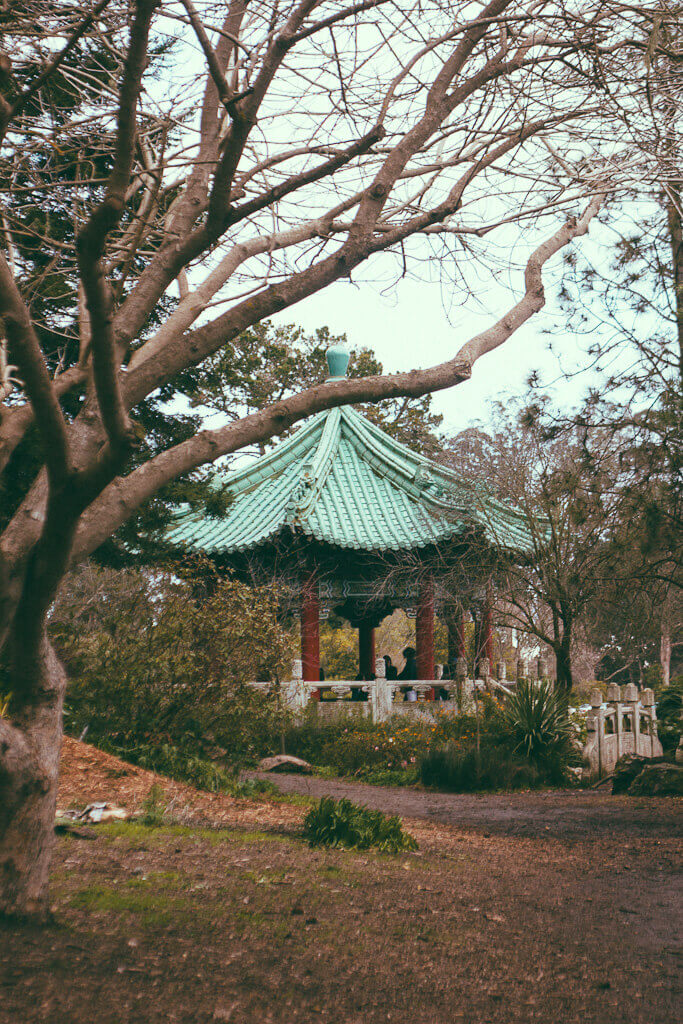 If you've had it with the crowds thronging our famous Chinatown, then how about the Chinese Pavilion at Stow Lake in the Golden Gate Park? This beautiful red and green Chinese pagoda, donated to San Francisco by sister city Taipei overlooks the serene lake and is close by to a beautiful waterfall. Strawberry Hill, where the pagoda is located is home to beautiful photography spots in San Francisco and is one of the many dog friendly spots in SF.
San Francisco's lesser known photography spots #9 Fay Park
Neighborhood: Russian Hill
Russian Hill is hands down my favorite San Francisco neighborhood and it is both a pity and relief to know that most tourists do not even explore this neighborhood beyond the super touristy Lombard street, which is great really because our the best San Francisco photography spots are all in this part of the city and we love that they are still undiscovered.
Besides the stunning houses, beautiful (secret) lanes, zen gardens and jaw-dropping views of the city and Alcatraz, this neighborhood is also home to some of the lesser known photogenic spots in San Francisco. Fay park on Leavenworth street is a small quiet park with beautiful white pagodas standing amidst a sea of beautiful blooms (roses, during summer) and makes for a great place for a romantic picnic.
Park is open from 5Am-midnight and does not allow dogs. However, another beautiful park with breathtaking views of the Bay Bridge and TransAmerica Pyramid, is dog friendly and is none other than Ina Coolbrith Park, which is a dope San Francisco Instagram spot as well and is one of the best places to take pictures in San Francisco.
San Francisco's hidden Instagram worthy gem #10 Diego Rivera Mural
Neighborhood: Russian Hill
I did save the best for the last for all your art lovers out there, who should promptly visit San Francisco to see Mexico's famous muralist (arguably the best in the world) Diego Rivera's murals which are tucked away in three different location in San Francisco and are the city's best hidden gems.
Of the three, this one created in 1931 and now residing in the SF Art Institute on 800 Chestnut street (open 11AM-5PM everyday to the public) is the most easily accessible one. Read this article by Culture trip on all three murals in San Francisco and how you can see them.
After having seen the master muralist creation (hundred of frescos and murals in Mexico City) we were overwhelmed at the sight of this amazing piece of art right in our own city. If this is not the mother of all Instagram worthy spots in San Francisco, then I don't know what is.
This particular mural has Rivera featured in it as well (can you spot him with his easel?) and depicts the labor movement that goes into construction work, in sync with his political views. Once you are done gaping at the sheer beauty of this majestic mural, stroll for some time in SF Art Institute's courtyard which is beautiful as well. Plus, you get one of the best views of San Francisco (with the famous Coit Tower) when you climb up to the topmost level (see very first photo in this post).
Bonus places for great photos in San Francisco
This list is definitely not exhaustive, as there are several other offbeat, quirky Instagrammable places scattered in the city, such as the Yoda statue in Presidio, Cayuga park in Cayuga Terrace, the Barbro Osher sculpture garden of de Young museum, San Francisco public library and Wave Organ at the Exploratorium, to name a few more.
Map of the best photos spots in San Francisco
That brings me to an end of this list of best San Francisco photo spots that are offbeat, sometimes overlooked, lesser known or at the very least, difficult to get to. The Google map showing locations of all the 10 photo worthy places in San Francisco is right below.
Where to take good photos in San Francisco: Helpful tips
Finally, as promised, here are my tried and tested tips as a resident for some of the best places to take photos in San Francisco.
a) San Francisco is notorious for it's microclimates, i.e. patches of sun with lots of fog-laden zones, thanks to our faithful Karl the fog that rolls in without fail every evening. If you are planning to take photos of the Golden Gate Bridge, sunny afternoons (when the sky clears up between 11AM – 3PM) are your best bet, and you can get of the best views of the bridge from these locations. Read about the infamous San Francisco fog line to scout for sunny locations while in the city.
b) San Francisco's best photography spots are not just confined to the touristy north-eastern quadrant of the city which is home to Union Square, Chinatown and the like. They definitely reside in the quintessential San Francisco neighborhoods such as Nob Hill, Telegraph Hill, NOPA, Russian Hill, Haight, Mission, Bernal Heights, North Beach and others, where you are less likely to be photobombed by strangers.
Victorian houses and murals in the Mission, the colorful tilted houses of the Marina, the pastel haciendas of outer Sunset and outer Richmond, Japan Town's Peace Plaza, the beaches and hiking trails in the Presidio, gorgeous views from Bernal Hill/Corona Heights park/Tank Hill/Kite Hill (basically many of our parks are also lookout points but be prepared to hike up) and the many attractions of our Golden Gate Park are great places for gorgeous clicks. The more you venture out of the touristy zones, the more San Francisco photo spots will open up for you.
(Ina Coolbrith Park, Russian Hill)
c) Be prepared to walk quite a bit and that too on steep, sloping streets. Although you will get good photos, thanks to the elevation, lugging a heavy tripod is not such a great idea. You can read all about the best lookout points in San Francisco for panoramic views and coveted Instagram shots right here,which are all tried, hiked and tested by me.
d) Like all other popular destinations, the earlier you go the better is definitely not a strategy that works for San Francisco, thanks to the fog. However, places like Palace of Fine Arts (especially the Rotunda) or Lyon street steps can be enjoyed minus the crowds if you arrive early.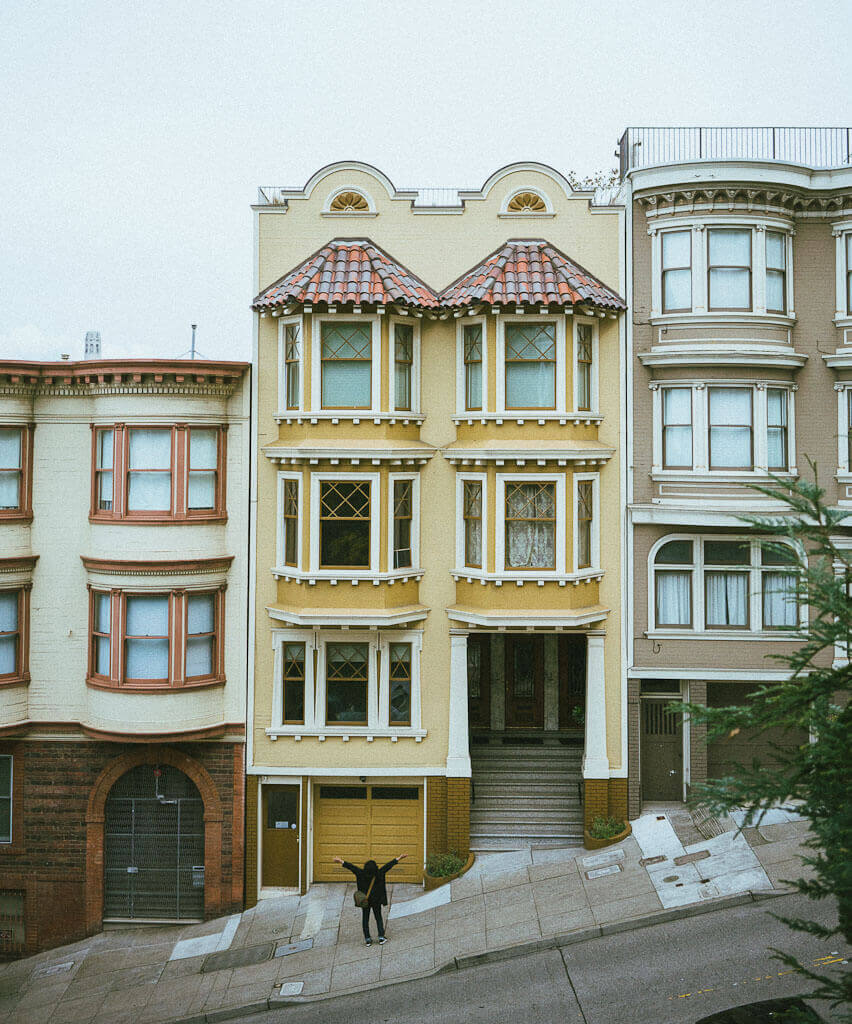 (Russian Hill homes)

e) San Francisco is filled with tons of cute cafes and restaurants that are Instagrammable to boot! My favorites are the pineapple wallpaper at Wrecking Ball Coffee Roasters in Cow Hollow, brunch with a view from Nob Hill's Top of the Mark , pretty Flamencos outside of Media Noche in Mission and the interior murals at Cassava in Outer Richmond.

I hope you enjoyed this informative post on the best San Francisco photo spots and tips on taking the best photos in SF! No matter where you go, something picturesque will always greet you in San Francisco. Just be prepared with a camera, jacket and a smile!

LIKE THIS POST? PIN IT FOR LATER BY HOVERING OVER THE IMAGES BELOW

«