Last Updated on November 19, 2022 by Paroma
Are you looking for the best dog friendly beaches in California for a fun time in the sand with your pup? Having lived in San Francisco for 11+ years with our furbaby Babu, we traveled up and down the state and hit up many dog beaches in California during our vacations. So here is a bumper list of all the California beaches that allow dogs for all you beach bunny dog parents to enjoy!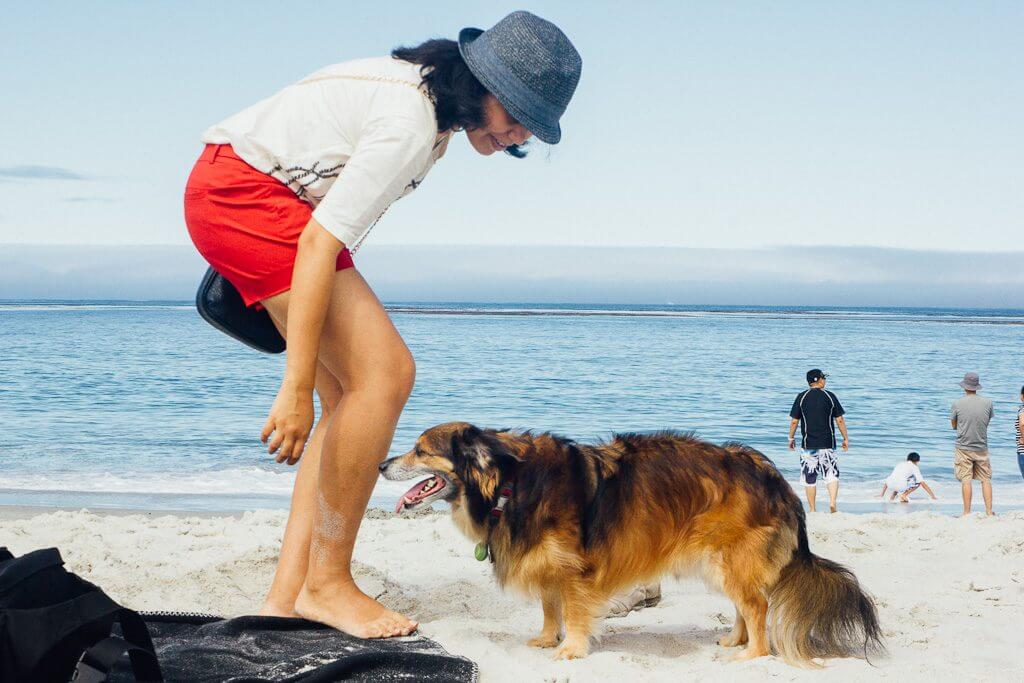 A guide to the best dog friendly beaches in California
Dog parents planning that perfect beach vacation with their "fur-kids" know that it is often a task to find beaches that allow dogs, even in a dog friendly state like California. For those of you following my dog friendly travels for some time, let me tell you that this is totally doable and with some planning, both you and your pooch can have a jolly good time at the beach!
This post on finding the top dog friendly beaches in California is meant to be exactly that-aka, your one stop guide to finding pet friendly beaches where "salt in your fur and sand in your paws" is a real thing!
This post, based mostly on our travels with Babu and Gunda (our first pup and current pup), is choc-filled with information on beaches allowing dogs in California (both leashed and leash-free), tips and helpful information to remember when taking your dog to the beach and some recommendations on places to stay nearby.
Since we live in San Francisco, this post is heavy on dog friendly beaches in northern California and central coast, i.e. Northern California beach towns which we've explored over the years as road trips from San Francisco.
I have included some pet friendly beaches in southern California based on our past travel to Santa Barbara and Los Angeles (which seems like a really long time ago) as well as from solid user reviews to those which we haven't yet visited. As is natural, this post will be continuously updated as we keep on exploring our beautiful state.
Disclaimer: My blog posts may contain some affiliate links. Clicking on them may earn me a small commission at no extra cost to you for purchase of the product. Thank you!
Dog friendly beaches in California: Things to remember to plan your visit
As Californians, we are lucky to have several options when it comes to taking our dogs to the beach and we definitely should not be exploiting this opportunity. In order to help keep the beaches dog friendly, please be mindful of all state laws pertaining to enjoying the beach with fellow non-dog parents and naturally occuring wildlife, in and around the ocean.
Please follow all posted signs on beach and trails, especially when it comes to leash laws (leashes may not be longer than 6 feet). Remember to clean up after your dog and dispose dog waste properly, be respectful of the wildlife habitats, read all postings on tides and currents for the day and please do not leave any trace behind!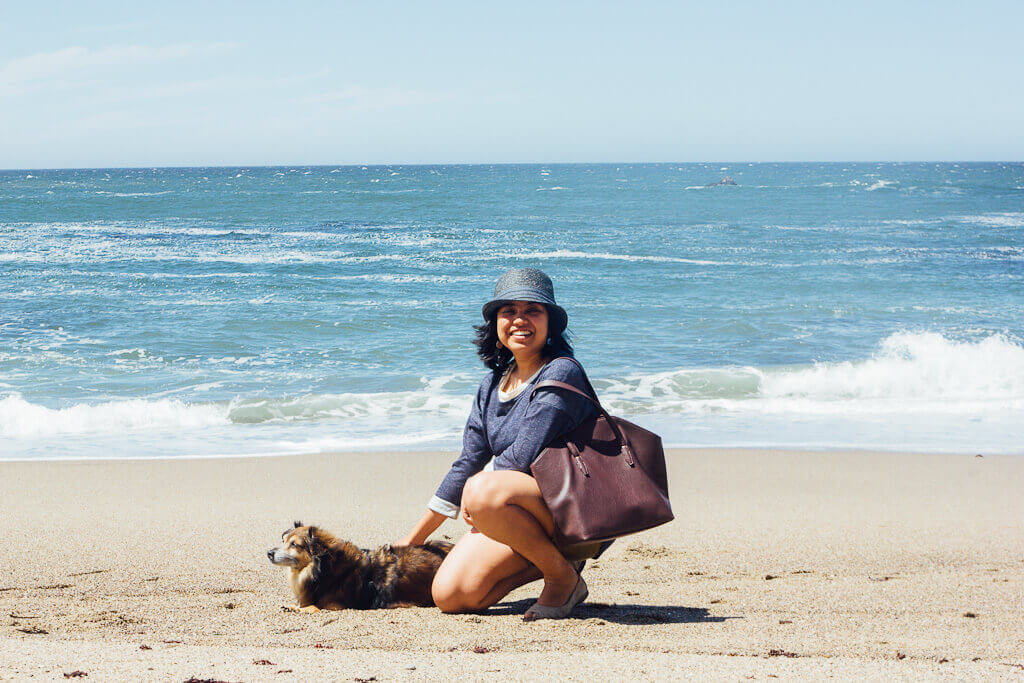 Babu in Santa Cruz
The one thing to remember is that unlike Southern California, Nor Cal beaches are notoriously cold and windy and the water is pretty cold too. So please bundle up when you visit these beaches! Most beaches in Northern California fall under the purview of Golden Gate National Recreation Area which belongs to National Parks services. They have a very detailed guide on where to take your dog as well as associated rules in this handy website that you should read.
FINALLY, AND THIS IS SUPER IMPORTANT: Dog leash rules are ever changing in California. Although I have tried my best to keep the rules updated here with links to the most recent government websites, it is definitely your responsibility to double check the latest rules before you take your dog to the beach. Same goes for double checking pet policies at recommended hotels before booking, especially in 2020-2021 with a health advisory in effect.
Dog friendly beaches in Northern California
1. Beaches in Mendocino county/Fort Bragg area
My detailed post on a dog friendly guide to Mendocino says it all, really. We've visited this part of California, famous for its redwoods, a whopping five times already and for very good reason. This place is not only super dog friendly but has an abundance of beaches that allows dogs, both on leash and leash-free. I highly recommend the following beaches for your canine companion:
a) Glass beach (Fort Bragg): This beach is one of a kind with polished bits of glass strewn all over (please do not take any home with you). Dogs must be on leash at the beach. No wonder it is one of the must visit spots on your way to Mendocino county from San Francisco along Highway 1!
Babu on Glass beach
b) Noyo Beach and Seaside creek beach (Fort Bragg): Both these beaches are rare leash free dog beaches in California!
c) Mendocino beaches: Mendocino has its fair share of dog friendly beaches where dogs are allowed on leash. These are Russian Gulch State Park and beach, Mendocino Headlands State Park and beach and the Van Damme State Park and beach. If you stay at Little River Inn (like we did), Van Damme state park and beach is practically next door!
d) Dog friendly beaches in Gualala: Gualala is the last stop in Mendocino county as you drive down along the coast, before crossing over into Sonoma county in the south. Gualala point regional park and beach and trails allow leashed dogs.
Gunda at Gualala Point Regional Park beach
Where to stay in Mendocino/Fort Bragg with your dog near the beach
I highly recommend Little River Inn (right next to Van Damme state park and beach) and this beautiful dog-friendly cottage that can accommodate upto 6 guests and 4 dogs (with additional fee) that is right next to Seaside creek beach.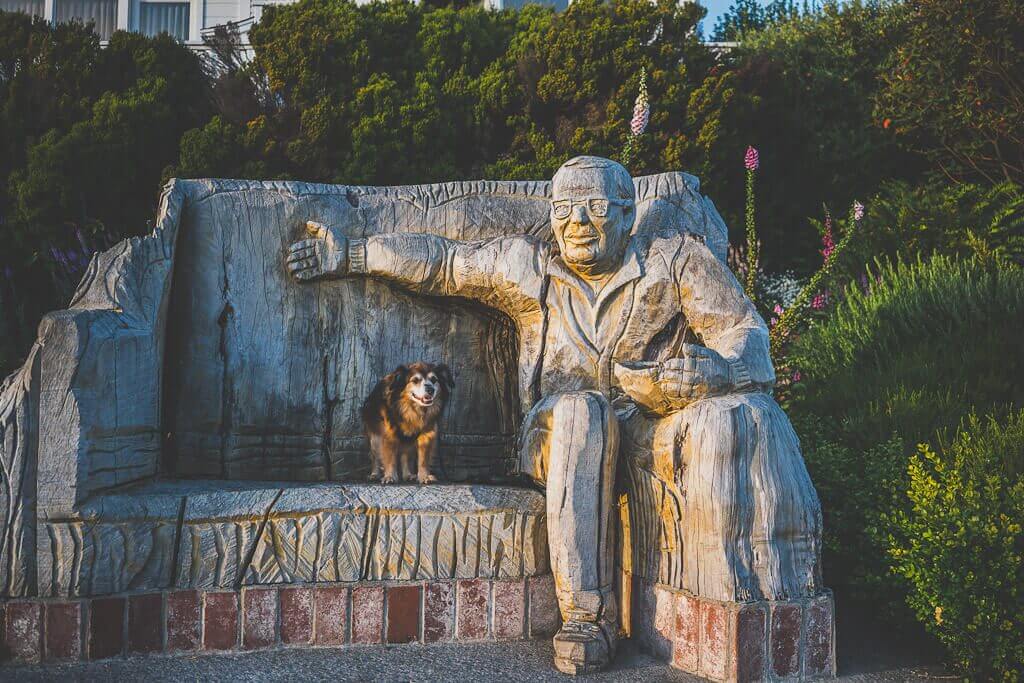 Babu outside Little River Inn
2. Pet friendly beaches on the Sonoma Coast: Jenner and Bodega Bay
The Sonoma coast has no dearth of dog friendly beaches where on leash dogs are welcome. You can explore these beaches on a road trip from San Francisco to Mendocino or on a weekend trip to Bodega Bay, like we've done in the past. The dog friendly beaches worth checking out are as follows:
a) Doran Beach: Nestled in Doran regional park , this beach is THE MOST POPULAR AND BUSIEST BEACH in Bodega Bay (so come early before 10AM or after 3PM to find parking like we did). The park is open from 7AM-sunset but the parking lot closes down when full. yOu have to pay $7 for parking since it is part of the Sonoma County Regional Park system.
b) Dog friendly beaches between Bodega Bay and Jenner: Plenty to choose from as you drive northward from Bodega Bay to Jenner, such as Arched Rock Overlook, Marshall Gulch, Carmet Beach, Schoolhouse Beach, Portuguese Beach, Scotty Creek Beach, Gleason Beach Overlook, Duncan's Cove and Duncan's Landing Overlook (which has a paved trail with gorgeous views of the coast). Barring Scotty Creek Beach, all of the others have pull out areas for parking and welcome dogs on leash.
c) Dog friendly beaches in Jenner: Goat Rock beach, Jenner Beach and Russian Gulch State Beach all welcome dogs on leash as does Blind Beach, another secluded beach.
Gunda (our new adopted pup) at Bodega Bay
Dog friendly hotels in Bodega Bay and Jenner
Based on my experience, I cannot recommend Sonoma Coast Villa and Spa enough for a dog friendly vacation on the Sonoma Coast. This dog friendly hotel is right on Highway 1 and makes for a luxurious stay on a pretty reasonable budget (well, reasonable by California standards which is less than $300 per night).
Not only is the location unbeatable (i.e. right on Highway 1 and less than 5 min drive from the coast) but it is also pretty secluded with the rooms being surrounded by 68 acres of lush, green property, gardens, walking trail, and a lawn for playing bocce ball and mini golf.
If you have $$$ to spare, then another dog friendly luxury hotel where you can stay is the Timber Cove Resort that is perched right on the coast at Timber Cove in Jenner and boasts of a beautiful airy restaurant Coast Kitchen serving both lunch and dinner with ample outdoor space.
Timber Cove is a dog friendly lodging but a pretty expensive place to stay. If you're stopping by for lunch remember to check out the hotel grounds with panoramic views of the coast and ocean (can be accessed via steps on side of the restaurant). We've dined here many times while driving up the coast and have always loved the food.
Timber Cove Resort
3. Dog friendly beaches at Point Reyes National Seashore
Point Reyes is that part of California's coast that juts out into the ocean like a sharp spiked end of a harpoon. This part of California is the prized wine of years of activism by ecologists and environmentalists and is a pristine natural paradise for wild animals.
The salt rich waters trapped in Tomales Bay are home to a thriving population of oysters and the meadows home thousands of grazing cows that produce all that delicious cheese for us northern Californians.
Being a sanctuary and conservation area for wildlife and sea mammals, Point Reyes has very strict rules on where to take your dog and most beaches are inaccessible to them. We've been to Point Reyes thrice now (twice with Babu) where I have mentioned all the dog friendly places in Point Reyes to enjoy with your pooch. There are basically three dog friendly beaches that allow dogs on leash here, and these are:
a) Kehoe beach and trail: This is the only dog friendly trail in Point Reyes that leads to the namesake beach where dogs are allowed on leash, with dogs being allowed on north of the trail. During the nesting season of the endangered snowy plover (March 1-Sep 30), dogs are not allowed on the beach south of the Kehoe beach trail.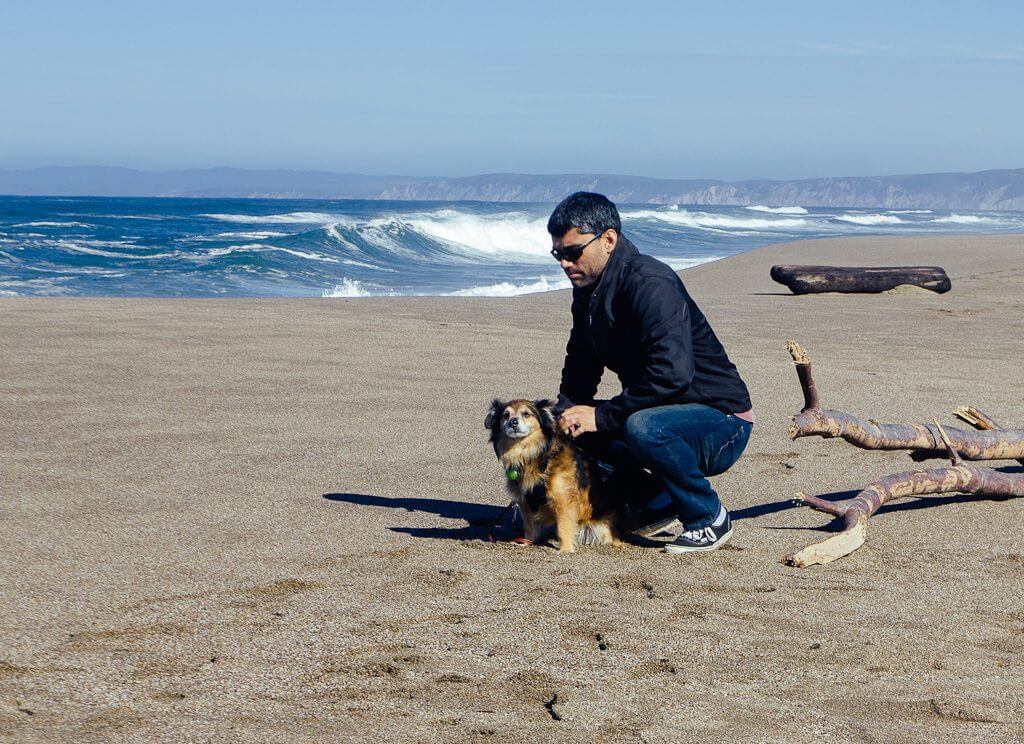 Babu at Kehoe beach
b) Limantour beach and Point Reyes/Great beach: These beaches allow dogs on leash. On Limantour beach (parking is free here), dogs are allowed on leash at the southeast end. Dogs are not allowed on the northeast end where the harbor seals and endangered snowy plover reside. For Point Reyes beach, dogs are not allowed further north than the North beach entrance.
c) Tomales bay beaches: Several beaches dotting Tomales Bay are accessible to dogs via kayaking, but the trails on these beaches do not allow dogs anywhere on them. Here is a link to a helpful PDF with details on dog friendly beaches in this area.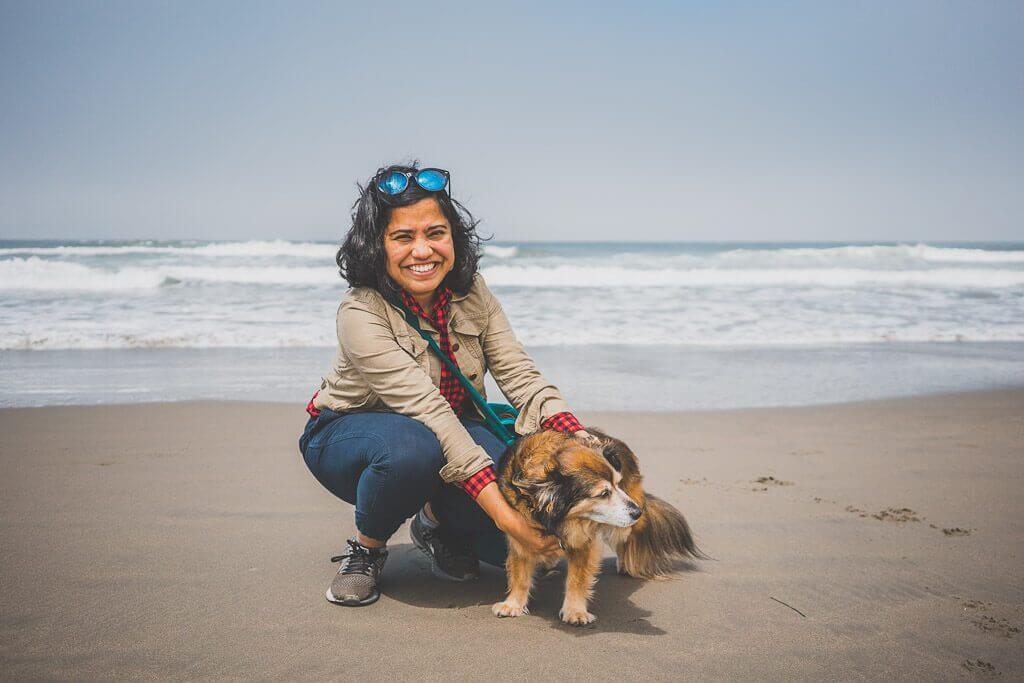 Babu at Dillon beach
d) Dillon beach: Dillon beach is the only privately owned beach in California and is between Bodega Bay to the north and Tomales Bay to the south. It is maintained by the Dillon beach resort and there is a parking fee ($8) to visit.
Officially, this dog friendly beach requires dogs to be on leash but as per several websites (BringFido, DogTrekker and this one), well behaved dogs can run around leash-free. If not on leash, they should be under voice control so as not to annoy non-dog bipeds. We had Babu on leash when we visited Dillon beach during our trip to Point Reyes.
Dog friendly hotels in Point Reyes
I highly recommend staying at Cottages at Point Reyes Seashore which is a series of beautiful cottages on a sprawling property adjacent to the beautiful Tomales Bay. These are dog friendly and charge a small fee ($ 20) for staying with a pet. The cottage grounds are dog-friendly too but dogs must be leashed.
The other, albeit more expensive option is Nick's Cove in Marshalls where the luxurious, nautical themed cottages are super dog friendly! Several of these dog friendly cottages overlook the water and the concierge is very helpful and provides ideas on dog friendly activities. Plus they also have a dog friendly shack next to their restaurant. We've stayed in both these places with Babu and loved our experience! Point Reyes is a beautiful winter retreat in California that you must check out!
Our stay at Nick's Cove, Marshall
4. Dog friendly Beaches in Marin County (Sausalito and Bolinas area)
Marin County is that heavenly slice of Northern California, just north of the Golden Gate Bridge where small towns and natural beauty abounds. Artsy towns such as Sausalito, Tiburon, Mill Valley co-exist with the trails, meadows and waterfalls of Mt. Tamalpais. The world famous Redwood grove of Muir woods is here too as well as several amazing dog friendly beaches. These are some of the beaches that I recommend checking out where dogs are allowed.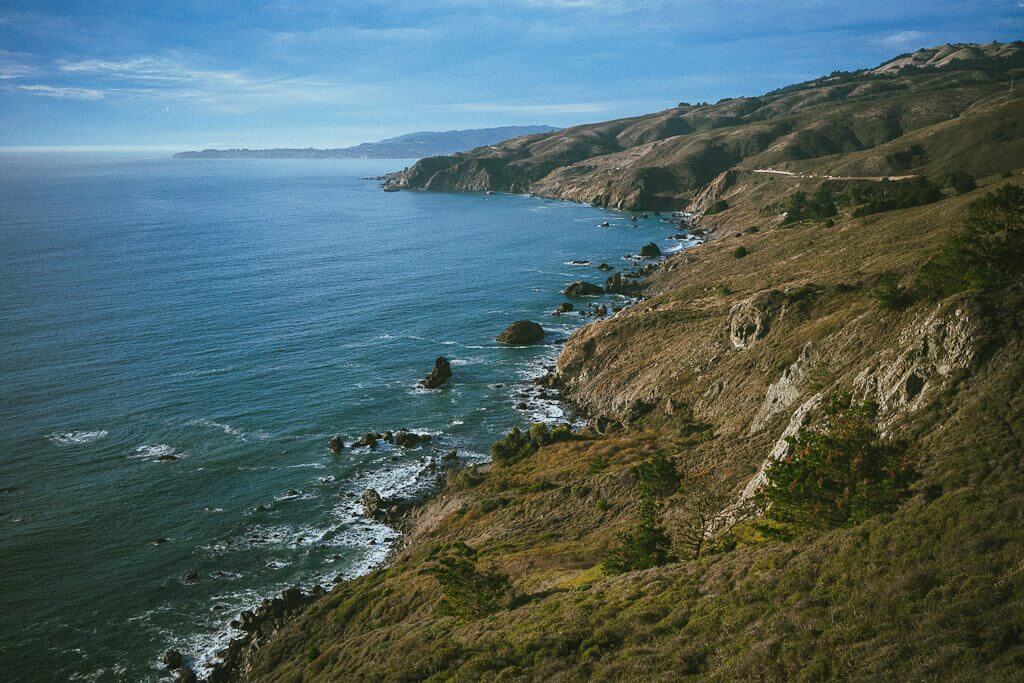 Muir beach overlook
a) Bolinas beach: This beach is leash free, yay! but can definitely be hard to find since locals try their best to keep it a secret (here is a helpful guide by my trusted source Dogtrekker on how to get to the beach). Dogs should be on excellent voice recall since there are horse riders on this beach. Popular with campers and surfers, this beach is excellent for hanging out with family and furry friends.
b) Stinson beach: bringing a dog to Stinson beach can be tricky and don't be disheartened by the "No dogs on beach" sign. On-leash dogs are allowed in the parking lot, picnic area (by Eskoot creek) and on the adjacent county beach/Upton beach. Dogs are not allowed on the National Park Service owned section of the beach on the south.
As per the Marin Conventions bureau, once you take a right from the ominous "No dogs allowed" sign, dogs are allowed from that part of the beach where private residences are located. Dogs are welcome on Seadrift beach, located at the tip of Stinson beach. This beach is accessible to the public although the community around is a gated, private one. We've visited Stinson beach several times with Babu and a picnic basket, for a quiet getaway from San Francisco.
A resident of Upton Beach reached out to me recently to mention the callousness of pet owners who do not pick up after their dogs despite poop bags and pet waste disposal cans being readily available. This is so wrong and unacceptable at all levels and is really distressing to hear as a dog mom advocating for pet travel.
I cannot stress enough on this-PLEASE, PLEASE, PLEASE CLEAN UP AFTER YOUR DOGS! This will help maintain a safe and clean public space meant to be enjoyed by both dogs and humans. Your courteousness will go a long way in ensuring that dogs have continued access to public beaches.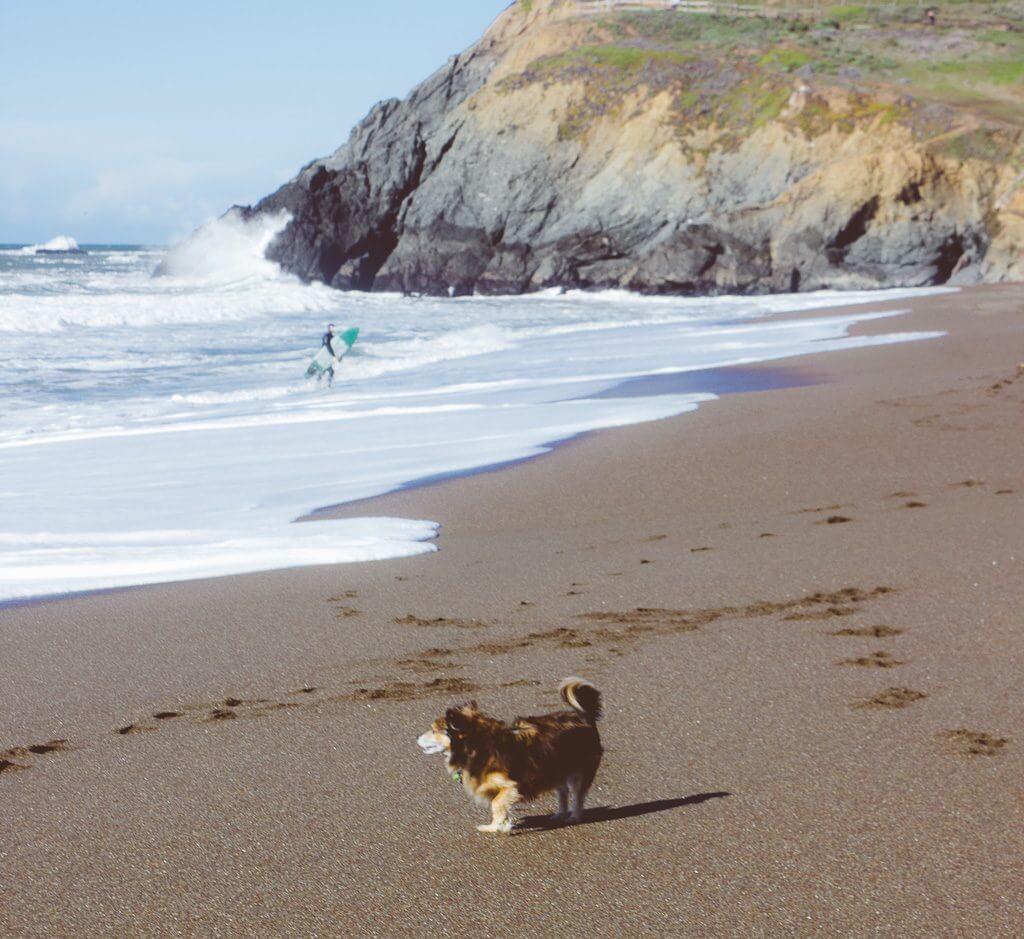 Babu enjoying some surfing action at Rodeo beach
c) Rodeo beach: Rodeo beach is hands down, one of our favorite dog friendly beaches in California and is near Sausalito, one of the most charming, dog friendly, cute as a button towns in Marin. Rodeo beach lets dog romp around leash-free! The beach is famous for semi precious stones like Jade and tourmaline that are often found when sifting the sand (but people are urged not to do so).
d) Muir Beach: This quiet beach is located 3 miles west of Muir Woods on the coast. Although the world famous Muir Woods is off-limits to dogs, Muir beach welcomes dogs both on-leash and those that have excellent recall manners. Muir beach overlook that offers gorgeous views of the coastline and surrounding trailheads is also dog friendly.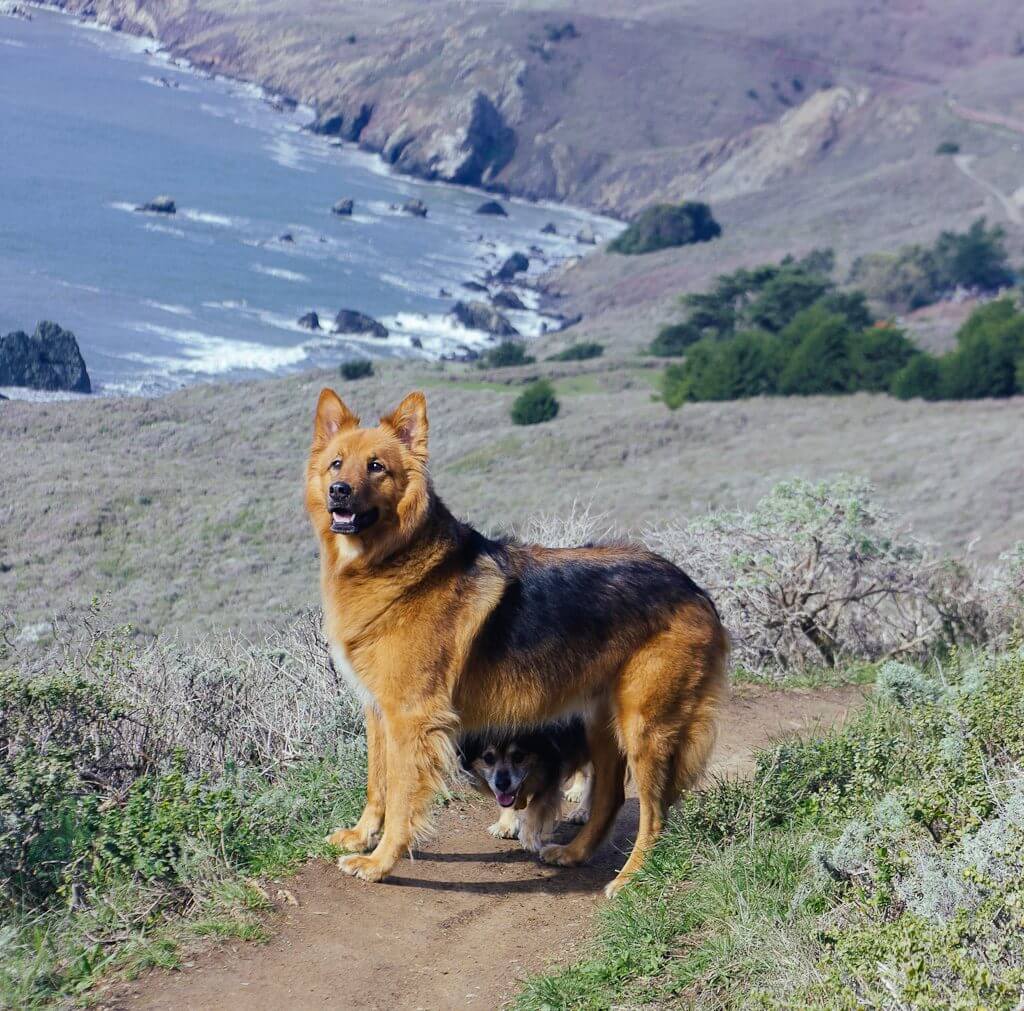 Babu and his bestie Tucker enjoying a day out at Muir beach overlook
Dog friendly accomodations in Marin County
From Sausalito to Bolinas, there is no dearth of dog friendly accomodations with easy access to beaches. Although we stayed on a houseboat on the Sausalito Marina via Airbnb, that listing is no longer available. However, these are some dog friendly vacation rentals available that you can have a look and you can use this link to get $40 off your first Airbnb booking!
If you are planning to stay at Bolinas, here are all the dog friendly options on Airbnb. Mill Valley and San Rafael, two prominent cities in Marin county have a lot of hotel options which welcome dogs in case you Airbnb is not something up your alley!
5. Dog friendly beaches in San Francisco
Having lived in San Francisco for 9 years and counting, all I can say that we are pretty lucky to have so many dog friendly spots in the city, which includes some fabulous SF beaches that welcome dogs! Here are my top picks for San Francisco dog friendly beaches:
a)Mile Rock beach: This "secret"/hard to find beach is tucked away on one side of Land's end and is accessible via the coastal trail, one of the best hiking trails in San Francisco. This hidden instagram worthy spot in San Francisco offers one of the most beautiful sunsets, minus the crowds, and is dog friendly.
Dogs should ideally be on-leash but can be off-leash if they are good on voice control. Please be sure to dress in layers since our beaches are notoriously cold and windy!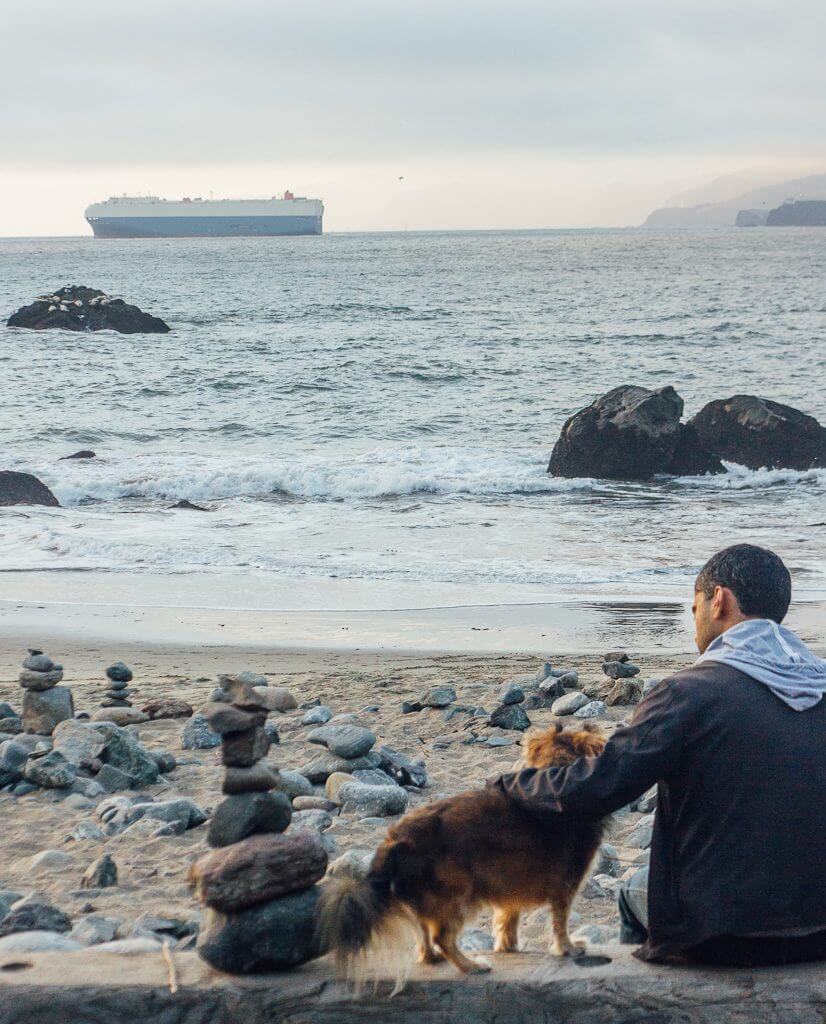 Babu enjoying the sunset at Mile Rock beach
b) Baker Beach: San Francisco's Baker beach is not only one of the best places to view the Golden Gate Bridge, but is also super dog friendly where well behaved dogs can be off-leash. This beach is located in San Francisco's beautiful presidio which has several dog friendly hiking trails to enjoy as well!
The nearby Marshalls beach is however not dog friendly. We love taking Babu as well as out of town visitors to our favorite city beach which is the best kept secret by us locals (OK maybe not anymore after you read this post).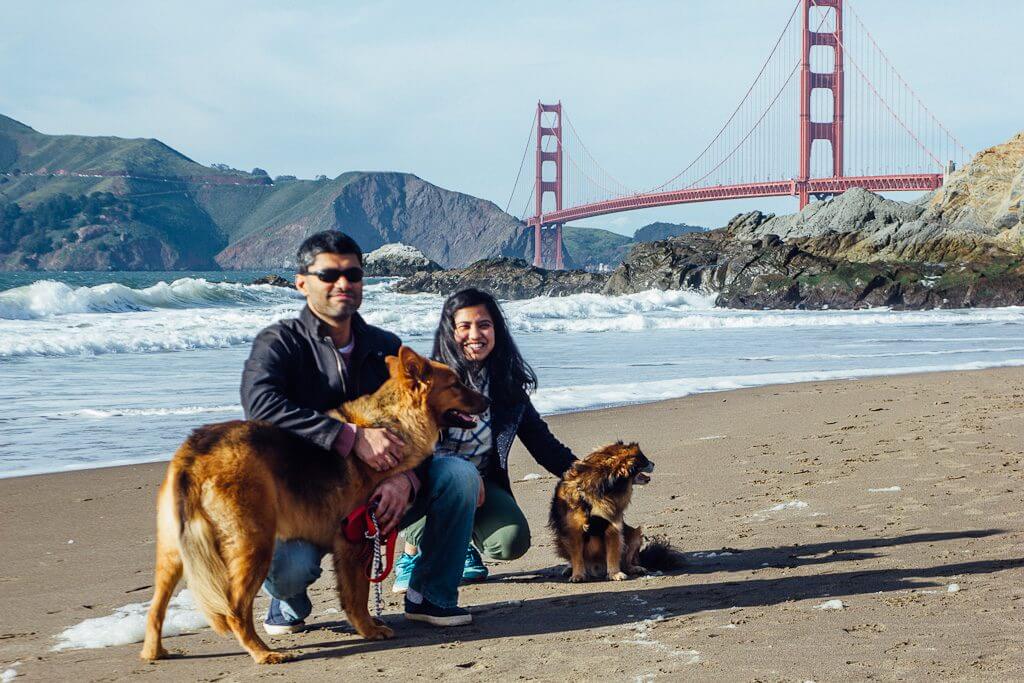 Babu and Tucker at Baker Beach
c) Ocean beach: Our beloved beach on the westernmost edge of the city that runs parallel to the Great Highway can knock your socks off with its chilly winds but is very dog friendly! Dogs are allowed off-leash north of Stairwell 21 (Stairwells 1-21) after which they need to be on-leash. The nearby Sutro Park is also very dog friendly. You can read the details on dog-leash rules of Ocean beach here.
d) Fort Funston: Located at the south-western edge of the city and owned by Golden Gate National Parks Conservancy, is possibly the most popular dog beach in San Francisco. Dogs can have a gala time running around leash-free. The hike to the beach is pretty arduous and takes you through a rough terrain, so please wear appropriate hiking shoes.
Babu going crazy at Fort Funston
e) Crissy field east beach: Crissy field is absolutely next to the water and is a great place to have a picnic, with sweeping views of the Golden Gate Bridge. This place is also an excellent spot for kitesurfing which you can totally enjoy with your dogs since they are allowed off leash!
Crissy field and many beaches/park maintained by the GGNRA came under serious contentious issues with dog owners due to changes in dog management rules implemented by GGNRA in 2016 that would heavily restrict the usage of beaches and parks by dogs.
The latest on the issue is that the memorandum has been withdrawn, as per this video, celebrating a win for dog owners in San Francisco. So, to the best of my knowledge, Crissy field east beach picnic area is still leash-free for dogs.
Dog friendly hotels in San Francisco
San Francisco has no dearth of dog-friendly hotels and there are several options for all budgets. San Francisco is a tiny city (only 49 square miles) and if you are renting a car, then staying at Kimpton Hotel Buchanan (Western Addition /Japantown neighborhood aka where I live), because it is only a 15 minute drive to the Pacific Ocean from there.
This hotel is world famous for being dog friendly and allows dogs of all breeds! The Marina Motel is super dog friendly too and is close by to Ocean beach and San Francisco's Presidio (home to Baker beach). The third option is Travelodge by Wyndham at the Presidio which is also dog friendly and charges $20/pet/day.
Picnic with doggies at Crissy field
Although there are several dog friendly popular hotels in downtown San Francisco around Union square, this is one of the most crowded and touristy spots of the city and is anything but peaceful! As a resident dog mom, I highly recommend staying away from San Francisco's downtown if you are visiting with your dog. It is just so noisy, loud and chaotic!
6. Dog Friendly beaches in San Mateo county and Santa Cruz
Some of the best dog friendly beach towns in northern California lie south of San Francisco, such as Pacifica, Moss Beach, Montara, El Granada, Half Moon Bay (a very dog friendly beach town) and Pescadero as you drive down Highway 1 towards Carmel. These are wonderful places to surf with Half Moon Bay being home to the Bay Area's grand Pumpkin festival that attracts crazy crowds every fall. The dog friendly beaches here are as follows:
a) Pacifica State beach (Linda Mar): Dogs are allowed on-leash at this most popular beach in Pacifica. There is a daily parking fee of $7 per vehicle.
b) Esplanade beach: This beach gets completely wet, come high tide and is the only beach in Pacifica that allows dogs to be off-leash (only on the north end). Dogs must be on-leash everywhere else.
c) Montara State Beach: This beach on the pacific highway is in Half Moon Bay and allows dogs as long as they are on leash. We stopped by this beach to enjoy the views of the bluffs early this year on our way to Carmel-by-the-sea.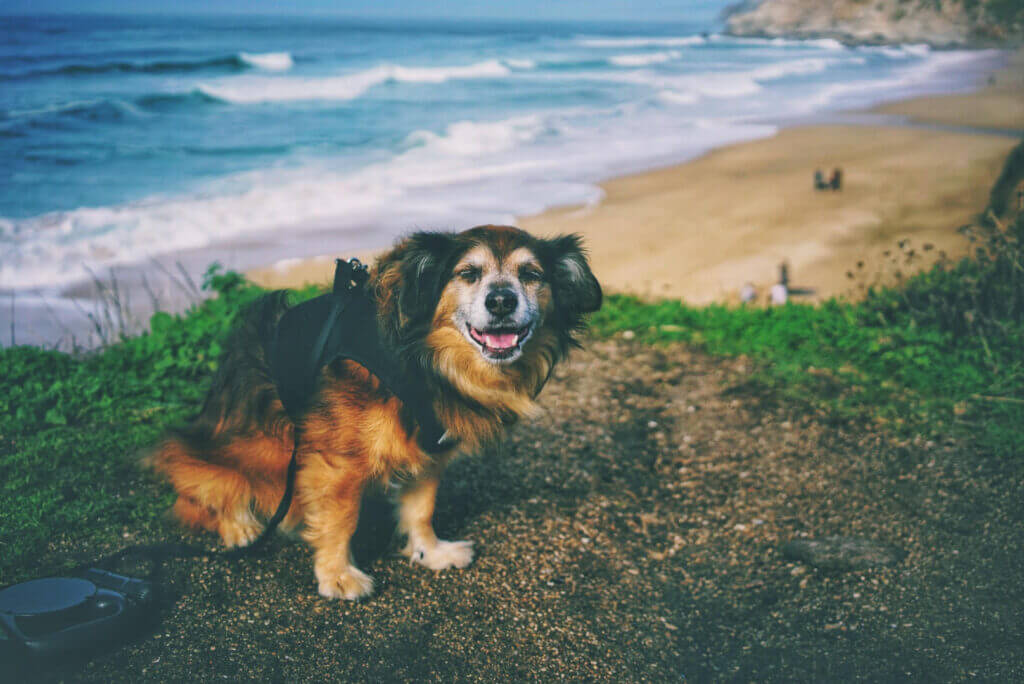 Babu at Montara state beach
d) Poplar Beach: This busy Half Moon Bay beach is located at the end of Poplar street and allows both horses and on-leash dogs and requires a parking fee.
e) Bean Hollow state beach: This beach is in Pescadero, another seaside town in the southernmost part of San Mateo county. Popular for its beachcombing, fishing and tide-pooling, this beach is also dog friendly (dogs must be on leash). Dogs are not allowed in the park due to preservation of wildlife.
f) Beaches around Santa Cruz: Santa Cruz is home to the Bay Area's only boardwalk which is extremely crowded and noisy and is no place to hang out with your dog. Fortunately, there are several beautiful dog friendly beaches in both Santa Cruz and nearby Capitola (known for its cute colorful beachfront houses) which you can enjoy with your furry friend. New Brighton state beach in Capitola allows dogs-on leash.
Babu at Greyhound Rock beach
Santa Cruz itself has several dog friendly beaches such as Mitchell's cove beach where dogs are allowed to be leash free before 10AM and after 4PM. The nearby town of Aptos (which has a famous dog friendly restaurant with a menu card for dogs) has two state beaches: Seacliff and Rio Del Mar, where dogs are welcome on-leash.
However, our favorite remains the extremely secluded Greyhound Rock Beach which is a mere 17 minute drive from Bonny Doon, where we stayed during our visit to Santa Cruz. In stark contrast to the din and bustle of the boardwalk, this beach is as quiet as it gets, with nary a person in sight! Dogs must be on leash here.
Dog friendly accomodations in Santa Cruz
I highly recommend staying in our beautiful Redwood Croft Inn, a European style B&B right in the middle of a Redwood grove in Bonny Doon to avoid the hustle and bustle of beachfront hotels. Not only do you get home-cooked breakfast in the morning, but the acres of Redwoods are perfect for your dog to sniff and explore, not to mention the company of the property dogs and their extremely friendly owners. For those looking for hotels near the beach in Santa Cruz, here are the dog friendly places to stay.
For those looking to stay near downtown Santa Cruz with their dog, I highly recommend Pacific Blue Inn on Pacific Avenue, which is a stone's throw from downtown. Pacific blue Inn is a super dog friendly hotel in Santa Cruz and charges only $50/pet for the entire length of the stay! They also offer free continental breakfast every morning and dogs are allowed to be in the breakfast area with you. Up to two dogs are allowed per family and please call to confirm prior to booking your stay.
7. Beaches where dogs are allowed on California's Central coast
The central coast of California roughly extends from Santa Cruz in the north to San Luis Obispo (SLO) in the south, with several small towns such as Carmel, San Simeon and Cambria in-between. Both Carmel-by-the sea and San Luis Obispo (with the adjoining Morro Bay and Paso Robles) are extremely dog friendly towns and we've visited them multiple times with Babu!
Although some of the most dog friendly beaches in California can be found here, I am going to highlight only a few of them which we've been to and loved! This part of the coast is also famous for a drive along Highway 1 to experience Big Sur, one of the most gorgeous parts of the California coastline. Big Sur is a huge conservation area for wildlife and sea mammals and is mostly not dog friendly. Nevertheless, here are the beaches in this region which welcome dogs:
a) Monterey state beach and Del Monte Beach: Both beaches allow dogs on leash. For Monterey state beach, dogs on leash are allowed only south of the Monterey beach resort hotel. Del Monte beach is only known to locals and is located behind a coastal housing community, hidden from the main street. The hike to the beach involves a steep trail starting from the parking lot and so wearing sturdy shoes is advised.
b) Asilomar state park and beach: Located in the coastal town of Pacific Grove, this beach is across the Asilomar conference grounds and allows on-leash canines on the beach and the trails. As a scientist working for a biotech company who treks here at least one every 18 months to attend the off-site conference, I can vouch for how clean the beach is with its white sand (a surfer favorite)!
Asilomar
b) Carmel city beach and Garrapata state park beach: Let me say this out loud and clear- Carmel by the sea is THE MOST DOG FRIENDLY TOWN IN CALIFORNIA and I have this super detailed dog friendly guide to prove it, based on my whopping 10+ visits!
Located at the very end of Ocean avenue, Carmel beach is popular with locals and tourists alike and here dogs run leash-free. Further south along Highway 1 and 18 miles north of Big Sur is the more secluded and quiet Garrapata state park and beach. Dogs are allowed on-leash on the beach only.
This beach is covered with beautiful coastal vegetation and offers sweeping views of the ocean. Carmel city beach can get pretty busy, but Garrapata is a really quiet alternative.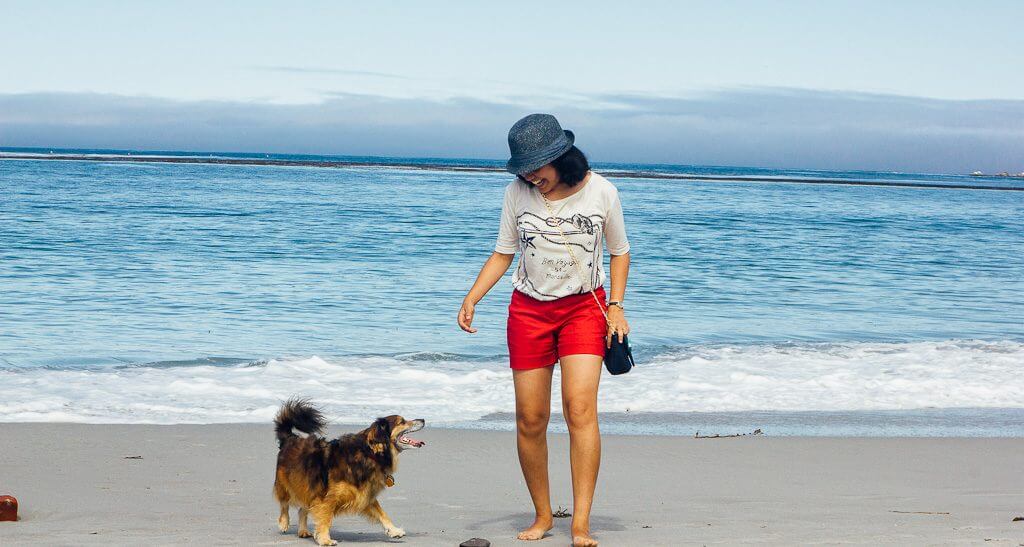 Babu and I at Carmel beach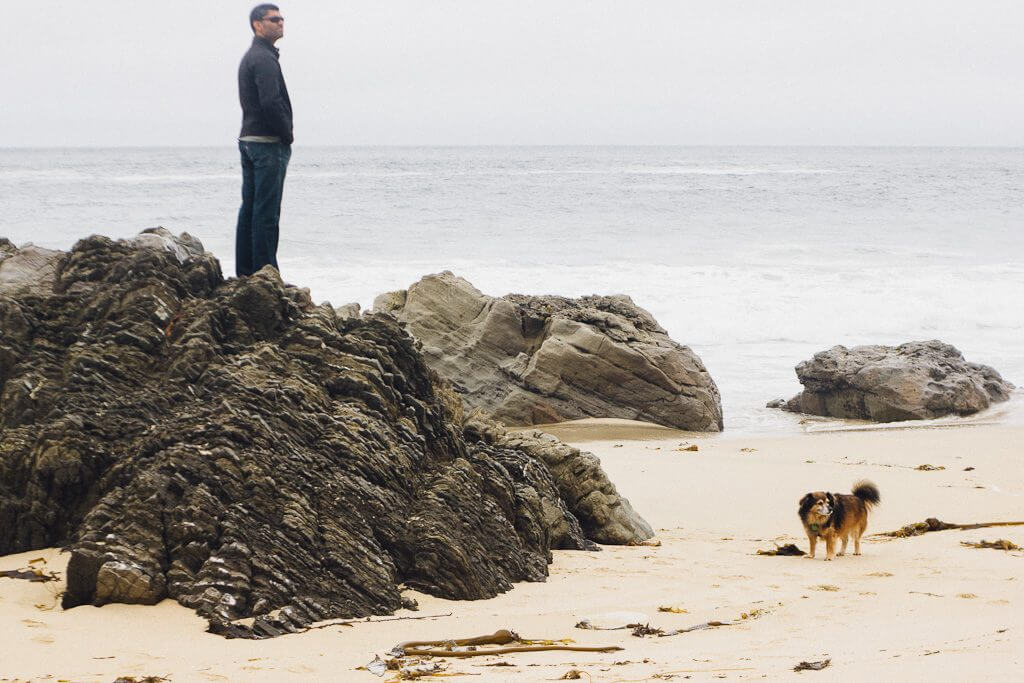 Babu at Garrapata state park beach
c) Pfeiffer Beach: This Big Sur beach is tricky to find (about 2 miles off the main road/Highway 1) and is famous for its Keyhole rock and purple sands, the latter caused by the presence of garnet. Dogs are allowed on-leash here. Since the parking lot gets filled up in a jiffy, please arrive as early as possible. Parking fee is $12/vehicle for day use.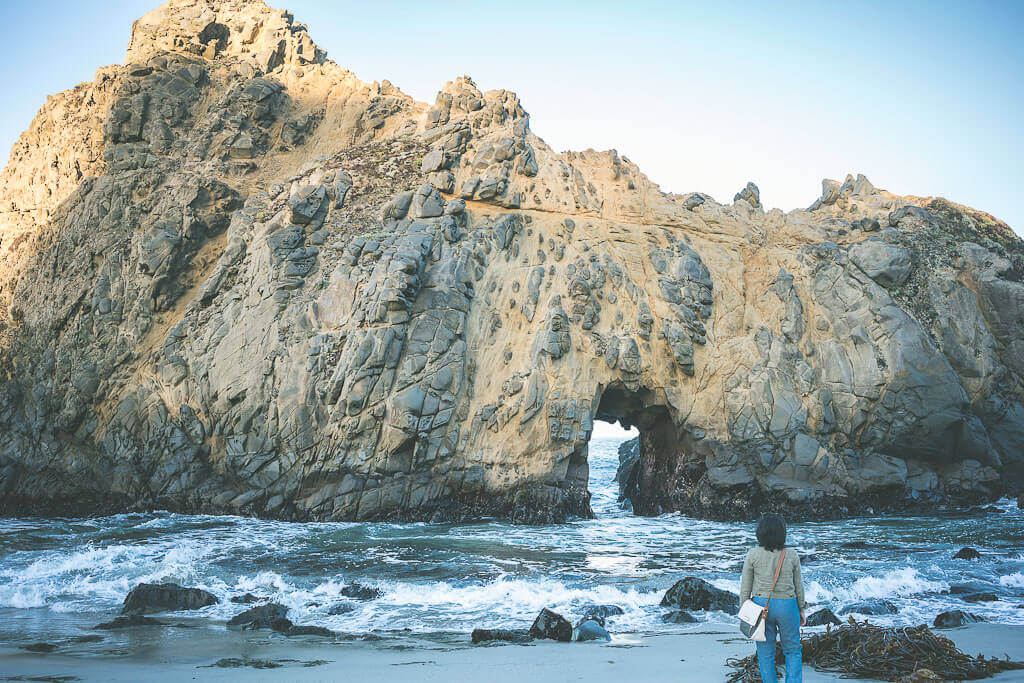 Pfeiffer beach
d) Cayucos dog beaches: Cayucos is a charming coastal town in San Luis Obispo county and the state beach here is dog friendly (on-leash though). Dogs are not allowed on the boardwalk above.
Another leash free beach at the border of Cayucos and Morro Bay on Highway 1 is the Toro creek dog beach also known as the Morro Bay dog beach. This beach is super popular with dog parents and is a great place to let your pup go crazy on the sand, with the Morro rock looming over the waters at a distance. Please bring your own poop bags to pick up after your dog.
Babu and I at Cayucos State beach
f) Morro Bay Beaches: During our visit to San Luis Obispo and Morro Bay in December 2016 (we actually spent the last day of the year there), we simply walked down the dog friendly beachfront with Babu that overlooked the nine volcanic rocks ("nine sisters") jutting out from the water.
We also took a tiki boat ride with Babu to explore the Bay and stretched our feet on a sheltered patch of sand on one end. Of the nine sisters, Morro Rock is the tallest volcanic plug of all and is often referred to as the "Gibraltar of the Pacific".
Babu at Morro Bay dog beach/Torro Creek dog beach
Morro Rock beach, in the shadows of this gigantic plug, is dog friendly but dogs must be on leash at all times. North Point Beach is another dog friendly beach in Morro Bay which allows dogs on leash (although the SLO official website says it is leash-free, so you decide based on which way the locals are swinging:-)).
Morro Bay
g) San Simeon Cove: We watched the sun go down on 2016 from San Simeon Pier and Cove which is right next to Williams Hearst Beach. The Pier does not allow dogs but the cove is where on-leash dogs are welcome.
San Simeon Cove
h) Beaches in San Luis Obispo: SLO county boasts of many dog friendly beaches as detailed in this SLO tourism board website, with the beaches at Avila (it is actually the name of a coastal town hugging the curve of SLO bay) and Pismo beach being the most popular ones.
Pismo beach is a charming dog friendly beach town that allows dogs on leash on its namesake beach long as you stay left of the Pier. The leash free options at Avila include Fisherman's beach (also known as "Dog beach" by locals) and Olde Port Beach adjacent to the Hartford Pier.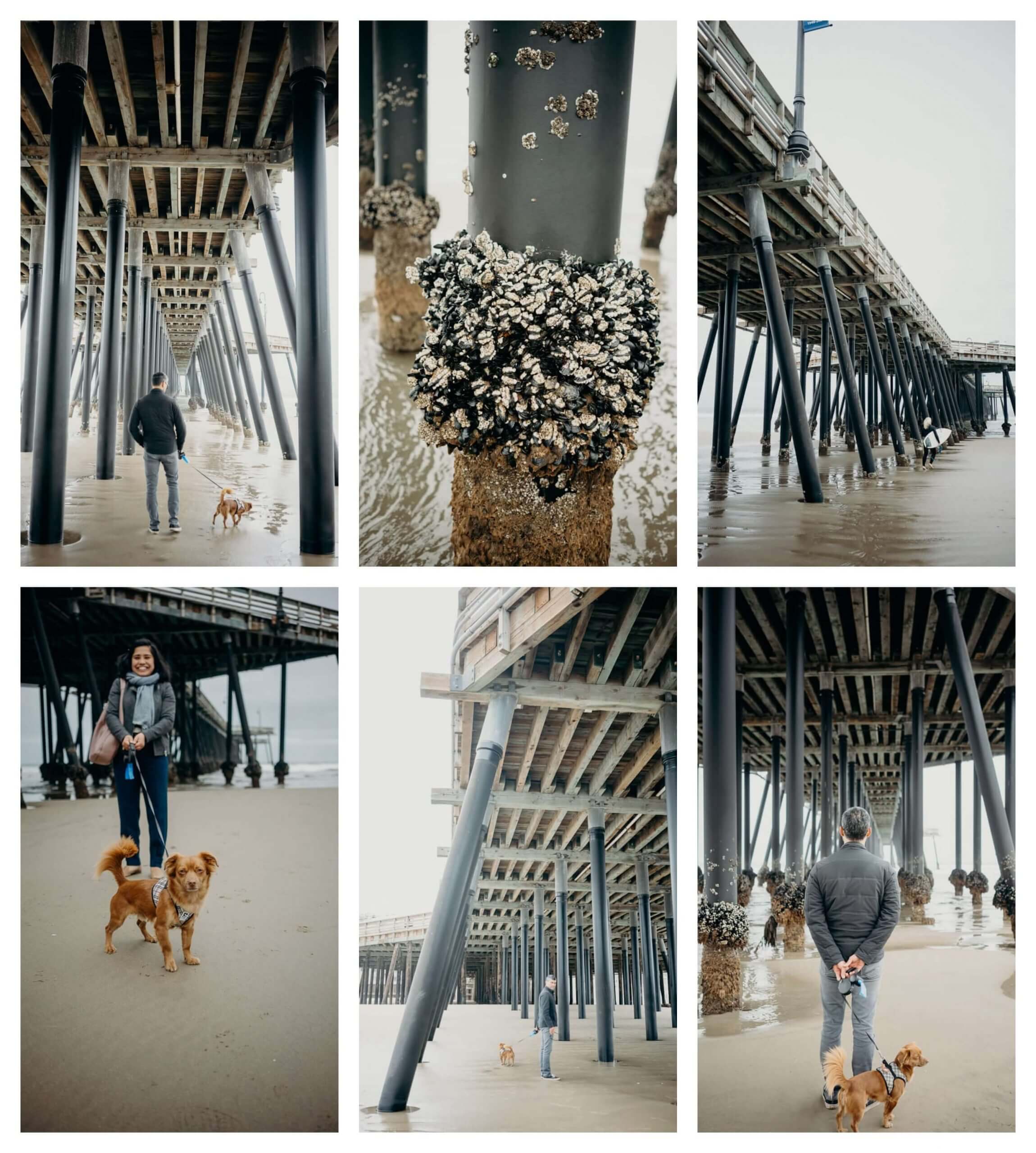 Our visit to Pismo beach with our rescue pup Gunda, whom we adopted after Babu passed away in Feb 2021
Dog friendly hotels/accomodations in Central Coast (Monterey and San Luis Obispo County)
Carmel by the sea is our favorite destination in Monterey county and is also a perfect anchoring spot if you are driving to Big Sur. Most hotels there are dog friendly, but based on our experience, I highly recommend actress Doris Day's Cypress Inn where dogs are welcome everywhere, including a separate indoor dining area (advanced reservation needed).
Plus the hotel also has an evening musical soiree in the fireplace room where dogs and their parents can enjoy some good music by a live singer or simply cozy up near the fireplace. The other place where we've stayed at least three times with Babu is the dog friendly Briarwood Inn B&B which welcomes dogs and has complimentary breakfast. Both these dog friendly inns are smack dab in downtown Carmel and are a 10 minute walk from the beach.
Babu on the steps of Cypress Inn, Carmel
Both times during our stay in San Luis Obispo and Paso Robles, we opted for dog friendly vacation rentals via Airbnb. The first time around was a single room in a house, but the second time we rented this beautiful 3 bedroom house in downtown Paso Robles for three adults and Babu. This dog friendly house came fully equipped with a kitchen!
For those looking for beachfront properties, this romantic beach cottage (half a mile from the ocean) appears to be well reviewed for that perfect beach vacation getaway. For those looking for hotels, here is the complete list of dog friendly hotels/motels/B&Bs in SLO county.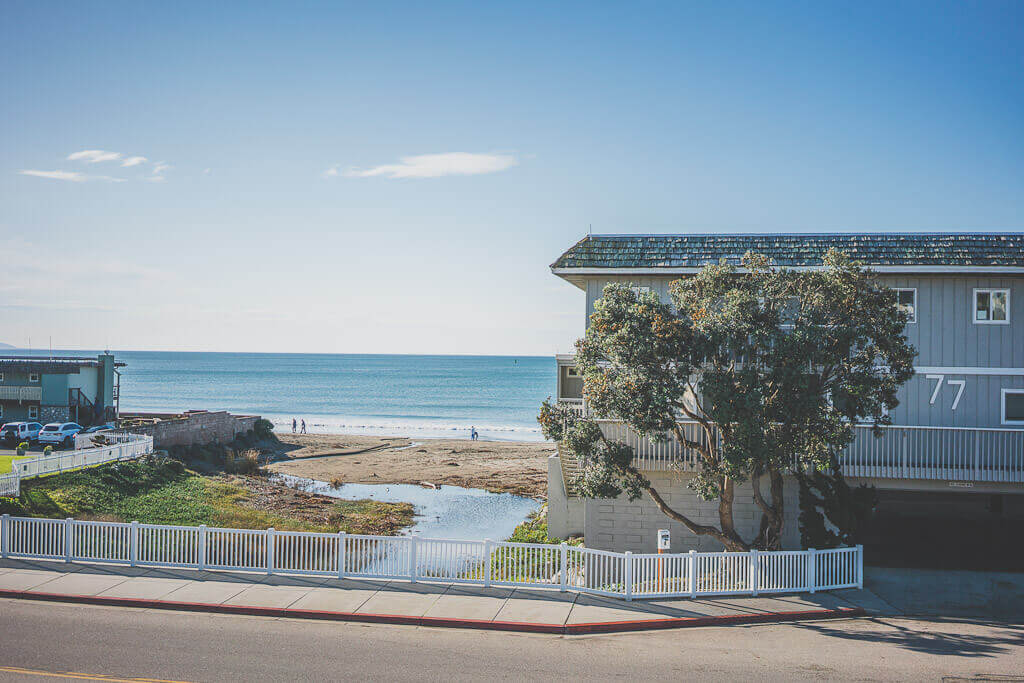 View of the ocean from our Cayucos Airbnb
We recently visited Cayucos, a small town near SLO, during our 2019 winter road trip with Babu. This time too, we stayed in a beautiful Airbnb named "Ocean View Suite" with a fantastic view of the ocean/beach from the cottage deck (the state beach is a stone's throw from the cottage).
The cottage has a charming nautical decor, is equipped with wifi, TV and other basic amenities and the host is super helpful and responsive. Best of all, there is a cafe and restaurant right below the cottage with a beautiful garden where you can dine/relax over coffee with your pup.
Dog friendly beaches in Southern California
Although Babu has done our more than his fair share of sniffing through Northern California, he's not ventured much into the south where sandy beaches and warm waters await.
Barring our trip to Santa Barbara and Solvang (that cute dog friendly Danish town in California that most people don't know about), we've only been down south to as far as Los Angeles, where the only dog friendly beach is not in LA per se (more on that later).
But a dog friendly California beach guide is not complete without the inclusion of miles of sandy haven from our brethren in the south, so here are some very popular ones that I've combed from the internet sprinkled with dog friendly beaches in Santa Barbara
8. Dog beaches in Santa Barbara and Ventura
Santa Barbara is that beach town in southern California where dogs are welcome in Arroyo Burro Beach County Park and Rincon Beach Park, both of which have been explored by Babu.
Although dogs are expected to be on-leash in Arroyo Burro beach (also known as Hendry's beach by locals), the adjacent Douglas Family Reserve is where they can roam leash free. Dogs can also run around leash free on the east side of the creek in this park.
During our dog friendly vacation in Santa Barbara, we found this beach to be extremely popular with locals; many had their picnic hampers and dogs for a fun day at the beach. Rincon beach park is located at the border of Santa Barbara and Ventura and allows dogs on-leash. Dogs are also allowed on leash at Goleta Beach county park.
Other dog friendly beaches in and around Santa Barbara include Butterfly beach, Thousand Steps beach and Mesa Lane beach, the latter two being leash free! Even if you are visiting Santa Barbara for a day trip, checking out one of these beaches is a must!
Babu at Hendry's beach in 2020
Ventura lies between Santa Barbara and Los Angeles is known for its pristine beaches and the Channel islands, also known as "North America's Galapagos" because of their unique flora and fauna.
Many beaches in Ventura allow dogs on leash (no leash free parks here) but those like Hollywood beach and Silver strand beach allow pups before 9 AM and after 5 PM. There are plenty of other beaches where dogs can romp around during regular hours and here are links to helpful articles with details on the beaches and leash laws:
a) A complete list of dog friendly beaches in Ventura county
b) Top dog beaches in Ventura with details on beach and leash laws
c) Leash laws for dog friendly beaches in Ventura county
Dog friendly accomodations in Santa Barbara and Ventura
We opted for a budget accomodation at Motel 6 in Corona del Mar, Santa Barbara during our visit many years ago. Motel 6 is as basic as it gets, but dogs stay for free with no breed discrimination. The best part about this Motel 6 was that it was right next to the East beach on Cabrillo Blvd and so our morning walks with Babu were spectacular.
Next time around, i.e. after a really long gap of 9 years, we visited Santa Barbara with our second pup Gunda and stayed at the Inn at East Beach. Our stay was very comfortable and they do not charge a hefty pet fee. I highly recommend this hotel with the one caveat that it does not have free parking (however plenty of free roadside parking is available).
We actually did not go to the beach (dogs are not allowed there) but walked along the boulevard promenade with views of the ocean. For those looking for more options, here is a complete list of dog friendly hotels in Santa Barbara and those in Ventura county that allow dogs.
9. Dog friendly beaches in Los Angeles and San Diego
Los Angeles is possibly the most famous city in California thanks to being home to glammy, glitzy, starry Hollywood. This mega metropolis has it all in terms of gorgeous year round weather, a thriving food and mural scene and some of the best beaches in the world. Los Angeles is also very dog friendly when it comes to parks, hikes and open spaces as we discovered during our 2019 visit to LA with Babu.
Although LA county, comprising of several cities (Santa Monica, Long Beach, Torrance to name a few) has dozens of beaches for bipeds, there are surprisingly very few that allow dogs. Leash laws are super strict all over LA and only a handful beaches exist where dogs are welcome on leash. These are some of the dog friendly beaches in LA county:
a) Rosie's dog beach: this is technically not a beach, but the only off-leash part of Belmont shore beach (between Roycroft and Argonne ave along Ocean Blvd) in the city of Long beach where dogs can happily play in the sand and waves leash free. Long beach is a great option as a dog friendly day trip in Southern California since it is so close to Los Angeles
Dogs are allowed only between 6AM-8PM everyday and on no other areas or paths other than the designated official dog friendly zone. The rest of the beach is along Granada ave and is called Granada beach.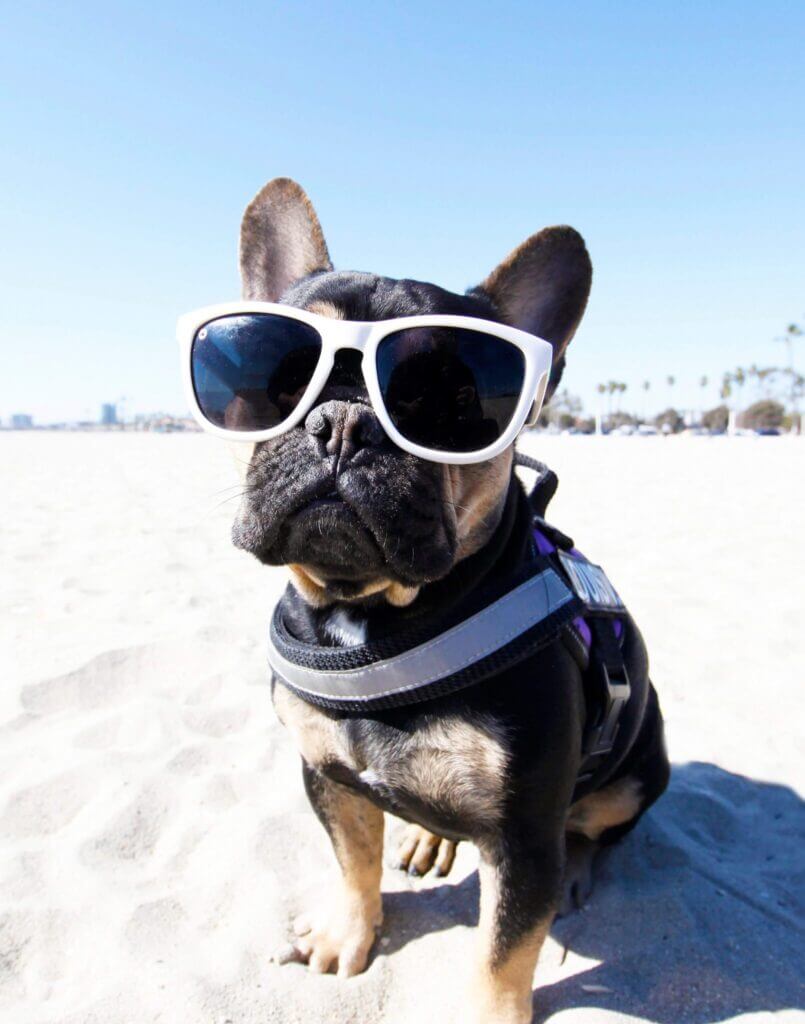 Louis, Jenna's adorable Frenchie chilling out at Rosie's beach. Follow Jenna's blog Dog Friendly Travel for more dog friendly adventures
b) Huntington beach in Orange county down south is a much bigger beach and allows dogs to be leash free. Dogs are allowed between Seapoint and 21st streets. Although the official requirement is that dogs be on leash, don't be surprised if you see locals enjoying a day at the beach with their leash-free pooches.
c) Other dog beaches in Los Angeles county: The North Beach section of Leo Carrillo State Beach (north of lifeguard tower #3) and Staircase beach (with a separate entrance) allow dogs on leash in Western Malibu. This article by California beaches and this one by Splash and dash for dogs lists all the beaches and beach parks in LA county where you can take your dog.
Except beaches, LA is otherwise very generous to dogs (has lots of off-leash parks and dog friendly restaurants) and you can read all about them in my dog friendly guide to Los Angeles.
I have been to San Diego a whopping 10 times, out of which 9 were for work or conference related visits and that one time we went for vacation, Babu enjoyed his staycation with family in Bay Area. Bottomline is that Babu is yet to pee on the San Diego beach sand. but I do have a guest post by a local on all the dog friendly places in San Diego that you can read to plan your vacation. Here are some popular dog beaches in San Diego county:
d) Dog Beach (yes that is a real name), Coronado beach, Fiesta Island on Mission Bay and Del Mar Dog beach: All these beaches allow dogs leash-free, which makes San Diego one of the most dog friendly places in Southern California. For some of these beaches, the leash-free play timing is seasonal and details can be found on the official SD tourism website,which also lists many other leash-free options for dog parents.
Besides these popular beaches, many other beaches in San Diego allow dogs on leash before 9 AM and after 6 PM to avoid busy beach hours. A complete list of such beaches can be found in this excellent article on all things San Diego and here on California beaches.com Unfortunately, dogs are not allowed on any of the beaches in Carlsbad.
Dog friendly hotels in Los Angeles and San Diego counties
Long Beach has several dog friendly hotels such as Hotel Current where two dogs are allowed per room for an additional charge of $50 per dog. There is a residential neighborhood for dog walks right behind the hotel.
The historic Queen Mary ship (converted to a hotel) is another dog friendly place that allows one dog up to 25 lbs for an additional fee of $75. Hotel Maya (DoubleTree by Hilton) also welcomes dogs. We stayed at a beautiful Airbnb in LA in Hollywood Hills in 2019 which we loved for its quiet secluded feel and proximity to many dog parks and restaurants.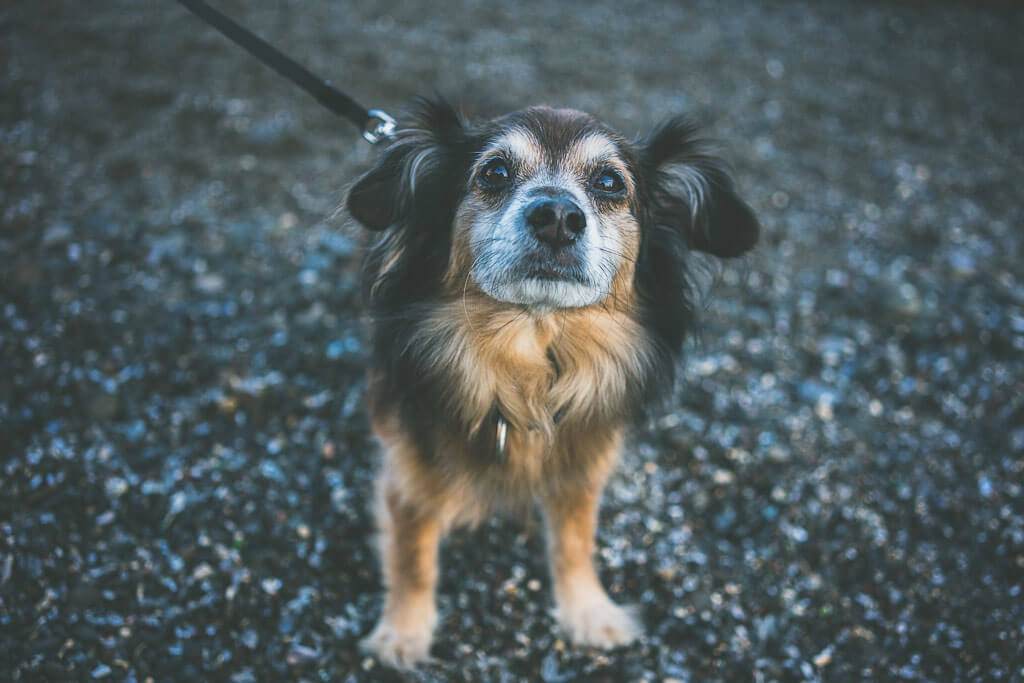 This bring me to the end of this post on all dog friendly beaches in California where are four legged friends are welcome. I hope you've gotten ample inspiration from this article for your next beach vacation which is double the fun with fur-babies! Thank you so much for reading!
Like this post? Pin it for later!

«