Last Updated on August 29, 2022 by Paroma
Are you planning a dog friendly San Diego vacation and wondering what to do with your dog in this Southern California Beach Town? Then you've come to the perfect post, where you'll find the best dog friendly places in San Diego! This local's dog friendly guide to San Diego covers all the dog friendly activities in San Diego, including dog friendly San Diego beaches, hotels, parks, cool dog friendly neighborhoods and many other spots around town where dogs are welcome. So what are you waiting for? Let's get started!
Disclaimer: This post may contain some affiliate links. Clicking on them may earn me a small commission at no extra cost to you for the product. Thank you for supporting free content on this site! All photos used here are from Unsplash (see their copyright free usage licence) with courtesy credits.
If you've been following my blog for quite some time, you know that its main USP (besides my San Francisco guides) is undoubtedly dog friendly travel in California. Over the last 11+ years of living in San Francisco, I have traveled to almost everywhere in Northern California with my pups Babu (till 2021) and Gunda (May 2021-present after Babu's demise).
Although we have been to many Northern California beach towns with our pups, our SoCal adventures have not been too many. In the past, we've ventured as far south as Santa Barbara and Los Angeles (in 2019 with Babu, before the world turned upside down), but we've never really quite made it further south of LA to sunny San Diego with our pups, which is absolute doggy haven with its beaches and year round warm weather (I know cause I have been there a whopping 11 times for alas, what else but work).
So to fill in this gap in pup friendly travel adventures, I have enlisted the help of Beach Sloth, a proud San Diegan (whose work has been on exhibit at the Art Institute in Chicago) who loves San Diego and dogs in equal measure and has written this terrific dog friendly San Diego guide just for my readers.
This local's dog friendly guide to San Diego is here to answer all your burning questions about where to take your dog in San Diego and what to do with in San Diego with your dog. From the best dog friendly beaches in San Diego to dog friendly San Diego hotels and from dog parks to dog friendly restaurants in San Diego, this guide to the best dog friendly places in San Diego is your one stop destination filled with a dog loving local's insightful tips and information.
If that is not all, this post also has a bonus section on dog friendly day trips from San Diego in case you have more time in your hands during your visit. I cannot wait to visit San Diego with Gunda one day to all these wonderful dog friendly spots and hopefully you will too, after reading this post.
WHY VISIT SAN DIEGO WITH YOUR DOG?
San Diego, more like Sandy Doggo! One of the most welcoming cities for dogs, they will be barking for joy among the low-slung, low-density parks of San Diego.
Dogs are so revered here that you might find random passers-by asking to pet your dog. Yes, out in Surf City there is a lot to do with your dog, from exploring the many gorgeous beaches that adorn its coast to scratching that foodie itch with world-class restaurants and embracing the chill vibes that San Diego possesses in abundance.
With over 100 unique neighborhoods, there is a plethora of places to take your dog to in San Diego. Many open spaces for walking on the beach, going up to the mountains, and generally exploring the city with your dog as well as dog friendly restaurants with patio seating, thanks to the constantly ideal weather and ample sunshine.
Much of San Diego offers places where dogs are allowed so your dog can keep their tail wagging. With so much to do in SD and in this dog friendly San Diego guide, I will show you exactly what Surf City can offer the two of you.
This guide, based on living deep in the heart of one of the most beach-centric neighborhoods, Ocean Beach, focuses on the finest things on offer in San Diego for your dog- from dog friendly San Diego places, lots of dog parks (for big and small dogs alike), dog friendly restaurants and the swankiest dog friendly hotels/accommodations.
WHERE TO STAY WITH YOUR DOG IN SAN DIEGO
Lots of dog friendly hotels exist in San Diego, but there is a catch – San Diego is much bigger than it seems at first glance. Seemingly playing second fiddle to Los Angeles to the north, it weighs in at a still formidable 372 square miles, or, to put that in perspective, larger than all five boroughs of New York City (for all you NYC fans out there). Despite the positive reception of dogs across the city, here are some pointers to keep in mind while deciding where to stay in San Diego with your dog: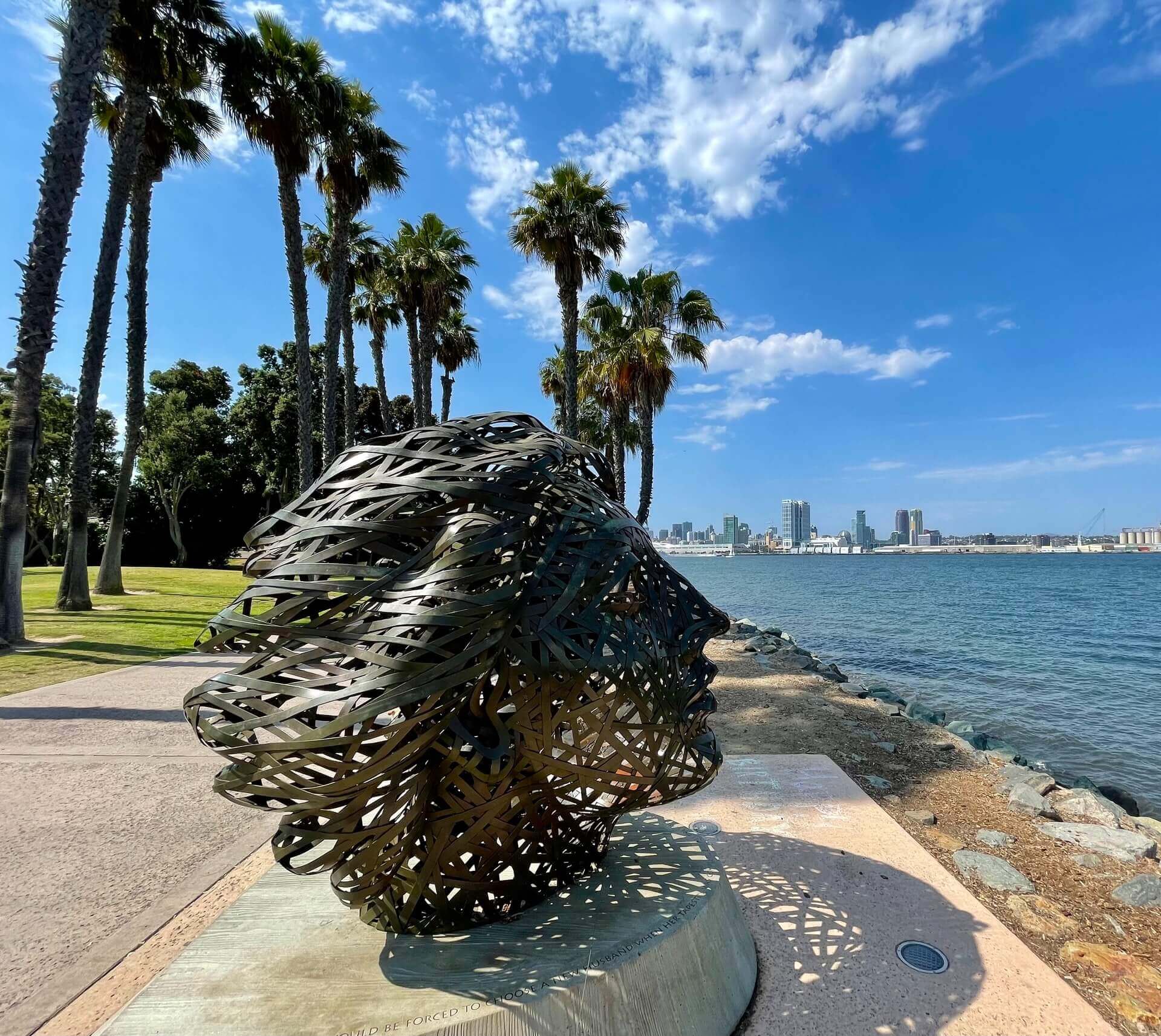 THE BEST DOG FRIENDLY NEIGHBORHOODS IN SAN DIEGO
One of the nicest things about San Diego is how low-key of a city it is, making it ideal from a weather perspective, noise perspective, really helping to make it a very dog-friendly destination. Many of the ample number of parks are leash free, giving your dog that extra room to roam. Coronado, Ocean Beach, and Downtown (near the world famous San Diego Zoo) rank among some of the finest, friendliest parts of the city for dogs.
DOG FRIENDLY HOTELS IN SAN DIEGO
The most wonderful hotels for dogs and people alike are in Coronado. Featuring both the historic Hotel del Coronado (read their pet policy here) and the Loews Coronado Bay Resort (they do have a $150 steep fee per stay), there is a lot to choose from. Gardens and beaches for both means both of you can enjoy the fresh breeze of the Pacific Ocean, alongside enjoying the legendary surf.
If Downtown San Diego, with its bustling dining and shopping scene, is calling your name then you are in luck cause there are several relatively more budget friendly options to choose from. Hotel Indigo in the Gaslamp quarters not only claims to be "enthusiastically pet friendly", but also has select rooms available for "Humane Society Upgrade" packages, where a part of the proceeds go to the Humane Society for animal rescue and welfare.
The Hilton San Diego Bayfront, an eco-certified hotel overlooking the San Diego Bay, is another excellent choice for a dog friendly hotel in San Diego. They allow dogs upto a maximum weight of 75 lbs and charge a non-refundable deposit of $50 per stay.
FAQS OF PLANNING A DOG FRIENDLY VACATION IN SAN DIEGO
BEST TIME OF THE YEAR TO VISIT SAN DIEGO WITH YOUR DOG
It has to be shoulder months of March-May and September-November. February is rainy and Summer brings in the notorious "June Gloom" (plus it is also hot and crowded). If you're visiting in March-May, definitely go for a whale watching tour as well!
SAN DIEGO LEASH LAWS
Always familiarize yourself with a new destination's leash laws when traveling in California cause no two counties are the same. San Diego county requires all dogs to be on leash at all times except at designated off leash areas such as beaches and parks.
GETTING AROUND SAN DIEGO WITH YOUR DOG
If flying from out of state (San Diego has its own international airport, code: SAN), it is best to rent a car and drive around for convenience and flexibility. San Diego is a vast city, so having your own vehicle really helps.
DOG FRIENDLY SAN DIEGO GUIDE: THE BEST DOG FRIENDLY PLACES IN SAN DIEGO
Wondering where dogs are allowed in San Diego? Then sit back and relax cause San Diego is super dog friendly with lots of dog friendly open spaces, beaches and parks to choose from. Here are my favorite dog friendly spots in San Diego that you should put on your itinerary:
DOG FRIENDLY BEACHES IN SAN DIEGO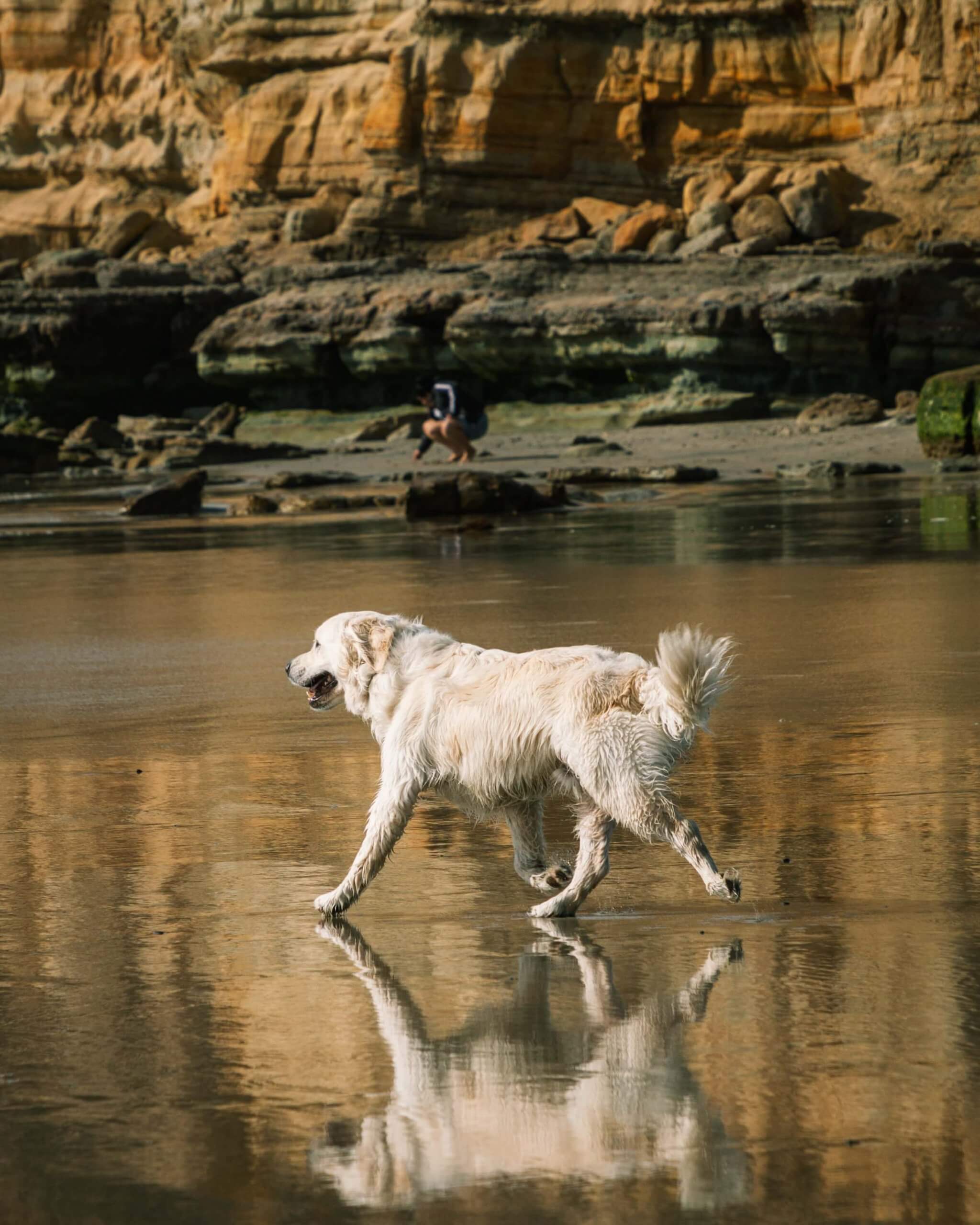 What better way to kickstart this dog friendly guide to San Diego than rattle off the several dog friendly beaches where you can enjoy your day in the sand with your pup! San Diego is blessed with some of the most beautiful dog friendly California beaches, which are as follows:
a) DOG BEACH: The aptly named Dog Beach in Ocean Beach was founded in 1972 as a perfect place for canines. This is a completely off-leash beach for dogs.
b) FIESTA ISLAND: Located in Mission Bay, Fiesta Island dog park allows dogs to be off-leash anywhere except the fenced areas (Youth Campground and Least Tern nesting sites which is seasonal). Park is open from 6 AM -10 PM daily.
c) NORTH BEACH DOG RUN: This is another completely off-leash area located on Ocean Blvd. near Sunset Park at the northern end of the beach adjacent to the U.S. Naval Station entrance in Coronado. Dogs must be leashed till you hit the beach.
DOG FRIENDLY PARKS IN SAN DIEGO
San Diego offers so much park space for dogs and people alike. Watch out for that foot attire, for these range from beach all the way to some rather epic hikes. Throughout San Diego here are some of the must-sees: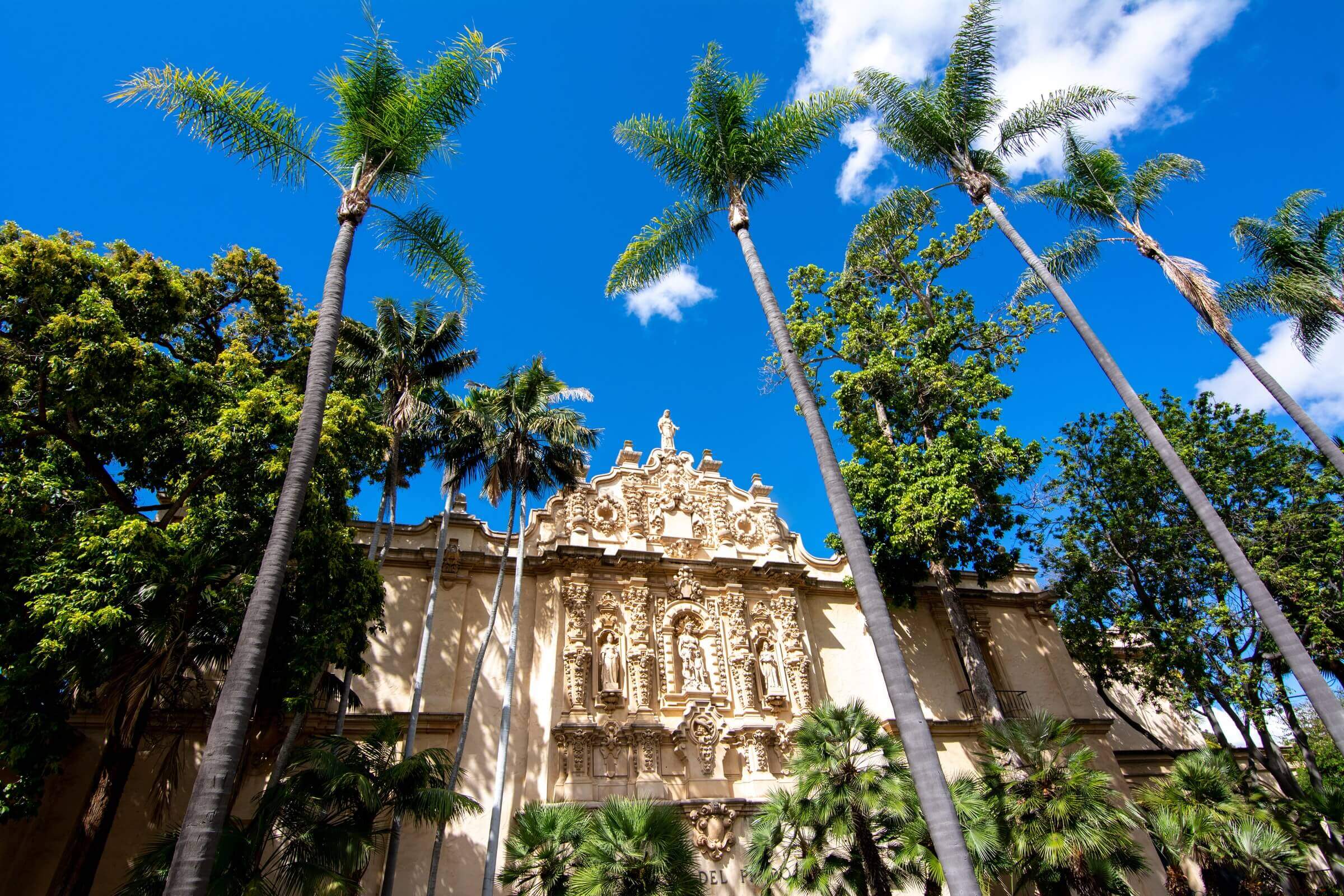 a) BALBOA PARK: featuring the acclaimed zoo alongside multiple theaters and museums, this is one to bring your hiking boots to thanks to its sheer size. Those wanting a smaller, focused experience may do well to get to the very heart of the park, with its broad promenades and excellent dining options. Parking is a little tricky, but there are a few parking lots that are almost hidden from view, so keep a keen eye out for them. Arriving early also helps.
b) TORREY HIGHLANDS: for those wanting a bit more open space, Torrey Highlands in the northern part of the city offers some truly idyllic views. Again, another one to bring hiking boots too. Parking here is relatively straightforward in comparison to Balboa Park, and there are a lot of trails to pick from.
c) NATE'S POINT: This off-leash dog park is located on Balboa Park's West Mesa, i.e. south of El Prado / Laurel Street and east of Balboa Drive. This is a fenced area and has a drinking fountain and picnic tables.
d) RANCHO BERNARDO: Right in the very northeast corner of the city, this area is predominantly lower slung. Perhaps the gentler of the paths, it also is centered around a rather lovely lake and is easily located right off the I-15.
e) DUSTY RHODES: This is a huge off-leash, fully fenced dog park equipped with water fountains and a wide open space for dogs of all sizes and ages to play.
Besides this list of popular dog parks in San Diego, lots more exist, such as Rancho Penasquitos, Maddox, Doyle, Nobel Athletic Area, Cadman, Capehart, Kearny Mesa, Morley Field and Grape Street.
OTHER DOG FRIENDLY PLACES IN SAN DIEGO
if you're wondering as to where else are dogs allowed in San Diego besides the the beaches and parks, I come bearing good news! There are plenty more dog friendly places in San Diego where your canine can feel like a king. Here is what I recommend:
a) NORTH PARK: North Park is a particularly hip area of San Diego, home to San Diego's celebrated independent craft brewery scene, alongside brunch places, lunch places, art galleries and more. Parking here can be very difficult due to it being one of the more high-rise areas of the city, so plan accordingly.
When in North Park, stop by Swami's Café, a wonderful little spot to go in for a nice, relaxed brunch, Mike Hess Brewing for that aforementioned craft brew culture, and the joy that is Bull's Smokin' BBQ. To add to the joy of Bull's Smokin' BBQ, the patio is so dog friendly they even bring a bucket of bones for your dog!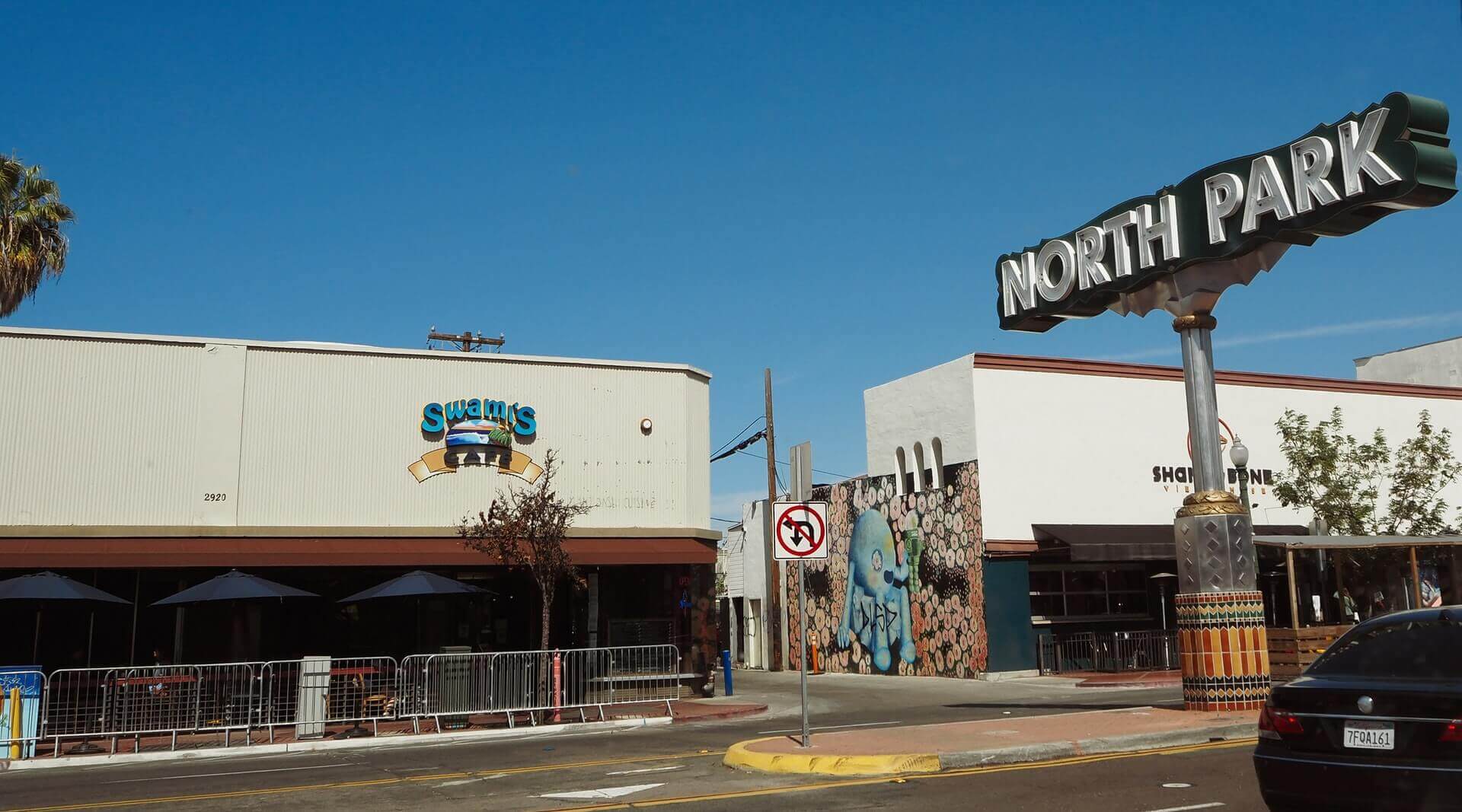 b) OCEAN BEACH/SANTA MONICA AVENUE: Ocean Beach works as the Venice Beach of San Diego. With lots of sunshine and plenty of shops, you'll notice a number of water bowls and other little things left outside of many of the stores to further give your dog companion that extra bit of fun.
c) LITTLE ITALY: for those looking for a bit of that Old World charm, Little Italy features a wide variety of stores and shops that are incredibly popular. Full of nice Instagram moments for you and your dog, from the big red chair to a whole ton of others, it is a place that will keep your dog's tail wagging for more!
When in Little Italy, do stop by Queenstown Public House, specializing in New Zealand inspired fare with a dog friendly patio for lunch or dinner. They even have their very own hashtag #dogsofqueenstown to proudly showcase their puppy love!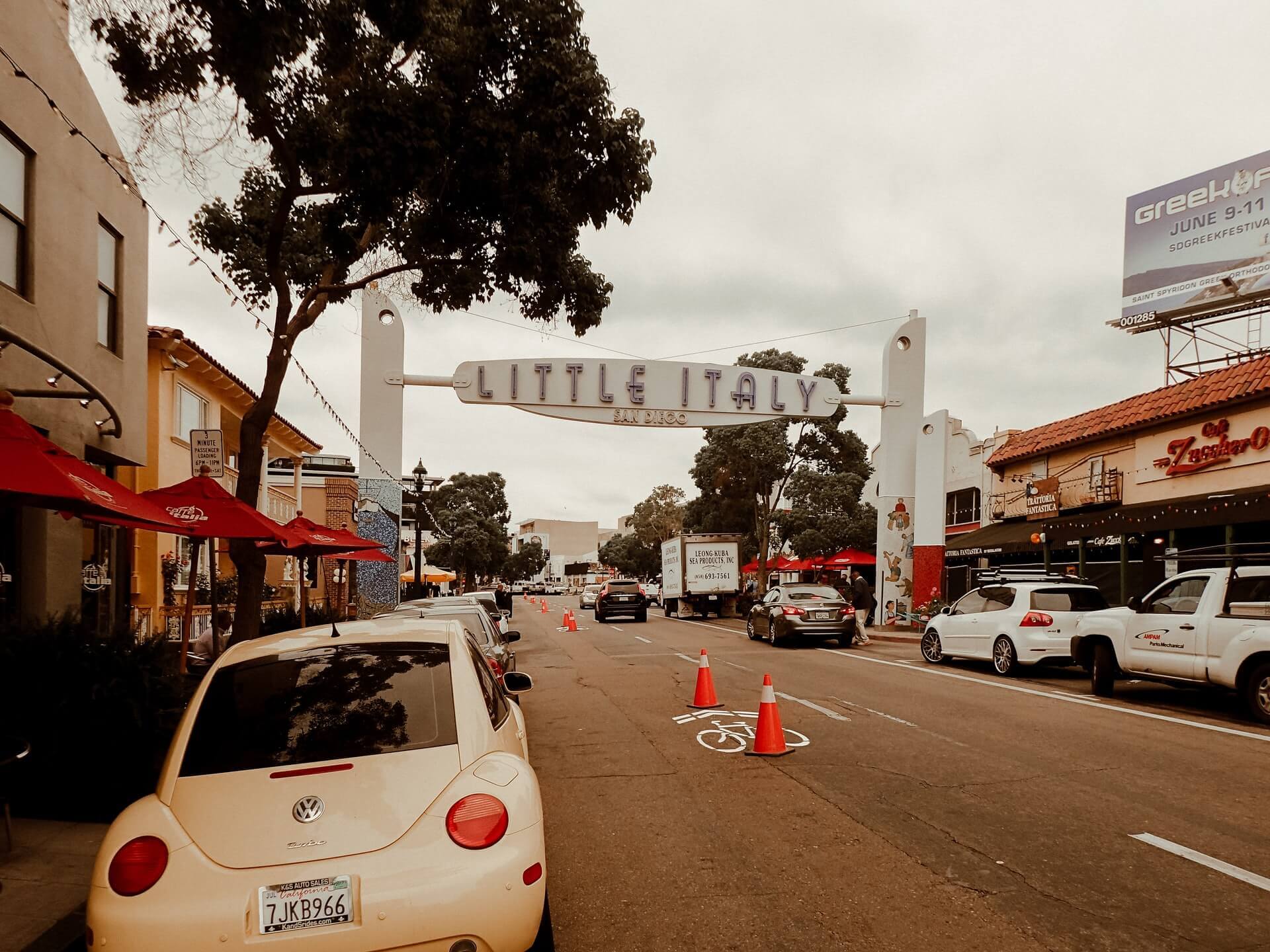 DOG FRIENDLY RESTAURANTS IN SAN DIEGO
San Diego's culinary is extraordinary, running the gamut from Traditional American fare to incredible unexpected delights. Amongst these, a few of them are unique gems for Surf City. Below are some dog friendly San Diego restaurants where Fido is welcome: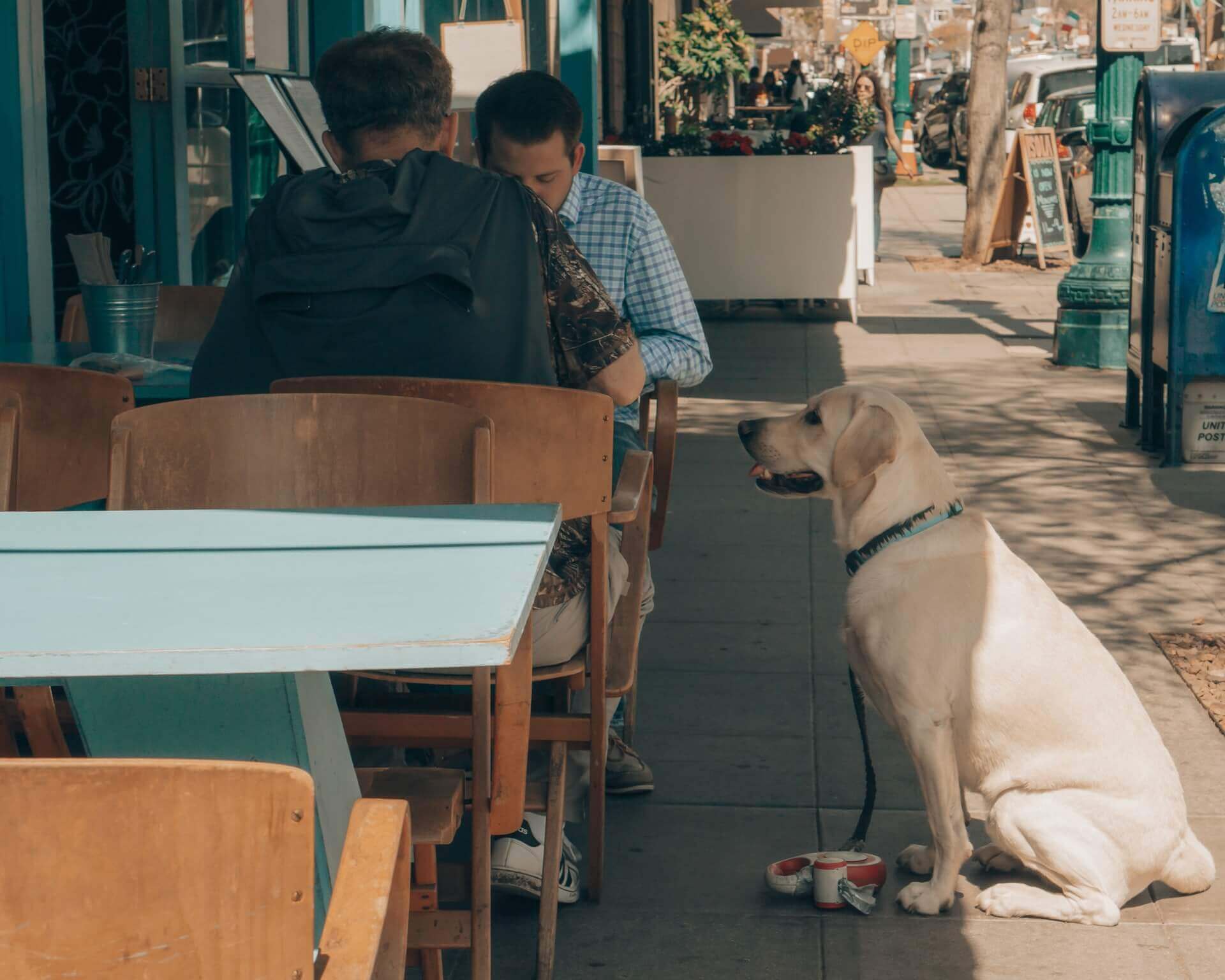 Station Tavern: Serving burgers and beer in their outdoor patio/beer garden, this dog friendly eatery is a huge hit with locals.
OB Surf Lodge: Steps away from the beach, this dog friendly restaurant serves all three meals (brunch/lunch/dinner) with a sunset happy hour thrown in the mix
Raglan Public House: Want a taste of New Zealand in San Diego's Ocean Beach neighborhood? then head straight for this Kiwi joint serving New Zealand inspired menu with 100% organic burgers and craft beer with a dog friendly patio.
Voltaire Beach House: A great spot for dinner, it features some nice traditional fare with some much-needed outdoor heaters to keep you and your dog warm during the colder evenings, and offer protection from the crisp night beach breeze.
Surfrider Pizza Café: besides having the requisite pizza experience (they serve "East Coast style Pizza with West Coast vibes"), a nice touch is how they have some good dog friendly products so your dog won't feel left out. The original location on Abbott street is closed as of 2021, but they are open in La Mesa, a short drive from
Steamy Piggy: while there are a number of fantastic Ramen and Asian Fusion restaurants to choose from, few are as adorably cute and as dog-friendly as these fantastic follows. The staff are incredibly considerate of your furry friend and make sure to take lots of photos of some of their stunningly beautiful dishes.
Werewolf: want to do karaoke with your dog? Well, here you can, in probably one of the most joyous, party-centric and dog-friendly burger joints in the entire city.
DOG FRIENDLY DAY TRIPS FROM SAN DIEGO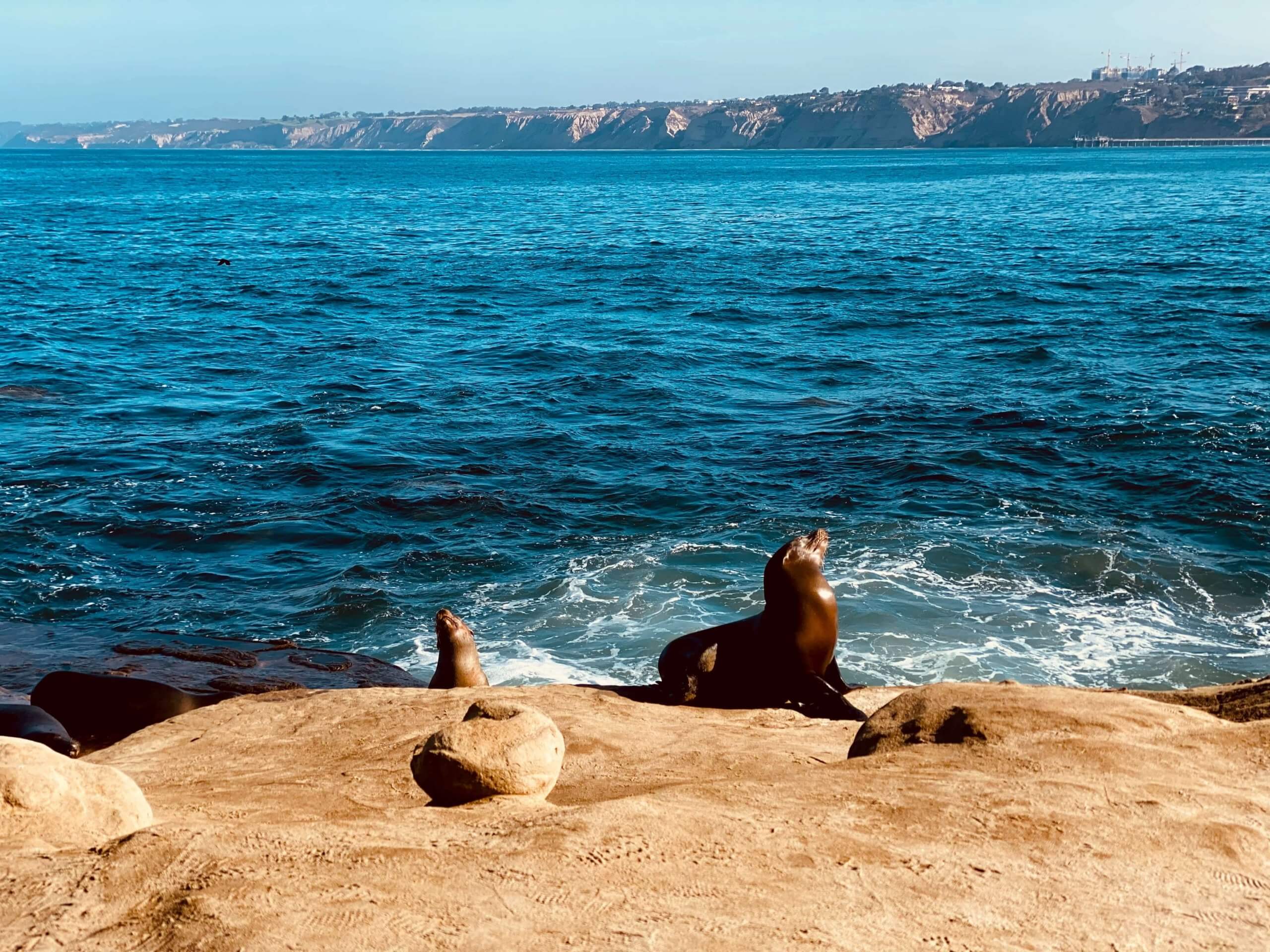 For those with a little extra time to space, there are a number of wonderful places that offer a slower pace than that of the immediate bustling city and are thus excellent options for dog friendly Southern California day trips from San Diego. A number of these little enclaves are both within and outside of the city limits, for San Diego County is about twice the size of Delaware, so there are a lot of climates to choose from, depending on the season.

LA JOLLA: the beach in La Jolla is a pure joy, with people always milling about. The downtown area is infinitely walkable and rather cute. A bit cooler temperature wise than San Diego proper, it also features a great slew of restaurants alongside some stunning architecture.

JULIAN: Julian looks like a set from an old-time western set, complete with apple picking, gold slicing, and incredible pies. The main drag features an incredibly versatile array of different stores with a lovely number of scents to drive you and your dog wild. Only about an hour drive outside of San Diego, it is best visited in the autumn to take part in the great amount of apple cider available. Make sure to bring a pie home.

I hope this dog friendly San Diego guide has given you a glimmer of a plan on where to take your dog in San Diego and beyond. Thanks so much for stopping by and safe travels with your pup!

LIKE THIS POST? PIN IT FOR LATER

«