Last Updated on November 16, 2022 by Paroma
Are you looking for dog friendly day trips in Southern California? Then I have just the right post for you with 10 amazing dog friendly getaways in southern California that you can cover as day trips from either Los Angeles or San Diego. Keep on reading to find the best dog friendly places in Southern California which you can explore as quick day trips within a 2.5 hour driving distance (one way)!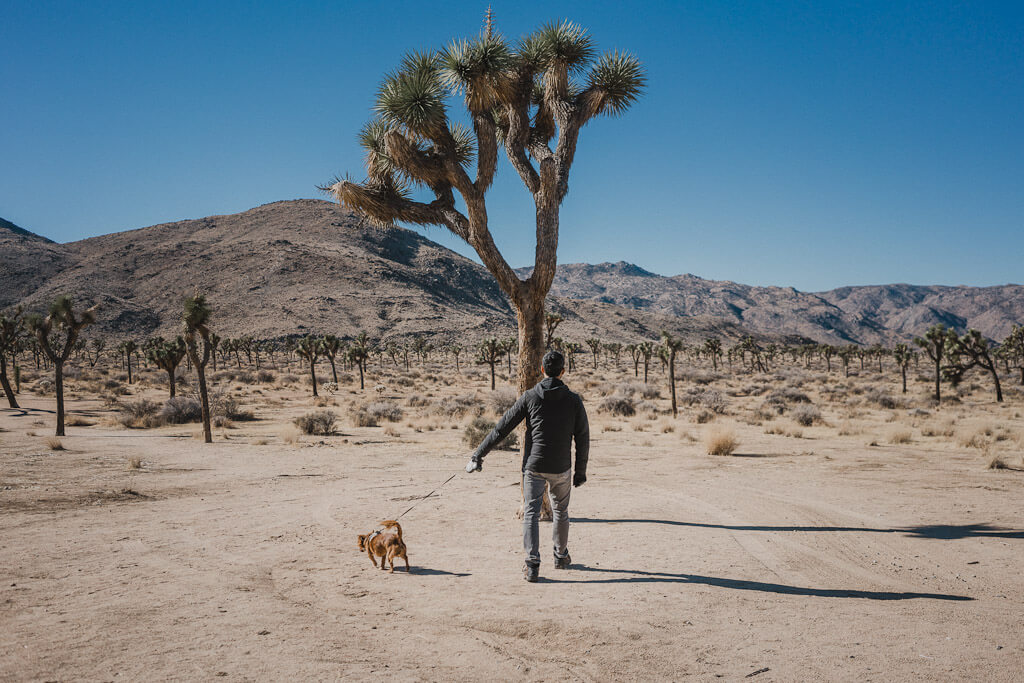 Disclaimer: This post may contain some affiliate links. Clicking on them may earn me a small commission at no extra cost to you for the product. Thank you for supporting free content on this site!
EXPLORING DOG FRIENDLY DAY TRIPS IN SOUTHERN CALIFORNIA
I am a San Francisco resident who has devoted tons of blog posts to dog friendly Northern California getaways covering small towns. However, there are a wealth of dog friendly Southern California getaways awaiting you with sunny weather, beach towns with warm waters (Northern California beaches are notoriously cold and windy), lots of hikes, wine tasting and of course, good food-all of which welcome dogs.
Although our Southern California travels with our pups (Babu: 2010-2021, and now Gunda) have been limited in comparison to our extensive Northern California jaunts, we've managed to explore quite a bit of the state starting from Santa Barbara southwards during our many winter vacations where driving to Los Angeles has been a holiday tradition for us.
In that spirit, here are 10 amazing dog friendly getaways in Southern California which can easily translate to day trips with dogs from either of the big SoCal cities, i.e. Los Angeles or San Diego and are within ~2.5 hours of driving distance, each way (traffic permitting).
These include beach towns, small towns, wine tasting getaway, a desert retreat and even a famous National Park that you should visit with your dog if you're venturing into Southern California. I hope this guide on dog friendly places in Southern California that are easily accessible from Los Angeles or San Diego helps you to see more of the diversity of Southern California beyond the big cities.
HOW TO PLAN DOG FRIENDLY GETAWAYS IN SOUTHERN CALIFORNIA
a) Southern California has the proverbial warm, sunny California weather almost throughout the year with warm ocean water to swim in. However, summer is burning hot, which can be painful for you and dangerous for your pup (especially their tender paws). So if you're planning day trips with dogs in Southern California from June-September, make sure to stick to beach towns and not inland destinations.
November-March is the best time to visit inland destinations such as Palm Springs, Ojai or Joshua Tree, which are popular winter getaways in California. However, winter is the rainy season in California, so please prepare yourself for showers and be flexible with your plans.
b) If you're planning to embark on dog friendly day trips from Los Angeles or San Diego, it is best to drive your own car. You can rent a car from either LA or San Diego or any of the major airports serving Southern California.
DOG FRIENDLY DAY TRIPS IN SOUTHERN CALIFORNIA: DAY TRIPS FROM LOS ANGELES
Los Angeles is incredibly dog friendly, but thanks to its location it is also near some spectacular dog friendly places in Southern California that you should definitely check out if you have extra time. Another thing is that none of the beaches in LA proper allow dogs, so this is even more of an incentive to venture out of Los Angeles on dog friendly day trips. Here are my picks based on our repeat travels with Babu and Gunda during our winter vacations:
LONG BEACH: EASIEST DOG FRIENDLY SOUTHERN CALIFORNIA DAY TRIP FROM LOS ANGELES
Distance from Los Angeles: 24 miles
Long Beach, a mere 30 minute drive from Los Angeles, has the most popular dog beach in the county, i.e. Rosie's dog beach. In addition, the shops, stores and restaurants in Belmont Shores are very dog friendly.
Long Beach boasts of 11 dog parks, of which locals love Recreation Park, El Dorado Park, Uptown Dog Park, K-9 Corner Dog Park, and Bixby Dog Park. Besides these, there are plenty of dog friendly restaurants on 4th street, uptown, Belmont Heights and downtown and you can check them all out in this dog friendly Long Beach post!
View this post on Instagram
MALIBU: THE PERFECT DOG FRIENDLY STOP ON HIGHWAY 1 IN SOUTHERN CALIFORNIA
Distance from Los Angeles: 33 miles
Malibu maybe synonymous with Hollywood celebrity retreats and weddings, but it is popular with furry friends as well! Leo Carrillo State Beach is dog friendly and there are plenty of dog friendly hikes in the Santa Monica Mountains to keep your pup busy. Besides, there is also the little known Malibu wine country where you can go wine tasting with your dog.
I recommend stopping by Escondido Canyon Park to get on the dog friendly Escondido Falls trail, exploring Solstice Canyon Trail, getting on the Zuma Canyon Loop Trail or conquering the Mishe Mokwa to Mount Allen Trail for dog friendly hikes in Malibu. There are plenty of dog friendly restaurants on Highway 1 in Malibu which you can stop by after a day of hiking-here is Bring Fido's helpful post listing them all.
OJAI: AN ARTSY DOG FRIENDLY SOUTHERN CALIFORNIA GETAWAY
Distance from Los Angeles: 83 miles
Ojai is one of the best dog friendly getaways in Southern California and one that took us completely by surprise when we visited in 2019 during our road trip from San Francisco to Los Angeles. Although this inland town does not have any dog friendly beaches, there are plenty of other fun dog friendly activities to explore in this artsy Southern California town.
Explore the dog friendly Arcade plaza stores, stop by Barts Books, go for Kombucha tasting at Revel Kombucha Bar, and take your dog for a walk in Libby Park. Ojai has many dog friendly restaurants and cafes such as Farmer and The Cook, Beacon Coffee Company, The Nest (large patio area) Lebanese Ojai Rotie. that are good for breakfast, lunch and dinner.
Ojai has many dog friendly wineries such as Topa Mountain Winery and Old Creek Ranch Winery that you should check out if you're a wine lover. We loved our short stay in Ojai in the winter and I hope you will enjoy it as much as we did.
SANTA BARBARA: THE BEST DOG FRIENDLY DAY TRIP FROM LOS ANGELES
Distance from Los Angeles: 95 miles
Santa Barbara is often referred to as the "American Riviera" thanks to its picture perfect beaches, the swaying palm trees and a year round summery vibe that is hard to beat. Santa Barbara is also extremely dog friendly with many beaches, restaurants and other attractions that welcome dogs. If your dog loves the sea and the sand, Santa Barbara is really the dog friendly day trip from Los Angeles that you should be looking at.
We have visited Santa Barbara many times over these past 12 years and be it rain or shine, the city has always been super fun to explore with our dogs. There are several beaches and dog parks that you can hit on even if you have one day in Santa Barbara.
My recommendations would be to start your day with Hendry's Beach (aka Arroyo Burro Beach County Park) next to Douglas Family Preserve or explore the One Thousand Step Beach or the quiet Mesa Lane Beach, walk along Shoreline Park and stroll through Alice Keck Park Memorial Gardens.
Both Santa Barbara Pier and Santa Barbara Mission Rose Garden welcome dogs and the county courthouse gardens are not to be missed. If that is not all, the Santa Barbara Botanical Gardens allows dogs as well, and that too free of cost!
Downtown Santa Barbara, La Arcada Plaza, the Funk zone are great places to explore as well as get a bite to eat with your dog on leash. Plus, there are many dog friendly wine tasting rooms in Santa Barbara where you can have a jolly good time tasting some of the best wines from Santa Ynez valley. Read my dog friendly Santa Barbara guide for all the details on how to plan a perfect dog friendly day trip to Santa Barbara!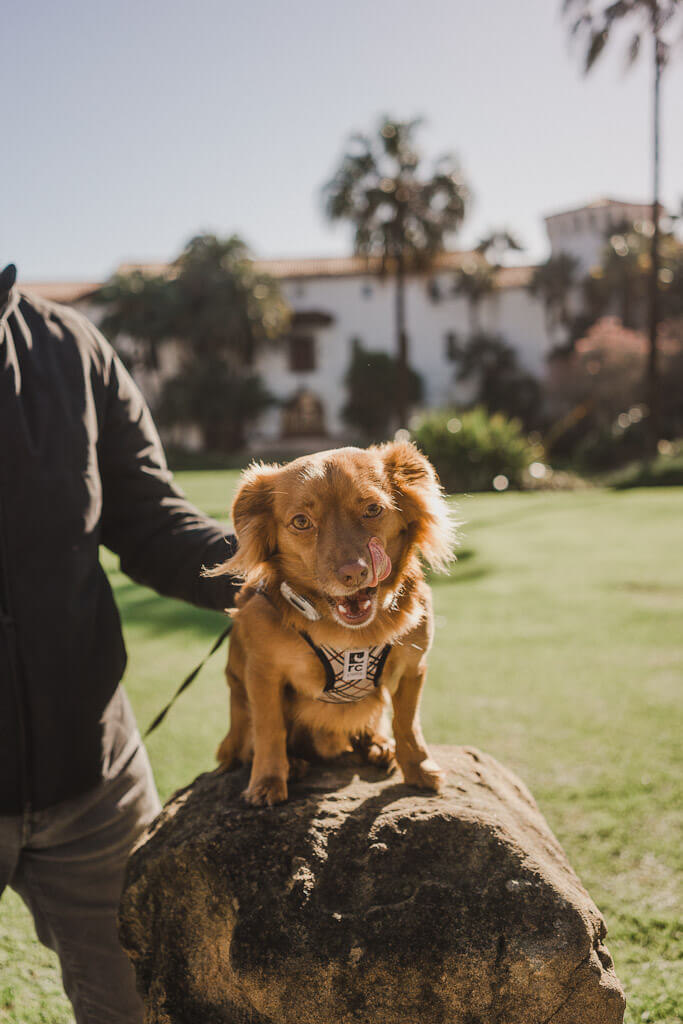 SOLVANG: THE DANISH CAPITAL OF CALIFORNIA
Distance from Los Angeles: 128 miles
Solvang (translates to Sunny Fields in Danish) looks a like straight out of a Danish fairytale. This unique small town with a strong Scandinavian flair often features on one of the prettiest towns in California and is also very dog friendly.
We've been to Solvang twice in the past and loved everything about it. The main attractions, ie. town square is centered around Mission Drive and so you can easily cover quite a bit during your day trip from Los Angeles.
Besides the fun windmill and the Little Mermaid fountain, the other dog friendly place in Solvang is the Hans Christian Andersen museum which showcases the Danish authors many memorable literary works. The bakeries are dog friendly with outdoor seating and a visit to Wandering Dog wine bar is a must if you are a wine lover!
You can visit one of the many dog friendly wineries outside right outside Solvang for wine tasting in the beautiful Santa Ynez valley as well as stop by Ostrichland USA (an Ostrich and Emu farm) with your well behaved small dog to feed these funny birds! Read my dog friendly Solvang guide to find out details on where to take your dog in this beautiful town on a day trip.
SANTA YNEZ VALLEY: THE MOST RELAXING DOG FRIENDLY DAY TRIP IN SOUTHERN CALIFORNIA
Distance from Los Angeles: 129 miles
The verdant Santa Ynez valley is part of Santa Barbara County and is home to the beautiful towns of Santa Ynez, Los Alamos, Ballard, Buellton, Solvang and Los Olivos.
We've stopped by Los Olivos and Buellton many times while driving to Los Angeles from San Francisco and I've visited Los Alamos on a separate girls only trip in the past. All these towns have some of the best wineries and food in Southern California, many of which are dog friendly.
When in Santa Ynez valley, the name of the game is wine tasting in one of the many picturesque wineries and partaking of all the delicious food that one can find. Fortunately, many of the places welcome dogs on their patio or outdoor seating.
I recommend Industrial Eats in Buellton, Buttonwood Farm Winery and Vineyard, Los Olivos Wine Merchant and Cafe, Nella Kitchen and Bar, Babcock Winery and the very popular Bob's Well Bread bakery.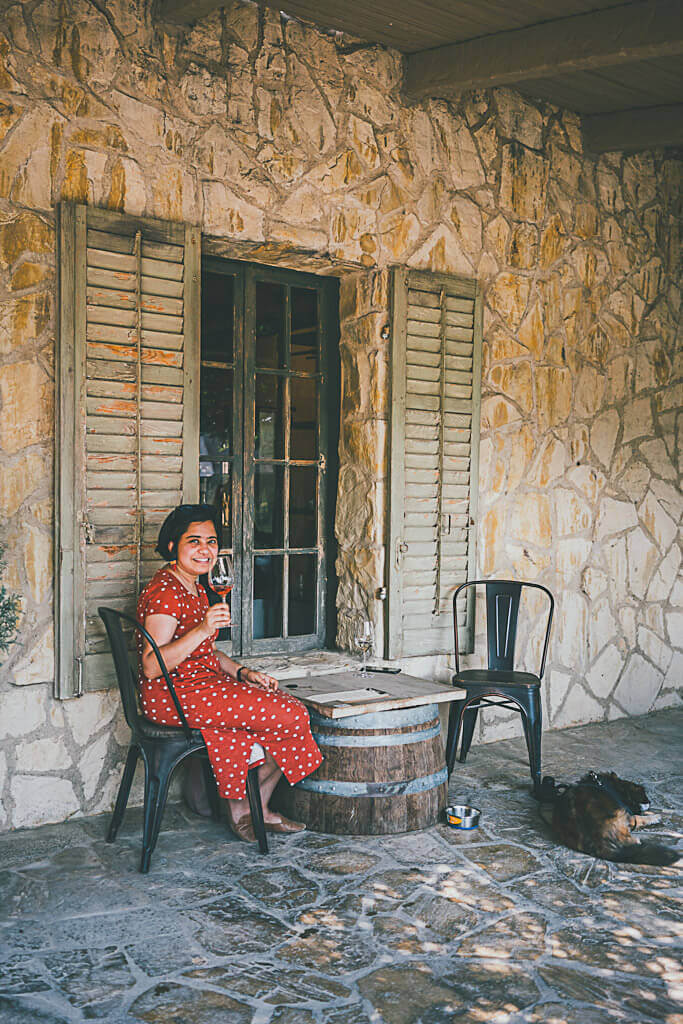 PALM SPRINGS: A DOG FRIENDLY VACATION IN SOUTHERN CALIFORNIA
Distance from Los Angeles: 107 miles
Home to movie stars and some of the best art deco architecture in the world, Palm Springs is the desert retreat that Los Angelinos rush to during winter since visiting the high desert is one of the best things to do in California in December. This is also a very dog friendly town where you can easily spend a day exploring uptown and downtown with your pup, marveling at the art deco and stopping by the many design stores lining the streets.
Of the many dog friendly restaurants in Palm Springs, I recommend the tranquil Colony Club restaurant by the poolside and the uber popular Cheeky's, Bongo Johnny's Patio Bar and Grille and Spencer's.
The other fun activity (which is 100% outdoors and therefore dog friendly) in Palm Springs is to discover those Insta-famous colorful doors in the Indian Canyons neighborhood near hotel Saguaro. If taking photos, be respectful of these places since these are actual houses with people living inside.
JOSHUA TREE: DOG FRIENDLY NATIONAL PARK NEAR LOS ANGELES
Distance from Los Angeles: 131 miles
National Parks in California are really not that dog friendly (Point Reyes and Yosemite are kind of decent) since almost all hiking trails are off limits to dogs. Joshua Tree National Park also does not allow dogs on any trails in the park but its uniqueness combined with the beauty of the high desert makes it a once in a lifetime experience to be had with your pups. Plus, given how hot it gets during summer time, Joshua Tree is perfect as a dog friendly getaway in Southern California during winter.
The only way to explore Joshua tree with dogs is by driving through the park on Park Boulevard, parking and walking no more than 100 ft from the car to take photos. Dogs are only allowed at the Oasis of Mara and Keys Viewpoint area since those are paved trails.
Dogs are also welcome in parking lots of several key attractions (such as Skull rock) and you can easily snap a photo standing there with the gnarled Joshua Trees in the background.
You can honestly see the entire park in a few hours given the restrictions and then enjoy the many attractions in Yucca Valley, the town of Joshua Tree and Pioneer town where dogs are welcomed in open air museums, stores and restaurants. Read my detailed Joshua Tree guide for tips, tricks and everything else that you need to know to visit Joshua tree (plus where to eat and what to see outside the park).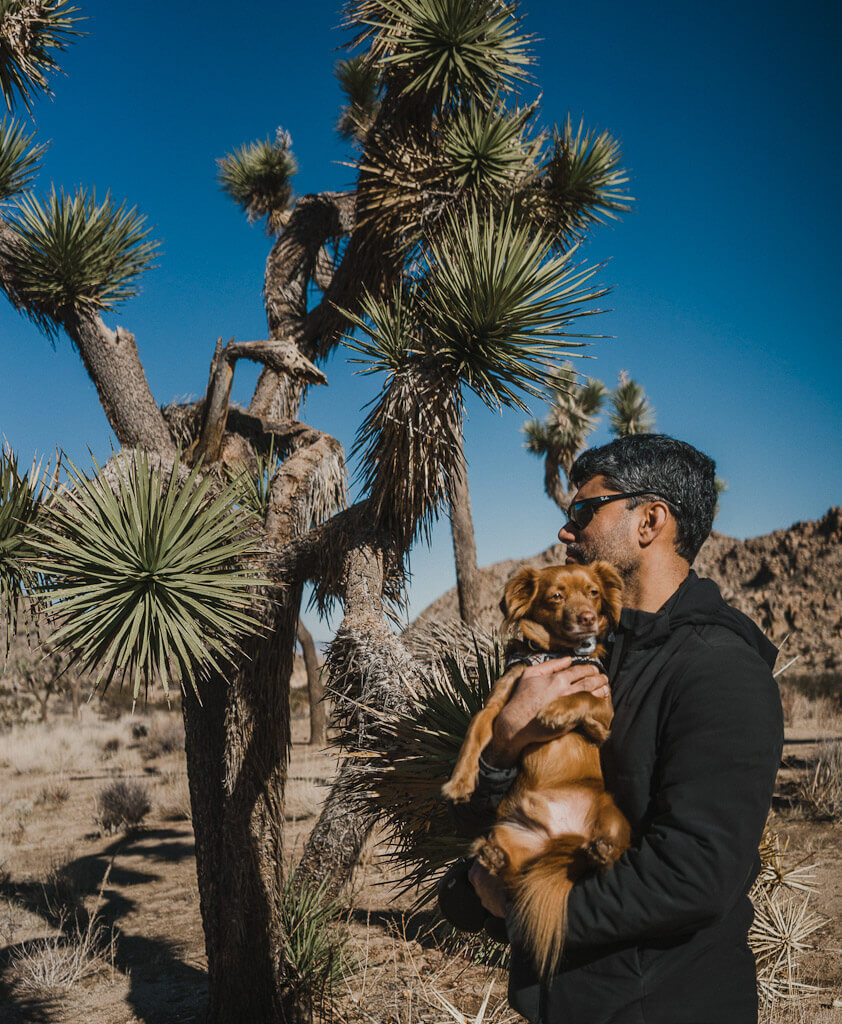 DOG FRIENDLY VACATIONS IN SOUTHERN CALIFORNIA: DAY TRIPS FROM SAN DIEGO
San Diego may be the perfect beach town for dogs, but there is much to explore outside the city perimeters, such as small, quirky Southern California towns. Here are two such dog friendly day trips in Southern California that are pretty close to San Diego:
TEMECULA: DOG FRIENDLY WINE TASTING IN SOUTHERN CALIFORNIA
Distance from San Diego: 60 miles
Southern Californians may miss out on premier wine country (Napa and Sonoma) that we in Northern California enjoy, but there is Temecula to save the day. This is the prime wine tasting destination in southern California with over 40 wineries jostling for your attention, many of which are dog friendly.
In addition to wine tasting, Temecula also welcomes dogs in its many yummy restaurants such as Lazy Dog restaurant and bar and 1909. If you're looking for a relaxing dog friendly day trip in Southern California filled with wine tasting and good food, look no further than Temecula.
JULIAN: DOG FRIENDLY GETAWAY FROM SAN DIEGO
Distance from San Diego: 61 miles
Julian is only an hour away from San Diego, but be prepared to get whisked into what looks like a set from an old-time western set, complete with apple picking, gold slicing, and incredible pies. Main Street features many different stores with a lovely number of scents to drive you and your dog wild.
Stores like Julian Mercantile and Barn Vintage Marketplace are dog friendly while many restaurants such as Apple Alley Bakery and Julian Pie Company have outdoor patios welcoming your furry friend. If that is not all, Julian has several outdoor areas with great dog friendly hiking trails such as Cuyamaca Rancho State Park, Chamber Park, Santa Ysabel Open Space Preserve, William Heise County Park and Volcano Mountain-you can hike to the summit to get a bird's eye view of the town.
Julian is best visited in Fall to take part in the great amount of apple cider available and eat all that delicious pie. Read about all the dog friendly things to do in Julian on the official town website.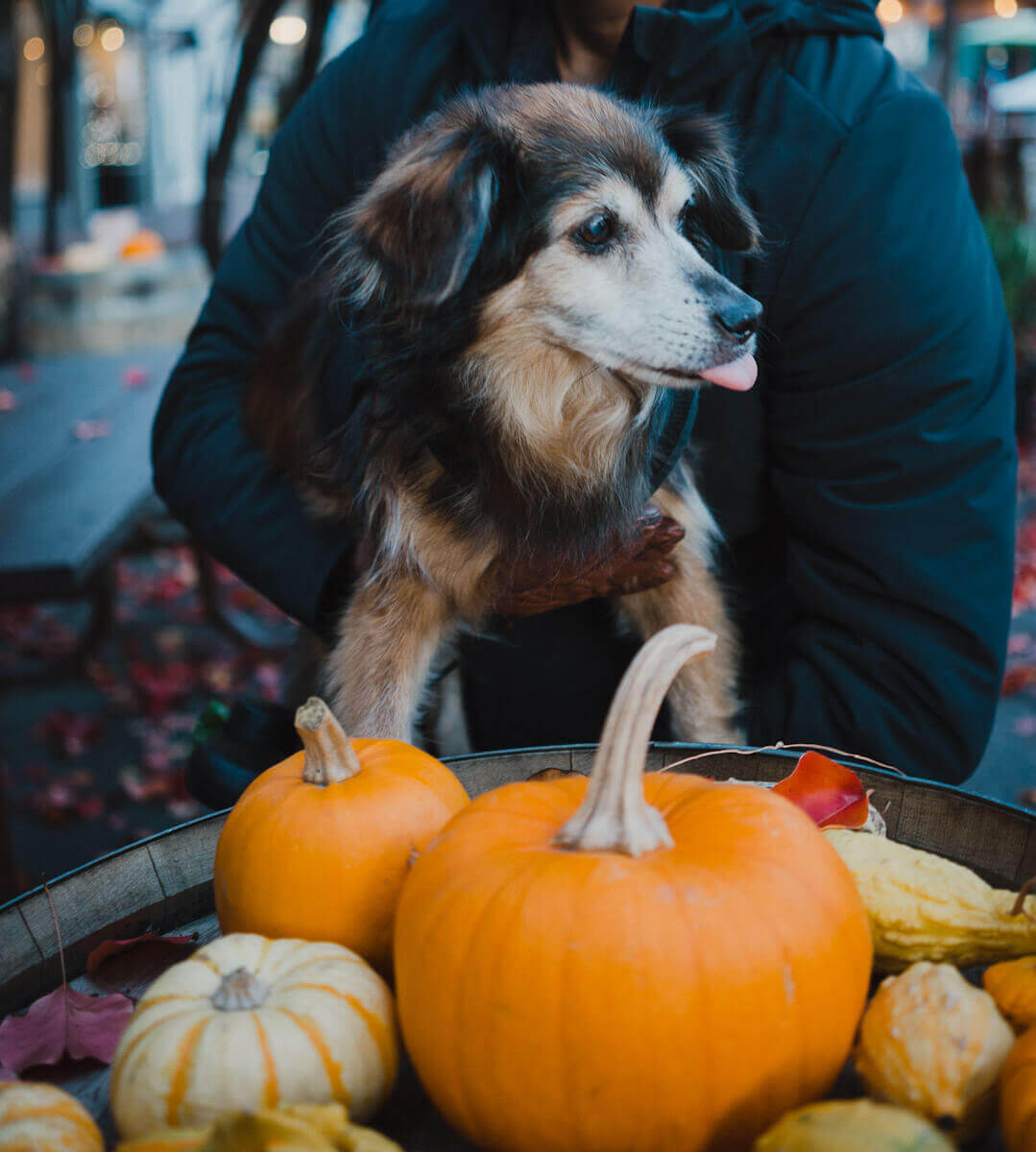 That brings me to the end of this post on 10 amazing dog friendly day trips in Southern California. I hope you enjoyed reading about these dog friendly Southern California getaways and will check these places out when you visit Los Angeles or San Diego. Thanks a lot for stopping and follow our dog friendly adventures in California right here!

LIKE THIS POST? PIN IT FOR LATER

«