Last Updated on July 11, 2022 by Paroma
Dog Friendly Getaways in Northern California
California may be synonymous with the likes of Hollywood (Los Angeles), beaches (San Diego/Santa Barbara) or even Silicon valley and the Golden Gate Bridge (San Francisco Bay Area), but its beauty undoubtedly lies in its various small towns (that are also excellent winter destinations BTW). Most of these towns welcome dogs with pet friendly accommodations, restaurants and activities. These towns are perfect escapes from city life for dog friendly getaways or those looking for road trips with dogs from San Francisco.
Being a dog mom who doubles up as a San Francisco resident, I have explored many cute Northern California towns with our precious munchkins Babu and Gunda via our dog friendly road trips. Whether or not you are owned by a dog, these towns that I am about to reveal in this post are not only perfect as dog friendly vacation spots, but are generally great places to relax with family and friends, are amazing romantic getaways in Northern California and let you explore a hidden side to California that most tourists do not know of.
These towns, perfect for dog friendly weekend breaks, are great alternatives to pricey Napa valley and Sonoma when it comes to wine tasting, have some of the most beautiful hikes, the giant redwoods and of course pristine beaches to help you enjoy that long weekend away from worldly worries!
I have also included specific suggestions for these dog friendly weekend getaways in Northern California such as dog friendly lodging, hikes, dog friendly Redwoods and dog friendly restaurants which are 100% based on my travels and are thus honest and authentic.
Disclaimer: This post may contain some affiliate links. Clicking on them to make a purchase may earn me a small commission at no extra cost to you for the product.
For all dog friendly hotels, please call and confirm with the hotel management about their dog friendly policies before you book in case they have changed. Thank you!
Dog Friendly vacations in Northern California #1 Mendocino
This was one of our best dog friendly getaways and we loved this town so much that we visited thrice! Mendocino, the misty coastal town, is extremely pet friendly and is also a gateway to the giant Redwoods to California, along with its sister cities of Ukiah and Willits.
You can indulge yourself (and your pup) a little by staying at the Stanford Inn (home to the famous restaurant Ravens where dogs can dine inside the dining hall!) or Little River Inn, one of the best dog friendly hotels in Mendocino with a dog friendly dining room that can reserved or Heritage House Resort and Spa (luxury resort to pamper your doggo) or the ever dependable Holiday Inn Express in the Fort Bragg area where we stayed during our visit to Fort Bragg for whale watching (which was also a dog friendly experience).
Being close to Anderson Valley, one of the premium California wine regions that is home to lush California Pinot Noirs, Mendocino is blessed with wineries at Boonville and Yorkville in Anderson county and those in the upper Russian River Valley around Ukiah, Redwood Valley, Hopland and Potter Valley, many of which welcome dogs.
Beautiful beaches at Fort Bragg, riding the skunk train through the Redwoods with your dog and canoeing in the Big River are some of the other things to keep you and your pup happy during your dog friendly vacation. Finally, do not give Point Cabrillo lighthouse a miss since it is that one rare lighthouse that welcomes dogs to its lower level. The coastal route from Mendocino to San Francisco is also another scenic route filled with beautiful pit stops that you must not miss!
Dogs are not allowed to hike in any of the Redwood Groves in Mendocino county, but you can read my fantastic list of dog friendly Redwoods near San Francisco for many other options.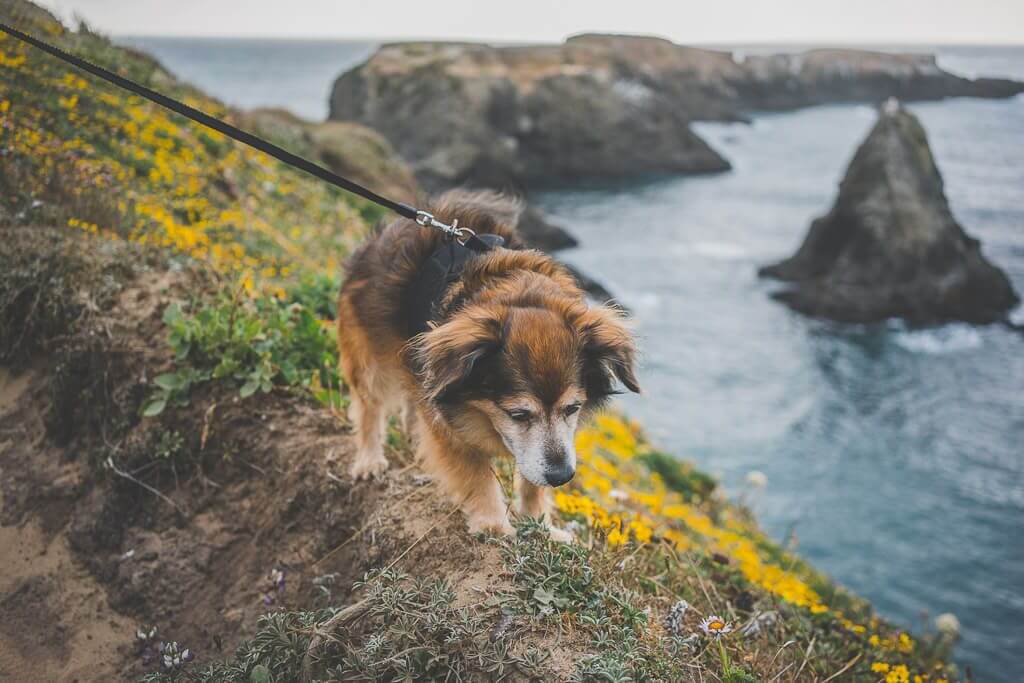 Where to go with your dog in Northern California #2 Calistoga
Everyone heading to Napa valley is unfailingly seduced by the glamour of rolling vineyards in St. Helena, Yountville and Healdsburg and so few end up going further north to the sleepy little town of Calistoga. Once a mere rural town filled with farmland, Calistoga is figuratively and literally a hot spot now, thanks to all the spas and mud bath facilities here owing to considerable geothermal action in this area.
Calistoga is also very dog friendly, thanks to its many pet friendly accommodations such as the Solage resort (has a charming patio for al fresco dining) or the Calistoga Motor Lodge & Spa where we stayed and absolutely loved the experience during our latest Calistoga trip.
This perfect dog friendly getaway boasts of yet another secret which is the "Old Faithful" Geyser (this place also has a goat farm…say whaaat?) on Tubbs lane that welcomes dogs. Lots of dog friendly wineries are also nearby for some good old wine tasting with your best friend! Add this sleepy wine country town to your list of dog friendly weekend breaks and you will not be disappointed!
Dog friendly road trips in Northern California #3 Murphys
Murphys is that one tiny charming town in California's Calaveras county (aka between San Francisco and Stockton) that no one really tells you anything about. That is a good thing for sure, because not only it is a smashing destination for a weekend getaway with dogs but also has some of the cheapest and most varied wine pourings that you'll come across in California.
Fun fact: Calaveras county was made famous by Mark Twain in his short story "The Celebrated Jumping Frog of Calaveras County" and it thus comes as little surprise that you will see bull frog statues strewn everywhere in this tiny town.
We stayed at a the charming Courtwood Inn B&B over the weekend with Babu and explored downtown Murphys, which is simply Main street that has tons of wine tasting rooms and restaurants that welcome dogs.
Some of our notable pet friendly restaurant visits were to Alchemy Market & Cafe, Grounds, Aria bakery (you HAVE TO try their savory croissant and biscuits) and V restaurant and bar. Alchemy also has live music in a covered patio which was great for us since we visited on a particularly rainy weekend.
Downtown wine tasting rooms such as Gossamer Cellars (they have a dog friendly sign outside), Twisted Oak (their winery is super popular for the quirky signs that lead up to the tasting room, so arrive early) and Frog's tooth let you do some good old dog friendly wine tasting on Main street.
We also stopped by Chatom winery (another dog friendly winery in Murphys) for additional wine tasting since we had already made the rounds of the tasting rooms. The wine pours are either mix and match of reds, whites and sometimes dessert wines and are super cheap at $5-10 for tasting, with the fee being waived off if you purchase a bottle.
Besides wine tasting, you can either go for a stroll in Murphys community park (a pleasant gurgling brook runs through it) or hike the 17.5 mile long Arnold Rim trail, which is a popular trail in Calaveras county and has dog friendly trails. Simply put, this low key town is simply perfect for a weekend break with dogs.
Weekend breaks with dogs in Northern California #4 Lodi
Lodi, the world's Zinfandel capital, is the best kept secret of California's wine country. Dog or no dog, you will be charmed by Lodi's world famous wineries which boast of unparalleled scenic beauty and even better, cheap wine pourings at $8 per person. Downtown Lodi also has several dog friendly tasting rooms and many of their restaurants welcome dogs in covered patios, all of which are an easy walk from this charming dog friendly cottage where we stayed.
This is a perfect destination for a dog friendly weekend break and has been one of our best dog friendly getaways so far! I highly recommend a visit to Toasted Toad cellars in downtown, Oak Farm Vineyards and Bokisch Vineyards who are famous for their Iberian wines.
Lake Lodi is a scenic spot for a stroll and don't miss the "Lodi special Grape Pie" at Smack pie Pizza. Lodi is crazy about grapes and wine and you will have a great time there if wine tasting and natural beauty are your jam!
Enjoy Lodi with a luxurious dog friendly stay at Wine & Roses Hotel (they have outdoor pool, spa and an upscale restaurant) or the ever dependable Econo Lodge Inn & Suites or Holiday Inn Express.
Dog friendly towns in Northern California #5 Bonny Doon & Capitola (Santa Cruz)
Santa Cruz is that one mix of hippie yoga meets beach town that is characteristic California, but there is so much more to this place than what meets the eye. A lot of Bay Area folks throng to Santa Cruz for its crowded AF boardwalk (dogs not allowed and too noisy to go anyway) or stay in one of the noisy and pricey hotels overlooking the beach. However, this town has a different side to it as well and one that is incredibly dog friendly and serene.
Santa Cruz is home to the coastal redwoods, one of the tallest trees on earth and you can totally embrace their beauty by staying at the nearby town of Bonny Doon in a beautiful dog friendly B&B in the heart of the redwoods. Hidden beaches with nary a person in sight, close proximity to Santa Cruz downtown, lots of dog friendly restaurants (one of them even has a menu specially for dogs) and a hike through the Redwoods (with dog friendly trails) makes Santa Cruz a great dog friendly getaway spot!
For those looking to stay right next to downtown Santa Cruz, I highly recommend the dog friendly Pacific Blue Inn which also offers free parking and free breakfast with your pup by your side. For beachfront dog friendly hotels, check out Ocean Pacific Lodge, Seaway Inn and Hampton Inn Santa Cruz West.
Besides Bonny Doon, the other picturesque pint sized Northern California beach town to explore near Santa Cruz is Capitola-by-the-sea. Capitola is a mere 4 miles drive from downtown Santa Cruz and is famous for its row of colorful homes overlooking the beach, aptly named "the Venetians".
Although dogs are not allowed either on Capitola state beach or the wharf, you can easily walk down Capitola Avenue to explore the shops and restaurants (Margaritaville has a dog friendly patio with killer margaritas) or better still, sit on a bench at the enclosed paved viewing area to catch the surfers in action. Capitola Hotel and Monarch Cove Inn are the two dog friendly hotels here.
Explore other dog friendly Central Coast posts right here: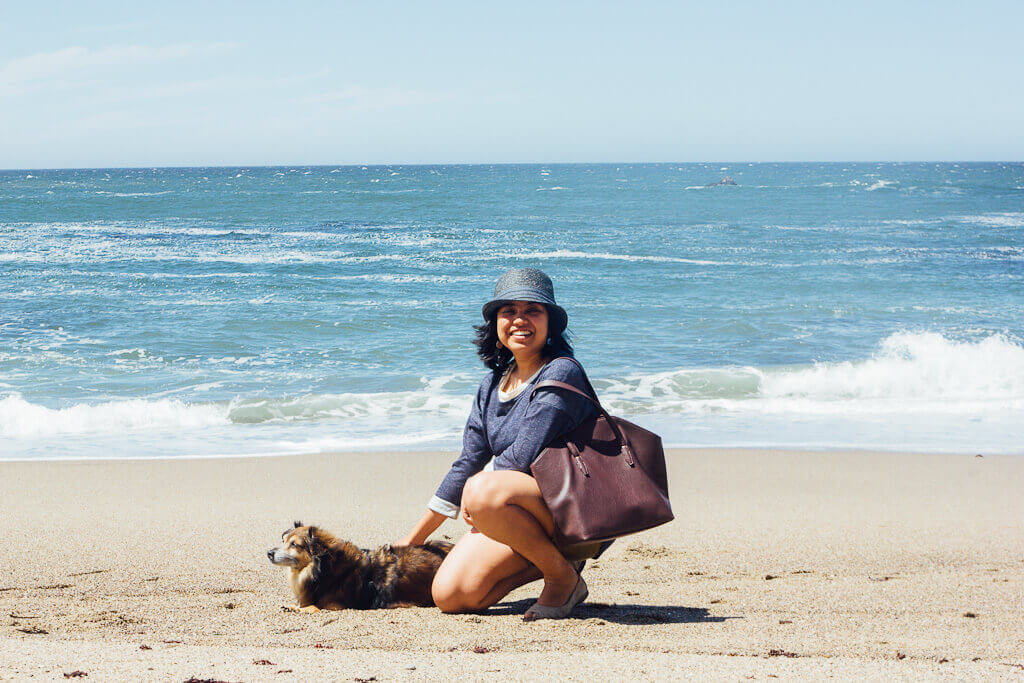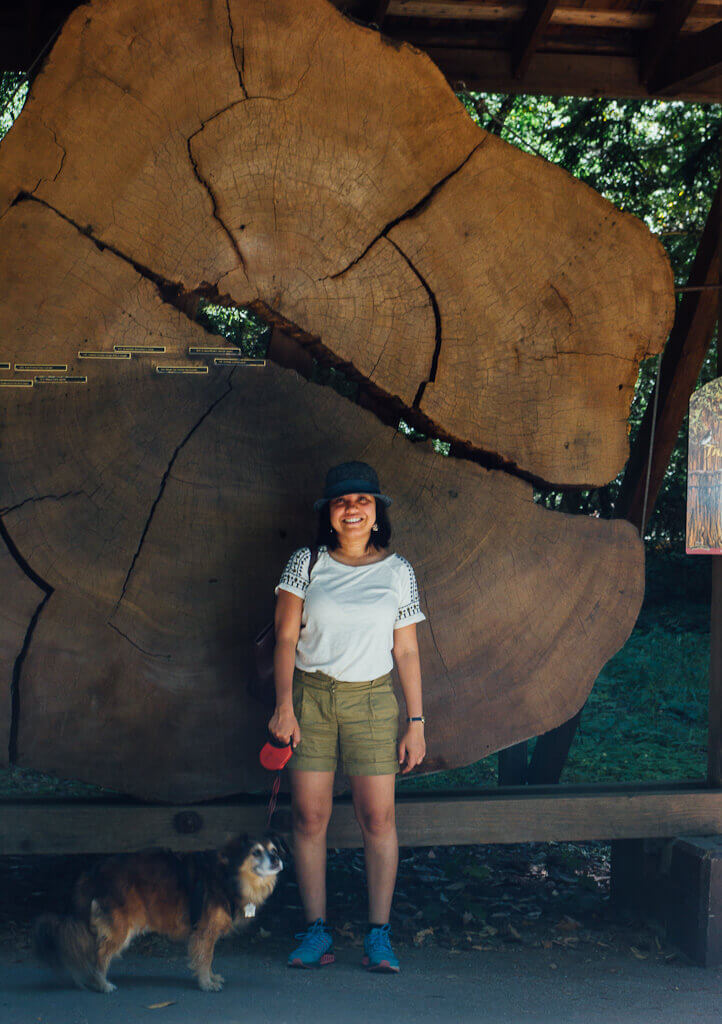 I hope you liked this post on fantastic weekend getaways or simply where to go with your dog in Northern California along with all the pet friendly accommodations, dog friendly attractions, wineries, restaurants and other activities that I have mentioned.
Again, you don't need a dog (it's double the fun with your furry friend though; sorry not sorry cause I am a dog mom) to do all these things and have the time of your life. If you are visiting California or are dying to go for your next adventure somewhere from San Francisco, do explore these small towns that are filled with warm, friendly people and a natural beauty that will enthrall your senses.
Thanks so much for stopping by and don't forget to read all my other California dog friendly destinations right here!
Check out my other popular dog friendly travel posts in California

Like this post? Pin it by hovering over the image

«