Last Updated on June 28, 2022 by Paroma
If you're wondering about the best things to do in Anderson Valley, California then you've come to the right place! Not only is this wine region in Mendocino county famous for its Pinot Noir but also has lots of good food, charming farmsteads and some amazing Redwood groves to get you hiking. Read my Anderson Valley itinerary (perfect for a day trip or weekend getaway) to learn more!
Disclaimer: This post may contain some affiliate links. Clicking on them may earn me a small commission at no extra cost to you for the product. Thank you for supporting free content on this site!
Anderson Valley is nestled along CA-128 in Mendocino county and is that under the radar wine region in California where wine lovers flock to taste some of the best Pinot Noir in the world. Located about 2.5 hours north of San Francisco, Anderson Valley stretches from Yorkville in the south to Navarro in the north, with Philo and Boonville being two of its busiest towns (where most wineries and restaurants are).
This Northern California destination is often treated as a transit point by people traveling from San Francisco to Mendocino along 101-N as they cross over from Sonoma County toward the coast (CA-128 continues upwards as CA-1/Highway 1 along the Pacific Coast). This is really a shame because there is so much more to Anderson Valley than just treating it as a pit stop for food and perhaps a wine tasting or two.
Having visited Anderson Valley several times, I am here to entice you to do the same as either a day trip or a weekend getaway from San Francisco with this guide on 8 fabulous things to do in Anderson Valley. From wine to food to visiting farmsteads and hiking in enchanting Redwood forests, this guide truly has it all! I have also included a handy location map at the end for your convenience.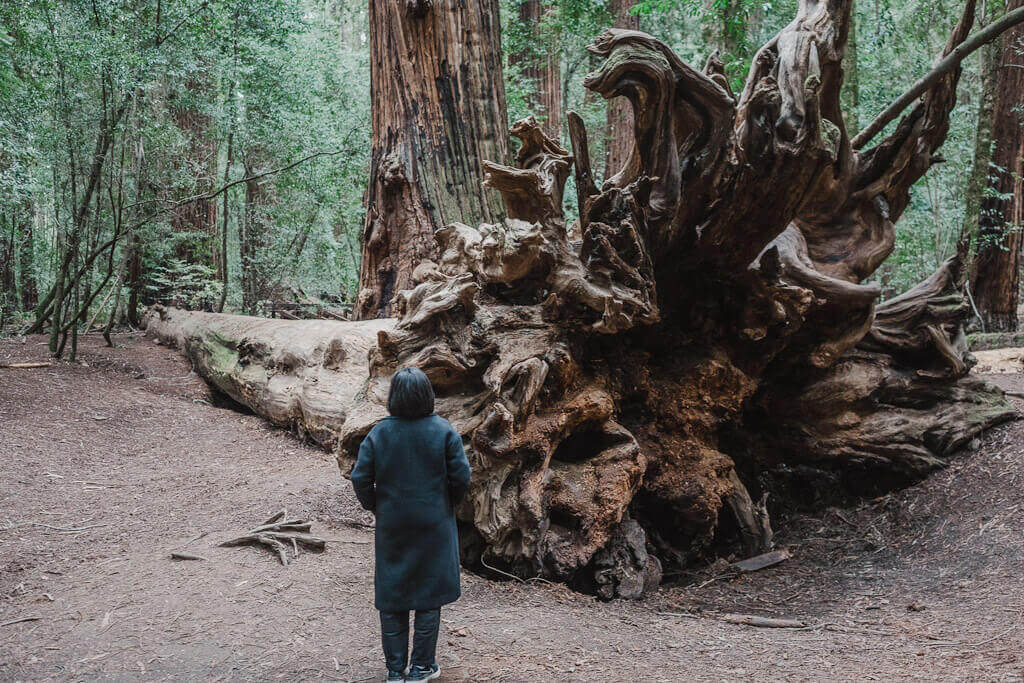 Read my other Mendocino County Posts here:
VISITING ANDERSON VALLEY, CALIFORNIA? HERE ARE THE FAQs
GETTING TO ANDERSON VALLEY
Anderson Valley is about 122 miles north of San Francisco. The easiest way to get here is by driving. If visiting out of town, you can rent a car at SFO (San Francisco International Airport) or OAK (Oakland International Airport) or the Charles M. Schulz–Sonoma County Airport (which is also the closest airport to Anderson Valley and is 66 miles to the south) and get going.
BEST TIME TO VISIT ANDERSON VALLEY, CALIFORNIA
My vote goes to the months of Feb-May when the valley comes alive with popular wine festivals such as the Alsace white wine festival in February and the Pinot Noir festival in May.
HOW MUCH TIME SHOULD YOU SPEND AT ANDERSON VALLEY, MENDOCINO COUNTY?
I recommend staying overnight (i.e. a weekend getaway) for a relaxed experience at Anderson Valley. However, if you start off early from San Francisco or nearby, you could fit in quite a bit on a day trip as well since this is such a small region stretched over 23 miles and everything is pretty much along CA-128.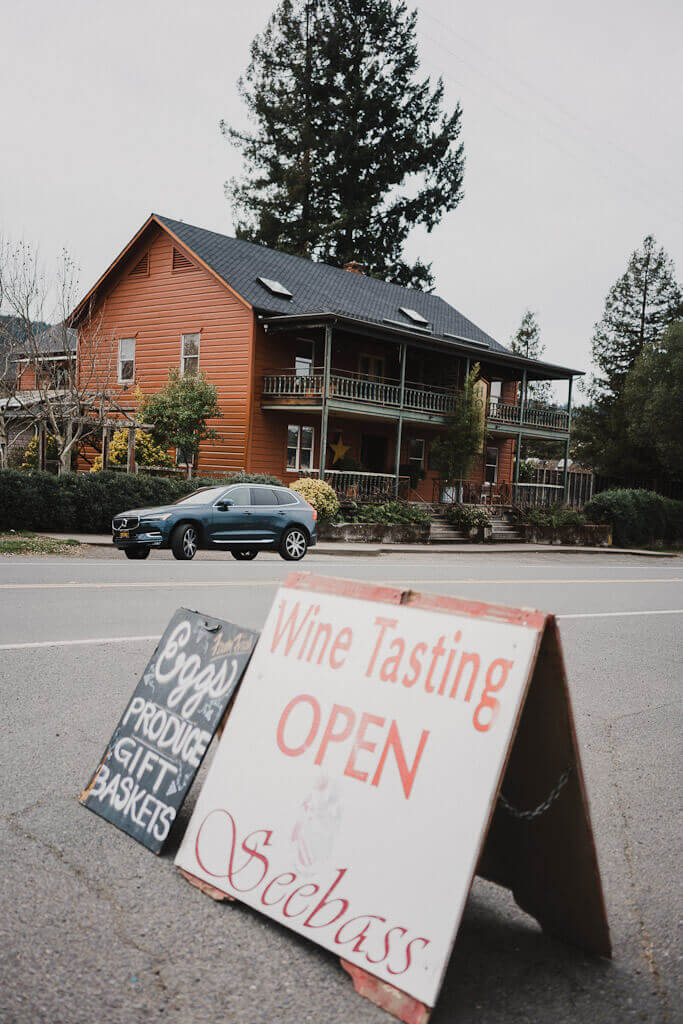 ANDERSON VALLEY HOTELS
I recommend staying at Indian Creek Inn in Philo or The Boonville Hotel and Restaurant at Boonville. Both have very good reviews and are at a stone's throw from wineries and restaurants.
IS ANDERSON VALLEY DOG FRIENDLY?
Yes when it comes to wineries and restaurants, many of which have outdoor seating and allow dogs. Boonville Hotel is also dog friendly. However, the Redwood groves are not so if you plan to do a lot of hiking in Anderson Valley, then better leave those pups home.
MUST DO THINGS IN ANDERSON VALLEY, CALIFORNIA
Anderson Valley may be popular for wine, but this underrated region of Mendocino county has a lot more to offer than just its grapes.
Here you'll find tranquil Redwood state parks (yes, more than one) and a thriving community of farmers and cheesemakers supplying some of the best fruits, cider, produce and dairy products to all those Michelin Star restaurants in the Bay Area.
This valley is the beating heart of the food and wine culture that is so central to the ethos of Northern California and I am here to nudge you to take a closer look at it. So, let's get started!
1. WINE TASTING AT SOME OF THE BEST ANDERSON VALLEY WINERIES
Starting off with the obvious, i.e. wine tasting because Anderson Valley is teeming with wineries producing some of the best Pinot Noir and sparkling wines in California and beyond, thanks to the cool weather that this region experiences and which is required for these grapes to grow.
Since most wineries and tasting rooms are along CA-128, multiple tastings should be on your list if you are a wine lover or are simply looking for a relaxed and affordable wine tasting experience, minus the frills and stuffiness of Napa. And, there are over 30 wineries and tasting rooms to choose from!
Based on my experience, I recommend Baxter Winery, Navarro Vineyards, Lula Cellars and Goldeneye winery (the last three allow well behaved dogs on leash either outdoors or indoors or both). All wineries specialize in Pinot Noir, while Navarro is also a farmstead where Baby Doll Sheep are used to keep the vineyard clean in winter!
2. TOURING A FARMSTEAD (PENNYROYAL FARMS)
Broadly speaking, a farmstead is a working farm where you can get their produce (fruits/vegetables/cheese/ wine) for sale. And, the beating heart of California's robust farm to table movement is undoubtedly these farmsteads (find out more about them in this book that I picked up at Fort Bragg). Anderson Valley has several of its own of which Navarro Vineyards and its sister Pennyroyal Farm are two popular farmsteads.
PennyRoyal Farm is the love child of Erica Scharfen (cheesemaker) and Sarah Cahn Bennett (winemaker) and is a sustainable farm, dairy and vineyard spread over 100 acres with over 100 goat and sheep calling it home in the town of Boonville. Pennyroyal is known for its fresh and aged cheese made from goat and sheep milk as well as its signature Pinot Noir and Sauvignon Blanc from its estate grapes.
At Pennyroyal, animal husbandry is serious business. The animals are treated with utmost kindness and dignity with nearly most of the farm open for them to roam around along with their barns where they rest during the colder days. They are retired for grazing when their milking days are over, which is about 10 years for goats. Several of the retired goats and sheep also live out their days here on the farm, and you can even feed them on your way out!
The farm offers tours of its facilities where you get to see the goats and sheep and their babies if you arrive during kidding season (Feb-mid March). We lucked out on this aspect when we visited end of February and saw dozens of adorable baby lambs huddled in their pens with more pregnant mamas nearby.
After the tour, you get to end your visit with an excellent cheeseboard paired with wine (or their grape juice if you don't consume alcohol). Their Laychee goat cheese (almost like a cream cheese) is simply divine and we loved it so much that we bought quite a few for home! They also have their over own restaurant serving finger food and an herb and vegetable garden from which everything is sourced.
Given our wonderful experience at Pennyroyal, I urge you to give this farmstead a visit (get tickets here for farm tour) to see how intimate the operation is, the love and care that goes into making some of the finest cheese in the country and the absolutely delicious wine that they produce. Trust me, this is hands down one of the best things to do in Anderson Valley!
You can also buy their products from the gift store in the beautiful red building that will greet you at the entrance for a day to remember. Dogs are not allowed on this tour and it is definitely not suitable for very young kids.
4. SHOPPING AT FARMHOUSE MERCANTILE
Farmhouse mercantile is minutes away from Pennyroyal Farms and is a delightful store selling all things local in Boonville in the historic Farrer building. This is the place to get stocked up on local ceramics (coming from nearby Ukiah), honey, jams, jellies and the cutest home goods.
5. STOPPING BY JOHN HANES FINE ART GALLERY
This pretty art gallery in Boonville is a great place to see local art and sculpture. The owner John Hanes has brought in his own as well as art from 30 local artists on the west coast in this beautiful gallery built by his son Ward. The gallery is open from 11AM-5PM (Friday-Monday). If you're an art lover, check out the announcements for open studio tours by the Anderson Valley Art Guild that occur in May and Oct/Nov every year.
6. SLURPING ON ICE CREAM AT PAYSANNE
This charming as heck coffee store in the Farrer building is run by the crew at Boonville hotel and has a cheery yellow exterior inviting you into a world of great coffee, baked goods and some of the best organic homemade ice cream that you'll ever taste! We tasted some of the creamiest black sesame ice-cream that was to be had and it was better than any that I've ever tasted in San Francisco. So just take my word and go get a scoop!
7. GETTING A PICNIC BASKET FROM DISCO RANCH
Thinking of picking up some local wine, nibbling on some yummy tapas with a glass of wine in an outdoor courtyard or simply packing in a picnic basket for enjoying later? If you answer yes to any of these burning needs, then head straight to the delightful specialty market Disco Ranch where you'll be greeted with lots of goodies and shelves filled with local wine. Recommended for light bites and picking up some great cheese and cured meats for your charcuterie board.
8. CIDER TASTING AT GOWAN'S HEIRLOOM CIDERS
Not into wine? No problemo, how about some cider tasting? Anderson Valley is home to some of the best apple farms in the state which makes cider tasting a must do when in this part of Mendocino county. And when it comes to cider tasting, all roads lead to Gowan's Heirloom Ciders farm who have been handpicking the very best of apples for the last 140 years!
Gowan's Cider farm is located between Philo and Navarro and is the perfect stop after hiking in Hendy Woods State Park or when driving westbound to the coast (like we did during our trip to Fort Bragg). You can reserve a spot for tasting their award winning crisp ciders made from a variety of apples which you'll enjoy in their outdoor apple orchard that also has a covered patio and welcomes pets!
The ciders are not alcohol free, but obviously the ABV content is much lower than that of wine for most, except the Rosé Cider (which is one of my favorites). They also have a non-alcoholic hot cider that is perfect for cold, winter days.
9. SAVORING THE GOOD FOOD AT CAFES, RESTAURANTS AND BAKERIES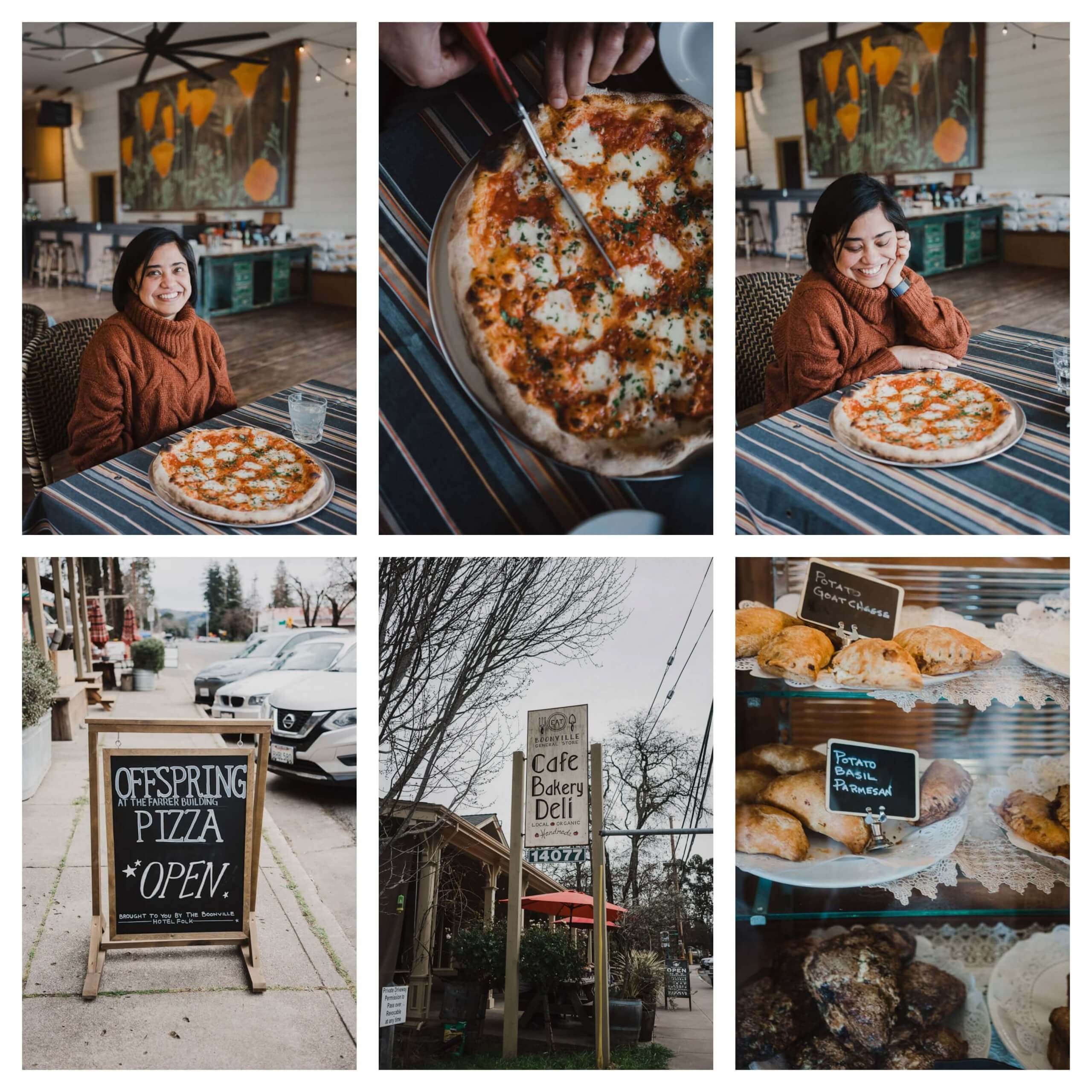 There are a surprising number of yummy eateries in these small Anderson Valley towns to satisfy your breakfast, lunch and dinner needs. My number one recommendation is to get either breakfast or lunch at Mosswood Market, which is an amazing art filled bakery in Boonville selling some heavenly empanadas. They are open from 6AM-12 noon, so breakfast is the best option.
Both Boonville and Philo have several lunch and dinner options such as Lauren's at the Buckhorn (they are serving food but no alcohol at this point), Boonville General Store, The Bewildered Pig and Offspring at the Farrer Building. If you're stopping by for lunch, then head straight to Offspring for their wood fired pizza and yummy salads. The giant California Poppies mural gracing the airy restaurant behind the counter is just perfect for a photo-op.
10. CHECKING OUT THE ANDERSON VALLEY HISTORICAL MUSEUM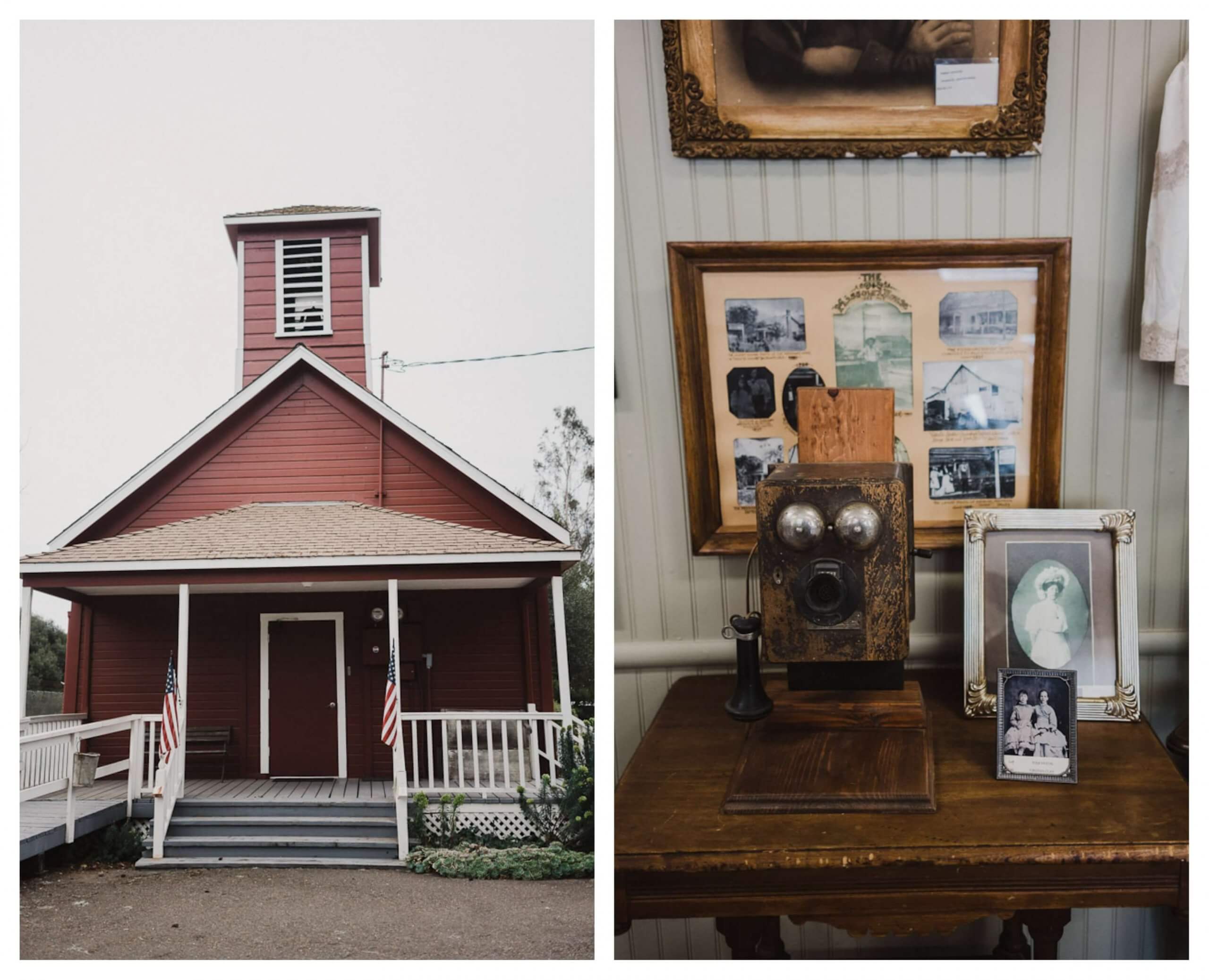 This tiny museum near Boonville is located in a quiet little red house and is free to the public ($5 donations are encouraged). Maintained by the Anderson Historical Society, this museum is open from 1-4 PM on weekends and is packed with historical exhibits and artifacts on the lives of early settlers in the valley and records of local businesses that have been thriving here since those days.
Besides a glimpse into the bygone days of the valley what I really liked about the museum was the clear acknowledgement of the Pomo Native Americans, who were the original stewards of this land. The entrance to the museum (which is actually one large room filled with exhibits) clearly shows the map of California with the original inhabitants, i.e. Native Americans in the different regions as well as their handicrafts (woven baskets) that were on display.
11. HIKING IN THE REDWOODS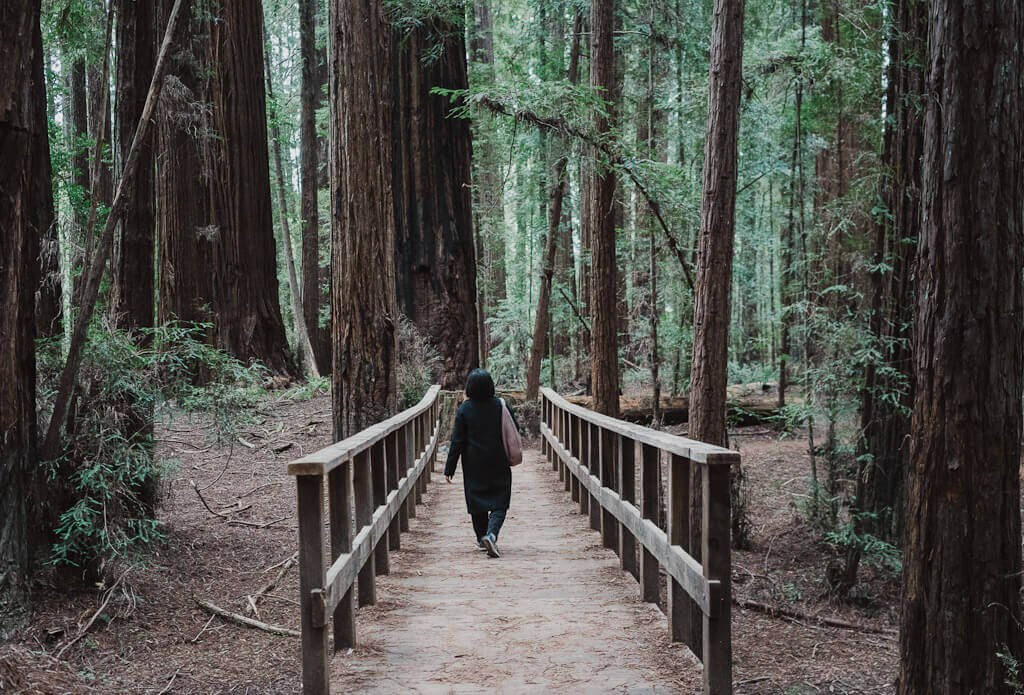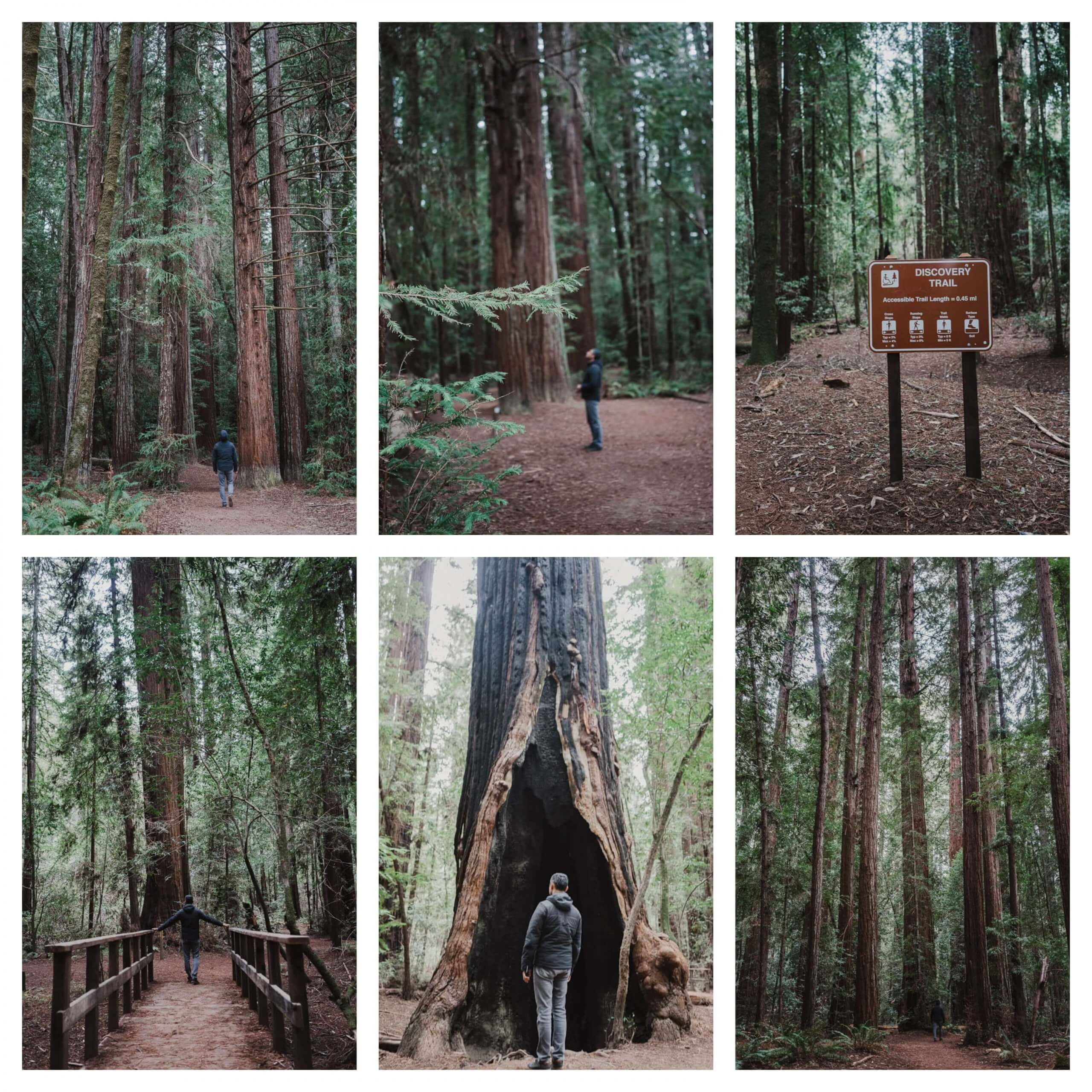 Being very much in Mendocino county, Anderson Valley too has its share of the coastal Redwoods in two separate state parks which are locals favorites and are not plagued by crowds as you'd find up north in the Redwood National and State Parks (read our Redwood road trip here to learn more).
The first state park is Mailliard Redwoods State Natural Reserve in Yorkville that is accessed via Fish Rock road from CA-128 while the other is Hendy Woods State Park in Philo which has plenty of hiking trails.
We hiked the short all access trail loop that merges onto the popular 0.6 mile Discovery trail loop that can be covered in an hour or so. Please keep in mind that none of these parks allow dogs on trails (fyi, have a guide to the best dog friendly Redwoods near San Francisco to let you know that you have options).
And, that brings me to the end of yet another post on a charming corner of my beautiful state of California! I hope you enjoyed reading this guide on the best things to do in Anderson Valley and will be exploring this part of Northern California when you get a chance. Thanks a lot for stopping by and safe travels!

LIKE THIS POST? PIN IT FOR LATER

«