Last Updated on June 11, 2022 by Paroma
Curious about a Northern California road trip through the Redwoods and don't know where to start? Let this extremely detailed guide on all the best stops along the Redwood Highway help you plan the most magical road trip in California. This massive Redwoods road trip 7 day itinerary is just what you need to see the world famous California coastal Redwoods and beyond; so buckle up for the ride!

NORTHERN CALIFORNIA ROAD TRIP: DRIVING THE REDWOOD HIGHWAY
A Northern California road trip is something that you must experience at least once in your lifetime. It is magical, life changing, unbelievably breathtaking and unforgettable, in the most cliché way possible. And despite the charm of the famous drive along the Pacific Coast Highway that almost always steals the limelight, there are several other road trips in Northern California that are just as alluring and with totally different sights to entice your senses.
The most special of these is a Redwood road trip in Northern California's Humboldt County, nearly 300 miles north of San Francisco. This particular road trip post is all about discovering the Redwood Highway, a magnificent road meandering through Redwood National Parks, waterfalls, roadside attractions and scenic views in Mendocino, Humboldt and Del Norte counties in California. Here are all the details of this Redwoods road trip in Northern California covering a full 7 day itinerary!
Note: This is going to be one LOOONG post as it covers a 7 day California road trip itinerary, and that too in gory detail (I have done it all!). You may skip to the juicy parts that interest you by using the table of contents above or skim through it (and bookmark for later, please). Either way, enjoy the journey and the photos!
Disclaimer: This post may contain some affiliate links. Clicking on them may earn me a small commission at no extra cost to you for the product. Thank you for supporting free content on this site!
PLANNING A REDWOODS ROAD TRIP IN NORTHERN CALIFORNIA
HOW LONG IS THIS ROAD TRIP?
This particular road trip covers 247 miles along the Redwood Highway (also known as Highway 101) from Mendocino in the south to Crescent City in the north, spanning three counties (Mendocino, Humboldt and Del Norte) with the majority of the trip being focused on Humboldt county, the heart of the old growth Coastal Redwoods, the tallest trees in the world!
For reference, Mendocino lies 168 miles and Crescent City is 376 miles to the north of San Francisco. The fastest way to get to Mendocino from San Francisco is via the inland Highway 101N (2.5-3 hrs). The more scenic route (that takes invariably longer) is the Pacific Coast Highway (aka Route 1/Highway 1/Shoreline Highway) filled with amazing stops and detours detailed in this post.
Either way, once you get to Mendocino take Highway 1 to Leggett, from where the two routes (Highway 1 and Route 101N) merge to become a single highway, aka Redwood Highway, that leads all the way to Crescent City, only 26 miles south of the Oregon border.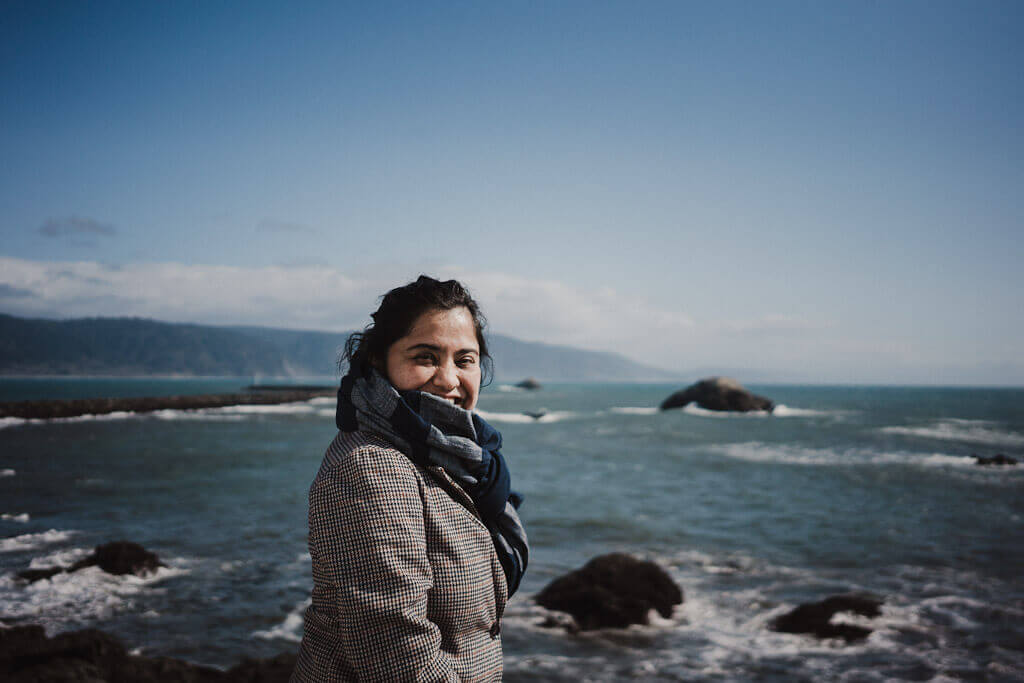 HOW MANY DAYS WILL IT TAKE FOR THIS NORTHERN CALIFORNIA ROAD TRIP?
Although the entire Redwood road trip can be covered in 6 hours or so, that is absolutely no fun because the Redwood Highway passes through some of the most beautiful towns, beaches, waterfalls, hikes and Redwood groves that you absolutely need to explore to make the most out of this road trip. You will need at least 6-7 days to cover quite a bit of the outdoors and the many attractions along this route, including all the amazing things to do and see in Humboldt county!
I highly recommend overnight stays in at least two different places (I planned for three) with a week in hand to explore the many beautiful sights and scenes as you drive up the Redwood Highway. Much like the Road to Hana in Maui, Santa Fe to Taos , San Francisco to Mendocino, San Francisco to Carmel , San Francisco to Lake Tahoe or the Big Sur road trip along the coast, the journey is what matters and not the final destination.
In this post, I am going to provide a detailed, step-by step 7 day road trip itinerary of the best things to while exploring the Redwoods in Humboldt county. This includes places to stay, towns to see, secret beaches to explore, waterfalls to chase, kitschy roadside attractions, serene Redwood groves and outdoor adventures that will help you enjoy your Redwoods road trip to the max!

ROUTE CHOICES AND DETOURS ON THE REDWOOD HIGHWAY
Most road trip posts involving Northern California use San Francisco as the anchor city/starting (or, ending point). Although that is a very convenient (and familiar) starting point, I have chosen to use Mendocino (nearly 170 miles north of San Francisco) as the southernmost point for this road trip to keep the focus on Redwood Highway alone, because there are tons of things to do and see along this stretch on its own.
If you're starting out from San Francisco (or even further south) and this is your very first road trip from SF northbound ever, I highly recommend taking the scenic route (Highway 1) all the way to Mendocino. Given the many attractions along this route (Point Reyes and the crazy beautiful Sonoma Coast, a perfect romantic getaway in Bay Area), you will need to tack on at least 2-3 additional days to your itinerary. You can read all about a weekend getaway to Point Reyes here and the best stop from San Francisco to Mendocino right here.
This Redwood Highway road trip comes with a major detour towards an under-the-radar beach town in Humboldt County with some of the most wild, stunning black sand beaches known to humans. Although this means veering way off the Redwood Highway, I highly recommend going off the beaten path to experience the beauty and solitude of this pint sized town with an overnight stay. Chances are you won't be driving this far up north so frequently, so why not live a little?

TRANSPORTATION LOGISTICS
If you're flying into California to see the Redwoods, the best airports to do so will be San Francisco International Airport (SFO) and Oakland International Airport (OAK). You can rent a car from either and start driving towards Mendocino and then upwards into Humboldt County.
The Charles M. Schulz Airport (STS) in Sonoma County (right below Mendocino county) is a smaller one with fewer flight options, but this is the nearest big-ish airport to Humboldt county. Another option is to fly directly into Arcata-Eureka Airport via select flights from San Francisco, Los Angeles and even Phoenix! You can check out the flights directly into Humboldt county via Fly Humboldt. You will still need to rent a car to drive around once you arrive at Arcata-Eureka Airport.

BEST TIME OF THE YEAR TO DRIVE THROUGH THE REDWOODS
I highly recommend embarking on a road trip through the Redwoods in Spring (March-May). Not only is everything lush and verdant, thanks to winter rains, you will also get to see waterfalls in their full force and spot migratory whales along the coast (January-April).
Although the Redwood Groves never get hot (these giant trees need colder, foggier weather to survive), it might not be too pleasant driving up the Redwood Highway in summer since it is not a coastal route. Plus, you will find larger crowds everywhere. Fall can be uncharacteristically hot and dry while Winter brings a lot of rain.

OTHER (IMPORTANT) THINGS TO NOTE FOR THIS NORTHERN CALIFORNIA REDWOODS ROAD TRIP
a. Dress in layers if visiting in Spring because it does get cold, chilly and foggy. Bring at least one jacket even in Summer or Fall cause the Redwood groves are much cooler than the rest of inland
b. Wear sturdy hiking boots/shoes if you're a hiking enthusiast and definitely carry waterproof boots if you're planning to hike in Spring to see waterfalls
c. I personally did not have too many issues with signal and maps along the Redwood Highway (although it does get spotty in several places), but it's always better to download an offline map or use Maps.me to store an offline version of your Google Map.

REDWOODS ROAD TRIP IN NORTHERN CALIFORNIA: A DETAILED 7 DAY ITINERARY
Now that all the pesky logistics are out of the way, here are all the juicy details on pretty much everything you need to plan that airtight road trip through the Redwoods in Humboldt County. Remember to bookmark this post for all the do's, don'ts and everything else in between.
This is a 100% tried and tested guide, so rest assured that all of this information is 100% authentic and true, with photos of my pudgy face scattered all over as proof:-)
DAY 1: EXPLORE MENDOCINO AND FORT BRAGG
Your journey through the Redwoods beings in Mendocino, a Northern California coastal town in Mendocino county that is known for its beaches, hiking trails, coastal views, whale watching spots and great food. I recommend spending at least one full day in Mendocino/Fort Bragg. Here is how to enjoy a day at Mendocino (or you can read my entire Mendocino/Fort Bragg post here for more ideas),
Start your day with breakfast at either Garden Bakery or Goodlife Cafe and Bakery

Soak in the spectacular ocean views with a hike at Point Mendocino trail (this is also a great spot for whale watching in winter and spring)

Stop by Mendocino Botanical garden if you have time-get on the scenic south trail with fantastic views of the ocean

Get lunch at Trillium Cafe or Little River Inn. Post lunch, get some delicious Kulfi ice-cream at Frankie's

Get on the Skunk train from Fort Bragg to Willits and back for a fun ride through the Redwoods

Spend some time on Glass beach or Noyo Beach

Go wine tasting at Pacific Star Winery that is perched right on the coast. Makes for a fantastic whale watching spot!

Return to Mendocino just in time for sunset at Van Damme State Park and Beach

Enjoy a delicious dinner at Ravens at Stanford Inn by the Sea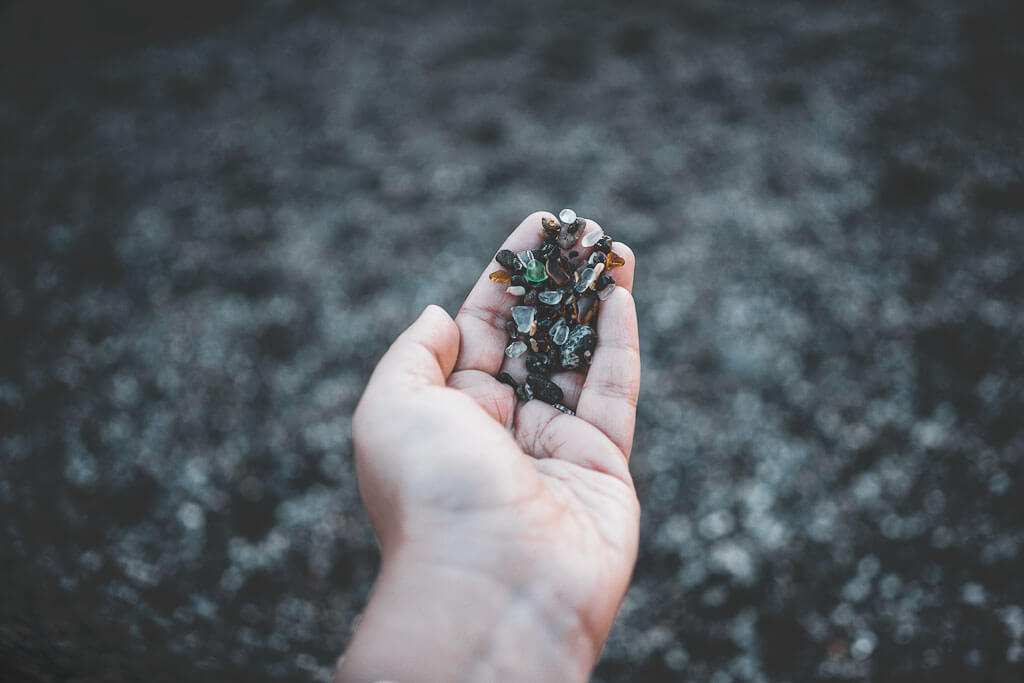 DAY 2: FINISH UP IN MENDOCINO AND HEAD TO SHELTER COVE
Distance: 100 miles (2.5 hrs drive)
Your dreamy Redwood Highway road trip starts on day 2, but not without a detour which will take you right to a tiny beach town on the north coast known as Shelter Cove. Shelter Cove (in south Humboldt County) is perched at the southern end of what is known as the "Lost Coast", i.e. 24 miles of undeveloped shoreline that is only accessible via some serious hiking. The famous Lost Coast trail attracts hikers/backpackers every year who start off at the stunning Black Sand Beach at Shelter Cove to hike north towards Mattole campground in Petrolia.
This Northern California road trip detour is all about an overnight stay at Shelter Cove to experience some fantastic black sand beaches, spectacular views of the rugged coastline with a craft beer in hand and basking in the natural beauty of California's remote beach town. Plus, you have a slice of Lost Coast history in the form of a lighthouse guarding the shores. Bottomline is this-include Shelter Cove in your road California trip through the Redwoods; you will thank me later!
There are two things to keep in mind before leaving for Shelter Cove:
First, fuel up/get a bellyful of lunch or heavy breakfast at either Mendocino or Fort Bragg. The next decent stop for food will be a long way away in Garberville where you'll turn west on Briceland Road/Shelter Cove Road towards Shelter Cove.
Second, there is no direct route to getting to Shelter Cove. From Mendocino, you will be driving up Highway 1 to Leggett, where it meets Highway 101 and continues as the Redwood Highway. Right near Garberville is where you'll take exit 639B towards Shelter Cove and reach this beach town after driving 24 miles along a somewhat twisty road. Here is the day's itinerary:
MORNING-NOON IN MENDOCINO/FORT BRAGG
Grab some breakfast/coffee/baked goods at Garden Bakery or Goodlife Cafe Bakery

Spend a few quiet minutes at Portuguese beach at the end of main street or Mendocino Headlands State Park

Visit Point Cabrillo Lighthouse

Check out of hotel and head to Fort Bragg

Break for lunch at Sea Pal Cove (their fish and chips are fantastic)
RECOMMENDED STOPS BETWEEN MENDOCINO AND SHELTER COVE
a. Mackerricher State Park: fantastic spot for grey whale migration in Spring. Plus, unbeatable views of the coastline from the bluffs on hiking trails
b. Seaside creek beach (Inglenook)
c. Drive through tree/Chandelier Tree in Leggett: entry fee is $10 to drive through this 1800+ yr old Redwood hollowed out at the bottom. You will encounter a few more drive-thru tree attractions in Redwood country, but this one is hands down the best! Lots of whimsical wooden statues will greet you all around (of bears and forest creatures) as you drive up to the tree. There is also a gift shop and a rest area to explore the surroundings.
d. World Famous Tree House: This is an actual house inside a giant Redwood with the entrance accessible from the adjacent gift shop. More information can be found here.
e. Confusion Hill: Kitschy roadside attraction with a shoe house, a 40 ft Totem pole carved out of a standing Redwood and a "gravity house" built to induce optical illusion to visitors, much like the Mystery Spot in Santa Cruz. Open Wed-Sunday, 10-5 PM
f. One Log House: This was one roadside attraction that was open during our road trip. It was a traveling house carved inside a Redwood log and has a bed, kitchenette and even a small dining space! Entrance fee is $2 at the giftshop to access the door code. Right across the street is the "World Famous Grandfather Tree" (an 1800 years old Redwood) and a gift shop.
ARRIVING IN SHELTER COVE
Although Shelter Cove is a tiny beach town perched on the southern end of the lost coast, there is quite a few things to do and see here. However, spending one night is enough to enjoy its vista points and black sand beaches. You can read my detailed Shelter Cove guide or find the highlights below:
Stay: Oceanfront Inn overlooking the coast (and a black sand beach). Has ocean facing spacious rooms at a reasonable price and is pet friendly in select rooms

Explore: Abalone point (picnic area), Cape Mendocino Lighthouse at Point Delgada (steps on the side of the lighthouse lead to Shelter Cove Black Sand Beach and Cove Beach), Little Black Sand Beach, Black Sand Beach (the overlook and Lost Coast trail are nearby)

Eat: Gyppo Ale Mill (remotest brewery in California), Delgada pizza and bakery, Mi Mochima (Venezuelan cafe)
DAY 3: DRIVE THROUGH THE AVENUE OF GIANTS TOWARDS EUREKA/TRINIDAD
Distance: 120 miles (2.5 hrs drive with detour at Ferndale)
Get an early start to your day with a quick breakfast at Cafe Dolce (on Shelter Cove Road) and bid goodbye to Shelter Cove to get back on to the Redwood Highway, because there will be ton of things to do on this leg of your Northern California road trip.
Back near Garberville, you will drive northwards towards your next destinations, i.e. Eureka-the second largest city in California between San Francisco and Oregon border. This is where your journey through the heart of Redwoods begins and here is the best way to go about it:
DRIVING THROUGH AVENUE OF THE GIANTS
Once you are back on the Redwood Highway (101N) near Garberville, you have two choices driving north. You can either continue along this same highway or take the more scenic route, aka Avenue of the Giants, a 32 mile stretch of road that parallels the Redwood Highway and passes through Humboldt Redwoods State park with the Eel River meandering alongside of it on the west. Also known as California State Route 254, the southern entrance begins near Phillipsville (just follow signs to Avenue of Giants Entrance) as you drive up north.
I HIGHLY RECOMMEND driving up Avenue of the Giants because not only is it insanely scenic with the road snaking through the towering Redwoods, but also because there are many vantage points from here that make for great photos. In addition, it is flanked by several Redwood Groves (part of the Humboldt Redwoods State Park) for short hikes and also some cool roadside attractions. It is an otherworldly experience to be driving through the world's tallest and oldest trees!
Fun facts about coastal Redwoods in California (Sequoia sempervirens)*
They are the tallest and oldest trees in the world

They are as tall as 320+ feet (the height of a 30 floor skyscraper), with the tallest being 380 feet (Redwood National and State Parks)

The widest tree is 29.2 ft in girth (also in Redwood National and State Parks)

These are literally sentinels of time: it is not uncommon to find trees older than 2000 years!

110,000 acres of old growth forests remain (Oregon-California central coast)

Coast Redwoods are also the world's fastest growing conifers!
* Source: Save the Redwoods League
Note: Please remember to be a responsible traveler and pack up what you bring in, leaving no trace behind. This will ensure that the mighty Redwoods are preserved for the enjoyment of future generations as well.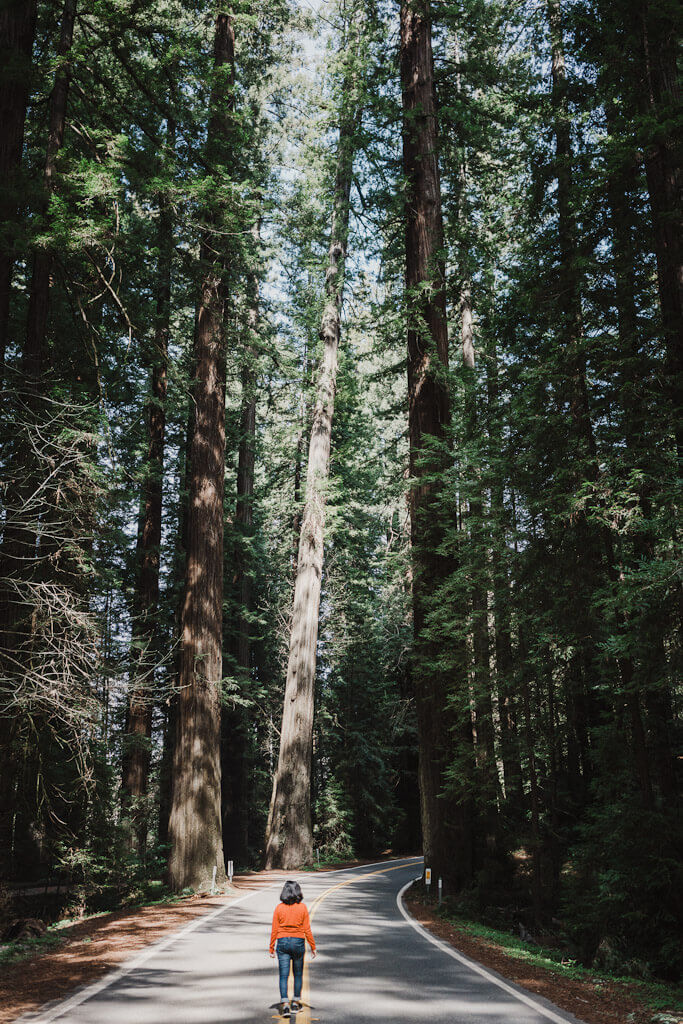 BEST STOPS ALONG THE AVENUE OF THE GIANTS
Here are some of my recommendations to stop along the way for a small hike or to checkout a roadside attraction:
a. Stephens Grove loop trail: This serene Redwoods grove has a 0.6 mile hiking loop which is quick and easy
b. Rockefeller loop: This is a much quieter grove of old growth Redwoods off Avenue of the Giants near Mattole Road. You can check it out if you have time. Further off west is the Big trees Area with some of the tallest trees in the world, but that is quite a detour (plus you can always cover it on your return trip south). I highly suggest sticking close by to the Avenue of the Giants as you drive north because there is plenty to cover along this route.
c. Founders Tree and Dyerville Giant: This is a very short detour onto Dyerville loop road where you start off at the Founders Tree, the fifth tallest tree in this State Park. This tree was named so to honor the founders of "Save the Redwoods League" in 1918 to prohibit incessant logging in this area leading to a rapid dwindling of the Redwoods. You can get onto the 0.6 mile Founder Grove Nature Trail loop trailhead to see the Dyerville giant, a massive fallen Redwood trunk.
d. Eternal Tree House: Quirky free roadside attraction with a gift shop on the other side of the road. It is a "room" carved inside a 2500 year old Redwood Stump.
EXPLORING FERNDALE
Avenue of the Giants ends somewhere between Pepperwood and Stafford, after which you get onto the singular highway 101, aka Redwood Highway. After an entire day of admiring the gigantic trees, it is now time for a late lunch plus some rest for those achy feet and for this you gotta make a detour to Ferndale, a charming town with many well preserved and colorful Victorian homes and stores.
Once in Ferndale, I highly recommend the following:
Stop by Tuyas for late lunch which has some really good Mexican food to offer (as well as an eye catching Frida Kahlo mural painted by a Scandinavian artist).
Remember to stop by Sweetness and Light selling handmade chocolates on Main Street. Their specialty are Moo Bars-chocolate bars with an ooey gooey center filled with almonds, marshmallows and caramel.
Check out the Ferndale Art Gallery showcasing local artists.
Admire the Victorian architecture on Main street: Victorian Inn and the GingerBread Mansion Inn (B&B) are especially eye catching in their ornatery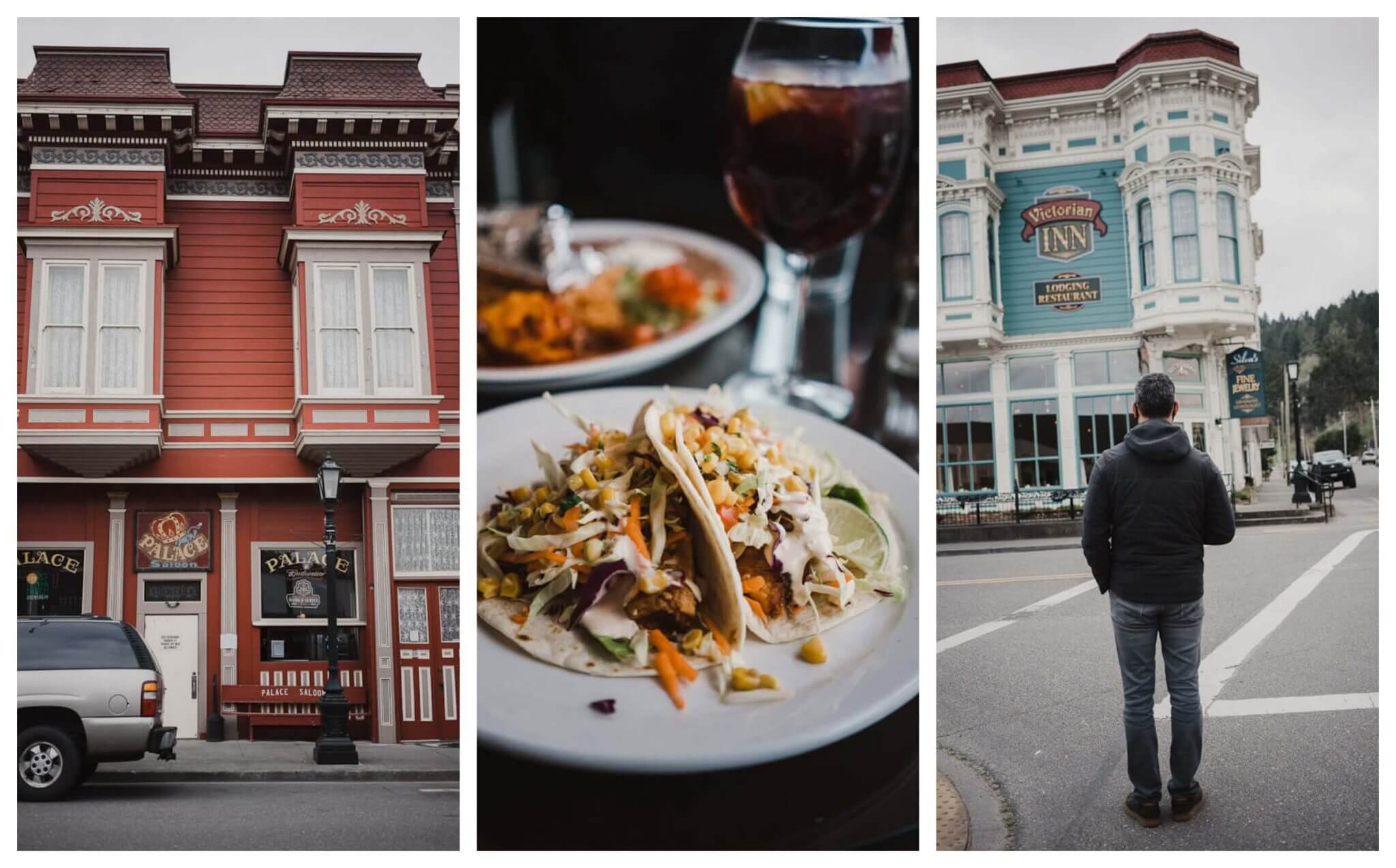 STAYING AT EUREKA/ARCATA/TRINIDAD
After a few hours of exploring Ferndale, you'll drive off to your next destination for the evening-which are the three towns of Eureka, Arcata and Trinidad-all within 25-30 minutes of driving distance to each other. Eureka is the largest town in California between San Francisco and Oregon border and is flanked by the Arcata Bay on the north and Humboldt bay in the south. Arcata, another bustling town lies next to its namesake bay while Trinidad is a beach town 24 miles north of Eureka.
In this part of Humboldt county, you're right in the heart of the Redwood National and State Parks. Depending on how outdoorsy you are, there are quite a few things to explore on this road trip in Northern California and so it is best to stay in one of these three towns for at least 3 nights, which is what we did. Our "base camp" was Trinidad and we called it a night with dinner from Lighthouse Grill on the tiny stretch of Main Street (truth be told, it is more of a congregation of stores rather than an actual street).
I opted for staying at the Trinidad Inn which was clean and secluded with easy access to the Redwood Highway. But the room felt quite small. Besides, Trinidad is a really tiny beach town, with few dining options and everything closing down pretty early in the evening. I highly recommend staying in Arcata-which is the cultural center of Humboldt County and has much better dining and lodging options. You could also stay in Eureka because it is the largest town in this area although I personally liked Arcata more.
DAYS 4 and 5: EXPLORE EUREKA, ARCATA AND TRINIDAD
Beaches, hikes, Redwood groves, amazing seafood, murals and some shopping-there is so much more to these Humboldt County towns of Eureka, Arcata and Trinidad than using them as mere pit stops for exploring the Redwoods or passing by them. You will definitely need two full days to explore everything in these towns and the natural beauty surrounding them (think beaches, Redwood Parks and hikes) in this 7 day itinerary of your road trip in Northern California.
These towns lie south of the vast network of Redwood National and State Parks. If you're not interested in exploring them, you could very well spend your time exploring the Redwoods south of Orick (19 miles north of Trinidad) or go on an epic hike to Fern Canyon, where scenes from Jurassic Park were shot. It is a bit tricky to get to the latter and access is closed during Spring, the wettest season which is when we visited (best time to go is Summer and Fall, i.e. dry season). Here are all the details for getting to Fern Canyon (a narrow canyon lined with ferns of all kind) and hiking there.
For those interested in finding out more about what Eureka, Arcata and Trinidad have to offer, here are my suggestions:
THINGS TO DO IN TRINIDAD
Go to Trinidad State Beach for a beautiful sunset. The Trinidad Head trail starting from one end of the beach is a scenic hiking path to explore

Visit the Trinidad Head Lighthouse overlooking the bay -open first Saturday of every month

Spend some time at Trinidad Harbor (it has its own beach), Fisherman's Wharf (a small pier) and see the small, red domed Trinidad Memorial Lighthouse (replica of the Trinidad head lighthouse)

Indulge in some wine tasting at Moonstone Crossing Winery

Get a bite to eat at Beachcomber Cafe

Spend a few hours at Patrick's Point State Park with scenic coastal hikes and ocean views as well as Yurok (Native American tribe who originally inhabited this part of California) plank house

THINGS TO DO IN ARCATA
Don't forget to get some breakfast at Cafe Phoenix-an organic cafe with their own veggie garden!
Visit the bustling Arcata Plaza for good eats and shopping-sample decadent cupcakes from Mia Belle, pick up a souvenir or two from Arcata Artisans Collective, drop by Caravan dreams and definitely check out the artisan home decor and furniture store Plaza
Go for a leisurely stroll along Arcata Bay at Arcata Marsh-great for hikes as well as for birdwatching
Spend some time amidst the Redwoods at Arcata community forest (dog friendly)
Do not miss dining at SALT Fish House, a stylish (and, popular) seafood restaurant that has absolutely bomb oysters!

THINGS TO DO IN EUREKA
Stop by the delicious Ramone's cafe (a local bakery chain) for some mouthwatering baked goods and coffee

Much like Ferndale, Eureka too has some serious Victorian architecture to boast off. The two unmissable ones are Carson Mansion (now a private club but still photographable from outside) and Carson House ("Pink Lady") right across the street from it

Stroll by the Eureka harbor front/marina/boardwalk

Find some amazing murals scattered around 4th street and Old Town. See mural map here and another article on street art here.
Explore Old Town filled with restaurants, galleries and shops. I highly recommend shopping by Humboldt Mercantile and Humboldt Bay Provisions for locally made products, foods and drink
Go for wine tasting at Old Growth Cellars

Explore the nearby Woodley Island-we had lunch at Cafe Marina & Woodley's bar. Food was OK but the view of the marina was fantastic. You can walk down the path near the cafe to see a lighthouse and a fascinating statue of an old fisherman with his net rising out of the water. The statue and plaque nearby are dedicated to the lost fishermen at sea here

Spend a relaxing afternoon in Sequoia Park-a serene Redwood grove right in the heart of the city. This is one of the few Redwood groves that is dog friendly
Don't forget to visit the Dick Taylor chocolate store for some of the best artisan, bean to bar chocolates in Northern California made right in Eureka (their current location is not that great, but they will be moving to Old Town in September 2021). This was one of the highlights of my trip cause I am a sucker for their chocolates and have been gorging on them from specialty stores in San Francisco for ages
End your day with dinner at Brick and Fire-definitely get the oysters caught fresh from Humboldt Bay!
Note: Humboldt county towns primarily depend on logging and tourism and have been hit hard by the pandemic. You may see quite a few homeless people huddled in the Plaza at Arcata (only in that area) and spot homeless as well as drunk people passed out on the streets in Eureka, which definitely feels a bit rough around the edges. In case sights of homelessness (which sometimes can be unsavory) make you uncomfortable, old town Eureka and the other spots mentioned above are your best bets to visit. Bay Area and San Francisco are struggling with homelessness as well.
DAY 6: DRIVE UP NORTH TO CRESCENT CITY
Distance: 62 miles (1.25 hrs drive)
The 6th (and penultimate) day of your Northern California road trip involves driving up north, all the way to Crescent City in Del Norte county, the very last county in NW California before you hit the Oregon border. Crescent City has been on my radar ever since I heard of Battery Point Lighthouse that is detached from the mainland and is accessible only during low tide. Plus, I am really fixated with lighthouses in California, their Fresnel lenses and history which sometimes is as tumultuous as the coast they guard.
BEST STOPS ON THE REDWOOD HIGHWAY FROM TRINIDAD TO CRESCENT CITY
There are some really cool stops between Trinidad and Crescent City along the Redwood Highway that you should explore. Here are my tried and tested recommendations:
a. Trillium Falls: If you're bummed out for giving Fern Canyon a miss, then let Trillium Falls make up for it! This gorgeous waterfall is an easy detour from the Redwood Highway at Orick and takes you through a relatively easy hike that starts from the parking lot (free parking BTW) into a lush green paradise of ferns and old growth Redwoods on a moderately easy trail.
The Falls is about a mile away and across from a bridge; you can even climb down from either sides of the bridge to get closer to the Falls. The trail continues on after that but I recommend turning back at this point for a long drive ahead. This hike is best done in Spring and don't forget to get your hiking boots or waterproof boots since it does get muddy.
b. Klamath River Overlook: The scenic overlook of the Klamath River (second largest river in California after the Sacramento River) has picturesque hikes to explore. From the parking lot itself, you can hike up to the overlook (0.5 miles trail) and go further down to a secret, black sand beach that you can spot from afar. This is a nice picnic spot as well as great for whale watching!
c. Trees of Mystery: This is one super popular roadside attraction that is quirky, fun and not to be missed, starting right from the huge Paul Bunyan and Babe the Blue Ox statue in the parking lot (I went to grad school in Minneapolis, MN and so I have a natural obsession with this giant lumberjack whose first statue is in Bemidji, Minnesota). The entrance fee is pretty steep of $20/person but is worth it since you spend at least 1-2 hours here in the Redwoods grove with several trees featured on Ripley's Believe it or Not.
The other specialty of this place is the series of suspension bridges that form a trail (called Skywalk trail) that leads you to a gondola taking you right up in the mountains through the Redwood forest. Pets are welcome in this place but I highly recommend not bringing them on the suspension bridges cause it can be pretty unnerving. The return trail back into the gift shop is lined with wood carvings featuring Paul Bunyan's life story (from when he was a baby) and other whimsical creatures.
d. Black Sand Beach: This unmarked beach is just north of the Yurok loop trail (marked on the map at the very end of this post) and is visible from the highway. We even saw some locals swimming there.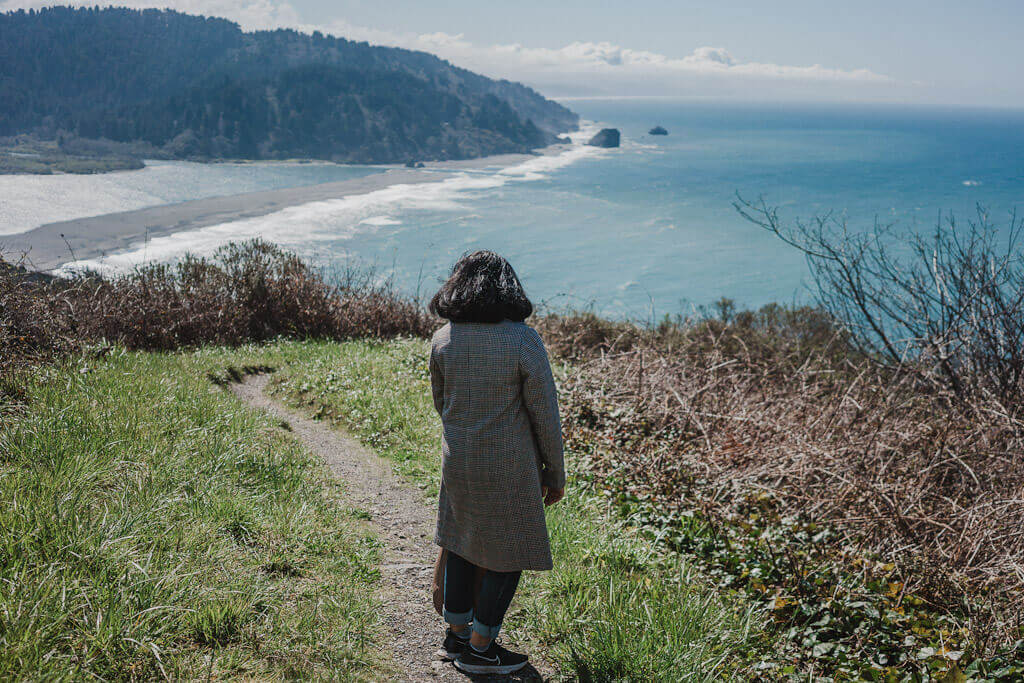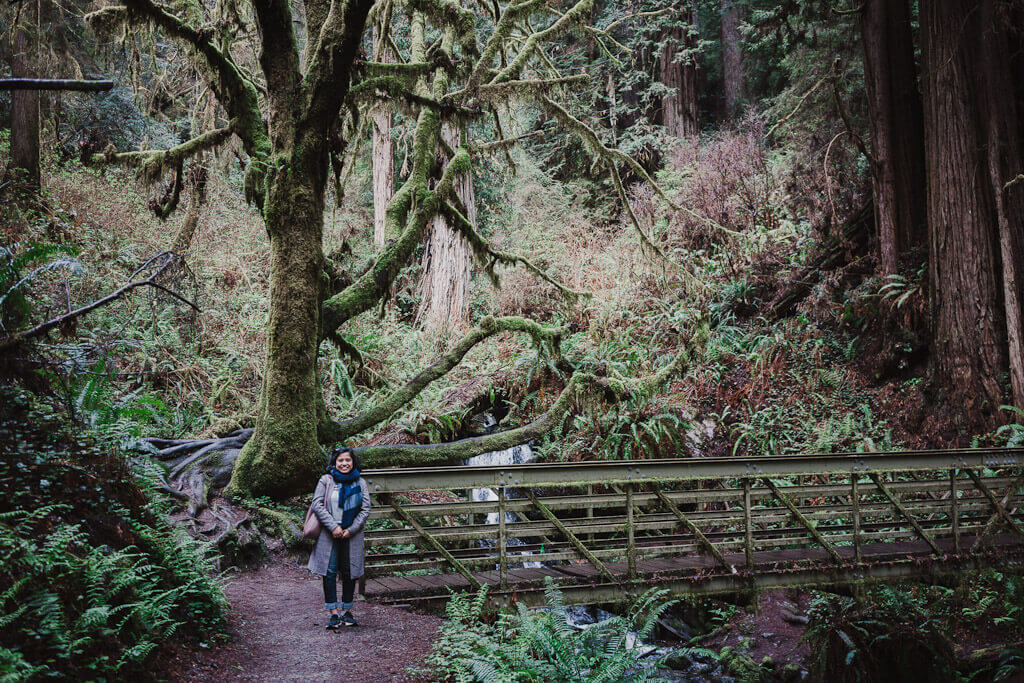 Note: You can either pack a lunch enroute to Crescent City from Eureka/Arcata or break for lunch at Crescent City itself. I highly recommend doing the former, i.e. packing lunch from Eureka/Arcata. You can stop by Klamath River overlook for a picnic and enjoy your food with a stunning view!
BATTERY POINT LIGHTHOUSE IN CRESCENT CITY
Crescent City is the largest town in Del Norte County and home to Jedediah Smith Redwoods State Park, which you should visit if you have time. We decided to only focus on the Battery Point Lighthouse which is the Battery point harbor area of the town at the end of Lighthouse way (just Google the lighthouse name for the location and you will get there).
The lighthouse harks from 1856 and is still functional! Also, it is actually on an island detached from the mainland. The only way to reach it is during low tide (see Crescent City tide chart here) when you can walk across from the parking lot all the way up to the lighthouse. The lighthouse is home to a museum and both are currently closed due to the ongoing health crisis. Dogs are not allowed on the lighthouse island.
Once you reach the lighthouse island, you will be greeted with panoramic views of Crescent City in the distance and the rugged coastline bordering the rocky black sand beach all around. Stay for some time to take photos but remember to dress warmly, because it gets quite windy and chilly up there.
DAY 7: DRIVING DOWN SOUTH TO MENDOCINO
Distance: 166 miles (3.5 hrs drive)
The final day of your road trip through the Redwoods in Northern California involves making your way down south to Mendocino. I recommend finishing breakfast at either Eureka or Arcata and packing lunch for the road. We got sandwiches from a hole in the wall spot known as "Great Sandwiches" which is very popular with locals and stopped at a pull out point on Highway 1 after Leggett to enjoy our food with a great view.
Your drive back from Eureka/Arcata/Trinidad to Mendocino should be pretty uneventful unless you want to stop by at a few attractions, such as the Big Tree Area on Mattole Road that you may have missed during your drive north. Although we stuck to the Redwood Highway during our return trip, you could get on Avenue of the Giants as well from the north entrance near Stafford.
We have finally reached the end of this megapost detailing our road trip through the Redwoods through Mendocino, Humboldt and Del Norte counties. I hope you enjoyed reading this detailed guide on planning a Northern California road trip to remember and are inspired to see the majestic Redwoods. See Google Map below for all the places mentioned in this post.
LIKE THIS POST? PIN IT FOR LATER
«