Last Updated on October 17, 2022 by Paroma
Are you planning to visit Yosemite National Park with your dog? Then you've come to the best post on the internet where you'll get every information under the sun that is needed to visit Yosemite with dogs. This dog friendly Yosemite guide is 1005 authentic and covers everything you need to know on where to take your dog in Yosemite, what to do in Yosemite with your dog (hikes and other attractions) and the best dog friendly hotels near Yosemite!
Disclaimer: My blog posts may contain some affiliate links. Clicking on them may earn me a small commission at no extra cost to you for purchase of the product. Thank you!
Dog friendly Yosemite: Why should you visit Yosemite with your dog?
Yosemite National Park not only attracts millions of visitors from all over the world every year, but a considerable number of canines as well. And, this is because dogs are allowed in Yosemite! If you are that adventurous dog parent wondering what to do with your dog in Yosemite, this is the perfect post for you where I will be detailing the fun adventures that can be had in with dogs in Yosemite in this ultimate dog friendly Yosemite guide.
Yosemite National Park is the best of all the 9 California National parks when it comes to dog friendly-ness. If you're wondering where to take your dog in Yosemite, I can assure you that there are plenty of dog friendly things to do inside Yosemite for at least one full day, including a dog friendly hiking trail (pretty rare for National Parks in California), other dog friendly attractions as well as dog friendly restaurants inside the park.
This post is all about showing you how dog friendly Yosemite is by providing all the details for a fun filled dog friendly vacation so that you can relax and simply have fun with your dogs at Yosemite National Park without losing sleep over planning. Trust me, there is never a dull moment when you are visiting Yosemite with your dog as a weekend getaway from San Francisco.
If that is not all, I have also included an entire section on the best dog friendly things to do right OUTSIDE of Yosemite National Park, specially in Mariposa and Madera counties that lie south of the park as well as dog friendly hikes in Sierra National Forest which is also to the south of Yosemite. So keep scrolling down to find all these dog friendly attractions and must dos!
Everything you need to know about planning a trip to Yosemite National Park with dogs
a) Is Yosemite dog friendly? Are dogs allowed in Yosemite?
The short answer is a resounding YES (I mean what else is this post for, anyway?)-there are several places in Yosemite where dogs are allowed. The long answer is that there are tons of rules on where you can take your dogs in Yosemite and you definitely should follow all of them, like a responsible pet parent.
b) Where are dogs allowed in Yosemite?
Only select places in Yosemite allow dogs and it is best to know exactly where you can take your furry friend while you plan for your dog friendly Yosemite trip. Fortunately, both Yosemite National Park website and this post on traveling to Yosemite with pets details all the different dog friendly spots in Yosemite including the dog friendly hiking trails, including some lesser known trails and spots. For your convenience, the general guidelines as follows:
a) Dogs are allowed on all paved paths/roads/bike paths/sidewalks and developed areas in the park as well as in campgrounds (except walk-in campgrounds) and group campsites.
b) Dogs are not allowed on any dirt hiking trails, almost all places off Yosemite valley grounds such as Tuolumne meadows or Mariposa Grove, public buildings, shuttles, lodging areas (except designated hotels around Yosemite Valley), areas of wilderness and those with unplowed snow.
c) Dogs have to be on a leash not more than 6 feet when out and about or properly restrained at all times.
c) When is the best time to visit Yosemite with dogs?
I highly recommend spring (March-May) or Fall (Sep-Oct) as the two best seasons to take dogs to Yosemite. Dogs are allowed on trails (that are paved) to some waterfalls as well as Mirror Lake, which come alive in spring.
As for Fall, the days are cooler, the scenery is lovely with beautiful fall colors and the park is not very crowded, which makes it the perfect time to enjoy Yosemite with dogs.
Summer can be extremely hot and humid at Yosemite and walking under the blazing sun on paved roads may be injurious to your dogs general health, especially their paws. This is also peak season where getting hotel rooms is difficult plus there are a limited number of dog friendly hotels around Yosemite.
As for winter, most roads are closed due to ice, sleet and snow, including the road to Glacier point, which is a prime attraction at Yosemite and dog friendly too. So, spring and fall are definitely the best times for dogs in Yosemite and their parents!
d) Are there any dog friendly hikes in Yosemite?
Yes! Having just returned from Joshua Tree National Park with our newly adopted pup Gunda (Babu passed away in Feb due to cancer), I now appreciate the greater access that Yosemite provides to dogs in the park, including a much needed dog friendly hiking trail! Mirror Lake Trail and Wawona Meadow Loop Trail are two dog friendly hikes in Yosemite that you can enjoy with your pup on leash.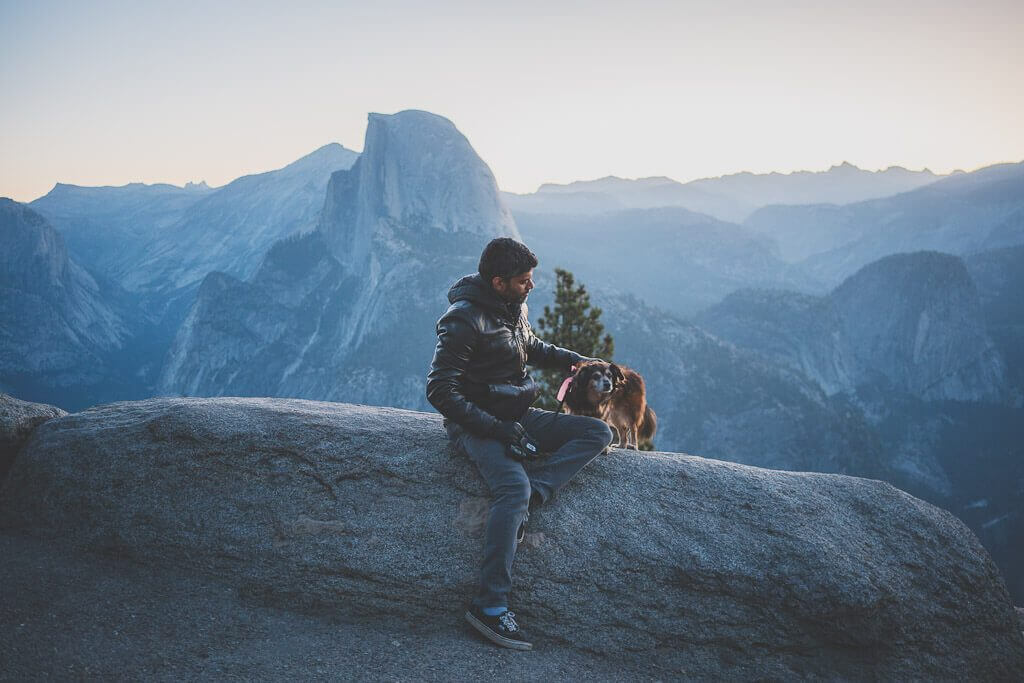 Dog Friendly hotels in and around Yosemite: Where to stay in Yosemite with dogs
First, the bad news. The two hotels inside Yosemite National park, i.e. the Ahwahnee (Majestic Yosemite Hotel) and Yosemite Valley Lodge, do not welcome pets. For pet parents looking for dog friendly hotels/lodging around Yosemite, there are several options, which are as follows:
a) Yosemite View Lodge: This is by far the best option in terms of where to stay with your dog at Yosemite and is the CLOSEST HOTEL TO THE PARK ENTRANCE (about 8.7 miles away)! We stayed at this dog friendly Yosemite hotel which allows for up to two pets with a $25 pet fee per night per pet. Both dogs and cats are welcome here.
We had a wonderful stay at Yosemite with Babu during our visit and I can vouch for how clean and spacious the rooms are (the bathroom is HUGE). In addition, they have their own restaurant and a separate pizza parlor with outdoor seating.
The best part is that the lodge is right next to the Merced river and there is a paved path on one side of the hotel which is perfect for an evening or morning stroll with your dog.
The only downside is that WiFi is not free and can be purchased for $10 for 24 hours. The lodge also has a convenience store right next to the lobby for emergency food items or things that you forgot to pack.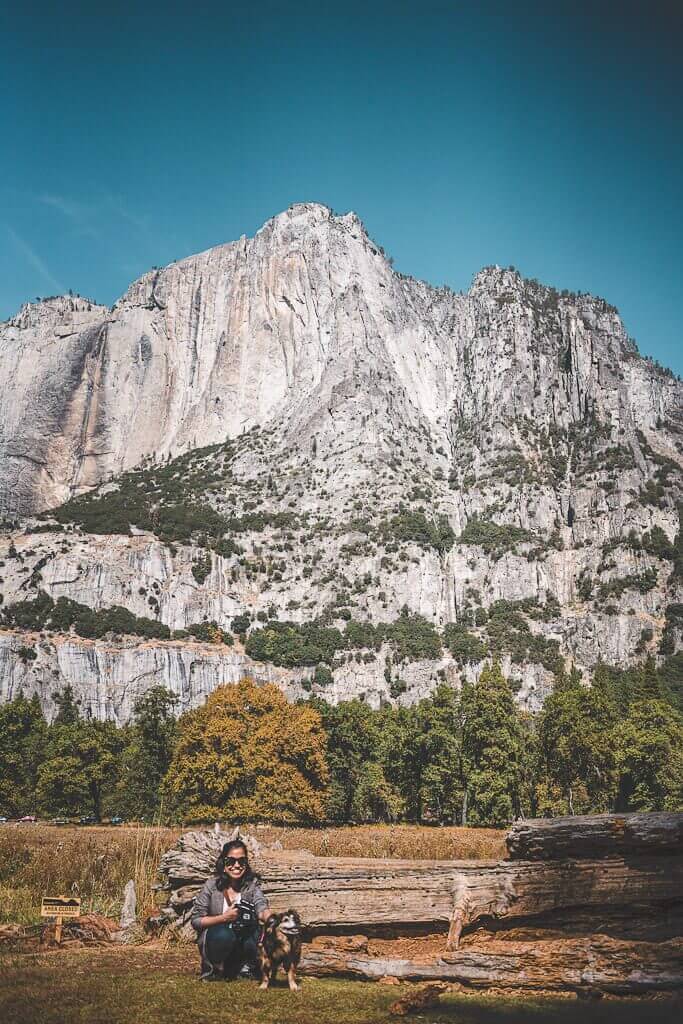 b) Tenaya Lodge: We stayed at this beautiful lodge during our first visit to Yosemite last spring (without Babu). This is a dog friendly hotel near Yosemite with a popular restaurant (Jackalope's Bar and Grill) which has outdoor seating.
Tenaya lodge will pamper your dog with doggie amenities and even a massage at the Ascent Spa which is one of the several reasons Sunset Magazine voted it to be the best pet-friendly resort on the west coast. You can either book a deluxe pampered pet package for a luxury stay or any of their several dog friendly rooms.
However, the only downside to this dog friendly lodging is that it is more than an hour away from the park entrance, so be prepared to drive quite a bit if you are visiting the park for the first time! This lodge with all its amenities is more suited for repeat visitors who just want a place to relax and don't need to go to the valley where most attractions are.
Other dog friendly hotels and cabins around Yosemite National Park: Besides these two pet friendly hotels in Yosemite where I have personally stayed, a few others that welcome dogs are the Best Western Plus Yosemite Gateway Inn at Oakhurst and Yosemite's Scenic Wonders Vacation Homes.
For those looking for vacation homes, Yosemite Vista is a beautiful dog friendly cabin to check out.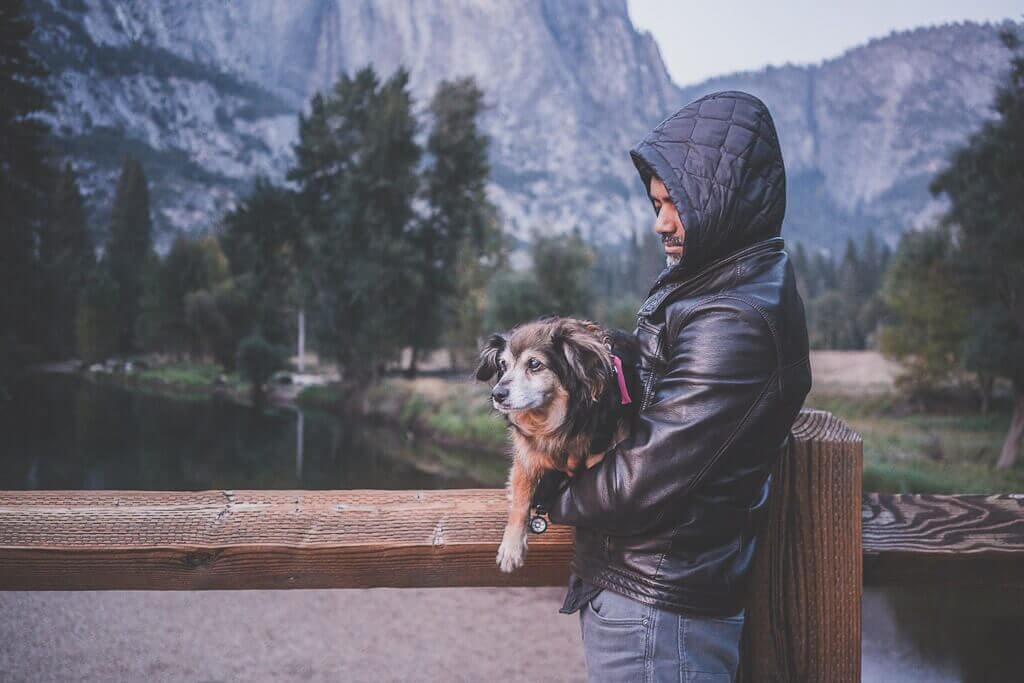 c) Holiday Inn Express (Oakhurst): Holiday Inn Express is part of the IHG chain of hotels which is dog friendly and having stayed at Fort Bragg with Gunda earlier this year, we decided to opt for this hotel chain again during our visit to Sierra National Forest, which lies south of Yosemite.
Holiday Inn Express is in Oakhurst in Madera County and is located 15 miles to the south of Mariposa Grove of Giant Sequoias (dogs are not allowed in the grove but can visit the welcome plaza) which is located on the southernmost part of the National Park. The hotel is 55 miles south of Arch Rock Entrance in the park.
Holiday Inn Express is a good dog friendly hotel to stay in since it has clean, spacious rooms with wifi and free buffet, continental breakfast. My only gripe is that the pet fee varies wildly from one location to another and is not set. We paid $50/night (which is pretty steep) for our two night stay. We also had to pay an additional $10/night for parking which you have to cough up cause you cannot park anywhere else since it is right on Highway 41.
Mariposa, a historic Gold Rush boomtown which also lies south of Yosemite is another great option for staying with your dog. I recommend Best Western Plus Yosemite Station or Mariposa Lodge for dog friendly accomodations.
Best things to do in Yosemite with dogs: dog friendly Yosemite hikes and more
One look at the list on where you can bring your dog in Yosemite might be pretty discouraging, but honestly there is nothing to feel dejected about! In this dog friendly Yosemite guide, I will be many popular hiking trails in Yosemite that are dog friendly in case you are having major FOMO, aka feeling of missing out on awesome hikes.
Many parts of Yosemite valley have paved roads or walkways, including trails to popular waterfalls and so pet parents can enjoy these Yosemite dog friendly trails without anything to worry about, as long is your dogs are leashed. Please remember to pick up after your dog as a responsible pet parent and obey all posted signs!
During our stay in Yosemite, we spend most of our time in the valley where all the dog friendly hikes and attractions are, not to mention the dog friendly restaurants. The two major trails/spots where dogs are allowed outside of the valley are Glacier Point, because the road leading to is paved and Wawona meadow loop trail, which is the only dirt trial where dogs are allowed on leash.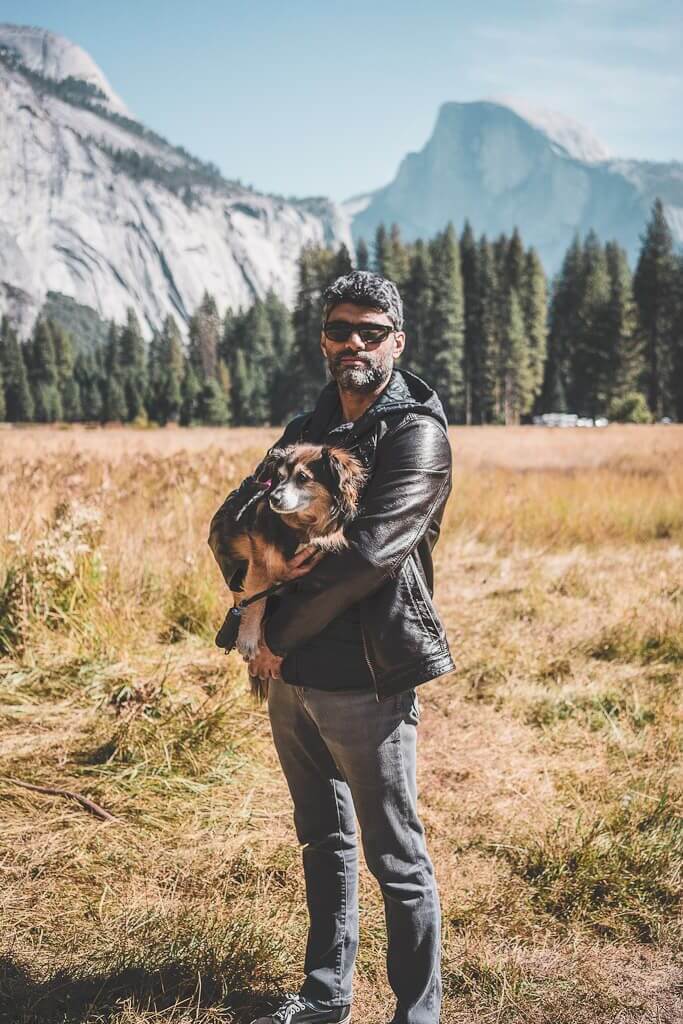 a) Enjoy the iconic view from "Tunnel View"
The spectacular "tunnel view" is what greets you as you enter or exit the Wawona Tunnel by Highway 41 with the Half Dome, El Capitan and Bridal veil falls, all in one frame. The viewing area is dog friendly but please go as early as you can to watch a divine sunrise like no other without worrying about the crowds.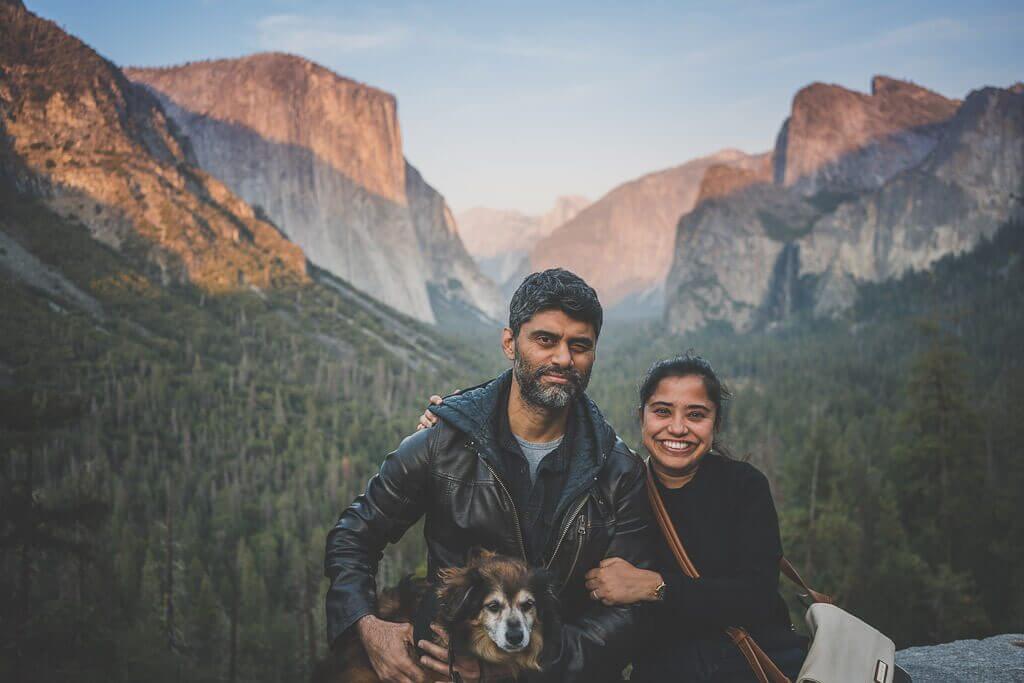 b) Go on dog friendly hike in Yosemite: Bridal Veil Falls
Bridal Veil Falls, so named after the canopy of mist it creates that resembles a bride's veil, as it hits the rocks, is the very first attraction that you will encounter when heading into the park on the southside drive. The road to the falls is paved and is thus welcoming to dogs (on leash, of course).
The best time to view the fall is in spring/early summer as we did during our last visit to Yosemite when the waterfall is in full force. Not so much in October, as we found out during our outing. This is however a perennial fall and so you will see a trickle at least in the driest of months.
c) Yosemite hikes with dogs: hike up to Lower Yosemite fall
The upper Yosemite fall is not accessible to dogs but the paved trail leading to the vista point to view the lower one sure is. Again, fall is not the best time to see waterfalls in Yosemite and the lower one sure ran dry when we visited it.
d) Explore Cook's meadow loop with your dog
Cook's meadow is that beautiful open, green meadow in Yosemite which allows dogs,thanks to the paved trail running through the greenery. The loop starts right across from the lower Yosemite fall and includes beautiful vistas, such as the Half Dome towering over the valley from a distance, not to mention the fall foliage that adds vivid shades of red, orange and yellow to the vegetation around.
Cooks meadow loop also includes the dog friendly Sentinel bridge from where I highly recommend watching the sun set on Half Dome. Be sure to arrive early for a good spot.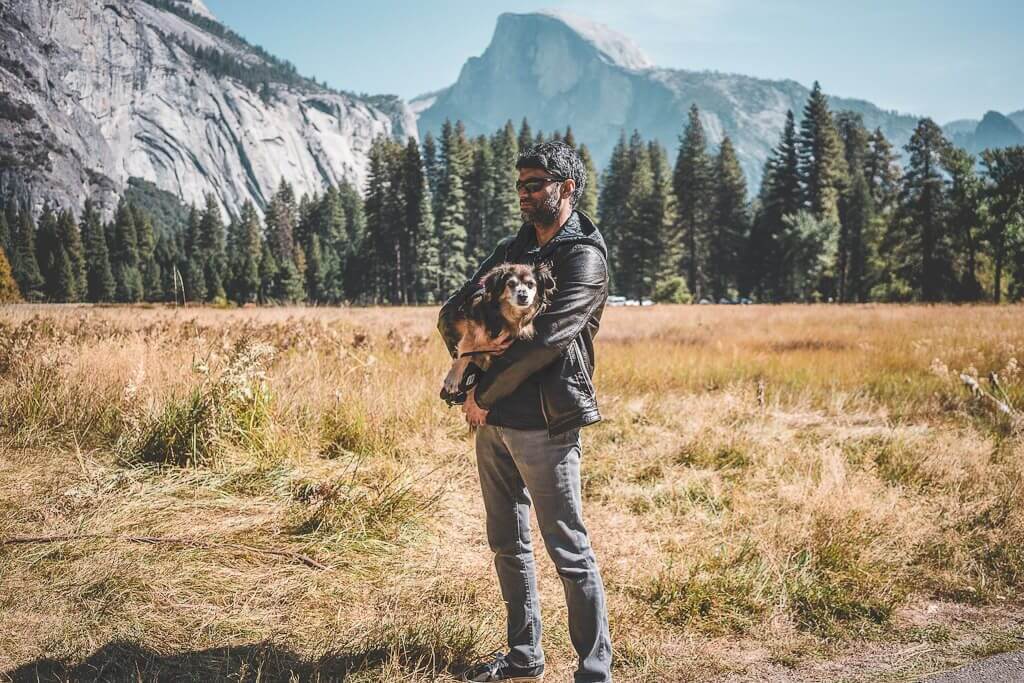 e) Dog friendly hikes in Yosemite: Get on the popular Mirror Lake trail
The trail to Mirror lake, starting from Shuttle stop #17 is paved and is one of the few dog friendly hiking trails in the valley. This 1.1 mile trail is easy to walk on and leads to mirror lake, known for its shimmering waters that lead to some crystal clear reflections.
The lake is pretty dry and so although we visited it in spring, we skipped it during our fall adventure with Babu. The trail continues on a dirt road beyond the lake but dogs are not allowed to venture there.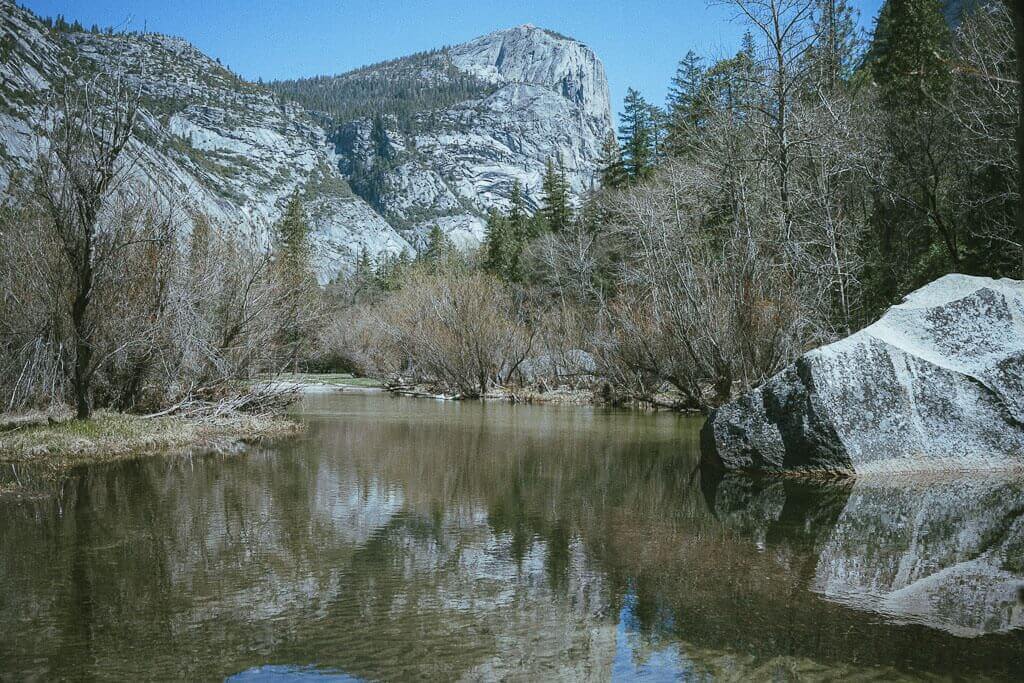 (Photo of Mirror lake from our travel last spring)
f) The best dog friendly hiking trail in Yosemite: Wawona meadow loop trail
Wawona meadow loop trail is about 45 min-hour away from Yosemite valley and is the only proper "hiking trail" where dogs are allowed in Yosemite, albeit on leash. This trail is a 3.5 mile loop and starts from the golf course right across from the historic Wawona hotel and ends somewhere behind the hotel itself.
The trails is mostly shaded by a canopy of trees and skirts a beautiful meadow (thus the name) which reveals its rich fall colors as you hike along. Not many people know of this trail and so it is extremely peaceful and quiet there. I highly recommend venturing out of the valley to hike with your dogs in Yosemite here.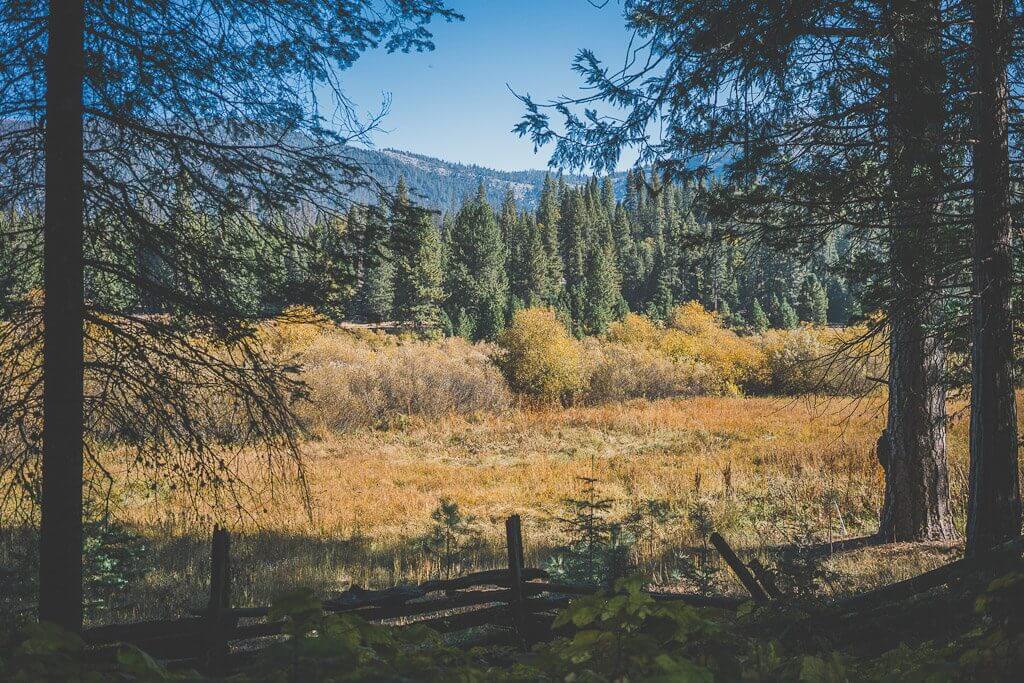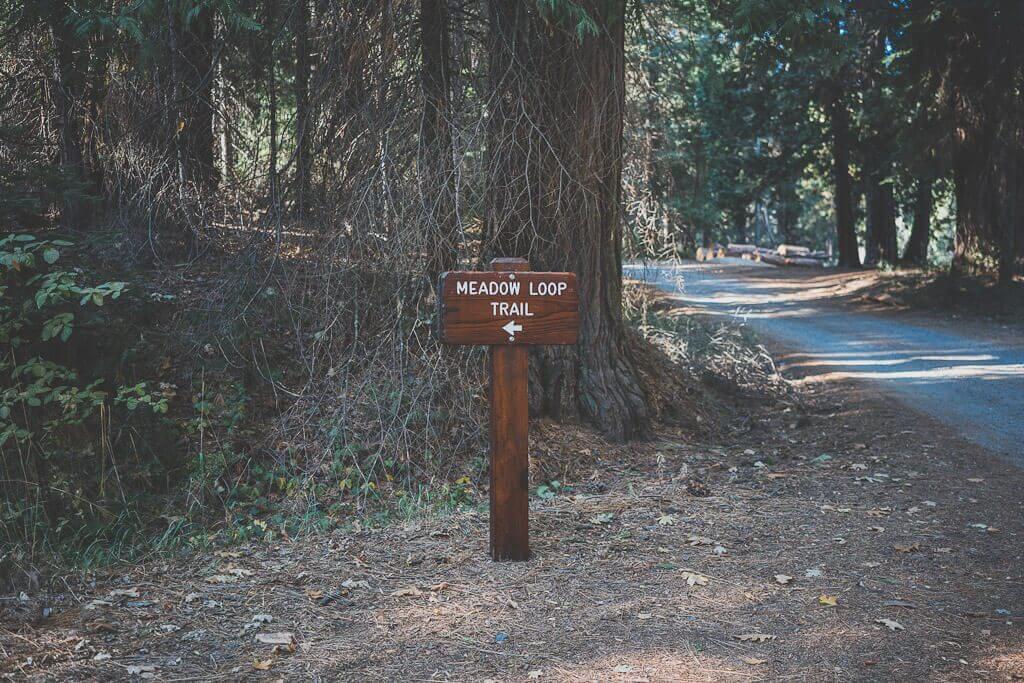 g) What to do with your dog in Yosemite: Enjoy a spectacular sunrise at Glacier Point
Saving the best for the last, Glacier point is that one viewing spot in Yosemite that you absolutely must not miss for a sunrise that is a spectacle so grand, that it is bound to take your breath away! Glacier point is a dog friendly spot in Yosemite because the trail/road from the parking lot to the viewing area is paved. Before you go, here are a few things to remember:
i) Glacier point is an hour's drive away from the valley. Carry enough food and water with you because barring a snack bar near the viewing area, there is no other place to eat or drink nearby. If you drive there to watch the sunrise (which I highly recommend), even that spot will be closed.
ii) Remember to dress in layers or carry a warm blanket because this viewing area is at an elevation of 7000+ feet.
iii) Glacier point gets extremely crowded for sunrise and so, arrive as early as possible, i.e. 15-20 minutes before the break of dawn to secure a good spot for you and your pup.
iv) Glacier point road is closed from end of October/early November-May/June depending on the winter road conditions. So it is best to visit the park in Fall because summer may be too hot for your dog to walk around.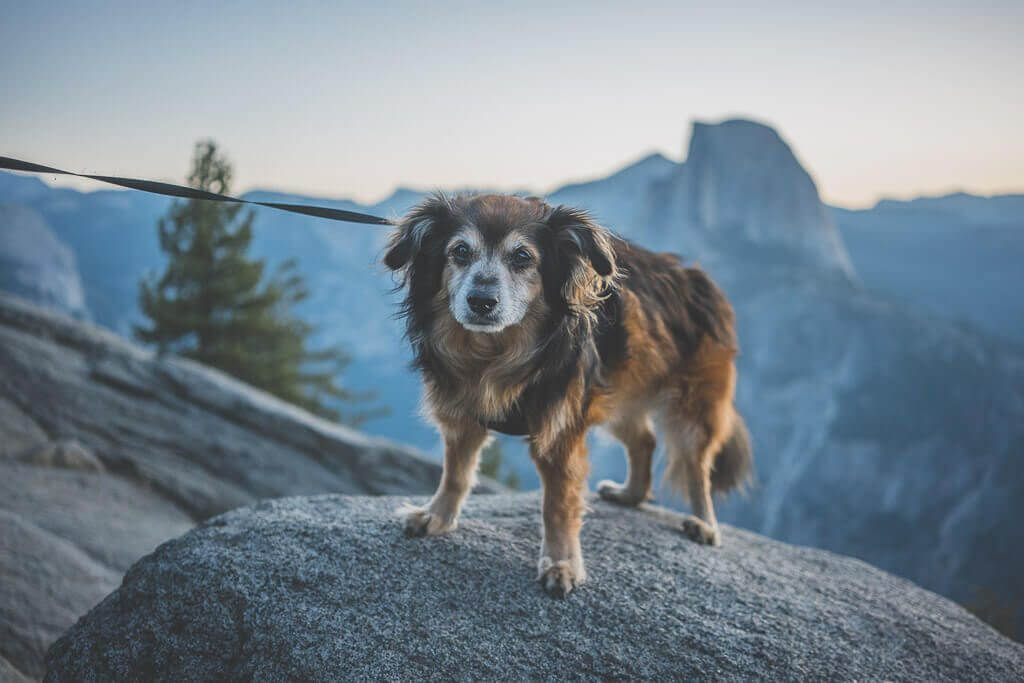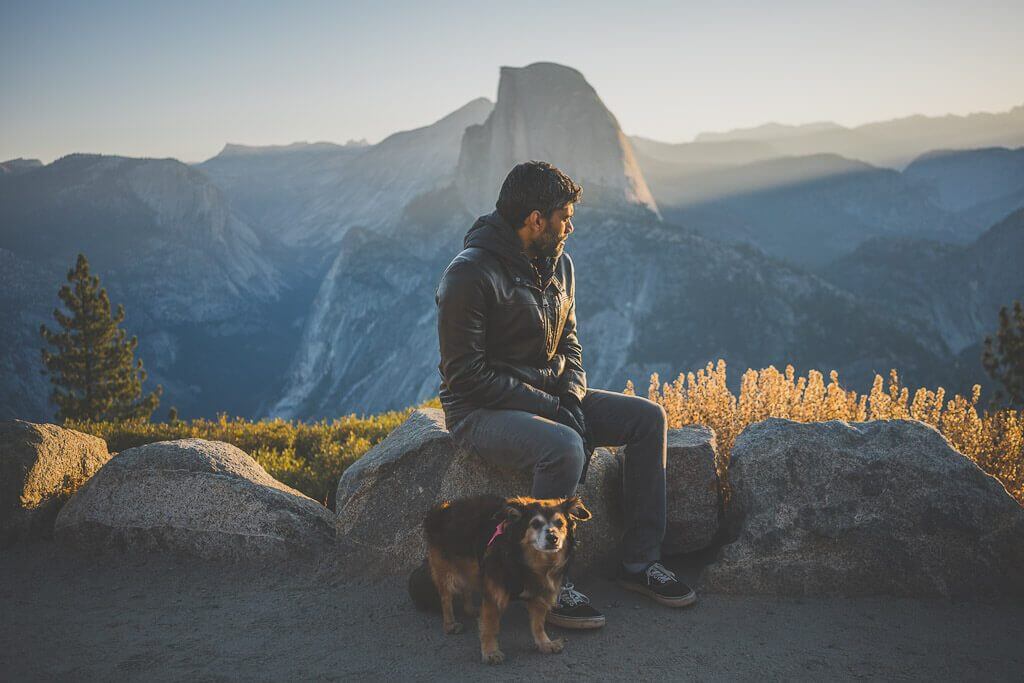 h) Bonus dog friendly places in Yosemite National Park: Yosemite Chapel
All parts of Yosemite valley which are paved, developed areas are dog friendly (unless signs explicitly say otherwise). For example, it is totally OK to lounge a little with your furry friend in front of the beautiful Yosemite Chapel since the path leading to it is paved. Similarly, a paved path leading to the "swinging" bridge, a non-swinging wooden bridge over the Merced river is also dog friendly.
We were not sure if dogs were allowed on the bridge (there are no visible signs asking dogs to stay off) but we went there minutes after sunset where there was literally no other soul except us and simply picked up Babu in our arms for a few photos, so technically he was NOT ON the bridge.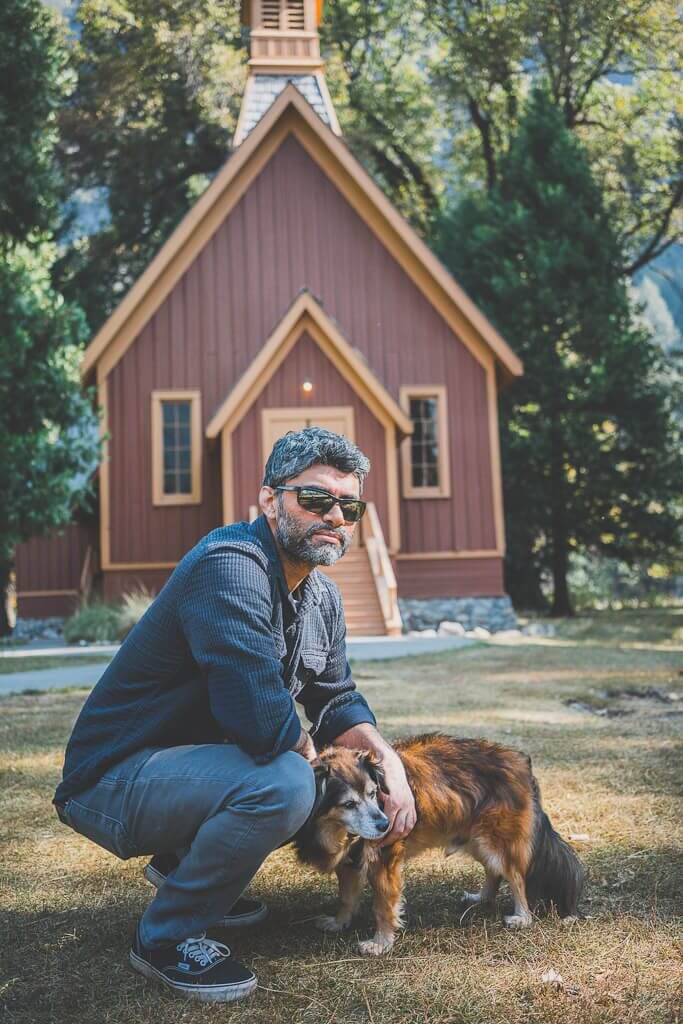 Dog friendly restaurants in Yosemite
Dining out is always that one question that looms large on the minds of pet parents visiting Yosemite with their dogs. Thankfully, there are several dog friendly restaurants or cafes in and around Yosemite with outdoor seating. The Village Grill at Yosemite village, Degnan's Deli, Pizza Patio in Curry Village and Jackalope's Bar and Grill at Tenaya lodge (at Fish Camp, right outside the park) are all dog friendly dining places.
Our hotel, Yosemite View Lodge, had outdoor seating for both its main restaurant and pizza parlor which welcomes dogs. Mariposa Coffee Company (midway between Mariposa and Oakhurst on Highway 41) is dog friendly while you can get packed lunches (with vegetarian options) from High Country Health Foods & Cafe in Mariposa, southwest of the valley.
During our stay in Yosemite with Babu, we dined at Degnan's deli (has vegetarian options) and Jackalope's bar and grill which is a 16 min drive from Wawona meadow loop. We carried food with us in a cooler for our dinner and got a pizza to go from our hotel's pizza parlor for one night. You can check out this list of best rotomolded coolers for more options for your camping needs.
Please remember to pack some food (yours as well as that for your pup) and ample water while in Yosemite since it can quickly get very hot during the day time or while hiking on a dog friendly trail and food might not be available in your immediate vicinity.
Since there are a handful of options to dine in the park, lunchtimes can get very crowded with long wait times for your food to arrive. These highly rated collapsible travel bowls are great for feeding your dog on the go and so is this portable dog water dispenser /bottle which is great for hiking!
On our second trip to Yosemite with Gunda we visited the Sierra National Forest (scroll below to read more of our adventures) and stayed in Oakhurst. We dined at the Little Shop of Ramen (Mariposa), Jackalope's Bar and Grill at Tenaya lodge (again), Wild Fig Kitchen (Coarsegold) and The Cool Bean Cafe (Oakhurst). We also got some delicious honey lavender ice cream made in-house at Reimer's Candies, & Ice Cream in Oakhurst and enjoyed it in their dog friendly outdoor area.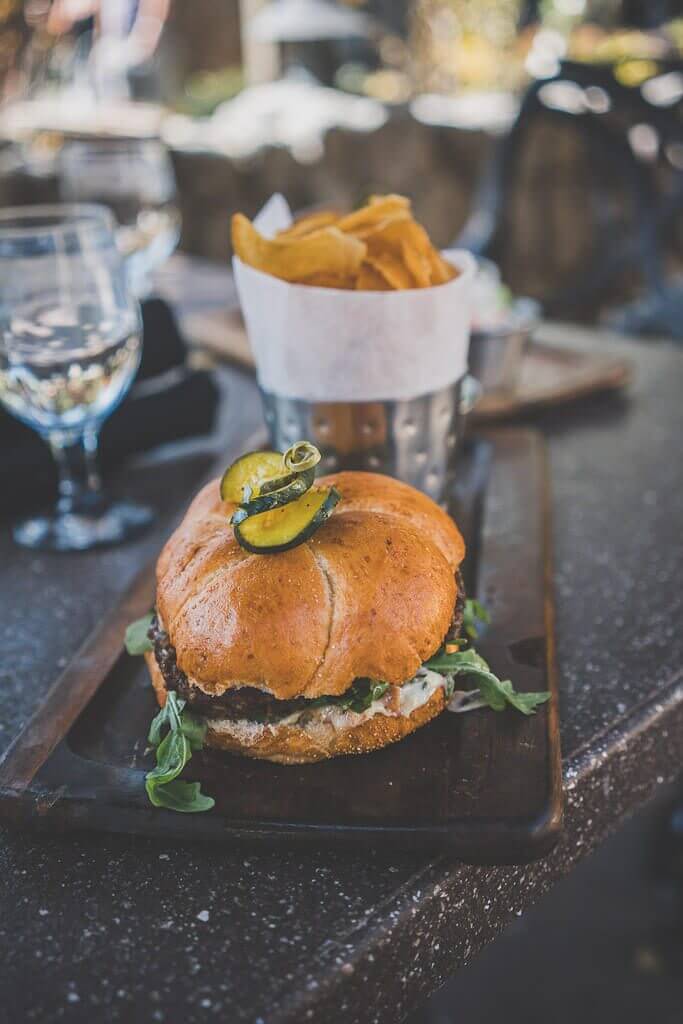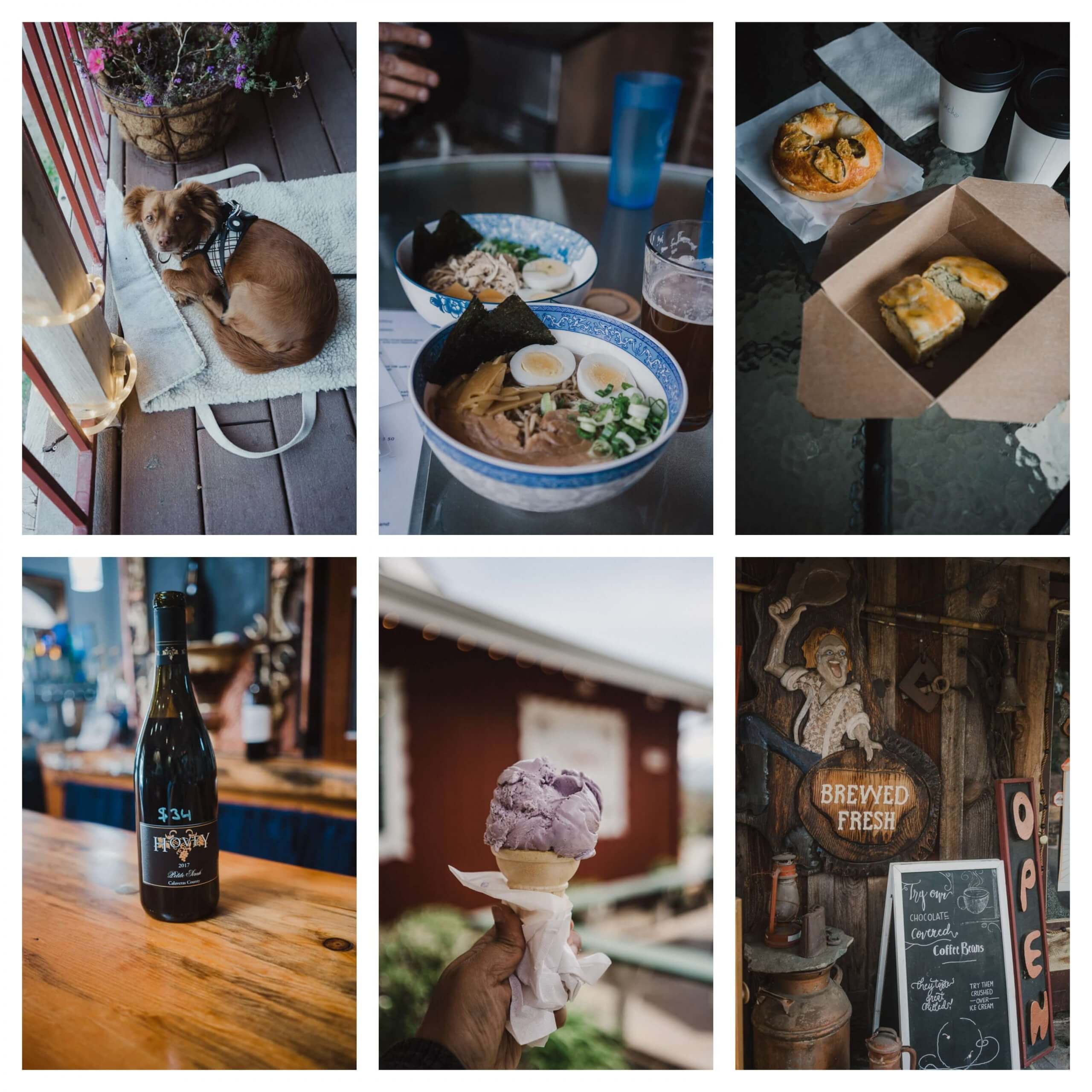 The best dog friendly things to do outside Yosemite National Park: Sierra National Forest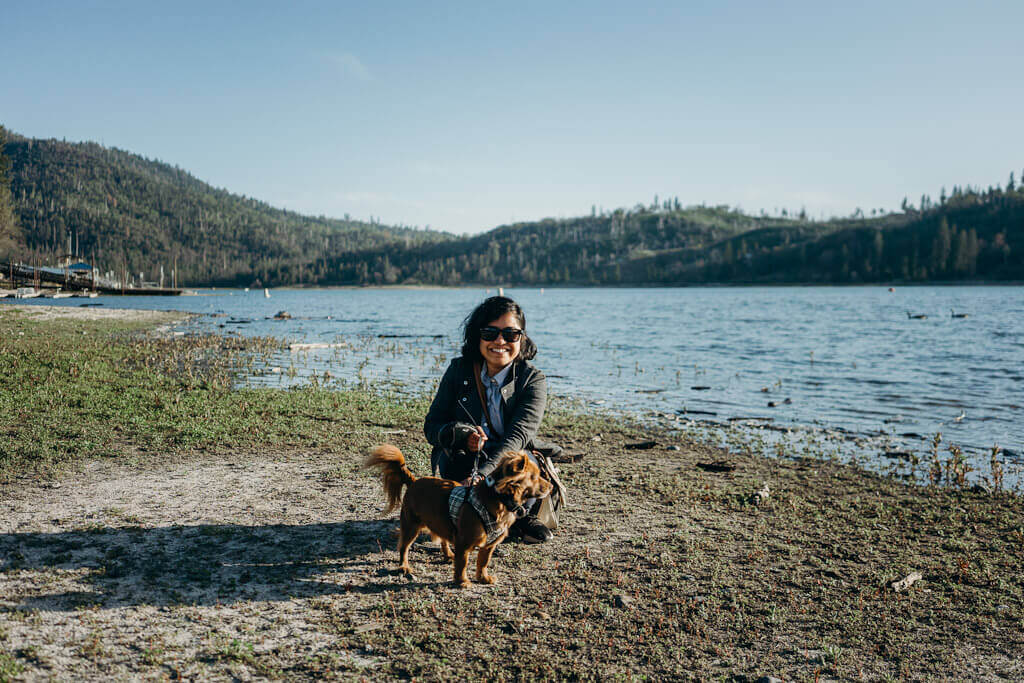 Yosemite is one of those rare National Parks in California that at least has one proper dog friendly hiking trail to offer (almost all 8 others have none unless the trail is a paved road). But there is no need to be disappointed because a world of dog friendly hikes await you if you step just outside of the park into Sierra National Forest, which flanks the western slope of Central Sierra Nevada range.
Sierra National Forest is a must visit if you're visiting Yosemite with your dogs and is only 10 miles south of Mariposa Grove of Giant Sequoias which is the southernmost part of the National Park.
This U.S. National Forest is accessible via Highway 41 that runs along its western edge. You can stay in the towns of Wawona (Tenaya Lodge) or Oakhurst (Holiday Inn Express) which are located on Highway 41 for easy access to the wilderness that spans across a whopping 1.3 million acres.
In Sierra National Forest, you can enjoy the many dog friendly hiking trails leading to gorgeous waterfalls, several alpine lakes and best of all take a steam train ride through the forest with your pup, cause she/he rides for free! The gold rush towns of CoarseGold and Mariposa are also dog friendly with museums and restaurants with outdoor patios welcoming dogs.
Day hikes in Sierra National Forest or visiting the lakes is free of cost and does not require permits. Unlike Yosemite that gets really crowded on weekends, Sierra National Forest is relatively crowd free and thus more enjoyable. However, keep plenty of water on you for longer hikes and try to arrive early because the parking lots are small and do get filled up as the day progresses.
Having just returned from Sierra National Forest with our newly adopted pup Gunda, here are my stellar recommendations for the best dog friendly things to do near Yosemite:
a) Dog friendly hikes to waterfalls near Yosemite: Red Rock Falls and Corlieu Falls via Lewis Creek Trail
If you've read my easy Yosemite Hikes post, you know that nothing delights my lazy hiker heart more than hauling my tush to a waterfall! None of the waterfalls in Yosemite allow dogs on trails but Sierra National Forest sure does!
Dogs on leash are welcome to hike the Lewis Creek Trail with you to see some of the most spectacular waterfalls of the namesake creek. I highly recommend visiting in Spring and early Summer to see the falls (we visited in April and had a great time).
The Lewis Creek Trailhead is accessible from Highway 41 itself (see map below for location) and leads to two spectacular waterfalls-the magnificent Corlieu Falls and the smaller Red Rock Falls. After parking in the parking lot at the trailhead, you have to turn right on the Lewis Creek trail to get to Corlieu Falls which is only 0.5 miles away. There is a beautiful wooden viewing area here to safely enjoy the cascading falls.
The Red Rock Falls is a good 3 mile round-trip from the trailhead and you have to walk down straight, cross a tiny bridge and keep on going to see the falls. On your way, you will see at least 4 other spectacular falls, so please take your time to enjoy this hike.
The trail is partly shaded, of moderate difficulty (it is not steep but has some elevation) but the thing to lookout for are the fallen trees that you have to jump over or navigate to continue your hike. The hike will take about 45 mins-1 hour each way so plan accordingly.
After about 45 mins hiking you should see the Red Rock Falls sign with the trail going upwards beyond it. Walk down in the direction of the sign to see the top of the falls. You can get a better view of the falls from an area on the lower left side which is right across from the base of the falls.
b) Visit dog friendly Bass Lake near Yosemite
Often considered "mini-Tahoe", Bass Lake is a nearly 5 mile long waterbody trimmed with pine trees and is one of the most tranquil spots to visit with your pup. Best of all, Bass Lake has trails emanating from it leading to spectacular falls like Angel Falls and Devil's Slide. This is a popular spot for locals for swimming, boating and fishing.
The Willow Creek Trail is pretty steep as you hike up and it is about 3.1 miles round-trip to the falls and back. If you just want to take it easy, I recommend parking at the Willow Creek Trailhead and literally walking a few minutes to your right (as you face the lake) to see a gorgeous waterfall that most people miss since you cannot see it as you are driving to the trailhead. This is exactly what we did and were very happy with our hidden gem:-)
The other place to stop by along Bass Lake is the "Way of the Mono" Trailhead. The parking lot for this trailhead is across from the Little Denver Church Day Use Area. After you park at the trailhead, you can cross the street for some spectacular views of the lake (the views here are better than at the Willow Creek Trailhead) and also hike the trail.
The trail is named after the Mono Native Americans who were a hunter-gatherer tribe living in the eastern and western sides of the Sierras prior to arrival of the Europeans. The trail is a 0.6 mile loop with interpretive panels.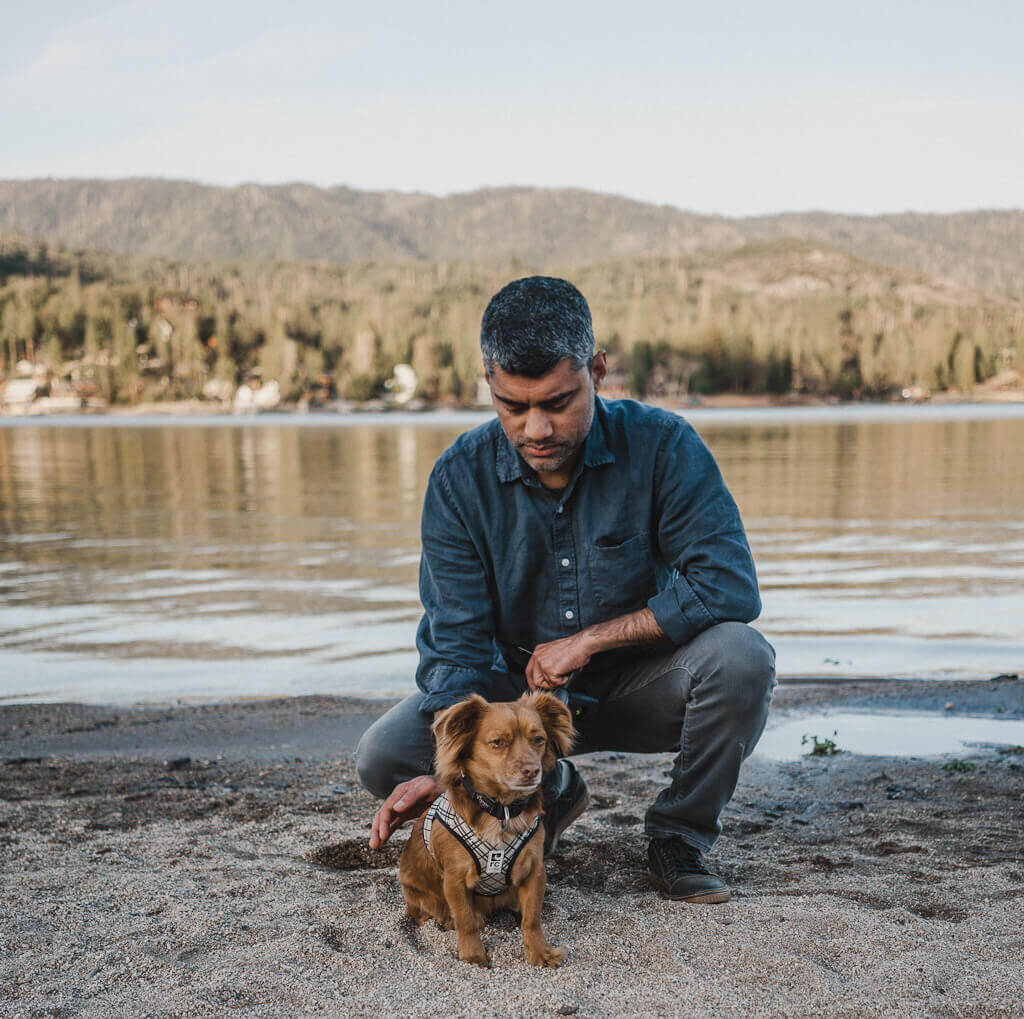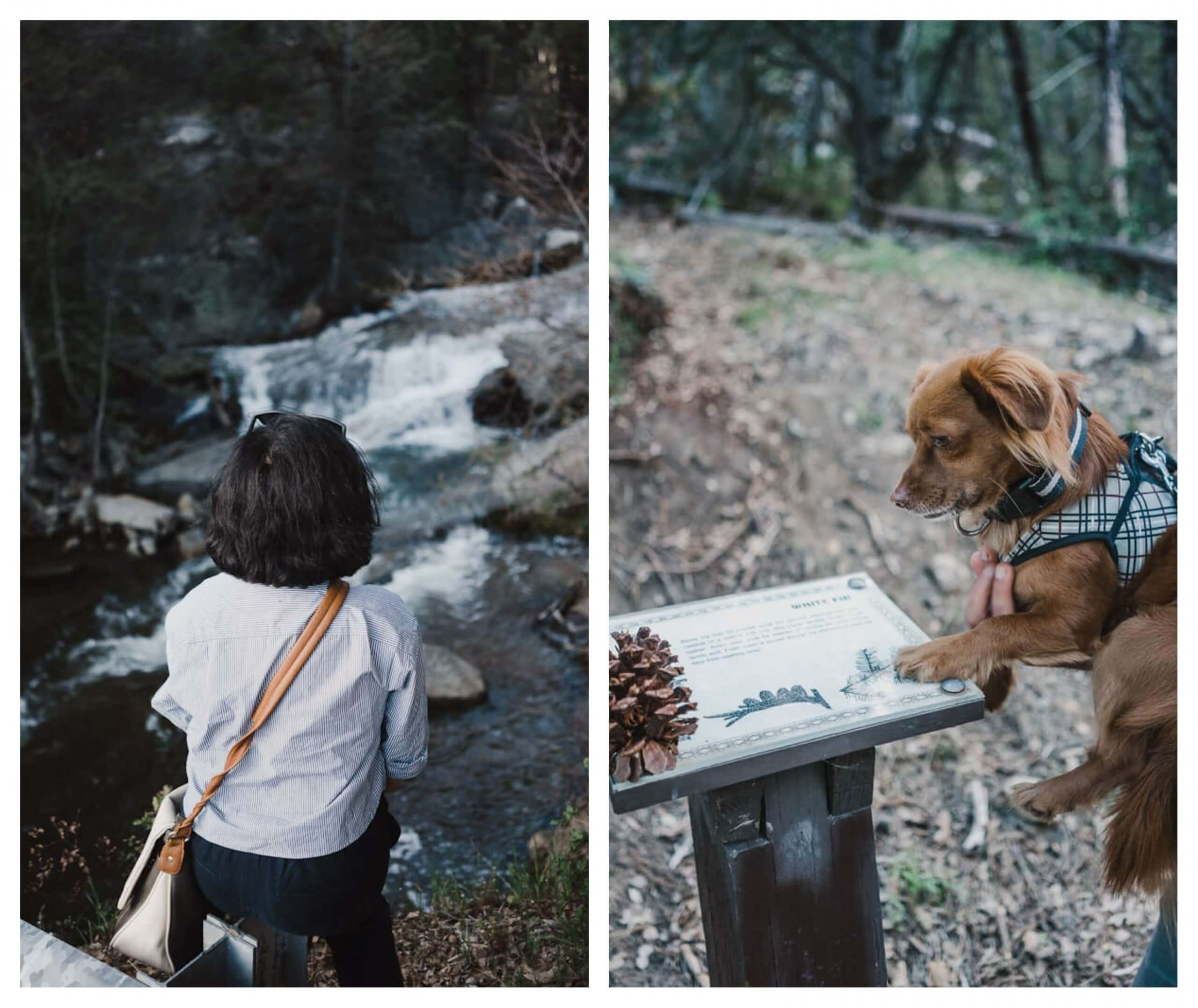 This is hands down one of the most FUN things to do in Yosemite with your dog! Imagine riding on a steam puffing train as it chugs through the Sierra National Forest while you take in the incredible greenery and scenic views with your pup? You can do exactly that by purchasing tickets to the logger steam train where dogs ride for free! The ride along the historic Sugar Pine Railroad is about an hour long with a 15 min stop at Lewis Creek to stretch your limbs and take a gazillion photos.
This train ride is extremely popular with people with kids and can get really crowded. If your dog is nervous around children or in crowds, then please do not board the train. They also have an option for food (sandwiches) which you can specify while booking the tickets but we didn't opt for meals.
The station is accessible at the Sugar Pine right off Highway 41 (address: 56001 Highway 41 Fish Camp). Owing to weather conditions, rides start only from the month of April for the calendar year. We saddled Gunda in our trusted Kurgo Backpack and he was pretty chill in it. Needless to say, he was the star attraction of the ride with both kids and adults staring or smiling at him (that backpack and his cute face can melt the stoniest of hearts).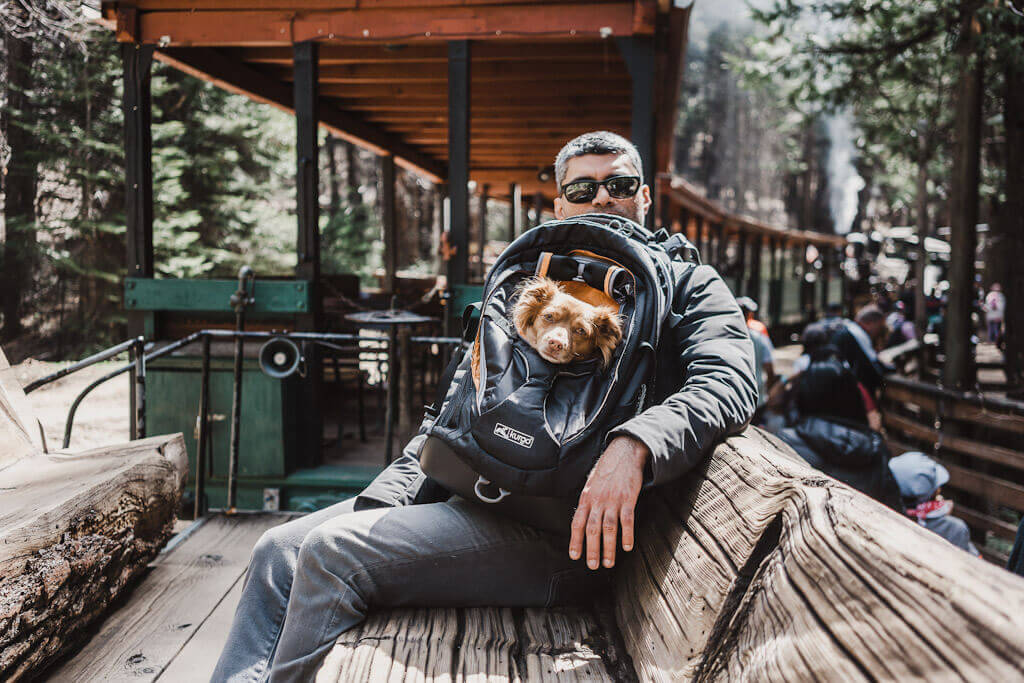 d) Explore the Gold Rush Towns of Mariposa and Coarsegold
Mariposa is one the best kept secrets of the Sierra Nevadas and is often considered the Gateway to Yosemite. This historic town was borne of the gold rush boom that shaped California in the 19th century and is located right along Highway 49. Mariposa Museum and History Center welcomes well behaved dogs on leash and is a treasure trove of historical artifacts, records and documents of the gold rush period in the Sierras.
Besides a day at the museum to slake your curiosity, I recommend stopping by the Local Grape for wine tasting (they do allow dogs inside but you have to ask). Here, you can taste some delicious Bordeaux varietals grown in the foothills of the Sierras which is one of the up and coming wine regions in California.
Local Grape is part of a restaurant named " Little Shop of Ramen" which really stands out amidst the breweries and pub fare all around. They make their rye noodles in-house and broth from scratch and have lots of sake and other Japanese beverage options. Plus their desserts are yummy! Best part about this is that they have a dog friendly patio!
Mariposa County Courthouse grounds welcomes dogs on leash and is a nice option to walk your dogs on grass. This courthouse built in 1854 is the longest continuously serving courthouse in California and is a registered California Historical Landmark site!
Coarsegold was a surprise find during our stay in Oakhurst. Coarsegold, so named after the coarse gold nuggets that were the rage during the gold rush, is actually privately owned by a couple and is located only 8.4 miles south of Holiday Inn Express, our hotel. Coarsegold village is simply delightful with lots of small shops and stalls. A breakfast or lunch in the dog friendly patio of Wild Fig Restaurant is a must!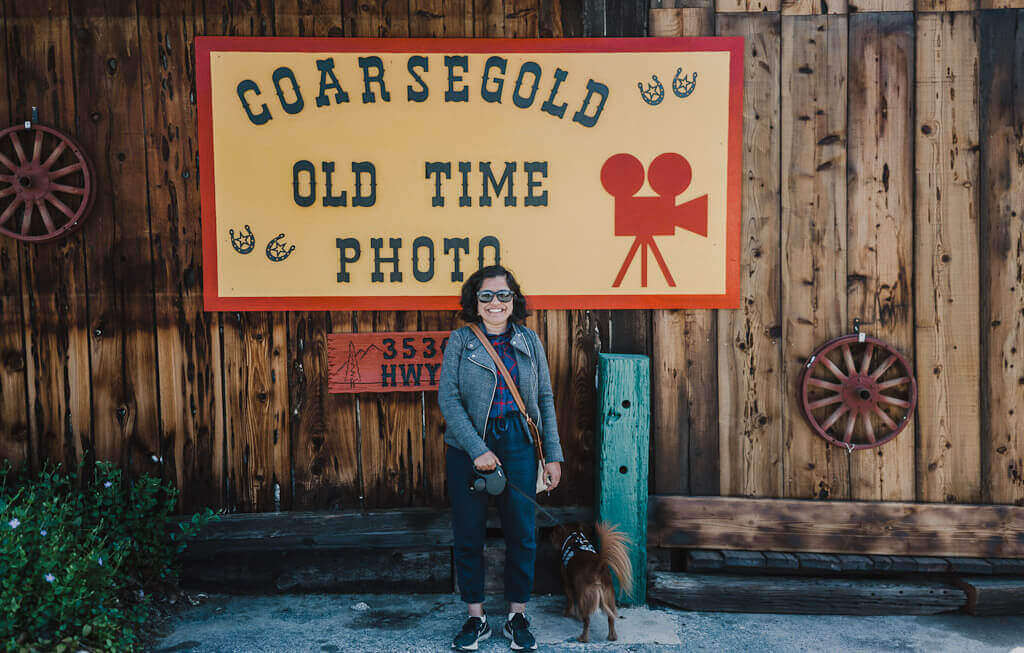 e) Check out the many alpine lakes and other attractions along Highway 395
Yosemite National Park connects to Highway 395 via the Tioga Pass (the pass closes down from October-May owing to heavy snowfall). If you are a repeat visitor to Yosemite, I highly recommend driving down 395 to explore the many dog friendly lakes dotting this highway.
Definitely stop by Mono Lake and check out the Mono Lake Tufas, drive the June Lake Loop and go further down to explore Mammoth Lakes to see the Devils Postpile National Monument (also closes mid October-June) as well as Convict Lake. I recommend doing this drive in late September-early October to see the famous Fall Colors of the Sierras.
Where to visit Yosemite with dogs-a dog friendly map of Yosemite
Finally, and as always, here is a super helpful map Google map compiling all the places in Yosemite where dogs are allowed. I hope you have found this dog friendly Yosemite guide useful and are planning your next trip to Yosemite with your precious pups.
With your dogs in Yosemite, you will have double the fun for sure as you explore the wilderness with your best friends in tow. Remember to pack in ample food and water, follow park signs, pick up after your dog and definitely read this dog friendly guide before your Yosemite trip! Thank you so much for reading and do stop by my other dog friendly California guides as well!
Like this post? Pin it for later

«