Last Updated on October 16, 2022 by Paroma
Are you looking to explore the scenic June Lake loop in the Eastern Sierras of California? If so, then this is the perfect article for you! Find out everything you need to know about visiting June Lake and beyond, especially with your pup. Let this guide help plan your June lake loop road trip for another memorable dog friendly adventure in California.
Disclaimer: This post may contain some affiliate links. Clicking on them may earn me a small commission at no extra cost to you for the product. Thank you for supporting free content on this site!
DRIVING THE SCENIC JUNE LAKE LOOP IN MONO COUNTY, CALIFORNIA
The June Lake loop is a popular drive in Mono County, which lies in the shadows of the mighty Sierra Nevada mountain range. The loop is an easy 16 mile drive teeing off Highway 395 and is very popular in Fall when everyone rushes to this part of the state to enjoy the bejeweled foliage. I have driven this loop around June Lake twice now-first in Fall and then in Spring and have been spellbound by its alpine beauty! Here are a few things to remember while planning your trip on the June Lake loop:
WHERE IS JUNE LAKE LOOP?
June Lake loop is a semicircular loop of four lakes along route 158 that begins and ends at Highway 395 running north/ south through Mono County, California. Distance wise, this part of the state is about 264 miles east of San Francisco and 131 miles south of Lake Tahoe. This scenic route featuring June Lake and three others nestled in a horseshoe shaped canyon is often referred to as the "Switzerland of the Sierras" owing to its alpine views.
The northern end of the loop is just south of Mono Lake while the southern end starts off at June Lake junction, 6.3 miles south of the northern entrance point. For further context, Highway 395 connects to the world famous Yosemite National Park via route 120 through the Tioga Pass (closed from October-May).
HOW LONG IS THE JUNE LAKE LOOP?
This is a short 16 mile loop, comprising of four main lakes-June, Gull, Silver and Grant. There are a few other lakes around the loop that are accessible only via 3-4 miles of hiking trails. If you simply choose to stay on the loop, it will take you about 2 hours (at least) to stop and enjoy the different scenic spots. If you're interested in exploring the June Lake hiking trails, then please reserve half a day to explore the loop.
WHEN IS THE BEST TIME TO DRIVE ON THIS SCENIC LOOP IN MONO COUNTY?
I personally recommend Fall (October) to see those brilliant hues of orange, red and yellow (you can track California's Fall report here) that the Sierras are famous for. Another good time to visit is Spring (Late April-early May) due to the cooler weather, snow capped mountains and wildflowers bursting on trails. Summer does get crowded and hot while the loop is inaccessible during Winter due to road closure.
DO YOU HAVE TO PAY TO DRIVE THROUGH JUNE LAKE LOOP?
The loop and all its attractions mentioned here are 100% free for the public to enjoy for day use (unless you are renting a paddle boat or canoe). There is no parking fee for day use vehicles.
IS THE JUNE LAKE LOOP DOG FRIENDLY?
YES! We recently explored the loop with Gunda*, our newly adopted pup and enjoyed this easy breezy road trip immensely! Needless to say, we say many dogs having a splash in the June Lake or snoozing on the shores with their owners during our trip. Dogs must be on leash wherever signs say so (although we saw several people flouting the rules).
*We adopted Gunda in April to bring some cheer into our lives devastated by the loss of Babu, our 17 year old furbaby /Tibetan Spaniel mix, who was the light of our lives for 16 long years and my travel buddy all over California. Gunda is a 2 year old Terrier mix adopted from Stonecliffe Rescue (LeMoore, CA).
This shy boy is the unofficial neighborhood patrol of San Francisco's Lower Pacific heights (he sits on our window sill and manns the street). Gunda ironically means "hoodlum" in Hindi and Bengali (two Indian languages that I am fluent in). You can follow Gunda (and Babu's) adventures at babuandgunda on Instagram.
JUNE LAKE LODGING/HOTELS
There are several options when it comes to lodging in Mono county around Highway 395. The closest place to stay around the June Lake scenic route would be in the small town of June Lake itself or in Lee Vining, another town that is only 5 miles north of the upper June Lake loop entrance. However, if you're traveling with your pup, I highly recommend staying in the town of Bridgeport which is 36 miles north of June Lake right on Highway 395.
We chose to stay at the dog friendly (and budget friendly) Walker River Lodge in Bridgeport (right on Main street, the one street that runs through this tiny town). Not only is the room spacious with a HUGE king-size bed, a kitchenette (microwave and fridge) but the most endearing part about this lodge is that all rooms are dog friendly and there is NO EXTRA PET FEE! Plus you have free parking, WIFI and even a continental breakfast (currently suspended due to the 2021 health crisis).
If that is not all, Bridgeport is the gateway to many dog friendly attractions, such as Bodie State Park (the most well preserved ghost town in California) and is only 20 miles away from Mono Lake, one of the oldest lakes in North America and home to the mind-blowing salt tufa!
Bridgeport is also a stone's throw from two hot spring venues-Travertine and Buckeye, both of which welcome dogs. If you're planning to tag on Yosemite National Park (which is also dog friendly), I recommend doing so in Summer and Fall (mid June- mid October) when you can access the eastern end of the park via the Tioga Pass on route 120 from Highway 395.
HOW TO DRESS FOR VISITING THE EASTERN SIERRAS
The weather in Eastern Sierras changes rapidly, so come prepared. It is best to dress in layers with some warm clothes handy. Also wear sturdy hiking shoes/boots to get on the trails. Remember to bring sun protection (sunscreen, hat, sunnies) and carry ample water and snacks. Goes without saying that light mirrorless camera is a great option when you're huffing and puffing on the trails (you can see my photography gear here) and so are sturdy, functional camera bags.
WEATHER CHANGES AND ROAD CLOSURES
Eastern Sierras are notorious for road closures that typically last from late October-May/June with different opening times for different passes and sections of roads. It is therefore best to consult road conditions prior to going on your trip to June Lake. In this age of social media, the most convenient way is to check the Instagram accounts of Mono County (they are very active), June Lake Loop and the Mono County website for all up to date info on road conditions, closures and passes.
Pro tip: If you're going on this road trip from San Francisco in May-October, do take the CA-108 E up to Highway 395 to cross through the Sonora Pass when it remains open. The views here are unmatched!
BEST SCENIC SPOTS ON THE JUNE LAKE LOOP DRIVE
The June Lake loop can be explored clockwise from the southern June Lake junction or anti-clockwise from the northern entry point near Mono Lake. We chose to drive down south to start off from June Lake itself but you could easily start off from Grant Lake at the northern point and follow this itinerary in the reverse. Here is how to make the most of your visit:
JUNE LAKE OVERLOOK
Starting from the June Lake junction, this pullout point on 158 south is from where you get a tantalizing glimpse of the bluest of blue June Lake surrounded by the Sierras and the coniferous trees. Here you will be greeted by a plaque with a slot machine ensconced firmly on it. This slot machine is a reminder of the heydays of California's gold rush history when gaming with BIG in Mono county, albeit illegal. Legend has it that when the craze died and most machines were voluntarily removed, one local casino hurriedly disposed off the last of the slot machines right into June Lake to avoid a raid by local law enforcement.
JUNE LAKE BEACH
Next up is June Lake Beach which is accessible via the June Lake beach road, right off route 158. The beach is a sandy patch welcoming dogs on leash with its waters turning from an emerald green on one end into a sapphire blue on the other. You can rent a single or double person kayak, stand up paddle boat or a canoe from the June Lake Marina. Or, simply sit on the banks of the lake and watch the ducks swim by on this spectacular lake.
GULL LAKE MARINA
Next comes Gull Lake, the smallest of the four lakes. You can drive up to the Gull Lake Marina to rent a boat, or carry a boxed lunch with you to enjoy at the picnic area. Gull lake is also a favorite with anglers and there is also a children's playground close by. The grounds are dog friendly. Gull lake is a popular destination for those staying at June Lake town because of its close proximity to hotels and restaurants nearby. Overnight camping is permitted in the small campground on the south side that is open from April-November.
JUNE LAKE HIKING TRAILS
As you drive from Gull Lake to Silver Lake, there'll be two hiking trails leading to other lakes off the loop. These are as follows:
FERN LAKE TRAIL
This is a 3 mile trail (rated: difficult) that takes you all the way from Highway 158 to Fern lake. The trailhead map is here, between Yosemite Gateway Chalet and Whispering Pines lodging. This is a dog friendly hiking trail.
RUSH CREEK TRAIL TO HORSETAIL WATERFALL, AGNEW AND GEM LAKES
The Rush creek is so named because the creek "rushes" down its namesake canyon to feed Silver lake, the third lake on this route. Although the creek is somewhere between Gull and Silver lakes, the actual trailhead (see location map here) lies just north of Silver Lake from a large paved parking area on near the packing station and Silver Lake Campground & RV Park. This trail is dog friendly and takes you past the Horsetail waterfall to Agnew and then Gem lake. It is a nearly 5 mile out and back trail with 2.5 miles being an upward climb towards the lakes.
SILVER LAKE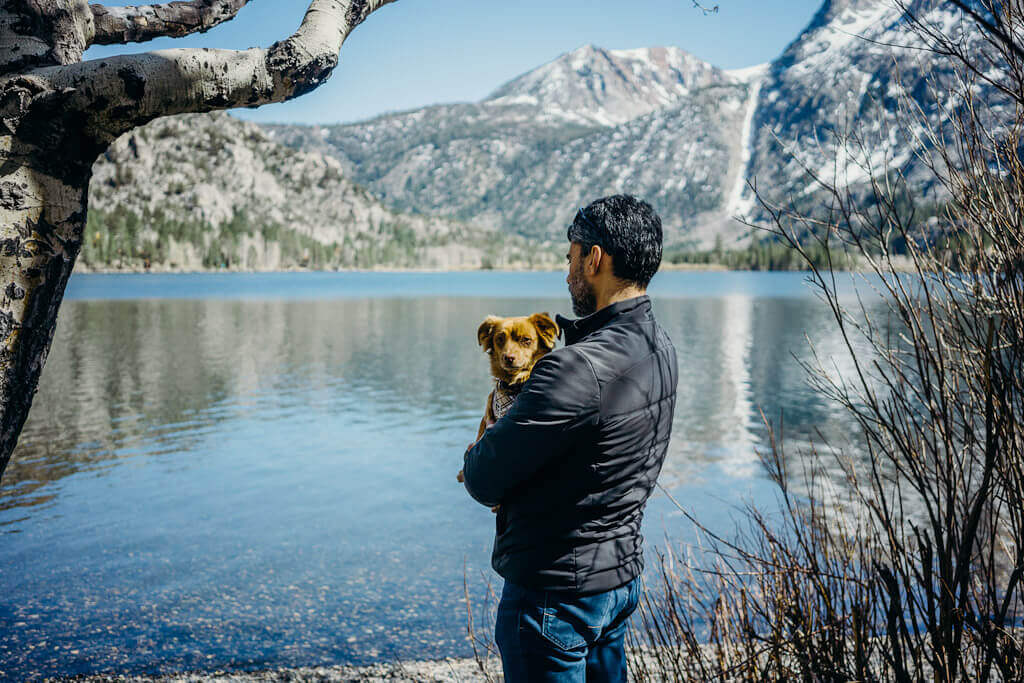 Silver lake is another very popular lake on the June Lake loop (the third one and right on highway 158) and is the oldest fishing retreat in this region (we saw many young kids trying their lucking on the wooden pier). This lake is also popular with swimmers and kayakers but we were just content with the views of the majestic Carson mountains towering above it.
GRANT LAKE
Grant lake is the last of the four lakes on the scenic June Lake loop and feels the most different of all four. While the first three are very much spitting images of alpine lakes, Grant Lake felt more a lake stranded amidst a sandy beach, kind of like Mono Lake. This is the largest of the four lakes and is famous for spotting giant rainbows as well as for motorized water sports such as jet skiing, wakeboarding and water skiing.
Although there are several pull out points from where you can get a good view of the lake, you can also drive into Grant Lake marina and then get down to the sandy shores of the lake via steps leading down from the Marina. We stopped briefly at Grant lake and then headed back to Highway 395.
WHERE TO EAT NEAR JUNE LAKE LOOP
There are several yummy spots near the Eastern Sierras to check out, even with your pup in tow because most of them have outdoor seating (which is great when visiting in Spring and Summer or even early Fall when it is still warm for outdoor dining).
I highly recommend dining at the historic Bridgeport Inn for their local catch (the manager was very kind to allow Gunda inside their dining room) and getting the "world famous" Fish tacos at Whoa Nellie Deli (inside the Mobil gas station at Lee Vining) which you can enjoy outside with a spectacular view of Mono Lake at a distance.
The other fun place to grab a bite (and definitely a soft serve ice-cream) is Jolly Kone which also has a great selection of breakfast items, burgers, sandwiches and tacos. June Pie Pizza Co in June Lake is another fun place to grab a slice of NY style pizza.
OTHER DOG FRIENDLY ACTIVITIES NEAR JUNE LAKE LOOP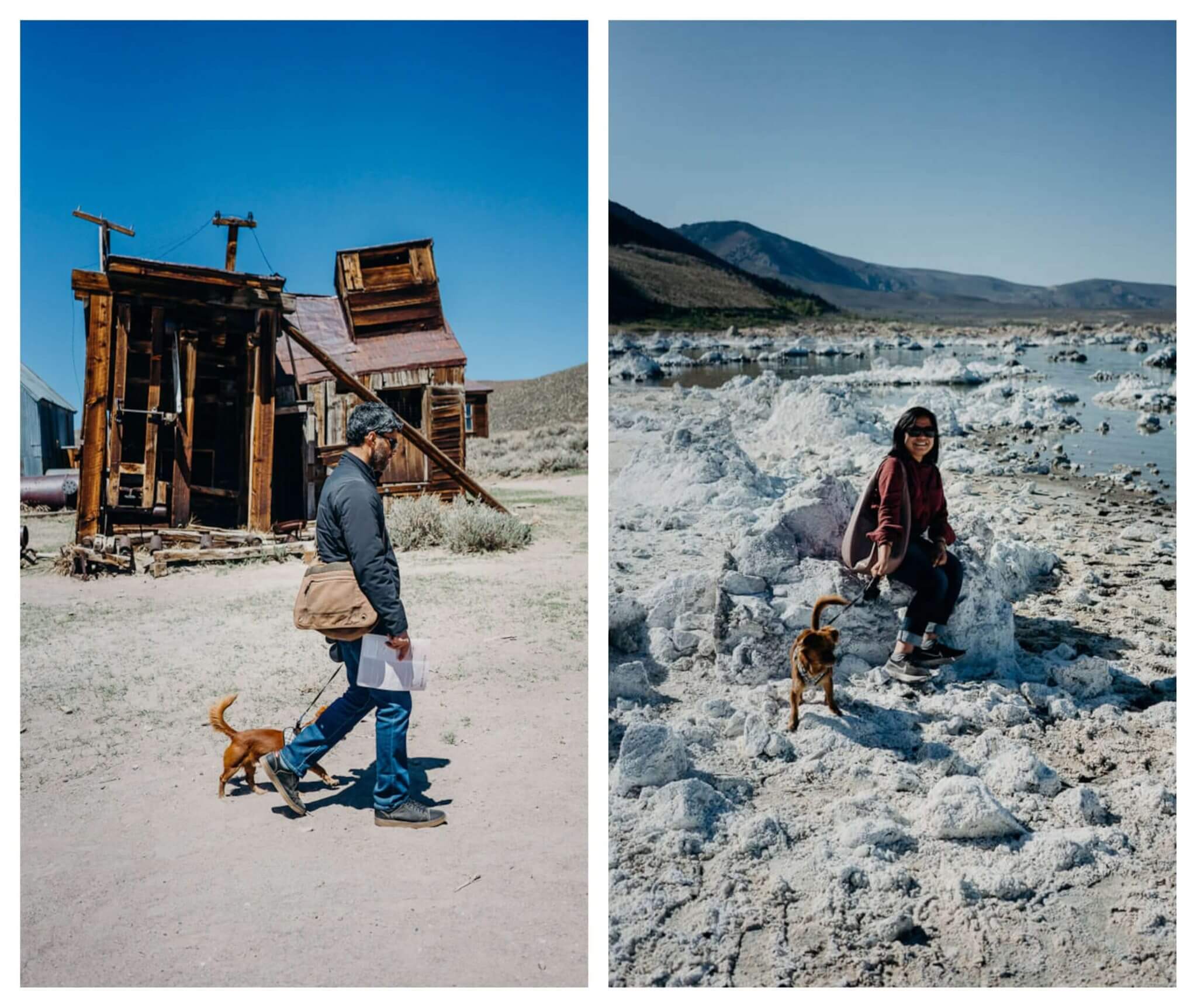 The entire Mono county/Eastern Sierras is a haven for dogs thanks to access to the great outdoors. There are so many spots up and down highway 395 that you can explore with your pup. We only had one full day to ourselves (another reason for a return visit with Gunda) and enjoyed our outing to Bodie Ghost Town (dog friendly state park) and the Mono Lake Tufa State Natural Reserve (dogs welcome here too).
Beside the alpine lakes along Highway 395, the other dog friendly attractions that we finally saw this fall during our trip to Mammoth Lakes are Devils Postpile monument (a massive column of basalt) and Rainbow Falls. The road to the monument is anticipated to open in mid-June.
I hope you enjoyed reading this detailed guide on making the most of your June Lake loop drive, a must do when in the Eastern Sierras as well as all the dog friendly tips on where to stay and eat with your pup. Thanks so much for stopping by and please continue to follow our dog friendly California adventures right here!
JUNE LAKE LOOP MAP
Like this post? Pin it for later!

«