Last Updated on June 9, 2022 by Paroma
Looking for mirrorless travel cameras that will not break the bank? Then delve right into this article where I have you covered with the best travel mirrorless cameras for all budgets with recommendations on camera lenses to use. Read on to find your favorite camera brand for lightweight travel photography minus the hassle!
Why opt for mirrorless travel cameras?
It is a no-brainer that in this age of instant sharing and staying connected via social media, travel photography too has undergone a massive evolution. The advent of light, portable, wireless equipped mirrorless travel cameras have completely changed the name of the game by providing super high quality photos that rival those of traditional DSLRs at a competitive price point.
Besides the technology, their portability as well as the ease of transferring photos to mobile phones via wifi have made them easy favorites of an increasing number of photographers and travel bloggers who are always on the go. However, choosing the right mirrorless camera for travel is not always easy. The budget, some technical knowhow of the many camera features and the correct camera lenses to go along with are essential for choosing mirrorless cameras that work best for you, your budget and your kind of travel photography.
Photo clicked at Yosemite National park using my Sony Alpha 7RII
Since not all mirrorless cameras are created equal, I have compiled this detailed guide to help pick that mirrorless camera of your travel dreams. The guide is based on real user testimonies from seasoned travel bloggers, includes the most recent price tag (prices subject to change) and provides a jargon-free explanation of some of the key features of the model to help select a suitable mirrorless camera.
This guide is arranged in alphabetical order for convenience with in-depth technical reviews from reputed sites. For female travel bloggers looking for killer travel camera bags, don't forget to read my post on the best camera bags for women across all budgets (cruelty free options included).
Disclaimer: My blog posts contains some affiliate links. Clicking on them may earn me a small commission at no extra cost to you for purchase of the product. Thank you!
Photos used here are credited to original owners and should not be used without their explicit permission.
Mirrorless Cameras for Travel-Brand #1. CANON
I started my journey into photography with a Canon Rebel t2i (can be made sufficiently lightweight with lenses such as a 40mm pancake lens) and so this brand is very near and dear to my heart. Known primarily for its state of the art DSLRs, Canon was kind of late to the mirrorless camera game (or at least produced pretty crappy ones in the beginning) but has since then upped the ante and is really trying to make its way in the mirrorless market with several viable and budget options. See my travel blogger friend's testimony below.
Camera: Canon M50 (model released in 2018)
Price: approximately $630 on Amazon.com (camera body)-refurbished option available too at $489
Main Specs: 24.1 Megapixel APS-C CMOS sensor, interchangeable lens
Hanna says: We chose the Canon M50 due to the small and light body, as we already travel with two other cameras it was the cheapest mirrorless camera for travel and closest to a full frame camera that we could find. We already use canon cameras and wanted a backup for photos. It also shoots video in 4k resolution, so is a back up for the Panasonic GH5 we use to video usually.
Buy the Canon M50 by clicking on the image below
In combination with a speed booster the Canon M50 has a crop factor of 1.1, where a lot of the other mirrorless cameras under 1000 Euro we were looking at had a crop factor of 1.5 or 1.2. The lens we use with it most is the Canon 24 -105mm f4, which is actually much heavier than the camera itself, meaning it's a bit awkward to hold the small body with such a heavy lens but it's still worth it. With the speed booster that we have, the lens becomes an f2.8. Even without an adapter, the auto focus is fast and reliable and it also has face recognition.
Shop the Canon 24-105mm lens by clicking on the image below
It is also a popular camera for vlogging, due to the flip screen, and the eye tracking. As well as shooting in 4k it shoots 1080p resolution in 50fps, to create beautiful slow motion videos. The only two downsides are; no IBIS (In body image stabilisation) and also no silent mode.
Photo clicked using Canon M50 (courtesy: Hanna)
Best Mirrorless Travel Cameras-Brand #2. FUJIFILM
Fuji is right up there with big brands like Sony and Panasonic when it comes to delivering mirrorless cameras for travel that are compact power horses and do not cost an arm and a leg unlike the Sony ones. The three models being discussed here are the older Fuji X-T10, Fuji X100F and the latest Fuji X-T30. The user testimonies for these cameras are as follows:
Camera: Fuji X-T10 (model released in 2011)
Price: approximately $569 on Amazon.com
Main Specs: APS-C sensor, 16 Megapixel resolution, interchangeable lens
Contributor: Helen from Helen on her Holidays. Follow Helen on Instagram
Helen says: I bought my first Fuji mirrorless camera on an absolute whim at the airport on the way to Lake Garda. I saw a fantastic deal on the X-M1 with two lenses, and luckily I didn't regret my impulse buy. I really loved my first Fuji, but after a year or so I was ready to upgrade to the X-T10.
Click on the image below to shop the Fuji X-10
One of the best things about Fuji is that they manage to squeeze the top-notch features from their flagship cameras into smaller, cheaper bodies – perfect for travel. When I bought my X-T10, their flagship was the X-T1. They're now up to the X-T3, but they've put almost all the features from that camera into the cheaper X-T30, making the smaller camera brilliant value for money.
Click on the image below to shop the Fuji X-T30
I have three lenses which I use regularly: the XC50-230 from my original set; the XF27 which is almost pancake so awesome for city breaks; and the workhorse XF18-55. When I'm travelling light, I tend to take only the XF18-55 as it's so versatile; it was the only lens I took on my Norway in a Nutshell trip. Shop these lenses by clicking on the images below.
My favourite thing about my X-T10 is the thing that some other people find most difficult to get to grips with. Rather than having Nikon or Canon-style Aperture priority and Shutter priority modes, my Fuji has separate dials. Some people find this a bit weird, but as an absolute beginner learning about the exposure triangle, I found it really useful. If someone else wants to use my camera, I just flick one switch and it's back in full Auto mode. I do wish that I could charge it with USB, but I've bought a few spare batteries so I'm never out of juice. I'd recommend Fuji mirrorless cameras to anyone looking for great quality in a small package.
Photo of Norway clicked with the Fuji X-T10 (courtesy: Helen)
Camera: Fuji X100F ( model released 2017)
Price: approximately $1048-1299 on Amazon.com
Main Specs: APS-C sensor, 24.3 Megapixel resolution, fixed lens
Contributor: Jason from Mint Habits
Jason says: If you're looking for a mirrorless travel camera that is small (weighs 2 lbs), compact, looks great, powerful, and reasonably priced, the Fuji X100F is a camera you should highly consider. The main reason this camera is amazing for travel is because it's small and lightweight form factor with a powerful 24MP sensor. On top of that, Fuji colors are the best out of any camera brand out there (not just my opinion!).
Click on the image below to shop the Fuji X-100F
This camera has a fixed lens on it that is equivalent to a 35mm full frame focal length. I feel this is the best focal length for all around photography. You can take landscape photos, portraits, food photos, and pretty much anything else. It's a wide angle lens that isn't too wide which allows you to capture people and places very well.
It's a professional grade camera and the price is really reasonable for what you get, so you can use travel budget money for other things! This camera is slightly larger than a typical point and shoot camera and can easily fit in your purse or jacket pocket for nights out roaming around. This is a camera you can easily use for the next 3+ years, so if you're looking for a one camera do it all for traveling over a few years, really consider the Fuji X100F!
Price: approximately $900 (camera body) & $700 (lens) on Amazon
Main Specs: APS-C sensor, 26.1 Megapixel resolution, interchangeable lens
Josh and Sarah Say: Currently we're in a great position to talk cameras as we've just moved to the Fujifilm X-T30. After being proud DSLR owners for countless years we finally made the switch to a mirrorless travel camera not before doing many hours of research. Now after having used the camera for a number of months and exploring every aspect and function, we can happily say it's one damn fine camera that we would recommend to every travelling photographer.
Click on the image below to shop the Fuji X-T30
The first thing which strikes you about this camera is the size and design. The X-T30 is small, compact and is beautifully crafted. The camera layout is very usable and it makes taking photos a real joy. It's also light enough to easily carry in your bag without weighing you down- once again encouraging you to take lots of snaps.
Despite its small size, the X-T30 really packs a punch and the APS-C image sensor and 26.1 MP rival many full-frame, higher priced rivals. It takes beautiful rich and sharp photos that come out great straight from JPEG, picking up amazing colours. It's also fantastic in low-lighting producing crisp photos at a very high ISO. Altogether it makes the X-T30 the perfect travel companion, excelling in nighttime and street photography. Other aspects you'll love are the touch screen functionality and also the adjustable screen which makes taking aerial or floor photos a great deal easier.
Our only criticism is that the lenses are pretty expensive compared to other brands – better get saving!
Photo clicked with Fuji X-T30 (courtesy: Josh and Sarah)
Best mirrorless camera for travel bloggers-Brand #3. LEICA
Leica cameras are damn expensive and damn nice! I love my Sony alpha A7RII to bits, but there is something fancy about slinging that Leica camera around your neck when traveling. Roshni, an ardent travel enthusiast and blogger provides her take on the Leica CL (touted as the world's most tactile camera with APS-C sensor) below:
Camera: Leica CL ( model released 2017)
Price: approximately $3200 (camera body + lens)
Main Specs: 24-megapixel APS-C CMOS sensor, compatible with Leica TL/SL lenses
Roshni says: Dubbed the ultimate travel camera, the Leica CL is a versatile everyday tool for photographers. It is blessed with the iconic design that Leica is famous for coupled with pristine image quality. Lightweight and easy to use, it allows you to enjoy the moment more as you can shoot quickly and casually without being bogged down by gear.
Click on the image below to shop the Leica CL
The Leica CL has a 24 megapixel sensor, a fast autofocus and can shoot up to 10 frames per second. The 3 inch LCD screen is a lifesaver compared to the Leica TL2 and makes shooting that much simpler. To transfer photos, make sure you download the new version of the Leica FOTOS app on Android or iOS. The camera doesn't have Bluetooth but it is WIFI enabled, and the app also has a wireless remote control function that I find helpful when the camera is mounted on a tripod.
The downside is that the Leica CL battery lasts around 250 photos (if you shoot in DNG and JPG) so spare batteries are required if you tend to shoot more than that in a session. The price is also a lot higher than most mirrorless cameras. I recommend the Leica Vario-Elmar-T 18-56mm f/3.5-5.6 ASPH lens for everyday use to go with the camera, despite the steep price tag. The price of the Vario kit that includes this lens costs $3795. The other "cheaper" option is the Leica CL prime kit that comes with the 18 mm f2.8 ELMARIT-T pancake lens.
Leica Vario-Elmar-T 18-56 mm lens
LeicaVario Kit
Clicked using the Leica CL (courtesy: Roshni)
Mirrorless cameras to buy-Brand #4. OLYMPUS
Price: approximately $420 (camera body)-Amazon.com
Main Specs: 16 Megapixel Four thirds CMOS sensor, built in flash and Wifi, tiltable LCD screen
Alison says: I purchased the Olympus OMD EM10 (Mark I) as my first professional camera three years ago, and I haven't even window-shopped for a new model of mirrorless travel cameras since. It is a great camera for keen photography newbies, as well as amateurs. I chose this Olympus model because the body is light and compact, yet it still has a built-in flash. (Although this was important to me at the time, I will admit that I have only used it once or twice.) It has a 16-megapixel 4/3 sensor, as well as a built-in viewfinder, which is especially helpful when shooting in sunny destinations.
Click on the image below to shop the Olympus OMD EM10
One of its best features is the touchscreen. It tilts up to allow street photographers to discreetly shoot from the hip, capturing a scene without pointing the entire camera directly towards the subjects. The screen also tilts down so you can shoot overhead, which can help short photographers to take photos over large crowds. However, the screen is not mobile enough to flip around for selfies; so this isn't the best choice for v-loggers. In addition, the wi-fi connection allows travelers to easily back up their photos onto their phone or computer for safe storage – in case the camera got lost or damaged during the trip.
I found very few cons with this Olympus, but I still find it easier to use my cell phone for panoramas, and I don't like the toggle 'on-off' button. I also wish I had a larger sensor when I compare my photos with other people's images – still, I know I wouldn't want to lug their cameras around all day. When I travel, I pair it with the ginormous Panasonic Lumix G 14 – 140 mm, f/3.5-5.6, since I can make the lens work in pretty much any situation. I usually also bring a small prime lens for food and nighttime shots.
Photo clicked using the Olympus OMD EM10 (courtesy: Alison)
Mirrorless cameras for travel photography-Brand #5. PANASONIC
Panasonic is that one brand that has a loyal following that refuses to die and for good reason. Giving tough competition to the likes of Fujifilm and Sony, Panasonic Lumix S1R full frame mirrorless travel camera made it to the best mirrorless cameras of 2019 list with a rugged body and impressive features. The user based reviews are for older models such as Panasonic Lumix GH4, G8 and GX85 that are still going strong.
Price: approximately $720 (camera body)-Amazon.com
Main Specs: 16 Megapixel Four thirds CMOS sensor, built in flash and Wifi, tiltable LCD screen
Fiona says: The Panasonic Lumix GH4 is a fantastic mirrorless camera with interchangeable lenses and superb 4K video features. The body is of slim build and lightweight, which is initially what appealed to me when I was looking for a new travel camera.
Click on the image below to shop the Panasonic Lumix GH4
It has many excellent features including an electronic viewfinder and a touch-sensitive, LCD screen, which is on a hinge. There are 5 function buttons which are customisable to do things such as back button focus. There are also shortcut buttons for white balance, ISO and exposure compensation and several shooting modes including self-timer and burst. The GH4 has 3 focus modes, and you can also tap the LCD screen to focus on a particular point.There's also a microphone, headphone and USB port tucked inside. The lens has image stabilisation which makes a massive difference to the image quality when you're not using a tripod but holding the camera for lengthy periods. The camera also has wifi, and you can operate it remotely from an app on your phone.
I use the 14-140mm lens that came with the camera most of the time. It's a great lens to use if you're looking for a compromise between a wide-angle and a telescopic lens. I've recently purchased a 100-300mm for wildlife pictures, and I'm thrilled with the quality of the images. To be honest, there is very little I dislike about the GH4, and I would highly recommend it as one of the best mirrorless travel cameras out there. I think it offers outstanding value for money.
Price: approximately $1197 (camera body)-Amazon.com
Main Specs: 20.3 Megapixel Four thirds CMOS sensor, 3 inch LCD screen, 20+ interchangeable lens options, in-body stabilization available
Contributor: Alya and Campbell from Stingy Nomads. Follow them on Instagram
Alya says: We used to travel with a bulky DSLR (Canon 70D) and a couple of lenses but it always was such a tedious mission to carry a big camera. We do a lot of hiking and walking and having extra weight (we're talking about 1.5kg/3.3 lbs) in a backpack is not very practical. After a year or two of struggling we finally gave up and bought a Panasonic Lumix GX8, a mirrorless travel camera that we always pack for a hiking trip. The camera is great for taking outdoor photos and even videos, it has a waterproof body which means you can use it if it rains, it shoots in 4K, it has a 20MP sensor and a good stabilization system.
Click on the image below to shop the Panasonic Lumix GX8
For us the big advantages of the Lumix are that it's light and small compared to a mirror camera and second, this camera has interchangeable lenses so you can put a different lens depending on what you want to shoot landscape, interior, people, animals etc. We usually use Lumix GX8 with a standard 14-42 lens. Another thing I really like about this model is that it has a viewfinder almost like a mirror camera, though it's not the optical but an electronic one. I am used to look through the viewfinder before taking a photo, which is a much better option than a digital screen as even in harsh sunlight you can see what's going to be on the picture.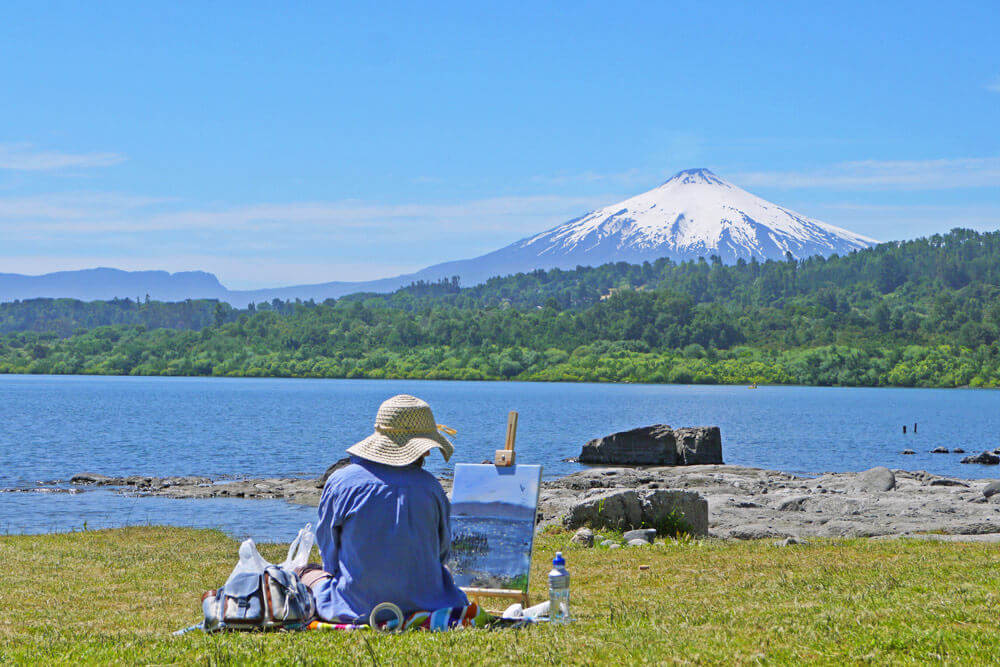 Photo shot with Panasonic-Lumix GX8 (courtesy: Alya)
Price: approximately $560 (camera body+ two lens bundle)-Amazon.com
Main Specs: 16 Megapixel Four thirds CMOS sensor, 3 inch LCD screen, interchangeable lens options, in-body 5 axis dual image stabilization available
Contributor: Shimona from Sidecar Photo. Follow Shimona on Instagram
Shimona says: My favorite mirrorless camera is the Panasonic GX85. This style of camera is a Micro Four Thirds rangefinder. Micro Four Thirds is a standard for some of the smallest interchangeable lens cameras. What this means is, I can get the flexibility of switching lenses to match my mood, but in a really small package. Even the lenses are much smaller than other DSLR lenses (read Shimona's guide on the best Micro Four Third lenses for travel).
Click below to shop the Panasonic GX85 and lens bundle
The compact size of this camera has to be the #1 most desirable feature for travel. The other hidden advantage of Micro Four Thirds is that both Olympus and Panasonic lenses will work on this camera. That means a huge range of affordable lenses. Oh did I mention, the camera itself is VERY affordable! After I bought the Panasonic GX85, I found the shots from this camera to easily rival my far more expensive Canon 70d. It's small and light and honestly, just fun to shoot with. I sold that heavy DSLR and haven't looked back since.
My favorite lens for this camera is my trusty Tamron 14-150mm. That's a huge range by the way, perfect both for landscape shots as well as zooming in on that cool toucan in the trees. I also carry a few more lenses but not too many because again, as a travel photographer, a minimal kit is key.
The one negative aspect of this camera is that battery life is not as long as I'd like. But thankfully, this has an easy solution – I simply carry a spare battery with me. If that still doesn't cut it, the camera charges off a normal USB charger so I can just charge it from an external battery pack. Easy peasy.
Best Mirrorless cameras for travel- Brand #6. SONY
Saving (what I think is the best) for the last and that is Sony, my favorite mirrorless travel camera brand. After lugging my Canon Rebel t2i DSLR for years with my 50mm prime lens and 10-55 mm zoom lens, countless rental Canon lenses which simply added to the weight, and some serious near shoulder dislocation, I knew it was time to switch to something light and compact, without compromising on travel photo quality. As you can see from the user testimonies below on several old and new models, Sony continues to be the leader in mirrorless cameras for travel bloggers and photographers alike, from older budget models to the new alpha a series. The models are listed in order of their release.
(this model is not available on Amazon, so I have linked the NEX-5TL instead)
Price: The approximately $450 (camera body w 16-50mm lens)-Amazon.com.
Main Specs: 16-megapixel APS-C image sensor, hybrid AF, tilting 3-inch LCD screen, built in wifi
Smita says: The Sony Alpha NEX-5T is a handy beginner's mirrorless camera.
Normally, I'd hate to carry anything other than my mobile phone—as I favour traveling light—but a Sony mirrorless such as the one I have is perfect. Launched by Sony in 2013, it is a handy mid-range compact system camera. I love its touch-screen interface, built-in Wi-Fi connectivity and the fact that it has both a mechanical and electronic shutter. It has an ISO range of 100-25600, 10 fps continuous shooting, and can take full HD 1920 x 1080p videos. You can also purchase a compact clip-on flash that attaches via an accessory terminal. I have no add-ons.
Click on the image below to shop the Sony Alpha NEX-5T
I have taken some stunning photos from my NEX-5T in the desert, urban settings, and at night. It is the perfect camera for someone who doesn't want to put in too much hassle to take a picture, yet wants to have them well done. Sony, as always, does a great job there.
I'd preferred more protection for the LCD screen, in-body image stabilization, and better low light sensitivity. The camera is quite basic looking too. Short battery life is problematic as well. However, overall, while it does not look fancy and is not the most compact or best photo taker out there, but for the price, cleverly balances all the important elements it must, and does its job remarkably well.
Photo shot using the Sony alpha NEX-5T (courtesy: Smita)
Camera: Sony A6000 ( model released 2014)
Price: approximately $550 (camera body w 16-50mm lens)-Amazon.com
Main Specs: 24 MP APS-C CMOS sensor, 3 inch tiltable LCD screen, interchangeable lens option, built-in wifi
Taylor says: The Sony a6000 mirrorless camera is a perfect entry level travel camera for anyone looking to up their photography game. With prices starting at around $400 for body only and $650 for bundle kits with lens, it a relatively affordable camera for what it has to offer. The Sony a6000 is in my opinion the most superior, affordable travel camera on the market.
Click here to shop the Sony Alpha a6000
My favorite feature is the built-in WiFi, allowing you to transfer photographs to your phone in even the most remote locations. The combination of the WiFi and the compact size, about half of that of a typical DSLR camera, make the Sony a6000 the perfect camera for everyday use, or to use while traveling. I also love that as a mirrorless the image is projected on the screen prior to shooting, making it easy for beginners to get a better understanding of manual camera settings.
Although the range is a bit limited, I find that the 16-50mm kit lens is perfect for everyday use. If you're looking to upgrade, Sony offers a ton of lens catered to your needs. While the video capabilities aren't bad, this camera isn't ideal for those with a main focus on video content. The focusing options can be a bit difficult as well for those shooting with a tripod, however they just require a bit of fiddling.

Photo clicked in Morocco using the Sony a6000 (courtesy: Taylor)
Camera: Sony A7II ( model released 2014)
Price: approximately $950 (camera body)-Amazon.com
Main Specs: full frame mirrorless, 5-axis image stabilization, 24.3 MP sensor
Sean says: The Sony A7II is a compact full-frame mirrorless camera released in 2014. Similar to most mirrorless camera, it is lightweight and small in size compared to the DSLR counterparts. It has a 24.3 MP full-frame sensor as well as built-in image stabilization.
The predecessor Sony A7 lacked the in-body image stabilization which was essential when taking photos with low shutter speed. Without it, any shutter speed under 1/60 second will have a little bit of blurriness. With the image stabilization, you can go as low as 1/20 second to capture that photo you want.
Click on the image below to shop the Sony A7II camera
The autofocus system on the Sony A7II is more than accurate and should cover you for most situations. An electronic viewfinder (EVF) that makes getting the photo you want much easier by showing you the final product, a feature that most DSLR does not have. And lastly, a 3″ LCD screen that lets you tilt up and down for those tough shots.
Every camera has some weaknesses and the Sony A7II has a few. Like most mirrorless travel cameras, the battery life is short. You will need to bring a few spare batteries on your travels. Second, the Sony A7II does not shoot 4K videos for all the videographers.
Lastly, the Sony full-frame lenses can be very expensive. At times, the lens itself is even more expensive than the camera itself. For that reason, I have been using the Tamron 28-75mm f/2.8 Sony E-mount lens with it. It is much more affordable than its Sony counterpart and equally as good. The Sony A7II can be used with a slew of lenses and you can read all about the best lenses to use with this mirrorless camera here.
Shot using the Sony A7II (courtesy: Sean)
Camera: Sony A7RII ( model released 2015)
Price: approximately $1800 (camera body)-Amazon.com
Main Specs: 42.4 Megapixel sensor, Full frame mirrorless, interchangeable lens (Sony E-mount lenses), Fast Hybrid AF, allows for 4k video shooting, built in wifi
Contributor: Me, aka Paroma from Year of the Monkey. Follow me on Instagram
My testimony: I got whiff of the Sony A7RII in 2015, thanks to being a diligent follower of several fashion blogs where the ladies were churning out eye popping travel photos with their sony alpha. Not to be confused with the Sony Alpha 7II (see previous entry by Sean), the Sony A7RII has an even more high res full frame sensor (42.4 MP vs A7II's 24.3) which allows for incredibly detailed photos and rich colors and is also an overall superior camera for both still photography and videography. I use it exclusively for photography and I cannot tell you how crazy useful the in-body image stabilization is in long exposure or low light conditions.
Click on the image below to shop the Sony A7RII camera
This full frame mirrorless camera is both compact and powerful, with an AF that parallels that of any high end DSLR where there are several modes to choose from to track still or moving objects in different parts of the frame. The Auto eye AF is another incredible feature that locks on the eye of the moving subject and gives super sharp images, despite movement. I absolutely love the built-in WIFI of this camera that lets me instantly download photos to my phone using the PlayMemories Mobile app and share photos on the go on Instagram!
The camera allows for interchangeable lenses and I exclusively use the 35mm f 2.8 Carl Zeiss E-mount full-frame lens for Alpha a7 Series which retails at $748 on Amazon. This lens is perfect for 95% travel photography and I cannot recommend it enough for the quality of photos it provides. Despite being expensive, I am eyeing the Sony Sonnar T* FE 55mm f/1.8 ZA lens as well for some portrait photography or when I don't need such wide angle shots during travel.
Much like other users, one of my biggest gripes about this camera is the short battery life and the time that it takes for these tiny (relative to my Canon DSLR) batteries to charge (anywhere from 4-5 hours). I always carry two fully charged extra batteries for this reason. The body of the camera is pretty sturdy and is ergonomically great for shooting for long hours at a time but the lens cover is the WORST! It is cheap, flimsy and comes off easily and I cannot count the number of times I nearly lost this piece of plastic and ruined my equipment. Finally, the menu takes a little bit of tweaking to for customizing the different buttons as per your liking.
Despite the steep price tag, the Sony A7RII is an excellent mirrorless travel camera that will bring your travel photography to life in the most vivid way! I highly recommend it for ardent photography aficionados and those who don't mind splurging a bit for what many consider to be the best mirrorless cameras in the world.
Photo clicked in New Mexico (road trip from Santa Fe to Taos) using the Sony A7RII
Camera: Sony A7RIII ( model released 2017)
Price: approximately $2500 (camera body)-Amazon.com
Main Specs: 42.4 Megapixel sensor, Full frame mirrorless, interchangeable lens (Sony E-mount lenses), shooting speed up to 10 fps with full AF/AE tracking, allows for 4k HDR video
Contributor: Abigail from Inside the Travel Lab. Follow Abi on Instagram
Abi says: The Sony alpha 7RIII arrived in 2017 and has regularly topped the best mirrorless travel cameras lists since then. Like its predecessor the a7RII, the Sony alpha 7RII, it features a full-frame BSI-CMOS sensor that gives 42.4 megapixels resolution. However, it can write data almost 1.8 times faster than the a7RII thanks to its updated Bionz X processor. It also has a joypad on the back and space for a second memory card, a bonus for travel photographers who need to shoot on the go.
Click on the image below to shop the Sony A7RIII camera
Like the Sony alpha range, it works with E-mount lenses, which makes for a lot of choices. That said, I tend to use the Sony SEL24240 (FE 24-240 mm, F3.5-6.3 OSS) the most often, since it's so versatile for travel purposes. From wide angle to zoom in a single lens gives a good range: from hotel rooms and portraits to safari close-ups without having to stop and change all the time.
The alpha 7RIII also has 425 contrast detection AF points, compared to 25 on the 7RII, and can shoot at 10 frames per second with the autofocus on. Other cameras can shoot faster, but not with each image being 42.4 megapixels. When it comes to filming, in-built headphone and microphone ports allow for increased quality. The Sony alpha 7R III can shoot in 4K at up to 30 fps and 120 fps at Full HD, which makes for more dramatic slow motion shots. So, while it's a useful part of my vlogging equipment kit list, the main thing I love it for is for still photography. The image size means I can crop with ruthless abandon later and shoot fast and furious when on the ground.
What don't I like? You need to press and hold the wheel on the top to change shooting modes, rather than just turn it around. While I appreciate that stops it from being accidentally dislodged, it's more of an irritant when trying to quickly shoot something, like wildlife, that'll be gone if I take too long.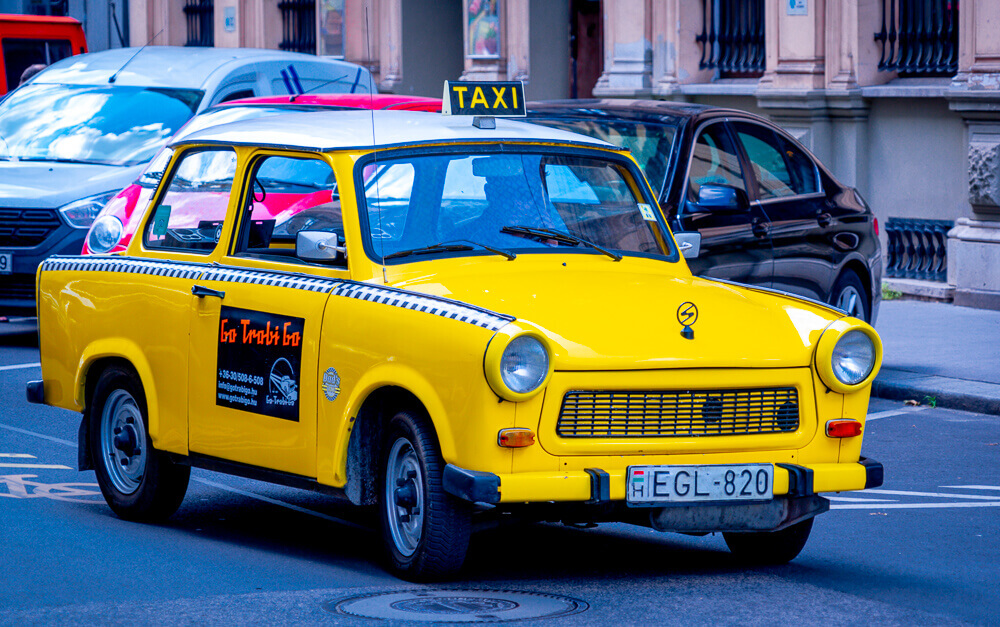 Photo clicked using the Sony a7RIII (courtesy: Abigail)
I hope you enjoyed reading this post on the different options of mirrorless travel cameras to help guide your next purchase! Mirrorless cameras are a manna from tech heaven and have completely changed the travel photography game in this age of social sharing and connectivity. Do let me know if you end up buying one of the products recommended here and share your photos with me. Thanks so much for stopping by!
Like this post? Pin it for later

«