Last Updated on November 1, 2020 by Paroma
India is a country of dichotomies not to be found anywhere else, thanks to cultural, social and economic differences scattered amongst the 29 states and 7 union territories. This confusion is amply reflected when it comes to what to wear in India, a dilemma plaguing a lot of female foreign tourists when they travel to my birth country for the first time.
Here is a general guide on a practical dress code for female travelers to India and information as well as suggestions on different Indian outfits for women and where to shop for them (online and in India). To include other voices, I have collaborated with several intrepid female travelers who have visited India and have graciously shared their experiences with me. They are (in no particular order):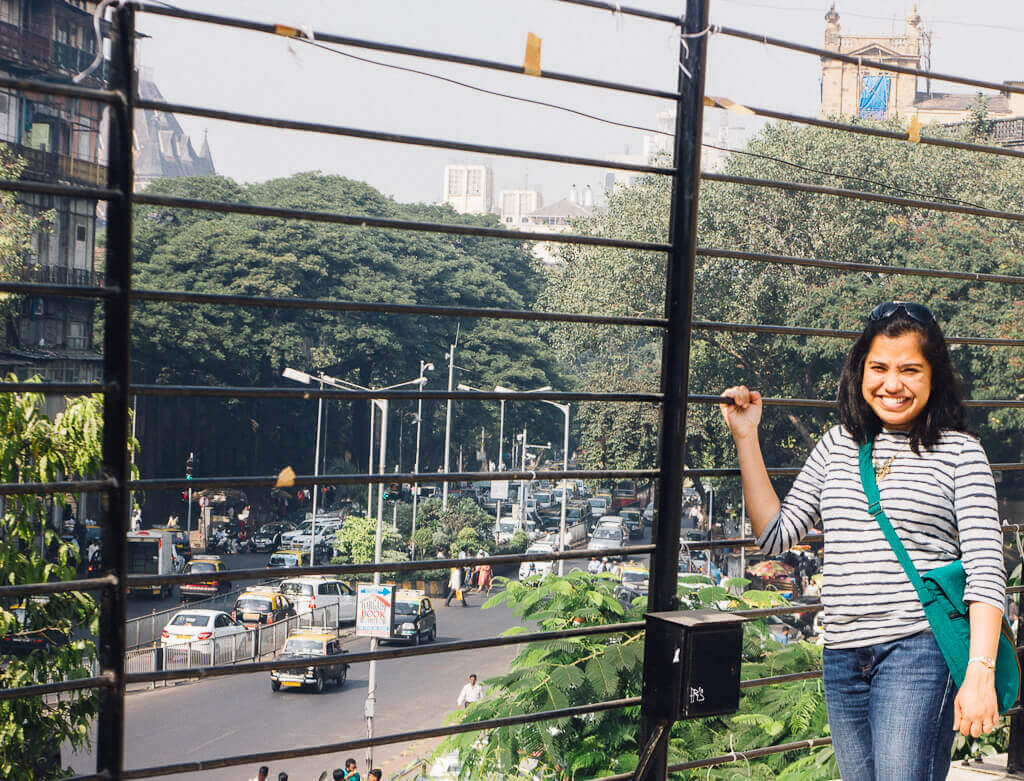 Claudia Tavani from My Adventures Across the World (Italy)
Erica Cosentino from Treading Wander (Canada)
Ingrid Truemper from Second-Half Travels (USA)
Dana Sikand from Adventures with Children (USA)
Kaylie Lewell from Happiness Travels Here (New Zealand)
Sarah Carter from A Social Nomad (UK)
Natalia from My Trip Hack (Moldova)
Here are my top tips on what to wear in India along with suggestions on what to buy for your upcoming India trip and have a great time! Some of the photos included here are from guest bloggers and have been used with their due permission. The final section includes testimonials from guest bloggers and a free downloadable sheet on what to pack for India.
Disclaimer: Please read
a) I have opted to suggest a general idea of clothing for first time female tourists since most women in the smaller towns still don a conservative look, while the major cities have a more relaxed, liberal vibe. I want to clarify at the very outset that my suggestions on how to dress in India should not be taken as me implying that you have to dress modestly just to avoid unsafe situations.
But, there is an underlying sense of orthodoxy in most of Indian society which one needs to aware of and a modest attire would carry you through most scenarios. Ultimately, given India's cultural differences between cities or regions, your choice of clothes will depend on your destination, activity and if you are traveling with someone or just by yourself.
b) Barring the last section (which is a verbatim testimonial from the bloggers), all these suggestions are my own and may not reflect those of the contributors. Your experience in India may be different, and that is OK (because India is a crazy place of contradictions); feel free to add yours in the comments.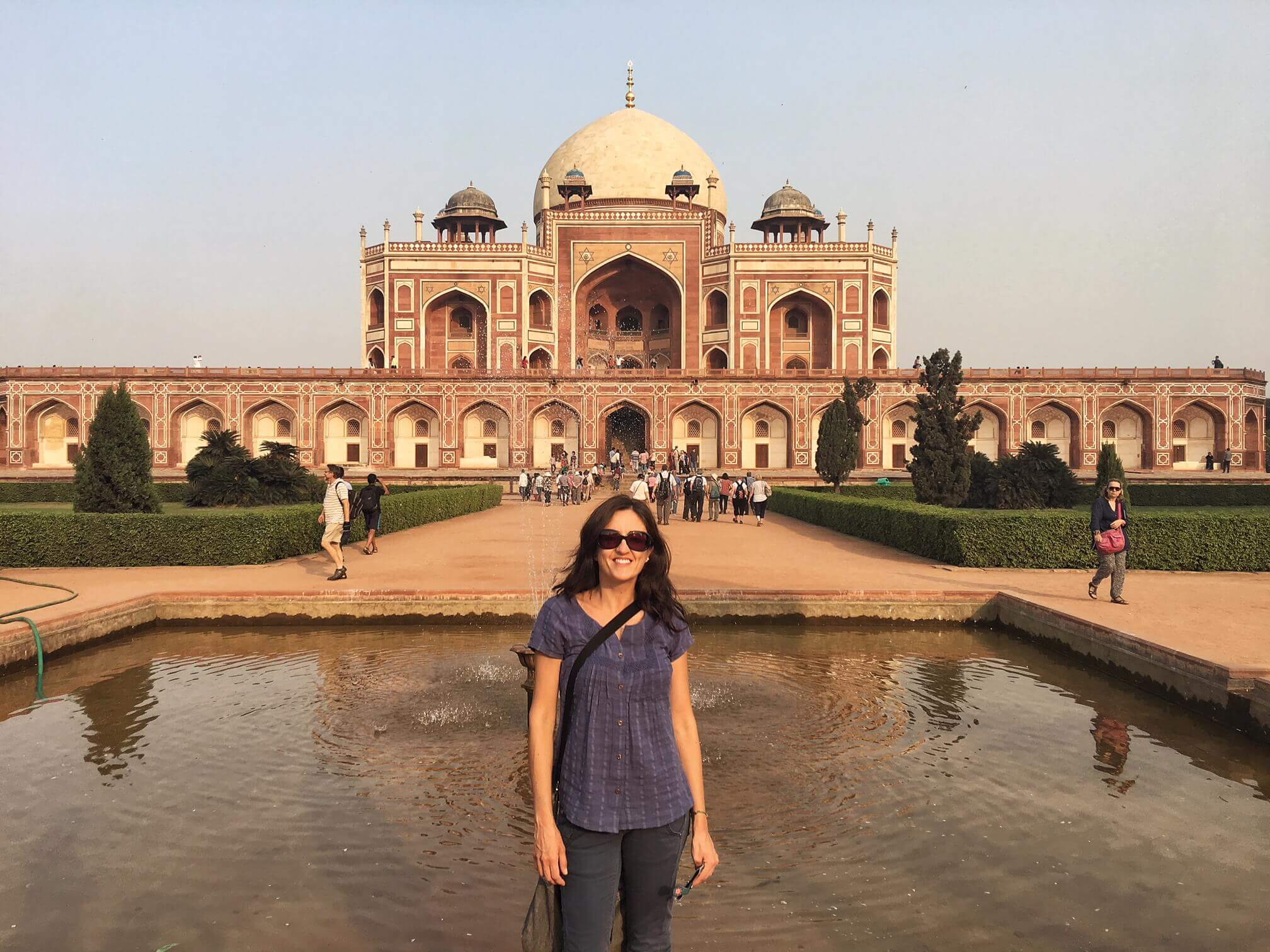 Claudia is wearing a cotton blouse paired with jeans-perfect for our humid weather!
Disclaimer # 2: My blog posts may contain some affiliate links. Clicking on them to make a purchase may earn me a small commission at no extra cost to you for the product. Thank you!
What to wear in India: Tip #1 Go Local
India has tons of traditional womenswear that are not only reserved for special occasions but also for everyday use. The Indian sari/sharee/saree is arguably the most famous of them all and is a single piece of cloth (up to 9 yards) that is draped around the body and tucked in a petticoat underneath with a blouse to go along with it.
The saree/blouse combination can be infinite as is the weave, design, color and textile of the saree (here is a taste of how different regions of India boast of different kinds of saree). Depending on the region, the drape of the saree changes as well (Bengali "aatpoure" style vs Maharashtrian Nauvari style vs Madisar style 9 yard saree draping for Tamil Brahmins).
Since draping one can be pretty challenging for a first timer, here is a handy Youtube Tutorial for a standard saree drape that you will see most women in. Many of my guest bloggers look ethereal in sarees and I highly encourage you to try it at least once (go for a simple silk or crepe one which is easy to drape), even if it is just for a photo-op.
Shop traditional Indian sarees by clicking on the images below
Sarah (center) looks so beautiful in a saree ! I am on the right wearing a silk saree. The leftmost panel showcases the Bengali "aatpoure" drape, another style of wearing a saree
The easiest of transition pieces for westerners when they are visiting India is the ubiquitous salwar kameez/ salwar kurta/ kurta churidar and loose or tight fitting pants (salwar/shalwar/sharara/churidar/pyjama/jeans) combo. I highly suggest sticking to simple cotton or linen ones to combat the heat and humidity on the subcontinent, most times, except winters in North India (read about all the amazing places to visit in North India here) or Western India (read this guide on top 10 things to do in Jaipur, a city in Western India) when you would need proper winter clothes.
You can buy the stylish, pricier ones at Fabindia (they have stores almost everywhere in India) or cheaper, yet equally pretty ones from smaller, local stores rather than at glitzy retail stores in malls. My guest bloggers definitely look dapper in a salwar kameez/kurta and jeans/pants as you can see from their photos.
Ingrid is such a pretty picture in a kurti!
Other traditional options such as half saree (where a sash/scarf is draped around the waist and over the shoulders to give the illusion of a saree with the blouse and petticoat) or opulent lehenga/ ghagra choli (again, three piece with blouse, matching skirt and a scarf/sash) are mainly reserved for festive occasions in cities (they are still worn in small towns in several parts of India as everyday wear where they are not ornate) but you can buy simple half sarees for everyday wear (read here about why the half saree is so popular).
How to dress in India: Tip #2. Mix and Match
"Something old, Something new, Something borrowed, Something blue" not only works for weddings in the west but can also be extended to what to wear when visiting India as a female tourist. Colorful kurtas/tunics with your trusted pair of jeans, t-shirts with "ali-baba" pants/palazzo pants (loose fitting, printed salwars or harem pants), shirts atop long flowy skirts, your maxi length dresses-they are all perfect for that vacation in India.
Throw in a colorful vest over your blouse/ shirt or have a few fun cotton scarves handy to drape over a simple tee and jeans combo, the choices are endless.
Loose, flowy, colorful cotton garments or simple blouse/shirt on pants/jeans accentuated with a pretty scarf/stole (Ingrid observed that a scarf is essential for propriety and a must-have in smaller towns, especially for more well endowed women) or short printed cotton kurtas on jeans are perfect examples of mix and match western and eastern wear that you can never go wrong with for how to dress in India. Many guest bloggers here adopted that strategy for travel and for convenience as you can see below.
Mix and match lesson with Natalia, aka scarfing it up!
Dress code for female travelers in India: Tip #3. Western wear
Your dress code in India will depend heavily on your destination and activity, with western wear being an everyday staple for many young people in big cities but not so much in smaller towns.
The most common western wear is jeans and tee/shirt/blouse as are skirts (midi/maxi) and dresses (midi/maxi). I do request exercising caution if you want to wear miniskirts, corsets, very short shorts, tanks and the like.
If you are the kind of tourist escorted around in private vehicles or are in the company of people taking you to fancy hotels or clubs or live in a location where you see plenty of young people with a relaxed dress code, by all means indulge. For most tourists exploring the streets of India and getting on to public transportation (buses/trains/cabs/autos/rickshaws), jeans/leggings and tee/tunic/shirt/kurti is a standard solution that works best.
Natalia in a beautiful orange kurti and leggings, perfect for exploring in India
I personally recommend wearing longer skirts (midi/maxi), knee length dresses or maxis, tunics/kurta/kurti or shorter, looser cotton tops over your jeans in lieu of extremely short and tight fitting garments. Capris or palazzo pants are good options too besides jeans and salwars for the hot and humid weather in India, and are both comfortable and convenient . Regardless of which city you are in, a good way to combat the pollution during the day and bugs (mornings and evenings) is to have some cover.
Me grinning like a cheshire cat in Mumbai, in a cotton "Old Navy" dress. Breathable and functional!
What to wear while traveling in India: Tip #4 Not all places and occasions are the same
Even if your itinerary includes major cities such as Delhi, Mumbai, Bangalore, Chennai or Kolkata; each city is a microcosm of demographics, subcultures and social mores in its own. Kolkata and Chennai are slightly more conservative than other cities when it comes to women's apparel, although they too have their own pockets of trendy glitz.
For Delhi, Mumbai and Bangalore, there are areas where women do wear extremely trendy western clothes (even itty-bitty ones) while there are older neighborhoods where more traditional, modest wear is preferred. For example, the hip and trendy neighborhoods of Juhu and Bandra (home to much of Bollywood glitterati) in Mumbai have lots of tanks, shorts and mini skirt sightings, while other suburbs have girls leaning towards the ever faithful jeans and kurta/top/blouse and the salwar kameez.
Delhi's fashion is dictated by its affluence as well which is a gradient across the city. Old Delhi calls for traditional, modest dressing while South Delhi is a cacophony of the latest western wear to trendy hipster apparel blended with Indian sensibilities.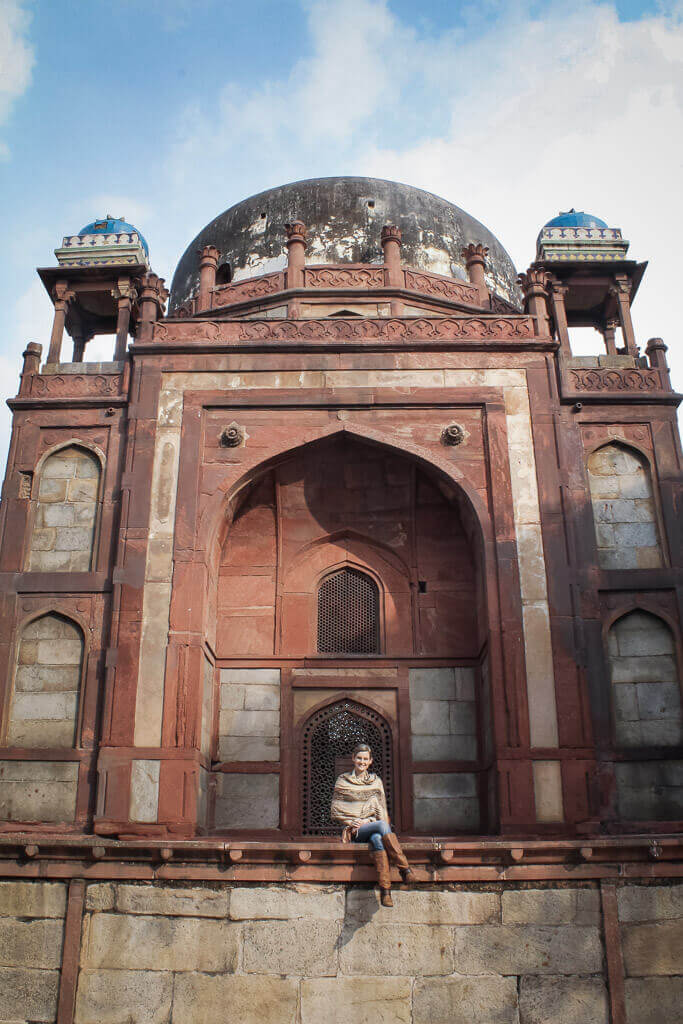 Dana and the art of cover up with a pretty stole!
As in many countries, places of worship -temples and Dargahs, are where you are required to cover up. It's either sarees or kurta/blouse and jeans . Carry a shawl or scarf to a Dargah visit, where you would be expected to cover your head.
If you are visiting India for special occasions such as a wedding and if you can find someone to help you, you can get a fitted blouse from local tailors who can stitch one for you in a short time to go with a saree. If the saree is not your cup of tea, a lehenga/choli, salwar kameez or a half saree will also do the trick with some glittering costume jewelry that can be purchased easily. You can easily find business attire or party wear in the numerous malls in all the major cities.
Traveling in India: Tip #5 Footwear
For regular street wear, sandals are fine but close-toed shoes are advisable. Inexpensive and sturdy local brands like Khadim's , Bata , Lakhani are available at the local retailers. Traditional slip-ons like Jootis go well with salwar kameezes. Keep high heels and formal footwear for occasions or indoors.
Click on the image below to shop for jootis
Shopping for women's clothes in India: Tip #6 In-store and Online
You can get beautiful cotton tunics, skirts, scarfs and everything else under the sun from local Indian stores, so why lug your tees, pants and shirts from halfway across the world that might not be suitable for the Indian weather? From mom and pop stores to the popular retailers such as Fab India, Shoppers Stop, Biba and Pantaloons, there is no dearth of shopping options when it comes to dressing up in India.
While Ingrid got Rajasthani tunics for about US $2 each in Jodhpur and Pushkar (Rajasthani clothing is famous for its bright colors and embellishment with embroidery and mirror work, get glimpses of Rajasthan in this 1 month itinerary of India here), Claudia purchased a beautiful white cotton shalwar kameez in Jaisalmer (all these cities are in Rajasthan).
Dana swears by the brand store Anokhi selling Indo-western clothing in colourful prints, who have a hand block printing museum in Jaipur you can visit. Most of the clothes found there are easy to care for (machine washable) and they have adorable kid options as well. Her other favorite store is Global Desi with their "boho chic" style. Natalia seconds Global Desi and has many kurtis and suits from Sabhyata (budget) or Lakshita (mid to upper range).
Me exploring Jorasanko Thakur Bari in my kurti and baggy pants (patiala) in Kolkata
In recent years, several Indian street style brands have emerged, fusing western and eastern sensibilities with sustainable and fair trade practices and also provide international shipping. Brands such as Khara Kapas (literally meaning pure cotton), Chidiyaa, The Loom , JodiLife are all chic tradition-meets-modern brands for the urban woman .
If you are looking for something along the lines of chic urban wear, the famous Indian designer, Ritu Kumar, has a relatively affordable line called "Label", from where I purchased two dresses during my last visit to Mumbai and keep on getting compliments non-stop whenever I wear them!
If you live in USA and are interested in purchasing something different, colorful and beautiful which will make your wardrobe stand apart from the crowd of retail monochromes, do read my blog post on online Indian brands that you must check out.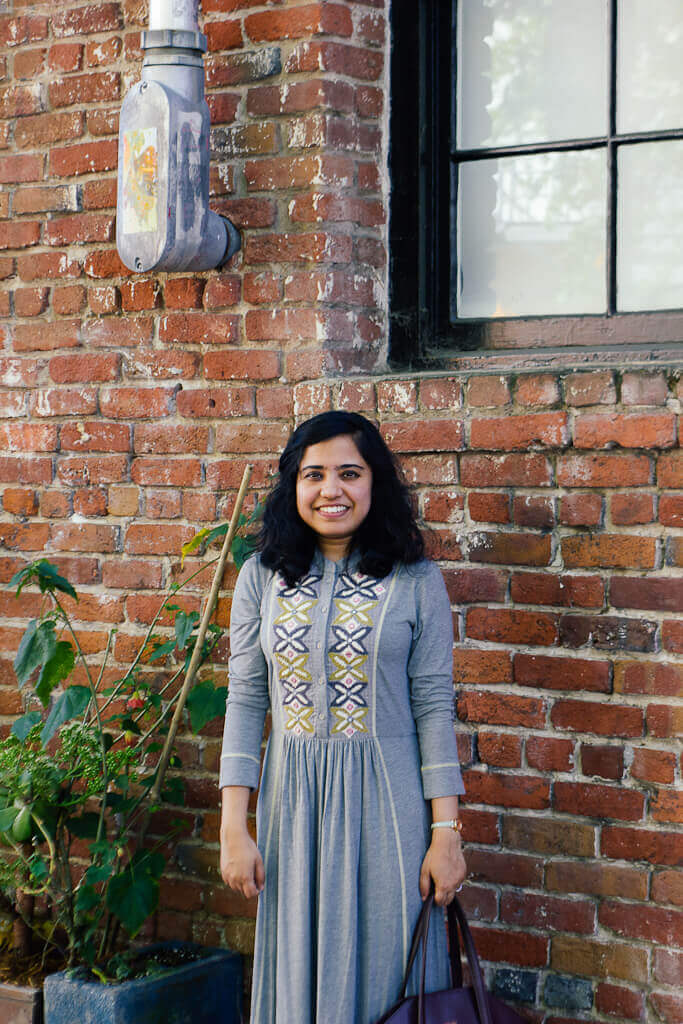 Me in a Label by Ritu Kumar maxi dress
What to wear in India as a female tourist: Tip #7 Guest Bloggers Say
I hope you found this post on what to wear in India useful! I would like to conclude the post with some general advice taken verbatim from responses by guest bloggers who have traveled to India multiple times. Their advice on dressing for India reflects their diverse personal experience.
Photo courtesy: Kaylie
a) Dress modestly – if you walk around in India, you will notice that women as well as men are mostly covered, even if it is terribly hot outside. Follow the local rules and you should not have any problem. (Claudia)
b)You'll see some younger women dressed in Western clothes (jeans and a t-shirt) in the larger cities, but it's understandable if you'd rather play it safe than sorry with your attire for your first trip to India. Really, only bring enough clothing with you for your first day or two in the country and buy the rest of your clothes once you arrive.
Any clothes you find in India will work with the climate there much better than anything you can find at home. I've personally become a huge fan of the hippie pants and have continued to wear mine in the summers at home. (Erica)
c) Indians are wonderful — kind and friendly, but there's no doubt foreign women attract attention and curiosity. It's important to respect traditional cultural norms of modesty, especially outside the big cities. Dressing as much like a local as possible will go a long way to helping you blend in and minimizing stares and unwelcome advances. Focus on covering your chest, upper arms, legs, and bum.
You can wear yoga pants or leggings, but put a long tunic over them. A scarf is a must-have in India. You need it to cover your head to enter many religious sites, and wearing it over your chest, arms, and shoulders will help shield you from curious stares.
You can also use it as Indian women do to block unpleasant smells and contaminated air. I recommend bringing a lightweight scarf, but otherwise don't pack too much. You will find gorgeous, cheap clothing everywhere you go, and alterations are inexpensive or included in the purchase price. (Ingrid)
d) Wear what you're comfortable in and dress for the weather. Summers (in most regions) are VERY hot, so pack summer clothes and breathable fabrics. Winters in the north are chilly. If your visiting a very rural area, or an operating temple, opt for long pants/skirt.
Carry a sarong or lightweight stole around in case you get cold, want to cover-up or to easily switch up your outfit for vacation photos. Pack light so you can buy Indian clothing to wear around and take home. Cotton Kurtis are great because they are comfortable, lightweight and breathable. You'll also get a lot of wear out of them when you head back home. (Dana)
e) Wear breathable natural fibres to stay comfortable in the heat. Cover your legs and shoulders when you are visiting religious sites and be prepared to remove your shoes when entering temples. Don't be afraid of wearing some bright colours. (Kaylie)
f) I'd suggest covering your shoulders at all times and wearing long trousers or a long skirt. Take a scarf with you for temples, or if you must wear vest tops, to cover your shoulders when it's appropriate. (Sarah)
g) Don't try to "fit in" too much into Indian culture by reading news about India online. You will always be a foreigner no matter how hard you try to "become local" and people will treat you as a foreigner and guest. As long as you cover your knees and shoulders you are respecting local dress code in major part of the country. (Natalia)
Downloadable packing list for India
Finally, as promised, here is the link below to a free printable guide/cheat sheet on what to pack for India. Basically, consider this to be a condensed version of this post.

**********************************************************************************************************************

Special thanks to Wanderlustingk for inspiring me to write this post. A BIG thank you to My Sketchbook Project and Sweta Modi Design for their inputs on Delhi and Mumbai.

**********************************************************************************************************************

Like this post? Hover over the images below to pin!

«