Last Updated on June 16, 2022 by Paroma
If you're looking for a self guided tour of the best examples of modernist architecture in Barcelona, then look no further. Showcasing the creations of Antoni Gaudi, this self guided Barcelona Gaudi tour covers five of the best landmarks in the city along with information on how to skip the lines with tickets as well as how to get there!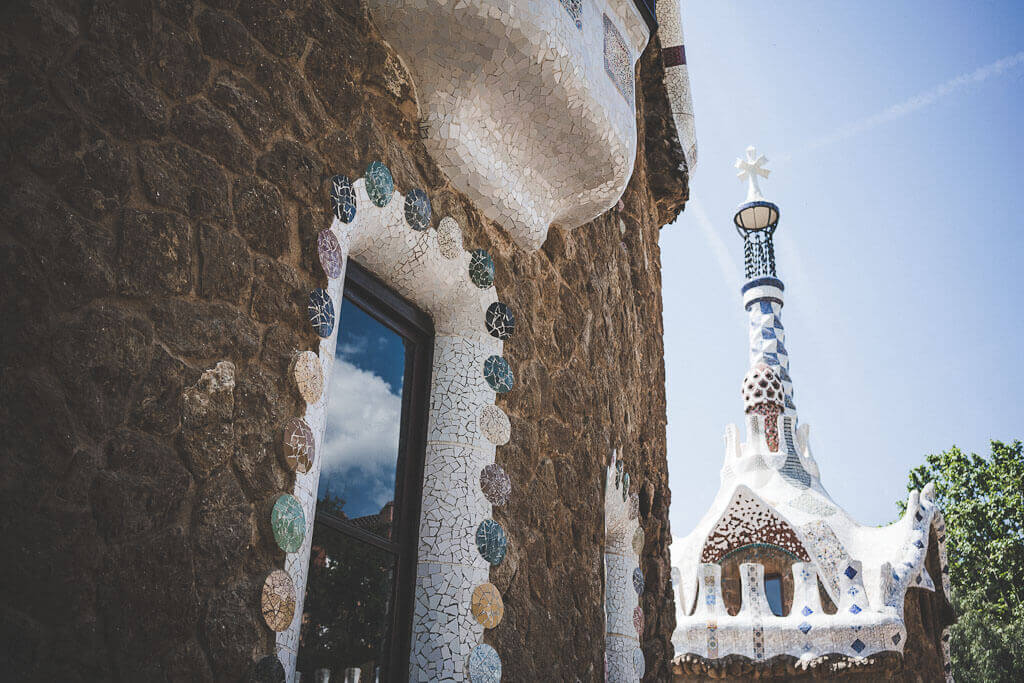 Disclaimer: This post may contain some affiliate links. Clicking on them to make a purchase may earn me a small commission at no extra cost to you for the product. Thank you!
Barcelona's Modernist Architecture : The Masterpieces of Antoni Gaudi
Barcelona (Spain), one of the most popular destinations in Europe, entices millions of tourists every year thanks to big city buzz meets eclectic charm, mouthwatering cuisine and masterpieces of modernist architecture that will leave you spellbound.
The person who put Barcelona firmly on the Modernism map is none other than Antoni Gaudí , the celebrated Catalan architect who is rightfully referred to as "Master of Catalan Modernism" and "Universal Genius" because of his visionary creations.
In this self guided Barcelona Gaudí tour, I will be providing information and tips on how to visit five of his architectural wonders since these are extremely popular tourist attractions and need some prior planning.
This Gaudí walking tour can be done easily on your own and will leave you mesmerized with the whimsical beauty of the architect's creations alongside the sheer details and technicalities.
Barcelona is an extremely walkable city and has good public transportation; as a result you will have no problems in accessing these masterpieces as part of your Gaudí architecture tour. We spaced our self guided Gaudí tour over three days but you if you plan properly (read ticketing and transportation tips below), you can see most in one and possibly all of these in two days. For more on this city, one of the best places to travel for food and wine, read this fantastic guide on how to spend three days in Barcelona or read this post on top 10 things to do in Barcelona.
Self guided Barcelona Gaudí tour: La Sagrada Familia
Address: Carrer de Mallorca, 401, 08013 Barcelona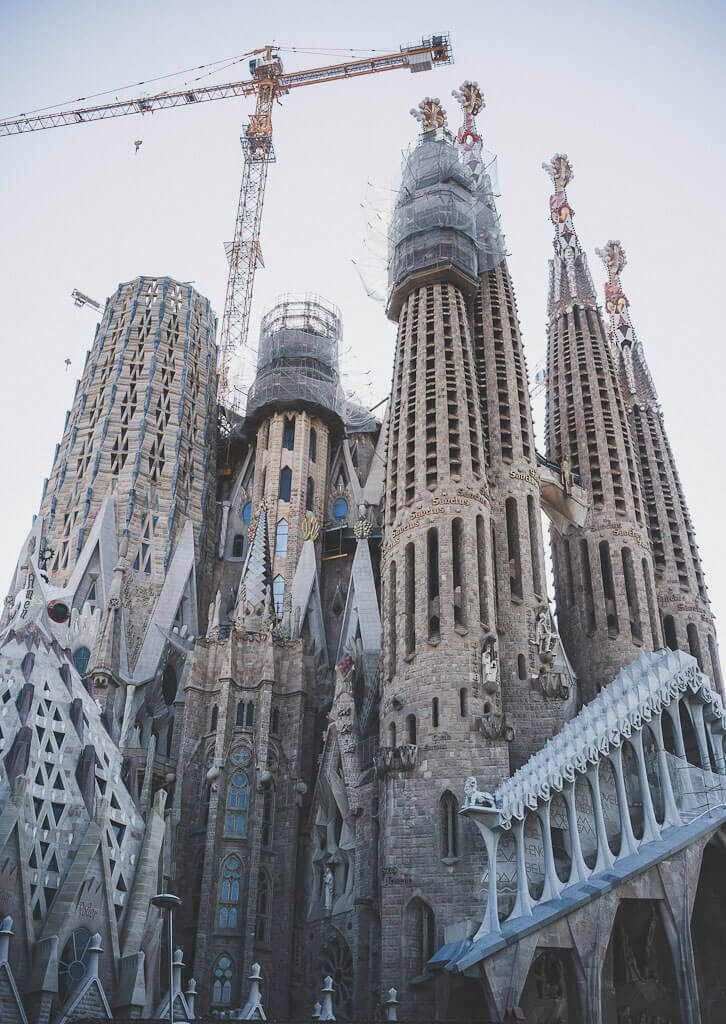 "Templo Expiatorio de la Sagrada Familia" / Basilica and Expiatory Church of the Holy Family or simply La Sagrada Familia is possibly Antoni Gaudí's most famous creation that attracts millions of visitors from all over the world every year to Barcelona.
This unfinished church (A UNESCO declared world heritage site) bears Gaudí's trademark modernism style and its construction was driven by Gaudí's deep rooted faith, and perhaps that is why he is often referred to as "God's Architect". By the time of Gaudí's death in 1926, a fraction of the work was completed (he devoted his life to this project and was also buried here) and continues to this day, aided by modern technology.
Gaudí's architectural style borrows from Gothic and Art Nouveau elements which are essentially showcased as ornate forms and structures with curved surfaces (think of wavy, undulating forms). Gaudí's architectural marvel contains his signature style on the different structures of the church such as the mosaic windows in the interior but there are also sketch like geometric, sharp lines used for the statues of Jesus, Mary and other holy Biblical figures adorning the different levels of the church as you enter it.
Being a prime attraction, there is always a huge crowd and line to get in. I highly recommend getting tickets in advance to skip the purchase line (please bear in mind that tickets are timed and you should be at the entrance a few minutes prior to the time printed on your ticket).
Be mindful that there are several options when it comes to buying a ticket and the most basic one (like what we got at 15 Euros/ticket) does not offer an audio guide or access to the towers. You can also buy tickets in advance for Sagrada Familia + a Barcelona walking tour to see other city highlights.
You can access this first stop on your self guided Barcelona Gaudí tour either via the subway (stop name is "Sagrada Familia" and is served by the blue line L5 or purple line L2 and is right next to the church) or public buses or taxi (Uber or download the myTAXI app which is what we used).
I highly recommend the HOLA BCN card which was a lifesaver for us for in those three days in Barcelona since it gives you unlimited ride access to the Metro and bus and can be purchased from one of the vending machines at any Metro station. We stayed at the beautiful Moods Catedral boutique hostel (superb location and friendly staff) which was a stone's throw away from the Jaume I station and used our Hola BCN card to the max during our three days in Barcelona to explore the city.
Barcelona Gaudí architecture tour: Casa Batlló
Address: Passeig de Gràcia 43, 08007 Barcelona
Gaudí's illustrious career was checkered with many memorable residential homes, nay buildings that he built for his rich patrons and Casa Batlló is a prime example of his architectural and engineering prowess in full bloom.
This building was originally built in 1877 by Emilio Sala Cortés on Paseo de Gracia which was rapidly developing into one the bustling arteries of the city. After its purchase by the businessman Joseph Batlló, Gaudí' was hired to transform it and transform it he did.
Between 1904-6, Gaudí' not only changed the look of the building without demolishing the original structure, but also created a fully functional live in residence with the interior being a perfect mix of functionality meets art. Right from the furniture to door knobs (molded in clay and cast in bronze) to even unique apartment numbers assigned to each unit in the building, Gaudí' designed and created everything!
Again, this is a prime attraction of Barcelona so please buy your tickets beforehand. Our tickets (Fast Pass General at 29.50 Euros) included and excellent and super detailed audio guide in English which went into painstaking details to explain the interior design as well as the marvelous structures on the roof (such as the green scaled dragon back that you can see in photo below).
Curvilinear elements were scattered throughout the interior decor, and it was evident that Gaudí' had perhaps sought inspiration from the ocean (marine life and flora) in creating many of these wavy forms (fun fact: Casa Batlló tiles designed by Gaudí can also be seen on the sidewalk of Passeig de Gràcia).
Casa Batlló can easily be your next stop from La Sagrada Familia on this Gaudí' architecture tour if you take the L2 (get down at Passeig de Gràcia) or L5 line (the stop is Diagonal). For summer night rooftop concerts at Casa Batlló, read this secret Spain travel tips guide.
Barcelona Gaudí walking tour: Casa Milà/ La Pedrera
Address:Passeig de Gràcia, 92, 08008 Barcelona
Casa Milà or La Pedrera (which translates to "Stone Quarry" in Catalan) is another residential building with Gaudí at the helm of affairs and is a short walk of a few blocks from Casa Batlló.
In the past, quite a few people would walk right by it since it is still a fully functional residential unit (as in people live here) and also has businesses (retail stores) occupying the ground floor. Casa Milà', built for the Milà family, is also Gaudí's last civic creation and is considered a complete work of art where aesthetics and functionality merge smoothly.
Although you will find an uninhabited apartment which is open to visitors, the main attraction of this building lies in its roof which is adorned with these towering structures, that are described as "giants" or the guards of the natural world by the helpful audio guide.
To enhance the effect of these mysterious turrets created by Gaudí, there are speakers placed near the bases of these structures emanating the sounds of the ocean, air, forest and fire which augment your sensory experience and create an aura of these edifices being the silent guards of nature.
The roof gets super crowded, so if you want minimal intrusion in your panoramic shots, I suggest coming in early or late (here are the hours) and buying tickets online.
Besides the rooftop whimsical structures, the other main attractions of this place are an extensive exhibit on Gaudí's life and work that is not to be missed as well as an out of the world amazing collection of photographs by Catalan photographer Xavier Miserachs in the form of an exposition that is going on right now (May-June), which was such an unexpected treat for me. Our tickets included the Miserachs exhibit that is an additional 5 euros.
Self Guided Barcelona Gaudí walking tour: Casa Vicens
Address: Carrer de les Carolines, 20, 08012 Barcelona
If you can get away from the hustle and bustle of the Avenida Diagonal or the city center and make your way to the hep, yet residential and most importantly quiet neighborhood of Gràcia, you will be richly rewarded by Casa Vicens, a very young Gaudí's ( he was only 30) first architectural venture.
This is my personal favorite stop on this self guided Barcelona Gaudí tour because of its distinct departure from the master architect's modernism style that adorned the other creations. The dazzling bold colors, geometric patterns, and liberal use of floral patterns are Gaudí's homage to the architectural style professed by the Arabs (indeed the building gave me some serious Alhambra déjà vu) and is a far cry from the modernist style that he would embrace later.
The facade of this building faces a garden and it is simply beautiful inside out, adorned with colorful patterns, ornate ceilings, tiled exterior and Islamic art influenced windows, doors and rooftop turrets and structures.
Most people do not visit Casa Vicens, which is why it is a great place to stroll around and take in everything at your leisure, the downside being that an audio guide in English is still not available (as of our visit in May 2018), but the staff is super helpful!
There is also a small exhibit inside on how Gaudí built this beautiful building which worth spending some time at. Casa Vicens tickets can be purchased here (I purchased them the evening before) and we also went on a guided tour during our visit. You can take the Green line or L3 from Diagonal (Casa Milà), get down at Fontana and walk to Casa Vicens.
Pro-tip: Gràcia is considered an up and coming food Mecca of Barcelona, so if you are a foodie, check out this tapas, wine and cava tasting tour at a family winery, Barcelona foodie tour (wine and tapas) or this Local Tapas and Wine tasting tour! You can also read this post on best Barcelona food market for more gastronomic inspiration or read this Barcelona foodie guide to discover the tastiest spots in Gràcia!
Gaudí walking tour in Barcelona: Parc Güell
Address: 08024 Barcelona
Parc Güell is a public park that was originally meant to be a exclusive housing colony (for 60 or so families) as envisioned by Eusebi Güell who promptly put Gaudí in charge of bringing his mammoth ambition to life.
This is yet another project that never reached fruition (only 2 residential places could be built) and in its present form is a public park on Carmel Hill in Barcelona and is another UNESCO declared world heritage site.
This park amply showcases how modernism architecture can coexist so peacefully with nature and appear as an extension of it, thanks to Gaudí's genius. There are several structures strewn all over the park (such as catacomb like features with arched ceilings supported by rows of wavy pillars) and then there is Gaudí's house where he lived with his father and niece.
There is a small entrance fee to this neatly kept and well maintained residence which gives you a peek into the life of one of the most famous architect's of all time. I highly recommend going in if you can.
Although many attractions of Parc Güell are free, the "monumental core" requires an entrance fee and is where you can see the majority of Gaudí's work at display. This involves the Modernism style buildings (which at first glance feel like a kid's whimsical dreams carved out of cookie dough, a la Gingerbread house) whose roofs are beautiful adorned with Catalan clay tiles made of "trencadís" (mosaic of tile pieces).
These houses are part of the porter's lodge pavilion, since one of them was an actual porters' residence. You also have the "Dragon stairway" with a central fountain adorned by a mosaic salamander (symbol of Catalonia), the hypostyle room and the Greek theater at the center.
Parc Güell is unbelievably crowded in summer as in going there at 11:30 AM on a weekend is a major no-no (like us). Go as early as possibly, preferably when the park opens at 8 AM and on a weekday for some peaceful sightseeing minus the crazy number of people thronging every inch of the monumental core.
The lines to enter this zone are crazy long and you must arrive at the proper entrance (the staff will guide you) at the time mentioned on your ticket. Once you do get in, you can spend as much time inside as you want. Skip the lines with Parc Güell guided tour tickets (or simply get tickets beforehand minus the guided tour) and carry water with you since it can get sweltering hot in the park.
Due to the insane number of people standing in line to get into one of the buildings, we did not explore the interiors or rooftops, but do so if you arrive early or have some major tenacity. Parc Güell is a 15 minute walk from Casa Vicens.
Other tours in Barcelona that you may enjoy
I hope you enjoyed reading about these different stops on this self guided Barcelona Gaudí tour guide. These are not the only Gaudí creations in the city as you can read in this super informative article by Free tours by foot, but are those that I could squeeze in during my three days in Barcelona and will definitely help whet your appetite for more.

Barcelona is notorious for pickpockets and so please keep a strict eye on your belongings at all time when enjoying these attractions. You can find a list of all of Antoni Gaudí's buildings right here. For more delicious Spain stuff, read my other posts strewn throughout this page and don't forget to keep an eye out for my posts on Basque country!

LIKE THIS POST? HOVER OVER THE IMAGES BELOW TO PIN THEM FOR LATER.

«