Last Updated on June 16, 2022 by Paroma
Curious about Spain's Basque region and wondering what to do in San Sebastian? Let this post on the best things to do in San Sebastian help you craft that perfect San Sebastian Itinerary. From breathtaking views to gulping down the most delicious Pintxos, this guide to San Sebastian's top attractions, lodging and food will have you packing your bag in no time!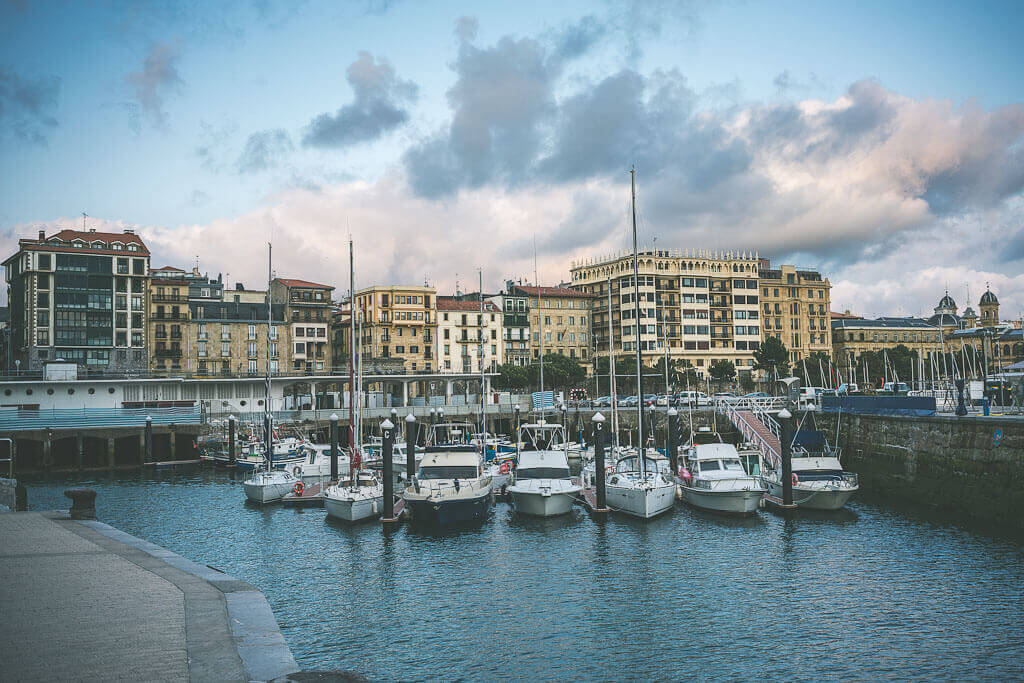 Disclaimer: My blog posts may contain some affiliate links. Clicking on them to make a purchase may earn me a small commission at no extra cost to you for the product. Thank you!
Why visit San Sebastian?
If Spain reminds you of colors as vibrant as the Flamenco dancer's skirt, sun kissed beaches, the wafting aroma of paella and the glittering water of the Mediterranean, then let me transport you to a very different region which defies these stereotypes.
I am talking about the Basque autonomous region (Euskal Herria) in the north and San Sebastian (Donostia) in particular, which is a beautiful city overlooking the Bay of Biscay. In this San Sebastian itinerary, I will not only be talking about the top things to do in San Sebastian but also provide a glimpse into what makes this city and this region so unique.
I hope this San Sebastian sightseeing guide will entice you to include magical Basque country in your Northern Spain travel itinerary. With its unique language Euskera (oldest existing proto Indo-European language in Europe), mild weather in the northern territories (San Sebastian and surroundings), distinctly different cuisine and libation and a culture that takes immense pride in its roots, Basque country feels like an out of world place within Spain and will entice you with its food, hospitality and spellbinding natural beauty.
A) San Sebastian itinerary: Best things to do in San Sebastian
San Sebastian is pretty as a picture and there are several points of interest in this Basque city by the Atlantic. Although known worldwide as a culinary hotspot, this city boasts of several attractions that are not to be missed. This San Sebastian sightseeing guide includes several such highlights of Basque art,culture and scenic views that are as enjoyable as the regional cuisine.
Almost all of these San Sebastian attractions can be covered within three days and are accessible by public transportation. These are some of the things that you should not miss in San Sebastian and they also been marked on a Google Map at the very end for your convenience.
a) Dip or toes in the sand (or, go surfing)
San Sebastian overlooks the Atlantic ocean, so it is no surprise that the city has three beautiful beaches in close proximity of each other.
Be it the tranquil Ondarreta that continues as the more famous Kontxa (Concha) or the surfers' paradise Zurriola, considered one of the best surfing spots in Europe (in the trendy neighborhood of Gros), you are never too far away from the breaking ocean waves.
I did not find the beach too crowded during my visit in May, but if you arrive early in the morning (around 8-9AM), you will have them pretty much to yourself.
b) Stop by the Miramar Palace
Palacio de Miramar or simply Miramar palace perched atop a beautiful garden overlooks the Ondarreta beach and provides sweeping views of the city skirting the beaches. During the sweltering summer months, this used to be the residence for the Spanish monarchy during their stay in San Sebastian and was declared a public space since 1972.
The entrance to the palace grounds is free and although I did not find the palace open during my visit (I was there bright and early around 8 AM),I loved the peaceful surroundings and got some amazing photos. This green zone of tranquility with the charming red palace standing stoically in the middle of it all, is a perfect place for a morning walk to get your day started. Here is a link to more parks and gardens in San Sebastian.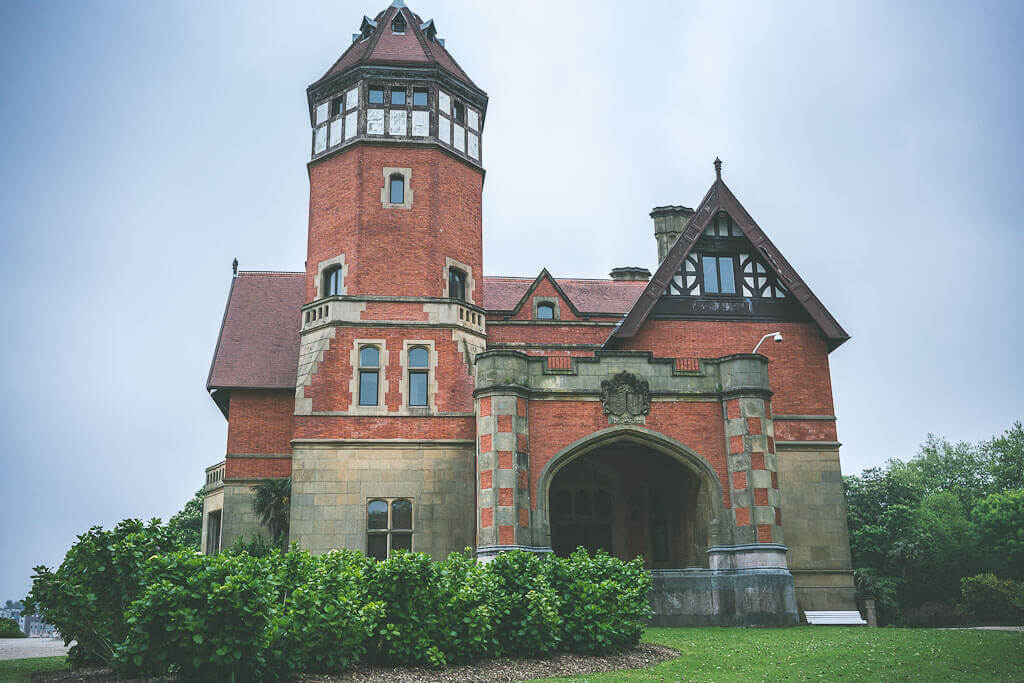 c) Enjoy the panoramic views from Monte Igueldo
If you are craving for that 360 degree view of San Sebastian to blow your mind away, then promptly ride in one of the charming wooden carriages of the famed funicular to the very top of Monte Igueldo to enjoy the spectacular and unobstructed view of the city by the Bay.
Go as early as possible to avoid unwanted selfie intrusion in your precious wide angle frame since this is a very popular tourist attraction. There is also an amusement park at the summit but it was closed during our visit.
d) Marvel at the creations of Basque sculptors
The quiet beauty of San Sebastian mingles with the salty Atlantic sea breeze riding over the foamy waves and together they come alive in Jorge Oteiza's and Eduardo Chilida's giant sculptures that adorn the shores, exactly where the land meets the sea.
The first one, by the famous 20th century Basque sculptor Oteiza is on the scenic route to the San Telmo museum at the foot of Monte Urgull and is known as "Construcción Vacia" (translates to "Empty Construction" in English). It is this giant ochre color metal structure standing on Paseo Nuevo and was created to produce the illusion of "empty" or negative space by joining vertical and horizontal planes.
The second, and possibly the more popular one that directly faces the turbulently waves of the Atlantic are a trio of cast iron and steel sculptures collectively called "El Piene del Viento" or "Wind Combs" sculpted by Chillida as an homage to the maritime spirit of Basque country and his beloved San Sebastian.
Installation of these giant nearly ring like sculptures at the very edge of land where it meets the unruly ocean waves foaming at their mouths was a feat of both art and engineering, thanks to the efforts of architect Luis Peńa Ganchegui, and was completed in 1977.
When visiting, you are best advised to soak in their silent beauty while braving the wind and the roar of the waves. I sure did and loved every minute of it, despite the popping up of selfie sticks everywhere (I am only mildly annoyed by selfie sticks, that's all).
e) Explore the city center
Before we get to the heart of this San Sebastian itinerary, allow me to cause a slight divergence via a leisurely stroll in the city center starting from the Plaza del Buen Pastor or the Good Shepherd of San Sebastian Cathedral. This catholic church is an architectural beauty and is kind of the entryway into the city center where you also have the bustling Gipuzkoa Plaza.
This area, also known as the Boulevard, is a prime artery of the city and is buzzing with lots of good places to eat as well as branded retail stores. You can also cross over into the hep and trendy neighborhood (also known as the surfer hood of San Sebastian) of Gros via Zurriola Hiribidea or Puenta de Santa Katalina and spend some time there, sampling some amazing food.
I highly recommend Bar Zabaleta, Gerald's Bar (an Australian expat's delightful gastronomic corner which was also where we had our last meal in San Sebastian), Bodega Donostiarra or Amalur Jatetxea for their paella (the famed rice dish from Valencia in southern Spain which is hard to come by in the north)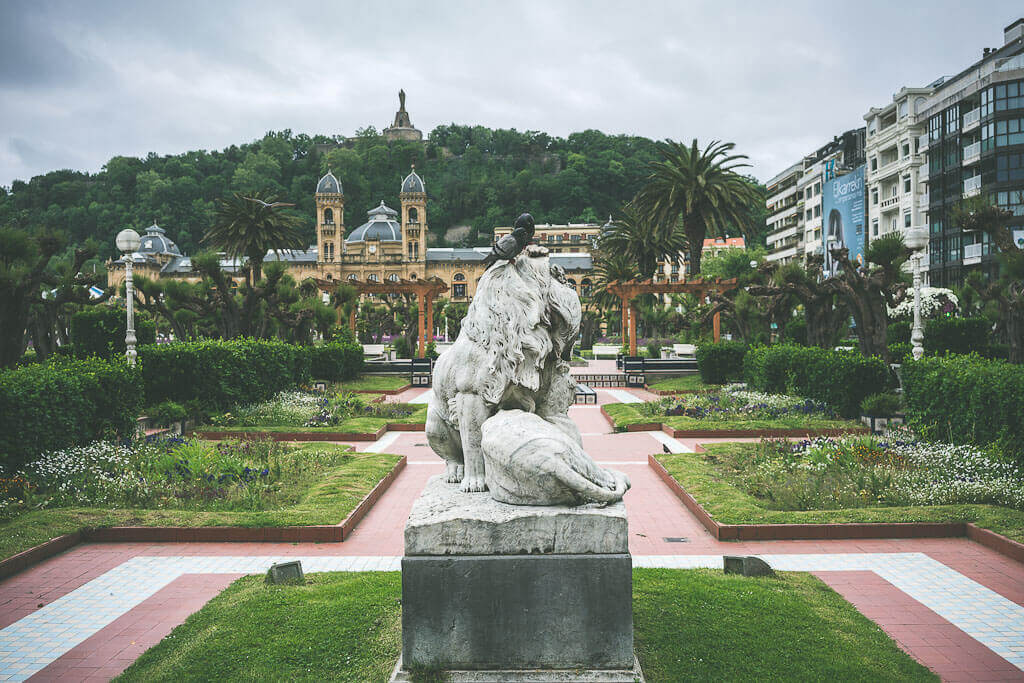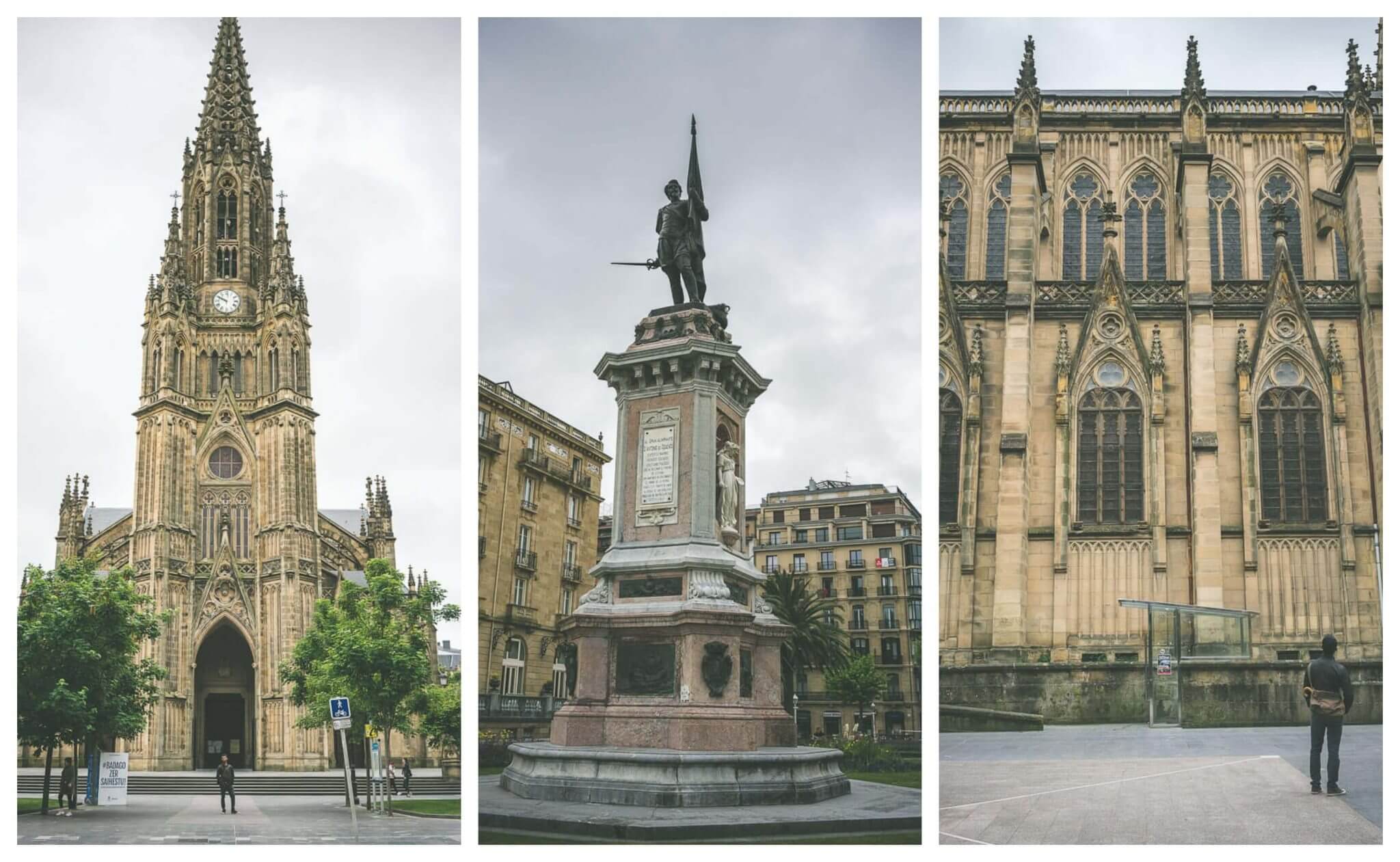 f) Lose yourself in Old Town
I know this comes across as a cliché seeped in touristy hokum, but there is something so utterly charming and delicious (I am using this adjective for good reason) about Parte Vieja or old town, that you will have little choice but to surrender to its narrow, dusty lanes, the mouthwatering aroma of pintxos wafting from every corner and crowded cobbled streets.
Nestled in the shadows of Monte Urgull and along the harbor and estuary of the Urumea river, old town was rebuilt from ashes after the raging fire of 1813 and is now the prime attraction of San Sebastian where the evenings come alive with the chatter of locals and tourists, clinking sound of cava filled goblets and enticing rows of pintxos (small bites/culinary gems) and other delicacies.
Crammed with innumerable pintxo bars, restaurants, cafes, local boutique shops; old town holds many a treasures in its bosom of winding lanes merging and diverging from the towering Cathedral San Bizente Eliza.
Savor a glass of wine at the footsteps of the cathedral, go on a pintxo crawl, shop at the local stores, spend a quiet afternoon in the Museo de San Telmo (an old convent now converted into a museum with splendid exhibits on Basque art, history and culture), enjoy a stroll on the Constitution plaza (an erstwhile bullfighting arena, thankfully) or simply watch the sun go down on the city from the old port. There is no right or wrong way to enjoy the sights and smells of old town as long as you are on the move-walking, exploring, discovering and eating.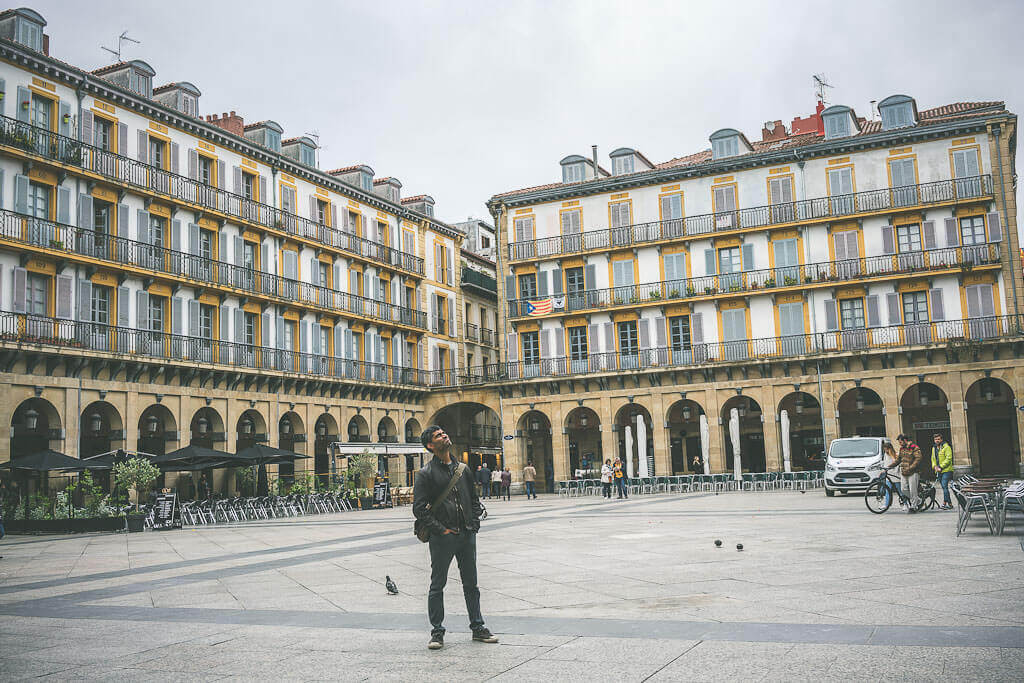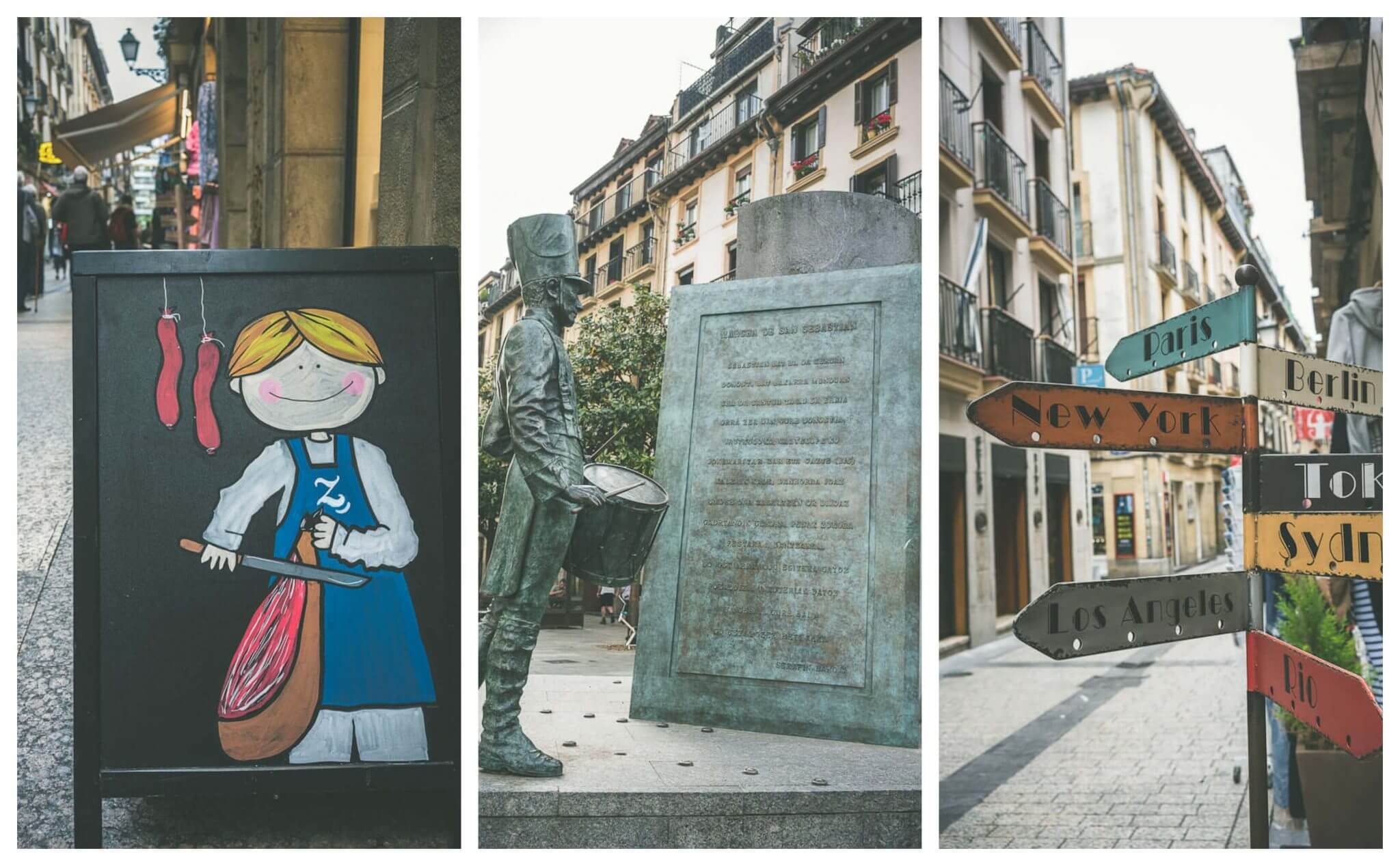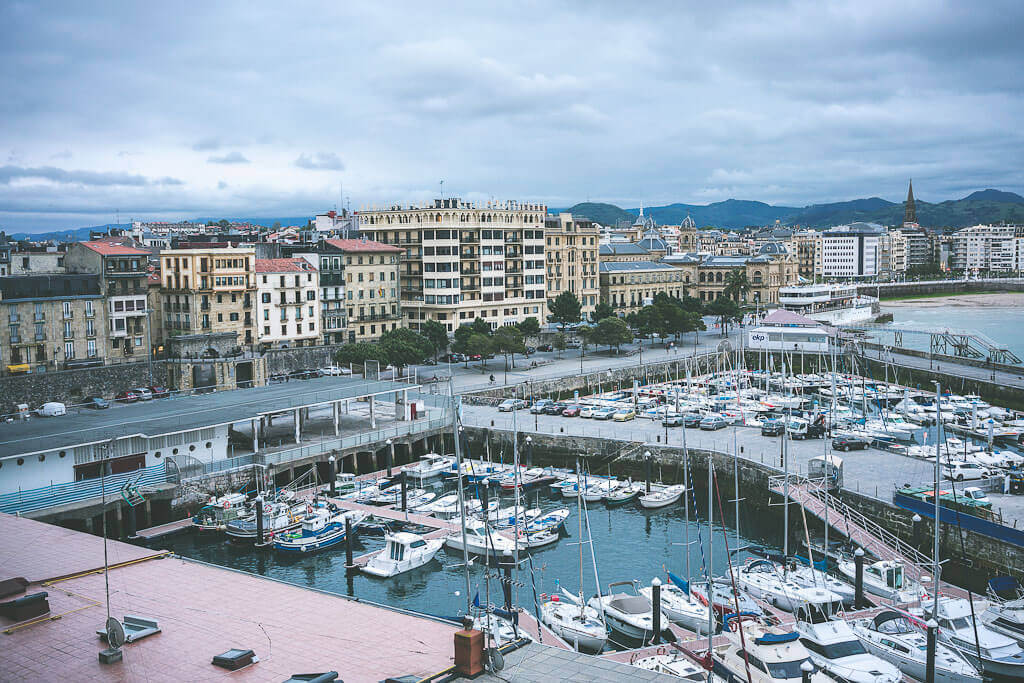 g) Hike up Mont Urgull
If wandering around like an aimless soul in old town was not enough, here is some more exercise for your stubs, aka hiking up to Mont Urgull which has many a beautiful lookout points tucked in its leafy folds. You can either walk along the harbor front and go one level above via the glass elevator to where the paved path begins (this is where you will see the Construcción Vacia ) and keep on climbing up or simply take the steep path next to the Basilica that leads to Mont Urgull.
After the first lookout point or Mirador, you will have to climb up rather than go along the winding path till you come to fortified castle aka Castillo de la Mota (Motako gaztelua in Euskera) and the Sagrado Corazón statue, the one of Jesus with one arm raised in blessing.
You can climb all the way up to the foot of the statue and pray for your salvation (maybe ask for where to find even more delicious pintxos) or simply take in the breathtaking view of the city (it is not as panoramic as that from Monte Igueldo but pretty good).
As you hike down the summit, you can either take the first trail descending downwards to get near San Telmo museum or simply walk further and then keep on descending to see panoramic views of Santa Clara island jutting from the ocean followed by spectacular views of the old port and then re-enter the old town from the lane right next to where you started your hike from.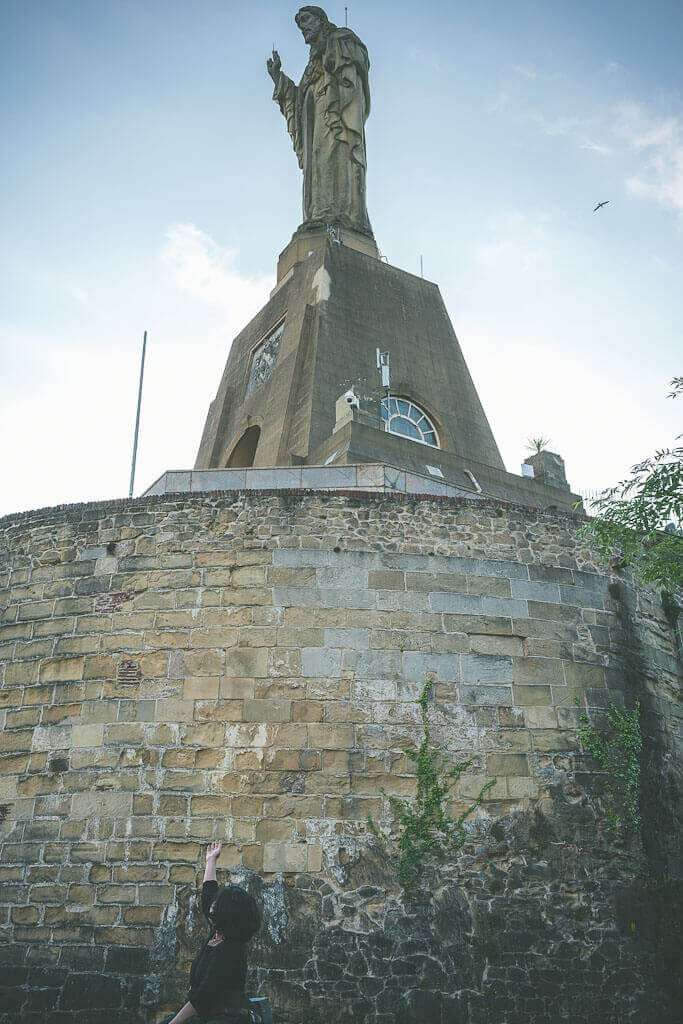 h) Hop on a boat to Santa Clara Island
Yes, you can visit the Santa Clara island rising from above the blue waters of the Concha bay in summer via a motorboat from the old port operated by Motoras Isla Santa Clara. Besides the lush flora, there is also a beautiful beach greeting you at the entry point to the island. You can take this boat tour and visit the island for a fun excursion from San Sebastian.
You can also swim to the island from Ondarreta beach. However, the boat service only commences in June and so we had to give it a miss since we went in May. Here is an excellent article on how to visit Santa Clara island and what to see there, should you want to include it in your San Sebastian itinerary.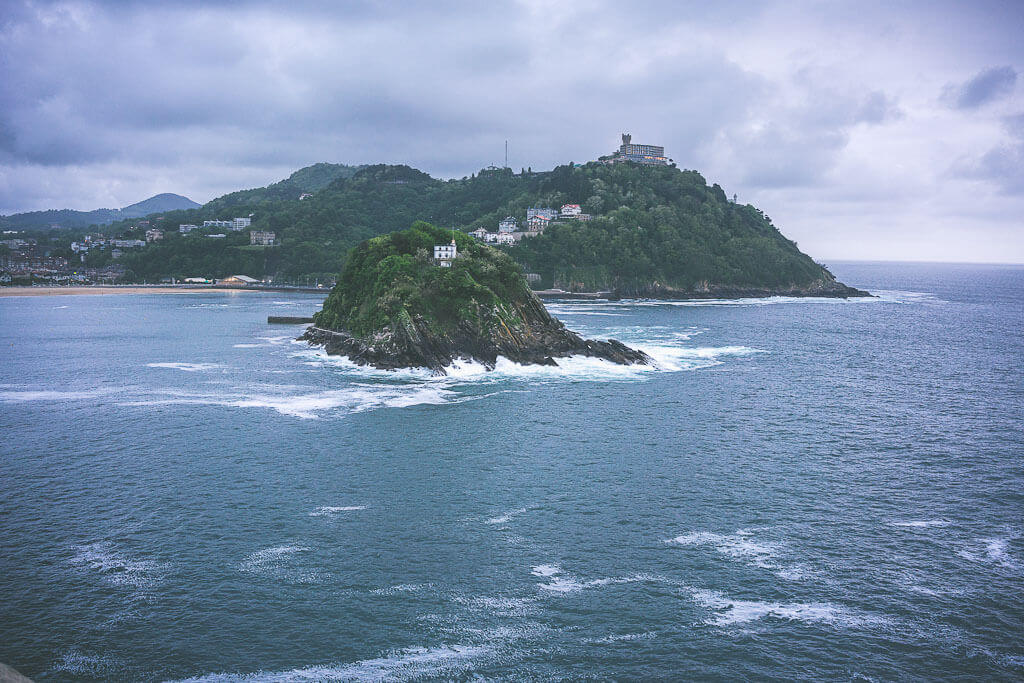 i) This most important: Eat your weight in food
I am not kidding here when I say that eating out, as in sampling local cuisine, qualifies as the best San Sebastian attraction. Pigging out is not a vice, but a requirement in this food mecca.
Foodies/gourmands/worshipers of all things delicious consider Basque country a sacred pilgrimage spot thanks to the richness and uniqueness of Basque cuisine that has made this region a smoking hotbed for a slew of Michelin star restaurants vying for your taste buds.
Besides the fancy dining establishments showcasing their culinary advances, what makes San Sebastian a magnet for budget foodies are the bite sized pintxos that are simply irresistible. Not quite like their more well known southern brethren/ Tapas, the mighty pintxos are small bites of culinary marvel and comprise mostly of myriad toppings on a small piece of bread with a toothpick to hold all of the lip-smacking goodness together.
Going on a pintxo crawl in old town or devouring as many as you can in its too-many-to-count pintxo bars is the numero uno thing to do in San Sebastian (they are pretty cheap coming in at 1.5 to at most 3-4 euros each), and honestly, doing anything else would be a travesty.
Pintxo bars are open pretty late but hungry folks start pouring in from 8 PM onwards, so arrive a little early for the more famous ones like Bar Ganbara, Borda Berri, Gandarias (both restaurant and pintxo bar), Sirimiri or Astelena 148. Do not forget to stop by the unassuming one Michelin starred Bodegón Alejandro for a quiet, yet memorable Basque meal or the famous churreria y chocolateria Santa Lucia for the thick drinking chocolate to dunk your croissant in for a hearty breakfast.
If you really want to indulge yourself and get a taste of the sophisticated in Basque cooking, make reservations at one of the many Michelin star restaurants in and around the city. We had a beautiful meal at the 3 Michelin starred Akelarre which also boasted of a splendid view of the Bay of Biscay.
I have a full fledged San Sebastian dining guide in a separate post because it deserves one (including my take on pintxo bar etiquette), but for now here is a visual taste of some of the delicious food that we gobbled down at the many pintxo bars, cafes and restaurants that I managed to hit up during my stay there, with Sirimiri and Zeruko being my favorites.
I spent a good 7-8 days in San Sebastian, thanks to a conference followed by my personal vacation which is why I could go pintxo crawling at so many of these pintxo bars in old town as mentioned above and in my guide to finding the best pintxos in San Sebastian.
If you are short on time, I highly suggest booking the ultimate pintxo and wine evening tour or gourmet pintxo tour or even better, a private pintxo tour through old town! A walking tour of the town with Pintxo and wine in small groups is also an excellent option for sightseeing.
B) Planning a trip to San Sebastian? Here are some helpful tips
a) Best time to visit San Sebastian
As per locals, Fall, i.e. September and October is the sweet spot with good weather and less crowds. May is also a good shoulder month to visit but you will get quite a bit of rain since it is still spring, just like we did.
Summer, with its gorgeous weather, is the peak tourist season and although the crowds are nothing as compared to that in Barcelona, it does get pretty busy in old town. Unlike southern Spain which gets sweltering hot in May, San Sebastian has a cooler, Atlantic climate. So please carry a jacket if you are visiting in Spring.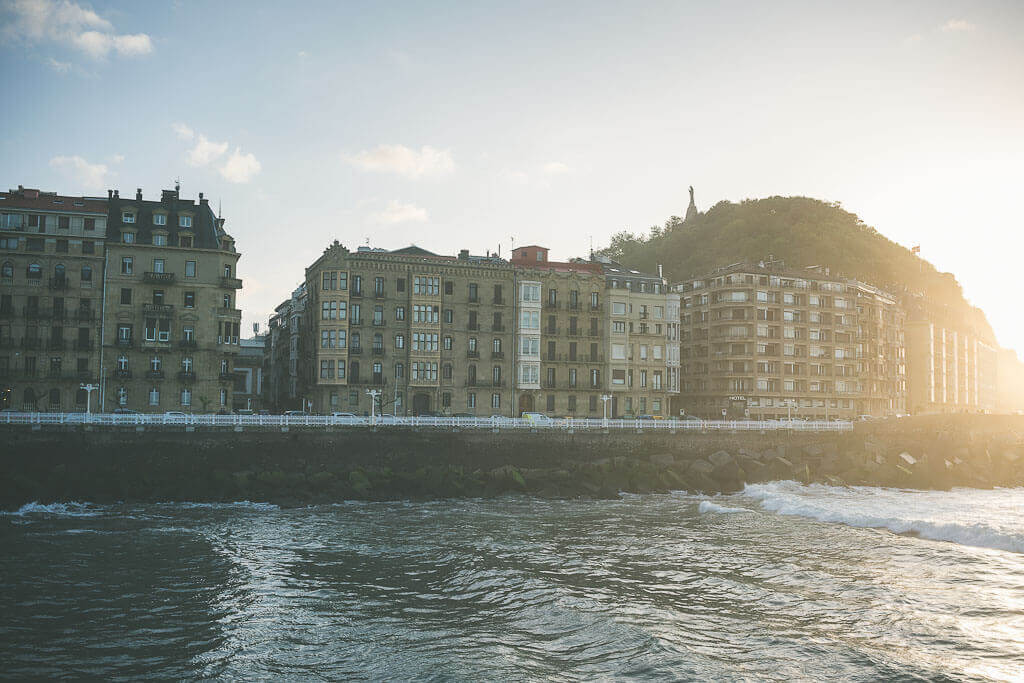 b) Flights from USA to San Sebastian
There are no direct flights to San Sebastian from USA, but there are several domestic flights like Iberia and Vueling that connect from Barcelona or Madrid to the tiny San Sebastian airport. You can also fly into Bilbao, another major Basque city and either drive or board a bus (takes 1.5-2 hrs) to San Sebastian.
Nueva Estación Autobuses ply frequently between these two cities and will drop you off at the central bus station in San Sebastian. If you are flying into the airport, you can get a taxi that costs anywhere from 40-60 euros depending on where in San Sebastian your destination is.
If you do not know any Spanish then it is a good idea to print out the destination and show it to the taxi driver. To save major $$$, hop onto a city bus, such as # E21 that will take you directly to Gipuzkoa plaza, which is a stone's throw away from old town if that is where you are headed to.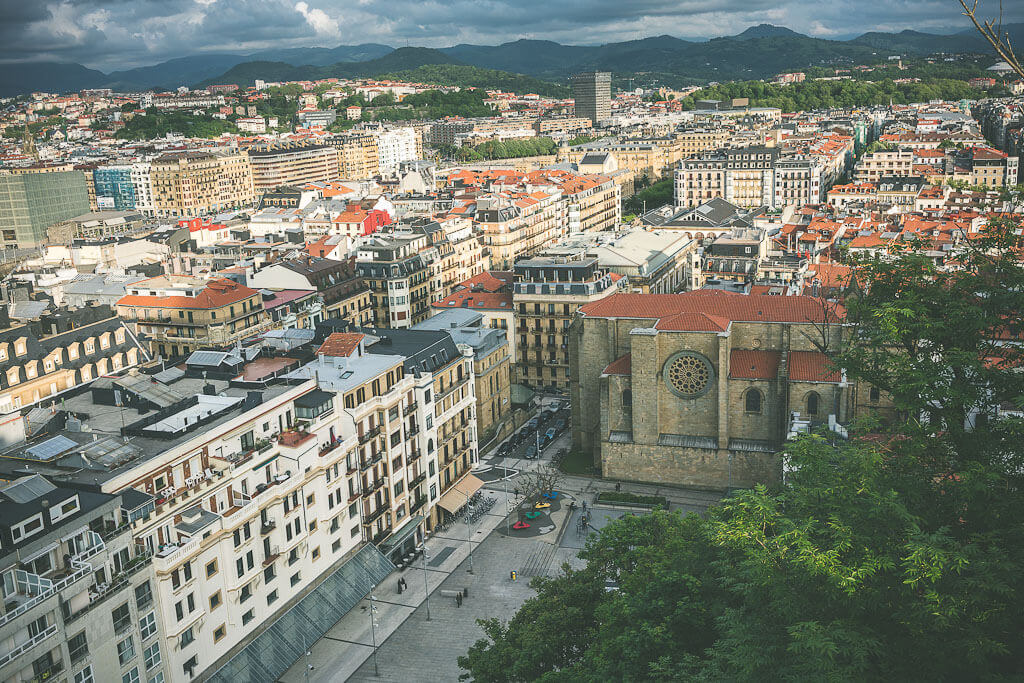 c) Where to stay in San Sebastian (hotels and lodging options)
Although San Sebastian has several thriving neighborhoods, I will actually recommend two places in this San Sebastian itinerary where I stayed during my visit, first for work and then for leisure.
The Olarain University residence, which is a good 40 minute walk from the city center (but is so very well connected by several buses), is a good, affordable option for budget travelers. Realistically, it is a dormitory for university students, but also doubles up as a hotel with rooms for out of town visitors.
You can get a room for yourself (which is just like any other hotel room with an attached bathroom) and there is also an option of including breakfast with your stay which is a modest one offered at the dining hall.
After my conference (which is when I stayed at the Olarain), I moved right into the heart of old town (Parte Vieja), the gastronomic center of the city. My husband and I opted for an apartment via Airbnb which won us over with its location, the hospitality of the hosts and the clean, modern decor and amenities.
If you're looking for budget hotels, Hotel Leku Eder, Hotel Villa Katalina, Hotel Boutique Villa Favorita , Hotel BED4U Zurriola and Bidaia Boutique Hotel (both in Gros) are highly rated places to stay.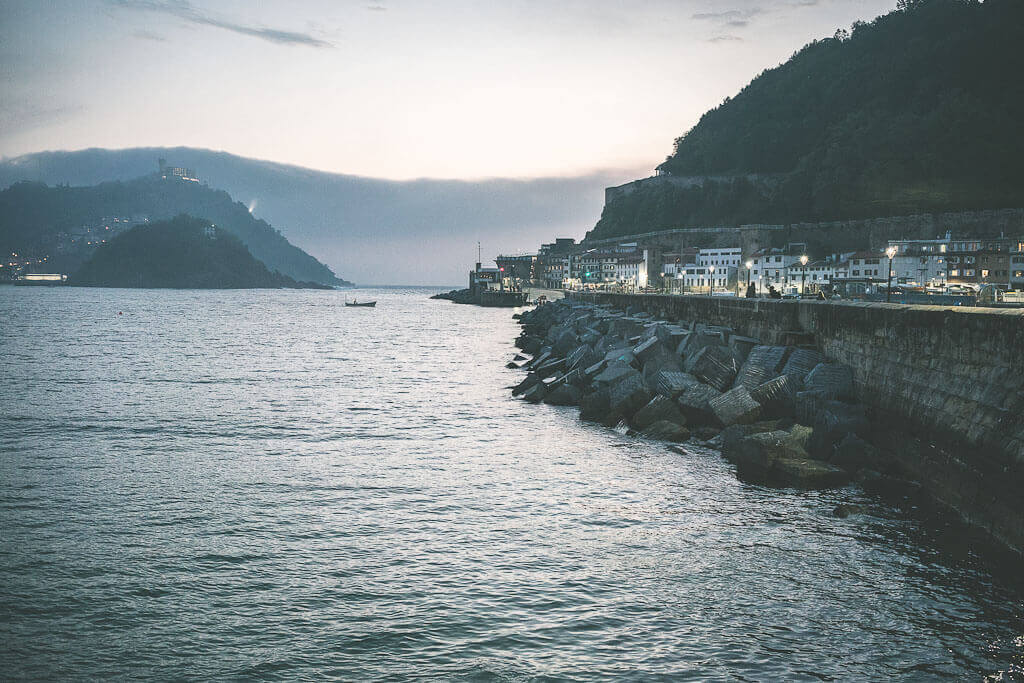 d) Public transportation in San Sebastian
San Sebastian's public transportation is "da bomb" as in it is clean, runs like clockwork, has a bazillion buses connecting to the city center (several ply between Gipuzkoa plaza and the airport) and is all kinds of amazing. I highly recommend exploring the city via buses (fare per adult per ride is 1.75 Euros and the drivers also provide change for up to 20 Euros, how awesome!).
Interestingly, I found out that taxis can only be boarded at designated taxi stands and cannot be flagged down in the middle of the street (which is customary in USA), but fear not cause a taxi stand is right next to the bus stops at the city center/Boulevard.
C) San Sebastian Tours

There are plenty of fun tour and guided day trips that you can go on from San Sebastian if you do not have a car at your disposal (you can check out my Bilbao to San Sebastian road trip in case you rent a car). Some of these tours are:

a) Hop on Hop off city bus tour of San Sebastian (very popular with tourists)

b) Hondarribia, San Pedro, and San Juan Tour from San Sebastian (these are charming Basque villages that you should check out)

Finally, here is the promised Google Map that includes all the things to do and places to eat mentioned in this post for your convenience. You could also read my detailed Basque dining guide or enjoy my other Spain posts scattered throughout this article. Thank you again for stopping by and I hope this San Sebastian itinerary post has inspired you to explore this Basque beauty on your next Spain trip.

LIKE THIS POST? HOVER OVER THE IMAGES BELOW TO PIN

«