Last Updated on October 26, 2021 by Paroma
Are you visiting San Francisco with your pup and looking for dog friendly beaches in the city? As a resident dog mom, I have you covered with my guide to the best dog friendly beaches in San Francisco along with information on leash laws, parking and nearby SF attractions. Read this guide to plan your hasslefree day of sun and sand at a San Francisco dog beach nearest to you.

Local dog mom's guide to dog friendly beaches in San Francisco
Although one typically does not associate San Francisco with beaches (it is known more as a citadel of tech or home to the Golden Gate Bridge), this is actually a popular beach destination in Northern California that boasts of several sandy patches, big and small scattered within the 49 miles square meter frame, thanks to being surrounded by water on all three sides. Best of all, many of these beaches welcome dogs, and some of these dog friendly beaches in San Francisco are also leash free!
As a dog parent going strong on 11 years of living in San Francisco, I have been to all these beaches multiple times with Babu, our Tibetan Spaniel mix (who by the way has romped on many dog friendly California beaches all over the state). So here is my guide to all the dog friendly beaches in San Francisco along with the most updated leash laws as well as information on how to get to these beaches. I have also included a handy Google Map at the end showing their locations for your convenience.
San Francisco beaches are part of the Golden Gate National Recreation Area and therefore have strict pet policies. For the continued use of public spaces by dogs, please be a responsible dog parent when at the beach- respect all posted signs, leash laws and always pick up after your dog!
Disclaimer: My blog posts may contain some affiliate links. Clicking on them may earn me a small commission at no extra cost to you for purchase of the product. Thank you!
Here's what you need to know about dog beaches in San Francisco
Planning to hit the beaches in San Francisco with your pup? Here is what you need to know for a fun-filled day at the beach when visiting San Francisco with your dog:
Which beaches are dog friendly in San Francisco?
Most beaches in San Francisco welcome dogs, with the exception of Marshall's beach (one of the best places for a panoramic view of the Golden Gate Bridge) and China Beach, one of the two hidden beaches in San Francisco.
Are dogs allowed leash free on the beaches in SF?
Not all dog friendly San Francisco beaches are completely leash free. Technically, dogs must be leashed (not more than 6 foot leash allowed) on all beaches, but some beaches also allow dogs to be leash free if they are good under voice control.
Other beaches have mixed rules on leash, i.e. dogs need to be on leash in certain parts of the beach but can be off-leash in others. I have explained these in greater detail as you scroll down the post.
Although I have tried my best to provide the most up to date information on my blog, please bear in mind that leash laws are subject to change. Please confirm on the Golden Gate National Parks Conservancy website (linked below) prior to planning your beach trip in San Francisco with your dog.
How to get to these dog friendly beaches in San Francisco
The easiest way to get to these beaches is by car. However, if you don't have one or are visiting San Francisco and choose not to drive, then you will have to get on San Francisco's public transit. I have completely outlined the pet policy for different San Francisco transportation options in my dog friendly guide to San Francisco. Remember to pack in a pet carrier if you are going to use the public transit such as BART or MUNI.
Unique attributes of San Francisco beaches
Before hitting the beach with your pup in San Francisco, the one thing that you must know that SF beaches are deadly windy and cold, quite the opposite of Southern California beaches that are sunny and warm, such as those in Santa Barbara or near Los Angeles.
SF beaches are cold year round and the water is quite frigid too (read: not amenable to swimming), so better dress like locals when you go to the beach, i.e. dress warmly and in layers. Also, pack in a foldable beach blanket, collapsible dog bowls, poop bags (we use this exact one) and a reusable water bottle in your San Francisco packing list.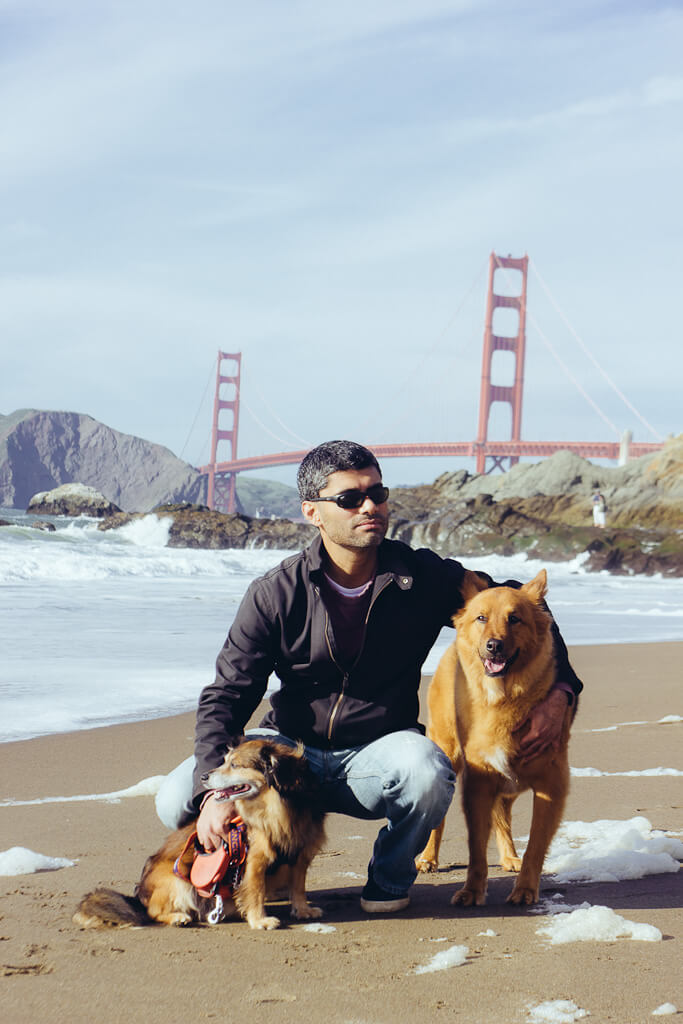 List of dog friendly beaches in San Francisco
Here are all the beaches in San Francisco that allow dogs. Please enjoy them responsibly and remember to double check with their websites prior to planning your trip since many services might not be temporarily available due to the 2020-2021 ongoing health advisory.
Address: Fort Funston Rd, San Francisco, CA 94132
Beach hours: 7 AM-9 PM (7 days a week)
Parking: Designated parking lot is available. The southern parking lot is at 104 Fort Funston Rd
Restrooms: Portable toilets near parking lot (enter at your own risk)
This is the most popular dog beach in San Francisco with people coming in from nearby cities to enjoy a run in the sand with their pups. This dog friendly SF beach is located on the southwestern most edge of San Francisco and is under the jurisdiction of Golden Gate National Parks Conservancy.
This beach is super popular with dog parents because dogs are allowed to be off-leash here (leash free but under voice control). Since Fort Funston does have hiking trails permitting horse-riding, so do bring a leash with you in case your pup has a chance meet and greet with a horse!
Getting to this beach from the parking lot is a bit of a trek and will require navigating high bluffs (upto 200 ft), sand dunes and a bit of a steep, rocky terrain before you get the first glimpse of sand and glistening waters of the Pacific. It also gets very windy here, so please dress warmly and wear sturdy footwear for the descending hike.
Address: 700-799 Great Hwy San Francisco, CA 94121
Beach hours: 6AM-9:30PM, 7 days a week
Parking: Limited parking along Great Highway. Beach Parking available but gets filled up quickly
Restrooms: On 1398 Great Highway, 2801-2879 Great Highway (between Sloat Blvd and Judah Street)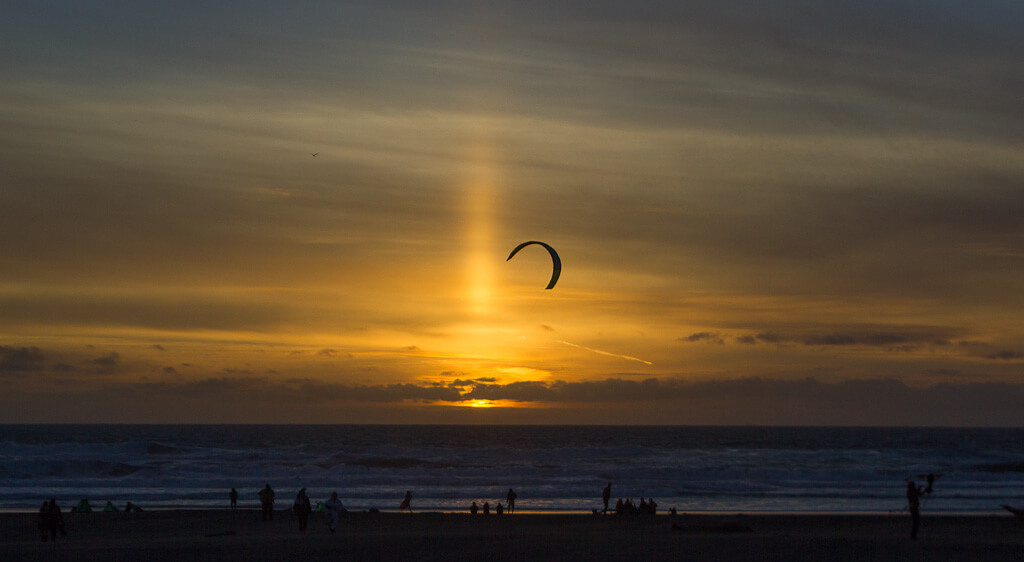 Ocean beach is the 3.5 miles of white sand flanking the Great Highway and is at the westernmost end of the city, adjacent to the western end of Golden Gate Park. This beach is excellent for kite-flying but not so much for swimming, since the water is cold as the depths of hell and the currents are hazardous.
In addition, the beach is pretty much foggy throughout the day, especially in the evening. Your best for a sunny day at the beach is to visit during the warmer months of September and October when San Francisco experiences an "Indian Summer".
Although dogs are allowed on the beach, the rules are pretty funky. Dogs are allowed on leash everywhere, but can be off-leash from stairwells 1 to 21. This beach is extremely popular with tourists and since parking is limited, try coming in as early as possible.
Dog friendly attractions near Ocean Beach
Cliff House: This is a 157 year old restaurant visited by Mark twain and is perched on the very northern part of the beach. As of Dec 31, 2020, the Cliff House restaurant has been permanently closed with the famous sign being brought down, but the building still stands.
Sutro Bathhouse ruins: This is one of the must see attractions of San Francisco and the hike to the bathhouse is dog friendly where dogs can be off-leash (albeit under voice control).
Coastal trail/Land's end trail: This is one of the many dog friendly hiking trails in San Francisco that starts from Land's End, adjacent to the ruins. This trail is one of the most scenic hikes of San Francisco and reveals jaw-dropping sceneries along the coast, Marin headlands as well as that of the Golden Gate Bridge.
Sutro Heights Park: This dog park with great views of the beach is adjacent to the steps leading to the Sutro bath ruins.You can read more about the myriad amazing dog parks in SF from my detailed post here.
Address: El Camino Del Mar, San Francisco, CA 94121
Beach hours: Open 24 hours
Parking: Park on El Camino Del Mar and Point Lobos Ave or El Camino Del Mar and 32nd Ave
Restrooms: In Land's End visitor center (might be closed for 2020-2021 health advisory), portable toilet available near Land's End parking lot
Mile Rock beach is one of the two hidden beaches in the city and is located in the Sea Cliff neighborhood, one of the most beautiful neighborhoods to visit in San Francisco. This dog friendly San Francisco beach allows dogs to be off-leash, but they should be under voice control at all times.
This beach is accessible via the Land's End trail, one of the best hikes in San Francisco, that can be accessed from El Camino Del Mar and Point Lobos Avenue (just up the hill from the ruins/near Land's End parking lot) or from El Camino Del Mar/Lincoln Highway and 32nd Avenue on the east end. Since the trail is narrow and hiker heavy, dogs should be on leash during the hike.
Other dog friendly attractions near Mile Rock beach
Land's end labyrinth: This man-made quirky SF attraction is located right above the beach and is dog friendly. This labyrinth is one of the several secret Instagram worthy spots in San Francisco and provides an epic view of the Golden Gate Bridge.
Address: Bowley St and Gibson Road, Presidio of San Francisco
Beach hours: Open 24 hours
Parking: Free parking available or Park on Lincoln boulevard and hike down to the beach
Restrooms: Available

Baker beach is a local's favorite in San Francisco's Presidio neighborhood and is a family friendly plus dog friendly mile long beach in San Francisco. This beach can be accessed by the 0.3 mile San Ladder trail from Lincoln boulevard or by driving up to the southwest parking lot (shown on the Google Maps below).
Dogs are allowed leash-free north of Lobos creek but must be on-leash south of the creek. This beach is most famous for its incomparable view of the Golden Gate Bridge and should be visited with your pup for that reason alone. One thing to note is that this SF dog beach is also a nudist beach, with clothing optional folks sunbathing on the northern end of the beach amidst the rocks.
Other dog friendly activities near Baker Beach
San Francisco's Presidio is famous for its many dog friendly hikes and vista points, such as Inspiration point. You can easily access the California Coastal trail in the Presidio after leaving the beach that runs along the Lincoln boulevard and takes you to the Golden Gate Bridge, with breathtaking lookout points along the way, such as at Battery Cranston.
Address: 1199 E Beach, San Francisco, CA 94129
Beach hours: Open 24 hours
Parking: Free parking available on East Beach Parking lot or Mason street (limited), overnight parking is not allowed
Restrooms: Available
Saving my most favorite dog friendly beach in San Francisco for the last, I hereby present to you Crissy field East Beach, the jolliest beach that welcomes canines with amazing views to match. Crissy field East beach is an off-leash dog beach in the northernmost part of San Francisco's Presidio and has stunning views of both the Golden Gate Bridge, and Alcatraz Island.
Crissy field is 100 acres of family friendly beach and picnic area in San Francisco that was a former military airfield (read dump) that was restored into a lovely National Parks site. This is also an excellent spot for bird watching in the adjacent Crissy marsh, a tidal lagoon for waterbirds. On a sunny day, you will catch joggers, bikers, kitesurfers, swimmers and rowers- all enjoying a day out in San Francisco.
The West Bluff picnic area is about a mile west of the beach and is also dog friendly (dogs must be leashed here). The cafe Warming hut, aptly named to provide respite from the cold and the fog with its hot beverages and snacks, is nearby (note: the cafe is temporarily closed due to 2020-2021 health advisory being in effect).
A semi-paved path known as Golden Gate Promenade runs through Crissy Field between Marina Green and Fort Point (a Civil War-era brick fort) and allows dogs on leash. You can walk all the way down this promenade to go up to Fort Point right below the bridge to see paddle boaters and surfers in action.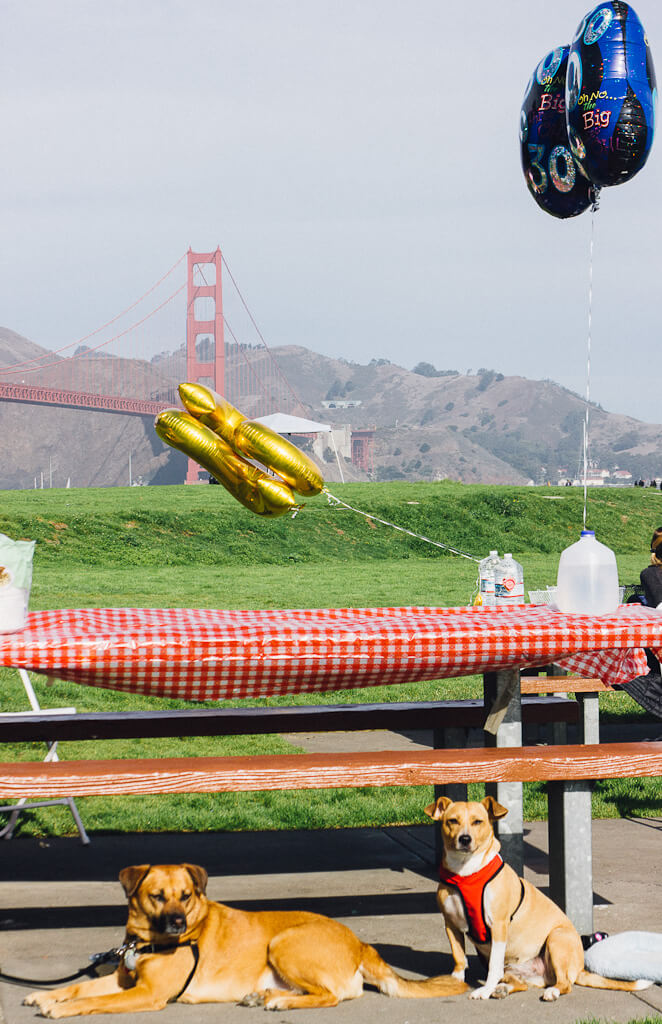 I hope you enjoyed reading this post on all the dog friendly beaches that San Francisco has to offer. Please enjoy your day at the beach responsibly with your pup(s) with locations shown on Google Map below. For more dog friendly travels in California, you can read all our dog friendly adventures right here.
Like this post? Pin it for later

«