Last Updated on October 26, 2021 by Paroma
Are you looking for hidden beaches in San Francisco for a local's only experience? Then you've reached the right post where I spill the beans on two lesser known beaches which are kind of a local's secret. These secret beaches of San Francisco provide beautiful views of the Golden Gate Bridge and are perfect for a witnessing an ethereal sunset in the city, minus the crowds!
WHERE CAN YOU FIND HIDDEN BEACHES IN SAN FRANCISCO?
San Francisco may be a tiny city but is filled with local secrets, under the radar spots and of course, hidden beaches. Being a San Francisco resident, I have combed several of these lesser known beaches in this Northern California beach town in search of secluded spots to witness a tranquil sunset.
Here are my recommendations for two super special, relatively unknown and locals favorite, secret beaches in the city which double up as the best San Francisco sunset spots. These two are also easily some of the best beaches in California due to their golden-pink sand and gorgeous views of the Golden Gate bridge in the distance.
Remember, San Francisco beaches are chilly and windy and you need to be dressed appropriately to counter all these crazy microclimates in our tiny city! Also, please be respectively of these public spaces and do not take anything with you from the beach, such as sand, shells or stones!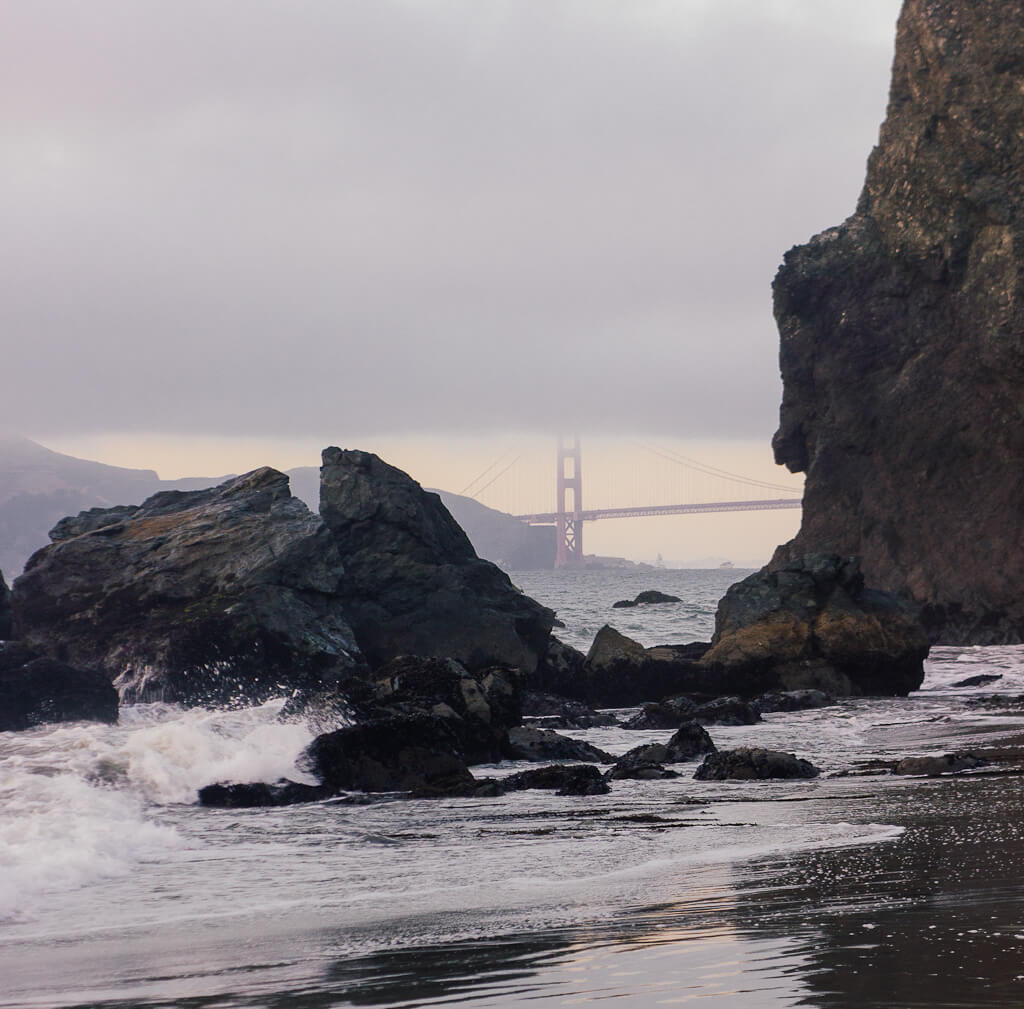 SECRET BEACH IN SAN FRANCISCO #1. MILE ROCK BEACH
Mile Rock beach, a small rocky beach (more like a cove) jutting out into the Pacific ocean, overlooks the Golden Gate bridge in one corner of the Land's end coastal trail in one of the most beautiful neighborhoods of San Francisco. This is one of the best beaches in Bay Area and is also one of the best spots to watch a sunset in San Francisco.
All you need is a good jacket (does get windy and chilly), a camera + tripod (if you are a photography nerd) and the will to climb down and up a few hundred flight of stairs to witness the best San Francisco sunset! Best of all,this is a dog friendly beach in San Francisco!
HOW TO GET TO MILE ROCK BEACH
Getting to this secluded beach in San Francisco is pretty easy and you can either drive to or take the Bus 38 to Land's end, specifically park at or start from El Camino del Mar and Point Lobos Avenue, just up the hill from the Cliff House and the Sutro Bath ruins, which is the trailhead.
Then start your journey along the coastal trail which is easily one of the best hikes in San Francisco. This trail follows the steam railroad route established by Adolph Sutro (owner of the Sutro Bath house, the ruins of which still persist at Land's End) to bring in people from downtown San Francisco to enjoy the bath house. Steam train later gave way to electric cars but the route was constantly plagued by landslides and finally after the torrential rains of 1925, where huge portions of the route caved into the ocean, these tracks were deemed too costly for repair and abandoned.
The trail also has several curved rest areas where you can sit and enjoy a beautiful view of the ocean and listen to the fog-horns. 0.6 miles of hiking along the trail will lead you to a sign for the beach towards the left. What follows after that is several flights of sandy steps (there are quite a few of them) as you descend into the rocky, sandy cove providing a spectacular view of the Golden Gate bridge.
Best of all, since very few people know of this under the radar beach, you will be witnessing a beautiful San Francisco sunset with only a few people around! Another attraction is a cylindrical object jutting out of water that used to be a once functioning lighthouse, named the Mile Rock beach lighthouse. Its defunct now and there is an automated light to guide the ships. If it's not too foggy you might also catch the flashing lights of Point Bonita lighthouse in Marin headlands (Sausalito), one of the remaining active lighthouses in California.
Just above Mile Rock beach, is the famous Lands End labyrinth, one of the best offbeat photo spots in San Francisco. It is also a dog friendly attraction, but please be mindful while visiting and do not dislodge any of the rocks in the circles.
HIDDEN BEACH IN SAN FRANCISCO #2 CHINA BEACH
China Beach, another secret in San Francisco is also one of the best San Francisco sunset spots and one of the many hidden gems in San Francisco. This beach is pretty much one of the lesser known beaches in San Francisco Bay Area and is a sandy patch at the very end of Sea Cliff Avenue. Unfortunately, dogs are not allowed on China Beach.
It is essentially a small cove in the San Francisco's Sea Cliff neighborhood and lies between Baker beach and Land's End, overlooking Marin Headlands. The name comes from it's past as a camp for Chinese fishermen. In case you are interested in public transportation, San Francisco's MUNI has you covered.
Board the Bus # 38 (which also takes you to Land's End) and hop off at Geary Blvd and 30th Avenue in Outer Richmond, after which a brisk 15 minute walking will take you to this hidden beach in San Francisco. Enjoy a beautiful (albeit chilly and windy) San Francisco sunset with another breathtaking view of the Golden Gate Bridge in the horizon.
I hope you enjoyed reading this post on two hidden beaches in San Francisco from where you can catch spectacular sunsets. Read my other San Francisco posts right here for more insider information and local guides that only a resident can provide. Thanks so much for stopping by!
Like this post? Hover over the images to pin

«