Last Updated on June 14, 2022 by Paroma
San Francisco is a great dog friendly city to visit with lots of dog friendly hiking trails and dog parks with panoramic views to go along. However, if you are more of the outdoorsy type dog parent, then venturing out of the city on some dog friendly Bay Area day trips is the best way to spend a dog friendly vacation in Northern California with plenty of options to experience nature, all within a 1-2.5 hrs from the city.
With San Francisco as your base, Bay area road trips with dogs will also make excellent day trips from San Francisco if you have some extra time on your hand along with a car at your disposal. For those looking at traveling in Bay Area with a dog at a more relaxed pace, stay a bit longer in these small Northern California towns that also double up as romantic getaways in Northern California and excellent winter getaways in California!
I have included several cities and towns both to the north and south of San Francisco for shorter dog friendly day trips in the Bay Area and longer weekend getaways from San Francisco. I have legitimately been to all of these destinations as weekend road trips from San Francisco and highly recommend them when you visit Northern California with your dog.
Disclaimer: My blog posts may contain some affiliate links. Clicking on them may earn me a small commission at no extra cost to you for purchase of the product. Thank you!
P.S. I have tried my best to provide up to date information on dog friendly hotels based on my stay, but pet policies change often. So please call and confirm prior to making any bookings.
HOW TO PLAN FOR A DOG FRIENDLY BAY AREA DAY TRIP
Choosing a base (if you are visiting Bay Area)
If you're planning on one or many day trips in the Bay Area with your dog as a visitor, then it is best to choose San Francisco as your base. This is because, besides its many dog friendly attractions, San Francisco also boasts of an advantageous location (being perched at the mouth of the Bay) to explore the best day trips in the Bay Area.
With a mere 1-3 hours drive from San Francisco in either direction, you will find yourself in the laps of some of the most incredibly gorgeous landscapes that only California can offer, ranging from the majestic Redwoods to bucolic wine country and hiking trails revealing beautiful vistas to sandy beaches in charming Northern California beach towns. Both you and your dog will have a blast, I can guarantee that after 10 years of dog friendly travels all over Northern California.
How to go on these dog friendly day trips from San Francisco
Renting a car
You will need a car to venture out of San Francisco for day trips as well as weekend getaways with your dog. This is bummer of sorts, because not all visitors are inclined to drive or have a private vehicle at their disposal when visiting USA for the first time.
The good news is that you don't need to rent a car to explore San Francisco since we have a very decent public transportation system to get around the city and they all allow small dogs on board (see section below). You can also rent a car from several locations in San Francisco for your weekend getaways in the Bay Area with a proper drivers' licence.
Dogs in Bay Area's public transit
For those of you planning to go on day trips with your dogs in the Bay Area without a car, here is the Bay Area public transit policy for dogs that you need to be aware of for planning your trip. Remember that not all these public transit systems go directly to the destination of your choice and you might have to change or use multiple types of transportation to get to where you want. Also, you will be limited in your choice of destinations.
Important- These public transit pet rules keep on changing, so please double check if they still hold true when you visit San Francisco.
BART (subway/Bay Area Rapid Transit)
If driving/getting a car is not feasible for you, then your only options would be to take public transportation to nearby Bay Area cities (such as Berkeley and Oakland on the East Bay which are also very dog friendly) using BART. BART allows a well behaved dog or cat in an acceptable portable carrier on the floor in front of their owners seat unless they are service dogs in which case a carrier is not needed.
Buses allowing dogs
San Francisco's MUNI buses (and trains) allow dogs during non-peak hours from 9AM -3PM and after 7 PM. You need to purchase a full ticket for your dog. Although dogs are preferred in carriers on their owners laps, well behaved dogs on leash and/or with muzzle are also accepted.
AC Transit, VTA and Golden Gate Transit buses (GGT buses take you north of the Golden Gate Bridge) also allow pets in carriers small enough to fit on their owner's lap. You can read the complete San Francisco's public transit pet policy right here, and remember-the rules keep on changing periodically. So please double check to confirm!
Dogs on Ferries
The San Francisco ferries leaving the Ferry building are an excellent means of transportation for day trips to Tiburon, Sausalito and Larkspur-dog friendly small towns north of the Golden Gate Bridge with secret beaches and spectacular overlooks.
The Ferry pet policy is simple: only well behaved dogs that can fit in carriers on their owners laps are allowed everywhere, including the deck. Purses cannot be passed off as carriers, so please don't think of pulling off a Paris Hilton!
See the ferry schedule here for traveling on a ferry across the San Francisco Bay.
Bay Area Public transit services that do not allow dogs
That would be Caltrain and SamTrans, both of which connect San Francisco to the Peninsula and the South Bay. Only service dogs are allowed on these public transit systems. So if you are looking to a dog friendly Bay Area day trip south of San Francisco, you have to either get a car or arrange for a private transportation.
Dogs on shared rides
Shared rides (Lyft/Uber) are convenient, but might be very expensive for day trips from San Francisco and might not always be available for the destination of your choice. Please confirm with your driver after your ride request to see if they are OK with a dog in the car, unless of course you have a service animal with you which makes it OK.
Conducted tours
If you are not into driving or do not have a car at your disposal, you can still go on several conducted tours from San Francisco such as Trip to Muir woods and Sausalito, a day out in Napa and Sonoma (wine country), exploring Monterey and Carmel by the sea or even going as far as Yosemite National park and Giant Sequoias as a day trip from San Francisco. However, please be mindful that these tours might not allow dogs.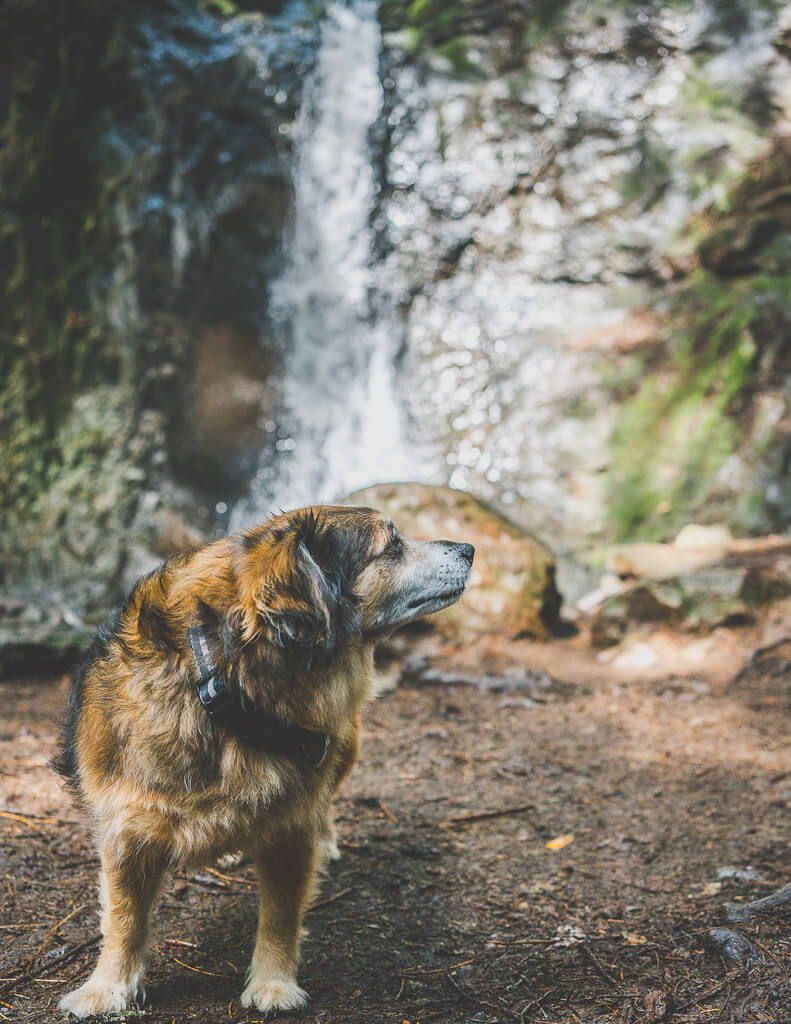 DOG FRIENDLY BAY AREA DAY TRIPS- SAUSALITO-TIBURON-LARKSPUR
These picturesque dog friendly towns are in Marin county, north of the Golden Gate Bridge and make for great outdoorsy destinations, filled with dog friendly hikes leading to waterfalls, great views and through the Redwoods. Best of all, these towns can also be reached within 30-40 minutes by ferry departing from the Ferry building in Embarcadero. These towns are ideal for family friendly day trips from San Francisco with your kids and are quite close to each other. If you have a car, I suggest visiting all of them in one go!
Sausalito is a quaint, European style city perched north of Golden gate bridge and is home to many artists, art galleries, beautiful beaches, good food, houseboats docked on the marina and amazing vistas. From a a must visit secret black sands beach to many other dog friendly attractions, Sausalito makes for a great dog friendly day trip from San Francisco.
Tiburon is another town next to Sausalito jutting out in the Tiburon peninsula and is equally beautiful with gorgeous views. Tiburon's open space preserve hiking trail provided jaw dropping views of the Golden Gate Bridge and overlooks the gorgeous Angel island, also known as "Ellis island of the west" since it served as the immigration check point for many immigrants arriving via the Pacific.
Larkspur is famous for its dog friendly hiking trail through a beautiful Redwood grove that leads to a waterfall named Dawn Falls. Since dogs are not allowed in Muir Woods, the famous Redwood forest near San Francisco, hiking along the Dawn Falls trail excellent option to explore the Redwoods with your dogs.
Driving time: 20-30 minutes from San Francisco
Public Transit: Ferry rides from Pier 1/Ferry Building
(Always check pet policy before you book hotels since they are subject to change; call and confirm with the hotel prior to booking)
DOG FRIENDLY DAY TRIPS FROM SAN FRANCISCO-PT. REYES
Point Reyes National Seashore is part of the California National Parks system and is a protected area of California's coast in West Marin. This ecologically preserved area is home to unique wildlife sanctuaries (Tule Elk reserve), coastal views, beaches and some of the best oysters and cheese that is found in Northern California. You will definitely need a car to visit Point Reyes since it is not well accessible by public transit and it will take you about 1-1.5 hours to get there, making it a perfect day trip from San Francisco.
Being a protected area with precious flora and fauna, many parts of Point Reyes do not allow dogs. However, there are several places in Point Reyes where dogs are welcome (hikes/beaches/restaurants/wineries), including three beaches such as Kehoe Beach which also has a dog friendly trail leading up to it. If you'd like nothing more than seeing some of the most pristine beaches in Northern California, head to Point Reyes with your dog, especially for a quiet July 4 weekend since fireworks are banned here.
Driving time: ~1 hour from San Francisco
(Always check pet policy before you book hotels since they are subject to change; call and confirm with the hotel prior to booking)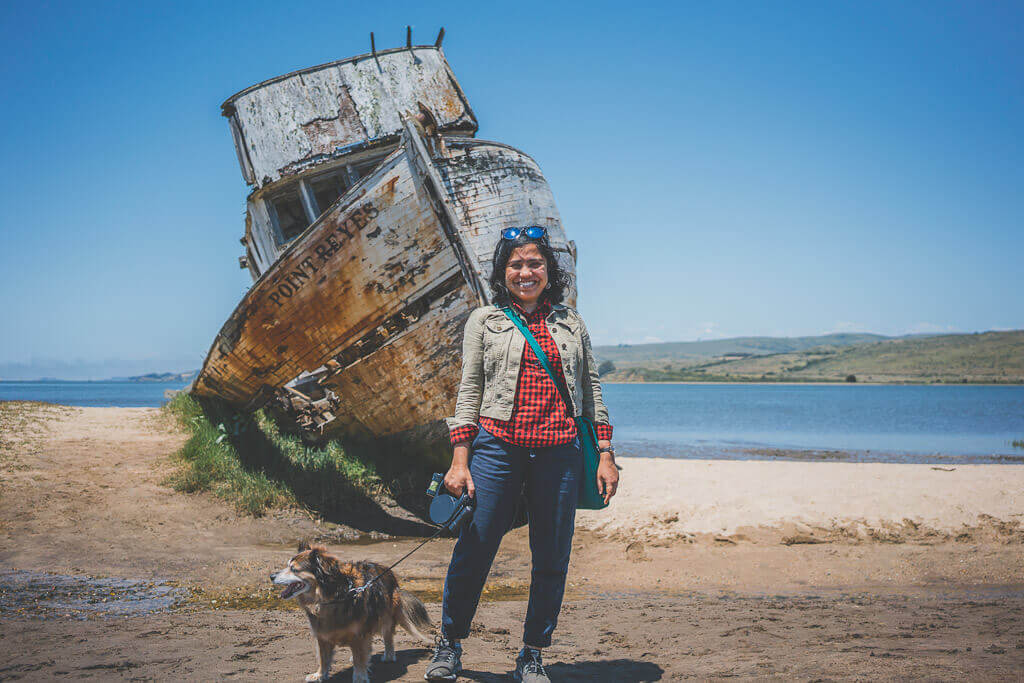 DOG FRIENDLY DAY TRIPS IN BAY AREA # 3: NAPA AND SONOMA
Sonoma County is one of the most diverse counties in Bay Area and encompasses everything from a tranquil Redwood forest to acres of wine country and an enviable slice of the California coastline, which makes for a great dog friendly west coast road trip. Sonoma is perhaps most famous for being the birthplace of modern California wine country and boasts of a mind boggling diverse array of wine growing regions which are blessed with many dog friendly wineries.
Besides wine tasting, you can enjoy a slew of other dog friendly activities in Sonoma ranging from visiting the historic railroad square in Santa Rosa, experiencing dog friendly glamping in Petaluma, visiting Armstrong Redwoods State Natural Reserve, hiking along the coastal trail in Bodega Bay for birdwatching and amazing views and driving down Bohemian Highway to stop by charming small towns such as Occidental, Camp Meeker and Freestone.
Napa county, home to some of the best wineries and restaurants in USA, lies to the east of Sonoma and is another great destination in wine country for a dog friendly day trip from San Francisco. Napa Valley is not only home to the most famous wine appellations in the world but is also filled with other dog friendly attractions. Enjoy dog friendly wine tasting at some of the most beautiful wineries in the world, explore the petrified forest or Old Faithful Geyser in Calistoga and indulge in some good old patio dining at some of the best restaurants in Northern California.
Driving time: 1-1.5 hours from San Francisco (both Napa and Sonoma)
Public Transit: Golden Gate Transit buses run between San Francisco and Santa Rosa (Sonoma)
(Always check pet policy before you book hotels since they are subject to change; call and confirm with the hotel prior to booking)

DOG FRIENDLY BAY AREA DAY TRIPS # 4: SANTA CRUZ
Santa Cruz lies, a seaside town that doubles up as Northern California's surf capital lies just outside of the Bay Area and is an easy breezy dog friendly day trip from San Francisco. Although known for its extremely touristy boardwalk, a very different and tranquil world awaits you and your pup if you simply choose to avoid this tourist attraction.
With dog friendly hiking trails, secluded beaches, wineries and restaurants, Santa Cruz is great destination for Bay Area visitors to explore with their pups. Santa Cruz is also home to Henry Cowell Redwood State Park, one of the few Redwood forests that allows dogs. The nearby towns of Aptos and Capitola (famous for its colored beach houses or Venetians) are also exploration worthy.
Driving time: 1.5 hours from San Francisco
(Always check pet policy before you book hotels since they are subject to change; call and confirm with the hotel prior to booking)
Psst… Half Moon Bay is another dog friendly beach town only 30 min south of San Francisco on your way to Santa Cruz, check it out!

DAY TRIPS FROM SAN FRANCISCO # 5: CARMEL-BY-THE-SEA
Moving further southward into Monterey county, don't forget to include Carmel-by-the-sea in your day trip itinerary if you are visiting California with a dog.Carmel, a tiny European style seaside town, is possibly the most dog friendly town in California (think tons of dog friendly restaurants, hikes and beaches) and makes for the perfect dog friendly day trip from San Francisco.
When in Carmel, do not forget to drive along the famous 17 mile loop between Carmel and Monterey which is often touted as one of the most scenic drives in California. The other epic California road trip which is not to be missed is down Big Sur (that starts from Carmel) where Garrapata State Beach and Pfeiffer beach are dog friendly. If you have time, stop by Pacific Grove which is another charming beach town near Carmel.
Driving time from San Francisco: 2.5 hours
(Always check pet policy before you book hotels since they are subject to change; call and confirm with the hotel prior to booking)
I hope this post has given you plenty of fodder for dog friendly Bay Area Day trips to make on your next visit and shown you that day trips from San Francisco are easily done with dogs. Thanks so much for stopping by!
Pin this post for later!

«