Last Updated on August 18, 2022 by Paroma
Are you looking for pet friendly glamping sites in California? If so, I have the perfect post for you to set you off on a fun little adventure! This guide is all about our dog friendly glamping adventure in California in a Hobbit Cobbin where we stayed with our pup! Find out everything you need to know about how to book this dog friendly camping experience in Petaluma, Sonoma County by reading this post.
Disclaimer: This blog post may contains some affiliate links. Clicking on them to make a purchase may earn me a small commission at no extra cost to you for the product. Thank you!
Pet Friendly Glamping in Northern California
Are you owned by a dog and are always looking for fun activities to do with your pooch? Or, are you simply on the hunt for something quirky in the Bay Area? Then, dear reader, I have exactly the right post for you. Why? Because I am going to let you on a super fun secret where Lord of the Rings meets pet friendly glamping, one of the many options in dog friendly camping in Northern California.
Simply put, this is glamorous camping, that too in your very own Bay Area, aka the beautiful Petaluma in Sonoma County (California's famous wine country with lots of dog friendly wineries), one of the best places to be in California in winter.
Amongst the many dog friendly glamping options, this is perhaps the most fun one for those of you who are looking for a taste of camping with dogs minus the wait for campgrounds and headache over tents and camping gear.
What makes this pet friendly glamping adventure unique is that, besides paying homage to LOTR, it also raises awareness on sustainable and eco-friendly living. So without further ado, I present to you this fun dog friendly glamping, an unique northern California dog friendly camping experience at Hobbit Cobin, Petaluma!
Where is Petaluma, Sonoma?
Petaluma is a small town in Sonoma County, south of Santa Rosa and is an hour away from San Francisco. The best way to enjoy Petaluma is on a weekend getaway from San Francisco. You will need a car to drive to Petaluma which you can rent from San Francisco (city or SFO airport). The GGT bus route 72 (Northbound to Santa Rosa) will also take you to Petaluma from San Francisco.
Read our other dog friendly adventures in Sonoma here:
Dog friendly Glamping in Bay Area: What is Hobbit Cobin?
Hobbit Cobin in Petaluma is a living earth structure and a clever word play using Cob in its name. Cob is nothing but a mixture of local earth (sourced from Petaluma), straw and sand to build this earth structure. The architect behind this is Miguel Elliott, aka "Sir Cobalot" who has been building these sustainable structures all over the world.
The "Cobin" is very much reminiscent of the cottages in the Shire, home to middle earth minions/Hobbits in LOTR. Made of "breathable materials" (owing to the porous nature of the earth) it is rightfully known as a living earth structure and embodies sustainability with eco-friendly measures.
The room is small but comfortable enough for two adults of average built and a small-medium sized dog. Besides a bed, there are ledges, hangers for clothes, LED lights and electrical outlet for your basic needs. There is wifi as well in case you do feel the need to connect to the world outside.
A separate kitchen are is available with coffee, milk and cereal. The bathroom has a eco-friendly compostable toilet and a shower. There is no water to flush, but thanks to the fragrant sawdust, there is nothing unsanitary about it! Remember people, this is a kind of glamorous camping after all! Definitely one of a kind pet friendly glamping experience that you must have!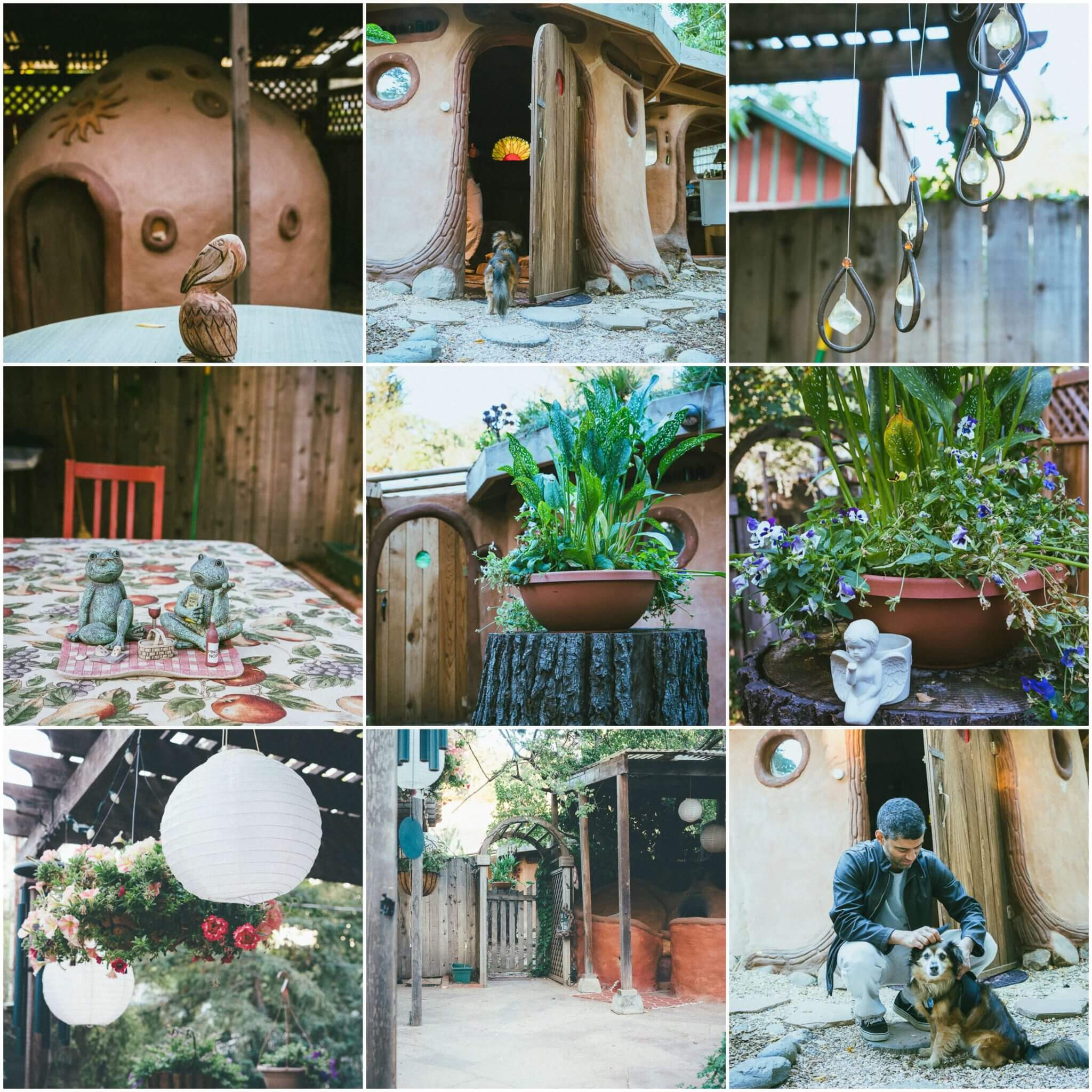 Pet Friendly Glamping in California: Details on our stay at Hobbin Cobbin
We booked this dog friendly glamping property and were warmly greeted by Miguel's parents upon arrival, since the Cobin is behind their farmhouse. Although conducive for pet friendly glamping, It is important to note that you have to confirm with Miguel about bringing your dog since they have pet chicken and so only well behaved pooches, i.e. those who do not go ballistic seeing fowl, are welcome.
Miguel's father also led us to an enclosed area to greet his pet goats and I gingerly fed leaves to the friendlier one who came right up to the fence to greet me! Both Miguel and his parents were great hosts and gave us lots of suggestions on dog friendly places, parks and restaurants.
Miguel had also thoughtfully placed a brochure with all the information on local attractions and restaurants in the room as well. Plus, there is a beautiful hardbound book telling you all about living earth structures and eco-friendly houses for sustainable living along with the process of building these structures and their benefits.
Although a little cramped for space, which is understandable, we marveled at the sheer beauty of this eco-friendly structure which symbolizes a marriage of sturdy engineering with sustainability and is a great solution to the housing problem faced in this world bursting at its seam with human population! Everything in the Cobin was present for a purpose and nothing felt superfluous or redundant.
In this world of excesses, it felt great to be unwinding via this pet friendly glamping opportunity with the bare minimum needed for a more grounded, meaningful life where we could treasure the little amenities around us much more since they all had a purpose.
Besides being a fun concept of dog friendly glamping where we could imagine being transported to middle earth for the weekend, the more serious message of "waste not, want not" was definitely not lost on us. The only thing I would advise is to bring a torch light and a pair of sandals/slippers for this dog friendly camping Bay Area trip, since it gets dark plus the restroom is outside the main room and a gravel strewn path leads to it.
Honestly, we loved our dog friendly glamping adventure at Hobbit Cobin and highly recommend it as a fun pet friendly glamping experience for a dog parent or an LOTR fan who can get the Shire experience right here in California without having to rush to New Zealand (where the motion picture was filmed)!
Other dog friendly things to do in Petaluma
Besides getting your pet friendly glamping fill, there are several dog friendly activities to keep your pooch happy in Petaluma, which to our surprise turned out to be very welcoming to dogs! Downtown Petaluma is lined with rows of antique stores which allow dogs to sniff their prized possession and many restaurants welcome pooches on their patios.
Say "hi" to Pasha the dog (adopted from Turkey) at Real Doner, a Turkish restaurant, which has a great outdoor seating area or simply have some amazing breakfast at the super popular Della Fattoria or Tea Room Café. Rosso Pizzeria and mozzarella bar is great for lunch, Petaluma pie company has lip smacking pies for afternoon pick me ups while Graffiti serves Californian-American fare (with some Asian fusion thrown in) for dinner with a nice view of the river. All these Petaluma restaurants are dog friendly!
Petaluma boasts of several dog friendly parks and while we explored McNear Park (with an off leash play area) and Steamer landing park (with beautiful ruins and a path near the water), there are many other dog parks where your pooch can play to his/her heart's content. Here is a full list of parks which are dog friendly in Petaluma.
This brings me to the end of this post which you have enjoyed reading! Petaluma, one of the understated jewels of Sonoma county, is well worth a visit due to this unique pet friendly glamping experience and is very welcoming to all furry friends. You can read all our dog friendly adventures in California right here!
Like this post? Hover over the images to pin it for later
«