Last Updated on October 21, 2020 by Paroma
"Paris is always a good idea"- so quipped the iconic Audrey Hepburn in the movie "Funny Face". With all due respects and at the risk of sounding blasphemous, Provence, the magical southern part of France that gets kissed by the Mediterranean sun, might be a better one and has some of the best villages in Southern France. These hilltop perched Southern France villages with their lush vineyards, acres of lavender fields and swaying sunflowers are the reason for artists like Vincent Van Gogh and Paul Cézanne making Provence their muse and capturing it's beauty with their brush strokes, be it in Arles or Aix-en-Provence.
So without further ado, here is a guide to the most beautiful Provence villages and towns that you must take note of to visit along with the best things to do in Provence, France. This list is definitely not exhaustive, but these 17 most beautiful villages (called communes)and towns will hopefully whet your appetite enough to get you packing! There is also a handy map at the bottom to show you all these village locations so that you don't have to spend sleepless nights curating one (how awesome is that?). The Provence villages are listed in alphabetical order for convenience of reading.
Disclaimer: This blog post may contains some affiliate links. Clicking on them to make a purchase may earn me a small commission at no extra cost to you for the product. Thank you!
Best Villages in Southern France #1 Avignon
Avignon, is where we started out journey into exploring Provence, since it is an easy two and half hour train ride from Paris, thanks to the super fast and comfy TGV trains. We stayed at the Hôtel de l'Horloge (parking not included) which was within walking distance from the main attractions: namely Pont Saint-Bénézet (the famous medieval bridge on the Rhone river) and Palais des Papes where the Popes resided between 1309-1377 during the Avignon papacy.
Like any other tourist attraction, it is advisable to see the Palace as well as the bridge early in the morning before others line up for tickets. The audio guide for 2 Euros is a good investment if you are exploring the Palais des Papas. Day trips are easily made to nearby Provencal villages in and around the Luberon region, which is why we chose Avignon as our "base". If you are traveling with kids, don't forget to read this post on things to do in Provence with kids.
Most beautiful villages in provence #2 Aix-en-Provence
Home to the international skin care brand L'occitane, Aix-en-Provence is a small town south east of Avignon, which was our second place of stay in Provence. We opted for the good budget option of Hotel La Caravelle (again,parking not included) which again was walking distance to several attractions, such as the main street Cours Mirabeau (known for its farmer's and antique markets), Cathedral St. Sauveur, Palais des Justice and Place de l'Hôtel de Ville.
Known as the city of a thousand fountains, you cannot leave Aix-en-Provence without checking out at least two of them: The Fontaine d'Albertas, a national monument, standing in an ornate baroque square (shown below) and Fontaine des Quatre Dauphins (Square of the four dolphins) built in 1667.
Some of the best things to do in Provence is touring Atelier de Cézanne, Paul Cézanne's studio, or like us, catching an art exhibit. We were lucky to see the works of Alfred Sisley (one of the rare impressionist painters of British ancestry working in France) at the art center of Hotel de Caumont. Do not forget to buy some Calisson (traditional French candy) from the famous patisserie Bechard on Cours Mirabeau.
Villages in Southern France #3 Ansouis
The quiet and serene Ansouis is one of those blink-and-you'll miss darling villages of Provence in the Luberon Valley where we saw lots of cats and the most extraordinary museum, which was a private collection of sea artifacts collected by a champion diver from Marseille.
His daughter gave us a tour and it was pretty amazing to see how one man could have amassed such marine wealth from his expeditions and built an epic collection. The entrance to the museum is pretty quirky as well, with lots of sculptures of marine animals. This is definitely one of the most beautiful villages in Southern France that we came across and is not to be missed.
Best things to do in Provence #4 Apt
Apt is more of a bustling town than a commune, and is famous for it's Saturday farmer's market as well as the vintage/antique market on Sundays which we spend some time at during our visit. Being super crowded with tourists, we did not spend a whole lot of time there but if you would like some shopping done or are in a mood for a bite or gelato, this is definitely a good place to stop.
Charming villages to visit in Provence #5 Bonnieux
Bonnieux, another hilltop perched village in the Luberon region, shows signs of its heavy fortification that started in the 10th century AD. We found this village to be very colorful and quirky, right from the bright orange mural of a "sadhu" (Indian holy man) staring at us from the parking lot to the museum of bakery ( Musée de la Boulangerie), only one of it's kind in the region.
Like most other medieval French villages, Bonnieux too has its fair share of churches. Perched at the very top of the village is the 12th century the top of the village is the "Vieille Eglise" (old church), and below is newer Church "Eglise Neuve" built in 1870. The sinners in us were happier to stumble upon a vintage movie poster store while strolling down the cobbled lanes. Don't forget to get some gelato from Scaramouche when you are there.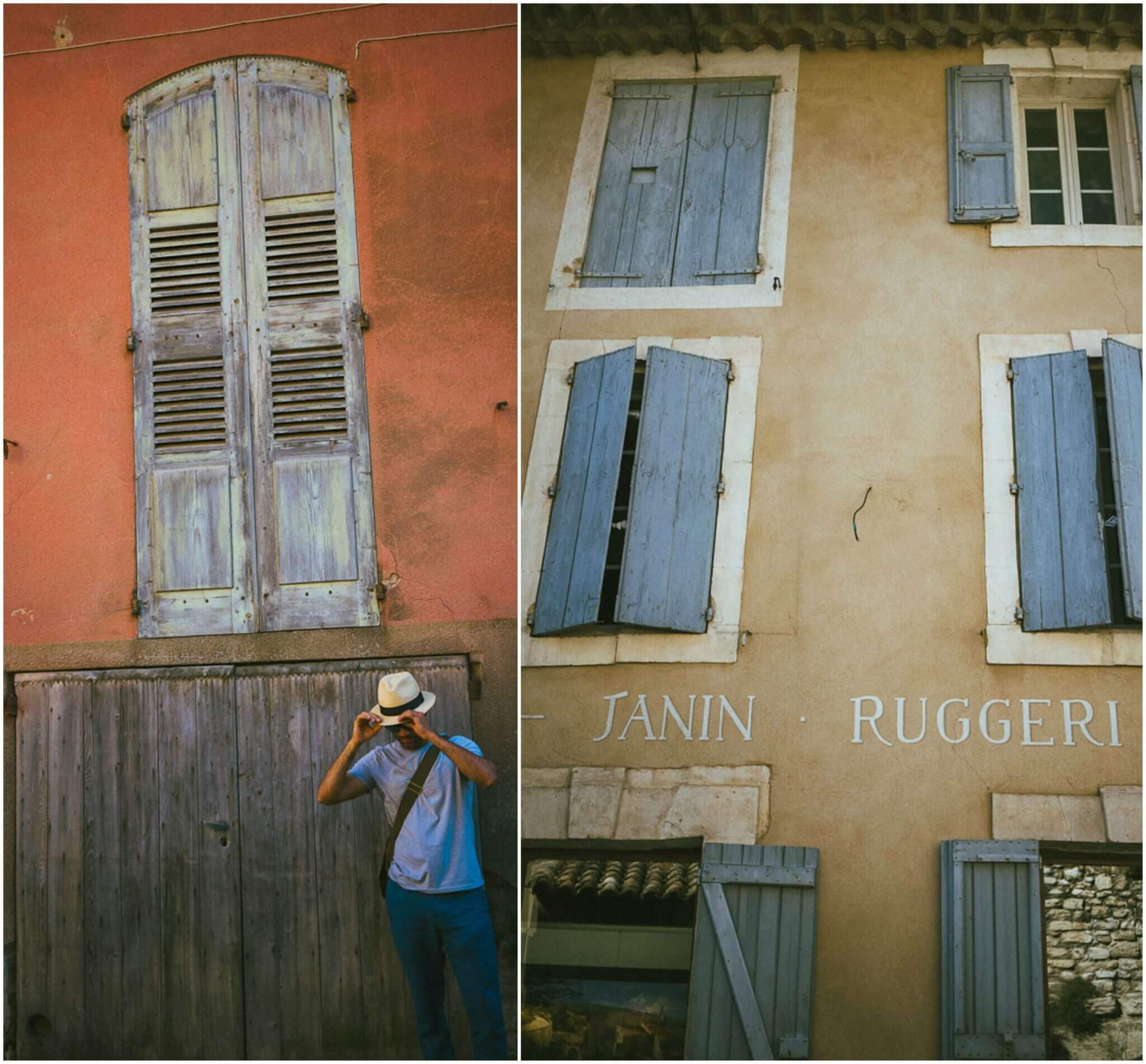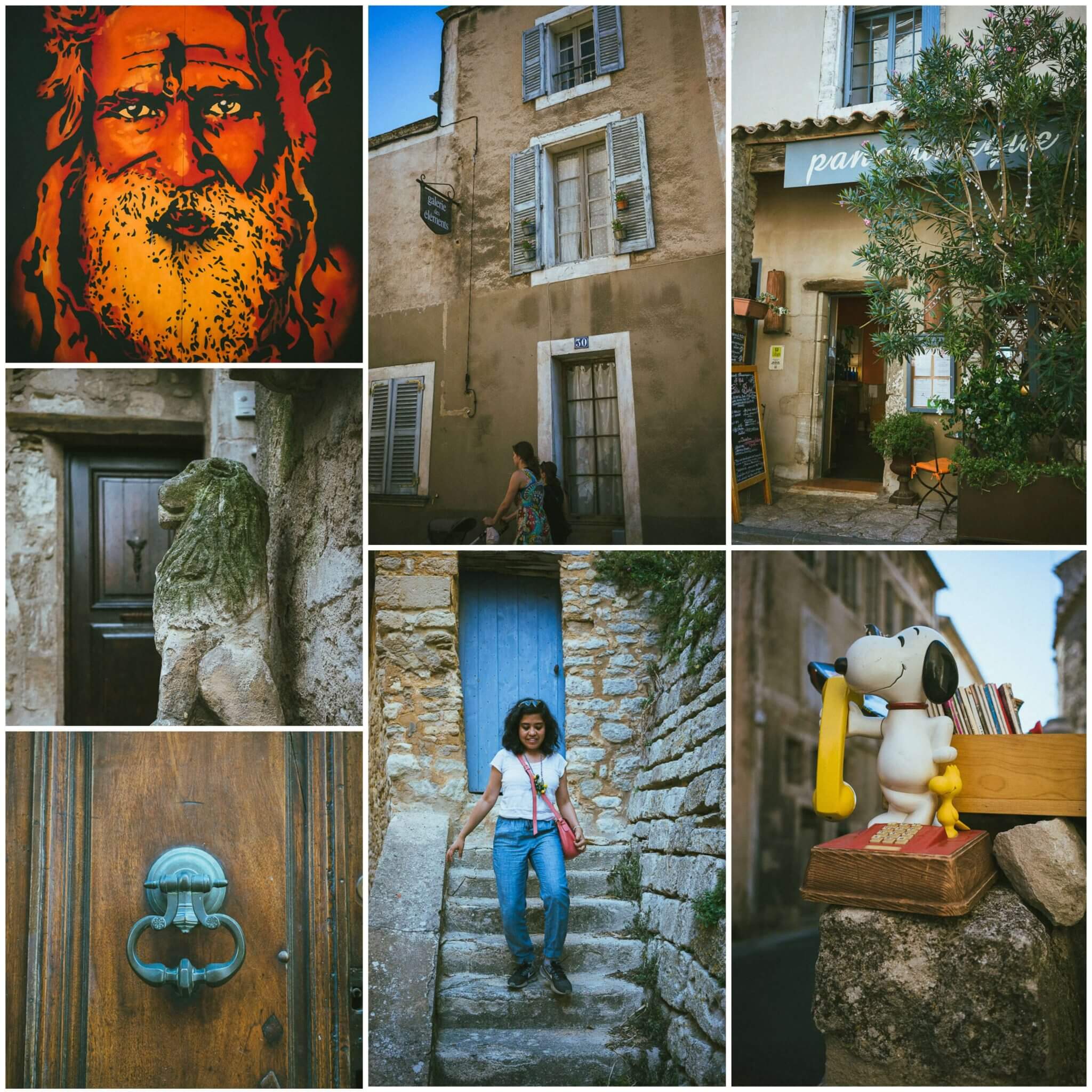 Best places to visit south of France #6 Cucuron
Cucuron is another tiny village in the Luberon valley, located on the south side of the Luberon mountain range and provides fantastic views of the Luberon valley (see photo below). Known for its several cooperatives for wine and olive oil production, this village dates back to the 11th century AD.
We stopped by the famous Eglise Notre-Dame de Beaulieu for a quick peak and then explored the village to soak in the sights. This is indeed one of the most beautiful villages in Southern France and not to be missed.
Most Beautiful Provence Villages #7 Fontaine-De-Vaucluse
Fontaine-De-Vaucluse was the first commune that we stopped by during our day trip from Avignon due to its close proximity. This village is built around a spring in a valley at the foot of the Vaucluse Mountains, and is named after the spring which nourishes the river Sorgue. Like all other beautiful Provence villages, the best way to explore them is to simply walk around while being respectful of your surroundings since people live here, and take in the sights. We loved the colorful facades of the homes and the nonchalant kitty that greeted us at a doorstep.
Provence villages that are a must visit #8 Goult
Goult was amongst the prettiest villages in Southern France that we visited during our trip to south of France. Located in Parc Naturel Regional du Luberon, it too shares the beautiful pastel colored houses, stone cobbled streets and beautiful blooming shrubbery that is the characteristic of all Provencal villages.
The added bonus was a windmill sighting near the parking lot (most villages have designated parking although street parking is not that bad either) as well as a friendly pooch who followed us all over.
Most Beautiful Villages in Southern France #9 Gordes
Gordes is one of the most popular villages in the Luberon region, one of the best Southern France villages and comprises of stone and ochre houses with an yellow tint perched atop a hill. Gordes is also home to the famous Senanque Abbey, which people from all over the world flock to for the lavender fields surrounding it.
Drones are strictly prohibited here and the Abbey is closed on Sundays. Being super late to Provence, the lavender field had pretty much dried up when we visited but we still got some good photos on a quiet Sunday morning (see the very first one at the beginning of this post). While driving towards the Abbey, keep an eye out for a lookout point from where you can see this gorgeous view of the village.
Most Beautiful Provence Villages #10 Lacoste
If you are an art and graphic design lover, do not miss Lacoste, a Provence village with a twist since it is also one of the centers of SCAD, aka, the Savannah College of Art and Design.
We stumbled upon the SCAD art and gift shop here and marveled at the design and works of it's graduates. Besides SCAD, Lacoste is in itself a very pretty village and is worth spending some time to see the pastel homes, gorgeous wooden doors and cobbled streets-all signatures of Luberon villages.
Beautiful French Villages to visit #11 Lourmarin
One of the relatively "newer" villages of Provence, Lourmarin is famous for its boutique stores where you can shop till you drop. We bought some beautiful ceramic bowls and linen (Provence is famous for French linen) from here. There is also a chateau in Lourmarin (a converted castle) which hosts wine tasting and performances in the evening.
If you are in serious mood for chateaus, then may I suggest the amazing Chateau de Beynac in Dordogne, the next stop after Provence?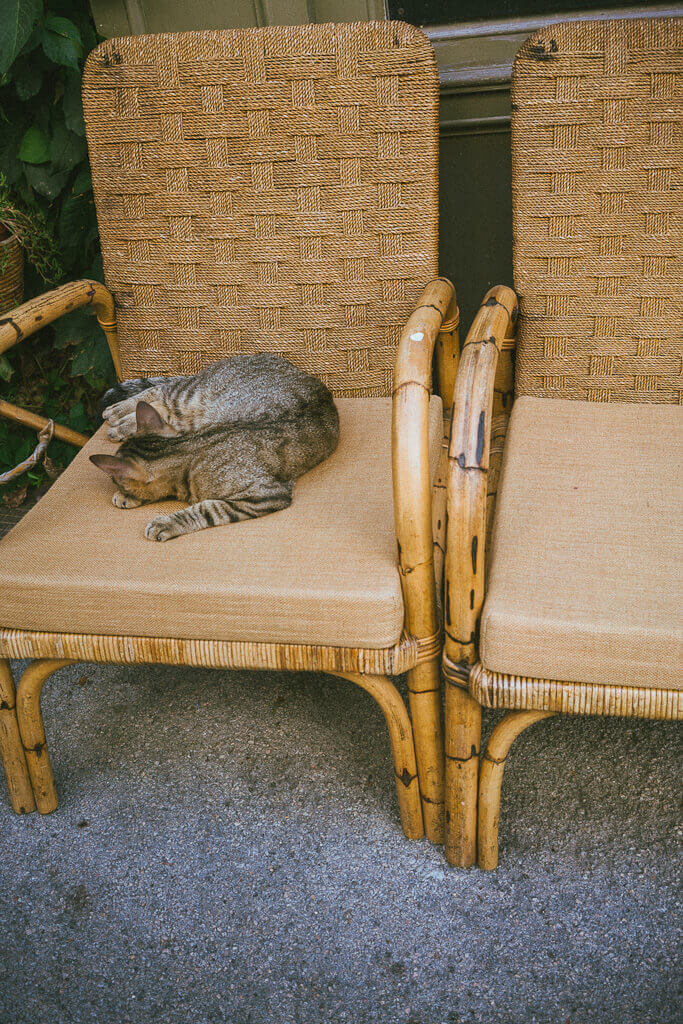 Best things to do in Provence, France #12 Ménerbes
Ménerbes, with it's faded pastel homes and lookout points overseeing the lush Luberon valley, was another of those beautiful villages in Southern France to spend some time at. We stopped by a cute cafe for some baked goods and peeked into a contemporary gallery (Atelier Lexa) which had some awesome works featuring a French twist to objects of everyday use.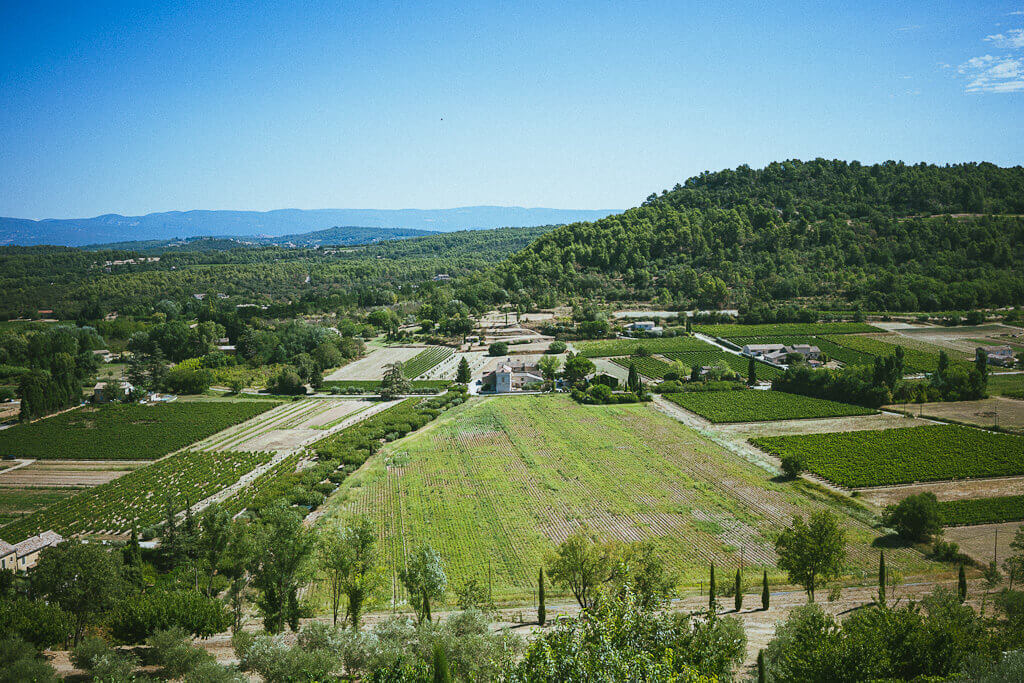 Most Beautiful Provence Villages #13 Oppède
Oppède, besides it's natural beauty is famous for the church Notre-Dame-Dalidon which you can hike up to for beautiful sights. The fresco inside the church is very impressive as well. We also stopped by a cute cafe Le Petit for a bite to eat.
Breathtaking Southern France villages: #14 Roussillon
Roussillon, drenched in all hues of earthy reds, is another super popular village in Provence. It's popularity stems from the fact that it is home to of one of the biggest ochre deposits in the world.
Roussillon is famous for its magnificent red cliffs and ochre quarries, rich in hematite (the mineral form of iron oxide) that imparts these deep red and yellow shades. Go on the Ochre trail (short or long one, has a small entrance fee) and admire the natural beauty surrounding you.
Most Beautiful Provence Villages #15 Sault
Sault, the northernmost village in the Vaucluse plateau of Luberon, is often referred to as the Lavender capital of Provence. Surrounded by acres of lavender fields, which is it's main produce, Sault holds the annual Lavender festival on Aug 15 which we attended and is home to some of the best lavender fields in Provence, France.
Sadly, all the lavender was gone from the fields and the sunflowers had dried up, but we had fun scouring the different stores and walking through the streets of this bustling village. The best time to visit Provence to see Sault in its full glory is between mid June to July and if you are planning to attend the lavender festival, arrive as early as you can or else parking will be a nightmare.
Our Favorite Provence villages #16 Saint-Saturnin-Lès-Apt
Saint-Saturnin-Lès-Apt , close to the more bustling Apt, was probably my most favorite of all the beautiful provence villages that we visited in south of France. A quiet beautiful place not crowded by tourists, it has a beautiful elevated region with a windmill that provides breathtaking views of the Luberon valley.
Small lanes, pastel colored homes, specks of bright door and windows and lots of blooming flowers adorning the streets and balconies made this village so special. A must visit, in my opinion.
Best villages in Southern France #17 Villars
Villars is possibly one of the tiniest villages in Southern France. Located in Luberon, this is another quiet place with great views to rest your tiring feet. Tourists often miss this pint sized commune, so it is a great place to rest and get some good shots of the Luberon valley from one of it's lookout points.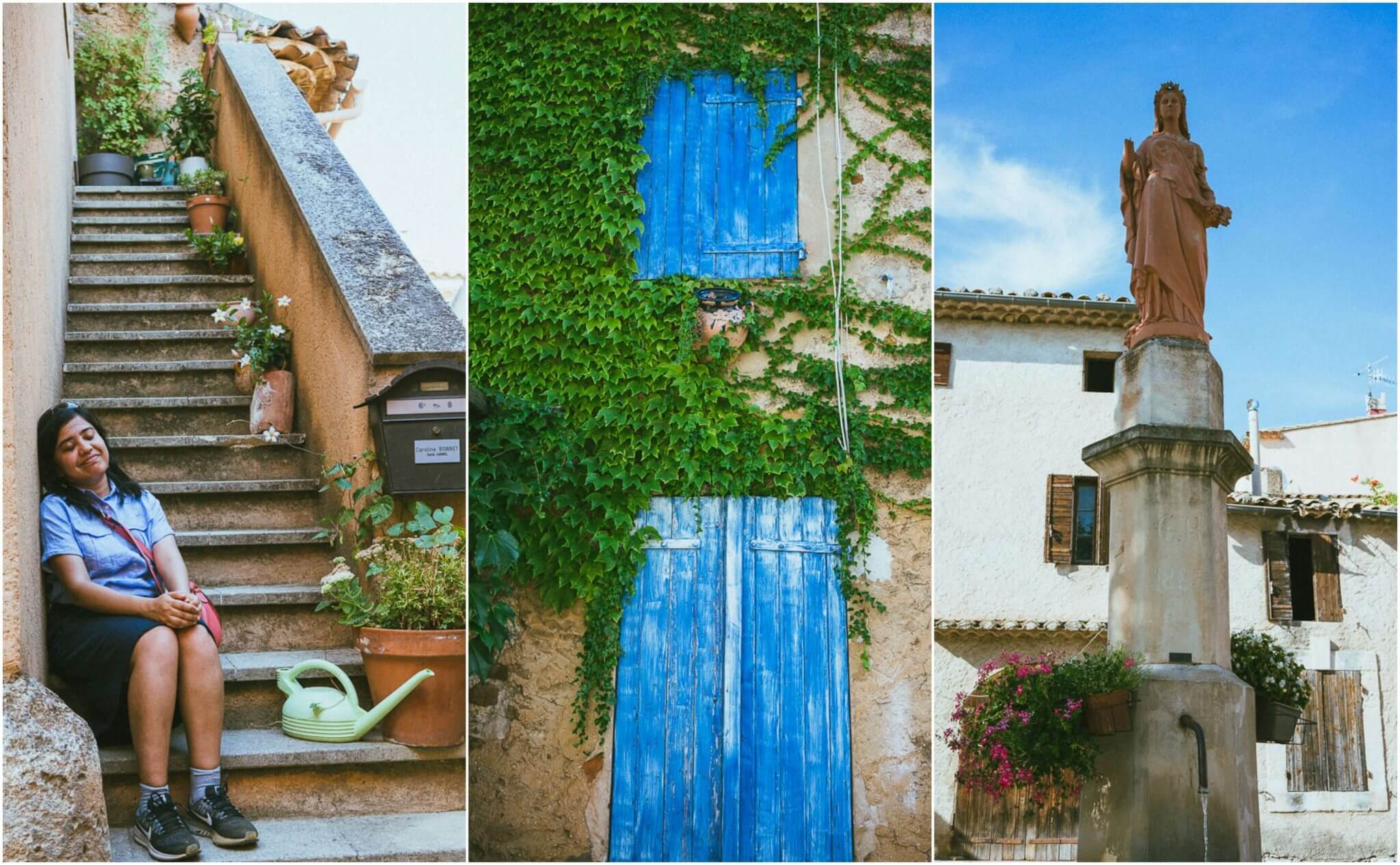 I hope you enjoyed reading this post and have placed Provence on the very top of your travel list! Luberon valley is dotted with so many beautiful Provence villages that it will take a good 2 weeks to see all. We made the best of our 7 days there and hope to return to see the lavender and sunflowers in bloom in future in these villages of Southern France! See the map below for these 17 villages and towns that we covered.
Most Beautiful Provence Villages and Towns -Handy Map
Like this post? Hover over the images below to pin

«