Last Updated on November 30, 2019 by Paroma
San Francisco might be a pint sized David but has a Goliath sized dining scene, that is dynamic and diverse beyond one's imagination. A city which offers culinary delights via dining options that are nothing short of a foodie's wet dream fantasies, also cleverly hides an "alternate" food scene that goes beyond cafes and restaurant reservations. As a die hard resident foodie who has been there and eaten that, I strongly urge you dear readers and fellow foodies to explore these in my unique eats San Francisco guide. These are food events whipping up great food and a chance to network for a cause, make friends or simply meet other fellow foodies. Many of these options are budget and dietary restriction friendly, i.e. AWESOME, are a great way to explore local flavors. Most importantly, this is a fantastic way to give back to the local food community which forms the cornerstone of this city's culinary environment. In no particular order, here are six unique eats San francisco events for you in the hope that you will enjoy them as much as I have.
Unique Eats San Francisco events #1 Food tours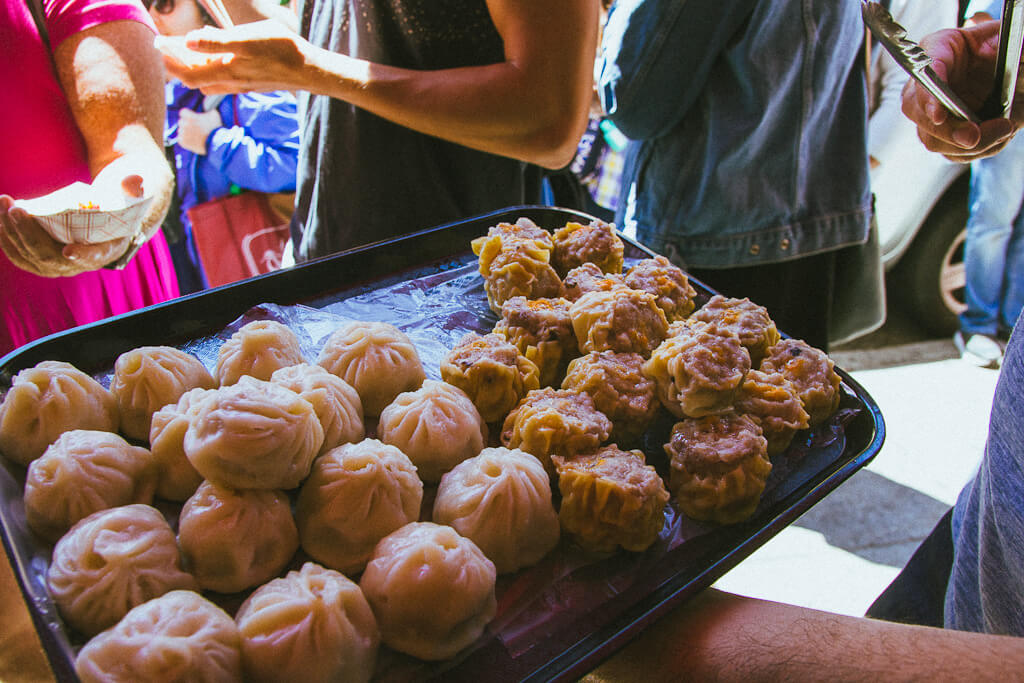 I will kick start this list of unique eats San Francisco events with a food tour, as this is an excellent way to get an idea of what is brewing in the city, food wise. Like any US metropolis worth it's salt, San Francisco too has several food tours for those curious foodies who are willing to go beyond the obvious and get an insider's taste of the city's many delicious offerings. Agreed there are several tours to satisfy your palate, but the one that I have been wowed twice in a row and thus highly recommend is Chris Milano's Foodie Adventures.
Chris has been in the SF food business for nearly 2 decades, knows the ins and outs of dim-sums to champurradas and is one heck of a fantastic food guide. Chris not only gets you to the best local businesses, but also regales you with his entertaining anecdotes so that you don't end up with a blah food munching experience. His tours are fun, filled with historic tidbits between bites and by the end of the tour, you will be left with a smile, a satisfied belly and goodies to take home. Seriously people, it cannot get better than this! My husband and I have lived for a total of 20 years (between us) in San Francisco and have still been awed by the tiny mom & pop stores and hidden gems lying in plain sight (which we knew nothing of) that Chris has taken us to, during his food tour. I highly recommend any of his tours, my personal favorites being both the Mission and the North Beach/Chinatown ones. At this point if you are still wondering what on earth is a food tour, here is a pretty handy guide explaining the A-Z of food tours and what to expect in one.
Unique Eats San Francisco events #2 Nommery
Nommery is the new kid on the start-up block in San Francisco that combines the best of both worlds-social networking via good food and good times. Definitely an unique eats San Francisco event, Nommery goes above and beyond the social networking scene by putting you with like minded individuals who can either enjoy dinner or share ideas over wine tasting. Focused on bringing people together to network for social, charitable and entrepreneurial causes, Nommery is your gateway to networking with like minded professionals to consolidate your professional goals or simply make new foodie friends in the city. Best of all, you can further refine your attendance and fine tune it by providing feedback to Nommery after your first event so that you get invitations to only those that match your taste and preferences. It's as simple as signing up on their website and you will soon be paired with people with common interests over meals at some of the best restaurants in San Francisco. Your ticket prices will vary depending on the event and some of them require a small RSVP payment as well, so be sure to read the rules. You can also go one step ahead and organize your own events and Nommery totally lets you do that! So whether you are looking for a date, a connection, meeting busy professionals or simply trying to hang out with a bunch of SF foodie fanatics, Nommery has you covered! For more on wine in San Francisco, read this post on conversations in SF wine school.
I attended my first Nommery event, courtesy San Francisco Foodies, One Hope who bring foodies together in the city to share a delicious meal! This was a wine tasting event where Nommery had partnered with to showcase their wines and other artisanal food products and provide a glimpse into their venture of trying to build community and raise awareness for charitable causes.
One Hope's mission is simple and that is to make Napa more accessible to you by bringing it's wine to your doorsteps! Their wine is produced in partnership with the famous winemaker Robert Mondavi, Jr. in Napa and has considerable social impact via sales that give back to charity and by empowering people to become "Cause Entrepreneurs" who can share their products to an even greater audience while chasing their own passions. You can read more about One Hope and their mission on their website.
Our wine tasting event was a fun affair in SOMA (South of Market Neighborhood) where we enjoyed several white and red wine pouring from One Hope Wines. Between sips and bites of cheese, crackers and other delicious nibbles we learned more about One Hope's mission and philanthropic efforts from their CEO Jake Kloberdanz and CIO Vince Tsai who spoke passionately about their company.
The Nommery team were super friendly and made me feel very much at ease since this was my first time at one of their events and were super patient as I clicked photos. There were also fun giveaways via raffles and I met several new San Francisco transplants trying to network and make friends! Given that I had such a great time at the wine tasting thanks to Nommery, I strongly recommend food lovers, young professionals and others keen on networking to attend at least one Nommery event for an evening of fun, great food and possibly new opportunities to connect!
[Disclaimer: I received complimentary tickets to this Nommery event, courtesy San Francisco Foodies. All opinions are my own]
Unique Eats San Francisco events #3 Farmers' Markets and Food Halls
Thanks to amazing weather and strong locavorian food culture, San Francisco is the epitome of the farm to table movement, enabled by several farmer's markets that are held throughout the year in different locations in the city. The grand mommy of all them is the outdoor Farmers' market in the Ferry Building at the Embarcadero, which is also the largest outdoor farmers' market in North America. Dozens of stalls showcase the strength of Bay Area's produce, meat and other products and there are several stalls selling lip-smacking food such as the open faced lox sandwiches near the Mahatma Gandhi statue. The building inside is home to several local food businesses as well such as Acme bakery, Blue Bottle Coffee, Dandelion chocolates, El Porteño empanadas, grocery and butcher stores, famous waterfront restaurants such as Hog island Oysters and the Vietnamese-Californian Slanted door. Buy your food and drinks and go up the stairs to enjoy your food in the cacophony of seagulls or sit near the water to enjoy a great view of the Bay Bridge. CUESA (Center for Urban Education about Sustainable Agriculture) , a non profit organization responsible for the operation of the farmer's market in the Ferry Building, also hosts several farm to table and other local food festivals from time to time to bring the community and chefs together for local charitable causes. You can read about all the stores, stalls, kiosks and restaurants inside the Ferry building using my fellow San Francisco resident blogger friend's ultimate guide to San Francisco Ferry building post!
UPDATE: As of Oct 2017, the Hall is now closed permanently in mid-market. It may reopen elsewhere soon.
San Francisco is crazy expensive. So expensive that your wallet will nurse a deep hole like wound once you spend some time noshing here. But there are plenty of budget friendly options to help keep your monetary sanity. Although unimaginatively named "The Market" and "The Hall" these two food halls/food courts in the city are basically life savers for those looking for diverse food options at a reasonable price or a quick bite to eat minus the wait for a table. The former, i.e. the Market is on the first floor of the Twitter building in the mid-Market neighborhood and is a food court doubling up as a grocery store. Besides Tony's Pizza and a Blue Bottle Coffee outlet, there is a taco stop as well as my favorite Azalina, A family owned Malaysian stall which serves amazing Laksa and other Malaysian specialities. Azalina's started off as a business funded by SF's food incubator La Cocina which helps low income families start their own food business and is now a name to reckon in San Francisco's food world. The other food court, The Hall, is also located on Market street and offers varied cuisines ranging from Asian to South American. The Market is open 7 days a week, but The Hall operates only Mon-Fri.
Unique Eats San Francisco events #4 Pop-up Meals
Why wait in never ending lines at restaurants or furiously pray for that reservation to open up when you can easily reserve a seat at a pop-up meal without any of that FOMO anxiety? Let me introduce you right here to the concept of pop-up meals or restaurants which are simply amateur or professional chefs trying out their food/testing waters with the public in a borrowed, temporary space before snagging their own permanent brick and mortar spot. The pop-up scene in San Francisco has been thriving since 2013 and is a great alternative to the established dining scene for people looking for something extra and innovative in their quest for good food. Pop-ups also have the added advantage of showcasing food from rare countries or regions which you will not typically find in restaurants or for that matter won't get anywhere at all. It is kind of like being invited to someone's personal kitchen and if that someone is from a country, whose cuisine is super underrepresented or non-existent in San Francisco, then you've hit the foodie jackpot!
There are many pop-ups in the city but the one we frequent mostly is Feastly SF which has chefs from different countries who showcase their food in a communal gathering at different Feastly locations. All you have to do is sign up at Eatfeastly.com, choose the pop-up feast you want to attend (vegetarian/vegan options available), pay and show up! These are social meals so you will be dining with strangers. But fret not, you will find several like minded foodies and people who will give you greta tips on dining in the city. Thanks to Feastly, we have eaten everything from Filipino Kamayan dinners to Turkish brunch to Persian Gilaki feast to 30 course Indian Karaikudi dinners and cannot wait to see what new cuisines pop up on their horizon. Pop-up feasts are an excellent way to dive into Unique eats San Franciso scene and a must try experience for foodies visiting the city. To help you learn more, here is my detailed post on Feastly. Those looking for more pop-up options can check this fabulous resource here.
Unique Eats San Francisco events #5 Food Festivals
I'll be honest with you. For a city so crazed about food, I don't think we have enough food festivals to satisfy our cravings. Although we have neighborhood fairs in summer such as Union Street or North Beach festival, one food festival that foodies cannot miss is the upcoming San Francisco street food fest. What started as a small event bringing in restaurants and food stalls showcasing their food (three items per stall-appetizer/small bite, larger entree and a drink/dessert) in the Mission district by the food business incubator La Cocina ballooned so much in popularity that the venue had to be shifted to the eastern waterfront side/Pier 71. In its present form, the food festival will showcase over 30 Bay Area restaurants and chefs bringing some of their most popular menus to you. Go early to avoid long lines and get the tickets online. The food festival, showcasing California's diversity and an ode to the melting pot that is America (Nepalese dumplings/ Mexican tacos/Russian piroshkis) happens this year on Oct 15. San Francisco also has several other food festivals year round in Fort Mason (check their calendar of events from time to time) such as those centered around wine tasting or craft beer or chocolates.
Unique Eats San Francisco events #6 Food Trucks
Finally, who can forget the humble food trucks keeping our taste buds and wallets happy? Be it Vietnamese Bahn Mi or Filipino Sisig, Indian chaat or American BBQ, there is a food truck in San Francisco for every cuisine and budget. Don't miss the conglomerate of food trucks aka Off the Grid events at Fort Mason every Friday, Picnic on the Presidio on Sundays and the permanent food truck spot at the SOMA street food park, which has themed events on Sundays such as Vegan street food festival. Follow Off the Grid's website to locate your nearest food truck pods today and read my post on cheap eats in San Francisco for more budget eating options.
I hope you enjoyed reading this post and fingers crossed, will try out some of these unique eats San Francisco events. For more on San Francisco's dining scene, subscribe to my blog for the latest and tastiest crumbs from the city. Thank you so much for stopping by and Bon Appétit!
Like this post? Hover over the images below to pin!