Last Updated on December 2, 2021 by Paroma
Are you an adventurous gourmand looking for the best foodie experiences in San Francisco? Then you've come to the right article where my resident foodie radar has scoured out the best culinary experiences in San Francisco that you can enjoy, including San Francisco food tours, popups and food festivals. Feeling hungry already? Let's get started!
San Francisco's dining landscape is a diverse melting pot of great food mixed with West Coast creativity and ingenuity that will leave you hankering for more. What makes San Francisco's culinary experiences so unique is that there exists an "alternate" food scene that goes beyond cafes and restaurant reservations.
In this post on some of the best unique eats in San Francisco, we are going to explore just that, i.e. myriad local flavors via unorthodox foodie adventures. From food tours to yummy pop-up restaurants and farmers markets to food festivals, there is never a dull moment for foodies in fog city. After all, eating your way through San Francisco is one of the best things to do in California and should be on your bucket list.
Foodie experiences in San Francisco: Join a food tour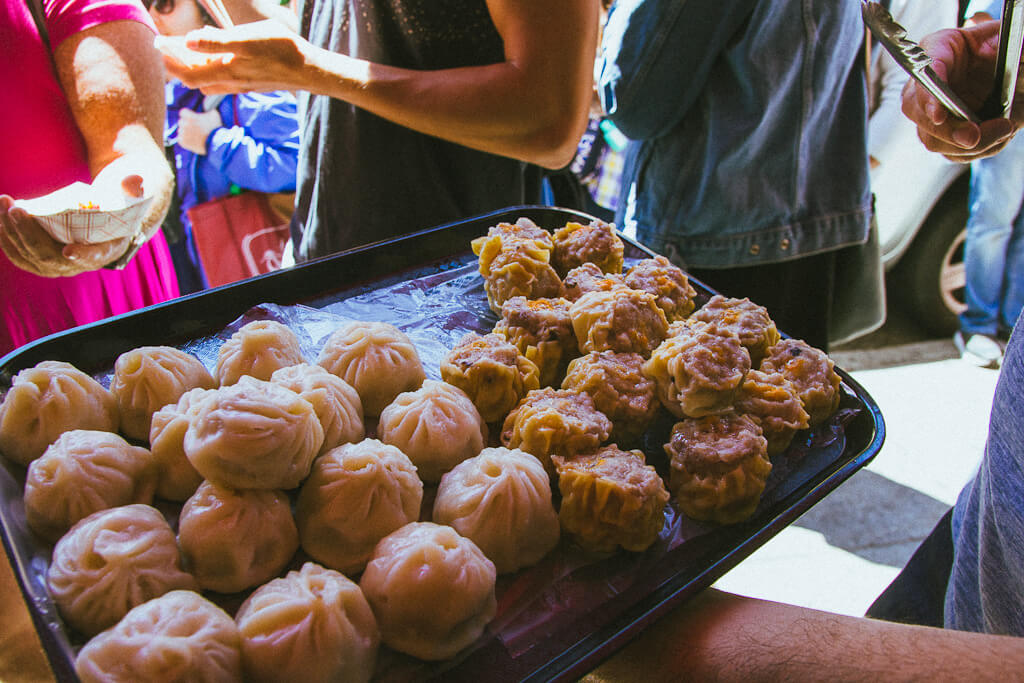 Kick off your San Francisco's foodie adventures of finding unique local eats via a solid food tour. Food tours of San Francisco satiate the hunger of curious foodies who are willing to go beyond the obvious and get an insider's taste of the city's many delicious offerings. Agreed there are several tours to satisfy your palate, but the one that I have been wowed twice in a row and thus highly recommend is Chris Milano Foodie Adventures.
Chris has been in the San Francisco culinary business for nearly 2 decades, knows the ins and outs of dimsums to local artisanal chocolates and is one heck of a fantastic food guide. Chris not only gets you to the best local businesses, but also regales you with his entertaining anecdotes so that you don't end up with a blah food munching experience.
His tours are fun, filled with historic tidbits between bites and by the end of the tour, you will be left with a smile, a satisfied belly and goodies to take home. My personal favorites being both the Mission, one of San Francisco's iconic neighborhoods, and the North Beach/Chinatown food tours that make up for some terrific foodie experiences in San Francisco. If you don't know what a food tour is, you can read an example right here of a food tour in Athens.
Unique culinary experiences in San Francisco: Find a pop-up near you
Pop-up restaurants have been the biggest rage in the city's culinary scene for the longest time and make for some of the most unique foodie experiences in San Francisco. Pop-ups are the best way for upcoming and even established chefs to test waters (i.e. reception by the general public) with a rotating menu by "setting up shop" temporarily in a brick and mortar restaurant which is not their own. Over the years, many have moved on to full-on restaurants of their own after building a loyal clientele base with pop-ups, such as Noosh in the vibrant Lower Pacific Heights neighborhood.
Pop-up meals in San Francisco are not only economically viable but are also culinary experiences that go beyond snagging an elusive reservation at popular restaurants. Pop-ups enable you to savor some very unique cuisines cooked by amateur, budding chefs from parts of the world that are not represented in the mainstream dining scene in San Francisco (think Serbian or Ukrainian food). All you have to do is buy tickets online and show up to dine at a communal table!
In the age of social media, the best way to find San Francisco pop-ups is by following local foodies and their Instagram accounts, along with a good old search on Google to do the same. In addition, Chef's Feed is a startup that brings in amateur and professional chefs to cook pop-up meals in San Francisco and you can check their website here for all the details.
My current favorite pop-ups for unique culinary experiences in San Francisco are Intu-on showcasing Northern Thailand/Isaan province at Birba Wine Bar in Hayes Valley, Arepas en Bici by Venezuelan Chef Victor Aguilera who delivers his Venezuelan baked goods on a bicycle and the pop-up market Turkey & Sharkey & Friends (they sell sourdough bread and baked goods amongst other things) that runs on Sundays in Lower Haight ( corner of Page and Webster streets).
Unique Eats in San Francisco: Visit a Farmers market
Thanks to mild year round weather and strong locavorian food culture, San Francisco is the epitome of the farm to table movement, enabled by several farmer's markets that are held throughout the year in different locations in the city.
The grand mommy of all them is undoubtedly the outdoor Farmers' market in the Ferry Building held every Saturday at the Embarcadero and is the largest outdoor farmers' market in North America. CUESA (Center for Urban Education about Sustainable Agriculture), a non profit organization responsible for the operation of the farmer's market around the Ferry Building, also hosts several farm to table and other local food festivals to bring the SF food community and chefs together for local charitable causes.
Besides the farmer's market, the San Francisco Ferry Building is also home to some of the most popular local food businesses such as Acme bakery, Blue Bottle Coffee, Dandelion chocolates, El Porteño empanadas, grocery and butcher stores along with famous waterfront restaurants such as Hog island Oysters and the Vietnamese-Californian Slanted door. These stores are perfect for picking up gourmet San Francisco food gifts for the foodie in your life!
All diehard foodies should visit the Ferry building to sample the best of California for an unique San Francisco foodie experience. Come hungry, choose from a wide selection of local California flavors and go up the stairs to enjoy your food in the cacophony of seagulls or sit near the water to enjoy a great view of the Bay Bridge.
San Francisco culinary experiences: Explore a food hall in the city
San Francisco's food halls are a great bet to savor a wide array of local cuisine and check out local goods and products from artisanal stores to mom & pop businesses. These food halls may have an array of stalls selling fresh food (think sandwiches, pizza, baked goods, fresh baked bread) along with shelves filled with all kinds of foods, condiments, desserts, wine and other beverages.
The popular San Francisco food halls to stop by are as follows:
a) "The Market": this food hall occupies the first floor of the Twitter building in the mid-Market neighborhood and is a food court doubling up as a grocery store. Besides Tony's Pizza and a Blue Bottle Coffee outlet, there is a taco stop as well as my favorite Azalina, A family owned Malaysian stall which serves amazing Laksa and other Malaysian specialities.
b) "Foodhall": This is a smaller, yet mighty food hall in the Mission neighborhood, which is the gastronomic epicenter of the city. You can find some amazing local food products here to take home as souvenirs for your foodie friends!
Other dedicated specialty food stores in San Francisco that you must check out to carry home SFMade food souvenirs is the Epicurean Trader, home to some of the best small batch artisan goods in San Francisco.
Foodie events in San Francisco: Attend a Food Festival
San Francisco Street Food Festival
I'll be honest with you. For a city so crazed about food, I don't think we have enough food festivals to satisfy our cravings. Although we have neighborhood fairs in summer such as Union Street or North Beach festival, one food festival that comprises one of the best foodie experiences in is the one and only San Francisco street food fest.
This is one of the premier foodie events in San Francisco, one which is awaited religiously with bated breath by foodies all over the city and the Bay Area! It started off small in the Mission district by the local (and very beloved) food business incubator La Cocina and quickly snowballed into a mega event that found home on the sprawling grounds of the eastern waterfront side/Pier 71.
This San Francisco street food festival, held usually in October, showcases over 30 Bay Area restaurants and chefs bringing some of their most popular menus to you. Go early to avoid long lines and get the tickets online to sample the best of Bay Area's tastemakers with food ranging from popular restaurant menu items to innovative desserts and drinks to hard to find ethnic bites.
Other food festivals in San Francisco
Although the street food fest is the most popular food festival in San Francisco, there are several smaller, specialized foodie events that occur throughout the year, especially during the holiday season (October-December). For those of you looking for wholesome culinary experiences in San Francisco, check out the CUESA calendar of events for holiday food festival in the Ferry Building, The Craft Chocolate experience (last held at Palace of Fine Arts in 2020) and themed food festivals in the SOMA StrEAT food park.
San Francisco foodie experiences: Chase down a food truck
San Francisco's food truck scene, although nowhere as massive as that of Los Angeles, is pretty decent and offers the scope to eat on a budget (mostly) in the city. The variety of food is not bad at all and ranges from Asian delights like Indian, Vietnamese, Filipino, Nepalese, Korean and Japanese to regulars such as American BBQ, Mexican and other Latin American fare. Many of these food trucks have their own brick and mortar spaces as well such as Senor Sisig (with their first ever all vegan Filipino food truck) and Ritu (Indian restaurants).
The food trucks in San Francisco fall under the auspices of the Off the Grid coalition which manages food truck events all over the Bay Area. The biggest ones in San Francisco are the food truck conglomeration at Fort Mason every Friday and Picnic on the Presidio on Sundays. In addition, there is a permanent food truck spot at the SOMA StrEAT food park, which periodically hosts themed food festivals for hungry foodies in San Francisco.
Hungry for more? Here are some of my favorite San Francisco food posts:
I hope you enjoyed reading this post on the various San Francisco culinary experiences and are already planning on trying out some of these unique foodie experiences in San Francisco. Thank you so much for stopping by and Bon Appétit!
Like this post? Hover over the images below to pin!
«