Last Updated on December 21, 2021 by Paroma
Are you visiting San Francisco and wondering where to go shopping for local, authentic San Francisco souvenirs? If you're one of those conscious shoppers eager to avoid the touristy gift shops like the bubonic plague and keen to explore local shopping gems and stores in SF, then this post is for you!
As a resident of nearly 12 years, I am here to tell you where to find the best unique gifts and souvenirs in San Francisco that are all locally made, are perfect for gifting and help funnel money into our economy by bypassing mega-retail stores!
SHOPPING LOCAL IN SAN FRANCISCO TO FIND UNIQUE GIFTS AND SOUVENIRS
If you are traveling to San Francisco, chances are you will be getting some travel gifts or San Francisco souvenirs for friends and family. If your trip is around the holiday season such as when visiting San Francisco for Christmas, then you definitely want to pick some exclusive holiday themed San Francisco gifts from the city, ranging from chocolates to apparel to even pet products. So what better than reading this insider's guide to finding the best travel souvenirs and holiday goodies in San Francisco?
One of the many reasons I love San Francisco because of its strong tradition of loving local-be it locavore food practices in restaurants (farm to fork) or the propensity to make a range of goods and selling them in stores all over the city. San Francisco even has its own unique label called SFMade (a coalition of SF based small businesses who make their products in the city) that sells a vast array of locally made goods-be it apparel, accessories or home decor.
These small business stores and cute boutiques San Francisco are a great place to get locally made holiday gifts for your loved ones back home. Shopping at these establishments helps to support local artists and businesses and are way more personalized and unique compared to those mass produced and found in tacky tourist souvenir shops lining Fisherman's Wharf or in mega retail stores in Union Square.
In this post on shopping locally in San Francisco, I will be revealing all my favorite local gift stores throughout the city which I have been personally patronizing over my 12 years of stay. Plus, I will be talking about all the best shopping districts and neighborhoods in San Francisco where you can find these local boutique, souvenir and gift stores.
Our small businesses in San Francisco need you more than ever, so I am hoping my souvenir and gift guide will inspire you to check them out and support them with your purchases.
SHOPPING LOCALLY IN SAN FRANCISCO: BEST SHOPPING DISTRICTS AND NEIGHBORHOODS
San Francisco will woo you with its many vibrant shopping districts and neighborhoods where you can shop till you drop, and none of these are the overpriced touristy Union Square! So skip the Westfield Mall, the luxury brands on the Square and the last minute scrambling for gifts at Fisherman's Wharf to discover these local shopping hotspots:
Hayes Valley: This vibrant neighborhood filled with local gift stores ranging from apparel to vintage to home decor is a must visit for any avid shopper. Just walk down Hayes Street between Webster and Franklin streets to discover a world of eclectic, local shopping.
Mission District: This is the largest and most vibrant neighborhood of San Francisco! Walk down both Mission and Valencia streets for the best local shopping experience in the city.
Market Street: This is the prime artery of San Francisco running diagonally through the city and lined with cute cafes, restaurants and stores (mostly retail but still a few local gems such as the Japanese dessert store K. Minamoto).
North of Panhandle (NOPA): To be more exact, the Divisadero street section stretching from Turk to Oak streets is filled with local boutique stores and good eats
Fillmore Street: Extending north-south from Haight all the way to Marina, this is one of the most bustling shopping destinations in San Francisco
Union Street: Union Street spans through Cow Hollow and Marina and is home to some of the best local shops and boutique stores in San Francisco
Japantown: Come to Japantown for Japanese stationery, ceramics, books and the most beautifully packaged mochi boxes that you'll ever lay your eyes on!
Inner Sunset: The low key Inner sunset neighborhood, particularly Irving and Judah Street have many cute stores to spend your $$$$ at.
Ferry Building: This is your one stop shop for all food related gifts in San Francisco. Visit on Saturdays during the mega outdoor farmers market
If you're visiting San Francisco during the holiday season (November-December) then you're in luck because this is the season of a barrage of holiday and craft fairs and pop-ups that happen all over the city. These fairs are a great place to buy some unique San Francisco and California souvenirs since they showcase tons of local artists and makers. Find the 2021 SF Holiday fair lineup here.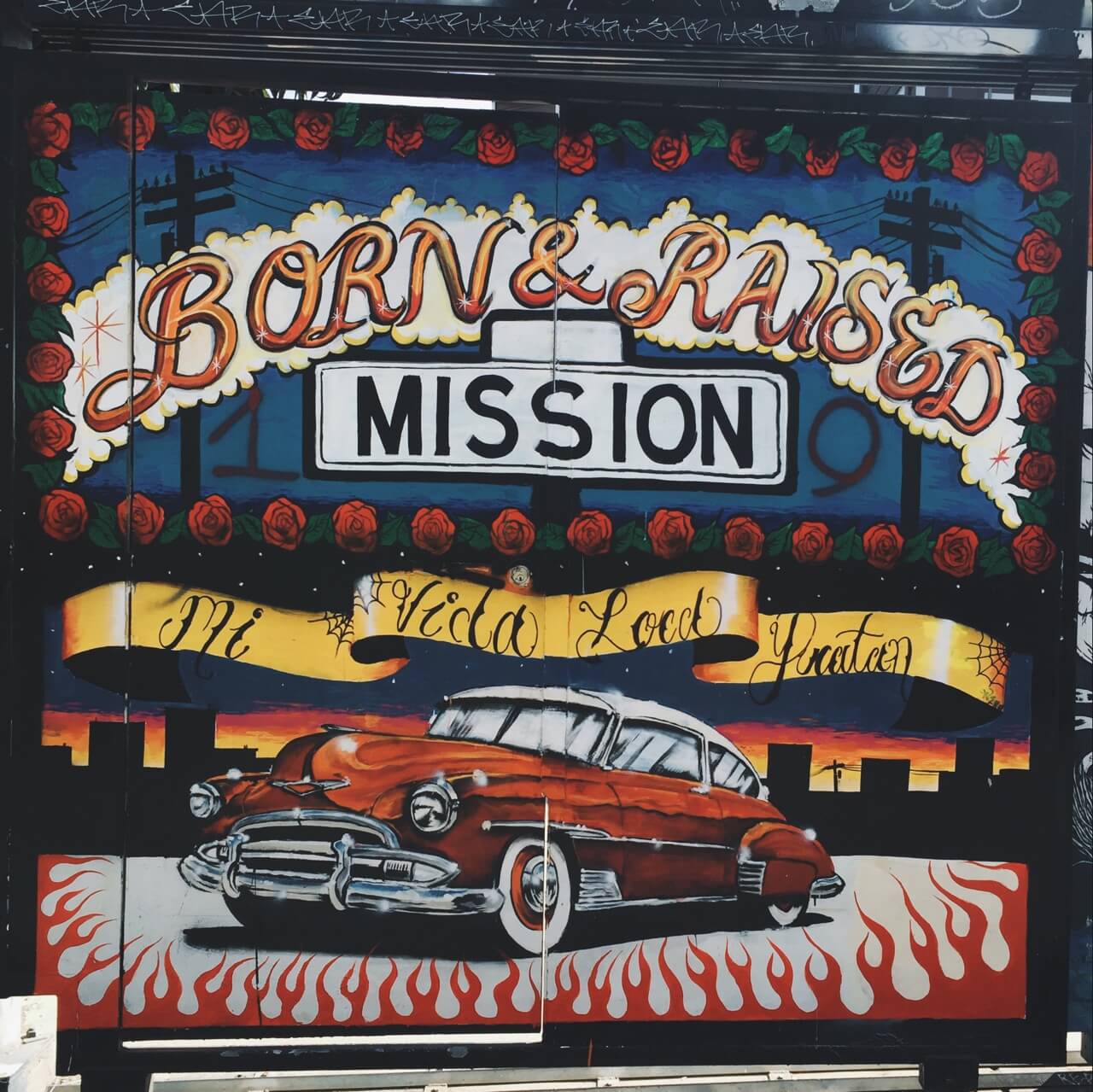 MY FAVORITE SAN FRANCISCO GIFT STORES FOR SHOPPING LOCALLY
As promised, some of my favorite local boutiques and one a kind shops to meet your need for San Francisco gifts are as shared below. I have either visited or made a purchase from them and can vouch for their awesomeness. They can be found all over San Francisco in its many vibrant neighborhoods.
These are Nest (home decor), San Francisco Mercantile (locally made goods), Mira Mira (apparel), Therapy (anything you can think of), Marmalade, Be Good (apparel and accessories), Mason Jar (apparel and accessories), Perch (cute gift shop), Local Take (All things SF), Acacia (home decor and ceramics), Often Wander (store made candles, stationary, plants and more), When Modern Was (Vintage and modern home decor and accent pieces), Jenny Lemons (apparel and gift), General Store (eclectic store with apparel and gifts) and my absolute favorite Rare Device (stationary, gifts, ceramics).
THE BEST SAN FRANCISCO SOUVENIRS AND GIFTS
CONFECTIONARIES, CHOCOLATES AND MORE
We have no dearth of local chocolatiers, whose products can readily be found in different neighborhoods of San Francisco. These sweet treats can double up as holiday gifts or tasty San Francisco souvenirs.
So when visiting San Francisco, please look beyond those Ghirardelli squares and get going with melt in your mouth creations (with different exotic fillings) by checking out these artisan favorites: Dandelion Chocolates, Socola Chocolates, Recchiuti Confections, Jade Chocolates, Poco Dolce (their store is in the DogPatch neighborhood/eastern waterfront) and Charles Chocolates.
You can also cross the bridge and get your fill of delicious vegan chocolate bars at The Xocolate Bar. Kika's Treats makes excellent Brazilian honey cakes and chocolate covered shortbread cookies which also make great San Francisco gifts. These chocolates are all locally made,ethically sourced and have very unique flavors ranging from Asian fillings at Jade to potent combo of sea salt over dark chocolate squares at Poco Dolce.
I personally love the latter's ginger squares but also heart the almond coconut crunch. Their founder, Kathy Wiley, has had the distinction of being named one of America's top ten chocolatiers by Dessert magazine!
If you are in San Francisco, you must stop by one of these chocolate stores /local groceries selling them/ SF Ferry Building to pick up a box of delectable treats (they have boxes of twos or eights packed beautifully) for your dear ones as these are are way better than the Ghirardelli squares sold at every corner!
GOURMET FOOD GIFTS/ LOCAL SPECIALTY FOODS
There are many food halls and specialty food stores in San Francisco selling a ton of curated local products-baked, brewed, cooked and whipped in San Francisco and Northern California in general.
If you're looking for small batch artisan food (jams, jellies, savory snacks or gourmet chocolates), visit one of the many stalls inside San Francisco's Ferry Building. My favorite is the Epicurean Trader (they also have an outpost on Bernal Heights) selling all kinds of specialty goods that are locally made.
The Twitter food court (also known as "The Market") and the San Francisco Food Hall (Mission neighborhood on 16th Street) are two other excellent places carrying many local food and drink brands for you to discover and carry home to your foodie friends.
SAN FRANCISCO BOOKSTORES FOR BOOK LOVERS
No amount of mindless scrolling through your phone can replace the joy of reading a book or the fresh smell of those crispy pages. Plus, books handsdown win in this gift giving business!
For those of your nerds and bibliophiles visiting our city, the best way to spend an afternoon is by checking out some of our iconic and popular bookstores. Besides a large selection of all the usuals, there are dedicated California and San Francisco sections for those of you curious about the origins of our city, history of California and the Gold Rush.
My favorite book stores in San Francisco are City Lights (a North Beach Icon founded in 1953 and the nation's first paperback bookstore plus where tour buses used to pull up for sighting of the legendary Beatniks), Green Apple Books, Dog Eared Books, Browser Books in my own neighborhood, Kinokuniya bookstore (Japantown) and Omnivore in Noe Valley (where Bay Area chefs and food personalities launch their cookbooks)

SHOPPING FOR PET GIFTS AND ACCESSORIES
Pets are family and being a dog mom, this section is really close to my heart (although I know that my pup does not really care about gifts). If you are a pet parent or know someone who is, gift your/their pooch or kitty lovely bow ties from SF's very own Usagi Team to jazz up their appearance.
Even better, pick these San Francisco souvenirs as holiday gifts for a pet lover. Barkbox seems like a good idea for a goodie hamper for your fur kid, although I have not tried them on my own because (you can read about our experience with A Pup Above, another readymade dog food).
Check out Pawtrero (San Francisco) for awesome doggie treats, Paco collars (Berkeley) for collars that are woof and meow approved, Petplay (San Francisco) for plush, comfy dog beds and Wildebeest (San Francisco) for all kinds of pet products.
These San Francisco pet souvenirs are bound to be a hit with your pet lover friend or family member and make for great San Francisco gifts. You can check this fantastic post on gifts for dog moms as well.
STATIONARY AND PRINTS
For all your prints, cards, calendars, journals, fridge magnets and what nots, visit these rad SFMade print/stationary sites (they have online stores and they ship in USA): Yellow Owl Workshop (has online shopping), 3 Fish Studios (has online shopping), Union Street Papery and Hello! Lucky (has stores all over USA).
Zig Zag city guides makes adorable paper guides for that tourist friend of yours visiting your city (Paris/Rome/San Francisco/NYC) and is worth checking out. You definitely need these San Francisco souvenirs for that artsy friend, to provide that personalized touch to your gift wrapping or gift a travel journal to that globetrotter buddy of yours.
The other spot in San Francisco to find the best stationery gifts is undoubtedly Japantown in Western Addition (my former neighborhood). Maido Stationery store in the west mall will fulfill your craving for all kinds of Japanese paper products, pens and art supplies. Paper Tree is another stationary and origami store in the Buchanan Mall that is worth checking out.
TECH SAVVY GIFTS, BACKPACKS AND MORE
You cannot leave San Francisco, the ultimate tech city without some tech savvy San Francisco souvenirs and gifts as well as bags and backpacks made right here in the city! All these San Francisco gifts are locally made from eco-friendly materials sourced in the US and follow sustainable practices.
I recommend checking out Dodocase (online shopping available), AcmeMade, Spicerbags, Rickshaw Bagworks , Timbuk2 , Lady Alamo , Joshu + Vela and Alphonso for all your tablet/phone/laptop sleeve/case needs plus all kinds of bags since these bag manufacturers provide so many options! Langly.co is another great place to get camera bags for your precious equipment.
SKINCARE, MAKEUP AND COSMETIC GIFTS IN SAN FRANCISCO
Be it a lip balm for a stocking stuffer or more serious skincare products that are vegan and cruelty free, Earth Body (link to their Ayurvedic skin care collection here), Juice Beauty and Nancy Boy are the Bay Area brands to look out for.
All of these brands declare themselves as free of chemicals and cruelty free and I encourage you to throw away those horrible L'Oréal products (L'Oréal still tests on animals to sell in China) and try these.
Here is another useful list of all natural, cruelty free skin care brands from the Bay Area. You can also shop for tons of cruelty free products (that are not SFMade) at our wonderful workers owned cooperative Rainbow Groceries in the Mission neighborhood where all the beauty and personal care products are cruelty free.
SHOPPING FOR LOCALLY MADE APPAREL IN SAN FRANCISCO
This is kind of tricky owing to personal preferences, but if you are looking for either simple neutrals or very San Francisco-ish super soft Tees or a quirky printed blouse to gift, then Everlane, San FranPsycho and Nooworks are the sites to go.
Everlane is a San Francisco based company selling apparel for both men and women, but at greatly affordable prices since they cut out the middleman from the production chain. San FranPsycho makes awesome SF logo-ed tees while Nooworks is an SF based boutique with its factory in Oakland and makes quirky, out of the box printed apparel for women and infants (sizes run small so please check the size chart).
Other SF based merchants with online shopping options are Nooworks, Frolick, Marine Layer, Be Good Clothing (selling eco-friendly apparel, jewelry and vegan leather bags from Matt & Nat and Angela & Roi), Taylor Stitch, Gravel & Gold, Weston Wear (to add a touch of sparkle to your wardrobe) and finally Field Day (based out of Oakland).
Remember: when you shop from these local garment businesses, you get out-of-the box, one of a kind clothing not available in giant retails to be the runaway hit of the party! Another great idea for San Francisco gifts and souvenirs!
SAN FRANCISCO SOUVENIRS: JEWELRY AND ACCESSORIES
San Francisco and the Bay Area have a lot of local jewelry makers, creating delicates, layering and statement pieces in necklaces, dainty to bold earrings, brooches and bracelets. These make great gifts or delicate San Francisco souvenirs. Some of my recommendations are: Ofina Jewelry, Made by Maru, Blume, Corey Egan and Matters of Delight.
I hope you enjoyed reading this post for some off-kilter local shopping ideas to support all small businesses that make San Francisco so beautiful. These San Francisco souvenir and holiday gift ideas are sure to bring a smile to your family and loved ones. Thanks a lot for stopping by; you can read all my insider guides to San Francisco here.

Like this post? Pin it here

«