Last Updated on February 21, 2022 by Paroma
Are you a pet parent curious about "A Pup Above", the latest brand of wet dog food? Then keep on reading this post where I've provided an in-depth review of A Pup Above dog food and our experience feeding it to our dog Gunda.
Disclaimer: This post is in partnership with A Pup Above. All opinions are my own.
Ever since we adopted Gunda in April of this year (see the announcement in this post), he has been on a steady diet of vet prescribed dry food mixed with some shredded home-boiled chicken and cottage cheese. However, I have been on the hunt for a good wet dog food for sometime now to change things up and introduce some more protein into his diet.
Readymade wet food for dogs tends to be expensive and I was not comfortable buying something without any research because dog foods are always plagued by mystery ingredients. When A Pup Above reached out to me to review their "sous vide style cooked dog food made with all human grade ingredients (both meat and veggies)", I was definitely intrigued. Upon looking up their website (more on that awesome site later), I was sold and immediately said yes to trying the brand out.

ABOUT A PUP ABOVE READY MADE DOG FOOD
A Pup Above was started by Austin residents Ruth and Javier who got incredibly frustrated with the dog food available for Lola, their cute as a button pup, especially with the ingredients and where they were being sourced from. So they embarked on a mission to make food that was sustainable and good for everyone involved-i.e. humans, their pets and the planet.
Enter A Pup Above which definitely strives to be head and shoulders above other dog food brands in terms of transparency and quality. First of all, both Ruth and Javier have gone out of their way to make the food sourcing as transparent as possible, by making every single ingredient in each patty human grade and traceable from farm to bowl. Simply go here, enter the best by date on your package and you will get a detailed report of every ingredient based on its source and description.
QUALITY OF A PUP ABOVE FOOD
Not only does a bowl of A Pup Above comprise of all human grade ingredients (i.e. safe enough for you to put in your mouth), but it is also cooked in the sous vide technique, i.e. slowly and evenly to lock in the maximum amount of nutrition that is often destroyed by cooking over high heat. In addition, the amount of protein in A Pup Above is significantly higher (about 72% higher on an average) than other leading brands of wet food. Visit their page for more details.
All of A Pup Above's dog food recipes are formulated and reviewed by veterinarian nutritionists to ensure they meet appropriate AAFCO guidelines for complete and balanced nutrition for Adult Maintenance. Each has more than 10 years of experience in veterinary medicine, is a member of the American Veterinary Medical Association (AVMA), American Academy of Veterinary Nutrition (AAVN), and their respective state Veterinary Medical Associations. The names of these veterinary nutritionists are available upon request (see more information here).
Food safety is of paramount importance to A Pup Above. This is a 100% USA based company and all the food is made in an USDA inspected facility, i.e. in a human grade kitchen in Texas. Each batch of this sous-vide food is then subjected to rigorous quality control, i.e. tested for pathogens to make it safe for your pup. None of their food contains preservatives and are frozen for freshness. These frozen bags are delivered in an insulated bag over dry ice to your home.
You can find the full nutrient profile of each A Pup Above recipe/flavor by clicking on this link here
HOW EXPENSIVE IS A PUP ABOVE DOG FOOD?
Although we want nothing but the best for our pups, cost of such prepackaged wet food is often prohibitive for long term use. So how much does it cost to purchase A Pup Above?
You can purchase A Pup Above either in 3lb or 7 lb bags (you save 15%/pound with this option) for individual flavors or as sampler packs. A sampler pack of four 3 lb bags costs $117 and that of the 7 lb bags comes to $196. Individual bags cost $32 (3 lbs) and $52 (7 lbs) each. If you opt for a subscription (every 2/4/6 or 8 weeks), you will get 25% off in savings. First time buyers get 15% off their first order! Finally, you can also sign up to get any flavor (1 lb) for free!
ENVIRONMENTAL IMPACT OF A PUP ABOVE
A lot of companies talk the talk when it comes to sustainability (the most abused word in corporate America) and environmental impact, but few actually walk the walk. A Pup above belongs to the latter category where they take their motto of good dog food for a healthy pup and planet very seriously. Their packaging, made by TerraCycle, is 100% recyclable and they even go to great lengths to ensure that the customers can order a recycling envelope!
Other commendable environmentally friendly efforts by A Pup Above brand include a) upcycling ingredients, i.e. choosing "ugly" produce wherever possible which is absolutely fine in terms of nutrition but is often discarded because of how it looks (by the way, this is a major reason for food wastage in US grocery stores), b) striving for a very small carbon footprint by opting for local sourcing and running their fulfilment centers on 100% renewable energy and c) donating 1% of their revenue annual to the White Buffalo Land Trust to help fund their flagship farm practicing regenerative agriculture.
A PUP ABOVE WEBSITE AND SUPPORT
A Pup Above has a winner in their hands when it comes to their website. Bold colors and eye catching graphics, cute pup photos and tons of information that is easy to read and navigate makes the website a one stop shop for all the information that you'll ever need for their products, mission and everything else.
They also have a handy text helpline where you can text them at 512.846.9372 for questions and comments. Plus they run a blog which is choc full of helpful information on canine nutrition, history of dog food and wellness.
OUR EXPERIENCE WITH A PUP ABOVE DOG FOOD
Jessica from A Pup Above was kind enough to send me a sampler pack of four, 3 lb bags consisting of all of their four flavors (chicken, turkey, pork and beef) for the review. The bags come in eye catching colors with beautiful graphics and easy to read instructions and contain three individually frozen patties (1 patty= 1 pound of food) in 16 oz BPA free plastic baggies. The patties should be stored frozen and are good for over a year.
A guide on the portion size, based on your dog's weight, is also provided (see one of the side flaps for the information) or here. An individual patty has to be defrosted/thawed prior to serving; I highly recommend doing so at least an hour before your dog's meal time. Once opened, the patty is good for a week when frozen in the freezer. We mixed an appropriate portion size for Gunda (half of what was suggested for his weight) with his dry food so as to ease him into the new meal and he gobbled it all up in a jiffy!
It has been two weeks since we got A Pup Above and I'm happy to report that Gunda has had no issues so far. The chicken flavor, aka Chicka Chicka Bow Wow, is his absolute favorite with the turkey being a close second. Clearly this canine is a "fowl-lover"!
This is a bit of a TMI, but I must add that if your dog's poop is on the softer side after trying A Pup Above dog food, you could reduce the quantity a bit and mix it with some dry food. This was also one of the reasons that we had to adjust the portion for Gunda. As always, if you have any concerns, please consult your vet prior to changing your dog's diet/food.
4 month update: Gunda continues to love "A Pup Above" which we mix with his dry food and some cottage cheese. It has also carried well with us in a cooler during our travels for as far up to Santa Barbara, Joshua Tree and Los Angeles.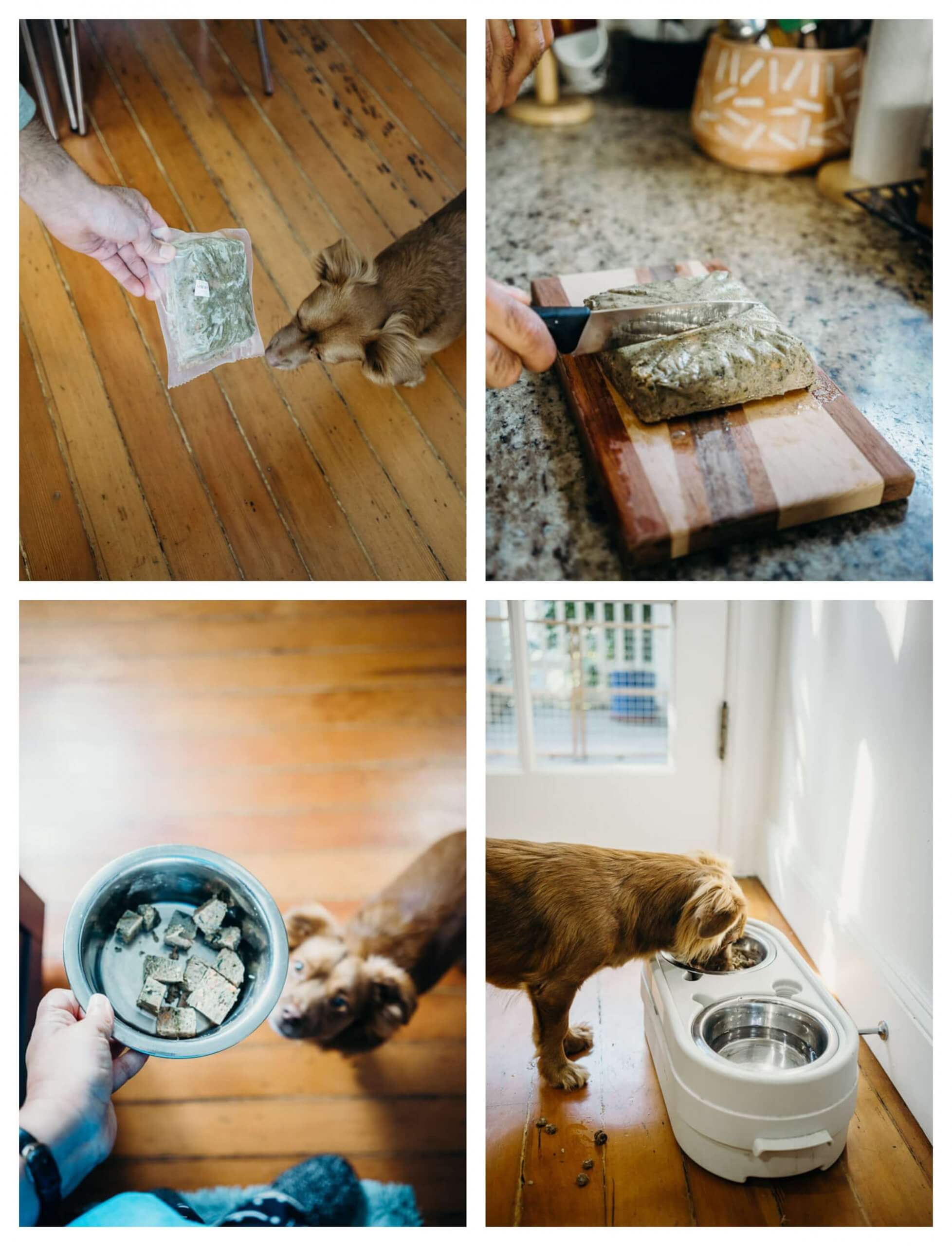 FINAL THOUGHTS ON A PUP ABOVE DOG FOOD
A Pup Above gets two thumbs up (and paws up) from us for their transparency, mission, food quality, ease of use and packaging. Knowing that nothing but the very best (human grade ingredients cooked sous vide) goes in every bowl gives us peace of mind since we want our Gunda to have a long and healthy life.
A Pup Above's packaging (individually frozen patties) makes their product portable and convenient for traveling. In this short time that Gunda has been with us, he's traveled to several parts of California like the Eastern Sierras, The Central Coast, Clear Lake and Sonoma and we've always carried his perishable food in a cooler. A Pup Above's frozen patty will certainly come handy for us while traveling with him since it takes less space in our cooler.
Gunda is not a very picky eater unlike his brother Babu (who sadly passed away earlier this year) but the glowing reviews by dog parents on A Pup Above's website is ample proof that it is a huge hit with the pickiest of canines. Find A Pup Above in stores near you and ask for a free sample if available!
Follow A Pup Above on Instagram and Facebook
Like this post? Pin it for later

«