Last Updated on June 13, 2022 by Paroma
If you're visiting Lake County in California and wondering about how to spend the weekend there, then let me entice you with this post on some really fun and cool things to do in Clear Lake, the largest natural freshwater lake in the state and the oldest in USA! From kayaking on the lake to scenic hikes, some dreamy wine tasting in picturesque wineries and lakeside views, this post covers 12 fantastic ways to enjoy your time at Clear Lake California!
Disclaimer: This post may contain some affiliate links. Clicking on them may earn me a small commission at no extra cost to you for the product. Thank you for supporting free content on this site!
VISITING CLEAR LAKE, CALIFORNIA? HERE ARE SOME SUPER USEFUL FAQS
Clear Lake, California is in Lake County, which sits north of Napa and east of Mendocino counties. Although Lake Tahoe is the uber popular alpine lake that everyone rushes to (read my Lake Tahoe guide to learn more), it is still shared by California and neighboring Nevada. This makes Clear Lake the largest natural freshwater lake in the state.
Although you have the dormant volcano Mt. Konocti towering over the lake, the lake is by no means a volcanic lake (unlike those in the Canadian Rockies). The lake stretches out 68 square miles, at an elevation of 1329 feet with a maximum depth of 60 ft, making it one massive waterbody!
Clear Lake is a chosen destination for those looking for water sports minus the crowds, i.e. kayaking, waterskiing, swimming, jet skiing and paddle boarding. Fishing is also another popular activity and this being the "Bass Capital" of the west, most of the catch is largemouth bass along with crappie, bluegill, swordfish, carp and catfish. However, keep in mind that the catch from the lake has been flagged for years for its mercury poisoning.
Beside watersports, Clear Lake and Lake County in general is re-emerging as a wine tasting hotspot with rolling vineyards growing some of the most luscious grapes of cabernet and chardonnay. Unlike Napa (which I have visited many times), wine tasting here is a much more relaxed affair and pretty affordable, making it one of the underrated gems of California wine country.
HOW TO GET TO CLEAR LAKE CA FROM THE BAY AREA
Clear Lake is about 122 miles north of San Francisco and it takes about 2.5 hours via the inland route of Highway 101 to get there. You will have to drive, no two ways about that. If visiting from out of state, then either rent a car in San Francisco (or anywhere else in the Bay Area) and start driving north towards Napa.
Although the Charles M. Schulz Sonoma County Airport is the closest one in Santa Rosa (~65 miles away), this airport has limited airlines flying into it. As usual, flying into San Francisco or Oakland International airports is the better choice.
The other option is to fly into Sacramento International Airport that is 115 miles away from Clear Lake, with the drive being about 2 hrs (nearly the same as from San Francisco). For those of you who don't know, Sacramento is California's capital (not Los Angeles or San Francisco) with eye-popping murals, an envious craft brewery scene and the highest number of farm to fork restaurants in the city. Plus, there are lots of day trips from Sacramento that you could go on to explore more of Northern California!
BEST TIME TO VISIT CLEAR LAKE CA
This is really important and something that you need to factor into your travel plans if getting baked in California's increasingly hot summer is not your idea of a weekend getaway. Visit Clear Lake only in Fall (Late October to November) or in Spring (March-April) for Fall colors and much cooler weather that makes outdoor activities much more enjoyable.
Summer is oppressively hot (I am talking of temperatures exceeding 105F) plus the lake is plagued with algae that will throw a wrench in your plans for floating on its gentle waters. Having just returned from Clear Lake in August's and narrowly escaped a heat stroke, I highly recommend November as the best time to plan your visit to Clear Lake Ca.
HOW LONG SHOULD YOU SPEND AT CLEAR LAKE?
Unless you're planning to explore more of Lake County, a two night stay with one full day in between should cover all the major Clear Lake attractions.
IS CLEAR LAKE DOG FRIENDLY?
Yes! Dogs are welcome in many parts of Clear Lake, including shops, wineries, parks and open spaces. Also, there are many pet friendly hotels and lodgings in and around Clear Lake. We took our furbaby Gunda (who has already been with us to Paso Robles, Pismo Beach , Bodega Bay and Mono County since we adopted him 3 months ago) with us and he enjoyed this outing by the lake (minus the heat of course).
WHERE TO STAY IN CLEAR LAKE CALIFORNIA
There are several options for staying around Clear Lake, and many lodgings have beautiful lakefront views. Since we traveled with Gunda, we decided to stay at the very fun and unique Featherbed Railroad B&B in Upper Lake which is exactly what it sounds like- a collection of cheery red Cabooses (train cars) strewn over a grassy field! Plus, there is free wifi, a pool with floaties provided to you and yummy breakfast (with dietary needs accommodated) in the dining room of the main office every morning!
Each caboose is just like a hotel room with the usual amenities (bed, furniture, even a mini fridge, bathroom) but with one major difference-there is a giant tub/bath in one end of the room and not in the tiny bathroom itself. In other words, be mindful of who you are staying with if you want to take a bath during your stay 🙂 We had an entire selection of wines next to the bathtub that made for a pretty romantic setting.
Two of these half a dozen cabooses are dog friendly, such as "Wine Country" where we stayed. Our caboose also had a fun bunker/nook on the top that could be reached via rungs attached to one side of the room. Plus, you get to have easy access to the outdoors as well as the lake right across the street for walking your dog. Honestly, even if you were to visit without a pet, I'd highly recommend staying at this B&B for its uniqueness, comfort, food and location!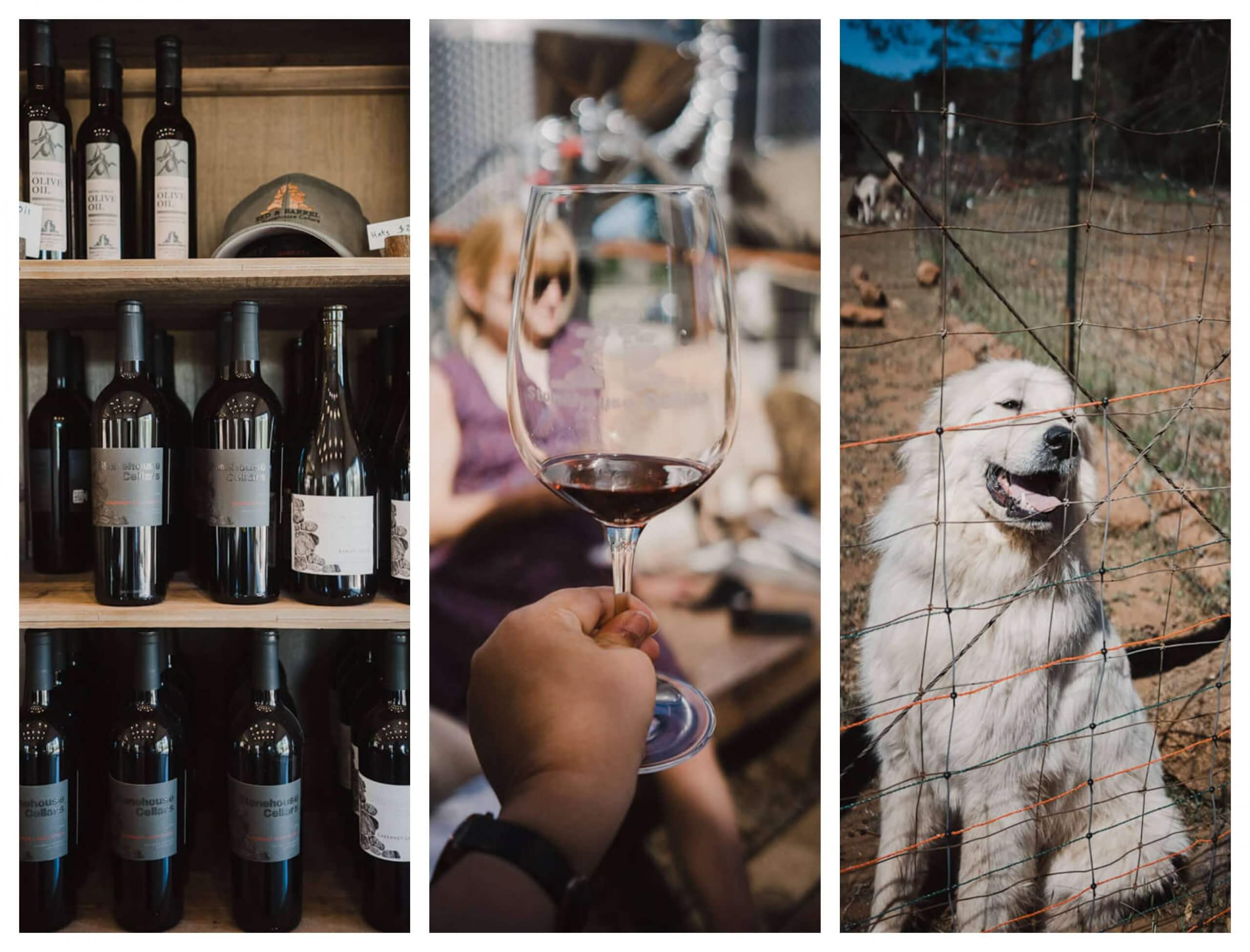 The other B&B that I highly recommend staying at is also one that doubles up as a winery is Bed & Barrel at Stonehouse Cellars where I stayed with a friend some time ago during my first visit to Lake County. This Agrotourism stay has its own vineyard and a small enclosure up the hill with llamas, goats, chicken under the watchful gaze of herding floofy pyrenees dogs.
You are advised to bring your own food for dinner since the manager leaves for the night and there are no restaurants close by but she comes back in the morning for a delicious breakfast spread with quiche, fruits, yogurt and pancakes. As for the wine tasting, you can not only enjoy their varietals indoors or in the spacious outdoor patio but can also buy a bottle to enjoy later if staying overnight. They also have a fully functioning kitchen if you want to cook your own food.
Other popular Clearlake hotels: Clearlake Cottages and Marina, Lake Point Lodge
THINGS TO DO IN CLEAR LAKE CA
Finally, the good stuff that you've been waiting for, i.e. all the fun things to do in and around Clear Lake in Lake County, California. Although there are other places to explore in Lake County, this post will focus only on things to do in the vicinity of the lake and trust me, there is plenty to keep you busy for a weekend getaway from San Francisco!
Owing to the extreme heat, we had to give a few outdoor activities a miss but regardless of the weather, we still managed to squeeze in quite a few things during our stay at Clear Lake. As usual, I will be indicating dog friendly tips/places in this itinerary for you to plan another small town dog friendly vacation in California!
Location: 225 East Highway 20, Lucerne, CA, United States
Craving for lakeviews with your pup? Then come to this dog friendly one acre park which has a playground, a picnic area as well as a boat launch pad. Keep your dog on leash and don't forget to stop by the surrounding art galleries.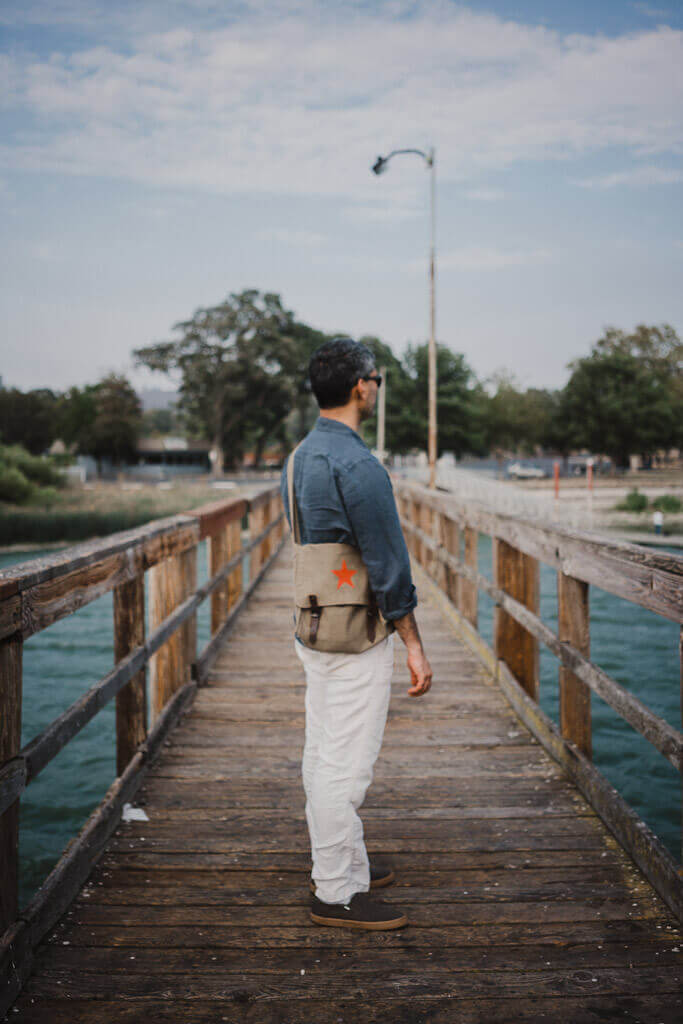 2) AUSTIN PARK BEACH AND PLAYGROUND
Location: 14077 Lakeshore Dr, Clearlake, CA 95422
This playground with a small beach is perfect for an evening walk along the lake with your pup.
3) REDBUD PARK
Location: 14655 Lakeshore Dr, Clearlake, CA 95422
This park is just south of Austin park beach and is actually the watershed area for the Sacramento River. The boardwalk provides tranquil views of the lake and it is a popular spot with locals for fishing.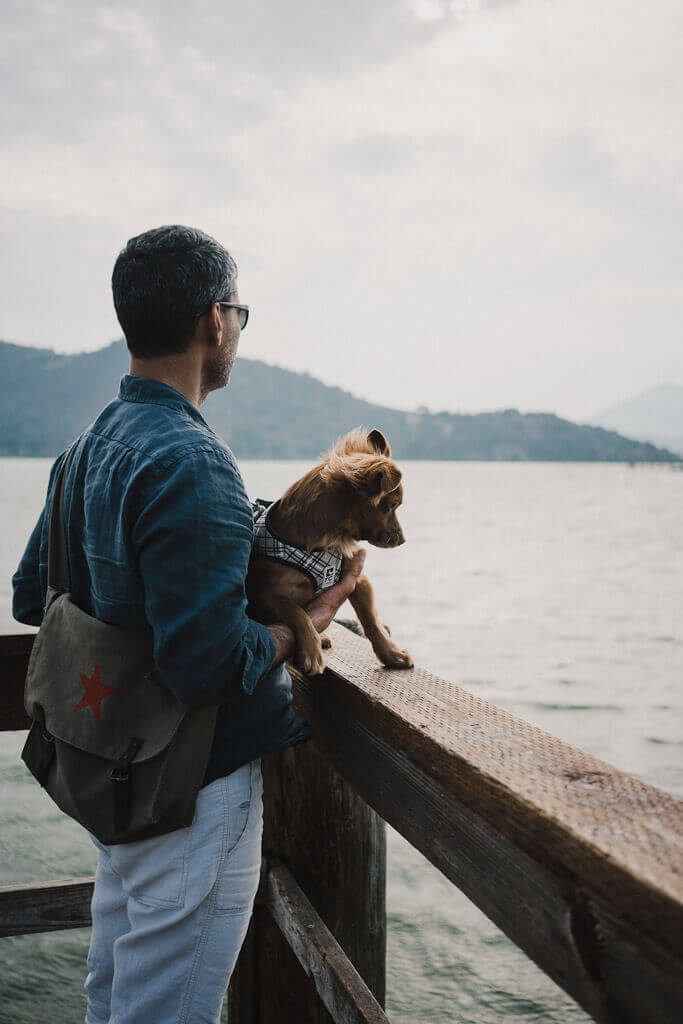 Location: 5300 Soda Bay Rd, Kelseyville, CA 95451
If you're into hiking, then don't give the beautiful nature trails in Clear Lake State Park a miss! Day use is from sunrise to sunset and it costs $8 per vehicle. Parking is in designated spots only and not in campgrounds. Beside hiking trails, scenic overlooks, beaches, campgrounds and swimming areas there is a designated dog friendly trail in the state park that we enjoyed taking Gunda on.
Dogs are not permitted on any unpaved trails but this one, aka the Kelsey Creek Trail comprises of a boardwalk skirting along a wetland and the campground and ends at one end of Clear Lake with fantastic views of Mt. Konocti in the background. Please bear in mind that although you can park at Swim Beach to access the trail, dogs are not allowed at that beach.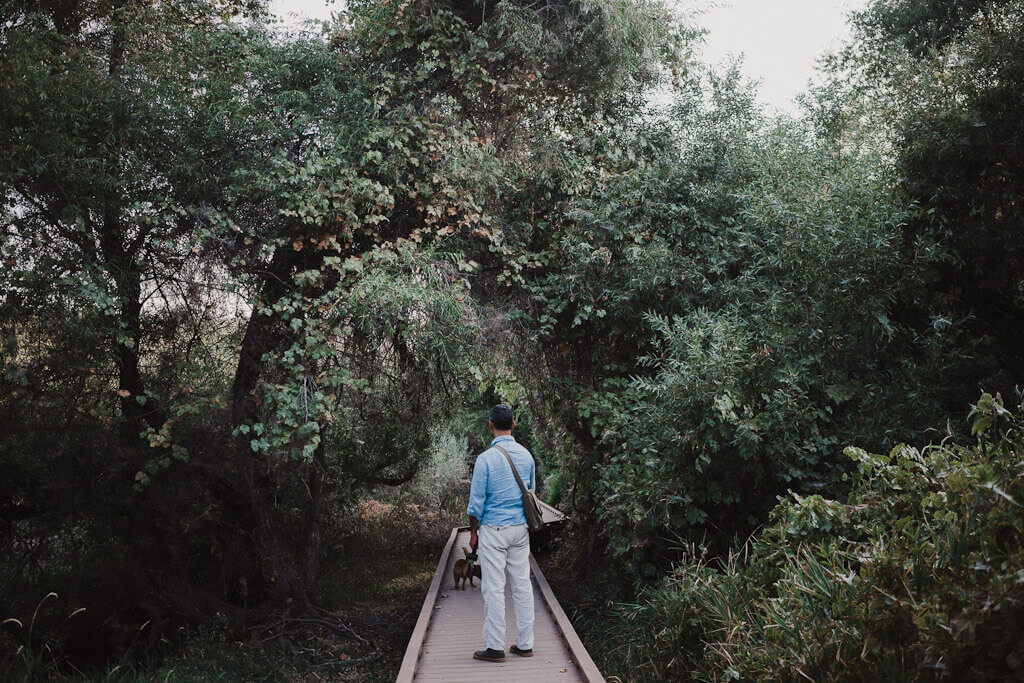 5) LAKESIDE COUNTY PARK
Location: 1985 Park Dr, Kelseyville, CA 95451
This 53 acre park in Kelseyville boasts of a great shoreline for easy, level walks, boat ramps to launch a kayak or paddle board, a beach, birdwatching and ample space for picnicking.
6) LIBRARY PARK
Location: 200 Park St, Lakeport, CA 95453
This is another lakeside park in the town of Lakeport, the largest town of Clear Lake. Easily accessed from downtown Lakeport, this park has a gazebo, a nice walking promenade, a small harborside where you can see boats bobbing on the water and a fantastic view of Mt. Konocti.
If you're an avid hiker, then I highly recommend getting up early to tackle the Mt. Konocti Wright peak summit trail that'll reward you with splending views of the lake and its surroundings! Because of the crazy hot weather (in August) and the fact that 3 miles of the final 5.7 mile stretch of Konocti road (the access gate to the trail is on the road) was pure gravel, we decided not to risk a heat stroke and turned around.
The trail itself is pretty strenuous and involves about 7 miles round trip with a steady 1,649-ft. climb along a winding dirt road with stretches of no shade, which is why it is best to tackle the hike early in the morning (something we did not take into account). Bring plenty of water with you since there is no water source along the trail. Here are more details on hiking to the top of Mt. Konocti.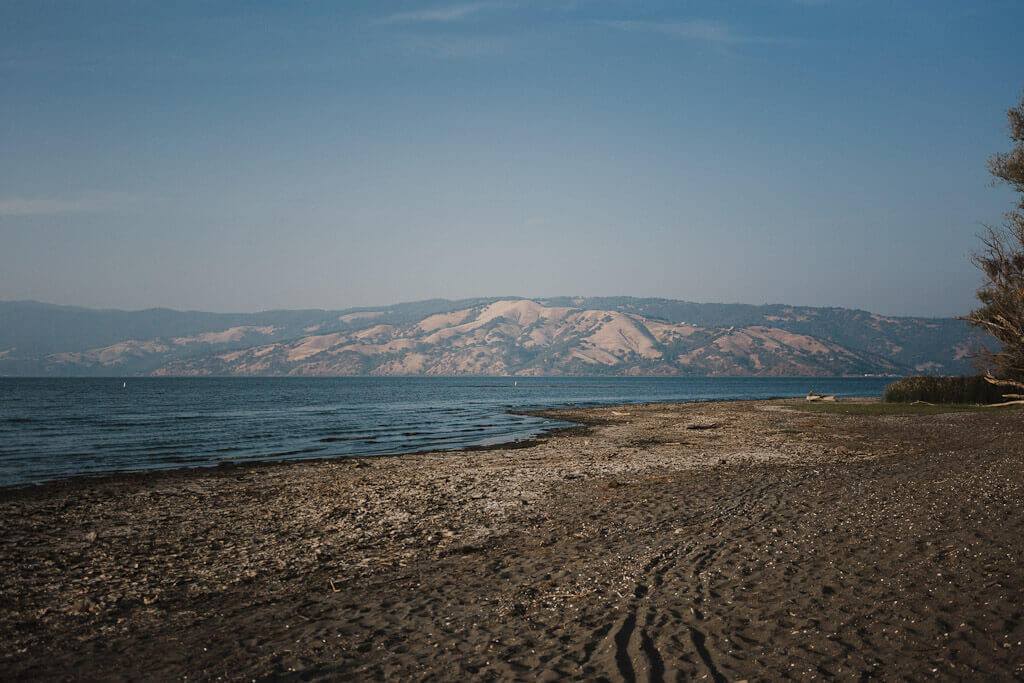 8) KAYAKING/PADDLE BOARDING ON CLEAR LAKE
Location: 401 S. Main Street, Lakeport, CA 95453
For those of you waterbabies out there, exploring the lake on a kayak or paddle board is one of the best ways to enjoy its waters! Renting a kayak or paddleboard from Lakeport is easy-just go to Disney Boat Rentals on 401 S. Main Street (they are open 7 days a week from 9:30 AM-5:30 PM). Again, we had to give this activity a miss since we were traveling with Gunda and were really flustered by the heat.
9) DOWNTOWN LAKEPORT
Lakeport is the largest town on the shores of Clear Lake. Although downtown comprises of a single street, aka Main street, it has the old American vintage charm about it. There are several antique stores as well as a very nice art gallery on 325 N. Main Street maintained by the Lake County Arts council that you should check out when in Lakeport. I also recommend stopping by Marcel's French Bakery and Cafe for breakfast (their apricot croissants are delicious) and Wine in the Willows tasting room across Library park for wine, balsamic vinegar and gifts.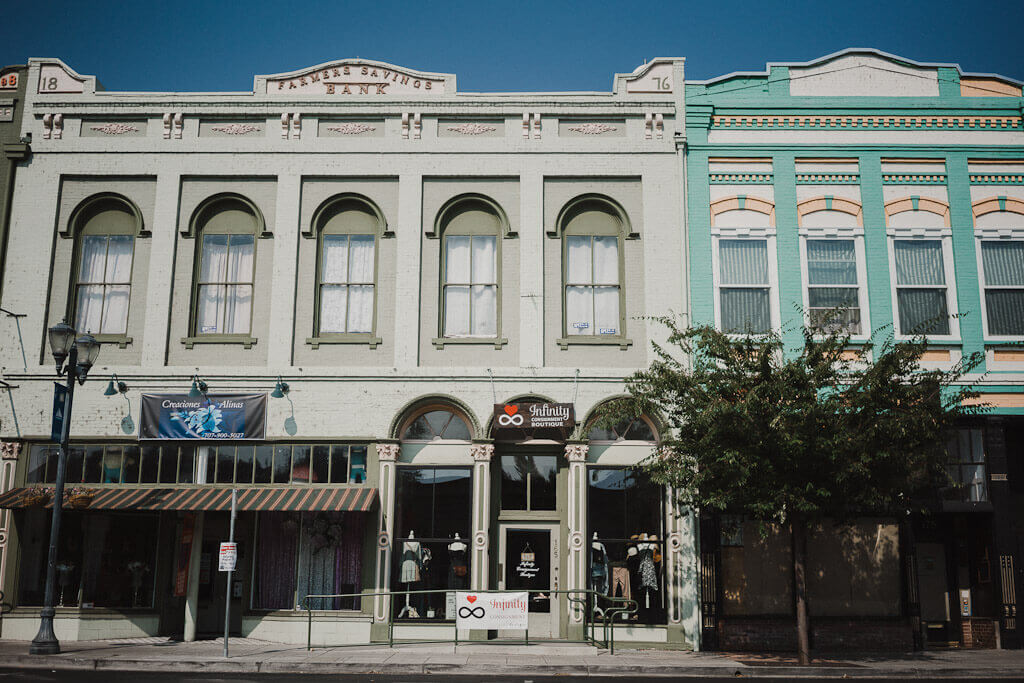 10) DOWNTOWN KELSEYVILLE
Kelseyville is a cute little artsy town with restaurants, antique stores, local maker stores and several art galleries. We loved checking out the Painted Bird Art Gallery, a co-op of five local artists owned and maintained by a former forest ranger turned photographer. Do check out the "Makers" and "A+H Mercantile" stores when in Kelseyville and stop by the Smiling Dogs Ranch tasting room for some wine tasting.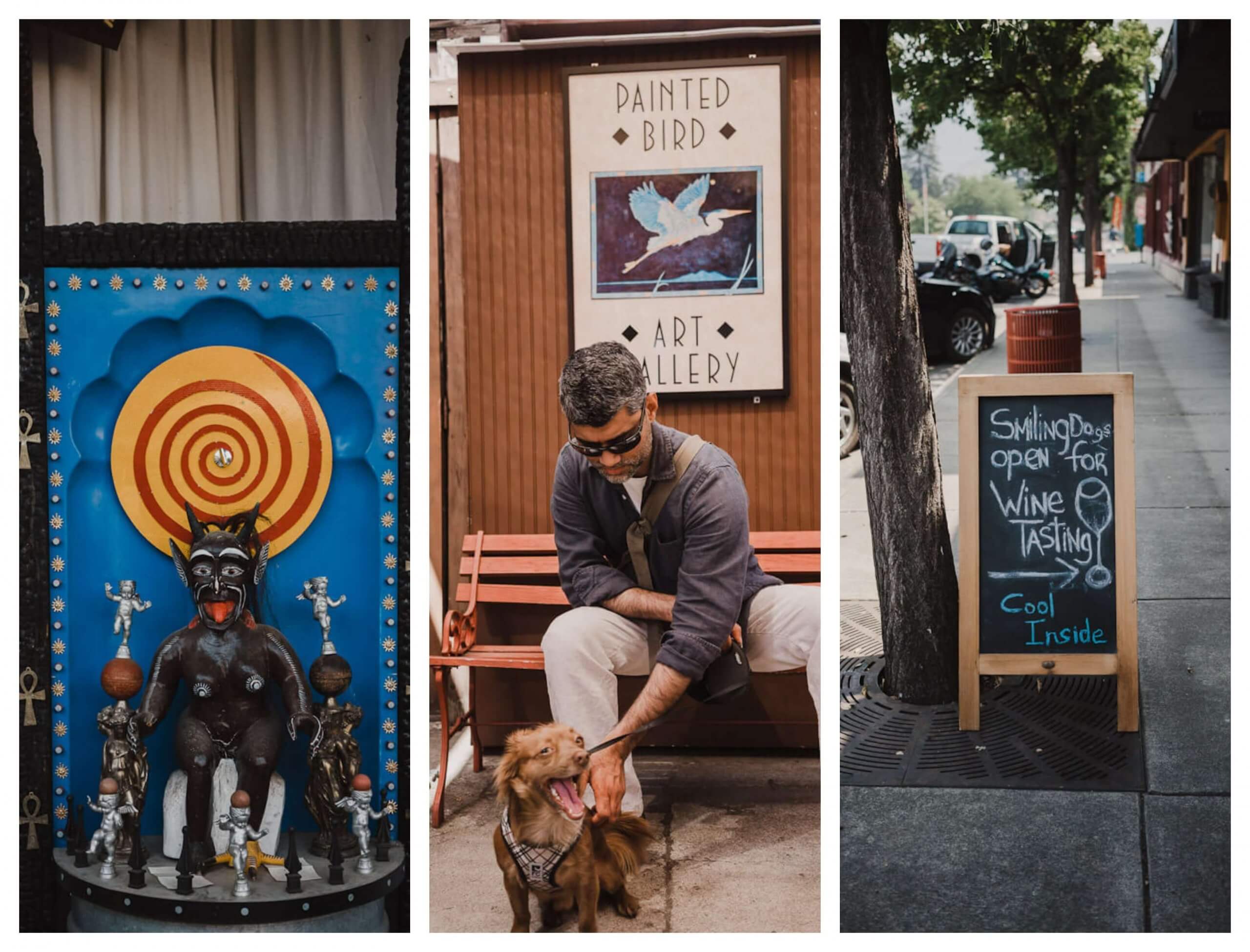 11) WINE TASTING
Given the explosion of wine making and vineyards in Lake County (actually a revival to be honest), it is hard to believe that the residents here once voted in favor of the 18th amendment to make Lake County essentially a dry state (i.e. prohibition on the sale and consumption of alcohol). Thankfully, those terrible dry days are far behind us and Lake County, with a terroir superior to Napa when it comes to grapes, has acres and acres of rolling vineyards stretching out for as far as the eye can wander.
Clear Lake is part of one of the 40 smaller AVAs of the broader North Coast AVA (that Lake County belongs to) and has many beautiful, expansive wineries where you can spend an afternoon (or, morning) relaxing with a glass of wine or do a flight tasting. Much like Napa wineries and those at Sonoma, many wineries here are dog friendly.
Unlike Napa, the atmosphere is pretty relaxed and wine tasting is on the affordable side (although you can read my Napa post for first time visitors to not feel as intimidated on your very first trip). Here are my picks of Clear Lake wineries that you should visit (all of them are dog friendly):
a) Cache Creek Vineyards and Winery: With a huge picnic area, inviting tasting room with lots of food and build-your-own-picnic basket options as well as several tasting flights (ranging from $15-20), Cache Creek Vineyards is a must visit dog friendly winery in Clear Lake. My personal favorite was the buttery Sauvignon Blanc as part of the reserve tasting flight! Well behaved dogs are also welcome in the tasting room.
b) Laujor Estate Winery: This winery has some really good Rośe of Sangiovese as part of its tasting, but what is more spectacular is the view of Mt. Konocti towering over the vineyard in all its magnanimous glory. Planted in 2006, this winery is part of the Red Hills AVA and specializes in Cabernet Sauvignon, Petite Sirah, Syrah Noir, and Cabernet Franc. Laujor also offers tours of their property by reservation and you can also stay at their vineyard loft!
We had a really nice afternoon taking in the views while wine tasting, thanks to a super friendly staff. I highly recommend booking an early or late tasting since this place is pretty popular. Laujor also has the option of a yummy cracker and jam spread food option for $20.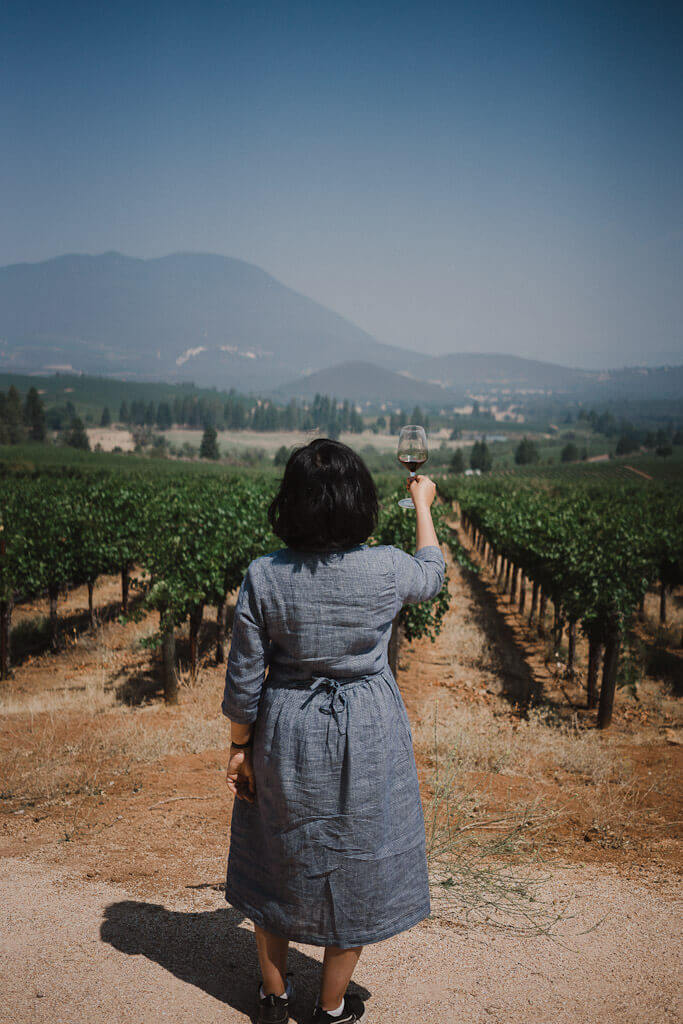 12) RESTAURANTS IN CLEAR LAKE CA
We've had a mixed experience dining in Clear Lake, which definitely has some good options when it comes to restaurants and cafes but not nearly as many as Napa. But one thing is for sure, dining at Clear Lake is pretty light on your pocket (unlike Napa). Here are some of the places that I recommend for breakfast, lunch and dinner:
a) Marcel's French Bakery and Cafe: this tiny cafe on Lakeport Main street has good coffee, tea, lattes, baked goods and pastries. Come early to get some of their sinful chocolate eclairs!
b) Arti Natural Indian Cafe: This tiny Indian restaurant in Kelseyville serves comfort basics as well as some harder to find Goan dishes. Highly recommend if you're looking for something different and full of flavor. They also have a nice shaded outdoor spot for dining.
c) Chalerm Thai Bistro: This Lakeport Thai spot has some really good food (try their ground basil chicken with rice) and lots of outdoor seating option.
AAANNNDDD… that's a wrap! I hope you enjoyed reading about these wonderful things to do in Clear Lake California for a weekend getaway. Hopefully this post and all my other California travel adventures have inspired you to explore more of this beautiful state, especially with your pup. Thanks a lot for stopping by and happy travels!

Like this post? Pin it for later

«