Last Updated on November 22, 2022 by Paroma
Are you visiting Sacramento with your pup and wondering about all the wonderful dog friendly things to do in our capital? Wonder no more, cause this dog friendly Sacramento guide is here choc-filled with the best things to do in Sacramento with your dog! From dog friendly hotels and restaurants to hikes, parks and other attractions-this pet friendly Sacramento guide is your go to resource for planning a dog friendly vacation in Sacramento!
Disclaimer: This post may contain some affiliate links. Clicking on them may earn me a small commission at no extra cost to you for the product. Thank you!
WHY VISIT SACRAMENTO WITH YOUR DOGS?
Sacramento, the capital of California, is also perhaps the least talked city in the state. What many out of state (and even California residents) do not know is that if you're a dog parent, you're in for a treat when visiting our capital city.
This is because this fifth largest metropolitan area in California has lots of dog friendly attractions to keep your puppies busy which includes dog parks, hikes and even beaches of sorts! Plus, you have many dog friendly hotels and restaurants where well behaved dogs can join your for meals on the patio, thanks to near year round warm weather.
Sacramento is only 1.5-2 hours northeast of San Francisco (~90 miles), making it a perfect short or long weekend getaway from the SF. Having visited Sacramento twice (2015 and recently in 2022) with my dogs Babu and Gunda, I am here to tell you everything you need to plan a hasslefree dog friendly vacation in Sacramento.
Like all my other dog friendly California guides, this dog friendly Sacramento guide is 100% authentic and covers dog friendly Sacramento hotels (where we've actually stayed), dog friendly restaurants and all other fun dog friendly activities that you can enjoy in Sacramento. So let's get started!
PLANNING A DOG FRIENDLY SACRAMENTO GETAWAY? HERE ARE THE FAQs
BEST TIME TO VISIT SACRAMENTO WITH YOUR DOGS
I one hundred percent recommend late winter/early spring (mid Feb-mid April) and late Fall (end of October-end of November) for visiting Sacramento since it is a lovely winter getaway in California. Sacramento is landlocked and gets extremely hot in summer with temperatures rising above 100F on several days at a stretch.
Spring is the perfect season to seeing almond and plum blossoms on day trips from Sacramento, visiting the UC Davis Arboretum (which is dog friendly and only 20 minutes drive from downtown Sacramento) and the cooler weather in the city itself which is great for walking along the river pathways.
Fall is perfect for spectacular foliage colors that you can see on the banks of the American River. Having been to Sacramento in both fall and spring with our dogs, this is what I highly recommend.
WHERE ARE DOGS ALLOWED IN SACRAMENTO?
Sacramento is extremely dog friendly with lots of dog friendly hotels in downtown and midtown. Most restaurants with patios or outdoor seating (there are some exceptions like the popular Tower Cafe that is not dog friendly despite having outdoor seating) will allow dogs to join you as you dine.
Sacramento has many dog parks and gardens allowing dogs. The city has a network of trails, mostly along the Sacramento and American rivers that run through it, that are paved and dog friendly. Old town Sacramento, the Capitol Mall and even DOCO (Downtown Commons) is dog friendly! In short, if you're visiting Sacramento , do not leave your dog at home!
ARE THERE DOG FRIENDLY BEACHES IN SACRAMENTO?
Sacramento is landlocked, so you will not find the dozens of dog friendly beaches that grace San Francisco. However, the city does have "beach like" recreation areas on the banks of the American River, namely Paradise Beach and Sutter's Landing Beach in Sutter's Landing Regional Park. Both these "beaches" are dog friendly.
DOG FRIENDLY HOTELS IN SACRAMENTO
On our very first visit to Sacramento in 2015 (Thanksgiving weekend in November), we stayed at the La Quinta Inn in Downtown Sacramento which is a great budget option for dog friendly lodging in pricey downtown.
La Quinta is definitely a step above Motel 6 (another dog friendly hotel chain in USA) and we enjoyed the close proximity to the Sacramento River with a scenic, leafy walkway alongside it that was perfect for morning and evening walks with Babu (he passed away in February 2021 after a prolonged battle with cancer).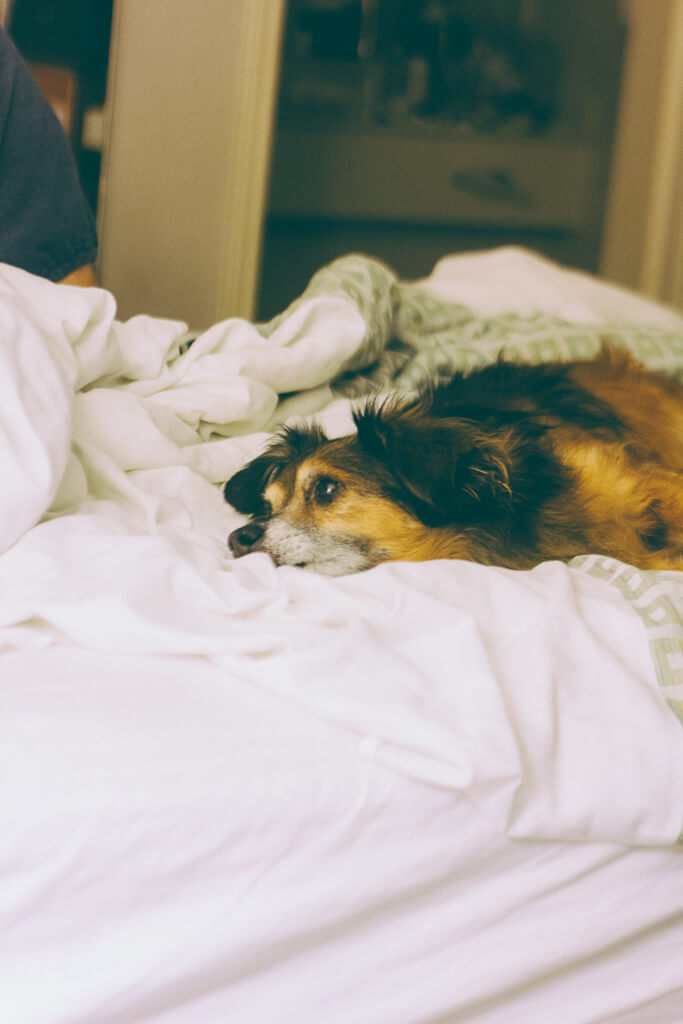 During our very recent trip to Sacramento with our newly adopted pup Gunda, we stayed at the Westin Sacramento which is in across the Sacramento river and about 2 miles west of downtown. The location is simply superb, since it is secluded and a stone's throw from the Sacramento River Parkway. Our room was on the third floor with a river/marina facing view that we enjoyed thoroughly from our balcony. I also loved the luxurious bathtub in our huge bathroom.
Westin Sacramento is perfect for visiting with dogs since they also have a grassy promenade in front of the hotel with a paved path for dog walking. As of March 2022, they charge $25 per night as pet fee (this will go up to $50 soon as confirmed by their staff) and they also seem to not have a limit on the number of dogs per room or a weight restriction. They also allow cats. However, these policies are location specific and might change, so please confirm prior to booking.
The super popular Scott's Seafood Restaurant is part of the hotel and they provide breakfast, lunch and dinner with room service as well. Dogs can join you on for patio dining with a wonderful view of the river.
The only gripe I have about the hotel is the parking, which ain't free. They only have valet parking that is $35 per night. Public parking is available at the start of the Sacramento River Parkway trail where there is a public parking lot to access the trail.
However, you have to drive by the hotel to access this public parking lot and if you try to park at night (after 6), hotel staff will intercept and ask you your final destination (whether or not it's the hotel or the dining) and you will have to park onsite as a hotel guest. I found this behavior pretty strange, because it felt kind of forceful when you can park for free nearby. Anyway, I just wanted to bring this up since I have always been 100% transparent with my readers/fellow dog parents.
THE BEST DOG FRIENDLY THINGS TO DO IN SACRAMENTO
Sacramento has tons of dog friendly activities to keep your pup busy over an weekend. We've been to Sacramento twice with our dogs and here are my recommendations for all the dog friendly places and attractions in Sacramento:
ENJOY A STROLL THROUGH THE SACRAMENTO RIVER WALK PARK
Address: 651 2nd St, West Sacramento
Located on the banks of the Sacramento River, this park in West Sacramento is perfect for a morning, afternoon or evening hike and is flanked by the I bridge and Tower Bridge on either ends. This is a tranquil spot filled with greenery and a perfect place to spot the myriad fall colors. We had a wonderful evening stroll there and Babu barked his heart out at the one drone hovering above and the occasional steamer passing by.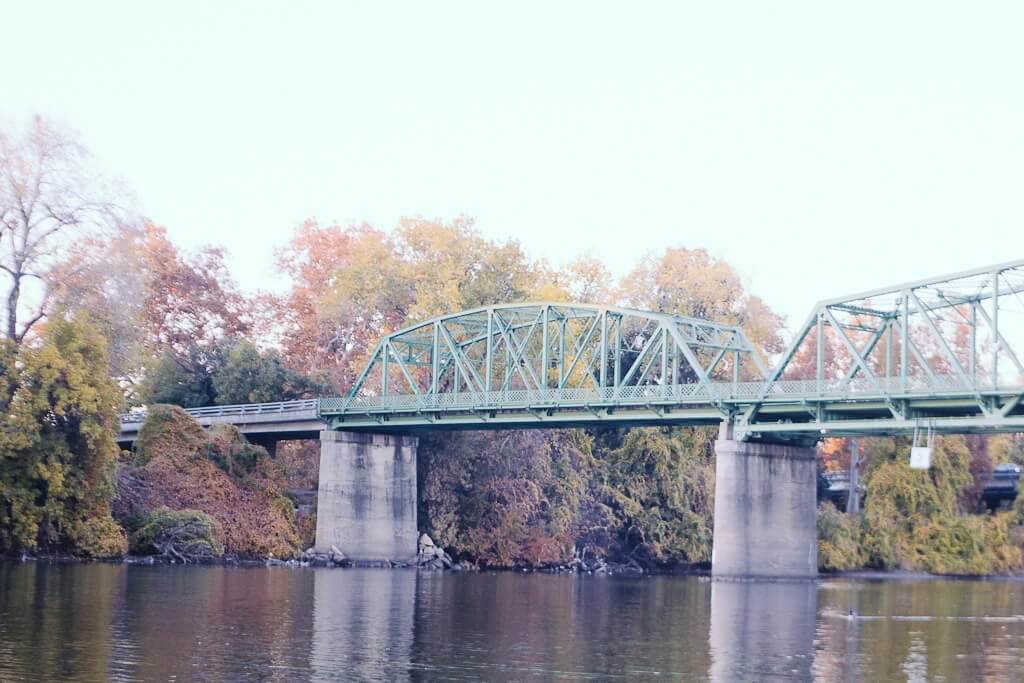 VISIT OLD TOWN SACRAMENTO
Besides a stroll along Sacramento river, the other popular activity to indulge in is visiting the old town part of the city, which is also a a dog friendly place in Sacramento. Old Town Sacramento has several of attractions, horse drawn carriages, restaurants and shops and we got a glimpse of the old railroads and train carriages as we strolled by and walked along the tracks.
Old Town Sacramento definitely had the settings of a Spaghetti western with some New Orleans nostalgia thrown in. The wooden walkways, the quirky boutiques (all locally and independently owned) selling antiques, costumes and souvenirs plus the small cafes and eateries scattered all over reminded be of NOLA and San Diego Old Town in bits and pieces.
As per the website, this stretch also doubles as a 28-acre National Historic Landmark District with a State Historic Park along the beautiful Sacramento River. What made it even more charming was the river flowing nearby and so we decided to descend to the banks where quite a few ferry ships/boats had laid anchor.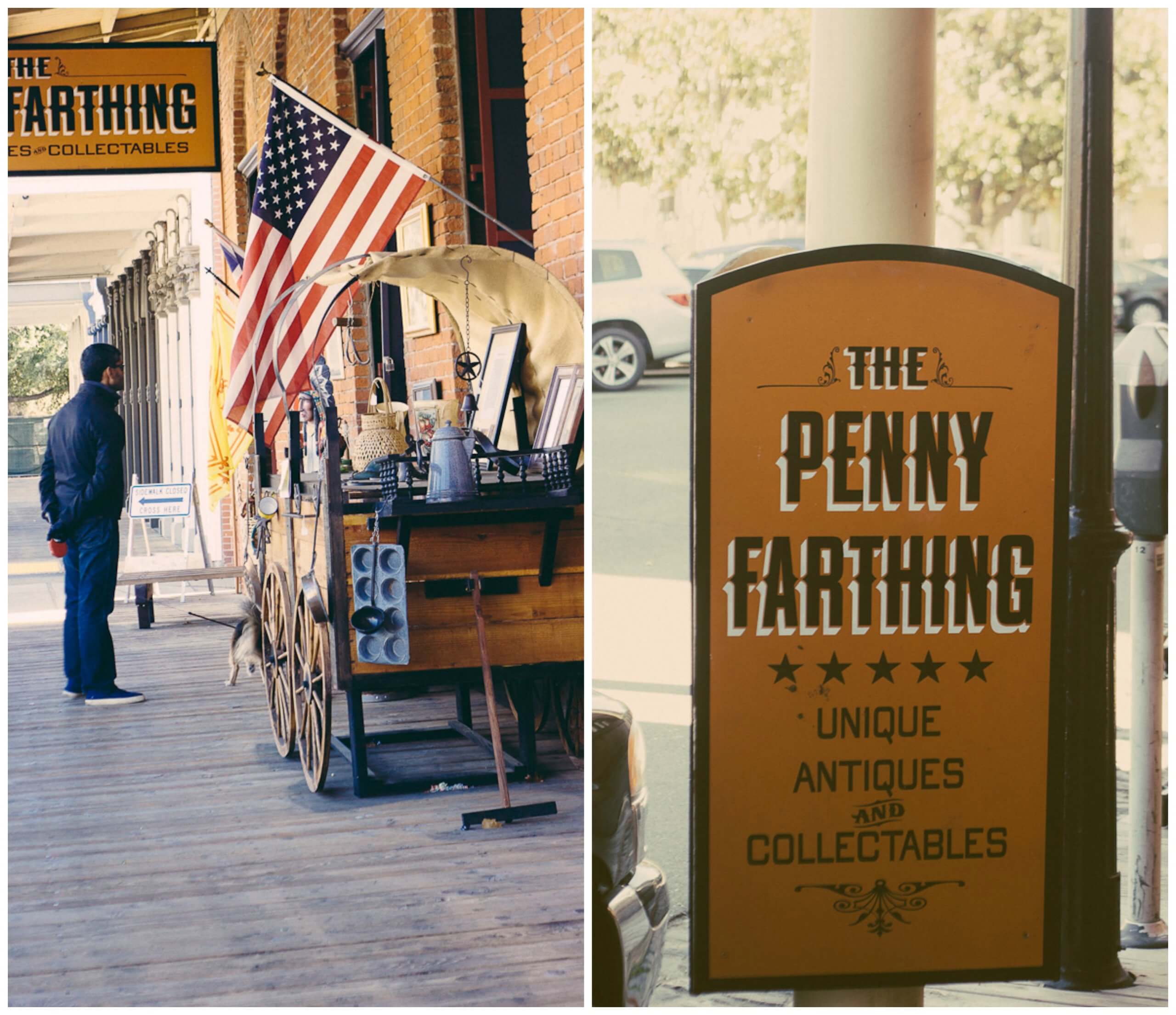 The railway tracks adjacent to the The California State Railroad Museum Foundation are undoubtedly the star attraction of Old Town. The railroad stations were built during the 1920s and although one of the structures in no longer operational, the Southern Pacific station continues to be in service and is still a popular mode of transportation within the state of California. For more information on the train stations of Sacramento and their evolution, read here.
During our visit, we walked along the tracks and took a zillion photos with a so not happy Babu (who could not understand what this fuss was about) but could not visit the museum because dogs are typically not allowed inside.
Old Town is right next to the Sacramento River and has a beautiful waterfront. After our day of exploration, we finally walked down the ramp leading to the river, with the Ziggurat looming over us. This is a 10 storied stepped pyramid like office building on the shore of the Sacramento River and was designed to resemble the ancient Mesopotamian ziggurats.
The building serves as the headquarter to California Department of General Services. The two canary yellow structures of the bridge, kind of resembling the Golden Gate Bridge arches, but standing in the middle of the bridge, were visible from way afar and are another familiar sight in the Sacramento skyline.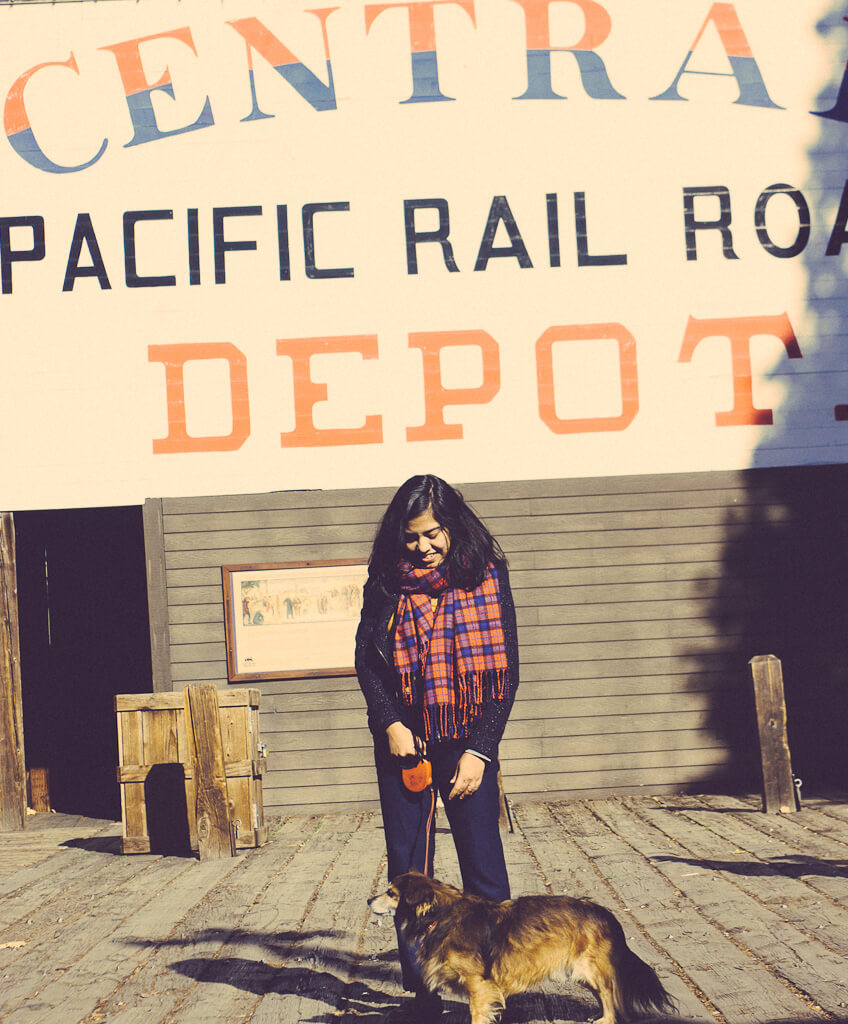 ENJOY AN AFTERNOON WALK ALONG THE RIVERSIDE BOULEVARD
Riverside Boulevard is an excellent spot to catch falls colors in Sacramento. 11th Street running through downtown turns to Riverside Boulevard south of interstate 80 which continues beyond Scott's Seafood Restaurant at the Westin hugging the banks of the Sacramento river with views of the Sacramento River Marina.
You don't have to be a guest of the Westin to enjoy this public pathway which is dog friendly. Simply park in the public parking lot at the trailhead and start walking. During our first visit to Sacramento, we enjoyed a perfect fall afternoon here taking in the crisp air and marveling at the foliage burnished in different hues. This is a great dog friendly hiking trail in Sacramento!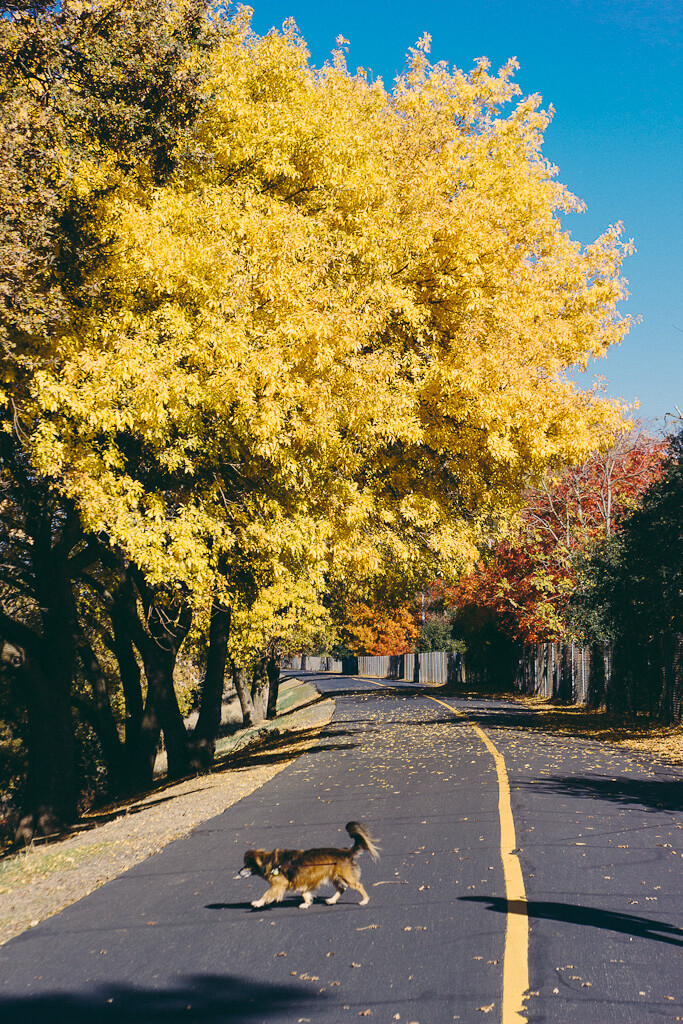 CHECK OUT THE CAPITOL MALL
Being the state capital, Sacramento is naturally home to the Capitol Building. The beautiful Capital Grounds and Mall welcome dogs. During our Fall visit, the Capitol building was beautifully adorned by holiday decorations with a Christmas tree in front during our visit. The garden surrounding the capital was bursting with yellow roses and there were sombre statues of those who have sacrificed their lives to keep the citizens of this nation safe.
Babu and Sriram were pretty nonchalant in their own ways, but I felt a wave of poignancy rushing over me looking at the building which symbolizes what California stands for because within its wombs are policies made that shape our beautiful, progressive state. I looked at the street ad banners which proudly proclaimed "We are all Californians"; truer words were never more spoken. California embraces everyone, as it did me. I am so lucky to have found my home here.
Our spring visit with Gunda was equally memorable where we enjoyed the blossoms and also spend some time taking photos on the grassy lawn. You can see our photos over the years from our two visits with our dogs.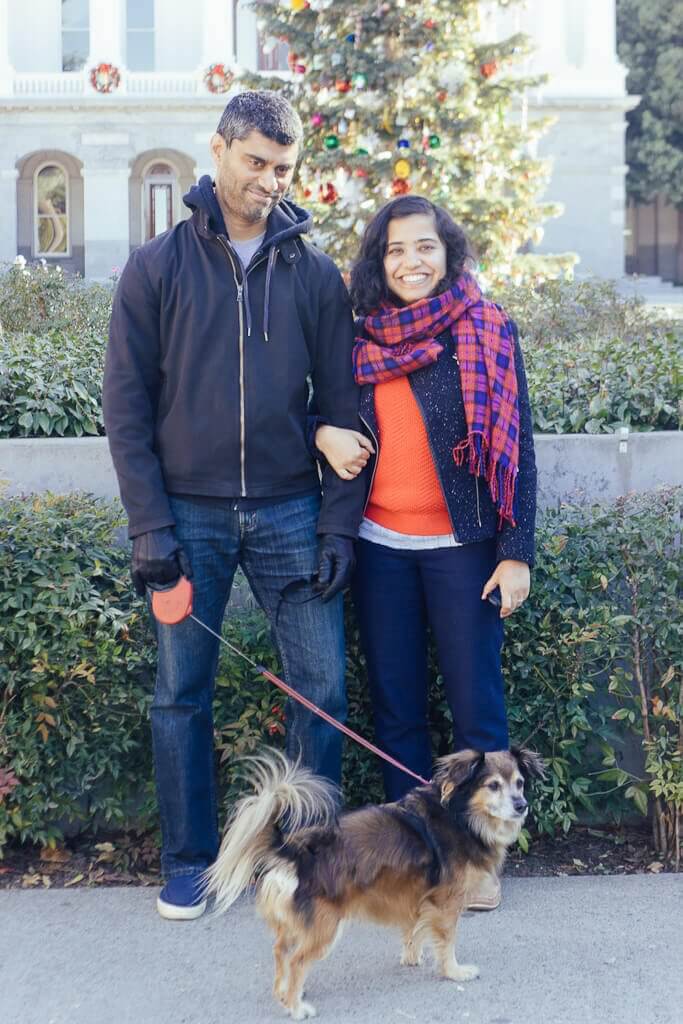 GO ON A SELF GUIDED MURAL TOUR IN SACRAMENTO
Sacramento's alleys, businesses and parking lots are an open canvas for murals and this city has some of the best and most awe-inspiring murals that you'll ever see. All murals are in public spaces and are perfect for exploring with your pup! I highly recommend walking around in midtown or zipping around in downtown to see these Sacramento murals (here is my entire post on 80+ murals to see in a self guided tour with map to make your life easy).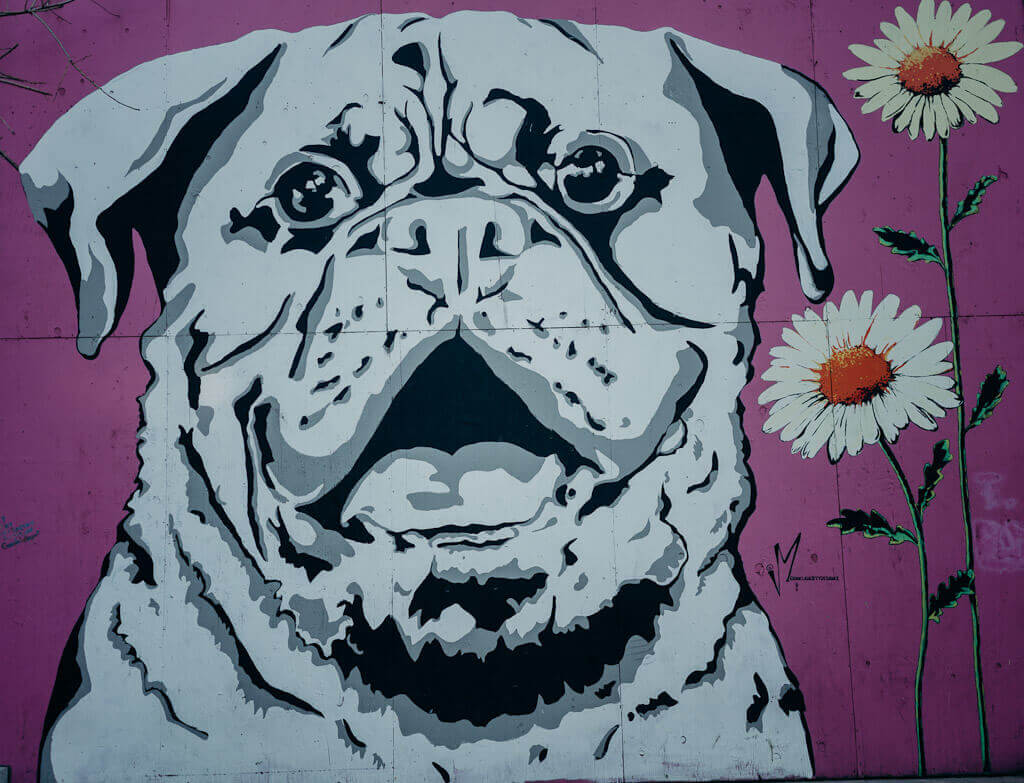 VISIT THE WPA ROCK GARDEN
Address: 15th Ave, Sacramento
Located in William Land Regional Park (home to Sacramento Zoo), this tiny rock garden is dog friendly and perfect for an early morning or late evening stroll through the well maintained landscape of cacti and other foliage through which birds, bees, butterflies flit and dart merrily. Brought to life by Sacramento gardener and park employee, Daisy Mah this garden is a tranquil piece of heaven amidst the chaos of the city.
VISIT THE HISTORIC OAK PARK NEIGHBORHOOD
Explore the many joys of the dog friendly Oak Park Neighborhood along Broadway street filled with local businesses. We loved our Kombucha tasting at KC Kombucha ($8 for four generous tastings or $4 for a glass at this hyper local kombucha brewery), some yummy golden milk ice cream at Conscious Creamery and California made goods at the gift shop of DISPLAY: California.
STOP BY McKINLEY PARK AND ROSE GARDEN
Address: 3255 H St, Sacramento
There are many dog parks in Sacramento but none boast of an adjoining rose garden such as McKinley Park. This tiny rose garden is is 1.5 acres and was created in 1928. It features more than 1,000 rose bushes, tree roses, and other annual bloomers. You can walk with your dog on leash on the well appointed paths amidst the rose patches. The best time to come is undoubtedly May onwards (although it will get terribly hot in Sacramento at this time) to see the roses in bloom.
GO ON A DOG FRIENDLY HIKING AT SUTTER'S LANDING REGIONAL PARK
Address: 20 28th St, Sacramento, CA 95816
Thanks to being crisscrossed by the Sacramento and American Rivers, the city has several hiking trails along these water bodies that are also dog friendly! One of them is the Two River Trail that is accessible from the Sutter's Landing Regional Park. The park has a dedicated fenced dog play area but I recommend heading straight for the trail after parking in the covered parking lot.
You can walk on the paved trail alongside the American River to your left or simply head straight down to the Sutter's landing beach which is a tranquil spot right next to the river. Enjoy a quiet afternoon here with a picnic basket with your pup. The park is open from 12-9 PM on weekends and 4-9 PM on weekdays.
HAVE A PICNIC AT ONE OF THE DOG FRIENDLY "BEACHES" IN SACRAMENTO
Sacramento is landlocked (most capital cities are) and so you will not find those heavenly California beaches that the state is famous for. However, do stop by Sutter's landing beach or Paradise beach, both of which are nice sandy areas for picnicking along the American River and are dog friendly. You can read my Northern California beach town posts for other dog friendly beach towns in the state near Sacramento.
THE BEST DOG FRIENDLY RESTAURANTS IN SACRAMENTO
Dog friendly Sacramento not only specializes in farm to fork dining, but also has several restaurants that will welcome your best friend. Having been to Sacramento three times (twice with our pups), here are all the delicious places to eat and drink with your pup.
Downtown and Midtown Sacramento is where all the best restaurants are, with R street in downtown being abuzz with restaurants and eateries. From our experience, it does not look like you will need to make reservations if visiting for lunch, since Sacramento is pretty laid back. However, some places are pretty popular over the weekends, so you might want to reserve an outdoor seating especially if visiting in summer.
Orphan Breakfast House: I highly recommend amazing breakfast place named "Orphan Breakfast House" (a nod to the Orphan business venture which is not part of the mega retail chains) which is a local favorite, has a heated patio, is dog friendly and open 7 days a week! We love it so much that we've dined here twice (2015 and 2021).
Sibling by Pushkin: Sacramento's popular bakery also has a terrific brunch spot in Midtown with a 100% gluten free menu and a totally separate vegan menu! Besides the yummy food (I highly recommend their scrambled tofu plate), they have a lovely covered patio filled with plants where you can enjoy a dog friendly brunch.
Scorpio Coffee: This Japanese style coffee house with minimalist interior is very popular for mid-day coffee in midtown Sacramento. However, I recommend coming in for their fantastic brunch for ricotta and avocado toast on the chunky white Japanese Shokupan bread toasted perfectly and their Hojicha latte.
Porch: Enjoy some of the best southern fare in the capital at Porch on where else but their shaded dog friendly porch? Go for the Shrimp Po'Boy or blackened shrimp salad and wash it all down with their home made sweet tea!
The Mill: This delightful coffee shop in Midtown Sacramento has a dog friendly back garden that you must visit! They have their regular coffee and all that jazz since this is a cafe after all, but whatever you do, don't forget to get at least one waffle (plain or chocolate chip) to enjoy with a side of honey, butter or maple syrup. It is heavenly!
Magpie Cafe: We are repeat offenders at Magpie, cause of their fresh, local and seasonal food. Their dog friendly outdoor area is perfect for enjoying the offerings of this farm to table restaurant. I recommend going for the risotto with spring veggies if you're visiting in March-April. Don't miss the giant mural of magpies right next to the restroom.
Hook and Ladder: This Sacramento restaurant appears consistently on all lists featuring the best patios in the city, and thankfully it is dog friendly. Their food is excellent and I cannot stop thinking about their fried chicken sandwich with hot sauce!
Alaro Craft Brewery: Voted as one of the best craft breweries in town (and Sacramento has more than its fair share of these breweries), Alaro makes all its beer inhouse. But their food is outstanding-with innovative tapas (small bites) and some larger entree style portions. We loved the Gambas and Pulpo dishes and the fact that the outdoor seating is very dog friendly.
Mas Taco Bar: Go to their 15th Street location for a sprawling outdoor seating and unconventional tacos (think Indian Butter chicken on Naan tacos or Korean fried chicken tacos) and their delicious margaritas! They do get very crowded but we got in on a Friday evening without a reservation after a 30 min wait.
If you are looking for some great drinking holes in the city, here is a guide to 10 places to drink in Sacramento by a local.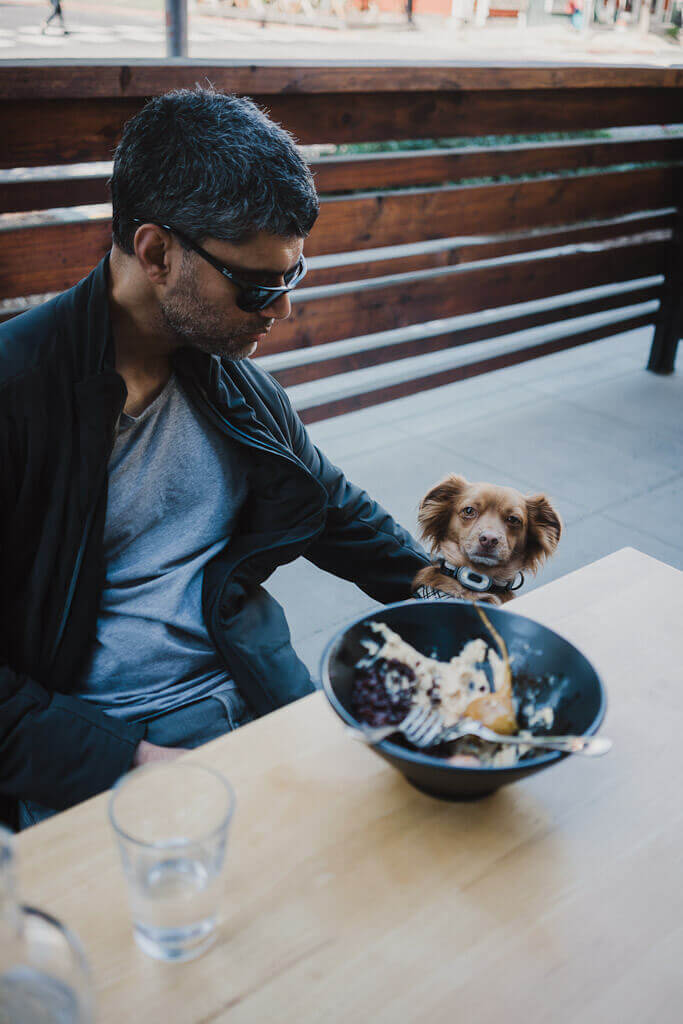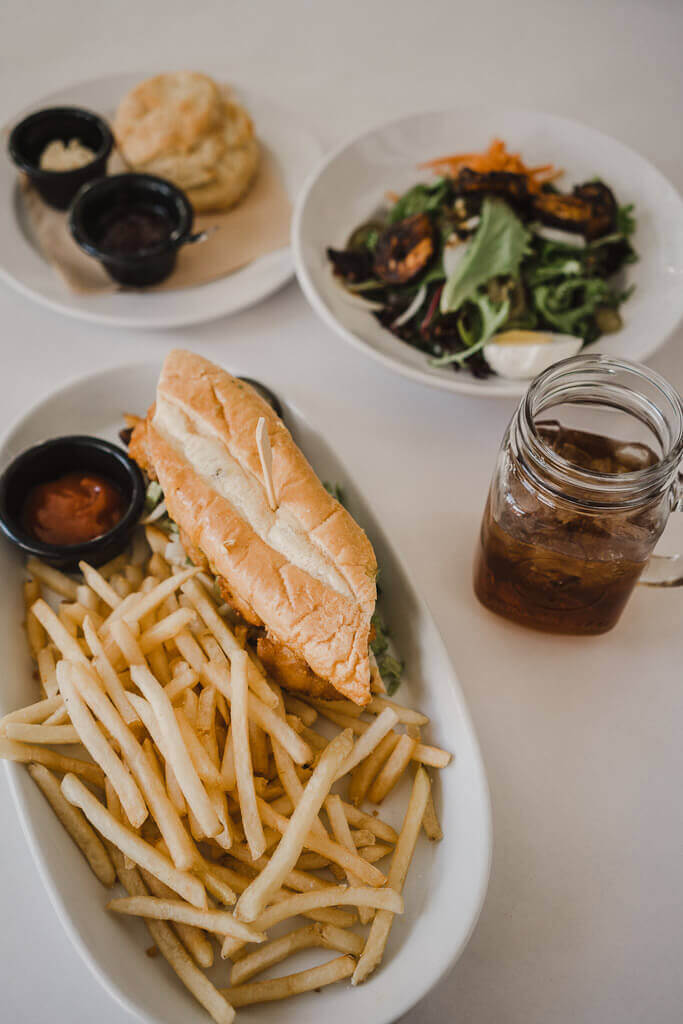 Needless to say, but I have reached the end of another dog friendly California guide. We love Sacramento and it has turned into our go to destination every spring owing to its proximity from San Francisco, the mural and food scene and the open spaces for our pup to enjoy. I hope this dog friendly Sacramento guide has inspired you to plan your visit to our capital. Thanks for stopping by and safe travels!
LIKE THIS POST? PIN IT FOR LATER

«