Last Updated on March 14, 2021 by Paroma
Sacramento, the capital of California, is also perhaps the least talked city in the state. However, that did not deter us from visiting our capital city during Thanksgiving. Not only is the 2 hr drive a huge bonus for our family with a driver of one, but also Babu had an epic vacation because Sacramento, as it turns out, is also extremely dog friendly and is also one of the best winter getaways in California.  This dog friendly Sacramento guide has several tried and tested options of dog friendly things to do, dog friendly restaurants as well as a budget option when it comes to dog friendly hotels in Sacramento.
 Disclaimer: This post may contain some affiliate links. Clicking on them may earn me a small commission at no extra cost to you for the product. Thank you! 
Dog friendly hotels in Sacramento: Our budget option
Once you leave the bustle of San Francisco and the elegance of wine country behind, a major change in scenery awaits you as you pass through California's heartland, aka farmland. Dixon is the major city followed by Davis (of Birkenstock and UC Davis fame) and then you hit Sacramento.
The city is way bigger than our tiny 49 square miles and very sprawled out. There is a stoic silence about it with the Sacramento river meandering through and providing a very scenic, leafy walkway along it. We stayed at La Quinta Inn-a modest, pet friendly hotel in Sacramento (a step above Motel 6 and pets stay for free), with the one redeeming factor being its location, i.e. close to the river.
Dog friendly Sacramento: the best dog friendly activities to explore
a) Sacramento river walks
Sacramento river runs right through the city and is a tranquil spot filled with greenery (more like fall colors when we were there). We had a wonderful evening stroll there and Babu barked his heart out at the one drone hovering above and the occasional steamer passing by.
We saw some lovely fall colors and walked along the bridge for some time till the sun set. It gets pretty chilly in the capital in November, so if you do visit Sacramento, remember to bundle up.
b) Visiting Old Town
Besides a stroll along Sacramento river, the other popular activity to indulge in is visiting the old town part of the city, which is also its most popular attraction. Old Town Sacramento has several of attractions, horse drawn carriages, restaurants and shops and we got a glimpse of the old railroads and train carriages as we strolled by and walked along the tracks. 
Old Town Sacramento definitely had the settings of a Spaghetti western with some New Orleans nostalgia thrown in. The wooden walkways, the quirky boutiques (all locally and independently owned) selling antiques, costumes and souvenirs plus the small cafes and eateries scattered all over reminded be of NOLA and San Diego Old Town in bits and pieces.
As per the website, this stretch also doubles as a 28-acre National Historic Landmark District with a State Historic Park along the beautiful Sacramento River. What made it even more charming was the river flowing nearby and so we decided to descend to the banks where quite a few ferry ships/boats had laid anchor.
The railway tracks adjacent to the The California State Railroad Museum Foundation are undoubtedly the star attraction of Old Town. The railroad stations were built during the 1920s and although one of the structures in no longer operational, the Southern Pacific station continues to be in service and is still a popular mode of transportation within the state of California. For more information on the train stations of Sacramento and their evolution, read here.
We walked along the tracks like many others but did not visit the museum because we were traveling with Babu. We finally walked down the ramp leading to the river, with the Ziggurat looming over us. This is a 10 storied stepped pyramid like office building on the shore of the Sacramento River and was designed to resemble the ancient Mesopotamian ziggurats.
The building serves as the headquarter to California Department of General Services. The two canary yellow structures of the bridge, kind of resembling the Golden Gate Bridges arches, but standing in the middle of the bridge, were visible from way afar and are another familiar sight in the Sacramento skyline.
c) Walking along the Riverside Blvd
After old town, we drove towards the Riverside boulevard and stopped by to spend some time walking on a bike road along the river.It was the perfect fall afternoon, crisp air,foliage burnished in different hues and mounds of dry leaves to play in and get the perfect "fall shot". A nice tranquil contrast to the crowds of old Town, we really enjoyed our afternoon stroll. This is another great spot in dog friendly Sacramento for walking with your dogs.
d) Exploring the Capitol building grounds
Our final day in Sacramento was reserved for visiting the Capitol since its grounds welcome dogs. The Capitol building was beautifully adorned by holiday decorations with a Christmas tree in front during our visit. The garden surrounding the capital was bursting with yellow roses and there were sombre statues of those who have sacrificed their lives to keep the citizens of this nation safe.
Babu and Sriram were pretty nonchalant in their own ways, but I felt a wave of poignancy rushing over me looking at the building which symbolizes what California stands for because within its wombs are policies made that shape our beautiful, progressive state. I looked at the street ad banners which proudly proclaimed "We are all Californians"; truer words were never more spoken. California embraces everyone, as it did me. I am so lucky to have found my home here.
e) Catching dazzling murals in Sacramento
Sacramento's alleys, businesses and parking lots are an open canvas for murals and this city has some of the best and most awe-inspiring murals that you'll ever see. All murals are in public spaces and are perfect for exploring with your pup! I highly recommend walking around in midtown or zipping around in downtown to see these Sacramento murals (here is my entire post on 50+ murals to see in a self guided tour with map).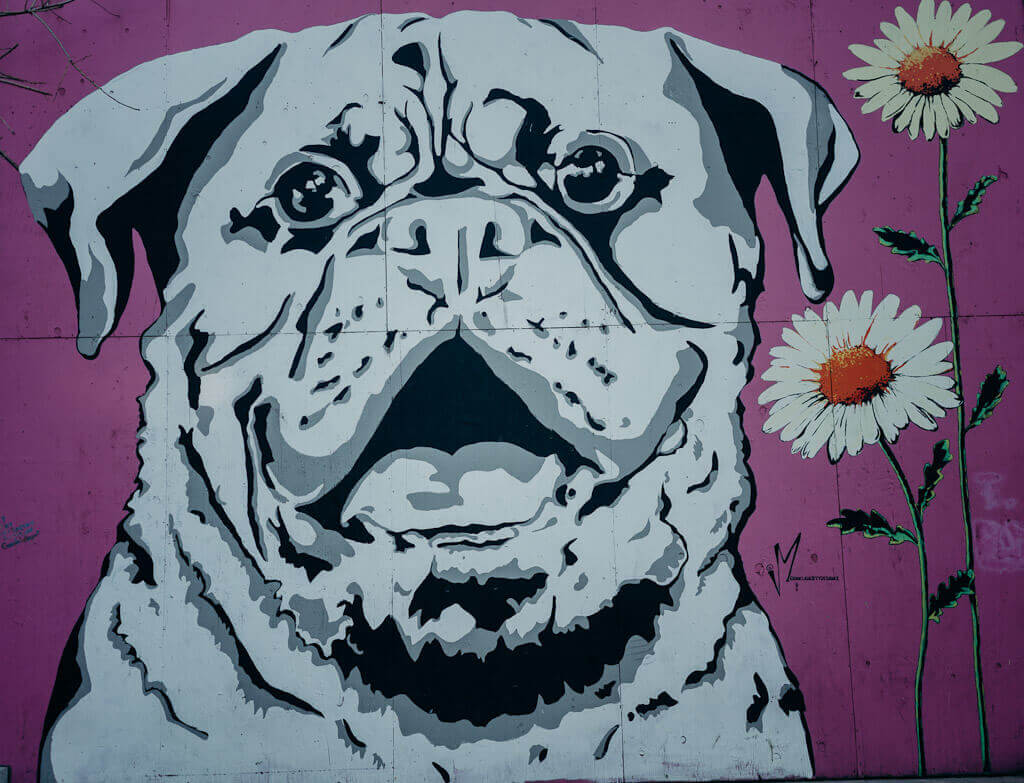 Dog friendly restaurants in Sacramento
Dog friendly Sacramento not only specializes in farm to fork dining, but also has several restaurants that will welcome your best friend. I highly recommend amazing breakfast place named "Orphan Breakfast House" (a nod to the Orphan business venture which is not part of the mega retail chains) which is a local favorite, has a heated patio, is pet friendly and open 7 days a week!
If you are looking for some great drinking holes in the city, here is a guide to 10 places to drink in Sacramento by a local. We also loved our breakfast at Capitol Garage, another popular dog friendly eatery in the city. Here is another helpful list of all dog friendly dining establishments in Sacramento.
Overall, we spend a wonderful Thanksgiving weekend in dog friendly Sacramento with Babu and cannot wait to visit again to explore more of its offerings in other seasons.
Sacramento is a beautiful, understated city in California which is well worth a visit if you are interested in the state's history. I hope this post has inspired you to visit Sacramento with your dog and have fun exploring our capital!
Like the post? Pin it here
«