Last Updated on January 12, 2022 by Paroma
Witnessing Mardi Gras, the giant carnival of a party in New Orleans that happens in Feb/March (see dates for 2018-2027), Louisiana is certainly a once in a lifetime experience. For first timers, navigating this giant spectacle requires some pro Mardi Gras tips and tricks that I have gathered in this one super useful post with the help of locals and "repeat offenders" to this mega street party, telling you all about things to do during Mardi Gras and the best places to stay for Mardi Gras.
In this post you will find expert advice on Mardi Gras survival tips and suggestions on how to have a safe and fun Mardi Gras celebration! If you are a first timer to Mardi Gras, use this post as your ONE STOP GUIDE for all Mardi Gras related information, including New Orleans hotels, Mardi Gras parade schedules, best Mardi Gras parades to watch out for, a New Orleans dining guide as well as other New Orleans attractions (you can read this post on 48 hrs in New Orleans for more ideas). So let's get started on this Mardi Gras guide!
Disclaimer: My blog posts may contain some affiliate links. Clicking on them to make a purchase may earn me a small commission at no extra cost to you for the product. Thank you!
Collaborators on Mardi Gras Tips:
Rachel Shulman, blogger at From East to West (follow Rachel on Instagram)
Laurence Norah, blogger at Finding the Universe (follow Laurence on Instagram)
Jessica Norah, blogger at Independent Travel Cats (Follow Jessica on Instagram)
All photos are from my 2013 Mardi Gras visit and shot using a Canon Rebel T2i DSLR with a Canon EF 24-70mm f/2.8L II USM Lens that is a delight to shoot with, specially candid street photography!
When is Mardi Gras in 2022?
Mardi Gras falls on March 1 (Tuesday) in 2020.
Mardi Gras in New Orleans: What to expect?
"Mardi Gras" is French for "Fat Tuesday" and refers to the series of Carnival celebrations that involve eating fat rich food, starting on/after the Christian feasts of the Epiphany (Three Kings Day) and ending on the day before Ash Wednesday, which marks the beginning of Lent.
Although Mardi Gras is celebrated in some other southern cities such as Mobile, Alabama and St. Louis, Mississippi, none of these come even close to the grandeur and merrymaking of its counterpart in New Orleans which attracts thousands of people from all over the world every year in spring.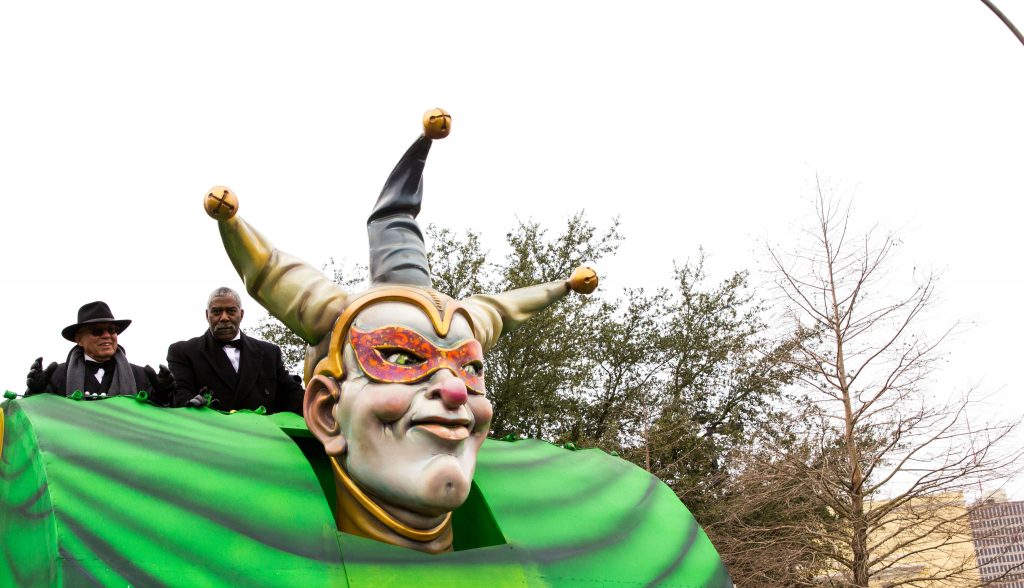 Expect lots of costumes ranging from colorful to bizarre to French Baroque (anything goes), ornate parades with different themes, dazzling riots of colors, long lines to see those said parades, block parties, lots of drinking and plenty of hustle bustle in French Quarters or Vieux Carré, the oldest section of New Orleans.
French quarters is where most of the action is anyway (Bourbon street to be specific) and is an absolutely charming neighborhood to walk through for its buildings adorned with European architecture (think slatted windows and colorful exteriors), restaurants, shops and bars.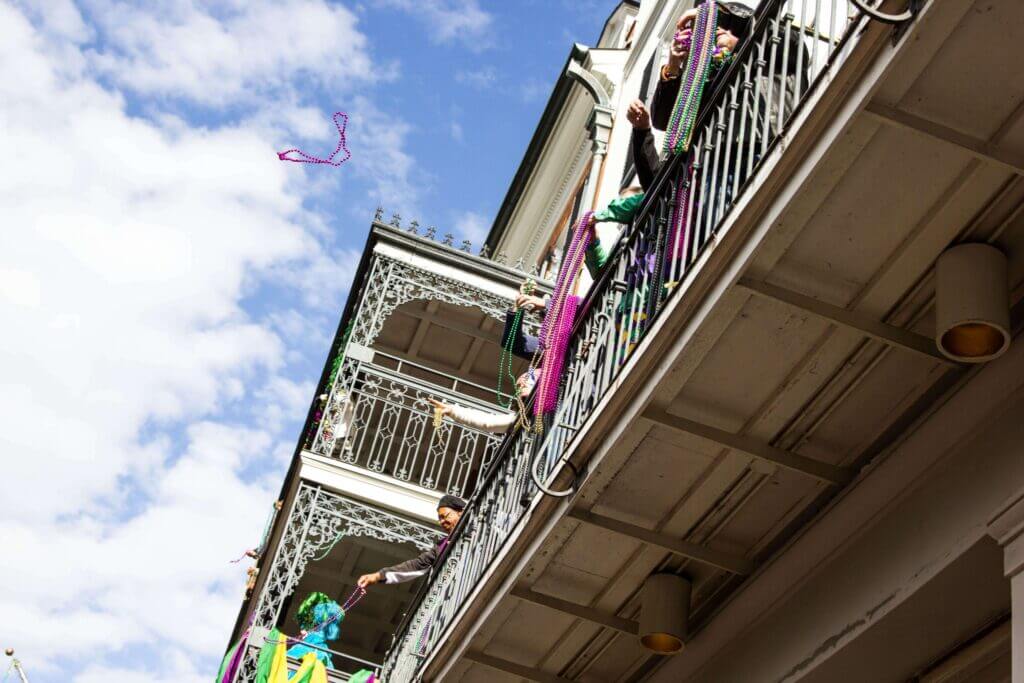 This mother of all parties has the line "Throw Me Somethin' Mister" notoriously associated with it, which goes back to the tradition of women showing their "wares" (i.e. taking off their tops to show their breasts) to get beads thrown at them from people on balconies above, since beads are serious bounty to be collected during Mardi Gras and this is the one occasion where all sorts of depraved behavior is encouraged.
Here is a Wikipedia snippet on all kinds of Mardi Gras throws for the curious Mardi Gras trivia hound in you. Also, scroll down to read a local's tip on why ladies should not try unclothing themselves to get beads:-)
In the world's biggest free party where everything goes (general mayhem), it is important to stay safe and partake in the celebrations. It also requires quite a bit of planning since this is THE Mother of all attractions in NOLA and has unprecedented crowds. A
As a first timer, you might get overwhelmed with so much going on, so here is a handy guide on do's and don'ts, lots of helpful Mardi Gras tips and parade schedules. Remember, what happens at Mardi Gras definitely stays there but do enjoy responsibly using these Mardi Gras survival tips so that you return with memories of a lifetime and not a total blackout:-)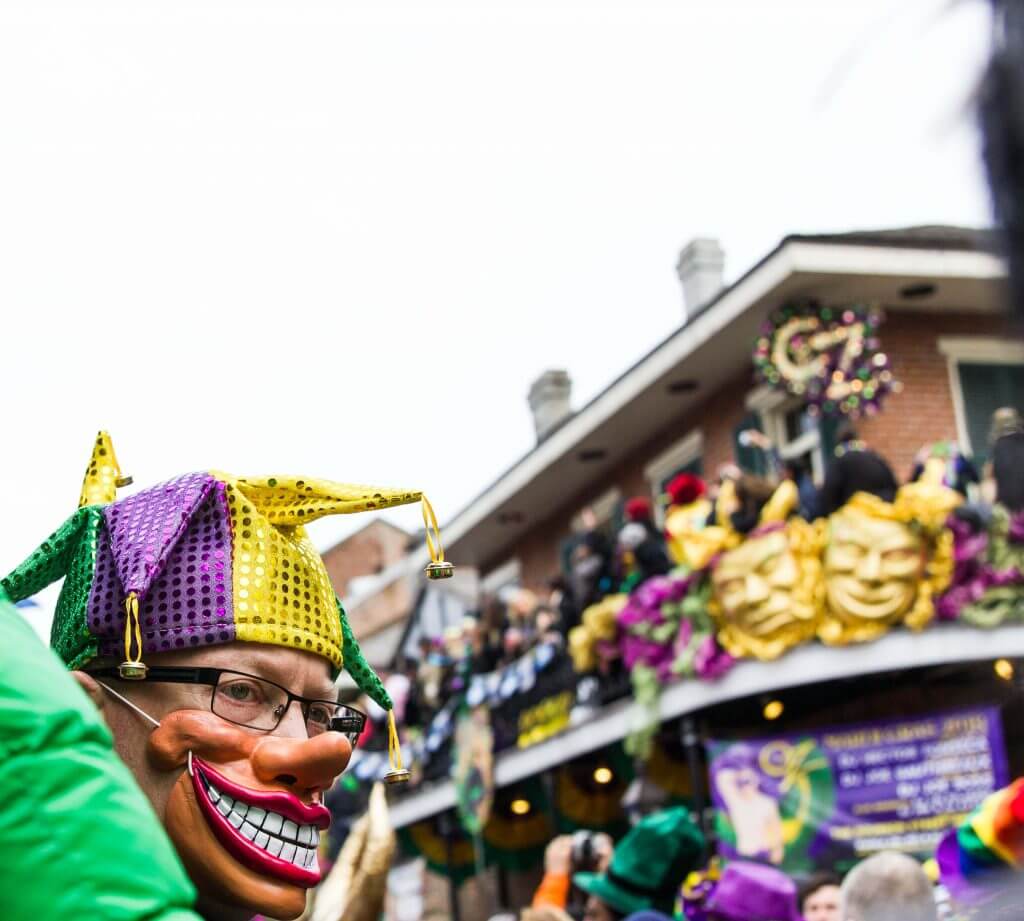 Mardi Gras Tips: Best Hotels to stay for Mardi Gras
Paroma's tips
In 2013, stayed at the New Orleans Courtyard Hotel, a stone's throw from the famous French quarters (where most of the action happens). This restored Creole mansion is also a 10 minute walk from NOLA's famous French Market which is a great place for shopping and grabbing a bite to eat. We booked our hotel a solid 2 months in advance since everything gets sold out pretty fast and it can be super challenging to find accommodation as Mardi Gras approaches!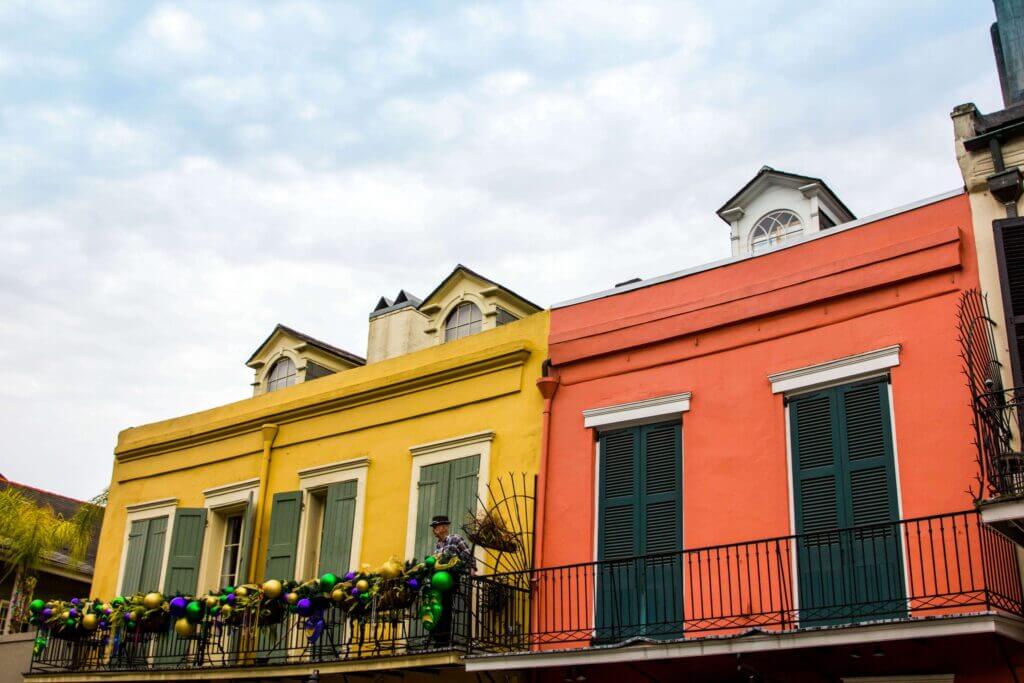 Rachel's Mardi Gras survival tips
For accommodations, I suggest staying outside the French Quarter in the Convention Center or Garden District areas. These locations are close enough that you can walk to downtown or uptown parades but keeps you far enough away from the immediate action.
Try to stay at hotels NOT on the main streets, otherwise you will not be able to sleep at all, unless that's what you're going for; then I suggest staying at a hotel on St. Charles Ave.
If you are not one of those early birds who could snag a hotel within walking distance of French quarters, here are some hotel options as per the neighborhoods recommended by Rachel.
Click here to check all the haunted hotels in New Orleans for a spooky, fun stay!
Click here to check out all the available hotels in New Orleans
Click here to compare the best deals on New Orleans hotels
Click here for last minute hotel availability on New Orleans (Feb 2022)
Courtyard by Marriott (Downtown/Convention center)
Hilton Garden Inn New Orleans Convention Center
Embassy Suites by Hilton New Orleans Convention Center
Hotel Indigo (New Orleans Garden District)
Creole Gardens Guesthouse and Inn
Laurence's tips
Laurence was lucky enough to snag an Airbnb in a quieter part of town, aka the "Old Algiers" neighborhood from where a ten minute ferry ride could get him to downtown NOLA. Since Airbnbs hike up their prices considerably too, you need to book as soon as possible to get a room for yourself!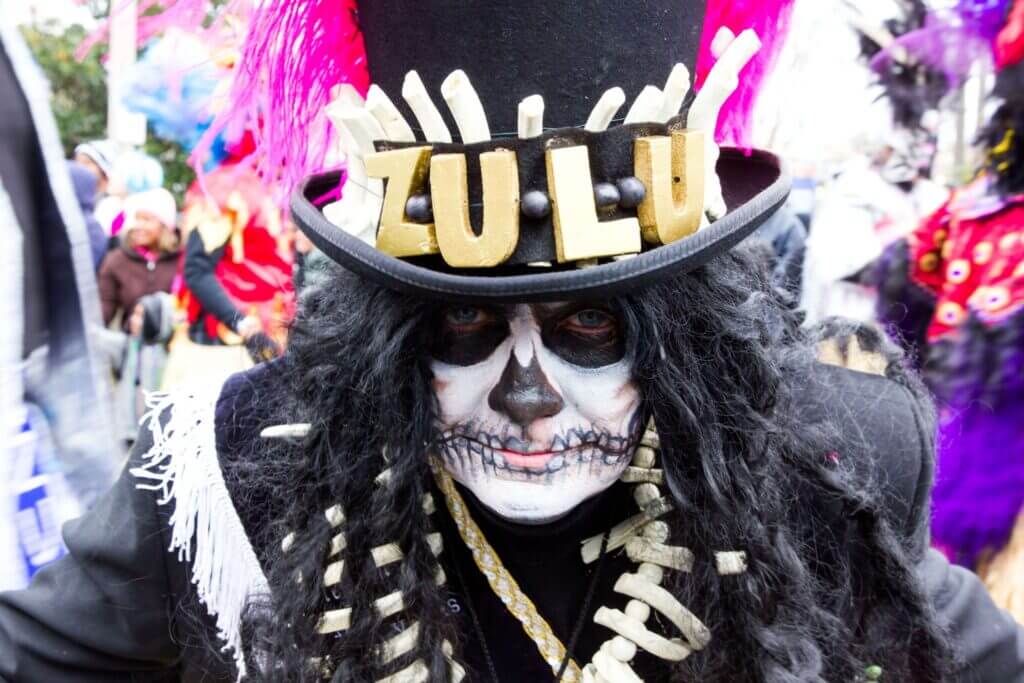 Mardi Gras guide: How to dress for Mardi Gras?
Paroma's Mardi Gras Tips for dressing
Dress for cold weather, because it does get chilly in NOLA at that time (Feb-early March). Layering is your best best, as I did with a cropped sweater and jacket plus a scarf which came in real handy! If you do want to pack in those colorful, pretty dresses, don't forget thick tights to go along with them! Mardi Gras where anything goes really from the comical to the outlandish to European baroque in terms of costume, but a simple mask (such as one that we bought from one of the many stores selling Mardi Gras paraphernalia in the French quarters) can also add that extra pizzazz!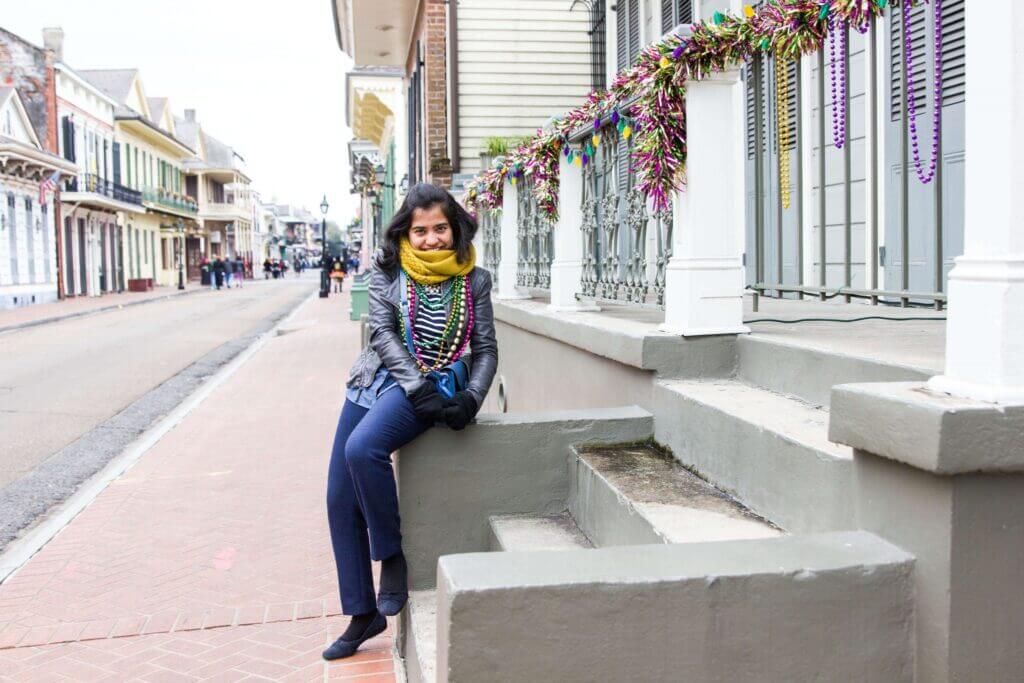 Whatever you do, dress warmly and comfortably! There will be so many crazy, costume dolled folks around you that it is sometimes best to be the silent onlooker to imbibe all this insanity in! Be mindful of the fact that you will have to do a lot of standing and walking (some will be on the cobbled streets of the French quarters), and so wear sturdy, walk-able shoes. Finally, if you are invited to a Mardi Gras ball (aka super formal affair), here is a helpful link on how to dress for it.
Mardi Gras Parades schedule and best Mardi Gras parades
Mardi Gras's star attractions are the innumerable parades or floats called "krewes". There are dozens to choose from and these grand processions begin well in advance of actual Mardi Gras, i.e. more than a month before. These parades/floats/krewes are a spectacle to watch and if you want to best view, scan through the parade schedule (links provided below) and go as early as you can to get the best viewing position because it gets crazy crowded!
The links below also describe the different parades in detail and the best Mardi Gras 2020 parades to watch out for. Krewe of the Zulu and Krewe of Bacchus were two of my favorite Mardi Gras parades when I visited in 2013. The links to these websites below not only describe the parade but also its path with a helpful map.
Mardi Gras Itinerary: Things to do during Mardi Gras
Paroma's Mardi Gras itinerary
Mardi Gras is a madcap carnival where people drink to have fun, drink and have fun and drink even more (basically lots of good old partying). In other words, this is a place for revelry and not judgement, i.e. the best Mardi Gras tip is to have an open mind and soak in the carnival aura!
For those not into too much drinking and wondering about what to do during Mardi Gras, let me assure you that there are many things to do apart from drinking yourself silly. You can always enjoy the history, costumes and parades that do not require any drinking and stay clear off Bourbon street, which is packed with drunk revelers and worse, with religious cross bearing "morality" police that scream loudly on how hell awaits you for this hedonism.
Although French quarters does get crazy on Fat Tuesday night, if partying and jostling in a drunk crowd is not your scene, simply avoid Bourbon street and walk through the other quieter parts of this oldest and most charming neighborhood of the city, much like what we did.
Also, make sure you have food stocked up for the evening cause everything is closed on the night of Fat Tuesday, barring a small fast food like location (franchise store of Courtyard of Two Sisters; eating there is a big NO NO as detailed in my New Orleans food guide) which serves overpriced garbage food to famished revelers. In other words, if you love costumes and history and colors, Mardi Gras is definitely a sensory experience like no other and no, you don't need to drink at all to have fun! Just come with an open mind and do not be that judgmental prude that no one likes (if you are one for whatever reason, this hot mess of everything that is not genteel is definitely not for you).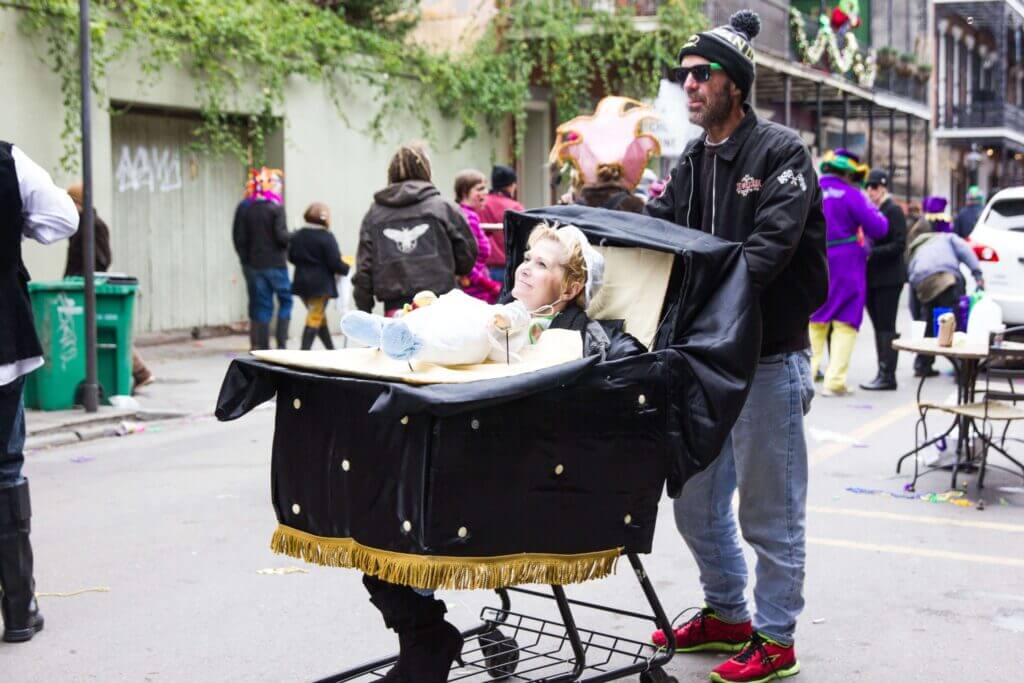 Jessica's Mardi Gras survival tips
We'd recommend downloading the Mardi Gras Parade Tracker App app as it provides information on the Mardi Gras parades schedule and the movement of each parade. We found this app to be both helpful to watching the parades. When going to the parades, I'd be sure to arrive plenty early (we often went 30 minutes to an hour in advance) to get a good spot to stand.
You can purchase seating in grandstands, but you can also just bring something to sit on (e.g. blanket or folding chair). I'd bring with you warm layers, sunscreen, and a bag to collect the things you catch during the parade. I'd also be ready to wait longer than you think as the parades move along slowly and there can be long pauses between parades (parades are often back to back) and between the individual floats and bands.
Rachel's super helpful Mardi Gras tips for first timers
Tip #1. I lived in Uptown New Orleans so I tried to stray away from going to Bourbon Street multiple times each year since it was notoriously all tourists during Mardi Gras. That's not to say you shouldn't go to the French Quarter during Mardi Gras, you absolutely should for part of it, but I personally love the Uptown parade routes better!
The Uptown route is more family friendly and are almost solely locals. This is a personal preference, but I love experiencing locals life when traveling which is why I suggest these parades instead of the French Quarters. They are equally crazy and fun, just less tourists!
My two favorite Krewes in all of Mardi Gras are Muses (the Thursday night before Mardi Gras, pretty much kicking off the weekend and they throw shoes at you!) and Zulu, the last parade of Mardi Gras at 8AM on Fat Tuesday (known for their coconuts!). Making it to Zulu means you survived Mardi Gras through that weekend and night; usually Zulu-goers come straight from partying through that whole night!
Tip #2. One tip for doing the French Quarter parades, make sure to stop by the bustling Pat O'Brien's bar on Bourbon Street. It is beyond famous and ALWAYS crowded, especially during Mardi Gras – it is my favorite thing to do once each Mardi Gras – make sure to drink a hurricane!
Tip #3. Another top tip for the ladies: you don't have to take off your top to get beads. This is a common misconception. You will get beads with all your clothes on!!! And I highly suggest to NOT take your top off since you are looking up to flash people on balconies above you, there are usually creeps standing directly in front of you, under the balconies, with cameras taking pictures of topless women.
Tip#4. My last tip for experiencing Mardi Gras is do not go to the bathroom on the streets. Yes, you can drink alcohol outside all day everyday in New Orleans due to their open container law. However, they are VERY strict about peeing in public and WILL arrest you (I know people every year that this happened to). Do not try it! Other than that, you will have an amazing, memorable (or not) time. Try to remember the cultural aspect and history of it while you are partying your life out!
Mardi Gras Tips: Where to eat during Mardi Gras
New Orleans has a vibrant food scene with a mishmash of southern, creole and European influences. The famous restaurant Shaya (Israel cuisine) was recently awarded the best new restaurant in USA by the James Beard academy along with several other heavyweight names and award winning chefs.
Here is my guide to dining in New Orleans which includes perennial favorites like Cafe du Monde, the 24/7 cafe famous for its chicory coffee and beignets. If you are lusting for king cakes in New Orleans (you cannot leave without tasting a piece), here is where to get a delectable slice of this colorful baked delight.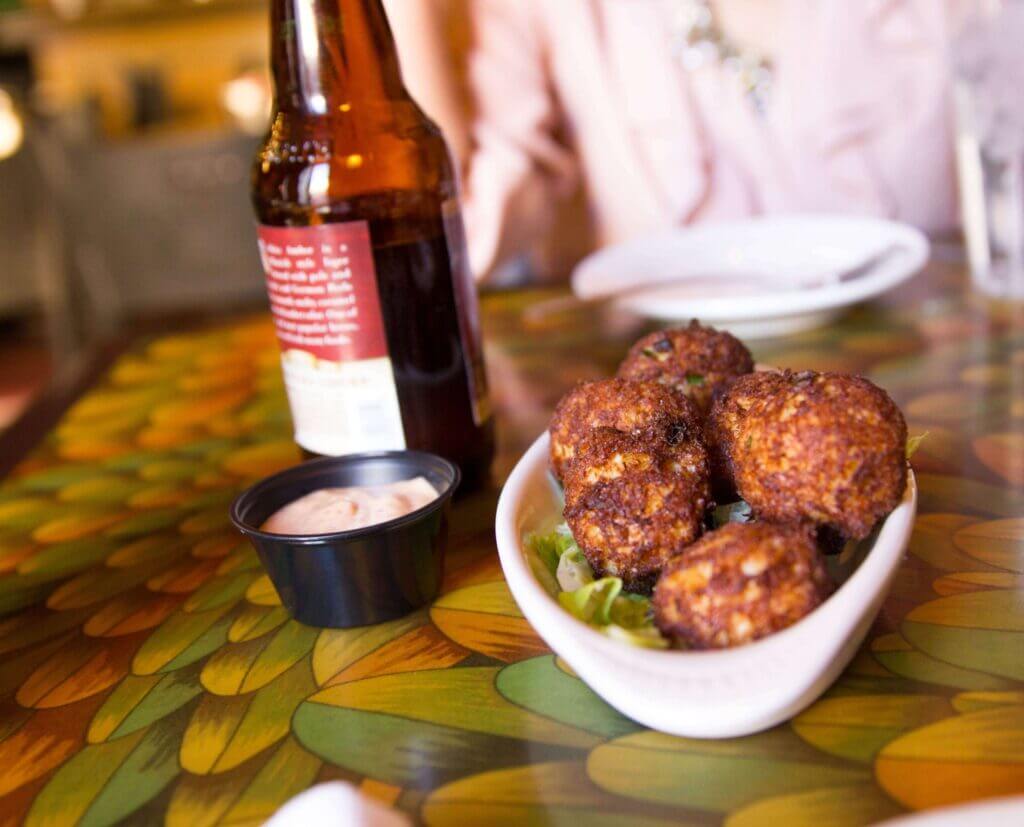 Beyond Mardi Gras: Sightseeing in New Orleans and day trips
If you are in NOLA for a week and have had your fill of the French quarters and parades, here is an excellent guide to many other things that you can do in New Orleans on Laurence's blog. Jessica recommends taking some time to explore outside New Orleans, such as along the coast, the Louisiana plantations along the River Road and Baton Rouge (capital of Louisiana). If you are spending a weekend at NOLA, read this fabulous 10 essential activities to do in New Orleans over the weekend that you simply cannot miss!
LIKE THIS POST? HOVER OVER THE IMAGES BELOW TO PIN

«