Last Updated on August 1, 2022 by Paroma
Looking for the best dog friendly cities in USA? then look check out these 10 whopping dog friendly American cities, from the north to south and east to west, for your next pet friendly vacation!
Pet bloggers recommend the best dog friendly cities in USA
USA is not only the "land of the free and home of the brave" but also where our canine companions can have a (p)awesome time, thanks to the dozens of dog friendly cities scattered all over the 50 states. If you've been following our dog friendly vacations for a while, then you definitely know where to take your dog in California because of our extensive travels with Babu (our 15 yr old Tibetan Spaniel Mix/apple of our eyes).
However, he is yet to cross state borders which is why I asked some of my seasoned pet blogger friends to help me pen this post on the most dog friendly cities in USA. Of course, this article does not cover EVERY city (one of which could very well be yours, so no eye rolls please) but is spread out all over the country to help you decide where to go on your next dog friendly vacation or weekend getaway in USA.
For every dog friendly US city categorized by geography for convenience, I have included tons of dog friendly activities, restaurants and of course, accommodation (hotels and other lodging) where your dogs are welcomed warmly.
So here is that fun list of some of the most dog friendly cities in America which you must check out, courtesy of these experienced travelers and their four-legged travel buddies. All photos are mine unless specifically indicated as those of contributors and should not be reproduced or used without their explicit permission.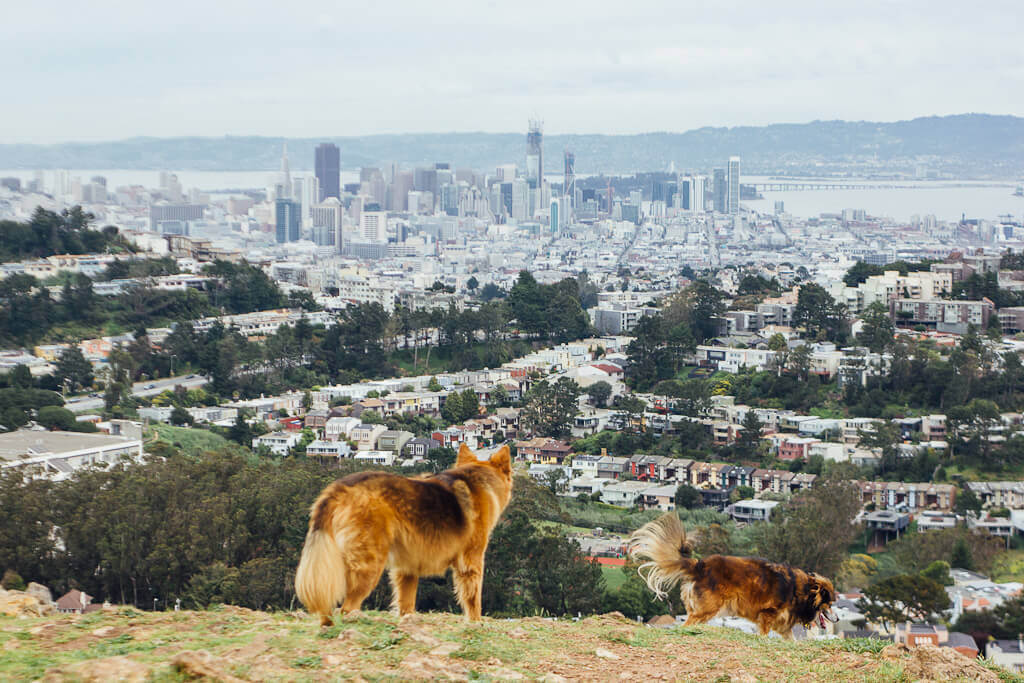 Disclaimer: My blog posts may contain some affiliate links. Clicking on them and making a purchase may earn me a small commission at no extra cost to you for the product. Thank you!
Although I have tried my best to provide updated pet policies for all dog friendly hotel recommendations mentioned in this post based on guest bloggers' experiences, please call the hotel prior to booking for their pet policy and size and breed restrictions to confirm.
Most dog friendly cities in USA: West Coast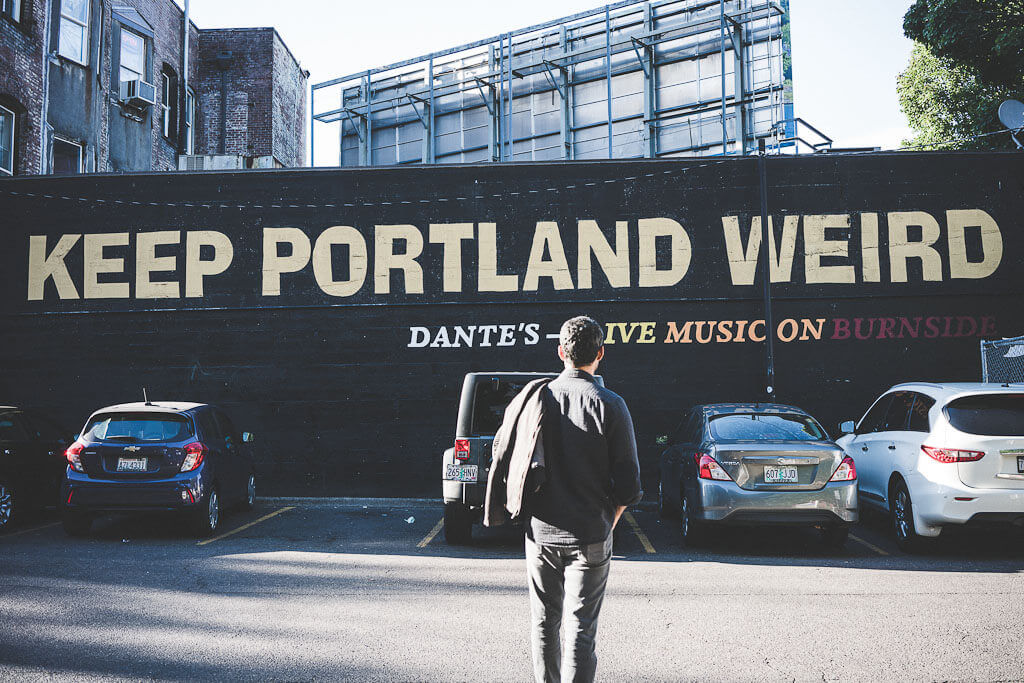 As a San Franciscan, I may reek of bias but I am pretty sure dogs too will agree that West coast is the best coast when it comes to dog friendly getaways, thanks to access to jaw dropping natural beauty near big cities. There are so many dog friendly cities to choose from on the west coast, all the way from Seattle in the North to San Diego in the south, that it is really tough to narrow down to just a few.
Our picks here are the ever popular Portland in Oregon, San Francisco in Northern California and Long Beach in sunny Southern California, where dog parks may very well have outnumbered those for kids and where your dog is sure to be pampered, given the abundance of outdoor and urban activities.
PORTLAND, OREGON
Contributor: Jen and her beloved dogs Sora (a rescue Australian Shepherd) and Laila (a rescue Spanish puppy). Jen blogs at Long Haul Trekkers and used to live with Sora in Portland. Sora (who unfortunately passed away in October 2018 due to cancer) was a seasoned traveler who traversed across Europe and South America over two years with Jen and her husband on a bicycle. In total, she visited 29 countries in her life. Sora joined her humans for long trail runs, advocated for international animal organizations to promote adoption, and graced the cover of Adventure Cycling Magazine in its April issue.
Dog friendly hotels in Portland
Visiting with your pup? Jen recommends the following:
Kimpton Hotel Monaco: The trusted Kimpton brand of hotels welcomes pets of all breeds and sizes and best of all, pets stay for free!
Jupiter Hotel: This is a motor-inn turned boutique hotel minutes away from Downtown Portland. Although they have several amenities such as outdoor seating with fireplace and a spacious bamboo backyard, parking is not free (valet parking). Only one pet is allowed per guest room and a non-refundable fee of $35 is charged per room (read their pet policy here).
McMenamins Kennedy School hotel: This hotel allows pets at an additional fee of $15 per pet, per day. There are no size or weight restrictions for them with no limits on the number of pets either. Like all other dog friendly hotels, pets must be on leashes or in crates while they are in any public or common places within the hotel.
Dog friendly parks, beaches and hiking trails in Portland
Portland almost always competes with San Francisco for the title of the most dog friendly city in USA and it has a lot to do with its chilled urban vibe (remember Portlandia?) as well as the open spaces and breathtaking natural beauty it offers.
For starters, there are several dog friendly parks such as Mt. Tabor, Forest Park, Hoyt Arboretum, International Rose Test Garden, Chimney Park where you can go for your daily walks or hike along the dog friendly trails in Forest Park (Wild wood and Maple trails, Mt. Tabor, Powell Butte, Oaks Bottom wildlife refuge.
Those craving the beach can head to Sauvie island (a 10 min drive from the city) where awaits a lovely beach for dogs to run leash free along the waters of the Columbia River. A parking permit may be needed to park in any of the natural areas, which can be picked up in several locations on the island.
Local's tip: Crystal Springs trail at Reed College is a lovely trail that runs the length of the campus and features a pond is definitely a place worth sniffing out!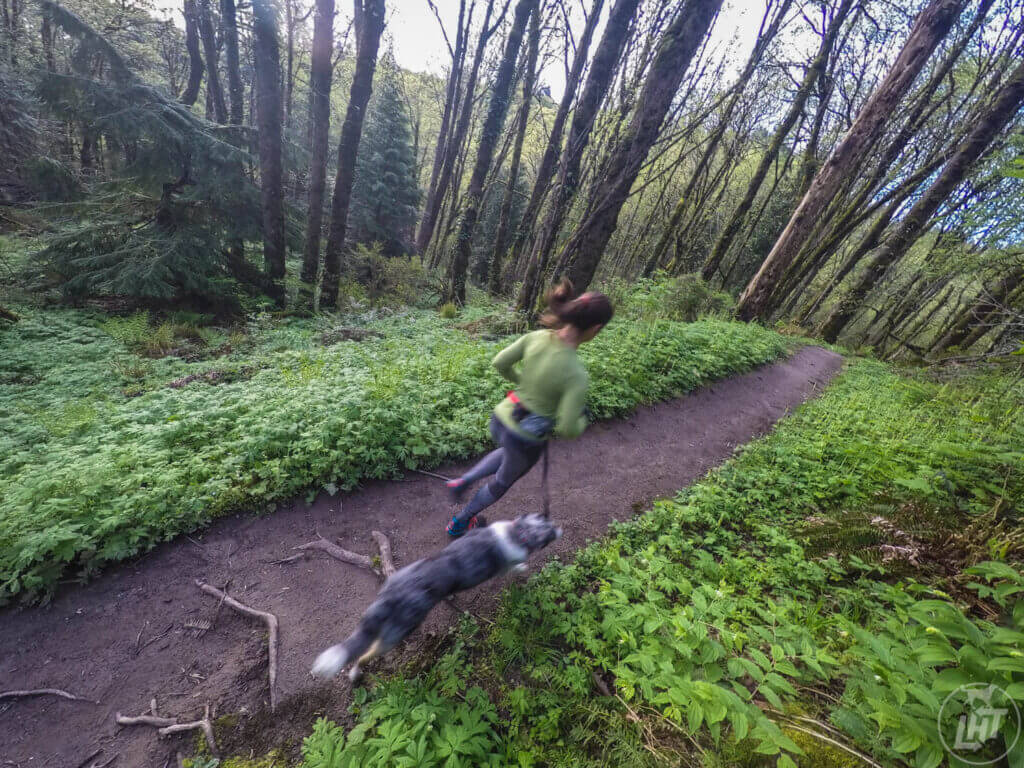 Jen and Sora in Forest Park, Portland. Photo courtesy: Long Haul Trekkers
Dog friendly things to do in Portland
If you are looking for fun activities in the city with your dog, Portland will spoil you with a bucket load of choices and you can find them in the 99 awesome things to do with your dog in Portland guide by Jen. Dogs can go to some of the Portland Farmers' Markets, aside from the Saturday PSU market and the Wednesday market at Shemanski Park. Dogs must be on a short leash and kept away from food products.
They're also welcome at the Hollywood Farmers' Market from 10am to 1pm. Several companies like Alder Creek and SUPortland allow renters to bring their dogs on kayaks or paddle boards. Taste Portland Food tours allow dogs to join for an excursion to some of Portland's favorite food cart pods.
In addition, the Portland International Beer Fest allows dogs, as does the Cider Summit. Movies in the Park is a fun event during the summer to enjoy with your dog as is the Lights and Leashes Dog Walk at Portland International Raceway, another fantastic dog friendly holiday event.
Dog friendly restaurants in Portland
There are tons of dog friendly restaurants in Portland where your pup is welcome to dine by your side and places such as Bye & Bye, White Owl Social Club, Martha's Cafe, Growler's Tap Room, Food Cart Pods, Java Hound Coffee Bar, Tin Shed, Base Camp Brewing, Breakside Brewing, Gigantic Brewing, Portland Mercado, the Station, the Knock Back are the popular ones in this huge list.
SAN FRANCISCO, CALIFORNIA
Contributor: Paroma and Babu (aka yours truly and her furbaby) , living it up in the extremely dog friendly city of San Francisco for the past 9 years. You can read all my dog friendly travel posts in and around San Francisco right here.
Dog friendly hotels in San Francisco
San Francisco has several dog friendly hotels but much like it's real estate issue, the hotels are super pricey and many charge an additional pet fee. Although Hotel Kabuki (in my neighborhood/Japan town) is a stellar place to rest, Beresford hotel in Union Square (3 star and basic) is definitely more affordable for dog parents.
San Francisco is lucky to have not one but two Kimpton hotel locations (Kimpton Buchanan in Japan town and Kimpton Sir Francis Drake in Downtown) which are boutique hotels that welcome pets of all breeds, weights and sizes free of cost!
Dog friendly parks, beaches and hiking trails in San Francisco
Your dog will be spoiled rotten in San Francisco, thanks to the dozens of dog friendly parks, hiking trails and spectacular beaches that this city has to offer. I've combed it with Babu in the last 9 years and let me tell you, this place definitely lives up to the hype of being one of the most dog friendly cities in USA.
If you are considering a visit, do not leave your dog behind on any account because the dog parks here have amazing views, the hiking trails are accessible year round and where do I even get started with the beaches…well, we live in California after all, so you will be hard pressed to find more beautiful beaches anywhere else in the world.
When it comes to dog parks, my favorite is definitely the famous Alamo square Park (known for the "Painted Ladies" standing on one end), followed by Alta Plaza, Mountain Lake Park and Buena Vista Parks. Strawberry Hill is a secret spot inside our Golden Gate Park which has waterfall, pagoda and a pretty lake where you can do paddle boating.
Other dog Parks providing panoramic views are Bernal Hills, Kite Hill Open space, Corona Heights Park, Tank Hill Park and the gorgeous Grand View Park which has equally beautiful mosaic steps leading up to that is a fantastic spot for photography! San Francisco is one of the most romantic getaways in Northern California and these spots provide the perfect backdrop for your photogenic moments in the city, pup or no pup.
San Francisco is known for its fantastic urban hiking trails which are all dog friendly. Our favorite is hands down Mt. Davidson where we bring all our guests since it has the best view of the city and the hike is not too strenuous.
San Francisco's leafy green paradise Presidio not only has sandy beaches with gorgeous views of the Golden Gate bridge but also many dog friendly hiking trails, such as the local's favorite "Lovers Lane". Finally, hiking in Mt. Sutro open space reserve or Glen Canyon Park are also excellent options to take in the greenery, tranquility and beauty of San Francisco.
Finally, San Francisco is blessed with many dog friendly beaches thanks to it being perched on the tip of a peninsula. Fort Funston beach in the southwest corner of the city as well as Baker beach in the Presidio welcome dogs.
Baker beach has one of the best views of the Golden Gate bridge and is a tad notorious for nudists lurking in the rocks (this is San Francisco after all). San Francisco's Crissy field is another excellent sandy spot for a dog friendly picnic with the Golden Gate bridge towering behind.
View of the Golden Gate Bridge from hiking at Presidio, San Francisco
Dog friendly things to do in San Francisco
There are a bazillion dog friendly things to do in San Francisco, as curated in this dog friendly guide to SF post of mine. Lots of dog parks scattered all over the city, hiking trails, beaches and most non-food businesses being dog friendly, your best friend is sure to have a ball here.
From spring to fall (April-October), the Presidio hosts "Picnic on the Presidio" when food trucks come rolling in as well as outdoor movie nights where all you need is a blanket and your dog to snuggle with and enjoy the magic of cinema. I highly recommend staying away from Union Square and Fisherman's Wharf, two of our most touristy, noisy and crowded areas if you are bringing your dog along.
San Francisco's charm lies in its beautiful neighborhoods where local residents hang out and my favorite neighborhoods which have beautiful dog parks are Bernal heights (Bernal Hill and the tiny Precita Park), Glen Park (Glen Canyon Park and nearby Mt. Davidson), Lower Pacific heights (Alta Plaza Park), Western Addition and Nopa (Alamo Square Park) and Duboce triangle (Duboce Park). The giant Mission Dolores Park in our trendy Mission neighborhood is dog friendly too but is very noisy and crowded, especially on a bright and sunny day.
Babu's cousin Tiki on the 16th Ave Mosaic steps leading to Grand View Park
Dog friendly restaurants in San Francisco
Did you know that thanks to our former Governor Jerry Brown (who is dad to two wiggle butt corgis Sutter (RIP) and Colusa Brown), dogs are now, by law, allowed in all restaurants with outdoor seating/patio dining? Of course, your dog has to be leashed, well mannered and quiet, but this is such a blessing for us pet parents to have more options.
Thanks to its year round mild weather, San Francisco has plenty od dog friendly restaurants to choose from. We love the Grove on Fillmore, Lokma in Richmond neighborhood (has fantastic Turkish brunch), Rose's cafe (Marina/Cow Hollow), Piccino (the popular Italian restaurant in DogPatch) and Khamsa (Moroccan food in Mission with heated patio).
My vote however goes to Zazie, the adorable and highly popular French breakfast spot which as a beautiful indoor garden where dogs are welcome Monday nights for exclusive dog friendly dinners (they have outdoor dining year round).
LONG BEACH, CALIFORNIA
Contributor: Jenna and her Louis Vuitton, her 5 yrs old French Bulldog. Louis is a certified therapy dog who visits people with developmental disabilities. Jenna blogs at Dog Friendly Travel about dog friendly travel and pet resources and these recommendations are based on her visit to Long Beach with Louis.
Dog friendly hotels in Long Beach
Jenna's favorite is Hotel Current. Two dogs are allowed per room for an additional charge of $50 per pet. There is a residential neighborhood for dog walks right behind the hotel. The Queen Mary (allowing pets up to 25 lbs with additional fee of $75 per stay) is also cool as is Hotel Maya (DoubleTree by Hilton) that welcomes dogs.
Dog friendly parks, beaches and hiking trails in Long Beach
Long Beach is the perfect places for a dog friendly Southern California day trip from Los Angeles with lots of dog friendly things to do. Recreation Park is dog friendly. The cliffs around Terranea Resort in Palos Verdes are excellent for hiking while Rosie's beach is where dogs are sure to have a blast since it is the only leash free beach in LA county.
Dog friendly things to do in Long Beach
Shopping on East 2nd Street in the Belmont Shore neighborhood is a fun activity with many stores welcoming your dogs.The Pussy & Pooch store (a pet grooming boutique) on E. 2nd has a "paw bar" which serves gourmet food to pets. Jenna has also visited Fashion Island center at Newport beach where many stores and restaurants (with patio dining) welcome dogs.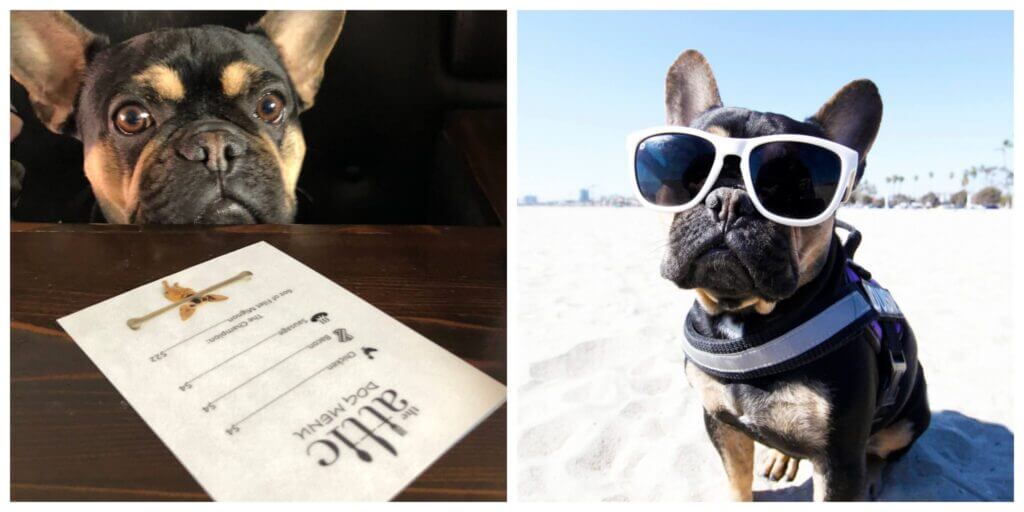 Louis at the Attic (left) and chilling out on Rosie's beach (right). Photo courtesy: Articles de Voyage
Dog friendly restaurants in Long Beach
The Attic is a dog friendly restaurant recommended by Jenna. For more such eateries in Long Beach that welcome dogs, here is a list of spots by Bring Fido.
Read my other dog friendly Southern California guides here:
Dog friendly cities in America: Southwest USA
The American southwest is unparalleled in natural splendor with its wild untamed beauty, from the jaw-dropping natural wonder of Grand Canyon in Arizona to the snowy slopes of Taos in New Mexico. Our pick here is the city of Flagstaff in Arizona which is also home to the state's tallest peak (Humphreys peak) and is in close proximity to mountains, desert as well as pine forests that make it a haven for all things outdoorsy with your dog.
FLAGSTAFF, ARIZONA
Contributor: Leigh and her 7-year-old Airedale Terrier rescue Bailey, who's been with Leigh since she was 18 months old. Leigh blogs at Campfires & Concierges and Flagstaff is one of the many destinations where she has been with Bailey.
Dog friendly hotels in Flagstaff
For a night in Flagstaff with your pup, Leigh recommends:
Sonesta ES Suites, Flagstaff : Sonesta ES Suites welcomes up to two pets per room with a non-refundable sanitation fee which is as follows: $75 for a stay of 1-2 nights and $150 for a stay of 3+ nights. Service dogs are exempt from this fee. Extended stay pet guests gets a special gift when they check in. Plus, Sonosta has spacious rooms for the comfort of your pet and they have a campus like outdoor property with a designated dog walk.
Courtyard Marriott, Flagstaff: As of 2018, their pet policy is as follows: "USD 75 non-refundable cleaning fee Per Stay; maximum of 1 pets allowed; maximum weight per pet is 75 pounds"
Dog friendly parks, beaches and hiking trails in Flagstaff
Flagstaff is a convenient dog friendly spot on a Northern Arizona road trip and has several dog friendly parks where dogs are allowed either on-leash or off-leash. Buffalo Park has an on-leash trail while the off-leash ones are Thorpe and Bushmaster Parks. The famous Arizona Snowbowl is also in Flagstaff and there are lots of dog friendly trails around the ski resort.
Dog friendly things to do in Flagstaff
Most of the shops in Historic Downtown Flagstaff are dog-friendly, and many of them hand out treats! You can take a walking public art tour around town, and hit the Flagstaff Brewery Trail for seven dog friendly breweries.
The Flagstaff Visitor Center is also dog friendly, and a great place to begin your visit if you are looking for dog friendly activities in the city.
Space fans will love the Lunar Legacy all over Flagstaff, and dogs are welcome at the Cinder Lakes Crater Field. This is where the landscape has been blasted to resemble the surface of the moon so that astronauts could train here for moon landings!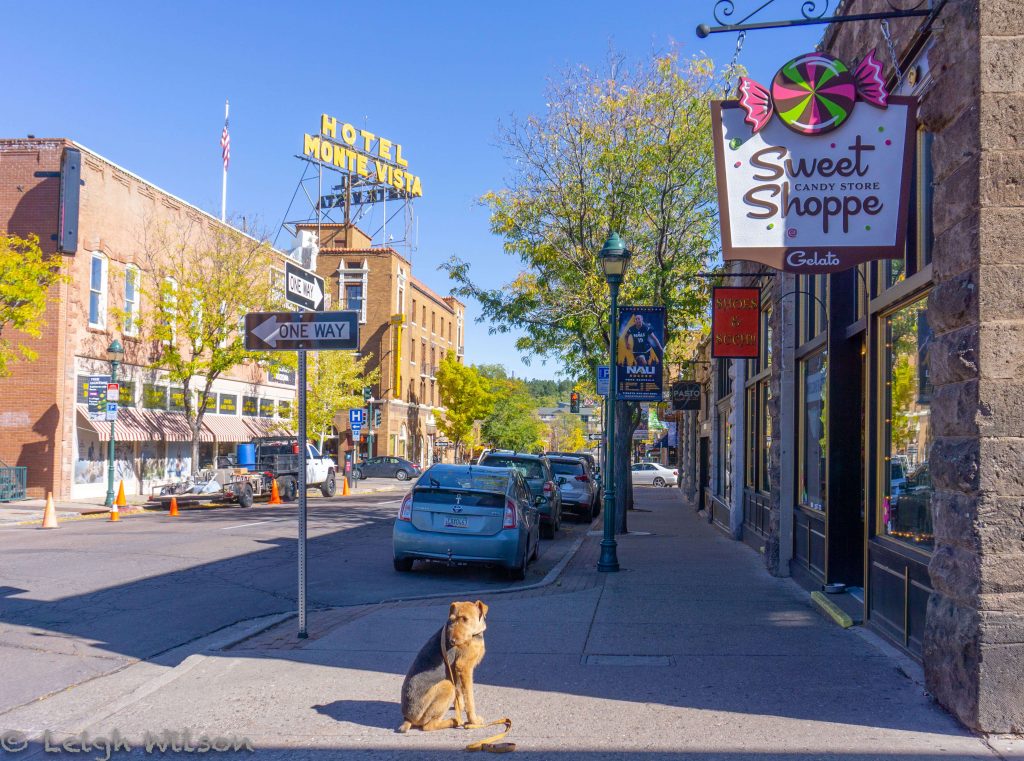 Bailey chilling out in Flagstaff. Photo courtesy: Campfires & Concierges
Dog friendly restaurants in Flagstaff
Diablo burger (voted best burger in Arizona), Toasted Owl cafe, Historic Brewing company, Tourist Home All Day cafe are some of the restaurants that welcome dogs in Flagstaff.
Dog Friendly American cities: Midwest USA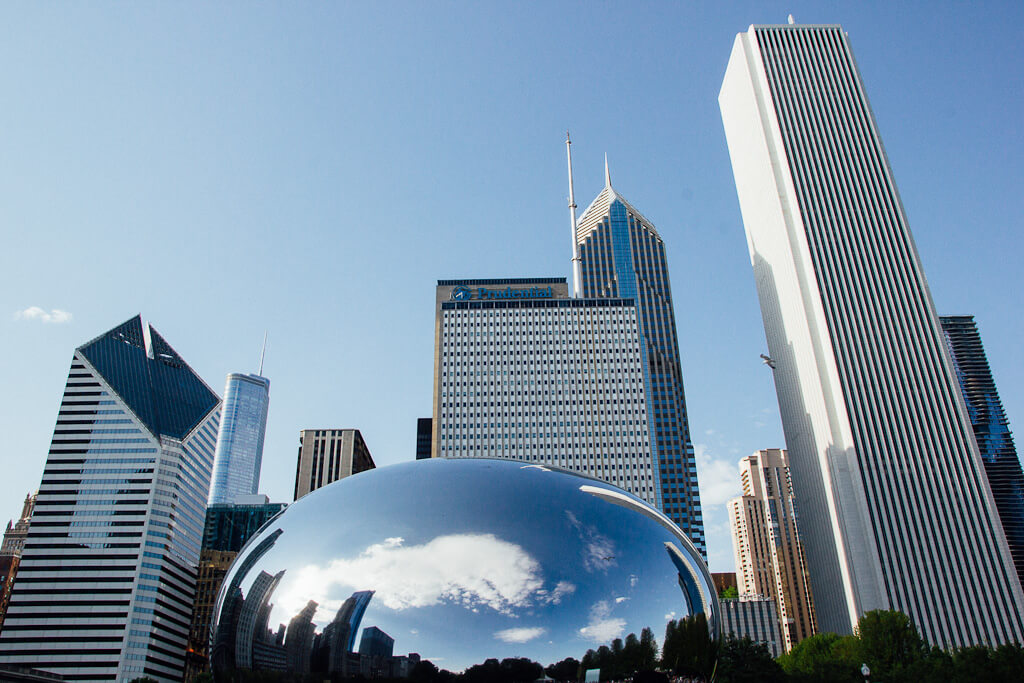 The midwest was my home for 9 long winters in Toledo, Ohio and subsequently Minneapolis, Minnesota. Those days were a far cry from the reality of today since I used to be rabidly afraid of all four legged pets and would run at the sight of dogs frolicking on the Stone Arch bridge.
Despite being a little sad over the fact that I did not get a collaborator from Minneapolis to contribute to this post, I am mighty glad that we have a pretty good mix in terms of a mega metropolis like Chicago (filled with lovely street art), Illinois and the lesser known Bloomington, Indiana, both of which are some of the most dog friendly cities in US.
CHICAGO, ILLINOIS
Contributor: Kristin, a resident of Chicago, and Ruby, her adorable 11 yr old rescue Yorkie Poodle mix. Ruby was removed from her former home because of hoarding and severe neglect and found herself in Chicago's Animal Care and Control facility where she and several other dogs from the same location joined Safe Humane Chicago's Court Case Dog Program.
Ruby's story has a happy ending thanks to finding a loving home with Kristin where this little one loves cats, cuddling, long walks, playing with her favorite purple stuffed bear, dancing for treats, grilled-cheese sandwich crusts, and hanging out with her humans on the couch. She's not a big fan of being home alone, dominant dogs, and walking in rain or snow (which is sometimes a problem because, well it is Chicago after all!).
Kristin blogs at My Rescued Life where she documents Ruby's adventures around town and advocates for pet rescue and adoption.
Dog friendly hotels in Chicago
Kristin recommends some very good hotels for dog parents visiting Chicago. Kinzie Hotel is a contemporary, inviting boutique hotel in Chicago's River North neighborhood with Chicago-inspired design and locally sourced amenities. The hotel is close to shopping, transportation, restaurants, galleries and downtown attractions. They have a two-pet limit per room, charge a non-refundable $50 pet fee and offer special amenities to all feline and canine guests.
Virgin Hotels in Chicago offers trendy, fun, lifestyle focused rooms in a downtown boutique hotel near the Chicago Riverwalk and Millennium Park. This hotel is super pet friendly and offers many pet amenities designed to make traveling more fun for people and pets. No breed or size restrictions and no pet fees required.
Finally, the Best Western Plus Hawthorne Terrace is another charming hotel in the bustling Lakeview neighborhood on Chicago's north side. Located near bars, restaurants, sidewalk cafes, shopping, green space, lakefront recreation, and a short drive (or long walk) to the Montrose Dog Beach. Up to two dogs per room with an 80-pound weight limit. A $50 refundable cleaning and damage deposit is required at check-in.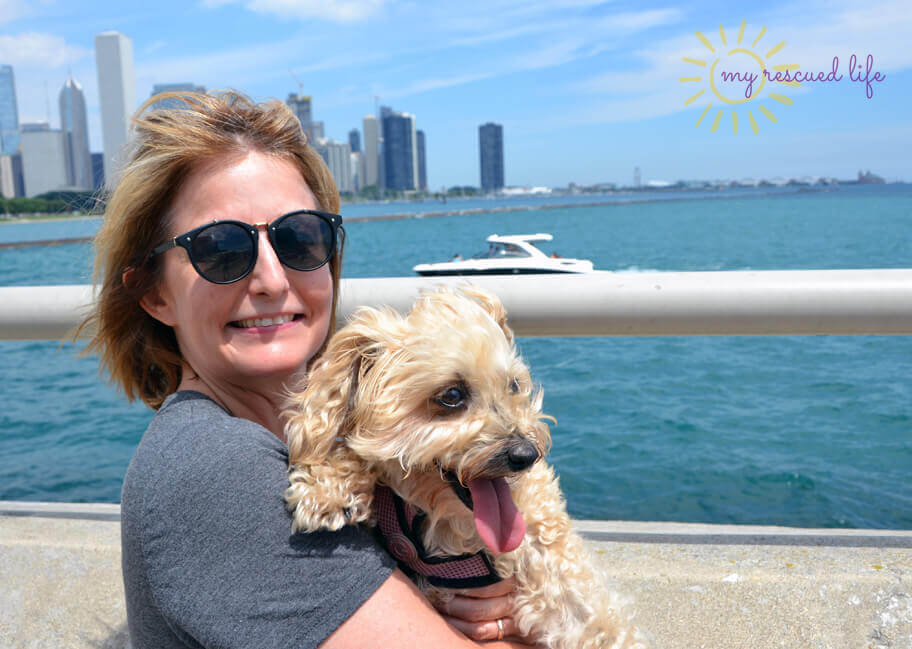 Kristin and Ruby in their beautiful city Chicago. Photo courtesy: My Rescued Life
Dog friendly parks, beaches and hiking trails in Chicago
Grant Park, sometimes referred to "Chicago's front yard" includes over 300 acres of open space, gardens, pathways, recreation areas, spectacular views, and is home to some of Chicago's most iconic landmarks and attractions, including Museum Campus, Buckingham Fountain, the Art Institute of Chicago, Millennium Park, and Maggie Daley Park.
Next, comes Lincoln Park which is Chicago's largest park stretching along the lakefront from Ohio Street to Hollywood Avenue with over 1,200 acres filled with public art, green space, and many Chicago attractions, including the Lincoln Park Zoo, Lincoln Park Conservatory, Theatre on the Lake, Chicago History Museum, Peggy Notebaert Nature Museum, North Pond Nature Sanctuary, and several public beaches.
Although many of these attractions are not dog friendly, leashed dogs can enjoy 7.5 miles of lakefront trails, natural areas, gardens, harbor views, picnic areas, green space, and recreation areas. There are also three designated off-leash dog areas.
Finally, Skokie Northshore Sculpture Park is another great dog friendly park which is located 40 minutes from downtown Chicago. This park is open all year round and includes two miles of landscaped walkways and bike trails displaying 60+ sculptures of all varieties and styles.
Montrose dog beach is Chicago's answer to pups playing in the sand and offers 3.83-acres of fenced-in beach with free dog waste bags and a dog-wash area. The beach is open during regular Chicago Park District hours but is most crowded in the morning. Montrose Dog Beach is free, but DFA tags are required for all dogs, which cost $5. You can read the rules regarding off-leash dog-friendly areas here.
Chicago Lakefront trail that runs from Ardmore Avenue on the north to 71st Street on the south includes 18 miles of pathway along the Chicago lakefront for walking, biking, and jogging. Kristin's favorite section is between the Shedd Aquarium and the 12th Street Beach where you walk south out around the Adler Planetarium for some spectacular views and then down to the dog friendly patio at Del Campos Tacos at the 12th Street Beach for refreshments and live music on weekends.
Humans and dogs can also catch the water taxi from the Shedd Aquarium to Navy Pier for shopping, refreshments, and more sightseeing. Next comes the Forest Preserves of Cook County which is nearly 70,000 acres in expanse and is the largest forest preserve district in the United States. Leashed dogs are allowed almost everywhere and there are also three areas where dogs are allowed to enjoy the preserves off-leash, these being Beck Lake, Bremen Grove, and Miller Meadow.
Finally comes Starved Rock State Park located 90 miles from downtown Chicago and perfect for a day trip with your dog. The park features sandstone canyons and waterfalls, wooded trails, amazing views, picnic areas, birding, and boating. Park wildlife includes white-tailed deer, bald eagles and migratory birds. The park also offers dog friendly dining on the Veranda for drinks, snacks, and live music Friday and Saturday night during the summer.
Dog friendly activities in Chicago
Boat rides are a big thing in Chicago and thanks to multiple options for dog-friendly rides, you don't have to leave your furry friend behind. Seadog Chicago Boat Tours leave from Navy Pier and offer several different themed cruises with beautiful city and lake views. Leashed, friendly dogs are welcome and ride for free.
Mercury Cruises offers a 90-minute cruise specifically for canines from July through October where you can sit back and relax and enjoy amazing views of both the Chicago River and Lake Michigan, not to mention the beautiful city skyline and Chicago Riverwalk. This canine cruise offers plenty of outdoor seating, water bowls, and a special newspaper-lined restroom for dogs.
Kayak Chicago offers basic instruction and extra-stable kayaks for people and their dogs to try kayaking together at Montrose Beach. Doggie life-jackets are not provided.
If you just want to go for a leisurely stroll with your pup in the big city, then walk down Chicago Riverwalk, which is one of the city's newest go-to destinations for both residents and visitors. The 1.25-mile long path along the Main Branch of the Chicago River offers spectacular views, floating gardens, public art, urban habitat, refreshments, vendors, and entertainment.
Enjoy a snack or glass of wine, take a boat tour, or just relax with your dog at the River Theater. Many vendors leave out water and treats for dogs including the McCormick Bridgehouse & Chicago River Museum where you can learn more about the history and renaissance of the Chicago River.
Dog friendly restaurants and bars in Chicago
Big Star Tacos offers beer, more tacos and bourbon with an 80 seat, dog-friendly patio. You can visit the original location in Wicker Park or the new location in Wrigleyville after a visit to Wrigley Field.
Ranalli's neighborhood pizza joint is right off Lincoln Park where you can enjoy pizza, pasta, drinks, and a salad on the 175-seat sidewalk patio in the heart of the Lincoln Park neighborhood.
Barrio has a convenient River North location with a new puppy patio menu, including chicken breast, burger patty, skirt steak, and a dairy-free woof-cream dessert.
The Moonlighter (Logan Square location) is the perfect stop after strolling with your pup on the 606, thanks to its big dog-friendly patio! Cody's Public House welcomes all well behaved, leashed dogs.
Bucktown Pub is another relaxed, unpretentious neighborhood haunt with a great patio, good music, free popcorn, a nice selection of microbrews and distilled spirits.
Finally, Ten Cat Tavern is that cat-free neighborhood bar where you will find lots of dogs plus comfy couches, a fireplace, pool tables, local art, and a great outdoor patio.
BLOOMINGTON, INDIANA
Contributor: Emily and her rescue lab hound mixes, Junebug & Lula. They are full of energy and love trail running and swimming. Emily blogs at Em's on the road and lives in Bloomington.
Dog friendly hotels in Bloomington
The Graduate Hotel is a great place to bring your pups along for a trip to Bloomington. This hotel is brand new in the heart of downtown Bloomington. They don't charge a pet fee, and if you bring your furry friend along you get a complimentary Barkbox.
Hyatt Place is another fun downtown option that is right on the multi-modal B-Line Trail making it super easy to go for a run or walk with your pup. This trail runs 3 miles north/south through Bloomington, is free to use, and dog friendly (requires dogs to be on leash).
Dog friendly parks and hiking trails in Bloomington
Bryan Park is a local favorite and is a great option if you are traveling with family. It's about 33 acres with a playground, swimming pool, tennis courts and just the perfect place to go for a run or walk with your dogs. Dogs must remain on a leash though. Ferguson Dog Park is the place which allows dogs to be off-leash.
When it comes to hiking trails, Griffy Lake and Nature Preserve are the best places to go for within the city limits. With over 1200 acres and a 100 acre lake, Griffy is a little oasis in the middle of the city. The trails are moderately difficult and winding around the ridges along the lake.
Dogs must be kept on a leash here during hiking. Just outside of the city limits is the Paynetown State Recreation area with a fantastic network of dog friendly trails (dogs need to be on leash though). If you want to get out on the water, rent some canoes from IU Outdoor Adventures at Cutright SRA which is a non motorized boat launch for Monroe Lake. Simply paddle to a secluded coast of the lake for the afternoon so your pups can swim around and have a blast.
Em and her pups in Paynetown SRA. Photo courtesy: Em's on the Road (photographer: Danielle Lucas)
Dog friendly activities in Bloomington
JL Waters is an outdoor gear store downtown on the square that loves to have dogs come to visit and shop their dog friendly merchandise. Indiana University's campus is another beautiful place to talk a walk with your pup. The campus has incredible Gothic-style architecture, walkways winding through a large wooded area called Dunn's Woods, and the Jordan River that runs in front of the Memorial Union, one of the biggest in the country. You can read Em's local's guide to Bloomington for a lot of fun places to explore with your dog.
Dog friendly restaurants in Bloomington
Upland Brewing Company has one of the biggest patios and beer gardens in town and is very dog friendly. Rainbow Bakery is an all vegan bakery that is beyond delicious whether you're vegan or not. Even better, they have a nice patio and have super cute dog treats available.
Most dog friendly cities in USA: Southeast USA
From the sunny beaches of Miami to the dazzling colors of Charleston's Rainbow Row, there are plenty things to do in the American southeast for all canines, thanks to the warm weather nearly all year round. In this post on most dog friendly cities in US, both the Carolinas (north and south) as well as Florida are the states that were chosen for their cities that welcome dogs.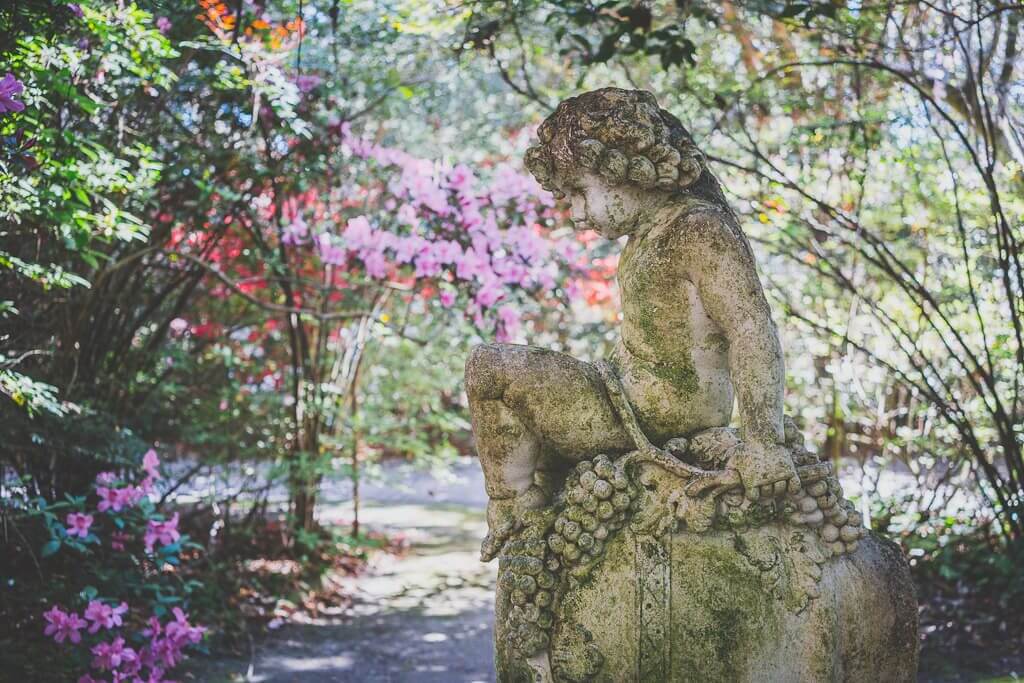 BLOWING ROCK, NORTH CAROLINA
Contributor: Tara who blogs at Back Road Ramblers and her 7 yr old black lab Flynn. Flynn is a retired guide dog from Guiding Eyes for the Blind where he served as a guiding dog for 5 years, after being raised as a puppy by Tara. When he retired, Guiding Eyes offered him back to Tara, and she obviously could not refuse. Tara's recommendations on Blowing Rock are based on her travel with Flynn.
Dog friendly hotels in Blowing Rock
Tara stayed with Flynn at Hillwinds Inn during their Blowing Rock adventure. This hotel is right in the center of town, and the staff simply loves dogs (the best thing to happen when you are traveling with your dog). There are lots of other lodging opportunities in town as well, including Historic Green Park Inn, Alpine Village Inn, Village Inn of Blowing Rock, Gideon Ridge Inn, and New Public House and Hotel.
Dog friendly parks and hiking trails in Blowing Rock
Broyhill Park is very dog-friendly and it is accessible from the downtown area. Moses H. Cone Memorial Park is a huge estate, located right on the Blue Ridge Parkway. This park encompasses 3,500 acres and includes 26 miles of dog-friendly carriage trails.
Tara highly recommends the hike to the observation tower on Flat Top Mountain and the stroll around Bass Lake in this park. Finally, there is another spectacular dog friendly hiking trail known as the Rough Ridge trail (1.5 miles round trip) along the Blue Ridge Parkway that provides amazing views of the surrounding mountains.
Flynn at Blowing Rock. Photo courtesy: Back Road Ramblers
Dog friendly things to do in Blowing Rock
Stella Blue's Pawtique is a really unique and enticing pet store, where your dog can choose from all kinds of delicacies or bring home a souvenir. The Blowing Rock is a dog friendly tourist attraction in the mountains, which has been attracting visitors since 1933. It's a great spot for a picnic, and provides some lovely views and trails.
In addition, of downtown Blowing Rock is super dog friendly. There are water bowls thoughtfully placed in front of every store, and many allow dogs to accompany the humans inside. Read this post on a guide to dog friendly Blowing Rock for more fun things to do with your pup here.
Dog friendly restaurants in Blowing Rock
Almost every restaurant in Blowing Rock is dog friendly in the warm summer months which allow for outdoor dining. Tara's favorites are Blowing Rock Ale House for stellar beer, Blue Ridge Bites and Brews, Mellow Mushroom, and Six Pence Pub.
CHARLESTON, SOUTH CAROLINA
Contributors: a) Lauren and Lady, her one year old Mini Australian Shepherd who absolutely LOVES to explore new places! She accompanies Lauren everywhere and is always eager to try new things. Her favorite things in the world consist of her bright orange tennis ball, chasing squirrels, and of course, her Mommy! Lauren blogs at Doggone Destinations about her adventures with Lady.
b) Kristal and her fur babies Piper (Boxer), Jack (Boston Terrier/Pug), Leo (Boston Terrier). Her dogs are the best road trip partners anyone could ever ask for. They are affectionate almost to a fault and love being around people. As they are all getting older (and Piper is now deceased since their last trip to Charleston), the rugged hikes they used to enjoy are becoming more difficult.
That's not to say they still don't get excited when they see their mom packing up the car for their next road trip. Leo is the mischievous pest of a little brother and has brought such a spark to the old man of the pack, Jack. Piper on the other hand was a total mommy's girl and never let Kristal out of her sight if she could help it. Kristal blogs at AdventureDawgs about her dog friendly travel adventures!
Dog friendly hotels in Charleston
During her visit to Charleston, Kristal stayed with her dogs at the Red Roof Inn North Charleston Coliseum. It's in North Charleston so it's a bit of a drive downtown but the prices are much more affordable this hotel chain is reliable for cleanliness and excellent service.
Lauren recommends several pet friendly hotels in Charleston, such as Belmond Charleston Place (extra pet fee required), ALOFT Charleston (North Charleston, extra pet fee required), The Inn at Middleton Place (up to two dogs with combined weight of 50 pounds, plus extra pet Fee Required) and NotSo Hostel (main location on Spring street and annex location on Cannon street)(their private rooms are pet friendly).
In addition, Charleston has many pet-friendly Airbnb's to choose from, most of which don't require an extra pet fee. Lauren stayed at the Magnolia Ranch property with Lady and had a great experience.
The colorful Rainbow Row in Charleston. Photo courtesy: Doggone Destinations
Dog friendly parks, beaches and hiking trails in Charleston
Waterfront Park (approximately 20 minutes outside of Downtown Charleston), home to the iconic "pineapple fountain" is super dog friendly and has some fantastic water views. This park is set right alongside Cooper River and includes the Greater Charleston Naval Base Memorial. Both human and dogs can enjoy sprawling green meadows, killer photo opportunities, and plenty of space for games.
The Battery and White Point Gardens is another great spot to enjoy an outdoor picnic or admire the bay front mansions. Marion Square Park is another downtown Charleston park that runs right alongside King Street. Many locals bring their dogs here to sunbathe, people watch, or simply enjoy the beautiful Lowcountry weather.
Other dog parks around Charleston are Hazel Parker Playground, White Point Garden (dogs have to stay on-leash but it's a great place to walk downtown), and James Island County Park.

In terms of hiking, Charleston doesn't have too many trails. However, there are some great dog friendly walking/nature trails within local attractions such as Magnolia Plantation and Gardens and Charles Towne Landing. Both of these locations boast fascinating Charleston history and wind through either the untouched landscape of the Lowcountry or wonderfully manicured gardens. It's a real treat for both dogs and their owners!
Many locals also like to take their dogs for a stroll across the Arthur Ravenel Jr. Bridge. It's a fun and cost-free activity that also provides some of the most spectacular views in Charleston.
The West Ashley Greenway is close to downtown Charleston and is a combination of asphalt and dirt trails which can be explored with dogs. Nearby Francis Marion National Forest has several dog friendly trails of various levels of difficulty to enjoy.
Charleston is home to three major beaches, but the most pet-friendly one of all is certainly Folly Beach. This little slice of Atlantic shoreline is known by the locals as "The Edge of America" and provides plenty of amenities, nearby shops and restaurants, and more. Leashed pets are welcome anytime from October 1st to April 30th. Between May 1st and September 30th, dogs can visit before 10 a.m. and after 6 p.m.
Besides Folly beach, there are other dog-friendly beaches in Isle of Palms and Kiawah Island. There are times when dogs can run off-leash on these beaches, however those are subject to change seasonally so please check out the individual beach rules before you visit with your dog. Inland ponds and rivers are other water bodies here in the south but are also home to alligators; so dog owners need to be careful around the water's edge.
Dog friendly things to do in Charleston
There are so many dog friendly things to do in Charleston that you will be spoiled for choice. Lauren's favorites are:
Paddle Boarding on Shem Creek: Coastal Expeditions provides reasonably priced paddle board rentals for human and pup to explore the waters of Shem Creek! The best part of this excursion is the chance encounter with dolphins that may decide to break the surface right next to your board to say hi!
Ghost Tour: As one of the oldest cities in the nation, Charleston is a major stop for ghost hunters from all over the world. If you're feeling brave enough, Old Charleston Ghost Tours offers pet friendly ghost tours to some of the city's most haunted locales.
Kristal recommends walking tours of downtown Charleston where you can bring dogs along. She went on a ghost tour with her dogs and loved it! You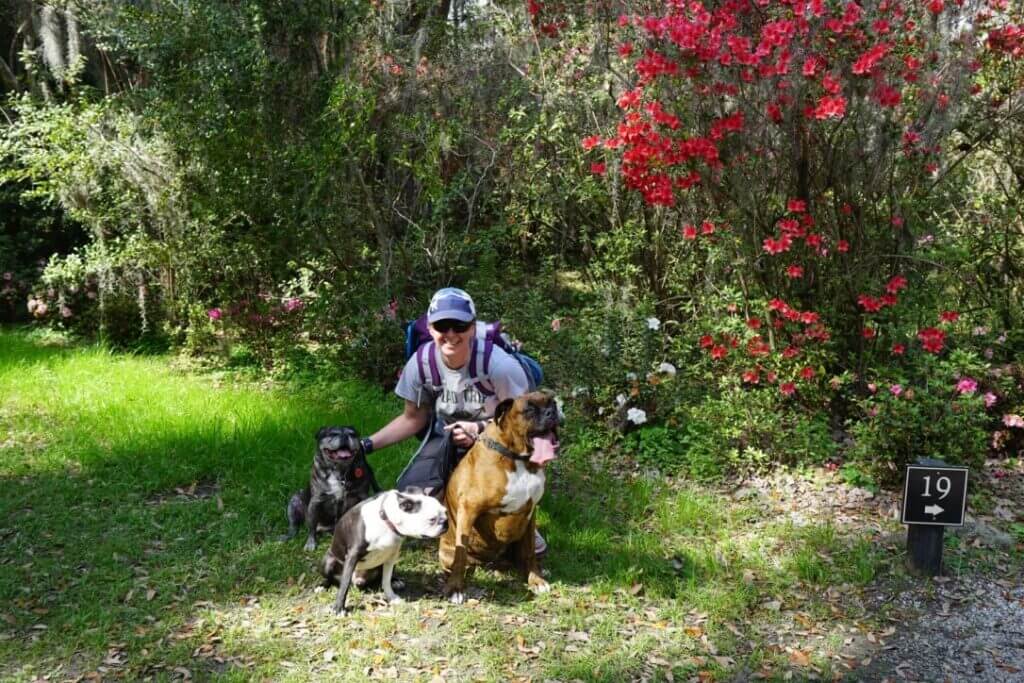 Kristal and her pups at Magnolia Plantation. Photo courtesy: AdventureDawgs
Dog friendly restaurants in Charleston
Poogan's Porch (highly recommended by both Lauren and Kristal): Named after the late neighborhood pooch, this completely restored 17th-century home serves up some of the most delicious Lowcountry grub in Charleston. Keep your eyes open while you dine! Rumor has it that several ghosts like to play pranks on diners during their visit.
Lost Dog Cafe: Located just a short walk from Folly Beach, the Lost Dog Cafe is one of Lauren's favorite spots for breakfast. The large covered porch invites you and your dog to feast on tasty selections such as warm cinnamon rolls, biscuits and gravy, or chicken salad croissants.
Taco Boy: Taco Boy is probably Lauren's favorite place to eat in Charleston, and not just because the Mexican food and margaritas are out of this world! The fun-loving taqueria also has an expansive outdoor porch that welcomes plenty of dogs during the day. For a complete list of all dog friendly dining, you can read Lauren's excellent post on dog friendly restaurants in Charleston.
Kristal recommends stopping by the Page's Okra Grill that offers outstanding food and not only are dogs allowed on the patio, but the staff bring a bowl out for the furry guests. She also enjoyed some delicious pizza at EVO (also dog friendly) in North Charleston. You can read her beginner's guide to Charleston to learn more.
MIAMI, FLORIDA
Contributor: Kassie and her yorkie Griffin, who makes up for his tiny size with a whole lot of love and energy. He is a rescue enjoying life with humans who can keep up with his energy and take him on adventures. Kassie lives in Miami and blogs at The Fly Away Life.
Dog friendly hotels in Miami
Loews Miami Beach is a great option for those looking to stay close to the action of South Beach. Lowes even has special pet amenities like a pet tag and welcome treat. They also have dog walking and sitting services available. Best part is the pet fee is only a one-time fee of $50 per a stay!
Dog friendly parks, beaches and hiking trails in Miami
South Pointe Park is a nice park with amazing views of the Miami skyline. Dogs are allowed on leash and there is a small area for off leash play. The South Dade Trail is a good dog friendly hiking or walking spot. The trail used to be an old rail system that has now been paved into a walking path.
The path is 20.5 miles long and takes you through an abundance of different scenery, including urban suburbs and swampland! Miami is beach central and Haulover Beach Park is THE beach for dogs. They allow dogs off leash from 8am to 3pm 7 days a week. There are also two dog parks here: one for small dogs and the other for large ones plus a picnic area. The beach is free but there is a $2 parking fee.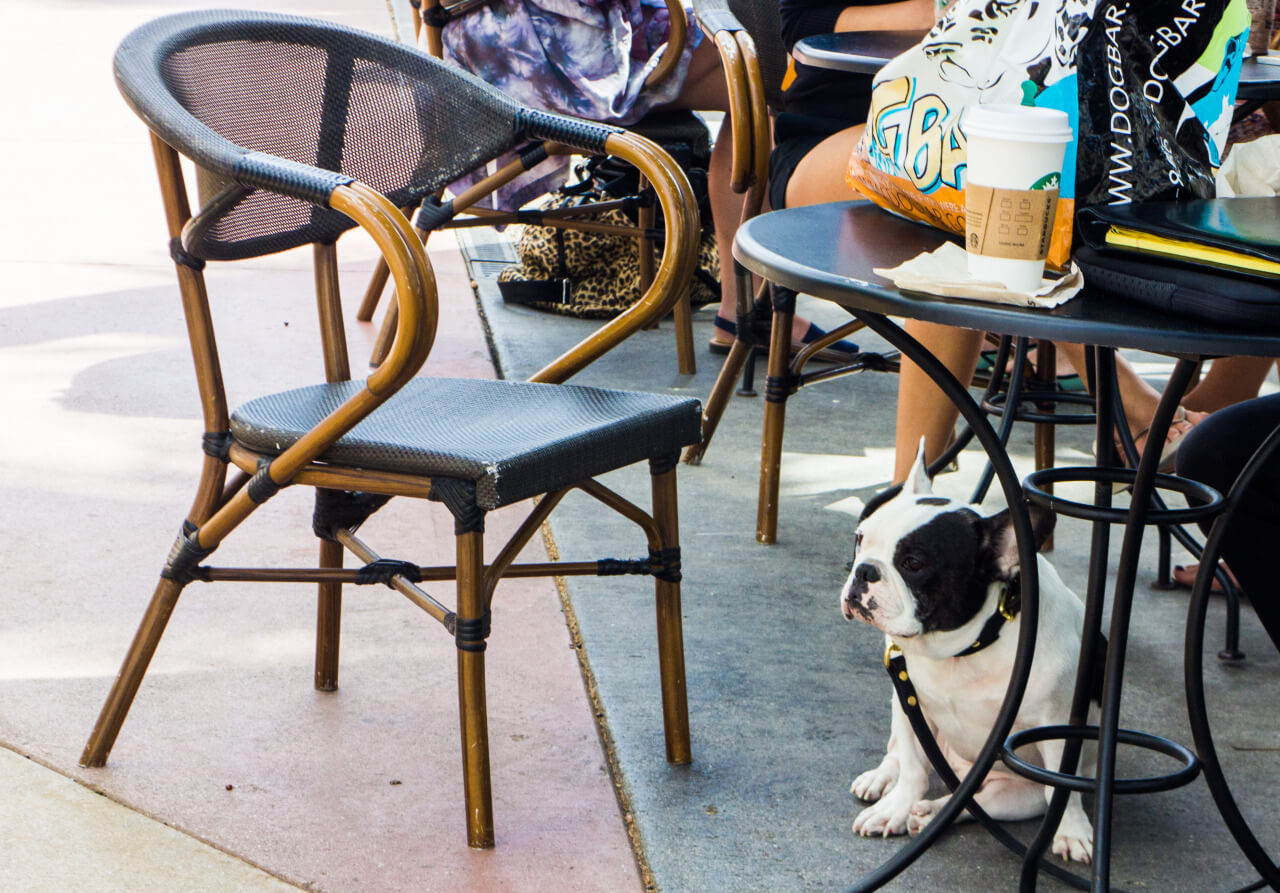 Dog friendly activities in Miami
The Wynwood Walls is one of Miami's biggest tourist attractions and it is pretty dog-friendly. Since the main attraction is the amazing street art, you are welcome to take it all in with your pup while on a leash. The whole neighborhood is covered in art, so a nice stroll and has some great photo opportunities. As long as you skip the galleries (who mostly don't allow pups), you can see the entire area.
Kassie recommends visiting Cielito Artisan Pops for a pupsicle, their special dog-friendly popsicles, as a treat. Another great outdoor attraction that allows pups is the famous Ocean Drive in South Beach. Humans can walk along the street or boardwalk with their dog while enjoying all the art-deco architecture around.
Many of the bars and restaurants here have outdoor seating and will allow you to sit with your dog outside for some excellent people watching. You can read her travel guide to Miami to learn more.
Dog friendly restaurants in Miami
One of the best parts of South Florida living is that almost every restaurant has a patio and they usually allow dogs. It's best to call ahead to sure they allow animals on their patio. LoKal is one of the best dog friendly restaurants in the area since they have a special dog menu including a Bowser Beer, which is a beer made especially for dogs in Tampa, Florida.
The Doggie Bag Cafe is a fun spot for the dog lover. They have a bakery/restaurant just for dogs that has full menu of things like grass-fed beef sliders and pup-cakes. Please make sure to call ahead to so that they have your order ready when you arrive.
Side note: Orlando, another dog friendly city in USA has lots of restaurants that welcome dogs! Here is a list of 11 dog friendly restaurants in Orlando to visit with your pup.
America's most dog friendly cities: East coast
Much like everything else, New York City (Big Apple/The first and real "city" in US) wins this category hands down, with three pet parents contributing to show how dog friendly it is.
Dog friendly adventures abound in its five boroughs of NYC, from Manhattan's Central Park to the Staten island ferry and our traveling pet parents are here to tell you what exactly to do in NYC with your dog, including hotels, restaurants, parks and trails where they are welcome.
New York City is one of the most dog friendly cities in US where fun times do not end for both human and canine!
NEW YORK CITY, NEW YORK
Contributors: a) Candy (NYC resident) and her dogs Boogie and Marcelo, two adorable rescues living the good life in New York City. Boogie is a pug who loves eating, napping, and snacking. Marcelo, a chihuahua, has a long tongue, few teeth, and a love for humping. Candy blogs at Boogie the Pug about her dog friendly travel all over the world!
b) Talek (NYC resident) and her beautiful mutt Polito, who loves to play and snuggle. Talek blogs at Travels with Talek.
c) Shandos (tourist) and her travel savvy miniature dachshund Schnitzel who has traveled to 36 countries around the world. After a globe-trotting adventure through Europe and the USA, he's currently back chilling out in Australia. Shandos blogs about her adventures with Schnitzel at Travelnuity.
Dog friendly hotels in NYC
New York city is indeed a dog lover's paradise since it will spoil you rotten when it comes to hotels that welcome your four legged friends. Talek recommends the Crosby Street Hotel in Soho and the Roxy Hotel in Tribeca (which has a sister hotel in Soho). The Roxy also provides access to a private dog park and vet-approved treats from nearby bakeries. All these dog friendly hotels provide doggie bags as well.
Candy recommends staying at the Kimpton hotel while here in NYC. The Kimpton boutique hotel's pet policy is this: if your pet fits through the door, we'll welcome them in! There are 3 Kimpton hotels in Manhattan (Kimpton Ink48 hotel and Kimpton Muse Hotel) and they are all super pet friendly, plus dogs are welcome to stay at no additional fees or deposits!
Here is a complete list of other dog friendly pawsome hotels in NYC as written by Candy. Shandos visited NYC last year and opted to stay at a dog friendly Airbnb in Williamsburg, Brooklyn.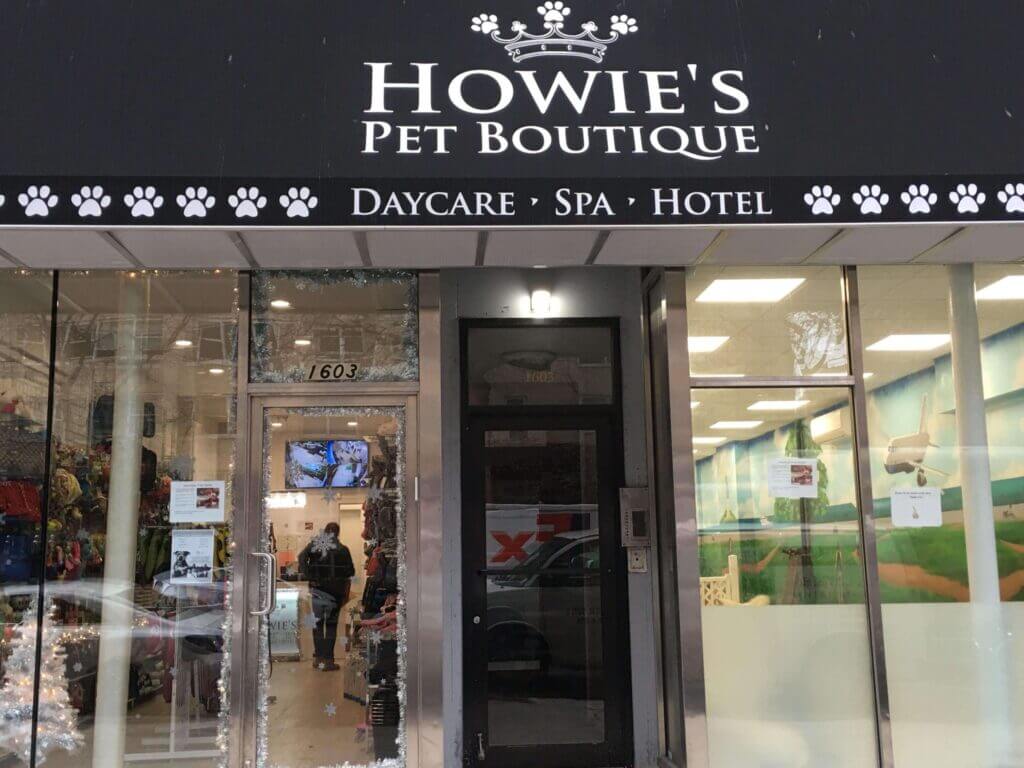 Photo courtesy: Travels with Talek
Dog friendly parks, beaches and hiking trails in NYC
Central Park is the quintessential dog-friendly park (both Talek and Candy, our NYC residents give it a two paws up!). It's 843 acres of urban park that runs right down Manhattan.Official off-leash hours are between 9PM and 9AM, during which time the park belongs to the dogs, who are free to run and play to their heart's content.
Talek also recommends giving Carl Schurz Park on the East Side a go, which has a doggie park dedicated to each size of dog; small, medium and large. Candy's other favorite parks include Prospect Park, and Hillside dog Park in DUMBO. Shandos enjoyed her time with Schnitzel at Brooklyn Bridge Park that combines views with short walks as well as the Madison Square Park that has a great central dog-run.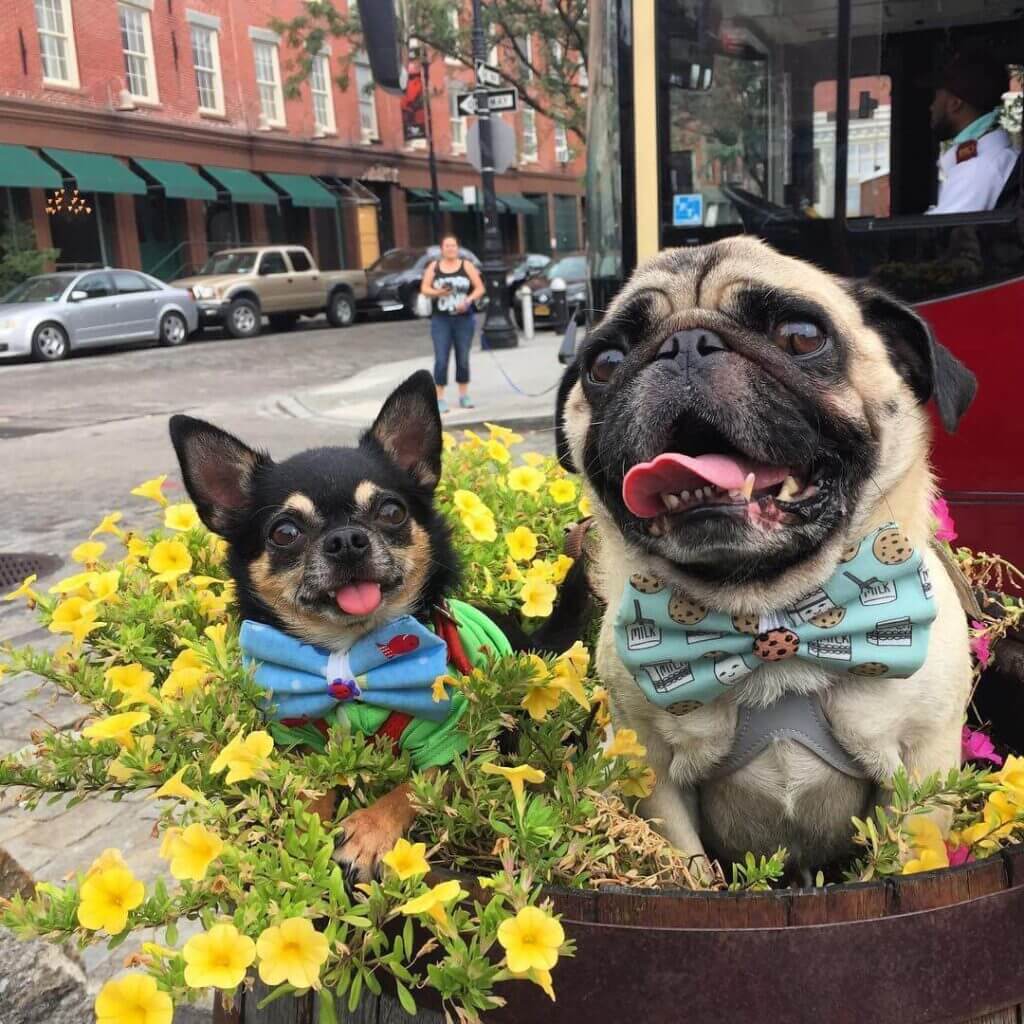 Boogie and Marcelo in their flowery abode. Photo courtesy: Boogie the Pug
When it comes to hiking, Candy recommends Inwood Hill Park, the only forest left on Manhattan Island that has three dog friendly trails, various rock formations, and a view of the Hudson River and the Palisades.
Dogs are also able to hike in Prospect Park and areas of Central Park. Shandos did not get a chance to do a whole lot of hiking with Schnitzel, but recommends going on a self-guided tour of the legendary Bushwick murals in Brooklyn with your canine companion.
Schnitzel at Brooklyn Bridge Park. Photo courtesy: Travelnuity
As for beaches, there is indeed one for doggies in NYC and that is in Prospect Park! Candy recommends checking out Francis Lewis Park and the kayak launch point in Red Hook for more beach play time for dogs. You can check this post out by Candy on top spots where your dog can swim in NYC.
Dog friendly activities in NYC
NYC has so much to offer for our four legged friends that they may never want to leave! Besides the dog beach and tons of dog friendly parks, this city even has a dog cafe! There's plenty to do, and easy ways to go to and fro (dogs are allowed on the subway, bus, and even on the Staten Island Ferry).
You can read a complete guide to all the dog friendly things to do in New York City by resident dog mom Candy which is like an encyclopedia on every possible thing you can do in NYC with your dog!

Shandos loved her visit to dog friendly New York and enjoyed her walks across Brooklyn Bridge, where although there are no rules prohibiting your dog to walk on the bridge, choosing a quieter time of day would be wise so that your pup does not get frazzled with the crowd (and Brooklyn bridge is a very popular tourist spot).
Another option is to take the Staten Island Ferry for free to take in views of the Statue of Liberty with your pup. In this case though, a muzzle is required (unless your dog is in a carrier).
Dog friendly restaurants in NYC
Talek's favorite is the Barking Dog while Candy recommends Boris & Horton, the city's first dog-friendly cafe. They have plenty of fun events, and delicious food, plus dogs are always welcome. Her other favorites are Pier i cafe, Rosie's for good Mexican food, and Shake Shack for burgers and fries.
Here is a complete list of eleven top dog friendly restaurants in NYC. Besides the original Shake Shack restaurant in Madison square Park, Shandos also recommends the Brooklyn Brewery as another dog-friendly option where dogs allowed inside (this brewery does not serve food).
I hope you loved reading this compilation of ten most dog friendly cities in US. Please drop a comment below if you live in a dog friendly city and share your favorite spots with me. Thanks so much for reading!
Like this post? Hover on the image below to pin it for later.

«