Last Updated on January 9, 2022 by Paroma
Planning a day trip from Guadalajara to Tequila on your own? This guide (based on my own Tequila tasting experience) includes everything you need to know to plan your Tequila day trip from Guadalajara. If that is not all, I have included all the info that you need on the most popular Tequila tasting tour that you can book as well as what to see in Tequila on a day trip as a self guided tour!
Disclaimer: My blog posts may contain some affiliate links. Clicking on them may earn me a small commission at no extra cost to you for the product. Thank you for your support.
The city of Guadalajara, capital of the Mexican state of Jalisco, might not always feature at the top of popular destinations in its country, but is so worth the visit because of it's laid back vibe, food, a thriving art and culture scene and two offerings that are uniquely Mexican. These are none other than the boisterous Mariachi (read this post on the most popular Mariachi songs to request in Guadalajara) and the distilled spirit tequila, both of which are synonymous with Mexico.
If the latter has piqued your curiosity then certainly a day trip from Guadalajara to Tequila (it's namesake village and birthplace) should be part of your travel itinerary for some good old tequila tasting with an added bonus of sightseeing as you wander around this pretty as a picture postcard place.
The prime attraction of visiting Tequila, one of the five reasons to visit Guadalajara, is obviously a tasting tour of its namesake spirit and that required prior planning if you want to take the see it all, aka making of tequila from the agave farms to the bottle as well as tasting with different accompaniments.
This can be experienced by advanced reservation on one of the many guided tours of tequila tasting, the most popular being the Jose Cuervo Express train that takes your for a premium Tequila tasting at the La Rojeña distillery, the oldest in Jalisco as well as to the tequila fields for a first hand experience.
However, if much like us, you are not big planners and want to have a flexible schedule, then a self guided tour of Tequila is the best way to go just as we did. In this post, I am going to talk about how to plan a day trip to Tequila without a conducted tour, reserving a tequila tasting and the must visit Tequila attractions.
Planning a day trip from Guadalajara to Tequila? Here are the FAQs
What is the distance between Guadalajara and Tequila?
Tequila, the colorful town and birthplace of its namesake spirit, is about 66 km (41 miles) from Guadalajara's Centro Historico. This comes to roughly 1.5 hours of driving to visit Tequila on a day trip.
Should I drive from Guadalajara to Tequila?
Mexico has left wheel driving (like USA) and the car rental for a day comes to about 5 USD/per day, but be warned that the traffic and road conditions in Guadalajara can get pretty crazy and so an early morning start is advisable. This is indeed the cheapest option but the sole driver in our group, aka my husband (I cannot drive to save my life), was in no mood to navigate Guadalajara's traffic and so we decided to hire a taxi.
Hiring a taxi from Guadalajara to Tequila
I highly recommend this option because this is what we settled for, i.e. drop off and pick up from Tequila's central plaza after spending 6-8 hours there depending on your pace/schedule.
You can either arrange one from the Centro Historico where there are plenty of taxis waiting near Rotunda of Illustrious Jaliscienses that are willing to take you on a day trip to Tequila. However, they will quote a pretty high price and you need to do some serious haggling (which is totally OK) in fluent Spanish to bring it down to a reasonable rate (1000-1200 pesos or 40-50 US Dollars)
Although my dad (for whom this visit was planned) is fluent in Spanish, we decided to play it safe and asked our hotel (De Mendoza hotel in the heart of Centro Historico) to arrange for a taxi which came to a more expensive to and fro transportation at 1500 pesos or 73 USD (we did not mind shilling out more because we felt this was a more secure arrangement since it was made via our hotel).
Our driver Simon was not only experienced in ferrying many people to this popular destination, but was also very kind, courteous, punctual and helpful. You do need to keep that much cash on you to pay your driver upon returning from your trip.
Bus from Tequila to Guadalajara: Cheapest option of travel
Taking the bus from Guadalajara Central Vieja (bus station) to Tequila may be the cheapest option to travel from Guadalajara to Tequila. Tequila plus buses plying frequently out of the station will take you to Tequila for only $7 and tickets can be purchased at the bus station itself. It takes about 1-2 hours to get there. You can find all details here on the Tequila Plus website.
If you want to depart to Tequila from Centro Historico, there are many tourist buses advertising this popular tourist destination (plus Chapala and Tlaquepaque) heavily. I have no idea of how good they are; they seemed pretty generic to me and so if you want to explore this option, do this at your own discretion.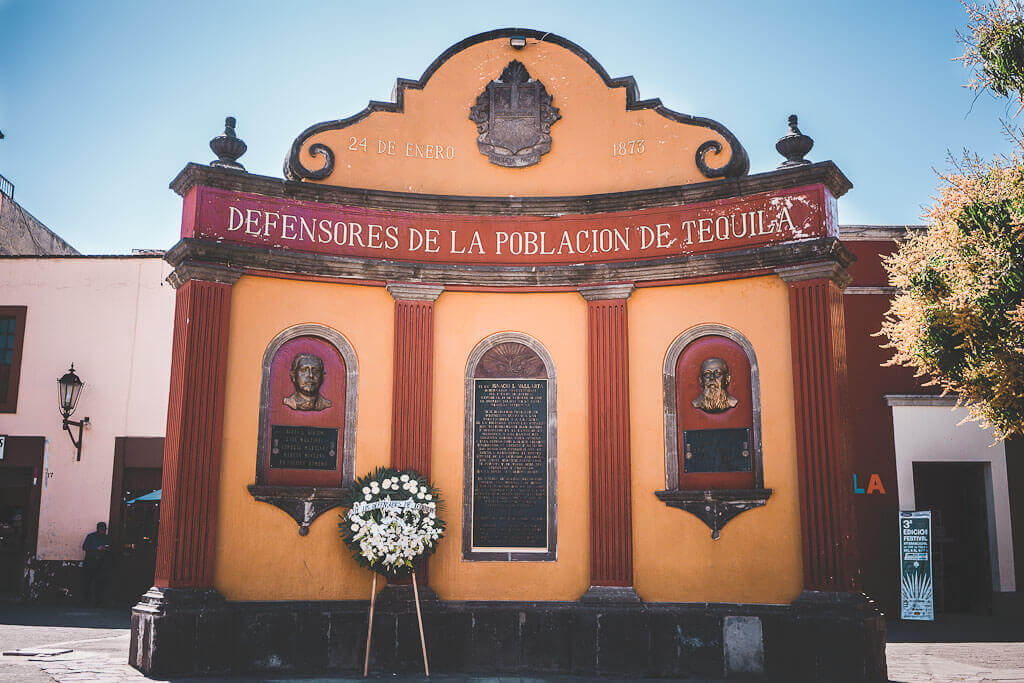 Conducted Tequila Tours for day trip to Tequila (includes sightseeing and tequila tasting)
For a no fuss free day trip to Tequila, you can take one of the many conducted tours for a day of tequila tasting and sightseeing, such as this 6 hour Tequila tour and tasting which is pretty budget friendly.
Besides this, there are several options to choose from as you can read in this post by Culture Trip and in this one suggested by TripAdvisor and in my foodie blogger friend Lori's post on best distillery tours around the world.
If advanced reservations are not your jam or conducive to your budget (the popular ones are kind of pricey) and if not everyone in your group is into drinking tequila, then the best option is to arrange your own transportation or drive to Tequila on your own as I have mentioned before.
Best time to visit Tequila
Honestly, January-March is the best time to visit Tequila. No holiday or summer crowds and cooler mornings giving way to warm afternoons where the mercury easily climbs up to 85F (29C) /perfect weather is a win-win in my book. Also, a weekday trip from Guadalajara to Tequila is a great idea to avoid weekend crowds at the more popular distilleries.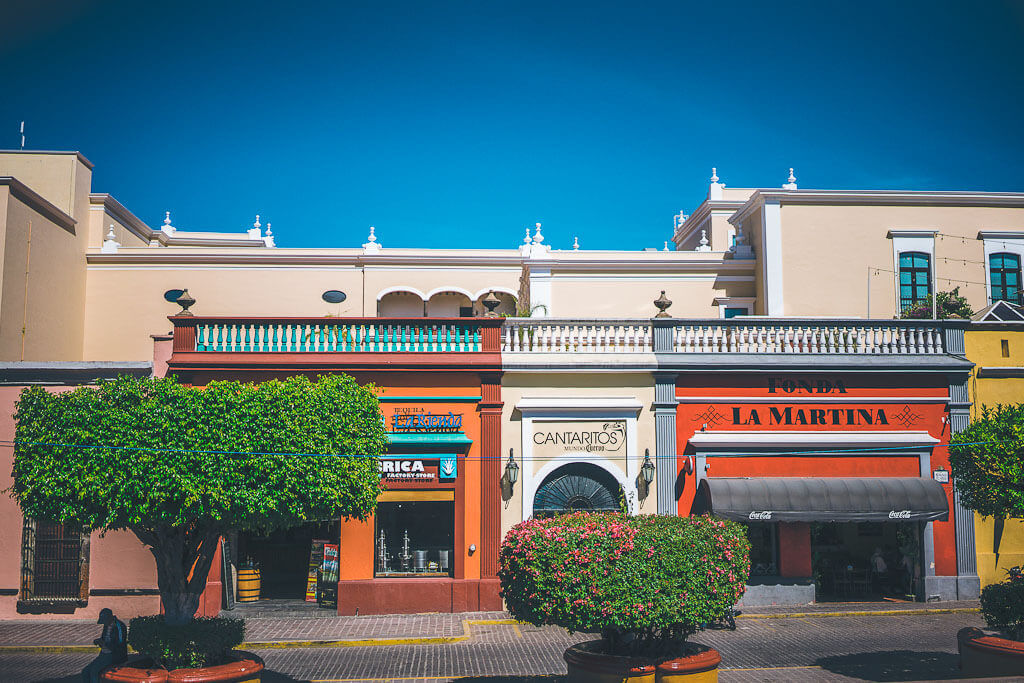 Our tequila tasting experience: José Cuervo tequila tasting tour
As you drive from Guadalajara to Tequila along route 15, you will find several distilleries on the way such as the Tres Mujeres distillery, Tequileria Don Roberto and the likes, all of which have some sort of distillery tour and tasting.
However, Tequila tasting is not at all like wine tasting and so if you are not an avid tequila drinker, visiting only one distillery is good enough to imbibe the spirits with still enough sobriety left for sightseeing. I highly recommend the José Cuervo tequila tour at the oldest distillery La Rojeńa which is a beautiful building in itself.
The entrance to the reception (where stands the giant statue of a raven/"cuervo") is at Jose Cuervo 33 where you can book a tour for either the distillery alone (1 hr) or distillery plus tasting (1 hr 30 min). For the three of us (my husband does not drink so it was only the distillery tour for him), the cost of the entire tequila tour came to 1050 pesos.
There are many other tequila tasting pairings available here as well such as chocolate and tequila pairing or tequila and food pairing, but these require prior reservation. Also, be aware that unless you are on the José Cuervo express or a VIP tour (reserved for weekends), your tasting will not be hosted at their premium cellar where their finest aged tequila is stored.
In addition, this tour does not include any outdoor visits to the tequila fields so please have your visual fill of them as you drive into Tequila since there are plenty of blue agave fields to be seen enroute to the town center.
Our 1.5 hour tequila tour at José Cuervo was extremely educational and entertaining, thanks to our tour guide who was very friendly, patient and super knowledgeable about the entire process.
Our tour started off with a 15 minute movie highlighting the history of Jalisco and tequila, the blue agave from which the spirit is made, the Jimadors who cut down the leaves when the plant matures (takes a whopping 8-10 years for maturation) with handheld metallic rods named "coy" to expose the pineapple like "heart" that yields the spirit and finally the famed José Cuervo family operation that started in 1758. We were then walked through the different stages of tequila making starting from baking of the agave hearts in ovens at 90 deg C to breakdown the starch to sugar.
At this point the agave gets a yam like taste and look and can be used to produce agave syrup since it is sweet and juicy. Next comes fermentation with yeast where the sugars are converted to alcohol, followed by double distillation to separate the ethanol from the harmful methanol and finally dilution of the product with distilled water to optimize the "proof" (indicator of ethanol content) for commercialization.
The best part is that the left over agave fiber is recycled into several products like bags, purses and paper. We also learned about the different grades of tequila (unaged Blanco vs aged in French or American oak barrels that give it a smooth finish) and the charring process that infuses the drink with different notes from the oak wood.
The scientist in me was delighted to get a sneak peak of the labs where they test the product for its different attributes (pH, color, purity etc) for quality control. We ended our tour with tequila tasting of 4 different aged tequilas as well their premium 7 yr aged spirit, discovered the correct way of tequila tasting (note: it is NOT how you taste wine) and the different fruit and spices that complement a tasting depending on the tequila's age. I highly recommend this tour as an excellent introductory segue into the world of tequila tasting!
Self guided tour of Tequila on a day trip: best things to do in Tequila
Explore Plaza principal
Once you've survived your first tequila tasting, get ready to explore the colorful town center. For starters, simply walk around the streets/lanes surrounding the main plaza (Plaza principal) to take in your fill of the colors and the architecture.
Calling Tequila a "colorful" town is an understatement since there is a dazzling riot of colors waiting to greet you around Plaza Principal. Much like the brightly painted houses in San Juan, Puerto Rico exemplifying Spanish neo-colonial architecture, or those seen in Oaxaca city, Mexico, here too rows and rows of colorful home and store facades await you at every turn.
Spending some time on Plaza Principal alone is a good idea in order to catch the "Voladores" or flying dancers in action, an ancient Mesoamerican harvest ceremony recognized by the UNESCO in 2009 as integral to Mexico's cultural heritage.
The dancers climb atop a long pole to the tunes of a flute like organ and whiz around the pole in a flying motion with their feet tied to the ropes radiating out as they gradually unspool, thus bringing them closer to the ground. This performance happens every hour and it is a good idea to show your appreciation for this stellar performance by giving some cash to one of the performers who comes to collect gratuity.
The plaza is also home to the installation "TEQUILA" in big bold colorful letters which needless to say is the perfect tourist magnet for photos. The city hall, with its fabulous murals is tucked away near the plaza and is definitely worth a visit!
Looming over the plaza is the Parroquia Santiago Apostol, a spartan Catholic cathedral behind which is a bustling food market where we grabbed a bite (standard Mexican fare plus some Guadalajara specialities such as the goat stew Birria and the Torta Ahogada) but you can also explore the restaurants on the plaza for a classier sit-down meal whilst people watching.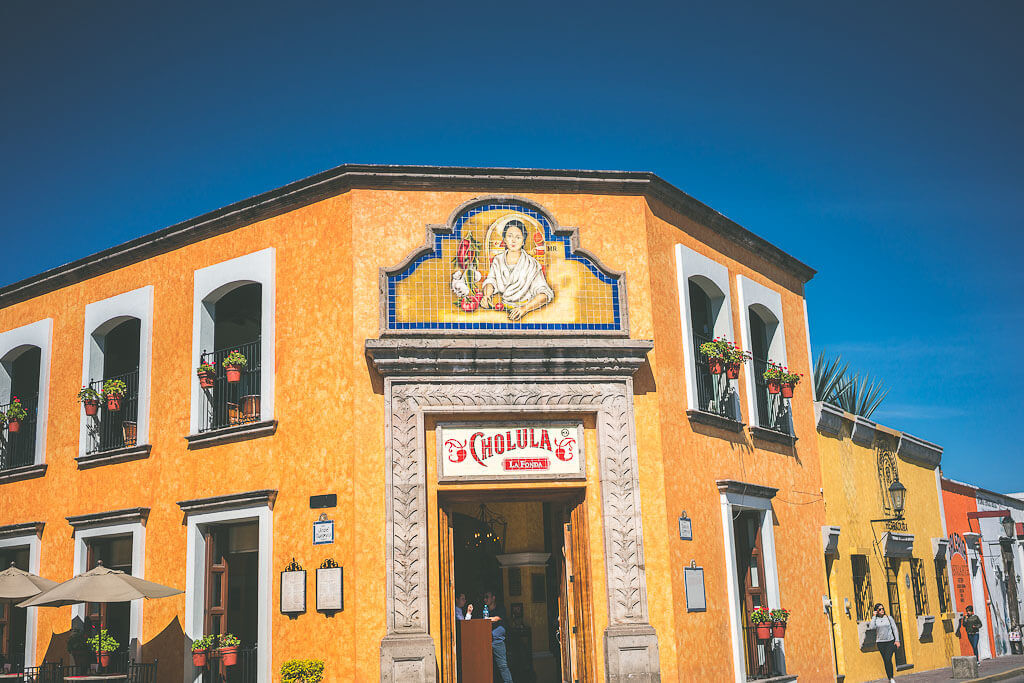 Visit the National Museum of tequila
Besides our José Cuervo tequila tour, we really loved our visit to the tiny National Museum of tequila which is extremely well curated and filled with information. For an entry fee of 15 pesos (less than an US dollar) you get a total lowdown on the historical and cultural significance of this drink that is unique to Mexico and bears the name of the region much like Champagne in France.
There are only four regions in Mexico, including Jalisco which are home to the blue agave that is exclusively the plant from which tequila is obtained. Much like Mozzarella de bufala and Champagne which go through an approval and quality auditing body to attest to their authenticity, the sanctity of Tequila is also guarded by an overseeing committee to meet the highest standard of production.
In addition, tequila is never served with a worm unlike some Mezcals, as in if there is a worm at the bottom of your shot glass, that ain't tequila! We saw rows of glass cases showcasing tequila packaging of all kinds that reflects how much it is a part of Mexico's art, culture and heritage.
Overall, the museum does an excellent job of explaining the origins of tequila and life around its cultivation, production and commercialization, while dispelling common misconceptions surrounding the drink. Highly recommended as a pit stop BEFORE your tequila tasting for that extra shot of knowledge (see what I did there?).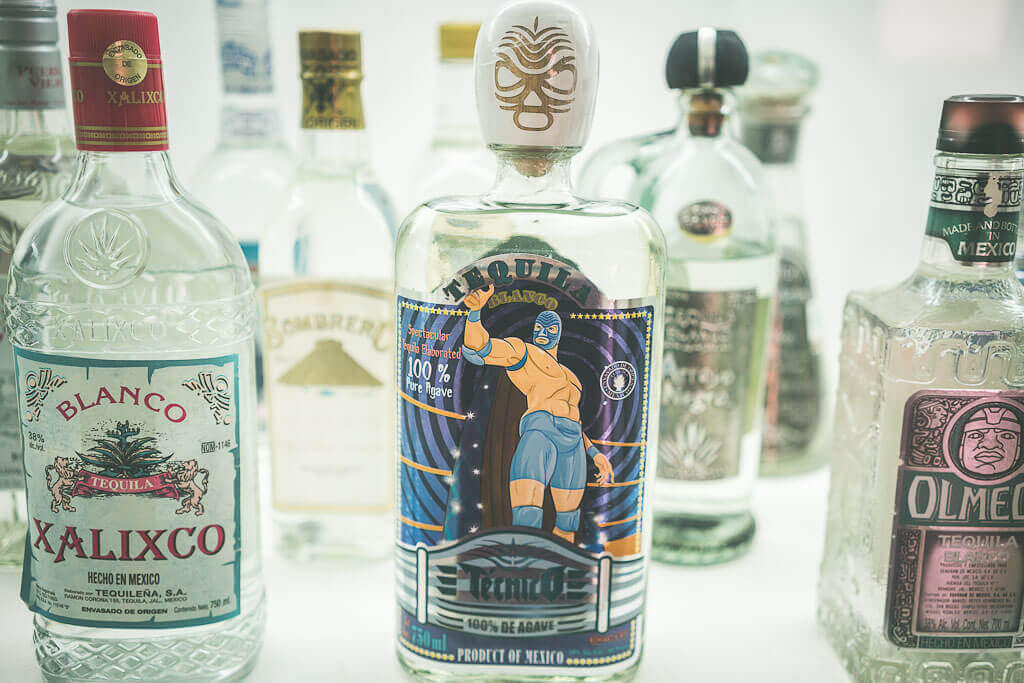 I hope you enjoyed this article on our day trip to Tequila from Guadalajara. Other easily done day trips are that to the much closer city of Tlaquepaque (20-30 min drive from Guadalajara) which is a major draw for some artisanal shopping and amazing restaurants and the Guachimontones pyramids. Thanks so much for stopping by and if you ever plan to visit Mexico, definitely include Guadalajara in your itinerary!

Like this post? Hover over the image below to pin it for later

«