Last Updated on June 16, 2022 by Paroma
A Local's Guide to San Francisco
Fog City. City by the Bay. Yerba Buena. No matter what name you call it by, the 49 miles of San Francisco remains as alluring now as it was during the gold rush in the late 1800s. Whether you are squeezed for time or on an epic vacation, this pint sized city has plenty of things to keep you busy. There are several ways to enjoy the city and though there is no right or wrong one, if you want to experience San Francisco like a local, then look no further than my local's guide to San Francisco, which is essentially a list of the top 20 things to do in the city to make your stay outlandishly memorable!
As a San Francisco resident of 12+ years, this list of must have San Francisco experiences goes well beyond what is suggested on Trip Advisor and gives you a taste of a little bit of everything that the city has to offer, from the best hiking trails leading to drop-dead gorgeous views to city strolls and from hidden gems to popular attractions in diverse San Francisco neighborhoods.
Scroll down this list for some well known and some not so touristy San Francisco attractions, shopping ideas and lots of information via post links on different aspects of exploring San Francisco like a local! If you are visiting with kids, here is an excellent guide on things to do in San Francisco with kids including steam train rides near San Francisco!
Disclaimer: This post may contain some affiliate links. Clicking on them may help me get a small commission at no extra cost of the product to you. Thank you!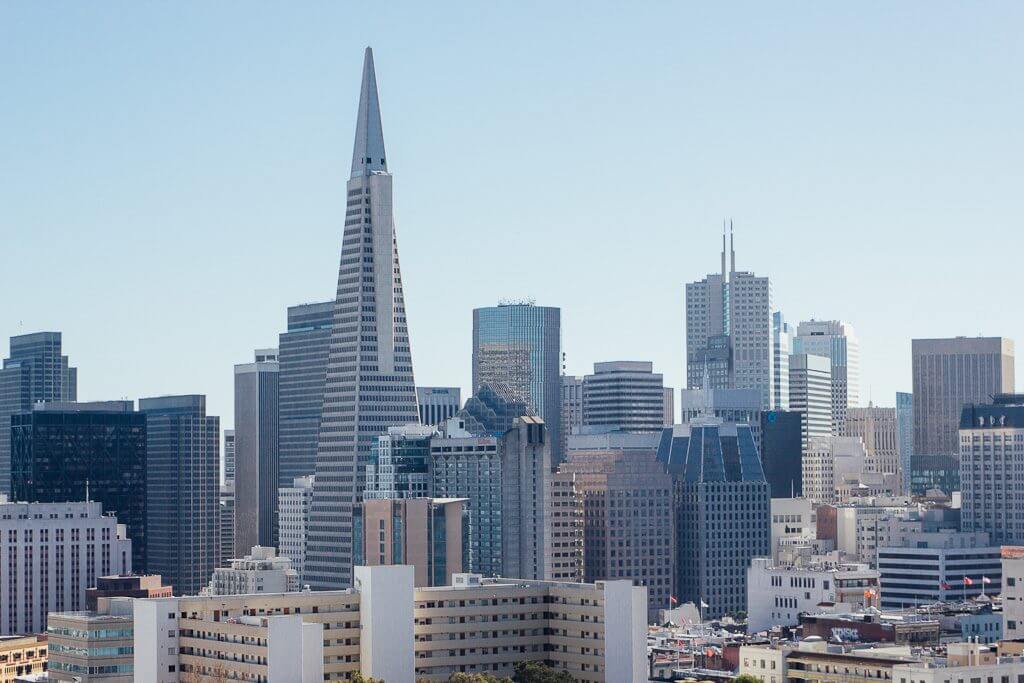 Know before you visit San Francisco: helpful tips from a resident
a) San Francisco is tiny compared to other American cities, but definitely has a lot to offer. A good 4-5 days is needed to do all the touristy things plus what is on this local's guide to SF list, including alternate Instagram-worthy spots that are hidden local gems. If you have 10 days or so, check out this 10 day California road trip itinerary all the way to Los Angeles!

b) San Francisco also happens to be one of the most expensive cities in the world, and is currently ranked #1 in terms of real estate in USA, i.e. rental prices are the highest in the nation and have shot through the stratosphere. Everything from gas to dining out can be super expensive, so if you are on a tight budget then better read my budget San Francisco itinerary, aka fun free and cheap things to do in the city or get your 50 TOTALLY FREE THINGS TO DO LIST in San Francisco here!
c) San Francisco has weird weather and microclimates and so you need a foolproof packing list to not get caught by surprise! Our weather kind of hovers between 65-70 F (18-21 deg C) and so summers are cool whereas a few weeks of Fall are hot as hell and winters are mild.
Dress in layers like locals do and always carry a jacket because you never know how the weather will change! Also, wear sturdy shoes since this city is hilly AF and you will need to do a lot of walking to explore the city as well as on gorgeous hikes to see incredibly beautiful panoramic views. Simply take notes from my guide on best time to travel to San Francisco for your fool proof planning!
d) San Francisco is filled with weird, wonderful things and hidden secrets that you will never find elsewhere. Do read this fun blog post on all the weird, quirky attractions that are uniquely SF! and where to find 3 stunning mosaic stairs.
e) I have left out a lot of popular attractions like Fisherman's Wharf, Ghirardelli square and Chinatown from this guide since you can find them practically everywhere. This is a local's guide to San Francisco and so I have tried to keep it evenly keeled with popular and lesser known things to do in SF.
f) San Francisco is extremely dog friendly! SF dog Parks easily outnumber children's parks, there are lots of dog friendly hiking trails and many leash free dog beaches where your pup can play in the sand. See my dog friendly SF guide stories to learn more!
g) The best time to visit San Francisco is anything but summer! Visit San Francisco in spring to see our gorgeous blooms and blossoms or come in Fall for unusual warm weather.
h) San Francisco is a tiny city spanning 49 square miles but we have over 2 dozen neighborhoods which are diverse microcosms of their own. Discover the best of them in my San Francisco neighborhoods guide. You can also join this super fun movie sights city tour where actor turned guides show you all the locations where over 50 movies were filmed in the city in this interactive bus tour.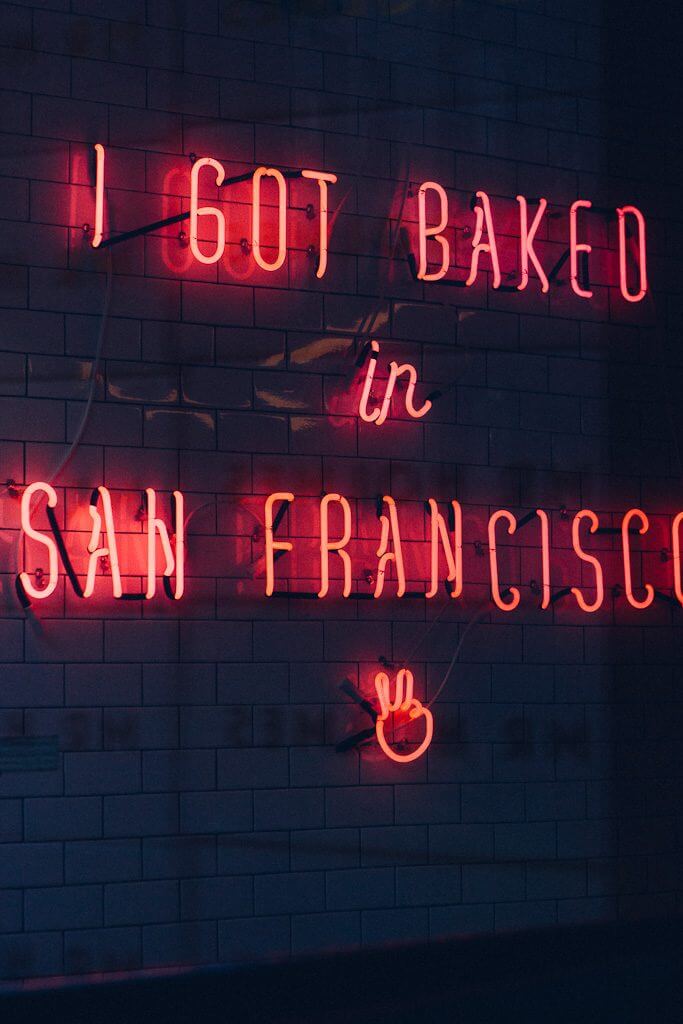 Only in San Francisco #1 Cable Car ride
Starting this San Francisco local's guide with something on top of every visitors list. Hypocrisy much? I think not. Riding a cable car is a must do for everyone setting foot in the city because its unadulterated fun and very iconic San Francisco. I also recommend it one of the many fun date ideas in San Francisco if visiting with your partner.
You will have a true appreciation of the city as you chug up Powell street to Fisherman's Wharf via the quintessential neighborhoods of Nob Hill, Russian Hill and Chinatown plus the ringing of the cable car bell and the mechanics of maneuvering the vehicle are a real treat, not discounting the jolly conductor and driver.
There are three cable car routes and more information can be found on their website. I highly recommend having the exact change on you or small bills for the $7.00 fare one way (seniors/disabled pay $3.00).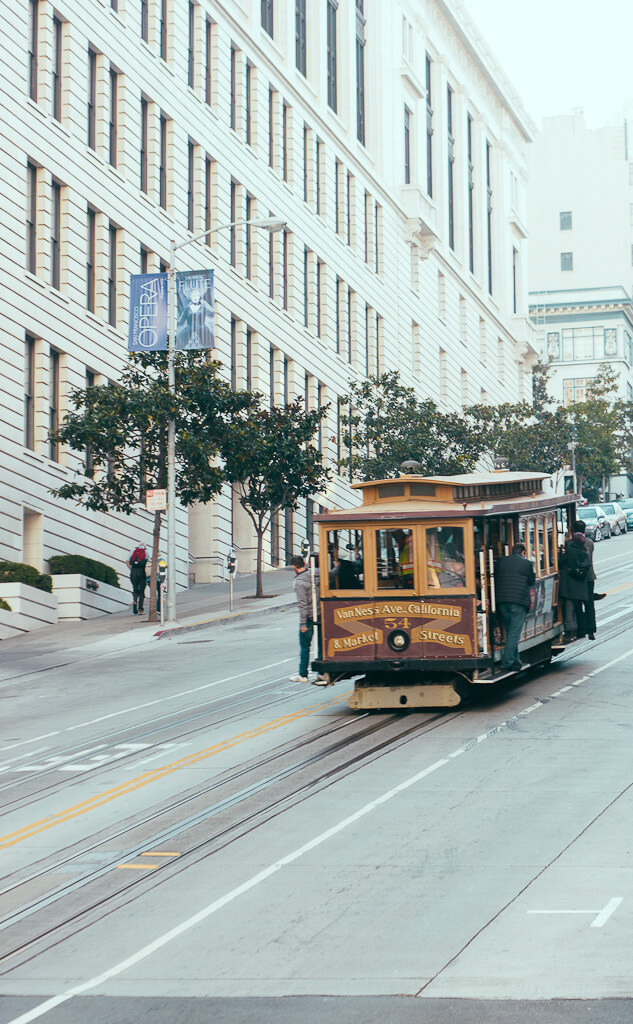 Experience San Francisco like a local #2: Coit Tower
For those of you who do not mind a good hike, climbing to Coit Tower looming over North Beach, via the steps on Filbert Street, are an ideal exercise.
Once you huff and puff your way up to the base of the tower, be prepared to be greeted by beautiful murals depicting the city life from decades ago, and inspired by famous Mexican muralist Diego Rivera when he visited San Francisco in the 1930s.
The murals are free and a small fee is needed to go the very top of the tower (via elevator), from where you can get sweeping views of the city. For more information, visit the Coit tower website.
Local's Guide to San Francisco #3: Golden Gate bridge
This one tops every to do list for San Francisco, and thus had to be included here as well. No trip to San Francisco can be complete without a glimpse of the iconic orange bridge that connects us to Marin county.
Although chock full of tourists, there are several vantage points in and outside the city to get unobstructed views of the Golden Gate bridge. Don't spend your time walking across the bridge or simply standing at the terminal lookout/viewing points for a photo of the bridge with a million other people in it.
Read my guide to four amazing spots where you can get the best view of the Golden Gate bridge for a lovely sunrise or sunset with this iconic Californian engineering marvel as the backdrop!
One of the most romantic things to do in San Francisco is to go on Golden Gate Bridge cruise with fantastic views of the bridge from the waters of the Bay. The bridge to bridge cruise where you get to sail under the Golden Gate Bridge and the Oakland Bridge is also a very popular tour. For the ultimate romantic experience, join a San Francisco Bay Sunset Cruise by Luxury Catamaran to witness a memorable sunset as you sail on the bay with the world famous bridge as your backdrop.
San Francisco must see attraction #4: Murals of Mission Street
The neighborhood of Mission is the largest, most diverse and the most happening in the city and legend has it that even if you dine out every single night in a year, you will still not be able to exhaust yourself of options.
A neighborhood in the eye of the storm due to rapid gentrification, a neighborhood which is ephemeral and a neighborhood which is the hotbed of a changing city, Mission is dotted with old-school mom and pop taquerias, lot of cute stores to pick up the best San Francisco souvenirs, hipster cafes, small businesses and tons of good places to eat ranging from lots of vegetarian restaurants to carnivorous delights and hole in the walls to upscale dining.
But if you truly want to experience San Francisco like a local, then the one thing that you must set eyes on is the famous mural alley of Mission which is a political and social canvas for artists in the city and is plastered with some fantastic street art.
Although almost all neighborhoods of San Francisco have their fair share of guerrilla street art, the Mission takes the cake, unquestionably! More information on Clarion aka mural alley here. Read this post on 5 things to do in San Francisco's Mission district for more ideas on how to explore our most vibrant neighborhood.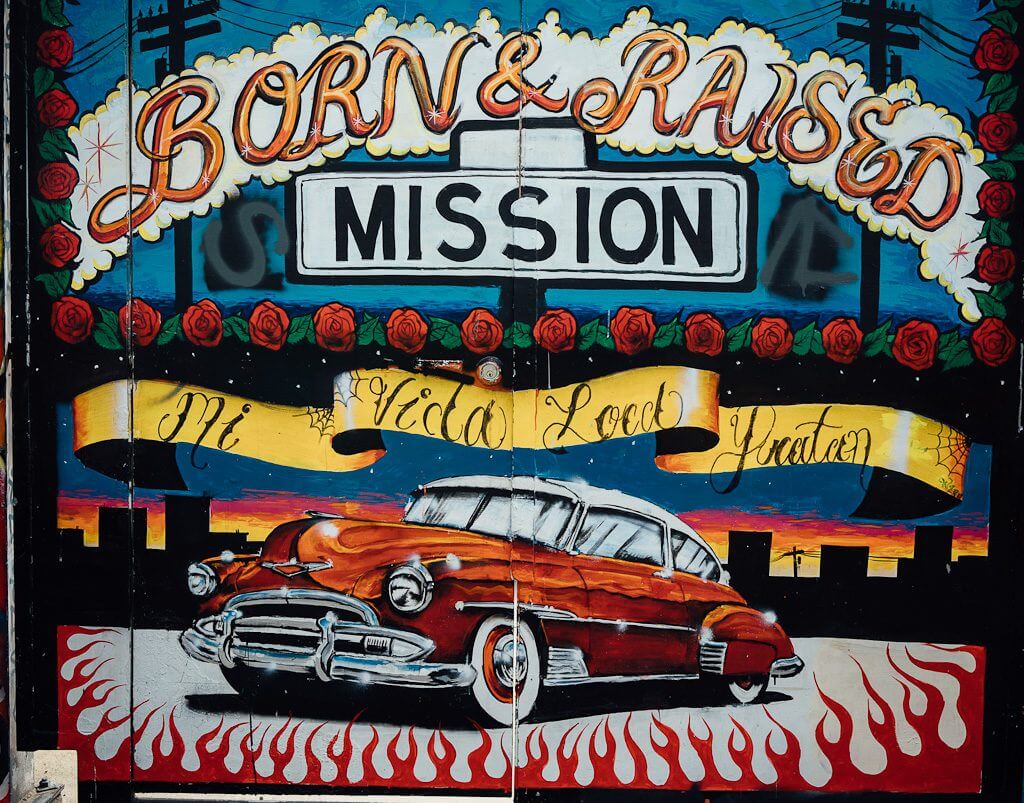 San Francisco local's guide #5: Palace of Fine Arts
Built during the Panama-Pacific International Exposition in 1915, to showcase the burgeoning economic power of the city recovering from 1906′s devastating earthquake and to celebrate the completion of the Panama canal, the Palace of Fine Arts is an architectural beauty and a sight to behold.
The central mezzanine is gorgeous and hosts cultural events and the fountains and greenery form a beautiful place for respite from the city's hum drum. Although another tourist favorite, this one should not be missed either. The POFA also nests a small exhibit on the exposition. More information on the palace here. Arrive early because this is a very popular tourist spot.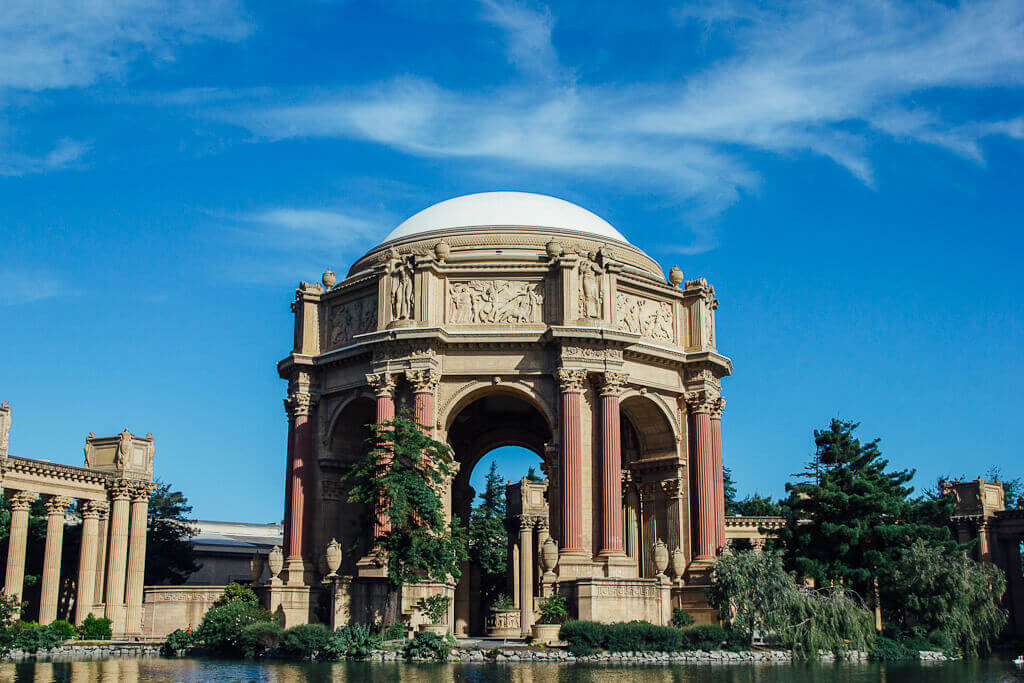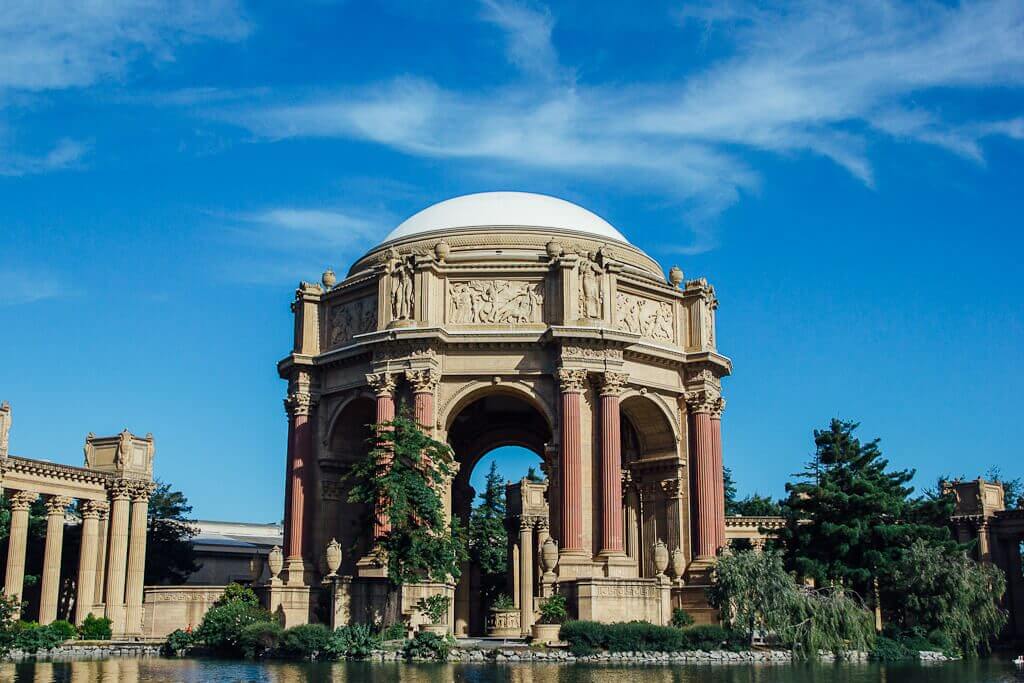 Local's guide to San Francisco #6: Japantown
San Francisco's Japantown is one of the only three remaining in California (the other two being in San Jose and Los Angeles) and is not to be missed.
Spread along a few blocks on Webster and Buchanan street (in the neighborhood of Western Addition), the "town" comprises of a peace plaza, a neat mall selling everything Japanese via its different vendors (food, cafes, boutiques, famous Kinokuniya bookstore and other businesses), a nearby Japanese grocery store (Nijiya Market), many other cafes, gift shops and restaurants around the mall as well as one of the cutest tea-rooms in San Francisco.
It is a great place to pick up some of your Nippon favorites, get your Origami, Anime or Manga fill and stop by to sample a sweet potato latte (YakiniQ cafe) or the mouthwatering, belly satisfying Geisha Float (green tea slush with sweet red bean and ice-cream from Cafe Hana) or mouthwatering sweet crepes from Belly Good Cafe & Crepes. Better still, get a table for two for afternoon tea at the charming tea shop at the eclectic store that is New People.
San Francisco sightseeing attraction #7: Alcatraz
Again, one more touristy thing but admit it, you will be hard pressed to find a penitentiary as cool as this and that too right in the middle of the ocean. Tickets sell out early, so please book this fantastic tour in advance (known as "Sail and Jail Boat Cruise") and line up for a memorable visit to one of the most notorious federal correction centers ever, now no longer functional and hosts a beautiful botanical garden full of native shrubbery. Also, no eating or drinking on the island beyond the landing.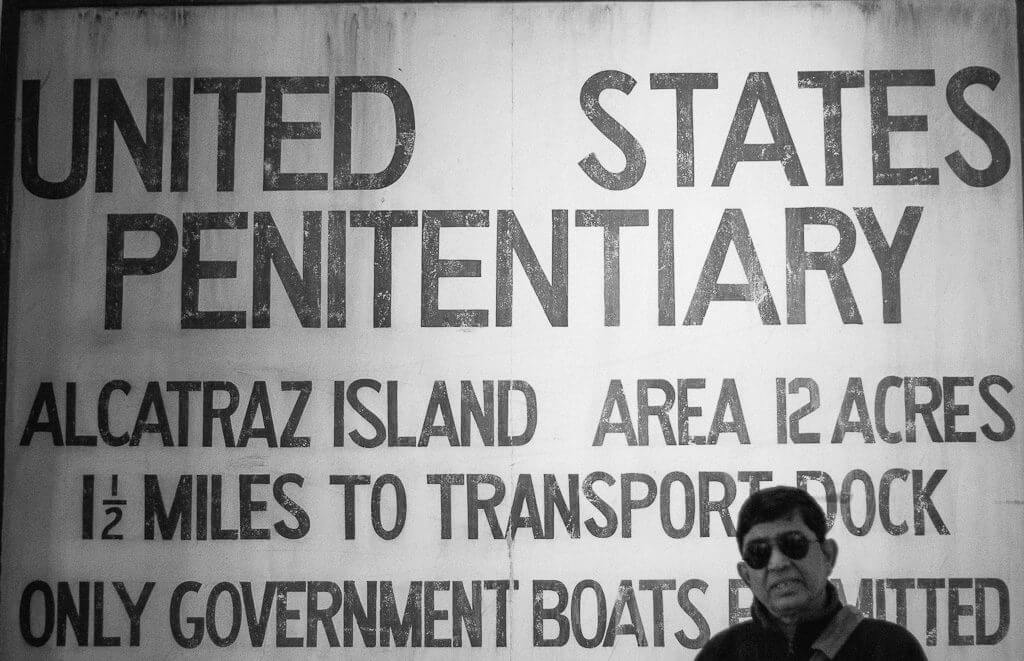 San Francisco sightseeing attraction #8: Golden Gate Park
Our very own Shangri-La in the city, the Golden Gate Park is a greenery abound as well as home to the California Academy of Sciences (buy tickets here for admission), the Shakespeare garden, the Arboretum, the Hagiwara tea garden and the beautiful de Young Museum.
All of these are must visits, but you can skip all of these and simply stroll, jog or run through the park, take a boat ride on the tucked away Stowe lake or simply have a day out with a picnic basket to attain a blissful state of Nirvana, a far cry away from the city's humdrum. More information on the Golden Gate Park can be found on its website.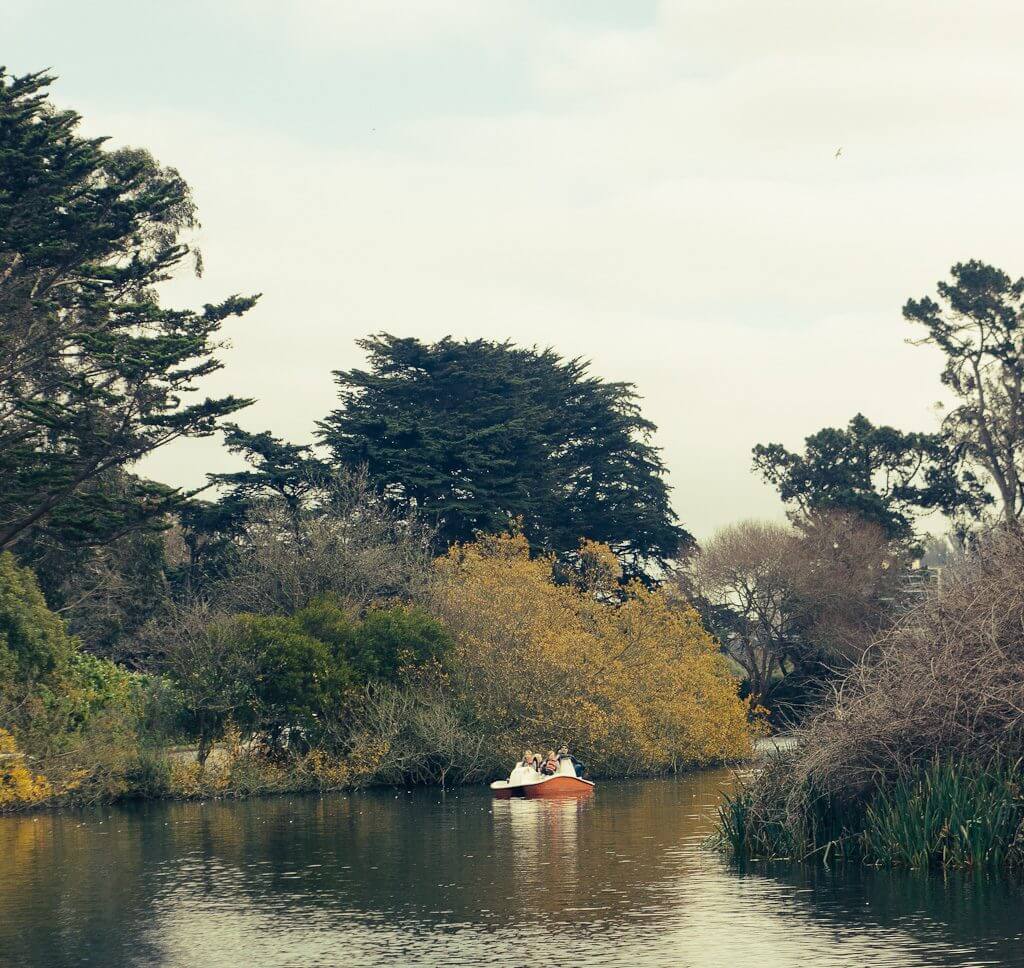 Experience San Francisco like a local #9: iconic neighborhoods
San Francisco comprises of many iconic neighborhoods and some of my favorite ones that you should not miss are as follows:
Haight
The neighborhood of Haight is the last hippie bastion in California and perhaps one of its kind in North America. A very quirky neighborhood filled with even more colorful characters and beautiful murals, it is definitely not to be missed.
Stroll along Haight street and stop by many of its local boutiques for unique offerings, the world famous Rasputin and Amoeba Music stores and of course the legendary rock band Grateful Dead's communal home (a Queen Anne style Victorian on 710 Ashbury street).
Once here, do some shopping, grab a bite or drink (Alembic on Haight is one of my favorite bars), see the lovely murals and of course spend some time at the Golden Gate park.Do not forget to snap that Instagram-worthy photo beneath the hugh fishnet stocking dangling legs above the Piedmont boutique!
Russian Hill
Russian Hill, one of my favorite neighborhoods, is sandwiched between North Beach and Telegraph hill and is quintessentially San Francisco, so much so that I had to include it in my local's guide to San Francisco.
It is a quiet neighborhood at an elevation and thus provides beautiful vantage points of the bay and has gorgeous homes with secret lanes, stairs winding up, zen gardens tucked away in tiny lanes and some of the best restaurants in the city. A must visit for fantastic views and for some quiet moments of solitude, away from the urban chaos.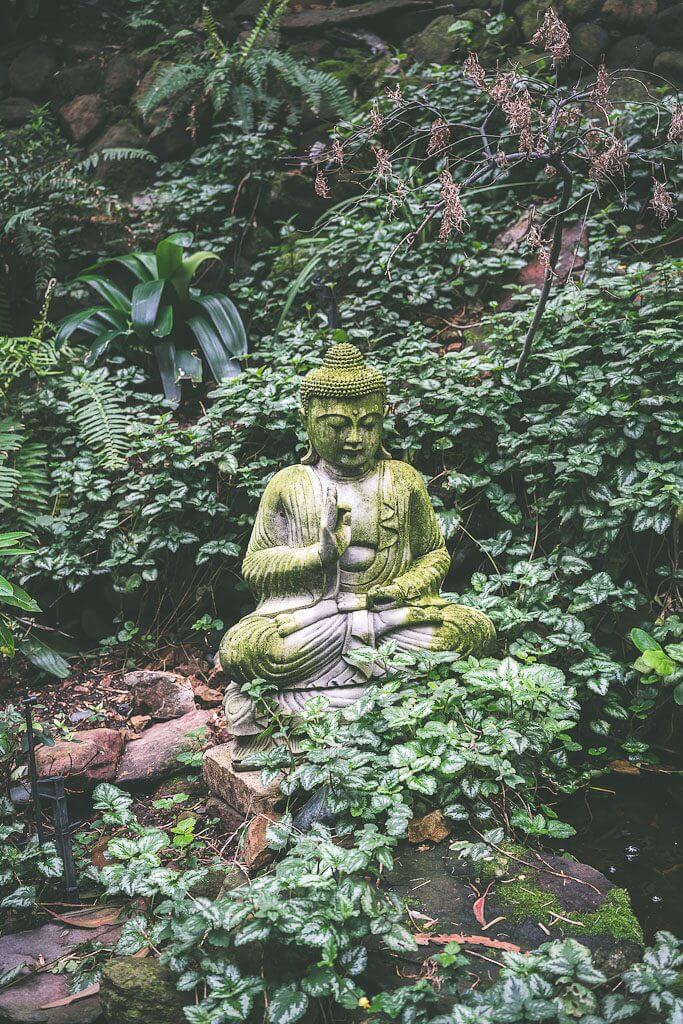 Marina
SF Marina is our northernmost neighborhood with fantastic views of the bay, the orange bridge, wisps of white clouds above and dove tailed white boats sailing below on the azure blue water. Nothing beats this view, plus the green lawn flanked by candy colored, slightly slanted homes on one side and a walkway on the other is great for pooches and some kite flying.
To experience San Francisco like a local, walk, rest, jog-take your pick, but do visit the marina. The adjacent fort Mason is home to Greens, a vegetarian restaurants, Sunday farmers' market and many exhibit halls hosting arts & crafts fairs as well as SF library book sales. Its biggest draw lies in the food truck fiesta (boasting of dozens of trucks, live music and a beer garden) every year from Spring-October end.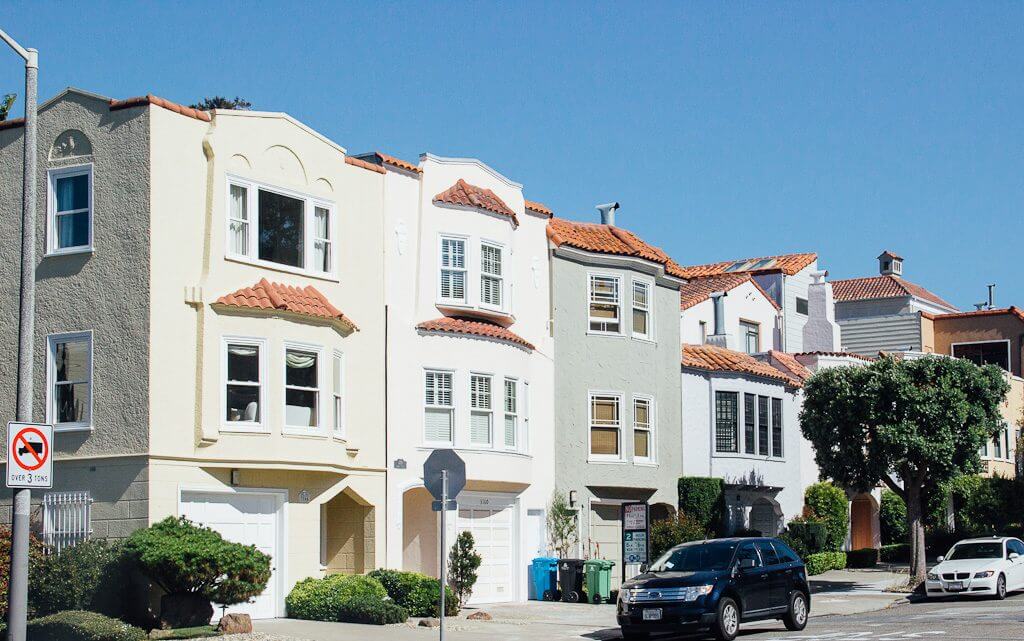 Castro
No matter what your religious beliefs may be, borrow yourself some open minded progressiveness and visit Castro, one of the friendliest neighborhoods of the city, which is iconic San Francisco for the being the hub of the Gay Rights movement.
The Harvey Milk museum (HM was the first openly gay mayor of San Francisco) aside, this place is also full of great eateries and the Castro theater, one of the very remaining single screen theaters in the city. The theater showcases awesome film festivals of different genres (Noir, silent etc) and there is also an organ player who rises to the stage from below and entertains you for sometime before the show starts.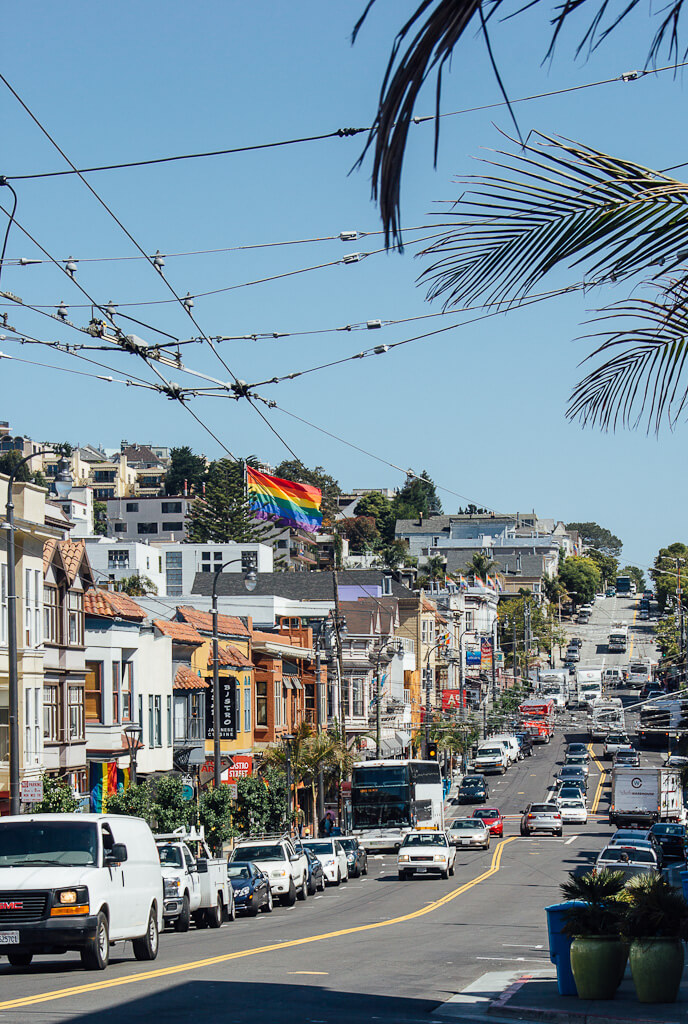 San Francisco art scene #10: Museums
In this local's guide to San Francisco, I wanted to showcase some of SF's famous museums-encompassing modern art lovers, aficionados of classical European and Asian Art and those interested in Science, Natural History as well as animation!
First is the delightful SFMOMA (click here to book entry tickets to the newly renovated SFMOMA) with the largest collection of modern art in North America and also an amazing restaurant In-situ that you totally need to check out.
The other two fine arts museums are the Legion of Honor and Asian Arts Museum, the former being a tad bit more favored owing to its breathtaking location. Both museums are must visits for the art lover in you and have a very impressive collection of art, namely renaissance and baroque period at LOH (plus the largest collection of Auguste Rodin's works outside of Paris) and South Asian art at the Asian Art Museum.
Those curious at heart and with a scientific bend of mind will love the California Academy of Sciences and the The Exploratorium, a must visit for folks of all ages! If you feel that both are overcrowded with kids sapping you off your sanity, you would be better off attending these at night when they open their gates for adults only hours, termed "museum nightlife".
Finally, we also have the famous Walt Disney museum in the Presidio where both young and old can have fun with the spectacular Disney Pixar animation studios in Emeryville on the East Bay, a short drive away!
San Francisco Markets #11: Ferry Building
The Ferry Building or Pier 1 was the erstwhile port of San Francisco and at present is the home to many local merchants, shops and restaurants. In addition, there is a humongous farmers' market (the larger open air market in North America) year round that is not to be missed, especially on Saturdays. A must, must, must visit for fantastic food experience or a gift to buy or for strolling through the din and bustle of the market to take in all of California's rich bounty. Also, spectacular view of the Bay Bridge that is hard to pass up.
San Francisco culture #12: Performing arts
Catch a jazz performance at the swanky San Francisco Jazz center in Hayes Valley, another trendy neighborhood with cute boutiques and lots of great restaurants. Watch a play at the A.C.T or SF Playhouse in San Francisco's theatre district in downtown.
If you arrive in summer, make a beeline for a free music concert (Stern Grove Music festival) at the Stern Grove Park. A list of other notable music festivals in San Francisco can be found here, including the super famous Outside Lands music festival in Golden gate park.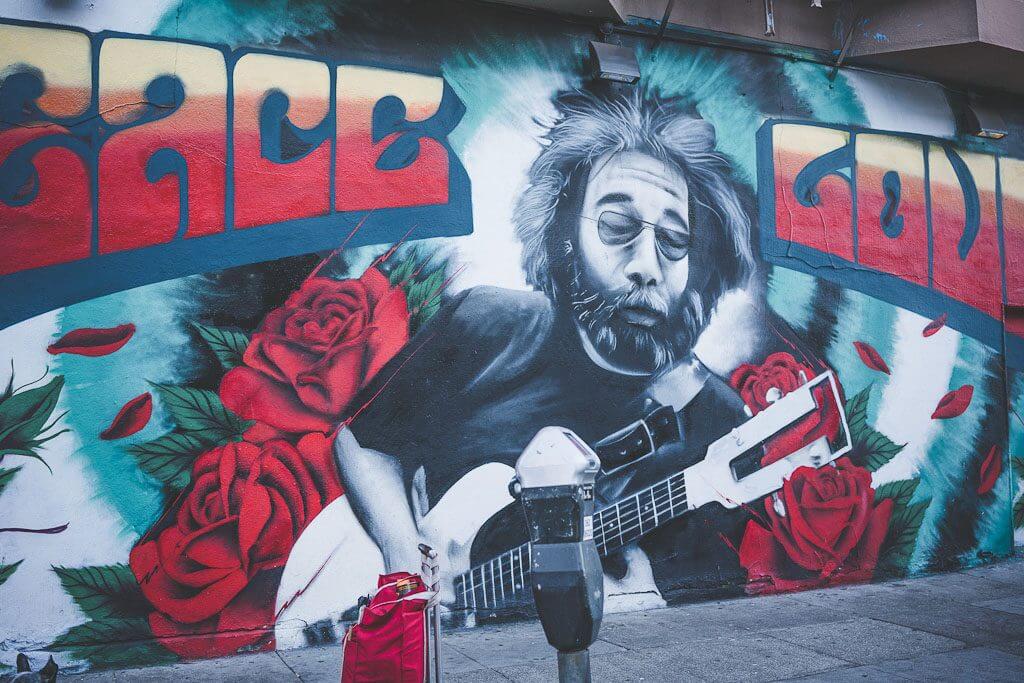 San Francisco sightseeing #13: Land's End
The Sutro bath house ruins, are at the northwestern most point of the city, right next to the former Cliff House and in the Land's End area which marks the end of Continental USA landmass. Developed by Adolph Sutro in 1894 as a swimming and recreational facility that did not translate into commercial success, the ruins are accessed via steep descent of stairs and rocky trail, but are totally worth the hike.
Dress warmly (cause it gets really chilly and windy) and get a pair of sturdy boots/shoes and you are golden! More information available here, and do not forget to peep into the museum next door for history of the batch and other fun stuff. There is also an adjacent cafe should you feel the need to grab a bite. The coastal trail at Land's end (one of the best hikes in San Francisco) leads to the magical land's end labyrinth (read this post on how to get there) as well as a secret beach perfect for sunsets!
San Francisco architecture #14: Painted Ladies, Alamo Square
The Painted ladies are a set of pretty Victorian style houses lined flanking one end of Alamo Square Park. Grab a basket and pick a sunny spot for picnic at the park, all the while marveling at another San Francisco icon, featured in several movies. Another must see, plus the park is majorly dog friendly!
Since these houses are actually residential (i.e. people do inhabit them), several measures have been taken to respect their privacy including restricting access of tourist buses in that area. Your best bet is take public transportation and you can get all the relevant information here.
Besides these painted Victorians, San Francisco is crammed with other breathtaking beautiful architectural styles such as Queen Anne, Edwardians and Haciendas standing in different pastel or multi colored hues. The various San Francisco neighborhoods of outer Sunset, outer Richmond, Mission, Russian Hill and NOPA have several of these architectural treasures waiting to be admired!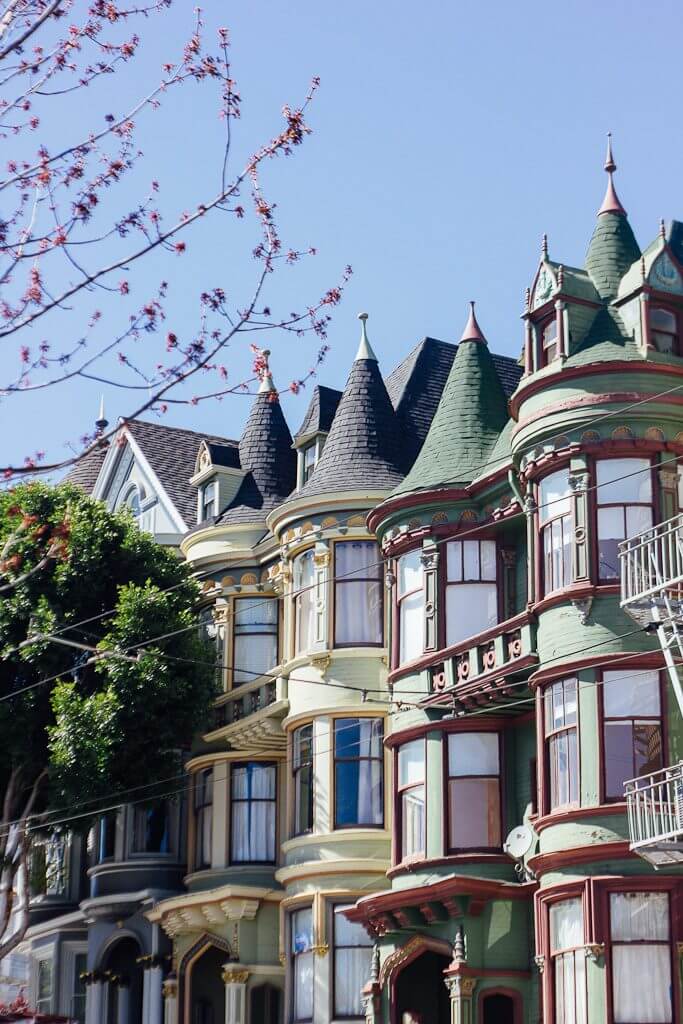 San Francisco's urban hikes #15: The Presidio/Mount Sutro
The Presidio of San Francisco, once a military outpost for three nations over 218 years, is now simply acres of green space abound with natural beauty and erstwhile army residences, the prestigious Presidio clubhouse, the Walt Disney Museum and a few restaurants such as a Commissary and Arguello, by famous SF chef Traci Des Jardins.
The main attractions are the views, including a splendid one of the Golden Gate Bridge, summer night outdoor movie events and Picnic on the Presidio with food trucks. It has lots of dog friendly hiking trails leading to the ocean such as the famous Coastal trail, is home to Inspiration point (the famous look out spot) and has the Lyon street steps near one of its entrances. Read all about the best hiking trails in the Presidio (with their location map) right here.
San Francisco sightseeing attraction #16: Beaches
You cannot come to San Francisco and skip some of the best beaches in California, such Baker Beach or Marshall's beach, the locals favorite beach with sweeping views of the Golden Gate bridge!
Located in the San Francisco Presidio, they are lesser known than the extremely popular Ocean beach, which is on the westernmost fringe of the city. Do not venture far out into the rocky parts, cause you may find nudists enjoying their share of the sun. Beaches in San Francisco are dog friendly but are notoriously windy with chilly, cold water so it's best to dress in layers and go.
For witnessing a gorgeous sunset at a relatively secluded beach minus the crowds, read my guide to two secret, lesser known beaches in San Francisco!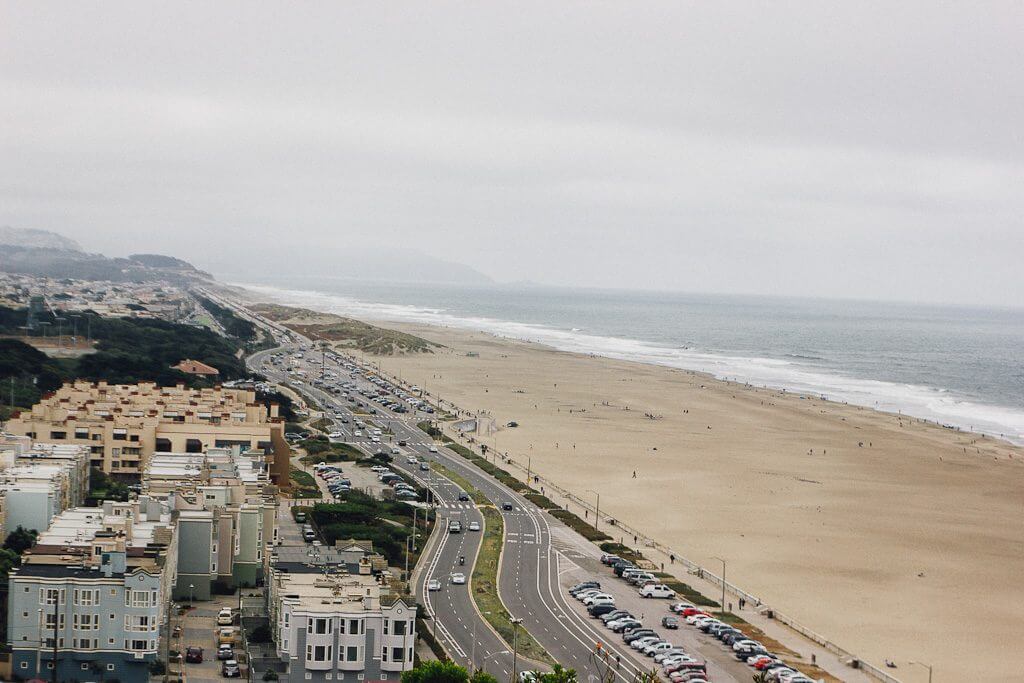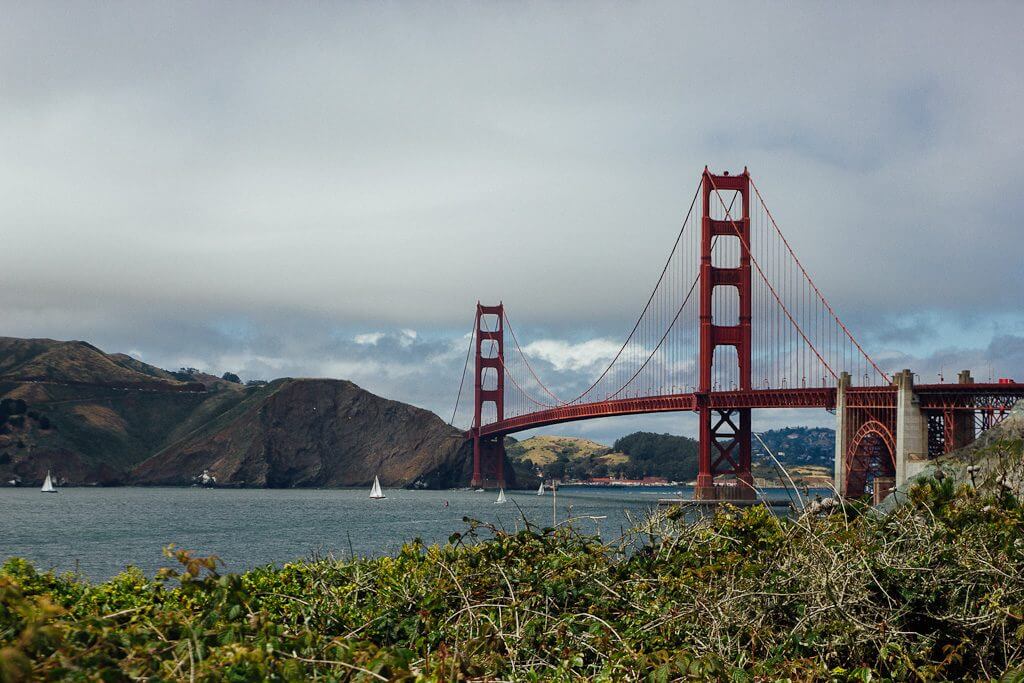 San Francisco sightseeing attraction #17: Look out points
I have compiled a list of San Francisco spots that offer spectacular views of the city and you can read all about them in this post here. These are all local favorites and will not appear in your run of the mill tourist guides or TripAdvisor forums.
The hikes and climbs are great for your limbs, but even if you are not a health nut but simply want to soak all of the city in or need a resting place,far away from the maddening crowd of the tourists, with a great view or are a photography junkie or are simply trying to make social media envious with your shots, a few of these look out points (all free of cost) should be on your list, especially Tank Hill Park and Kite Hill Open Space Reserve.
Our other favorites are Mt. Davidson Park (with gorgeous views of the city), Corona Heights and Bernal Heights Park/Bernal Hill (if you can climb all the way up the hill). The other safer option is near Twin Peaks (which is what most people go to and what was our quick photo shoot spot during our wedding) but these parks and open reserves are a better way of marveling at our beautiful city, from afar. All parks mentioned here are dog friendly.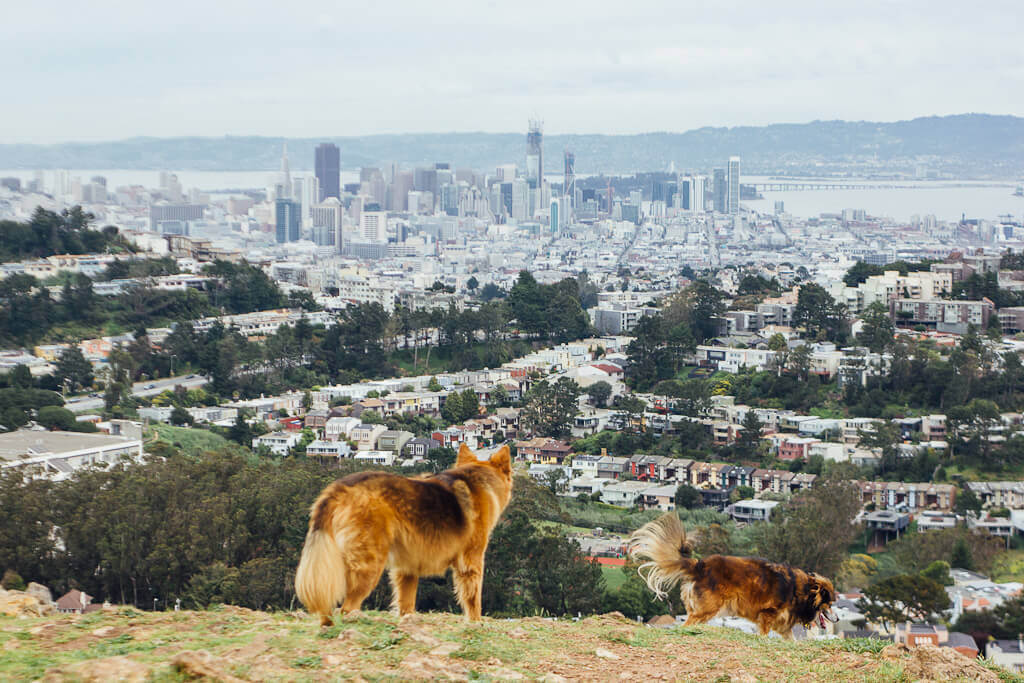 Shopping in San Francisco #18: Shopping/Books/Art
Skip the two cookie cutter malls (Westfield in downtown and Stonestown Galleria near Daly City), the chaos and glitz of Union Square (a poor replica of NYC and the least un-San Franciscan sight to behold, unless you visit San Francisco during Christmas to see the tree unveiling) and shop in local boutiques and support small businesses that thrive in this city which is a huge patron of all things local.
Visit the bustling streets of Union, Chestnut (Cow Hollow, Marina )and Fillmore (Pacific Heights) for shop till you drop beyond Market Street, the corridor of Valencia between 24-13th street (Mission neighborhood) with local boutiques, he neighborhood of Haight for all things very funky and very San Francisco and very hippie-dippy, the trendy spots of Dogpatch for all things SFMade, a San Francisco based coalition of merchants making things in the city and many other small businesses and gift stores scattered all over.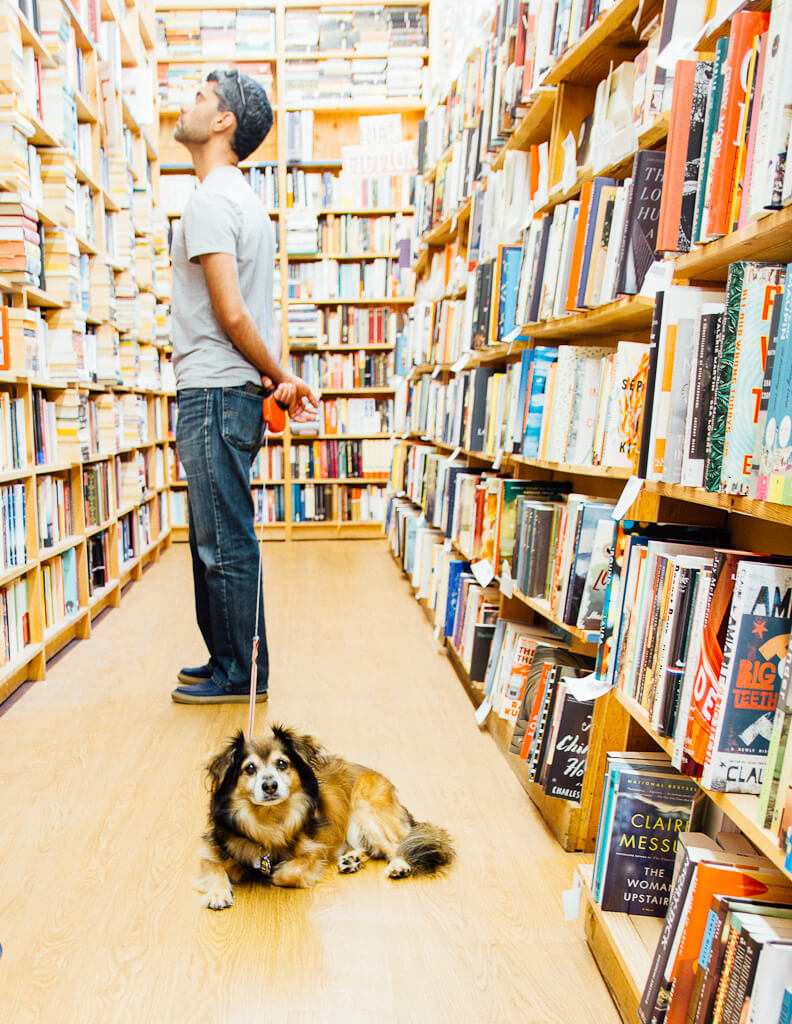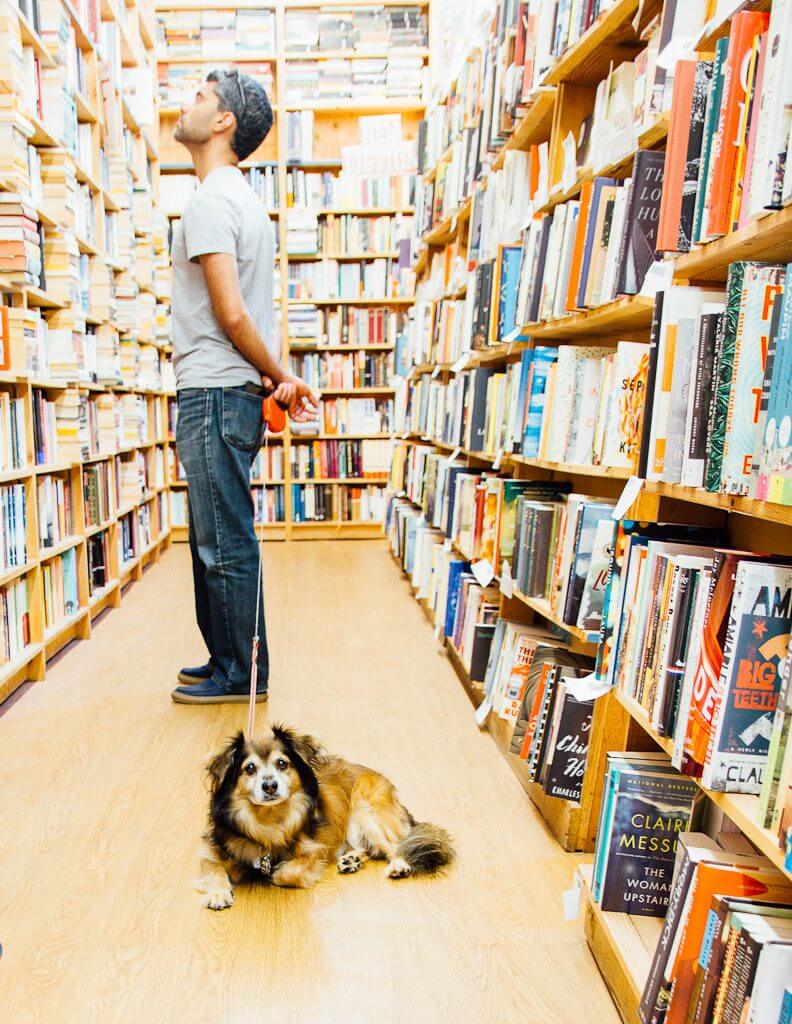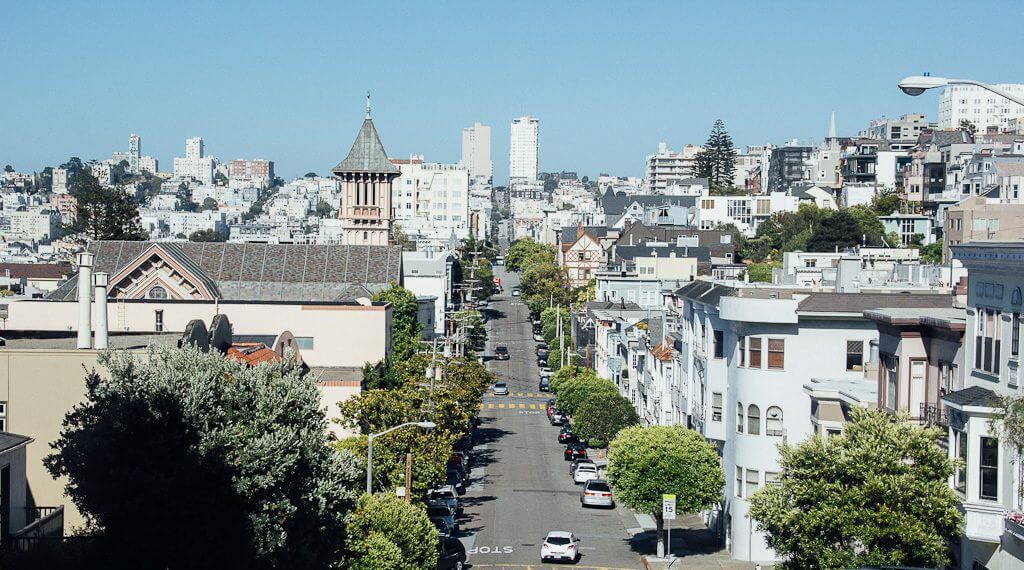 Albert Einstein quipped once "The only thing that you absolutely have to know, is the location of the library".Amen to that! Bibliophiles, if you are in search for a quiet spot to read or check out some SF based literature, Dog Eared books in the Mission or City Lights Books in North Beach or Browser books on Fillmore are small businesses doing great with the written word.
Books, Inc. with its vast selection boasts to be the West Coast's oldest independent bookseller and is a treat for book lovers. Finally, you always have the public libraries in San Francisco to slake your thirst for knowledge, the complete list being here.
San Francisco is for art lovers and renegade artists, mavericks and those with adventures in their soul. The city is a muralist's paradise but also caters to the status quo of art via museums and through several small,independent galleries showcasing local artists.
My favorite are the galleries in Mission and SOMA, namely the City Art Gallery (co-op owned by artists) and SOMArts Cultural Center respectively. For a full list of SF art galleries, see here and here.
If you are a visiting art lover when the SF open studio events happen (Oct-Nov), do not give the event a miss. In its 40th year, the SF open studio events showcase hundreds of local artists and the studios are thrown open to general public for direct purchase from the artists.
A great initiative to support local talent and artists, more information here on how to keep the art community thriving in this tech city of ours.
Explore San Francisco like a local #19: Public parks
So many parks, so little time! San Francisco has many patches of green scattered throughout the city and most of them are dog friendly with panoramic views of the city.
Parks such as Mission Dolores separating the Mission and Castro neighborhoods is one of the city's favorite hangouts. A great spot to witness SF yuppie/hipster life, Dolores Park is again very quintessentially San Francisco. Get an ice-cream from the world famous Bi-Rite creamery nearby and don't forget your picnic baskets to the park!
Other beautiful parks where you can rest as well as get a great view are Yerba Buena Park, Sutro Heights Park, Kite Hill Park, Corona Heights Park and Bernal Heights Park. Fay Garden in Russian Hill is a quiet spot where you can have a picnic amidst the blooming roses while Grand view park not only provides stunning views but has a cool entryway to it via the mosaic tiled steps of 16th avenue (on Moraga street between 15 and 16th Aves) or these nearby hidden stairs which are a must visit!
Picnic San Francisco #20: Crissy Fields/Fay Garden
San Francisco is crowded and touristy in many parts, but a quiet retreat with a picnic basket in Russian Hill's Fay Garden or a bright morning with a picnic basket at Crissy Fields overlooking the Golden Gate Bridge are two great outdoor options that I wanted to include in this local's guide to San Francisco. Do try at least one!
Crissy fields also doubles up as a great spot (and the only one in the city) where you can watch surfers up, close and in action as well as stray paddle boaters. This is also a leash free dog beach, one of the many in the city!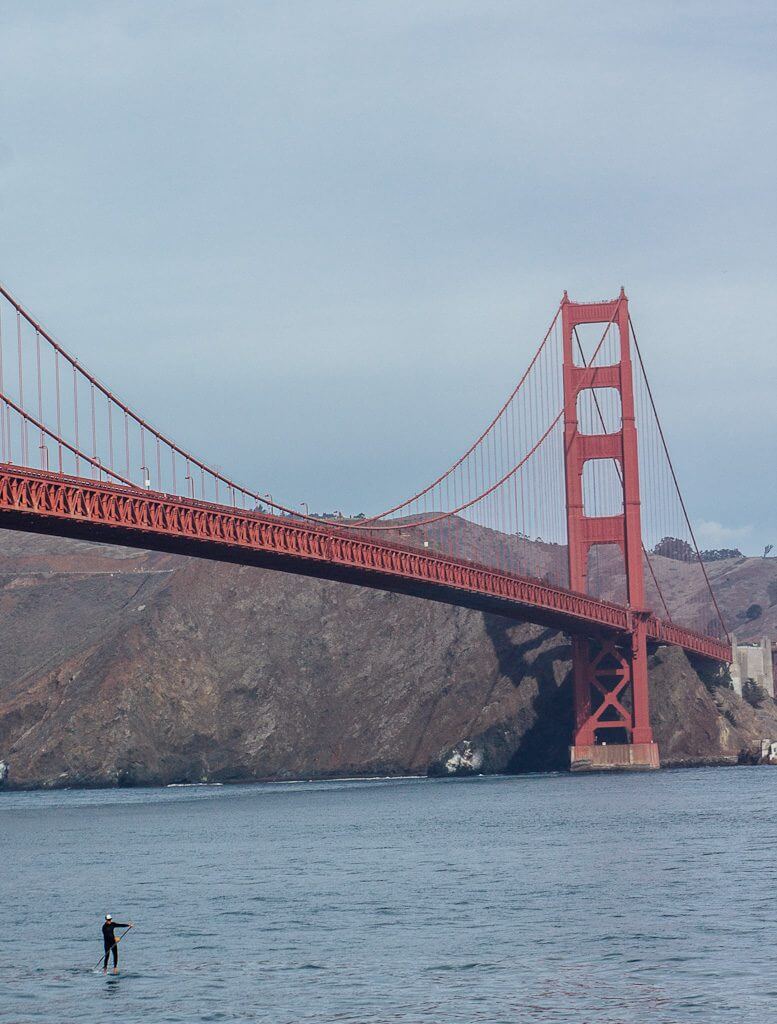 Hopefully this local's guide to San Francisco has given you enough fodder to spice up your itinerary and include some never before venues in the traditional to-do list. Have fun visiting San Francisco and let me know of your favorite SF memories! Read all my San Francisco food guides below to find the best places to dine in San Francisco.
Like this post? Pin it for later by hovering over the images below

«