Last Updated on March 24, 2022 by Paroma
Are you looking for the best free and cheap things to do in San Francisco? Then you've come to the right post where I, as a resident of 10+ years, have scoured the best free deals for you in this mega budget travel guide to San Francisco. Read on to find the best things to do in San Francisco on a budget for maximum fun with minimal $$$.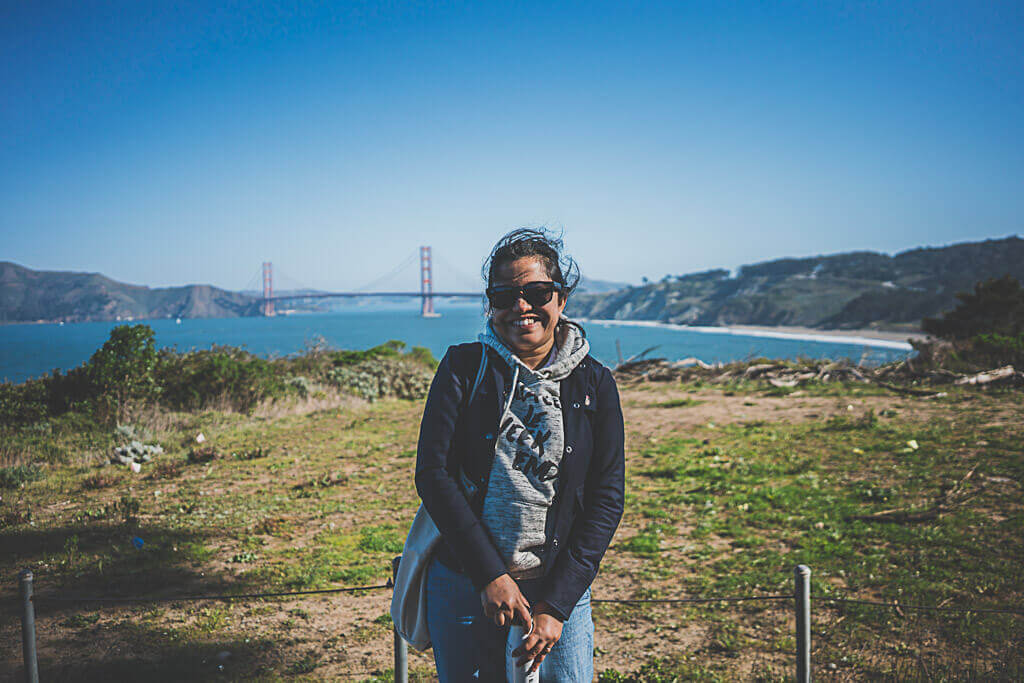 How to enjoy San Francisco on a budget
San Francisco is an extremely expensive city to live and to visit, with rent rivaling Manhattan and gas and food prices going through the roof. A vacation in the city can quickly become expensive, with hotel and food prices making a deep hole in your pocket.
As a San Francisco resident (10+ years and going strong), here are my recommendations for San Francisco on a budget with lots of cheap and free things to do in San Francisco including where to stay in San Francisco on a budget. I hope this San Francisco budget travel guide will not only make your heart but also your wallet super happy! So without further ado, let's get started!
<< Subscribe to get your exclusive list of 50 awesome free things to do in San Francisco >>
Disclaimer: My blog posts may contain some affiliate links. Clicking on them may earn me a small commission at no extra cost to you for purchase of the product. Thank you!
San Francisco budget guide. Tip #1. Golden Gate Park
San Francisco is filled with public parks big and small almost all of which are free to enter, but none are as grand as our Golden Gate park which houses several attractions. The park itself is free to enter and although the attractions are ticketed, here are my tips for you to save some money if you are planning to see San Francisco on a budget.
The beautiful Hagiwara tea garden is FREE to the public on Mon, Wed, Fri if for entrances before 10 AM. This garden is a delight to visit during spring in San Francisco to see the exquisite cherry blossoms and other blooms.
The California Academy of Sciences, another cool museum with scientific exhibits for all ages, is free for at least four Sundays every year. The de Young museum, one of the most beautiful art museums in the country with an equally alluring culture garden and cafe, is free to the public every first Tuesday (so is it's sister museum Legion of Honor) of the month and so is the Conservatory of Flowers.
The San Francisco Botanical Garden, also located here, is free everyday for early birds from 7:30-9 AM, on Second Tuesday of every month, as well as Thanksgiving, Christmas and New year's Day. Strawberry hill, with its beautiful waterfall and pagoda is a beautiful stop by Stowe lake in the park and is absolutely free of charge for visiting and hiking. Plus, it is one of the several dog friendly spots in the city!
San Francisco budget travel. Tip #2. Save money on museums
Although a mere 49 square miles, San Francisco packs in a punch via its many museums, big and small. Many of these have free entrances on designated days of the month for that perfect budget San Francisco itinerary. The Asian art museum with fantastic galleries on asian artifacts and statues, is free for all on the first Sunday of every month.
The contemporary Jewish museum, downtown is free on the first Tuesday of every month while the Exploratorium at Pier 15 filled with fun and interactive scientific and natural exhibits (a great place for kids and adults), is free to the public for five days a year.
The Yerba Buena center for arts is also free on first Tuesdays of every month and is an excellent multidisciplinary art center to catch exhibits or live performances. Holders of Bank of America credit cards and debit cards get free admission to several SF museums for one weekend each month, these being Contemporary Jewish Museum, Legion of Honor and de Young Museum.
Free things to do in San Francisco. Tip #3. Vista points
If you are visiting San Francisco on a budget, then you've gotta make some smart choices. For example, why pay for drinks to get to the top of a restaurant for a bird's eye view of our fantastic city when you have so many places offering panoramic views of the same, the Golden gate bridge and Alcatraz and that too without charging a penny?
Just pack a picnic basket and a bottle or two of our finest wines, put on a few layers and make right yourself at home at many of these vista points! Some of my favorite spots that are also dog parks, which require a bit of a hike, should be on your list, especially Tank Hill Park and Kite Hill Open Space Reserve. Our other favorites are Mt. Davidson Park (with gorgeous views of the city), Corona Heights and Bernal Heights Park/Bernal Hill (if you can climb all the way up the hill). Another gem in this crown is Grand view park with its famous mosaic steps.
If you are not a big fan of hiking and just want a quick bird's eye view of the city, I suggest going to Ina Coolbrith park, a charming little spot in Russian Hill, one of San Francisco's best neighborhoods to visit. You can read all about them in my Top 7 SF viewing spots here.
San Francisco budget itinerary. Tip #4. Outdoor activities
Strolling on the beach and taking in the cool ocean breeze does not cost a dime and is the perfect addition to your San Francisco itinerary on a budget. Be it Ocean beach at the further most west point, or Baker beach and Marshall's beach, the two beautiful beaches in San Francisco's Presidio, all the beaches are free to the public for their enjoyment.
The other beach, which is bit of a local's secret, is Mile rock beach from where you can catch an excellent sunset. Plus, the elusive Land's End labyrinth is also nearby and you can read this post to find out how to get there. Marshall's beach and Baker beach provide breathtaking views of the Golden Gate bridge, far away from the pestering tourists as does the paved walkway along the Marina.
The lush green Presidio, once an army outpost, is filled with beautiful hiking trails such as Batteries to Bluffs trail and lovers' lane, vista points such as "Inspiration point" and is great fun to explore, leading all the way to the Golden Gate bridge.
Finally, spend some time at the ruins of the Sutro Bath house near Land's end which is another of those amazing, 100% free things to do in San Francisco and showcases a slice of San Francisco's history, along with providing magnificent views of the Pacific ocean. Alternately, head to Crissy field to get a spectacular view of the Golden Gate Bridge and surfers (if you are lucky).
Visiting San Francisco on a budget. Tip #5 City attractions
If you can find a reasonably priced place to stay in San Francisco, you will be surprised to find that this city has a lot of free things to offer for your enjoyment. For example, the Coit Tower in North beach is another attraction that is free to enter, which is a must since it hosts some extremely beautiful and detailed murals, inspired by Diego Rivera's (famous Mexican muralist) style. You do have to pay to get all the way up to the tower though.
The famous Clarion Alley in the Mission district is home to some of San Francisco's most famous murals which as you guessed it, are free for the world to see! If you are a mural/art enthusiast, you will find dozens of out of the world beautiful murals all along 24th Street in Mission. All this beautiful art and absolutely free to feast on with your eyes!
The Palace of Fine Arts, build as a venue for the Panama-Pacific exposition, Lombard street/the crookedest street in the country and the famous row of colorful Victorian houses, aka the Painted Ladies, are also some of the free things to do in San Francisco.
San Francisco budget travel. Tip #6. City Fairs & Street Fests
For San Francisco budget travel enthusiasts, the best way to get a feel of the city is by witnessing the madness and chaos of its street fairs and fests, many of which are uniquely San Francisco (think Bay to Breakers or Summer of Love). From Sunday streets (where parts of select streets in select neighborhoods are closed off to traffic for pedestrians to enjoy) to street fairs occurring throughout summer in different neighborhoods, there are lots of free activities for you to enjoy.
My favorite are the Fillmore Jazz festival, Japantown Cherry blossom festival, Carnaval (Memorial day weekend fixture) , Nihonmachi street fair and the North beach festival that occur during summer-fall. La Cochina, SF's incubator program for women from low income families trying to get into the food business, hosts one of SF's most popular fairs, which is the street food festival.
Due to high crowds and dearth of space, the festival was taken off in 2016 but is back again! Fort Mason on the Marina is another venue for several arts and crafts fairs and events, many of which are free to enter. If you are visiting San Francisco on a budget, then take advantage of these free things to do in San Francisco to have an amazing time in the city!
A budget itinerary for San Francisco. Tip #7. Neighborhood diversity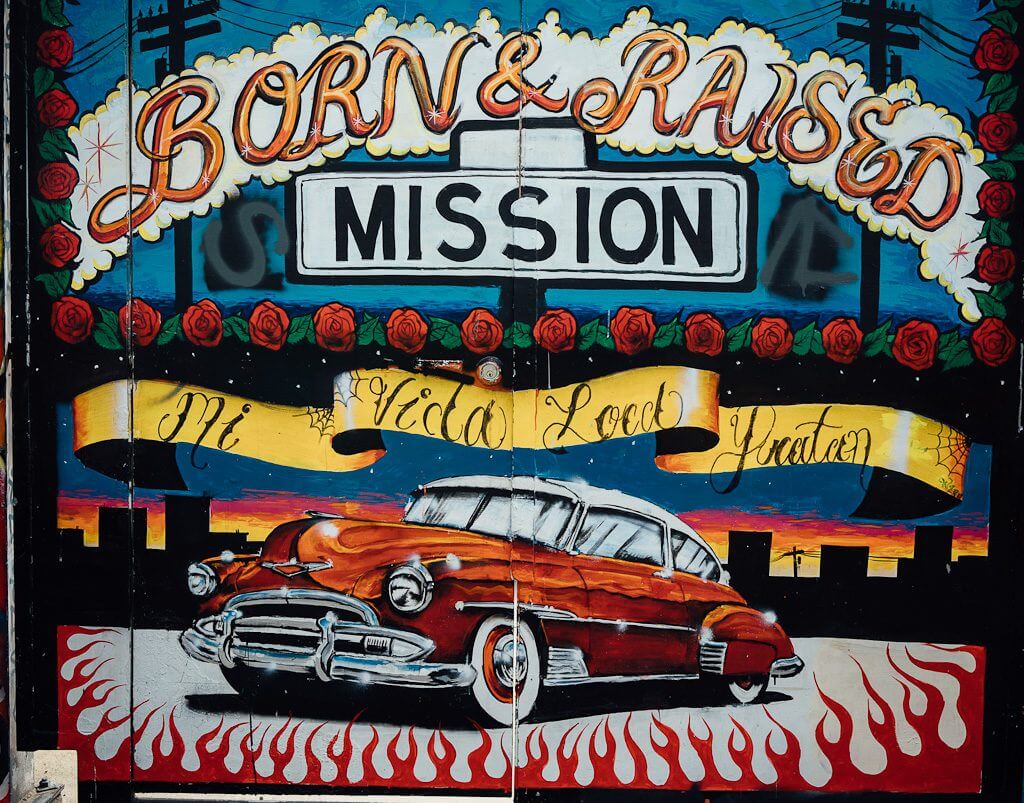 Our 49 square miles is bumper to bumper filled with dozens of neighborhoods which are as different from each other as chalk and cheese and should definitely be on your San Francisco itinerary! Some of my favorite San Francisco neighborhoods are:
1) Haight (lower and upper) aka the last flower power bastion in USA with a hippy-dippy feel, quirky boutiques
2) The Mission (outer and inner) for its murals and loads of restaurants (it is the gastronomic center of the city)
3) Japan town for the World War II peace plaza and beautiful mall filled with stores from Japanese merchants (this is one of the only 3 surviving J-towns in California)
4) Marina for beautiful views of the Bridge and sailing yachts
5) Castro for the vintage Castro theatre and Harvey Milk museum (also known as GLBT museum that is free to the public on first Wednesdays)
6) Palatial buildings and steps of Lyon street in the Posh Pacific heights neighborhood. Fillmore street that runs through this neighborhood and lower Pacific Heights is another hotspot for shopping and dining
7) Russian Hill for its views and secret zen gardens
8) Nob Hill for its steep AF streets and dining (especially down Polk Street)
9) Our bustling Chinatown (largest in the country) for some photos-ops (cue in red lanterns and the entry gate at California and Davis), the Golden Gate fortune cookie factory on Ross Alley, Chinese bakeries and delicious dim-sums
Bottomline is that no matter which neighborhood you venture in, San Francisco will always greet you with a friendly smile and a memory to take home to.
Where to eat on a budget in San Francisco. Tip #8 The best cheap eats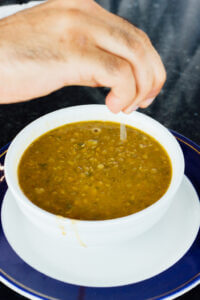 Eating out in San Francisco can be pretty expensive and with the current gentrification wave washing over the city, budget dining places are getting more and more difficult to come by with restaurants closing their shutters due to sky-high rents. But worry not, cause I am that SF foodie/glutton who has eaten her way through the city and I am here to help you stay on the straight and narrow San Francisco itinerary on a budget.
A good way to sample the culinary diversity of the city is by trying out the offerings of our myriad food trucks at their different gatherings via the Off the Grid coalition (biggest one is every Friday night at Fort Mason from April-Nov or Sundays at the Presidio).
There is a permanent food truck park/street food park in the neighborhood of SOMA where the food theme keeps on rotating. Besides, there are plenty of budget dining options in the city such as our taquerias whipping up amazing burritos (burritos are to SF as pizza is to NYC) and the many mom and pop Mexican eateries operating along 24th street which has thankfully not yet been gentrified.
La Taqueria's Mission style burrito was voted the #1 burrito in USA recently and is a must visit along with El Farolito and Taqueria Cancun. Some of our favorites are Gallardos (for Mexican breakfast) , Tortas Los Picudos for their freshly made juices and enchiladas, and Balompie for their pupusas (Salvadorian masa flat breads filled with veggie or meat fillings).
The San Francisco Ferry building (a must visit for a terrific foodie experience that won't break the bank) and its mega farmers' market on Saturdays (largest outdoor farmers market in USA) is a great place for cheap eats (do not forget to try some Argentinian empanadas from El Porteno or lox bagels from one of the stalls in the market outside).
No trip to SF is complete without some dim sum and your cheapest and best bet is at Hong Kong Lounge in the inner Richmond neighborhood. Here you can also find an amazing Russian bakery named Moscow and Tbilisi bakery selling yummy piroshkis (Russian baked or fried pies filled with veggie or meat fillings) at less than $5.
San Francisco budget activities. Tip #9. The City at Night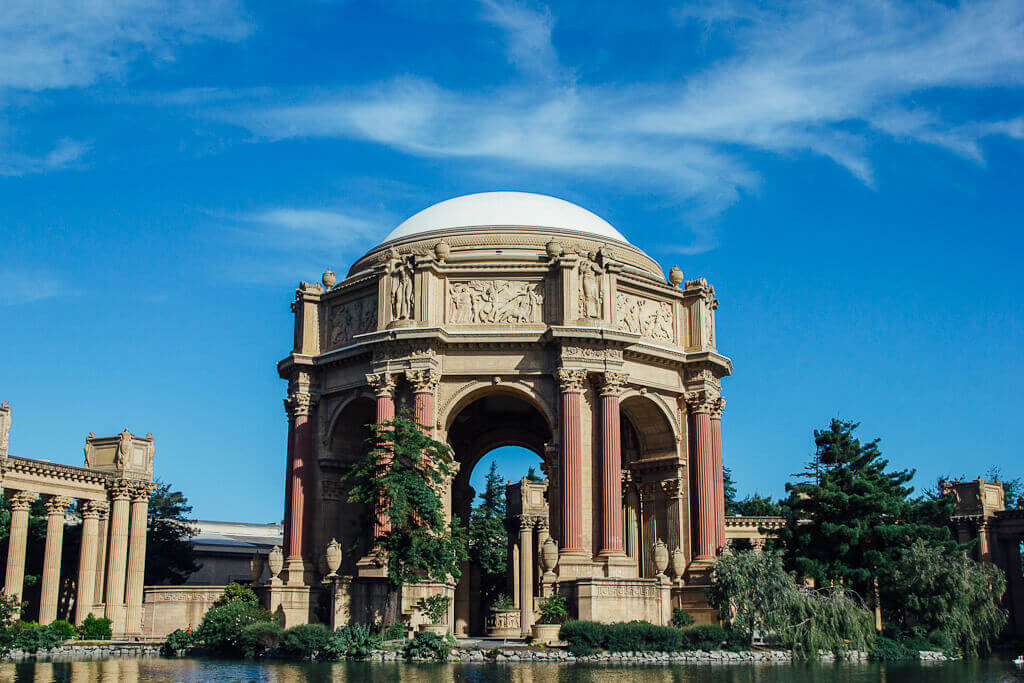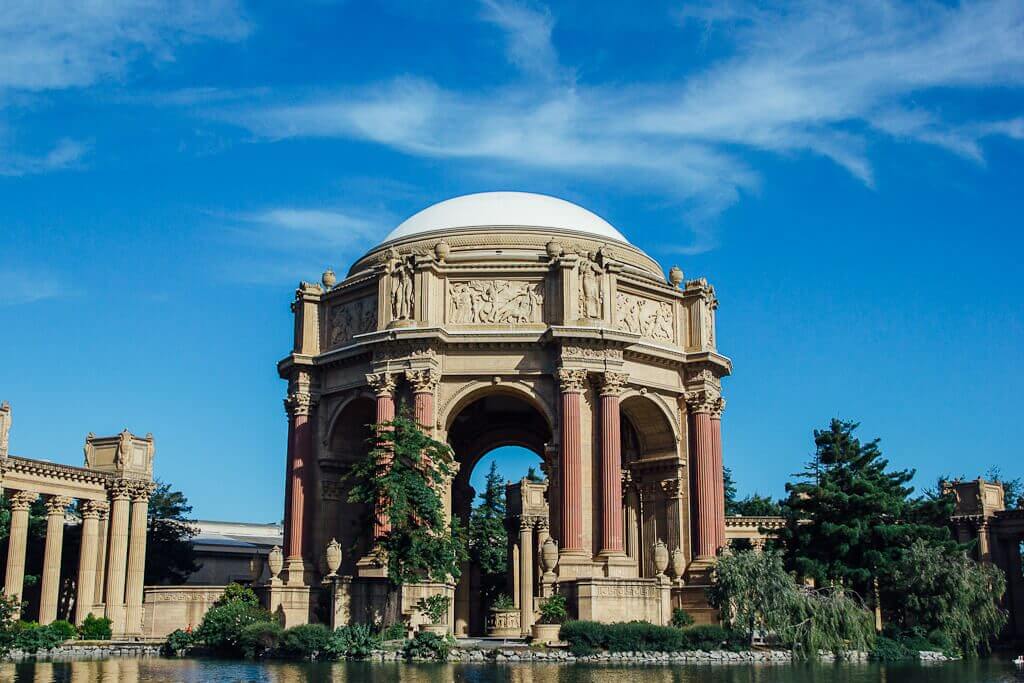 Although San Francisco is not exactly NYC and calls it a night early, there are still free things to do in San Francisco for the intrepid traveler come nighttime that should be on your San Francisco itinerary. One of the coolest free things to do in San Francisco is go stargazing at night and here are some of the best stargazing spots in and around the city.
Other free or cheap things to do at night are going to the Embarcadero to see the LED lights on the Bay Bridge or going up to Marin Headlands to savor the orange glow of the Golden Gate bridge in the dark. Stroll down one of the night markets in Hayes Valley to discover local artists or go on one of the evening art walks in our neighborhoods (The one in NOPA on Divisadero street is very popular). Finally, If you are visiting for 4th of July, don't forget to catch the fireworks spectacle over the water at one of the Piers.
Confused with so many free things to do in San Francisco? Sign up to download this handy guide curating 50 top free attractions.
Where to stay in San Francisco on a budget. Tip #10. Neighborhoods to stay and avoid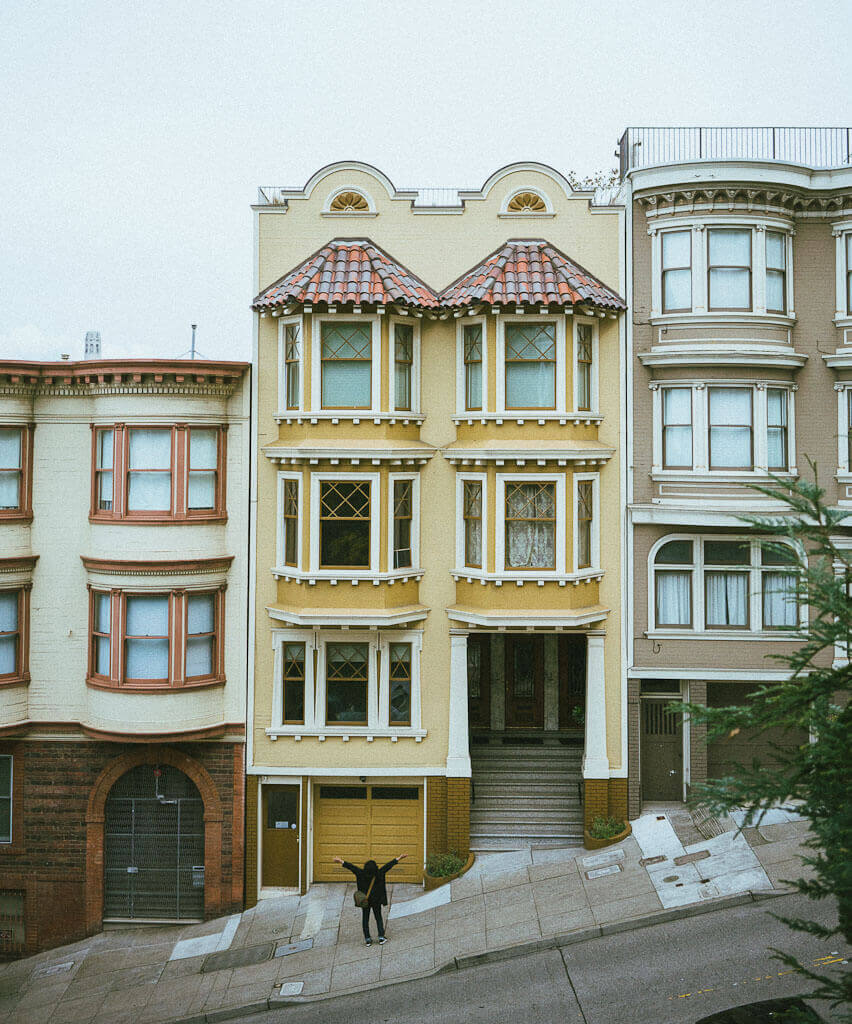 Finding budget hotels to stay in San Francisco is tough and even Airbnbs (use this link to get $55 off your first booking) are pretty expensive here. The hotels around Union Square are almost always in high demand cause that is downtown and all, but they are pretty expensive and that area is a virtual tourist trap.
You will find cheaper places in the adjoining Tenderloin district but that is one of San Francisco's grittiest neighborhoods with high homelessness and crime, something first time visitors may not be comfortable with, especially at night. Given San Francisco's good public transportation system, I urge visitors to explore alternate neighborhoods from where one can easily catch a MUNI bus/BART (our subway) to get to where they want.
I highly recommend the Queen Anne Hotel in my neighborhood (Western Addition) which is a stone's throw from Japan town and is near the MUNI lines 31 and 38 that can easily take you to downtown and 5 to ferry you west to Ocean Beach and Golden Gate Park. Other budget options are Music city hotel in Nob Hill (excellent location and right near the vibrant Polk street with many bars and restaurants), Hayes Valley Inn (2 star hotel/B&B) in the trendy Hayes valley close to Haight-Ashbury and Coventry Motor Inn in San Francisco's Marina neighborhood (close to the Golden Gate Bridge and Palace of Fine Arts).
Click here to compare rates for the best budget HOTELS in San Francisco
Click here to view the best cheap HOSTELS in San Francisco
I hope you enjoyed reading my San Francisco itinerary on a budget post and have been inspired to do many of these free things in San Francisco on your next visit! If you are visiting San Francisco for the first time, then don't forget to read my post on top twenty things to do in San Francisco for added inspiration! Thank you so much for stopping by and enjoy my beautiful city by the bay!
LOVED THIS POST? PIN IT PLEASE!

«