Last Updated on January 8, 2021 by Paroma
Spending Christmas in San Francisco is an absolutely wonderful idea! The weather is mild, the streets come alive with festive decor and there is absolutely so much to do in the city during Christmas, your holiday mojo is bound to get going. From holiday markets to caroling for a good cause, there are plenty of fun events to go to and lots of good food and drinks to be had to celebrate the holiday season in San Francisco. 
With so many Christmas events in San Francisco to choose from, I've curated my resident's guide to 10 amazing things to do, eat and see for celebrating the holiday season in SF with merriment.
We may not have a white Christmas in San Francisco, but I hope this post entices you to visit my city during the holidays get into that festive cheer via these 10 ways to enjoy a "very San Franciscan Christmas"! Finally, Don't forget to catch some of the best Christmas lights in San Francisco if in town!
1. How to spend Christmas in San Francisco:  Attend a SantaCon
SantaCon kind of kicks off the Christmas celebrations in San Francisco and typically happens in the first week of December. It is exactly what it sounds like, as in thousands of people descend on the streets dressed in full Santa gear  all the while crawling through pubs in the San Francisco neighborhoods of SOMA and Nob Hill (along Polk Street) and finally congregating in downtown's Union Square. Remember, just a Santa hat won't cut it if you want an in, so include a full Santa suit in your San Francisco packing list!
Sobriety goes for a toss at SantaCon, but this party is not all fun and drinks. You are supposed to be a good Santa and bring in an unused toy for San Francisco Fire Department's holiday toy drive! For more information, here is SantaCon Facebook page and general guidelines on how to enjoy this public event. 
(the click above is a stock photo of SF Santacon purchased from Canva.com)
2. What to do in San Francisco for Christmas: Visit a holiday market 
Christmas wouldn't be half as exciting without its markets and although USA cannot compete with Europe when it comes to those charming Christmas markets that knock the socks off people, we do manage to come up with several holiday markets in San Francisco to get that Christmas shopping going.
The best part about these markets is that they are all from local vendors and merchants which means your Christmas shopping is directly funneling money into our economy to support the local artists! 
Every year several Christmas/holiday markets (indoors and outdoors) are hosted all over the city, starting right from November. My favorite markets are the SF Etsy holiday market in Pier 27 and Renegade crafts market in Fort Mason , the Fog City flea market in our very own Ferry building and the Treasure Island flea market also adorably named as "Snowvember".
From stationary to clothes to plants to every other gift imaginable under the sun, these local merchant fueled markets are filled with all kinds of gifts, stocking stuffers, food trucks and live music too! For more on such markets, here is a complete list of holiday emporiums and markets in San Francisco during Christmas.
For those of you planning on heading to our overpriced Union Square for retail therapy, why not spend those $$ on local shops and stores carrying everything made right here, in the Bay Area? San Francisco is an incredible place for many makers, artisans and manufacturers selling their wares under the label of SFMade.
You can find plenty of unique holiday gifts, stocking stuffers and souvenirs to gift your family and friends by shopping local in San Francisco. Attend their year end holiday fair to learn even more about their stores and pick up some Christmas goodies!
3. Winter in San Francisco: Union Square tree lighting ceremony
Every year, San Francisco's bustling Union Square park kicks off the holiday season with the annual tree lighting ceremony of its gigantic Christmas tree. The best thing about this tree is that it is completely reusable and is covered with more than 43000 energy efficient LED lights and 7000 shiny ornaments.
The tree is lit at the end of the ceremony with the blessings of Santa and you can totally participate in the countdown to this tree lighting with him. Come early to snag the best viewing spot or simply get a table at Cheesecake factory atop Macy's to enjoy the view from their balcony. The ceremony starts in the evening around 6 PM and lasts for about an hour with the tree lighting at the very end.
4. San Francisco Holiday events: Go skating in Union Square and Embarcadero
Sure, you will not get that white Christmas in San Francisco, but that does not mean we cannot throw in an ice-skating rink for you to get those chills and have some fun showing your sexy moves on wheels! Every year, the city of San Francisco dutifully rigs up a skating rink in Union Square right next to the gigantic Christmas tree towering over the square bustling with busy shoppers.
This holiday ice rink is open from 10 AM -11:30 PM daily from Nov 6 to Dec 31 and the sessions last for 90 minutes. You can totally rent your skates there for an evening of whizzing away on ice and don't forget to enjoy a cup of hot chocolate in one of the many stands nearby. 
Besides Union Square, the other holiday skating rink to get you in the mood for Christmas in the city is at the Embarcadero center near the famous Ferry building. This rink also opens on Nov 6 and is the Bay area's largest open air skating rink. Come for some good old skating or simply shop around in the many stores in 1-4 Embarcadero center which also have plenty of tasty dining options.
5. Holiday season in San Francisco: Marvel at the Gingerbread house
Nothing is more "Christmas-ey" in San Francisco than trekking to the Fairmont hotel to see their famous Gingerbread house, which is a spectacle in itself. This gingerbread house, sparkling and shimmering and decked to the nines stands in all its glory in the hotel lobby  and is as high as a two story Victorian!
This year, the hotel promises to outdo last year's creation and will feature a confectionary monstrosity that is over 25 feet with over 6000 gingerbread bricks holding this giant sweet treat filled wonder! My only advice is to arrive as early as possible because the gingerbread house is an insane crowd puller and attracts people of all ages and rabid selfie lovers.
6. How to spend Christmas in San Francisco: Enjoy some afternoon tea
The math is simple. A break from Christmas shopping + afternoon cravings equal spending time with friends over hot cups of tea and delicious scones and finger sandwiches. There are many tea rooms to enjoy afternoon tea in San Francisco and they range from traditional English tea houses to more trendy, contemporary ones.
As the holiday season approaches, these tea rooms get increasingly booked and so you gotta make reservations before hand. Several of these have holiday special menus for the weekend complete with live music and they all have vegetarian options for finger food!
From a grand high tea at the Fairmont to enjoying an afternoon cuppa at the Rotunda at Neiman Marcus overlooking the Union Square tree, the quiet Dartealing in SOMA to the trendy Crown and Crumpets in Japantown and from the cheery Sip Tea room near Golden Gate Park to the ever popular LoveJoy Tea room in Noe Valley, there is a tea lounge for all budgets and styles for getting into the holiday mood and indulging in afternoon sweet treats with your friends. So if you visit San Francisco during Christmas, book that table in advance!
7. Christmas tours in San Francisco: Holiday Nights and Sights City Tour
San Francisco is famous for its cable cars that chug uphill and ferry thousands of squealing tourists up and down along Powell street, to and from Fisherman's Wharf. Come holiday season, the cable car folks step up their game and provide some cool sightseeing tours at night for visitors to savor SF decked in twinkling christmas lights and decor.
Known as the Holiday Nights and Sights City Tour, this cable car ride is a 90 minute interactive tour that shows you around the famous landmarks and neighborhoods of the city at night in their holiday splendour.  There is live music, plus you get to put on some holiday cheer with a complimentary Santa hat! The tour operates throughout the holiday season from Nov 22-Dec 30.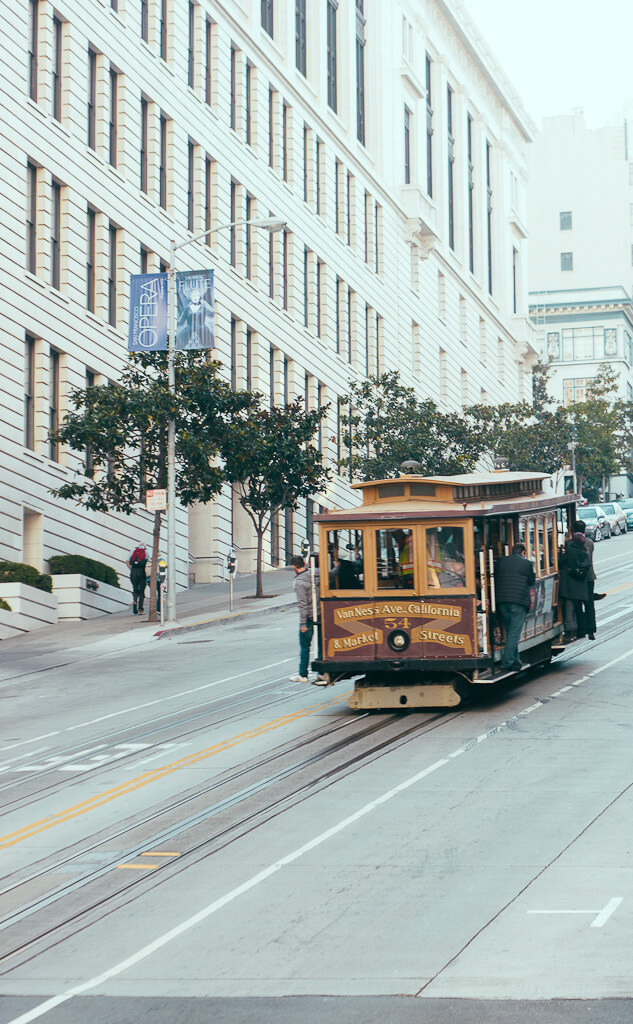 8. Spending Christmas in San Francisco: Go caroling 
If you are one of those who just cannot get into the mood for Christmas without some good old caroling, then San Francisco will surely win you over with its very own twist on this age old tradition and that too for a good cause! For 34 years and counting, San Francisco's Institute of Ageing has been organizing the fantastic "Cable Car Caroling" which is a multicultural event replete with Hanukkah songs and Hispanic Christmas Carols that takes place in December.
Carolers flock in Cable cars to bring holiday cheer to seniors living in assisted homes, nursing facilities and disability centers in the city. Proceeds from the event go to supporting the institute's Friendship line, the nation's only accredited helpline for senior and adults who live with disabilities. For tickets, information and how to register, visit their website.
9. SF holiday events: Catch a Christmas/Holiday show in San Francisco
There is no dearth of holiday or Christmas themed shows in San Francisco and so if you are wondering what do in SF during Christmas, I highly recommend catching at least one those in our theatre district for a fun evening.
From the very traditional "A Christmas Carol" staged by the American Conservatory Theatre to the wickedly twisted and very San Francisco-ey "A Drag Queen Christmas" and let's not forget the San Francisco ballet's "The Nutcracker"  or  "A Charlie Brown Christmas" at the Davies Symphony Hall (check out their entire holiday concert lineup here) there is a Christmas show that is just right for you in our merry city!
10. Help spread the holiday cheer-Volunteering in San Francisco
Holiday season can be so much more than simply shopping for more things that no one needs, so why not just ditch buying one more cashmere sweater on sale and give your loved ones either your gift of time or an epic experience that they will enjoy?
Better yet, spread this love to the less fortunate for whom holiday season is as bleak as the rest of the year. Volunteering your precious time is possibly the best way to spend a different kind of Christmas, and trust me, San Francisco has plenty of opportunities here as well. 
Unless you've been living under a rock, I'm sure you know that like most urban centers in USA, San Francisco has been hit pretty hard by gentrification. This has led to the city grappling with a massive problem of homelessness which has simply exploded in the last few years.
For those of you looking for volunteering opportunities to make this a Christmas to remember in San Francisco, please donate some of your time and resources to helping those in need. Here are the different organizations providing volunteering opportunities in San Francisco and the Bay Area for our homeless friends (both bipedal and four legged):
For humans
For animals
I hope you enjoyed reading this post on how to spend Christmas in San Francisco and have gotten lots of ideas on what to do during the holiday season in my adopted home with a bounty of Christmas events at your disposal. Thank you so much for reading and don't forget to check out my other San Francisco posts for more ideas.
Like this post? Hover over the images below to pin for later
 

«