Last Updated on November 16, 2022 by Paroma
Looking for the best Christmas lights in San Francisco? Look no further, cause I have scoured out all the top places in the city where you can see some eye popping holiday lights and decorations in San Francisco. Read my guide to finding the best San Francisco Christmas lights to make your holiday season extra special!

CHRISTMAS LIGHTS IN SAN FRANCISCO
A San Francisco Christmas is special for many reasons. Besides the unique experience of going caroling in the famous cable car, tasting all the delicious baked goods and hot chocolate that one possibly can, enjoying leisurely afternoon tea rituals, attending a SantaCon and marveling at the ginormous Gingerbread house at the Fairmont Hotel, there is the sheer excitement of catching some of the best San Francisco Christmas lights in the city.
These Christmas lights in San Francisco range from traditional to whimsical to absolutely outlandish and can be seen on private homes in different San Francisco neighborhoods. Here are some of the popular and some not so well known places to see the best Christmas lights in San Francisco for your Instagram fix and to spread some holiday cheer! Watching Christmas decor all over town is easily one of the best things to do in California in December🙂
Please be mindful while photographing them since they are decorations on actual homes!
WHERE TO SEE THE BEST CHRISTMAS LIGHTS IN SAN FRANCISCO: 68 Castro Street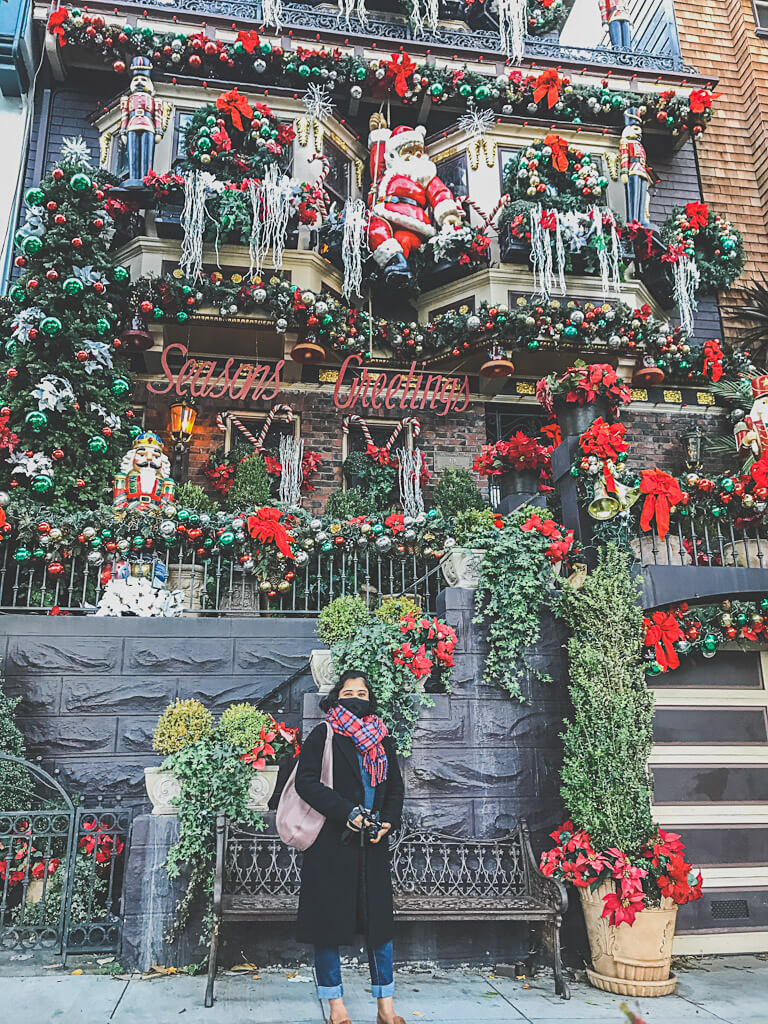 If a picture is worth a thousand words, then my job is done. I mean, just look at this house near Duboce Park! It screams Christmas from every pore of its concrete being and is an Instagram wet dream (haha)! I highly recommend coming in early during the day to snag a photo (although this venue is yet to catch on) and then in the evening to see it in its full glory with the lights on.
How to get there from downtown San Francisco: Board the NBUS and get down at Duboce and Noe to walk or Muni line 7 (outbound to Ocean Beach) and deboard at Divisadero and Haight for another 6 minute walk.
LEGENDARY CHRISTMAS LIGHTS IN SAN FRANCISCO: 3650 21st Street
UPDATE: Due to Tom's demise in Oct 2020, The Tom and Jerry House has not been decorated this year (and might not be in future). Tom Taylor was an LGBTQ activist and a San Francisco icon who will be missed dearly!
These San Francisco Christmas lights are simply legendary and can be seen on 21st street on the famous "Tom and Jerry" house in Dolores Heights. This insanity of a Christmas decor by owners Tom Taylor and Jerry Goldstein has regaled San Franciscans for over 28 years and is still going strong. The tree is a real Norfolk Island Pine which continues to thrive at over 60 ft. Although Jerry has passed away, the tradition continues with Tom.
This house is on a really steep incline (this is San Francisco after all!), so bear in mind that parking can be challenging. Come early for a crowd free experience to take this mega Christmas lights onslaught or visit in the evening when the lights go on to marvel at this full blown sensory experience!
Here's a fun behind the scenes video of the effort it takes to get the decoration up against a steep road!
How to get there from downtown San Francisco: Take BART to Glen Park Station, transfer to JBUS (Church and Duboce line) from Diamond and Bosworth and get down at Church and 21st Street.
HIDDEN GEM OF SAN FRANCISCO HOLIDAY LIGHTS: 49 Eagle Street
A short drive from the crowded spectacle that is the Tom and Jerry House will lead you to another house with beautiful Christmas lights in San Francisco on the quiet Eagle street. Enjoy it all you can since it is a hidden gem and no one knows about it.
How to get there from downtown San Francisco: Take the TBUS (Castro and Market line) and get down at 17th and Castro followed by a 20 min walk to Eagle Street.
CHRISTMAS DECOR IN SAN FRANCISCO: 2940 Pacific Avenue
San Francisco's Pacific Heights neighborhood is not only home to palatial mansions looking over the ocean and well coiffed gardens, but also some really understated and elegant holiday decor. This house on 2940 Pacific Avenue sure knows how to get into the Nutcracker Christmas mood!
How to get there from downtown San Francisco: Take the Muni Route 5 bus (Ocean Beach) and transfer to Route 24 (Jackson and Fillmore) at McAllister and Divisadero stop. Get down at Divisadero and Jackson and walk about 5 mins.
BEST SAN FRANCISCO CHRISTMAS LIGHTS: Irving Street and 6th Ave
In my quest for some of the most beautiful Christmas lights and decorations in San Francisco, I found this adorable holiday decor on a homefront in the Inner Sunset neighborhood. It is on 6th Avenue, right across the street from "The Yellow Submarine" store at Irving and 6th. I especially loved the giant Christmas baubles!
How to get there from downtown San Francisco: Take the NBUS (Ocean beach bound) that will drop you directly at Irving and 6th Avenue. Once you get off, walk on 6th Avenue, away from the Yellow Submarine store. You will see the decor on the right.
WHERE TO SEE THE BEST HOLIDAY LIGHTS IN SAN FRANCISCO: 1543 Felton Street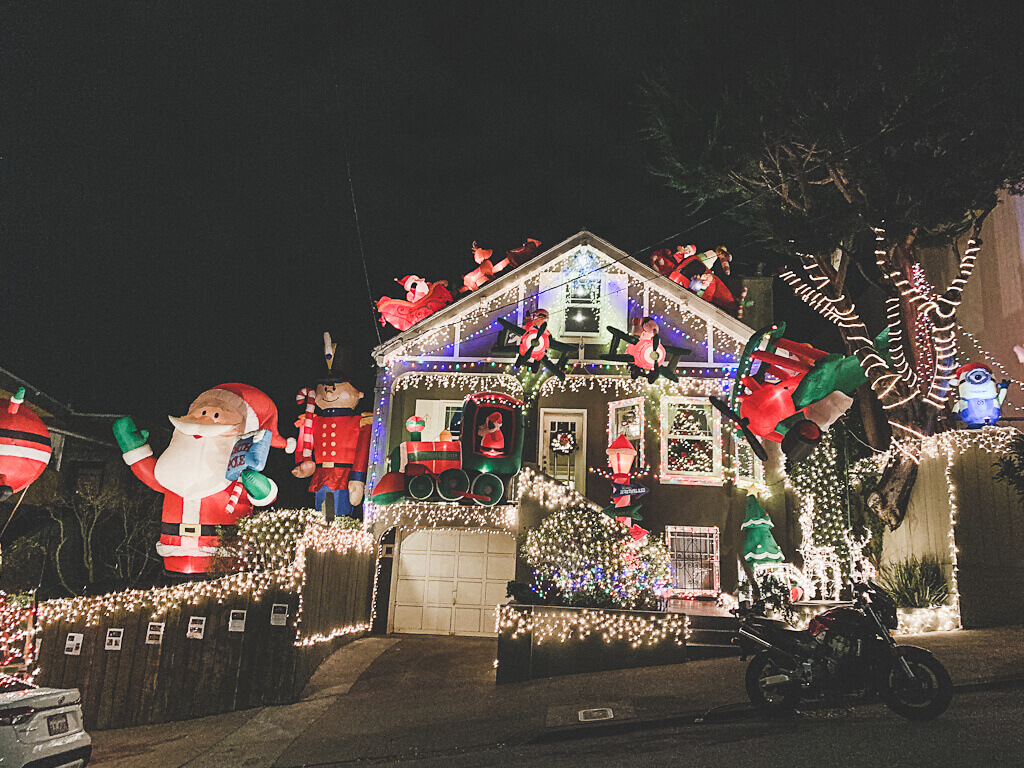 This is truly a feast for the eyes where the owner keeps on making it bigger and better to keep his dad's (a graphic designer) vision from 1942 alive via giant Santas, Snoopy, Minions and other Christmas blow up dolls along with beautiful lights. There are also pictures on the fence where he has charted the progress of this huge installation since its inception and to show how it has changed over the years.
Again, this place is in the quiet neighborhood of Portola, San Francisco's "Garden District". Please be respectful of the neighbors and please do not be the A-hole who parks right in front of the house and blocks the view for others!
How to get there from downtown San Francisco: take the Muni 14R (Daly City BART line), get down at Silver avenue and Mission St and walk for 18 mins.
Alternately, take the BART to Daly City from the Powell Street BART station in downtown, get down at Balboa Park BART stop and transfer to the 54 line (Bayview District line), get off at Felton and Harvard Streets and walk for a wee minute.
CHRISTMAS LIGHTS IN SAN FRANCISCO: 4 & 6 Digby Street
Tucked away in the smallest of streets in the southern neighborhood of Glen Park (I lived here for 1+ years), is the most delightful of all Christmas decorations in San Francisco. You have Santa and the usual Christmas cheer, baby llama with gifts, a giant Snoopy, Big Bird and friends from Sesame Street, ornate NutCracker soldiers, Darth Vader, Stormtrooper and Yoda in their most festive of attires and everything else conceivable under the sun that spells holiday cheer. Don't give this one a miss!
How to get there from Downtown: Hop on the 14 or 14R (Daly City BART) line and get off at Mission St & Richland Ave. Walk for about 15 minutes to reach your destination.
BEST CHRISTMAS LIGHTS IN SAN FRANCISCO: Sunset district
The quiet western neighborhood of Sunset is home to some of the best Christmas lights to be seen in San Francisco. The two mains ones that I recommend are 2501 Quintara street (pictured above) with decorations and lights going around the block and the magical Elf of Will Ferrell greeting you in all his greenish excitement.
The other house with some Christmas lights is nearby on 36th Avenue and Quintara, the house right next to 2150 36th Avenue. The twinkly Mr. Snowman and Santa's sleigh on the very top of the roof give the house a festive touch!
How to get to Sunset district from Downtown: Hop on the Muni line 7 towards Ocean Beach, get off at Noriega St & 34th Ave and walk for 7 minutes.
GIANT CHRISTMAS TREES IN SAN FRANCISCO: Union Square and Fairmont Hotel lobby
No one does "all decked up like a Christmas tree" better than our own giant tree aka Macy's Christmas Tree in San Francisco's Union Square. Every year the tree is unveiled and lit with huge fanfare in November(except in 2020 for obvious reasons) and is enjoyed by thousands congregating in the square.
This artificial tree towers at 83 feet tall and is decorated with over 1000 ornaments and thousands more of energy efficient LED lights. Although Christmas will be a quiet affair in 2020, do stop by the square (adjacent to Macy's) to see San Francisco's most famous Christmas Tree.
The other place to find the best Christmas lights in San Francisco is none other than the famous Fairmont Hotel in Nob Hill, whose lobby comes alive with the huge tree all decked up in finery as well as the giant Gingerbread House. Both attractions are open to the public for 2021.
In 2021, the 2 storeyed Gingerbread House is also open for indoor dining reservations if you have enough moolah to spare (yes you read that right!). If you don't have $$$ to drop on that kind of fancy dining, the 23 foot Christmas Tree is always up in the lobby to spread some holiday cheer. Since the lobby gets really crowded during weekends, try dropping by during a weekday with your mask on!
HOLIDAY LIGHTS IN GOLDEN GATE PARK
Location: Peacock Meadow
San Francisco's Golden Gate Park comes alive with lots of holiday themed lighting in December and you should definitely check them out! The most famous one is the enchanted forest known as Entwined, which is an interactive art exhibit by SF artist Charles Gadeken.
This installation comprises of several cubes of LED lights in shapes of trees and shrubs that are really fun to watch as they constantly change color. This kid and dog friendly installation is back in 2021 and will run until Feb 1, 2022.
Location: McLaren Lodge
A stone's throw from Peacock Meadow is the giant tree near McLaren lodge which is decked up in fancy twinkling lights to give the park entrance a festive look come December. Definitely worth checking out as you enter the park from Fell Street.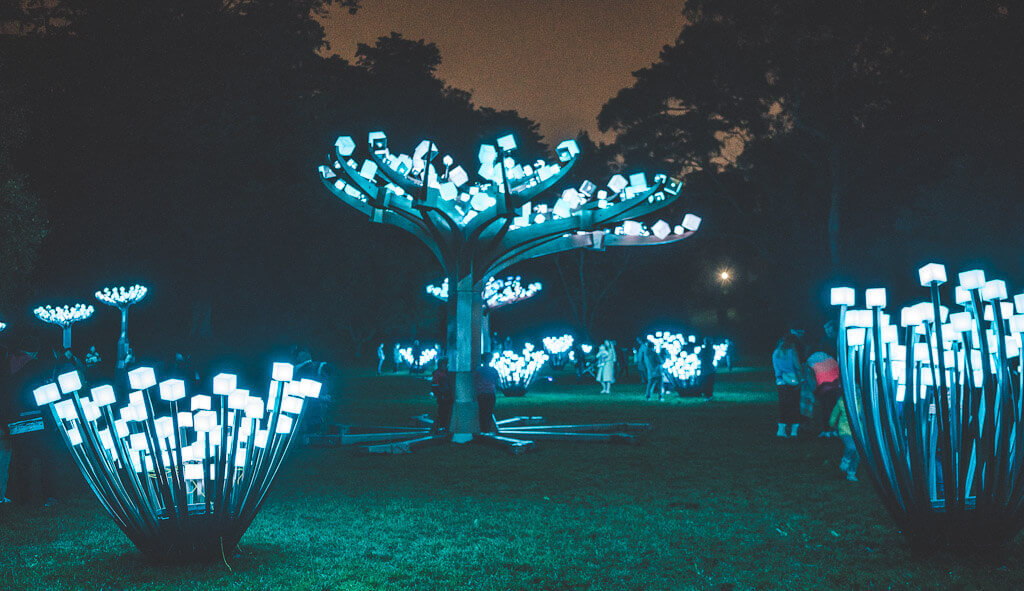 Beside these two holiday light venues, the Golden Gate Park Arboretum sets up an amazing light show at night with colorful patterns projected on its exterior resembling flora and fauna. Since it is right across the Peacock meadow, do check it out!
WHERE TO SEE HOLIDAY LIGHTS IN DOWNTOWN SAN FRANCISCO
Downtown San Francisco comes alive during Christmas with lots of holiday lights, cheer and decor all around. In 2021, the city has gone all out to showcase the magic of light and sound by installing heavy duty Panasonic projectors to transform four downtown building facades (1 Bush Plaza, 301 Pine Street, Hyatt Regency and 555 California) into a festive wonderland with amazing projections. These shows last only till Dec 12, so catch them now!
Of all these places, 555 California is definitely the one place to stop by in downtown during Christmas in San Francisco to see another giant tree that is all lit up and not too crowded unlike the Union Square one. This holiday decor stays until New Year, so you will have plenty of time to go enjoy it.
I hope you enjoyed reading this article on the best Christmas lights in San Francisco and where to find them. I will keep on updating this list as I find new places (let me know if you do too)! You can read all my other local guides to San Francisco (I am a true blue resident of 12+ years after all), by clicking on the posts below.
Like this post? Pin it please!

«