Last Updated on January 8, 2021 by Paroma
Just because San Francisco's housing prices have set the market on fire, that does not mean that everything else in the city has to be heavy on your purse/wallet as well. The beauty of this 49 square miles pint sized city is that it packs quite a punch when it comes to catering to your taste buds and dishes out something for every budget. So if you are penny and pound wise, frugal visitor, not a fan of Michelin stars or fine dining and are generally looking to have a good time with delicious food, San Francisco will leave you bewildered with several choices. Here are some of my favorite options for cheap eats SF style that are uncompromising on quality but easy on those purse strings. This includes a full meal plus drink at or below $ 20 and will come handy if you are spending some time in San Francisco soaking in the many attraction as described in this 4 day San Francisco itinerary . Read on!
A) Cheap eats SF: Ethiopian
Ethiopian food comes in one complete platter of buttery soft injera (their fermented bread), single or multiple sides of veggies or meat based curry, salad and homemade yogurt to help you cool down from the spicy onslaught and is unbelievably tasty! Best bang for your buck, this is a must try for the flavors and spicy goodness that it brings to your table. Some of my favorite Ethiopian/Eritrean places in San Francisco are Assab (now closed) and Oasis Cafe.
B) Cheap eats SF: Indian
Who else can merge spices as delicately and yet boldly at the same time as Indians in their myriad curries, sauces, chutneys and other Indian dishes both vegetarian and non vegetarian? The most affordable options are the Indian "Thalis" (platters coming with a little bit of everything to sample including a drink and dessert). Or simply opt for the never-ending crepes called dosas (either plain or stuffed with savory veggies) with side dips for a delicious, stomach filling meal. Some favorites in the city are Udupi palace (100% vegetarian), Kasa (Nob Hill and Castro) and Deccan Spice (Mission). For greasy good and super affordable Indian/Pakistani fare, stop by Shalimar (extremely sketchy Tenderloin district) for a pickup or a late night meal for a hangover cure if you are feeling hungry and intrepid. Their chicken curry and seekh kebabs are yummy and oh so reasonably priced! I highly recommend simply picking up the food at their Jones street location to savor at home.
C) Cheap eats SF: Burmese
Burmese kitchen is my favorite hole in the wall place for home-cooked food that is part tasty, part comforting! It is my absolute favorite Burmese restaurant in town and one of my go-to places when I need comfort food or when guests are in town or for no reason or as a recommendation to vegetarian/vegan friends. Its a cure all panacea for those hungry stomachs which crave for the real thing and are undeterred by the over-hyped other Burmese joints in town. Their tea leaf salad is the best there is, the chicken curry is comfort food central and the pickled mango pork is deliciousness in a bowl! Vegetarians, do try out their pumpkin curry!
D) Cheap eats SF: Sandwiches/Wraps/Bahn-mi
When in a hurry, a sandwich is the answer to quell those tummy rumblings rapidly and is guaranteed to leave you satiated. Although San Francisco has tons of choices when it comes to creativity between two slices of bread, the affordable and yet extremely filling options come from Love N Haight deli (open till late, customizable sandwiches), everybody's favorite Ike's place (download the app and order) and Saigon Sandwich (less than $5 for the veggie bahn-mi!).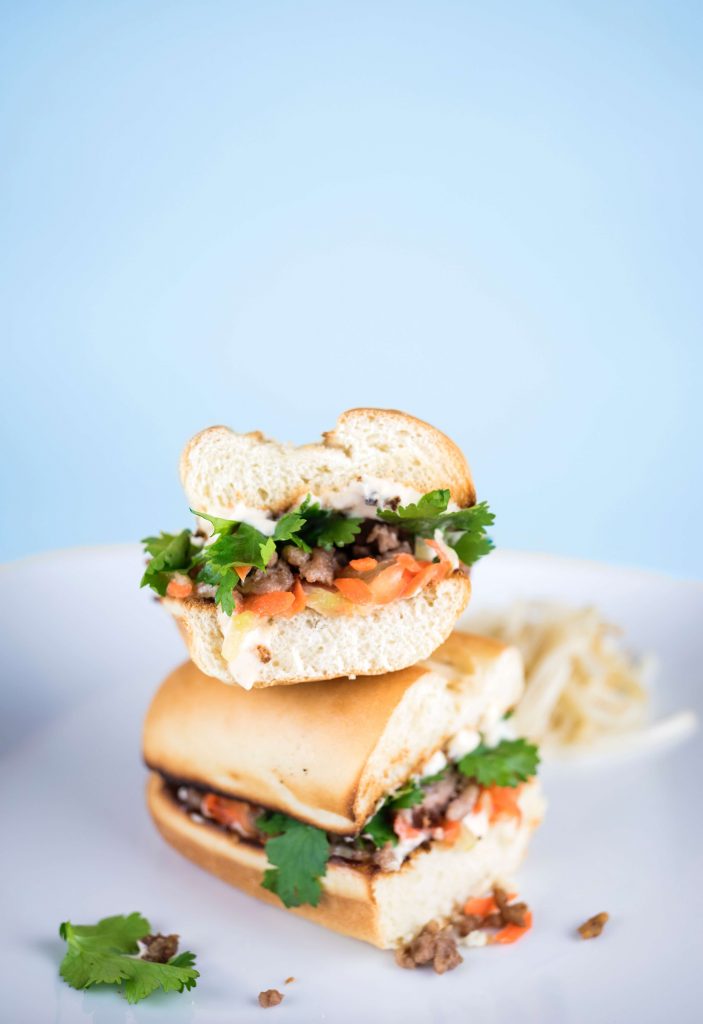 Photo for representation purposes ( Copyright free usage; photo by Carly Jayne on Unsplash)
E) Cheap eats SF: Mexican/Latin American
Its California, baby! and so I'd be remiss if I'd not mentioned the ever affordable burritos, tacos, gordas, sopas and pupusas that are the lifeline of this city. A stroll in the Mission neighborhood is all you need to get your mesa-american fix at either La Taqueria (famous for America's best burrito), taqueria Cancun, El Farolito, any mom and pop taqueria on 24th street, Gallardos Mexican restaurant and Balompie for pupusas. For more savory Argentinian empanadas, visit El Porteño in the SF Ferry Building.
F) Cheap eats SF: Tunisian (now closed)
Cafe Zitouna is San Francisco's only cafe serving Tunisian food. Its a small cafe on bustling polk street with a beautiful decor reminiscent of the chef's home country. The food is of a different world altogether, its that delicious and comforting! The fuss free Harira soup (vegan) is a must try with the perfect bread and so are their entrees (have plenty of vegetarian options), with the kebabs being to die for. Bonus for the homemade Harissa sauce that will make you cry tears of joy. If you are ever in San Francisco and want to enjoy cheap, yet finger licking fuss fee home cooked food, remember to check out Zitouna for sure!
G) Cheap eats SF: Food trucks
Finally, no cheap eats SF edition can be complete with food trucks rolling by and saving hungry office goers from expensive brick and mortar food as well as offering lots of choices for all palates and dietary options. Just because its cooked and served from a truck, doesn't mean that its dirt cheap but with so many options (indian, korean, filipino, mexican, mobile Pizzeria, El Salvadorian, Columbian, seafood, BBQ and counting) you can mix and match and get a bellyful of food plus drinks at less than $ 20. SF's permanent street food/food truck park is located in SOMA where food trucks roll in over the weekend, but the biggest food truck collective is called "Off the Grid" which brings in food trucks (ranging from 10-50+) all over the Bay Area, the two biggest conglomerates being in SF's Fort Mason on Friday evenings and Presidio for Sunday Picnic on the Presidio event. These two events have closed now for winter but will commence on April, however smaller lunch and dinner events are still continuing all over the bay area and so check out their website for daily schedules and information. Some of my favorite food trucks are Dum (Indian), Hapa (filipino), Chairman Bao (For their taiwanese street food) and Del popolo (for the brick kiln fired thin crust pizzas from a transatlantic vessel; they also have a brick and mortar store in SF now).
PIN the post here
«