Last Updated on March 24, 2022 by Paroma
San Francisco, my adopted home for 10+ years, is only 49 square miles but this has not deterred the city from being dissected into dozens of neighborhoods, each as different from the other as chalk and cheese. Although it is hard to pick a favorite, the best neighborhoods in San Francisco are the perfect mix of old and new. They mirror the old school charm of a maverick town that seems to be all but gone.
From popular attractions to lesser known gems, unique foodie finds to best local shopping spots, these San Francisco neighborhoods will enthral you with their unique San Francisco vibe, something that you will not find in the touristy parts of the city such as Fisherman's Wharf or Union Square.
In this post on the best San Francisco neighborhoods to visit, I'll be talking about 10 of my favorites neighborhoods in the city with recommendations on the best of sightseeing, food and other insider tips that only a resident can provide! Although each of San Francisco's neighborhoods are precious, I have selected only those that offer a good mix of local life along with some famous attractions for first time visitors.
The whole idea of this post is to nudge you towards the many other beautiful places in San Francisco that are often overlooked in favor of the oft-hashed tourist spots, so that you may discover a different side to this city and experience how locals live. Since most of these neighborhoods are a mix of business and residential, please be mindful and respectful of the residents while visiting.
Best neighborhoods in San Francisco #1. Russian Hill
Russian Hill is vintage San Francisco and my absolute favorite neighborhood in the city. With its steep climbs that will test your gams but reward you with breathtaking views, alternate Instagram worthy spots, charming restaurants and cafes and breathtaking homes with secret gardens and alleyways, Russian Hill feels like that calm oasis far away from the madding crowd. Here are the highlights of this San Francisco neighborhood:
Popular attractions in Russian Hill
Extremely touristy, yet one that you must see to believe is none other than Lombard Street, the crookedest street in the world. Arrive as early as possible to avoid the crowds. You can also board San Francisco's world famous Cable Car from one of the Hyde street stops to go northbound to Fisherman's Wharf.
Hidden Gems in Russian Hill
Russian Hill is filled with hidden gems and cool "locals only" spots that tourists flocking to Lombard street miss out on. Fay Garden, a stone's throw from Lombard street is a beautiful public garden for picnic amidst the roses. Ina Coolbrith park is another great locals only spot for a panoramic view of the city as is the alleyway Macondray lane winding through a secret garden in the city.
Another Russian Hill treasure is the San Francisco Art Institute that is a must visit to see (completely free of charge if I may add) one of the three San Francisco murals painted by Diego Rivera, the world famous Mexican muralist.
Dining in Russian Hill
Fiorella Polk, Lord Stanley, Leopold's…or just anywhere on Polk street
Getting there
Hop on San Francisco's famous Cable cars (Powell-Hyde or Powell-Mason lines) and get down at any stop between Vallejo and Lombard streets.
San Francisco neighborhoods to visit #2. Telegraph Hill and North Beach
These two iconic San Francisco neighborhoods are kind of joined at the hip, so even at the risk of sounding blasphemous they do come as a 2 for 1 package. North Beach or "Little Italy" is that rambunctious hood for delicious pizzas, gelato and a zesty nightlife with bar crawling being totally A-OK till the wee hours of dawn.
Telegraph Hill is the quieter cousin on the other side of Columbus Avenue, made famous by the wild parrots that have made this neighborhood their home. Here are some of the iconic attractions of these San Francisco neighborhoods:
Popular attractions in North Beach and Telegraph Hill
Coit Tower with fantastic views on the top and striking murals on the entrance walls that were inspired by Diego Rivera's visit to our city. You can either walk up the Filbert street steps to take in the views of the city if you so dare or simply drive all the way up.
Viewing the murals is free of cost and is one of the many free things to do in San Francisco (psst..subscribe here to download your PDF of 50 free things to do in San Francisco).
Next, comes the beautiful Saints Peter and Paul Church, right across from Washington Square. This Roman Catholic church is a sight to behold with an interior adorned with intricate murals, carved pews and stained glass windows.
Finally, don't forget to visit another San Francisco heavyweight City Lights Bookstore, an independent book haven that opened its doors in 1953 and is considered a literary landmark amongst booklovers. Respected nationwide as a strong voice against authoritarianism, censorship and conservatism, City Lights is still going strong after 60+ years in welcoming bibliophiles from all over the world in a three storied store packed with literary wonders.
For those of you visiting San Francisco with little ones, the Joe Dimaggio playground right off Columbus Avenue is a fun spot for them to enjoy and is one of the many family friendly activities to do in San Francisco with kids.
Where to eat in Telegraph Hill and North Beach
Tony's Pizza Napoletana-get pizza by the slice in the take-away spot right next to the main restaurant and enjoy it sitting outdoors or Washington Square, Sotto Mare (for their famous cioppino), Lush Gelato, Caffe Greco (one of the best places for dessert in San Francisco), Caffe Trieste (serving espresso in San Francisco for over 50 years and cash only), Liguria Bakery (come in early for their mouthwatering focaccia), Baonecci (another family owned pizzeria), XOX truffles (authentic French truffles that are some of the best chocolates in San Francisco).
Getting there
Muni lines 8 and 45 from Powell Street BART station (downtown) will take you to North Beach
Best San Francisco neighborhoods #3. ChinaTown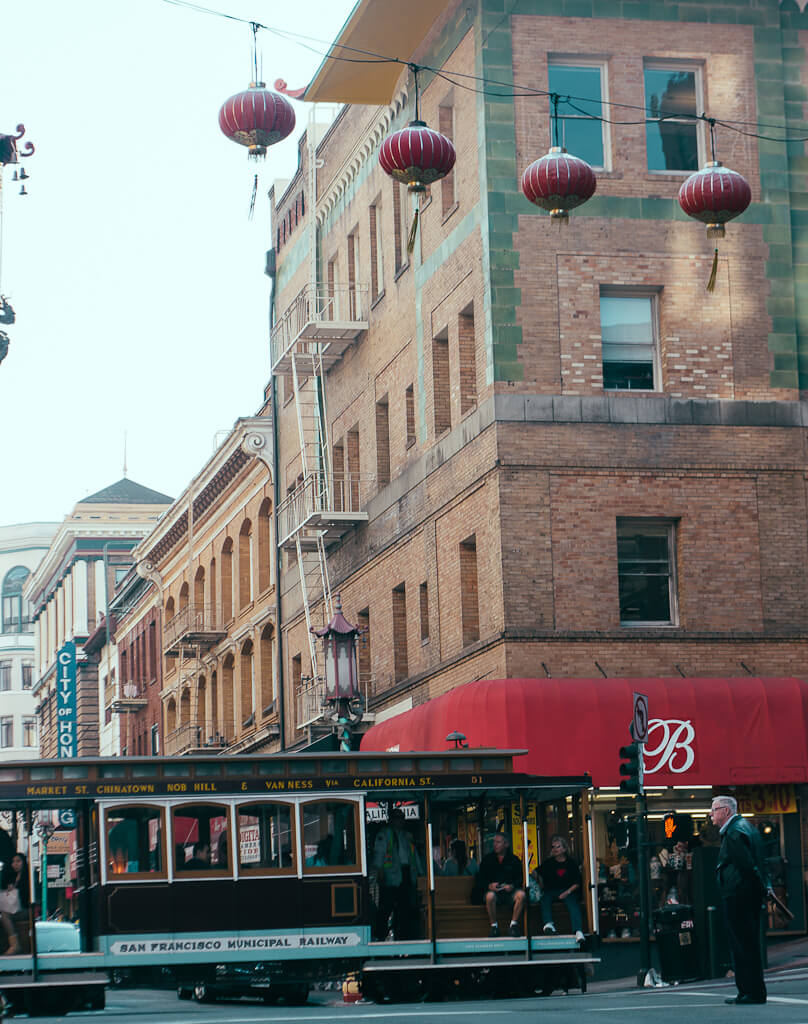 Yes, this San Francisco neighborhood is touristy as heck, but Chinatown, the largest in North America, is an actual residential place. The kind where locals live, shop and go about their merry way and something that most tourists often overlook as they are snapping away photos of the overhanging red lanterns and the Dragon gate. So please be respectful, don't insert your proboscis in private properties or businesses and check out these attractions:
Sightseeing in Chinatown
Dragon's Gate at the intersection of Bush Street and Grant Avenue marks a grand entrance into Chinatown, covered with a canopy of red lanterns swinging merrily overhead. Chinatown is also home to two blink-and you'll miss rare Taoist temples (Tin How and Ma Tsu) that are worth a visit.
The biggest attraction is undoubtedly the Golden Gate fortune cookie factory in 56 Ross Alley which is where the historic fortune cookie originated. This factory diligently churns out 20,000 cookies a day (with those cutesy/esoteric/downright messages tucked inside) and is open to visitors. Arrive early or go on a popular food tour to skip the crowds.
Where to eat in Chinatown
Golden Gate Bakery (go early for their egg tarts and check their timings since they are a little eccentric about it), Z&Y, Good Mong Kok bakery, Great Eastern Restaurant, Dim Sum Bistro (popular takeout spot for dim sum/dumplings), China Live (a spacious food hall), Mister Jiu's (fancy Californian-Chinese dining)
Getting there
Muni line 8 from downtown will take you to the Dragon's Gate entrance or simply walk about 12-15 minutes from downtown (Powell Street BART station). I highly recommend doing the walk from downtown to Chinatown, especially during Christmas in San Francisco to see some beautiful Christmas lights.
San Francisco neighborhoods to visit #4. Mission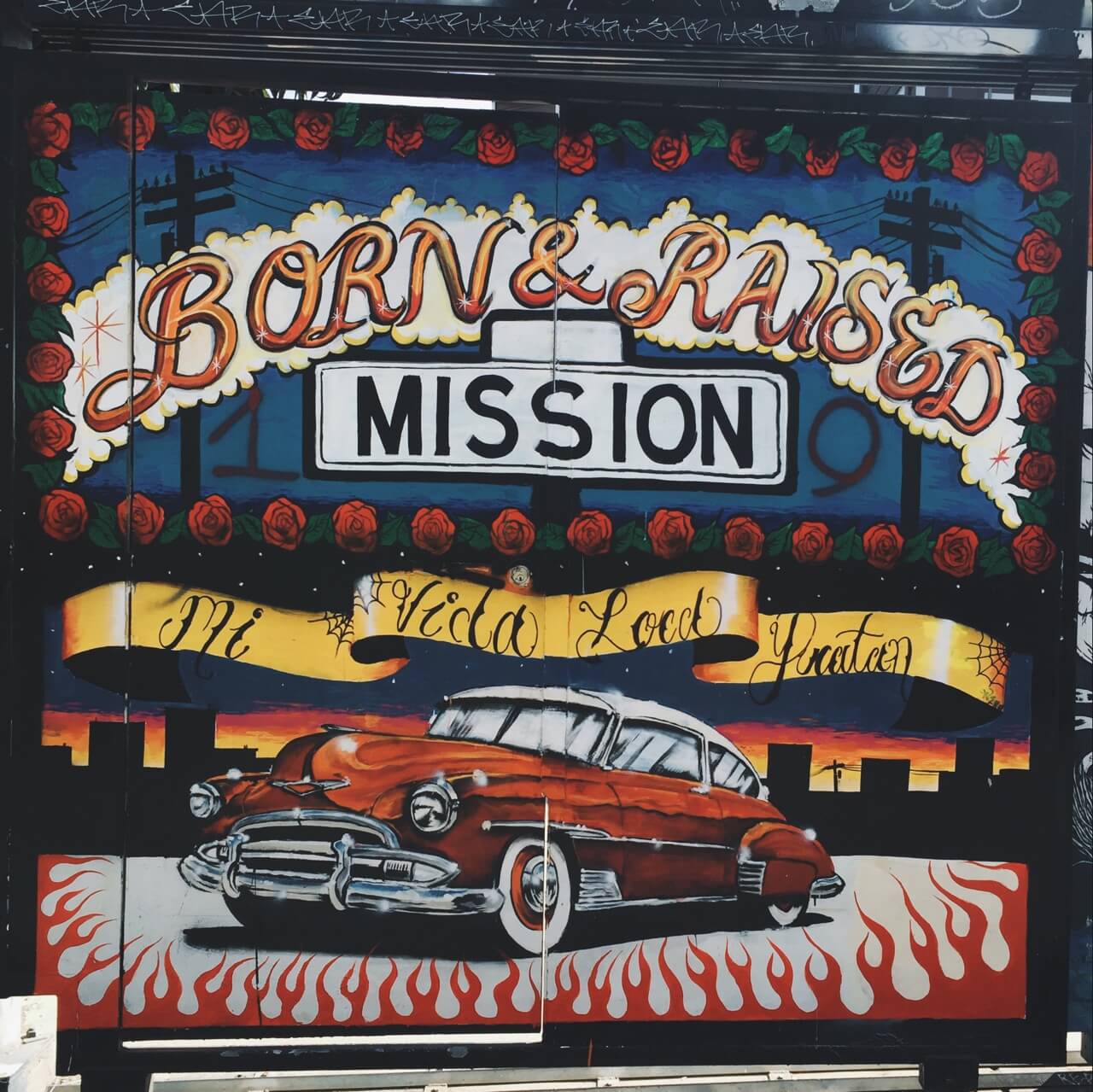 No trip to San Francisco, including a layover, is complete without visiting its largest and most vibrant neighborhood, i.e. the Mission. Encompassing both outer and inner Mission, this is one of the best neighborhoods of San Francisco and the one that has weathered the most in terms of gentrification and changes and yet has somehow managed to retain its character and charm. These are the unmissable attractions of the SF Mission:
Popular attractions
The Mission neighborhood is the last Latino bastion in the city and is home to some of the most striking and larger than life murals in the country, conveying myriad messages on social justice, civil rights and a slice of life in San Francisco. Walk down 24th street to catch them and don't forget to visit Clarion alley and Balmy alley to be surrounded by some of the best murals in San Francisco.
Besides murals, check out City Art Cooperative Gallery (owned by local artists) to check out our local art and stop by Dog Eared books on Valencia to pick up a good read for relaxing in Mission Dolores Park, the largest green space bordering this neighborhood and Castro.
Where to go shopping in the Mission
From the boutique niche stores on Valencia street to more family owned businesses along Mission street, this neighborhood in San Francisco is bustling with local stores that you must check out if you are looking for local, authentic souvenirs, gifts and San Francisco fashion.
My favorite places are The Plant Fairies (LGBTQ owned plant nursery), Often Wander, Therapy Store, Nooworks (colorful clothes made in the Bay Area), Acacia, Needles and Pens, Super Simple and literally everything between 23rd-14th street on Valencia featuring home decor, gifts and thrift/consignment stores.
The best time to visit Mission is undoubtedly during Cinco De Mayo or Carnaval or Dia de los Muertos when the neighborhood comes alive in celebrating Latino and other indigenous cultures with singing, dancing and of course food stalls.
Where to eat in the Mission
The Mission is undoubtedly the gastronomic epicenter of the city and is also the go to place to taste some of the best Latino food (Central and South American) north of the border. Urban legend has it that this San Francisco neighborhood has enough restaurants to seat the entire population in the city on any given night! Plus, with the diversity of cuisines that are all so good, you'll have a really tough time choosing your next meal.
Mission is brimming with hipster cafes and restaurants along the gentrified Valencia street and mom-and-pop stores along Mission and on 24th street. Although the food game is strong in Mission, there are several places that are popular with tourists and those that remain tucked away for only locals to enjoy. My picks from both categories are:
Restaurants/cafes popular with tourists
Tartine bakery and Tartine manufactory- legendary bakery for some of the best desserts in San Francisco, Bi-Rite ice cream, Craftsmen and Wolves (sweet and savory baked goods), Flour and Water Pizzeria, Dandelion Chocolate (bean to bar chocolate makers offering tasty treats and hot chocolates of different kinds), Foreign Cinema, Beretta, Wise Sons Jewish Deli, La Taqueria (for Mission style burritos voted the best in the country), El Farolito, Stonemill Matcha, Farmhouse Kitchen (Thai), Mission Chinese food, Loló, Gracias Madre (vegan Mexican fare), AL's place.
Local's only/lesser known restaurants
Tortas Los Picudos, Balompié (for killer El Salvadorian pupusas), Udupi Palace (one of the best 100% vegetarian spots in San Francisco and also one of the best cheap eats in town), Little Heaven, Gallardos Mexican restaurant, Panchita's (El Salvadorian), Prubechu (Guam)
Finally, if you are just overwhelmed or want to dig deeper into the Mission's fascinating culinary landscape, I suggest you go on this fantastic food tour!
Getting there
Take the BART and get off at 16th street or 24th street Mission stops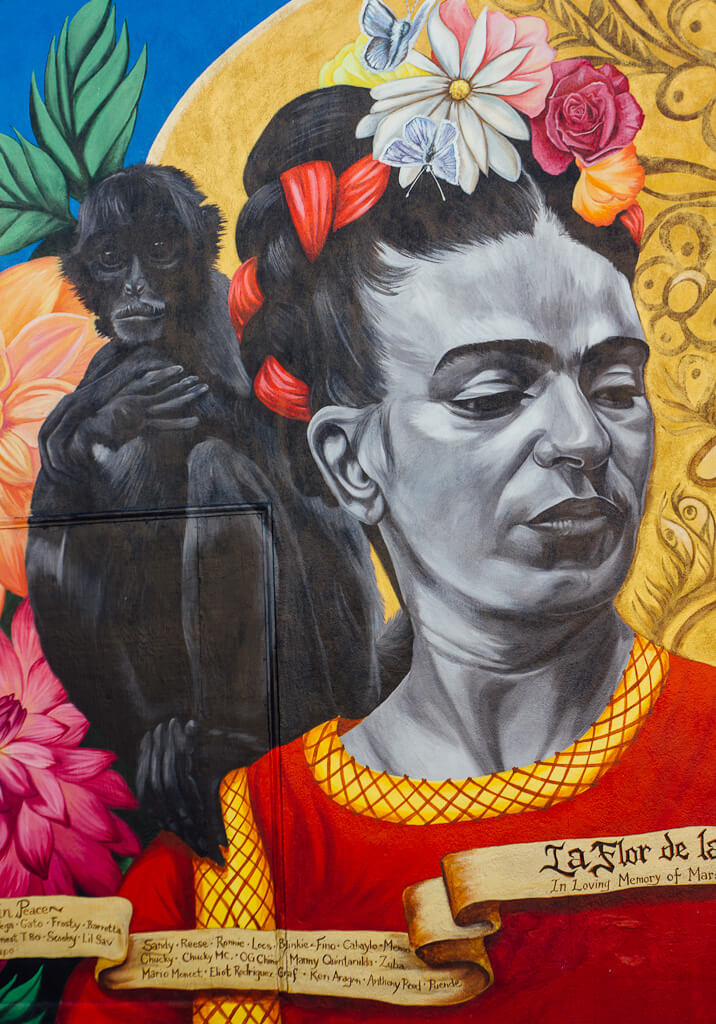 Fun San Francisco neighborhoods #5. Castro
Castro is ground zero of the LGBTQ movement in San Francisco and California. Home to Harvey Milk, the first openly gay person to be elected to public office in USA (he was assassinated months later on the steps of City Hall), this iconic neighborhood in its present form is not only one of the most fun and progressive nooks of the city, but is also filled with lots of great places to eat, drink and shop.
Plus with more than frequent sightings of delightfully ornate drag queens and near 100% nude men on their routine neighborhood stroll, there is never a dull moment in San Francisco's quirkiest and most merrily outrageous neighborhood! One of the best neighborhoods in San Francisco to visit for those not too stuck up in their heads, here are some of the major attractions that you cannot miss:
Popular attractions in the Castro
Stop by the Harvey Milk Museum/GLBT Historical Society Museum for a lesson on LGBT rights history or catch a film festival movie or a sing-along at the famous Castro Theater, only of the few remaining single screen theatres in the city where David Hegarty, the legendary organ player regales you with his tunes before the start of any show as the organ rises onto the stage from below. Take a photo on the Rainbow Crosswalk or beneath one of the many cheeky store signs.
If outdoors are your calling, then trek to the dog friendly Corona Heights park or Kite Hill open reserve, which are some of the several lookout points in the city offering fantastic views or slide down concrete Seward Mini park slides in the nearby park of the same name. Remember to pack warm for San Francisco since these places are at an elevation and it can get pretty windy up there.
Eat and Drink in the Castro
Castro is buzzing with loads of good places to drop your inhibitions and have a fun time! Be it popular spots like Harvey's or Moby Dick, Mama Ji's, Starbelly (go for brunch), Frances (one of my favorite places for fancypants dining), Dinosaurs (for Vietnamese Banh Mi sandwiches), Kitchen Story (be prepared for REALLY LONG brunch wait times), Fable, Kasa Indian Eatery (Indian thalis and wraps which are SO GOOD after bar crawls) and Twin Peaks Tavern, overlooking the very last stop of the muni F-line (the same one that hauls your tush to Fisherman's Wharf).
Where to shop in the Castro
Get truffles at the Filipino inspired chocolate store Kokak Chocolates, find some new plant friends at Hortica and don't forget to get SFMade gifts (all locally made) at Local Take.
Getting there
The Castro is the last stop of the F-line (the same that ferries you to Fisherman's Wharf), so come on aboard!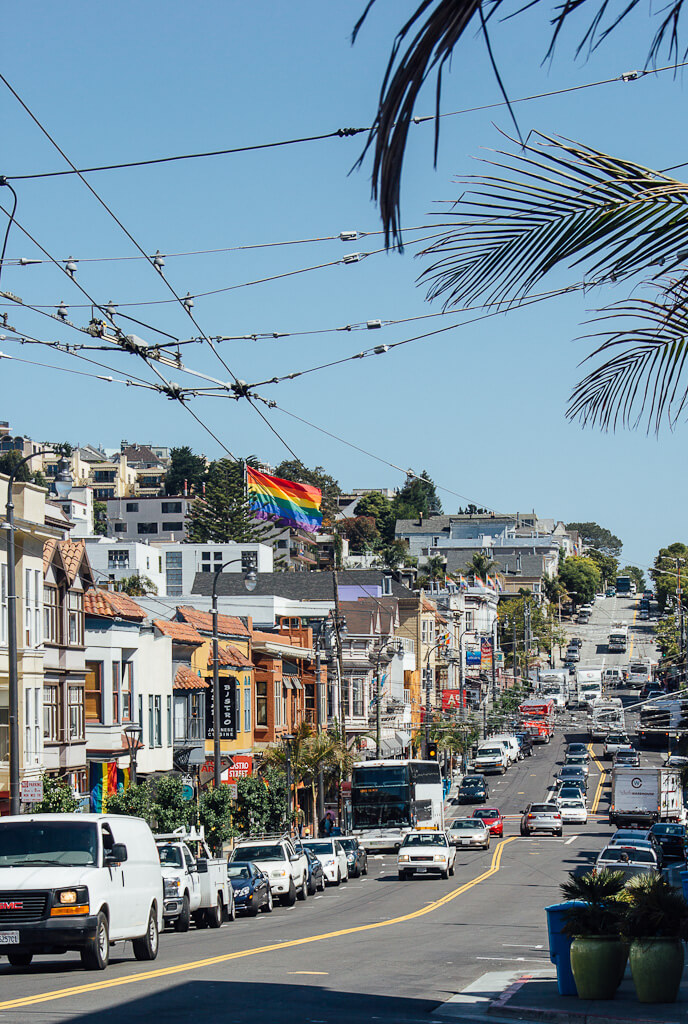 San Francisco neighborhoods to visit #6. Western Addition/NOPA
I am clearly biased here because this was my neighborhood for 8 golden years, but do hear me out! Western Addition along with NOPA (North of Panhandle) are these twin neighborhoods that extend from the lively Fillmore street on the east to another bustling artery Divisadero on the west and encompass a thriving community filled with arts, food, local stores and major attractions. These are as follows:
Famous landmarks in the Western Addition/NOPA neighborhood
Japantown, one of the three of its kind remaining in California is a good place to start. Go to the Buchanan-Post street mall for yummy Japanese delights and shops selling everything from Japanese dessert to ceramics, check out books at Kinokuniya bookstore, stop by the funky store "New People" have some Manju (tea cakes) at Benkyodo and give your tired feet a rest at the peace plaza under the shadows of a looming pagoda.
Next, head straight to the intersection of Steiner and Fulton streets to the dog friendly Alamo Square park (one of the many lovely dog parks in San Francisco) to snap a photo of the set of colorful Victorian houses called "The Painted Ladies" which are a staple landmark of San Francisco!
Shopping in the Western Addition/NOPA
There is no dearth of local boutiques and luxury brand stores all along Fillmore street as well as on Divisadero for you to shop till you drop! I personally recommend shopping in Japantown itself (lots of gift and stationery stores) as well as places like Rare Device (a delightful local gift store on Divisadero and Hayes) and Asmbly Hall (local small business carrying SFMade brands for clothing, home decor and gifts).
Hayes valley, another lively neighborhood filled with lots of great stores and restaurants, is right next to Western Addition. For those of you looking for local, one of a kind places to shop or good cafes and wine bars, do stroll down Hayes street to check out these businesses.
Dining in Western Addition/NOPA
This neighborhoods boasts of lots of heavy weights and a wide variety of cuisines, as you'll find out just by walking down Fillmore street (between Fulton and Post) and Divisadero street. Here are some of my favorites:
Japantown mall: Marufuku Ramen (best Ramen in San Francisco), Cafe Hana, Benkyodo (come as early as possible for their Manju/Japanese tea cake), YakiniQ cafe (for their famous sweet potato latte), Uji time dessert, Belly Good Cafe & Crepes, Matcha Cafe Maiko, Oma San Francisco Station (sushi), Sasa (sushi), Crown and Crumpets for afternoon tea in San Francisco
Fillmore street (upto Post) and around: State Bird Provisions (2 Michelin star restaurant) and its sister restaurant The Progress, Avery (fine dining), Wise Sons Jewish Deli, The Social Study
Divisadero street and around: Brenda's Meat & three, Oasis cafe, The Mill (hipster cafe with oh so good bread and toast), Hahdough (German bakery), Ragazza, Little Star Pizza, Che Fico, Souvla (SF style Greek), Zaytoon, famous restaurants Nopa and sister Nopalito.
Resident's pro-tip
Although Western Addition/NOPA is cool to visit anytime of the year, there are certain times of the year when you must visit Japantown to see it come alive during festivities! The Spring Cherry Blossom Festival (Feb-March) or the Nihonmachi Street Fair (celebration of Asian-Pacific American culture in August) are great occasions to see the community come together and celebrate with music, food and cultural events!
Getting there
Muni lines 22 (Bay Street bound), 38 (Land's End bound) and 31 (Ocean Beach bound) will all bring you to JapanTown from downtown San Francisco
Famous San Francisco neighborhoods #7. Haight
This is possibly the most famous neighborhood of San Francisco besides the Mission, that has been immortalized in pop culture. Thanks in part to the hippie/flower power movement of the 60s and being home to musical celebrities such as Janis Joplin and Grateful Dead, this neighborhood is where eccentricity hangs in the air laced with faint afternotes of weed. Visiting Haight is a must, as is checking these attractions out:
Main attractions in Haight
Vivid and colorful Haight murals in all shapes and sizes, all of which can be found as you walk down Haight street (all the way from lower Haight up to Golden Gate Park).
The Fishnet stocking clad dangling legs at Piedmont Boutique on Haight Street, which is one the many alternate Instagram worthy spots in the city. Speaking of stores, there are lots of quirky boutiques and stores on Haight street selling eccentric gifts and one of a kind souvenirs. Music lovers should not give the legendary Amoeba Music a miss which is home to thousands of new and used vinyls.
The Grateful Dead house, aka a colorful Queen Anne on Ashbury Street (710 Ashbury) where the legendary music band stayed and rehearsed.
Finally, San Francisco's famous Golden Gate Park borders the western end of Haight. Do spend some time here since this is a treasure trove of many a San Francisco wonders and is bigger than NYC's Central Park! From a lush Japanese tea garden to beautiful museums and exploratoriums, from hidden waterfall and lake to flower conservatory and arboretum, from botanical garden to windmills and even Bisons, this park truly is a paradise for the nature lover in an urban jungle.
Where to eat in Haight
My favorite place for small bites and drinks is undoubtedly The Alembic, one of Haight's more popular and cozy bars. The Grind, Cha Cha Cha and Parada 22 (Puerto Rican) are other good places for sandwiches and lunch. Veganburg is a great place to go for meat free options.
Getting there
Hop on Muni line 7 (Ocean Beach bound) to get to Haight from downtown San Francisco
Neighborhoods in San Francisco for famous landmarks #8. Marina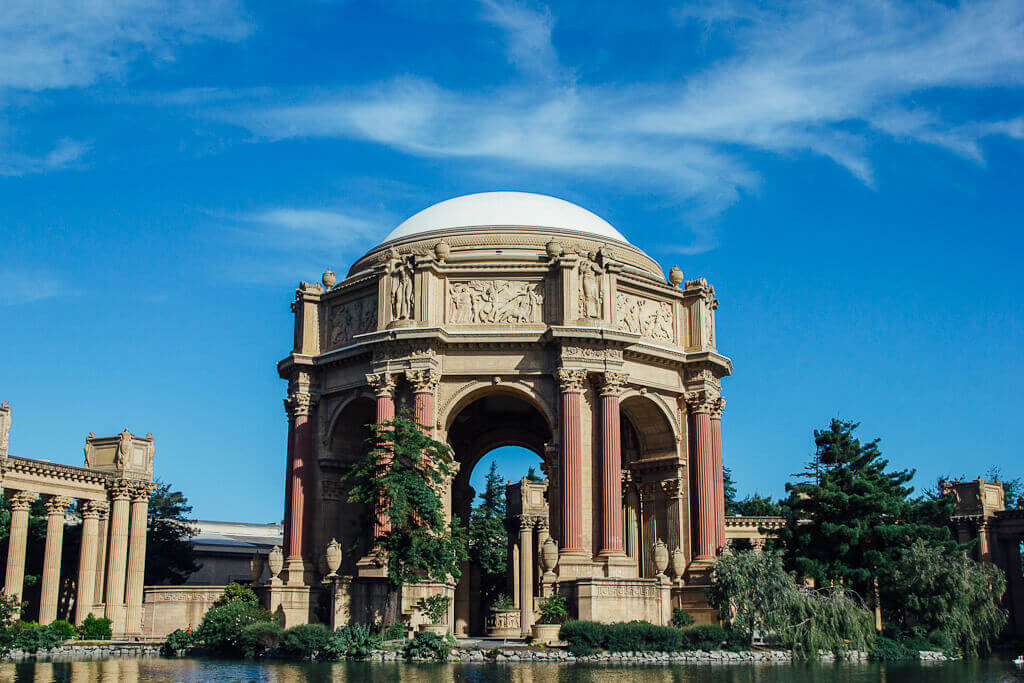 The Marina neighborhood is on the northwest edge of the city and home to lopsided, uber expensive pastel colored homes, the most judged SF residents aka yoga moms, the Marina (duh!) and of course, some killer views of the Golden Gate Bridge. Despite all the judgy eye-rolls that this San Francisco neighborhood gets, here are some not to be missed landmarks in this part of town:
Sightseeing in Marina
The Palace of Fine Arts, built during the Panama-Pacific exposition, is a striking piece of architecture resplendent with a lake and gliding swans. The grand rotunda of this Palace is a sight to behold and there is also a small museum inside dedicated to the history of this marvellous piece of architecture. The Palace is one of the many free landmarks to enjoy in the city.
Next, comes a sweeping view of the Golden Gate Bridge from the Marina boulevard, which is not to be missed as you walk down the paved pathway along the waterfront. This is one of the many places in San Francisco from where you can get a great photo of the orange bridge!
Finally, go all the way out to see the Wave Organ sculpture on 83 Marina Green drive, that was constructed in May 1986 by sculptor and mason George Gonzales and conceived and designed by artist in residence Peter Richards. The series of pipes in the organ interacts with the waves of our Bay to produce a wide octave of sounds!
Where to eat in the Marina
Head straight to Fort Mason on Friday evenings to taste some of the very best that San Francisco can offer on wheels, aka food trucks from the Off The Grid coalition or get a table for vegetarian fare at the Greens restaurant inside Fort Mason.
I also recommend Le Marais bakery in neighboring Cow Hollow as well as A16 (my favorite Italian-Californian place in SF), Pacific Catch, Tacolicious, The Tipsy Pig, Cultivar, Wildseed (favorite vegan spot in town) and The Dorian (another favorite).
Getting there
Golden Gate Transit operated bus lines 30 and 101 (Northbound line) will bring you to the Marina/Palace of Fine Arts
Best Neighborhoods to visit in San Francisco #9. The Presidio
It is a shame that the greenest, most tranquil patch of San Francisco is never really considered more than a former army barracks. The Presidio, part of the Golden Gate National Recreation area, is very much a residential neighborhood in San Francisco filled with restaurants, pristine dog friendly hiking trails, a Walt Disney Museum and some of the best local (dog friendly) beaches in San Francisco. Here are some of the things not to be missed at one of the best neighborhoods in San Francisco:
What to see in the Presidio
Breathtaking views of the Palace of Fine Arts at Inspiration point, one of the entry points in the Presidio and its many hiking trails. The Presidio has some of the best hiking trails in San Francisco, the famous ones being Batteries to Bluffs trail, Ecology trail (starting from Inspiration point) and Mountain Lake trail. The California Coastal trail, starting from Lands End (in the Sea Cliff neighborhood mentioned below) snakes through the Presidio and ends at the Golden Gate Bridge.
The Presidio is home to two of San Francisco's local gems, aka beaches, which are Baker Beach and Marshall's Beach, both of which offer the best views of the Golden Gate Bridge. Of these, only Baker Beach is one of the many dog friendly spots in San Francisco.
Besides these two pristine California beaches, you can also get spectacular views of the Bridge from the Golden Gate Overlook or Battery East, Presidio promenade trail or Crissy Fields, which is a great place to have a nice picnic during the day.
Other points of interest in the Presidio include the Walt Disney Museum, the Society of California Pioneers Museum and Library to get a glimpse of the thousands of untold stories embroiled in California's checkered history and the publicly accessible Korean War Memorial built in 2016 to honor the memory of the valor, service and sacrifice of those who fought the war.
The Presidio is also home to one of the many hidden gems in San Francisco, aka a cute as heck statue of Yoda atop a fountain (Yoda fountain) from Star Wars right outside of Lucasfilms Headquarters on Letterman Drive.
Where to eat in the Presidio
Visit the Presidio on a Sunday to sample food truck fare during "Picnic at the Presidio". I simply love The Commissary (serving Spanish-Mediterranean cuisine). Other notable restaurants include The Presidio Social Club Exchange, Sessions at the Presidio (gastropub) and Garibaldi's.
Getting there
GGT buses 30 and 101 (both Northbound) and Muni line 45 (Lyon and Greenwich bound) will take you to San Francisco's Presidio from downtown
Neighborhoods of interest in San Francisco #10. Sea Cliff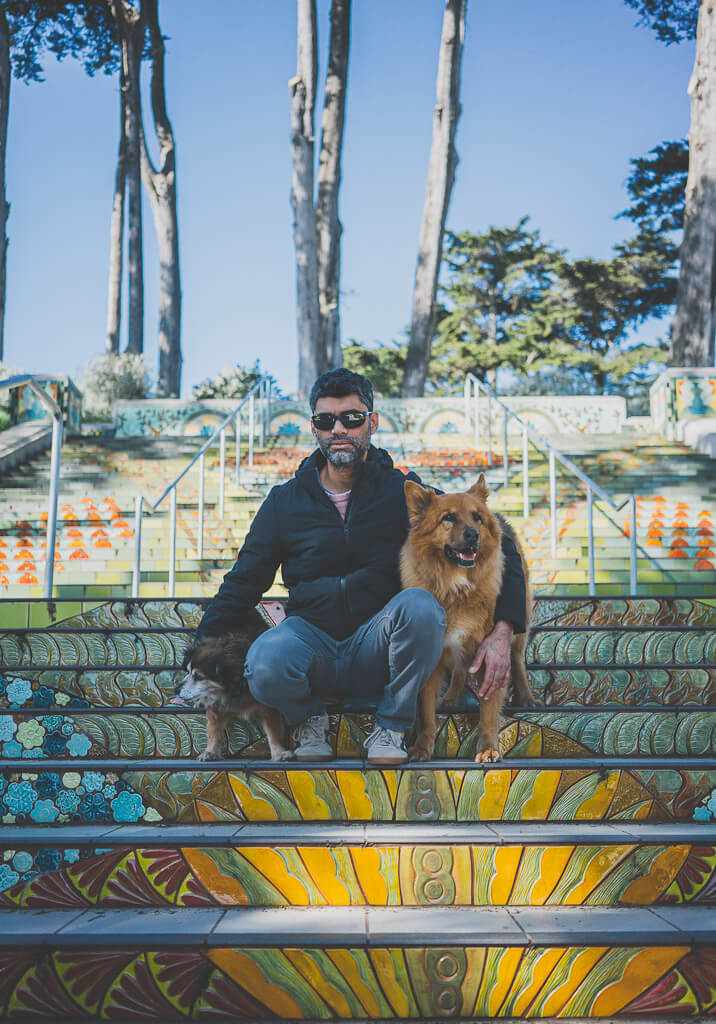 This north-westernmost neighborhood of San Francisco is a quiet one, but is chock filled with some of the top attractions in the city as well as some fantastic lookout points and hidden beaches, not to mention some of the most expensive real estate that ever was. Here are some major attractions:
Popular attractions in Sea Cliff
Start off the Sutro Bath Ruins, a historic bath house built by millionaire Adolph Sutro in 1894. Then get on the Coastal trail from Point Lobos to see beautiful vistas, Seal Rock Beach and finally Land's End labyrinth as mentioned below. Before you start your hike, don't forget to snap photos of The Cliffhouse, San Francisco's iconic landmark that is to the left of the bathhouse.
The two other attractions in SeaCliff are as follows: first, the Legion of Honor museum, the fine arts museum which is sister to the deYoung Museum in Golden Gate Park. It has the largest collection of Rodin sculptures outside of Paris.
The second one are the oft forgotten colorful Lincoln street steps on California street, on the eastern edge of Seacliff. The Land's End trail, also revealing beautiful views of the coastline and the Bridge starts from here.
Hidden gems in Sea Cliff
This has to be our locals only beaches, i.e. China Beach and Mile Rock Beach, from where you can enjoy crowd free sunsets. Another hidden gem is the man made Land's End Labyrinth that you can stop by on your way to Mile Rock Beach along the beautiful coastal trail.
Dining at Sea Cliff
Unlike other neighborhoods mentioned above, Sea Cliff is pretty thin on dining options. Unfortunately, the Cliff House restaurant, its main culinary draw (more for the views than the food), closed down in 2020 after 157 years and a new business occupancy is pending there. The building itself has been stripped off its iconic sign (the letters came down on December 31, 2020) and is now just standing there, waiting to be turned into a boring federal building.
However, this quiet neighborhood known for its hiking trails and breathtaking views is right next to the Richmond neighborhood, which is known for its diverse culinary landscape (see a list of popular restaurants right here).
I highly recommend Cassava (one of my favorite brunch spots-try their Japanese breakfast), Fiorella (on Clement) and Pizzetta 211, which are closest to Sea Cliff. For those looking for dinner and a show, head to Al-Masri, the Egyptian restaurant which has belly dancing shows.
Getting there
Board the Muni lines 38 (V.A. Hospital bound) or 38R (Land's End-48th Avenue bound/R stands for "rapid" and has fewer stops along the way) to get to Land's End from downtown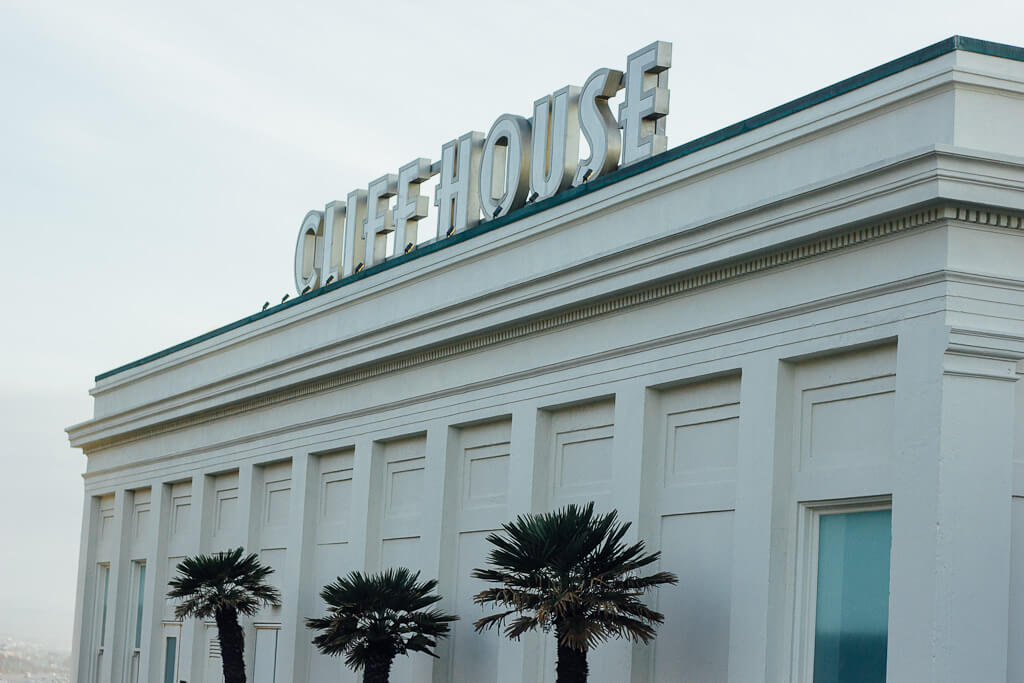 I clicked this photo of the legendary Cliff House in 2015
Parting thoughts on San Francisco neighborhoods
I hope this post has given you a taste of some of the best neighborhoods to visit in San Francisco as a first timer, which are beyond the realm of the touristy northeastern city quadrant. San Francisco has so much more to offer than the often rehashed popular landmarks and its neighborhoods provide a great mix of local life, food and top attractions. Thanks so much for reading and do stop by my San Francisco local guides for more ideas!
Like this post? Pin it for later

«