Last Updated on March 24, 2022 by Paroma
Looking for the best hidden gems in San Francisco? As a resident, I have scoured these top secrets things to do in San Francisco and offbeat attractions for you to enjoy. Read this post to find out all the San Francisco hidden attractions and secret spots in our tiny city along with a handy map showing their locations!
Hidden Gems in San Francisco: An insider guide to local secrets
Although San Francisco covers on 49 square miles, it is peppered with hidden gems, secret spots and offbeat attractions that sometimes even locals are not aware of! As a decade old resident of this city, I am always pleasantly surprised to keep finding may such hidden gems in San Francisco with every passing year as I continue to explore my beautiful, mysterious city.
For those of you looking for offbeat San Francisco attractions, here are some of the best kept local secrets in San Francisco, that I suspect may not remain a big secret after you're done reading this post.
Before I move on and actually reveal some of my favorite secret things to do in San Francisco , I earnestly request you to be mindful and respectful of locals while visiting these San Francisco hidden gems. Please do not indulge in unsavory acts just to get a photo for the 'gram and be conscious of your surroundings!
This includes obeying parking signs, following current health advisory guidelines and allowing others to enjoy these San Francisco secrets, which are also some of the best free things to do in San Francisco.
Disclaimer: My blog posts may contain some affiliate links. Clicking on them may earn me a small commission at no extra cost to you for purchase of the product. Thank you!
The best kept secrets of San Francisco: Colorful stairs in the city
There are several flights of colorful stairs tucked away in different neighborhoods in San Francisco, and the most popular of these is undoubtedly 16th avenue Mosaic tiled steps leading to Grandview Park. The truly hidden ones that I am a fan of are the Hidden Garden steps, a stone's throw from the 16th Avenue steps and the Lincoln Park Steps, located at the edge of Outer Richmond and Sea Cliff.
The Hidden Garden Steps is another neighborhood initiative from 2010 and features several flights of colorful, tiled steps featuring California's state flower, aka a poppy and several other animal and nature motifs. The once derelict and forgotten Lincoln Park Steps got a facelift from the city and leads to its namesake golf course and eventually to the Land's End Coastal Trail, one of the many dog friendly hiking trails in San Francisco.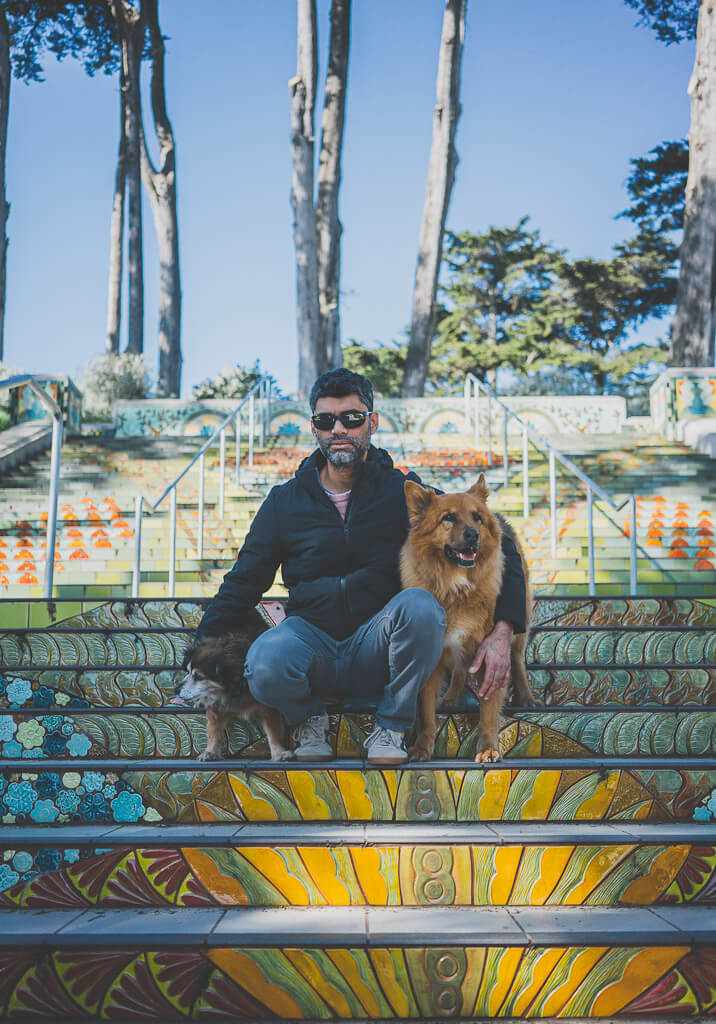 Hidden lookout points in San Francisco: Mount Davidson Park
San Francisco was carved out of hills, so it is not surprising that this city is endowed with some of the steepest urban streets as well as elevation points offering panoramic views of the city skyline and the Bay. For your convenience I have highlighted all of these spots in one convenient post on the best lookout points in San Francisco.
However, if you only have one or two places to choose from for the best views in San Francisco, I highly recommend going to Mount Davidson Park in the southern part of the city, which is not only of the many dog friendly spots in San Francisco but also is the highest point in the city with a very easy hike to reach to the top.
Besides offering the best near 360 degree view of the city, Mount Davidson is also home to a huge white cross towering over the surroundings. This cross belongs to the Armenian-American association of North America and serves as a memorial marking the genocide of over 1.5 million Armenians by Turks in Western Armenia from 1915-1923.
Hidden murals in San Francisco that you must see
Some of the best hidden gems of San Francisco are undoubtedly its street art, several of which are not so easily out in the open and need a bit of sleuthing to get to. Although most tourists know about the murals in the Mission neighborhood, there are several parts of the city with other stellar murals that are kind of a hyperlocal San Francisco secret. And, in this post I am going to let you in on at least two of them.
First, comes a mural that is right in the middle of Fisherman's Wharf, aka the most touristy part of San Francisco, but very few people know about it. I am talking about the hidden mural "Greetings from San Francisco" by MaxField Bala adorning the wall of San Francisco Electric Tour company offering segway tours in the Wharf. This 2019 mural is one of the most vibrant street arts in San Francisco and has a postcard feel to it.
Psst…Los Angeles and Sacramento are two other street art filled cities in California. Check out my Los Angeles mural post and murals of Sacramento post (with a handy map)
Second is one of the three gigantic murals painted by Diego Rivera, the world renowned Mexican muralist during his visits to San Francisco between 1930-1940. This mural, titled "Making of a Fresco" graces the wall of the San Francisco Art Institute and is completely free to view, but unfortunately that may not last long.
To find how to view all three of the maestro's murals, read this article. Rivera's third mural titled "Pan American Unity" is currently at City College of San Francisco and will be loaned to SFMOMA in 2021 to view free of cost.
San Francisco's secret spots: TransAmerica Redwood Park
Did you know that San Francisco has its very own Redwood park, and that too smack dab in the middle of Financial District's concrete jungle? I am talking about the TransAmerica Redwood Park, home to about 80 mature Redwoods brought all the way in from Santa Cruz mountains and planted here in the city in 1959.
Although nowhere as vast as as Muir Woods or the Coastal Redwoods on your Dawn Falls trail hike in Larkspur, this green oasis is a tranquil spot to rest your weary feet under shadows of the majestic Redwood trees. The park is filled with delightful sculptures of children and jumping frogs near a fountain. Although the park is open on weekdays (7 AM-5:30 PM) it might be closed due to San Francisco's current health advisory orders in 2021.
The TransAmerica Redwood Park is one of the many POPOS in San Francisco, i.e. Privately Owned Public Spaces. Catch them all here in this article.
Hidden Beaches of San Francisco
San Francisco is perched at the mouth of the Bay, with water on all three sides. And, that means only one thing-an abundance of beaches, both prominent and some not so obvious. Although Ocean Beach, on the western end of the city is extremely popular with tourists, the two secret beaches in San Francisco that very few people know of, are Mile Rock Beach (one of the several dog friendly beaches in San Francisco) and China Beach. Mile Rock beach cab be accessed by the Lands End trail, one of the best hikes in San Francisco that you must check out.
Both these hidden San Francisco beaches are again on the western fringe of the city and you can read this older post of mine on how to get to them or scroll down to Google Maps below for location. Mile Rock beach is one of the best places in San Francisco to catch a sunset and both beaches provide excellent views of the Golden Gate Bridge.
Hidden attractions of San Francisco
San Francisco has peppered with many hidden landmarks and you will have to be a really avid explorer to find them all. Even after 10 years of living in this city, I am always caught by surprise with new discoveries by fellow residents and bloggers. Although there are several secret attractions in San Francisco, the three that I especially like are as follows:
Dutch Windmill
There is a gigantic Dutch Windmill (aka North Windmill) towering over a Tulip Garden named Queen Wilhelmina Tulip Garden, in San Francisco's Golden Gate Park. This windmill was completed in 1902 and is best viewed in February-March with the tulips in full bloom in the park (frankly, Spring is one of the best times to visit San Francisco for this reason alone).
Yoda Statue/Yoda Fountain
This delightful Star Wars character stands atop a fountain on 1 Letterman Drive in San Francisco's Presidio, right outside the George Lucas offices. The statue is free for the public to view 24/7. The Presidio has some of the best hiking trails in San Francisco!
Land's End labyrinth
This man-made concentric circle of stones is one of the many hidden San Francisco gems that takes some effort to getting to, but the hike along San Francisco's coastal trail is worth the pain. Once you reach the labyrinth, you will also be greeted with some amazing views of the Golden Gate Bridge. The labyrinth has often been vandalized or destroyed in the past, so please be very careful while visiting and don't knock the stones off!
Where to find a hidden waterfall and Pagoda in San Francisco
Although there are many wonderful hikes in the Bay Area that lead to waterfalls, you don't have to venture out of the city if you're in San Francisco. This is because there is a hidden waterfall right in our very own Golden Gate Park on 50 Stow Lake Drive in Strawberry Hill, one of the best dog friendly spots in San Francisco which also doubles up as one of the many dog parks in San Francisco.
Besides the waterfall, there is an ornate Chinese Pagoda (gifted to San Francisco in 1976 by her sister city Taipei) with beautiful views of the man-made Stowe lake, best enjoyed with a picnic hamper on one of the benches around the pagoda.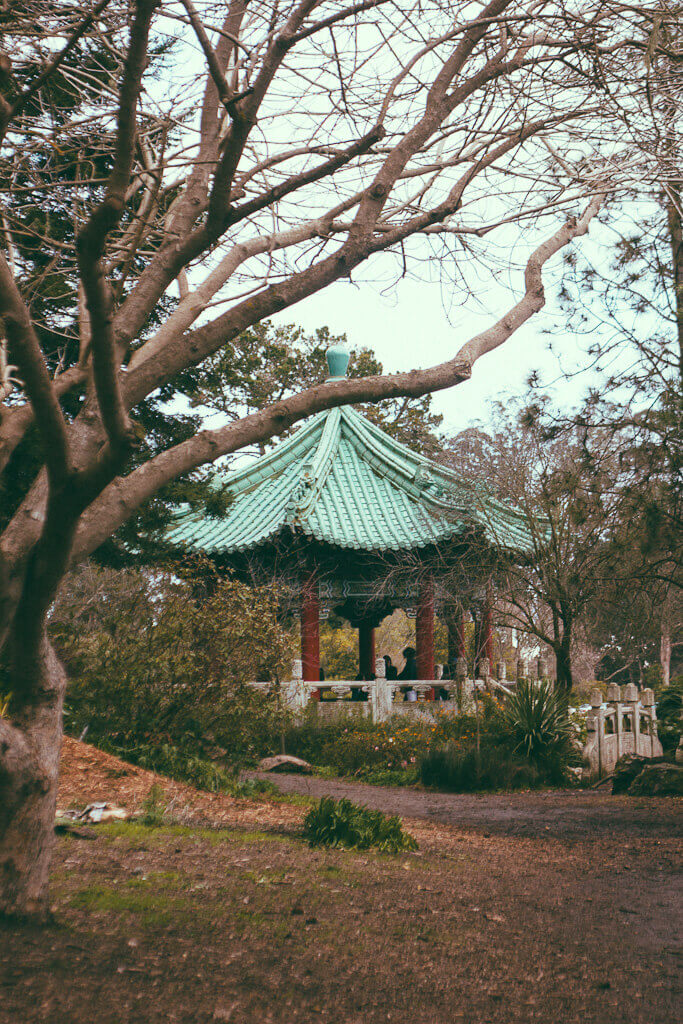 The most beautiful hidden alley in San Francisco
San Francisco's Russian Hill neighborhood is one of my favorite places in the city. Beside the obvious pretty houses, great views of the Bay and tourist attractions like Lombard Street, Russian Hill is peppered with many San Francisco hidden gems. One of its best kept secret spots is Macondray Lane, a pedestrian lane that is also home to a tranquil Japanese style zen garden. Please be mindful while entering this alley since it is bordered by residential homes.
This tiny lane served as the inspiration for "Barbary Lane" in SF's very own Armistead Maupin's book Tales of the City , a series of 9 novels based on San Francisco which appeared originally in installments on the SF Chronicle. This series of novels has also been adapted to television several times, with the latest appearance as a miniseries on Netflix in 2019.
That brings me to the end of some of the best secret attractions in San Francisco that you'll love to hunt down. I hope you enjoyed this post on all the hidden gems and secret spots that San Francisco has to offer. Thanks so much for stopping by! Here's the Google Map showing their locations.
Like this post? Pin it for later

«