Last Updated on November 14, 2021 by Paroma
Are you visiting San Francisco with your dog and looking for dog friendly activities when in SF? Then look no further than this dog friendly San Francisco guide curated by me, aka a resident dog mom who's been there and done it all with her pups! Let this dog friendly guide to San Francisco be your one stop destination for what to do with your dog in San Francisco, including dog friendly hotels, parks, hikes beaches and restaurants! Trust me, you will not find a better dog friendly SF guide than this one!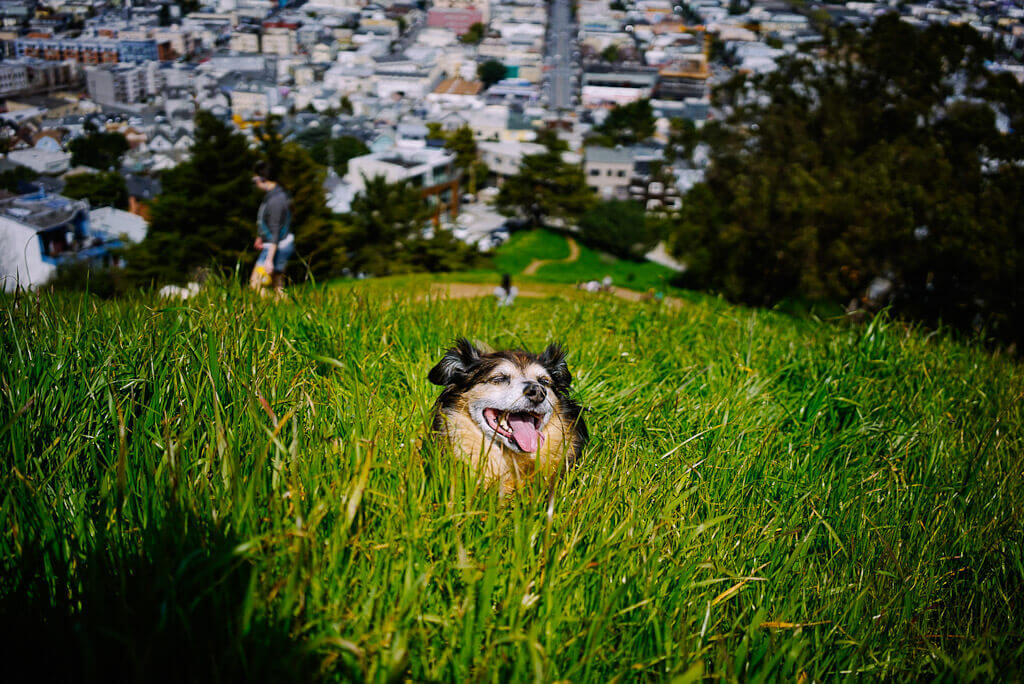 Disclaimer: My blog posts may contain some affiliate links. Clicking on them may earn me a small commission at no extra cost to you for purchase of the product. Thank you!
Why is San Francisco so dog friendly?
San Francisco, California, often features as one of the top dog friendly cities in USA and for good reason too. This city is mired with dog parks, beaches and other outdoor areas where your canine companions are welcome, thanks to year round pleasant weather and dog friendly policies in public places.
There are so many things to do with your dog in San Francisco that there'll never be a dull moment, I promise! Having lived in this city for 11+ years with Babu (our first baby who passed away in Feb 2021) and Gunda (our rescue pup) we have combed these 49 square miles in search of all kinds of dog friendly San Francisco spots that are compiled in this one article. Look no further than this guide for all the best dog friendly things to do in San Francisco.
If you are dog parent and new to the city or are simply visiting with your pet, then this ultimate guide to pet friendly Francisco guide based on my 10 yrs of combing through the city is exactly what you need. Not only does this article tell you about the best San Francisco dog parks, dog friendly hiking trails, dog friendly beaches and restaurants welcoming dogs in the city but also dog friendly hotels in San Francisco and how to get around SF with your dogs using public transit.
And, because I love you dear reader, this post also contains:
> A Google Map at the very end highlighting all the locations mentioned in this post
> A free downloadable PDF of all our favorite dog friendly places in San Francisco (with bonus spots and activities)
(Psst… this is going to be one looong post, so simply use the table of contents above to skip to the end for the sheet if you are in a hurry. I will not mind at all:-))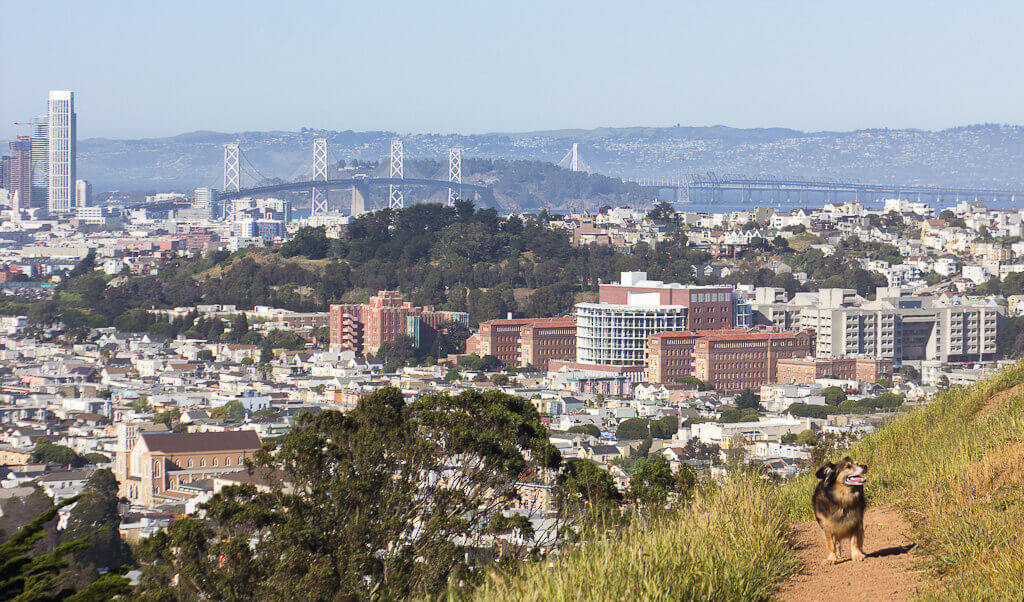 Dog friendly hotels in San Francisco
Before we get started on all the dog friendly things to do in San Francisco, here are my recommendations on where to stay in San Francisco with your dog. Although a notoriously expensive city, there are several options for pet friendly San Francisco hotels befitting all budgets.
1) Budget dog friendly San Francisco Hotels
Beresford hotel in Union Square (3 star and basic) is definitely more affordable for dog parents. For even more budget friendly option, try hotel chain Motel 6 in Union Square which welcomes upto 2 pets per room.
2) Boutique and luxury pet friendly hotels in San Francisco
Hotel Kabuki (in the bustling San Francisco neighborhood of Western Addition) is a stellar place to rest with the dog friendly peace plaza right next to it. Jefferson Park, a tiny dog park is also a 10 minute walk from the hotel.
San Francisco is lucky to have not one but two Kimpton hotel locations (Kimpton Buchanan in Japantown and Kimpton Sir Francis Drake in Downtown) which are boutique hotels that welcome pets of all breeds, weights and sizes free of cost!
For those looking to pamper their pooches, Hotel Nikko in Union Square is the place to be! This boutique hotel is where your dog is treated like royalty with his/her own welcome bed, bowls and treats. In addition, there is an absolutely adorable terrace with a replica of the famous San Francisco cable car which is dog friendly and is open from 6AM -10PM daily. The hotel's dog policies can be found here.
Babu's day out at Russian Hill, one of the best neighborhoods in San Francisco
Dog friendly San Francisco parks
If you are wondering on things to do San Francisco with your dogs, then simply head out to one of the many San Francisco dog parks in the city, because these are the best dog friendly places in SF.
San Francisco has many dog friendly parks which range from small to pretty big, famous (such as Alamo square with the Painted ladies next to it) to tiny ones tucked away in the corner. Many of these have designated play areas for our furry friends, so go ahead have a blast with your dog running around in the off-leash playground.
Some of our favorite parks featured in this list of dog friendly San Francisco spots are:
1) Buena Vista park: Beautiful views galore!
Buena Vista park is one of the many dog friendly San Francisco parks with a designated play area where dogs can be leash free. This park, along with the iconic dog friendly Golden Gate park, shares the honor of being the first two parks of San Francisco, and is home to many native trees and vegetation, including the famous Monterey Cypress!
The park, a woodland of dense vegetation, winds up gently through shadowy paths flanked by trees or you can hike up the uneven trail interrupted by stairs. Either way, once you reach to the very top, you will be rewarded with a beautiful view of the city skyline as well as the Golden Gate Bridge beckoning in the distance. The Sutro tower, another SF iconic structure, juts out into the sky, adding another layer of visual interest to the skyline.
Buena Vista park was tended to by the famous Scottish horticulturist John McLaren who was also the first Superintendent of Parks in San Francisco and is known to have planted over two million trees in his lifetime! Soon after McLaren's demise, the neighborhood pulled together and came to the park's rescue by planting "newer" trees to take over as the older ones gave way.
2) Strawberry Hill, Golden Gate Park: A hidden oasis in SF's biggest park
Golden Gate Park is San Francisco's green oasis on the western edge of the city and home to several attractions such as the Hagiwara tea garden, the De Young museum and the California Academy of Sciences. Despite our knowledge of the park, little did we know that it nests a beautiful secluded spot at its center with a serene (albeit man made) lake in between flanked by hiking trails on an elevation. Golden Gate Park is very dog friendly and this secluded spot is just the place to take your dog to.
This hill like rising is cutely named Strawberry Hill and it is located on 50 Stow Lake drive. The placid waters of the lake allow for boat rides all year long and is a really secluded, hidden spot with dog friendly hiking trails-both on flat as well as hilly terrain.
The trail heads start from the paddle boat area and circle the lake and even go upwards into the hill. The slope is a gentle one and during our walk, we came across a beautiful waterfall as well as a quaint pagoda/pavilion (named Golden Gate pavilion) on the way.
3) Alta Plaza park: one of our favorite dog friendly parks in San Francisco
Our favorite park, of all the dog friendly San Francisco spots, is undoubtedly the Alta Plaza park in Pacific Heights. First, because it is a clean, green park with a huge off-leash area for dogs to play and second because it is a good 20-25 min walk along the awesome street of Fillmore (always bustling and always fun to walk on) before you reach the park.
4) Mountain Lake Park: A serene park in San Francisco with a lake
Mountain lake Park is a beautiful, green park with a placid lake at the southernmost point of San Francisco's famous Presidio. The park, once a derelict zone, has now been recognized as an important ecological preservation spot and the lake is now drudged to remove debris that might harm the aquatic life. There are several dog friendly hiking trails in this San Francisco dog park which lead to beautiful vistas and overlook points.
The park's importance perhaps lies in the fact, that if if history is to be believed, this area played an important role in inception of the city of San Francisco. On March 27, 1776, General Juan Bautista De Anza along with a few other soldiers reached Mountain lake Park after an excruciating nine-month trek staring from New Mexico. The regiment stayed here for a few days, laying down the blueprint for the early settlement that would morph into the city of San Francisco.
5) Glen Canyon park: Perfect for dog friendly hiking
Glen Canyon Park, another hidden Shangri-La in the city, is in the quiet, southern neighborhood of Glen park (my first neighborhood in San Francisco) and a short walk from the Glen Park Bart station, at the corner of Elk and Chenery streets. A locals favorite for hiking with family or their fur kids, this park has several dog friendly hiking trails that wind up to a decent elevation and are easy to moderate for hikers to navigate.
The park is about 70 acres and along a deep canyon. There are several trail heads, one of the easiest being from the adjacent Bosworth street, but you can enter through park from Elk, take a right (there is a children's playground to the right) and start off on one of the trails. This tranquil hike is one of the best dog friendly things to do in San Francisco!
Dogs are allowed both off and on-leash but dog owners are required to have their leashes at all times. Dogs are allowed on both dirt trails and paved roads in this dog friendly San Francisco park. The park is lush with greenery and beautiful. There are random flights of steps scattered everywhere and some take you to other trails.
6) Sutro Park: A dog friendly San Francisco park right next to the beach!
Sutro Parks is adjacent to the steps leading to the Sutro bath ruins, Land's end. Lush greenery, solitude, blooming roses, a majestic statue of the huntress Diana (of which I could clearly not get enough of) and majestic views of the ocean and beach from a look-out point made our afternoon a blissful one.
A great spot for some quiet time, picnic or otherwise, be sure to check this park out with your four legged companion if you are in town to indulge in one of the many dog friendly activities in San Francisco!
7) John McLaren Park: catch a theatrical performance here!
John McLaren Park is another dog friendly spot in San Francisco and is a huge patch of green in the quiet residential neighborhood of Excelsior, west of the more bustling neighborhood of Bernal Heights, where you have Bernal Hills, a modest elevation that provides sweeping views of the city and is also dog friendly. McLaren Park is a very sprawled out park and dogs need to be on leash in most parts except designated play areas.
The park is crisscrossed by several trails and you can take any of them for a moderate to intense hike. The vegetation is very dense and provides a woodsy feel all around. The park is home to an amphitheater which hosts delightful summer performances such as Shakespeare in the park (last performance being Romeo and Juliet). Fur-kids are allowed but should be on leash during the length of the performance.
Amphitheatre for "Shakespeare in the Park" performances
8) Alamo Square park: a day out with the famous "Painted Ladies"
Alamo square park, flanked by the famous Painted Ladies (a series of colorful Victorian houses that are a San Francisco picture postcard staple) is possibly the most popular San Francisco dog park and has a dedicated dog play area where pooches can run around carefree!
Besides a doggie day out, you can double the fun by bringing in a picnic basket and a blanket to enjoy a wonderful sunny day in the company of the famous row of colorful Victorians. Because of them houses, Alamo square does get its fair share of tourists, so please keep an eye on your dog when at the park.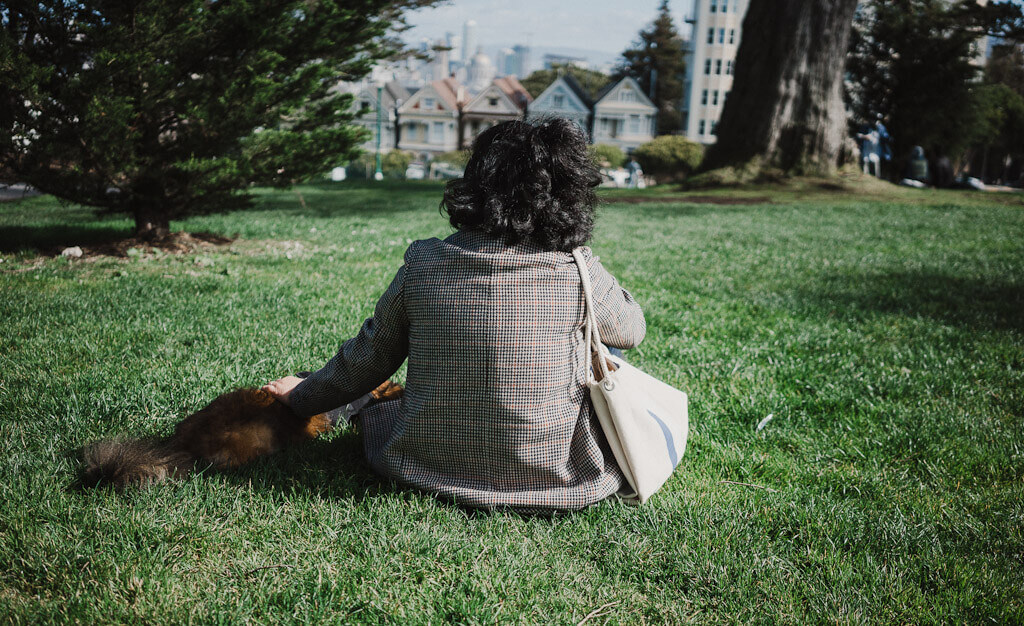 9) Lincoln Park: A beautiful park with colorful steps
Lincoln park is one of those special dog friendly San Francisco parks that only locals know of, including the colorful steps that lead up to it. This slice of green is airy with a clear trail marked for walking that ultimately leads to the Land's end trail once you reach the end of the park. This is a dog friendly hiking trail that reveals beautiful views of the coast and the Golden Gate Bridge. Visiting this park is undoubtedly is one of the best dog friendly things to do in San Francisco.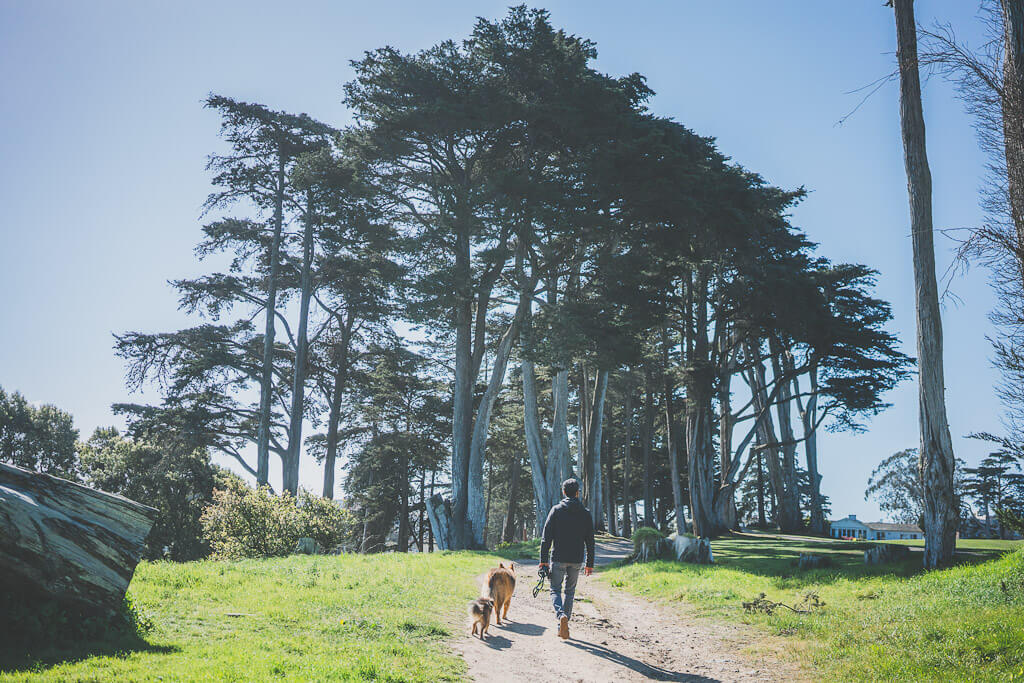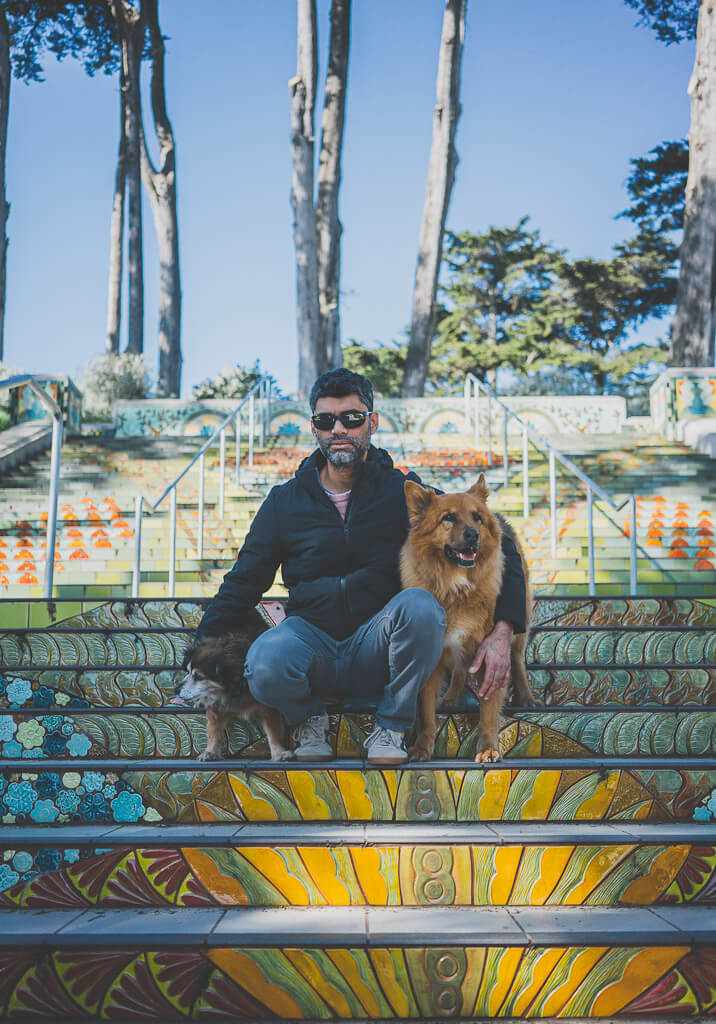 10) Dog Friendly San Francisco parks with stunning views
The list of dog friendly parks in San Francisco is endless and several of them have stunning views of the city when you climb to the top. Some of these dog friendly San Francisco spots which are dog parks offering spectacular views of the city are Bernal Hills, Mt. Davidson Park, Kite Hill Park, Billy Goat Hill, Tank Hill Park and Grand View Park; all of these welcome dogs and provide sweeping views of the city.
Of these, Grand View park has spectacular mosaic tiled steps leading to it which is a backdrop for your perfect San Francisco moment (read my hidden gems in SF post for another equally beautiful flight of stairs nearby)
View atop Mt. Davidson
16 Avenue mosaic tiled steps
Dog Friendly Beaches in San Francisco
San Francisco sits pretty atop the Bay Area peninsula and is surrounded by water on all sides. This means we have plenty of sandy beaches to lounge around and many of them are dog friendly too! Scroll down to read more about these dog friendly San Francisco beaches.
1) Picnic at Crissy Field: Get up close with surfers
Crissy Field, part of the Golden Gate National Parks Conservancy and the Presidio trust, is the slice of land peeking out into the bay from right next to the majestic Golden Gate bridge and is the last piece of land/beach that you will encounter before you hit the bottom of the bridge. It is an extremely popular spot for San Franciscans and tourists, so do come in a little early in the morning to get a parking spot.
This is a family friendly beach, inviting kids, dogs, adults, fishing and crabbing folks and picnickers alike. The towering view of the Golden Gate Bridge, the yacht with their white sails on the blue water and the faint skyline of the city in the distance makes this beach even more special, not to mention the surfers and paddle boaters enjoying their water sports around Fort Point.
2) Mile Rock Beach: Dog friendly "secret" beach with a spectacular sunset
This San Francisco beach is one of the many spectacular dog friendly beaches in California. It is however, a little hard to find and is located near Land's End, accessible by the coastal trail.
Several flights of stairs lead to it and once you reach there, do spend some time to watch a spectacular sunset here. Since the beach is pretty secluded, you will not find a whole lot of people here. Close by is the famous Land's end labyrinth that is one of the best photo spots in San Francisco.
3) Baker Beach: Local's favorite dog friendly San Francisco beach
This beach in San Francisco's vibrant neighborhood Presidio, is not only one of the best dog friendly San Francisco spots but also provides a fantastic view of the Golden gate bridge.
4) Fort Funston: the most popular dog beach in San Francisco
Fort Funston, possibly the most popular dog friendly beach in San Francisco, is tucked away in the southwestern most tip of the city and is part of the Golden Gate National Recreation Area of California. It is San Francisco's most dog friendly beach since they are allowed to go crazy off leash.
You will be rewarded with a gorgeous sandy beach and beautiful views of the wave churning Pacific but not before hiking high bluffs and sand dunes and somewhat of a rocky terrain to get to the beach area.
The hiking is pretty arduous, so sneakers or hiking boots are a must. Dogs get off leash when the reach the Fort Funston area but they should have excellent recall manners. Also, it gets pretty windy so please dress in layers. Please visit the website to stay up to date on all Fort Funston related information including any dog related questions that you may have.
5) Ocean beach: San Francisco's windy and chilly (also dog friendly) beach
This windy, chilly beach on the westernmost edge of the city runs parallel to the Great Highway and is dog friendly! Dogs are allowed to be off-leash north of Stairwell 21 (Stairwells 1-21) beyond which they need to be leashed. You can read the details on dog-leash rules of Ocean beach here.
Hiking with dogs in San Francisco
One of the best dog friendly things to do in San Francisco is going on one of the many hiking trails dispersed all over the city. Although pint sized, San Francisco has several urban dog friendly hiking trails that lead to gorgeous views and are not to be missed!
All these dog friendly San Francisco hikes are great for beginners and are easily accessible if you have a vehicle at your disposal. Many of San Francisco's dog parks that I've mentioned before have dog friendly hiking trails. In addition, the following are some dedicated trails to go hiking with your dog in San Francisco.
Coastal trail hike to Mile Rock Beach
1) Dog friendly San Francisco hiking in the Presidio
San Francisco's Presidio (a former active army outpost) is hands down one of the best neighborhoods to take your dog in San Francisco. Besides being home to the popular local beaches Baker and Marshall's (the latter is NOT dog friendly) with stunning views of the orange bridge, this protected region has numerous dog friendly trails with breathtaking views.
Inspiration point, The Presidio of San Francisco
Most of the trails are partially to completely shaded by a dense canopy of vegetation, so hiking is still enjoyable on a hot day. Best of all, dogs are allowed on these hiking trails. Please follow all leash laws wherever applicable. Our favorite trails are:
i) Lover's Lane trail: easy to moderate trail starting from the Lyon street steps, a superb instagram worthy spot in San Francisco
ii) Mountain Lake trail leading to a tranquil lake and dog park
iii) Ecology trail starting from the Inspiration Point overlook
A panoramic view from one of the vista points along the Batteries to Bluffs trail in the Presidio
Ecology trail
2) Sutro Open Space reserve: San Francisco's secret "jungle"
The Sutro Open Space reserve in Cole valley is our very own paradise for some greenery, serenity and shaded hiking trails for some much needed exercise with our pups all year round.
This urban oasis is named after Adolph Sutro, its founder and San Francisco's former mayor who is also credited for many of San Francisco's other famous landmarks such as Sutro Baths. Maintained by University of California San Francisco, this lush green "mini forest" is open to the public and dogs with more than 5 miles of trails and a 900 ft elevation gain.
The most popular trail here is the 2.2 mile Mount Sutro loop where dogs are welcome on-leash. The trailheads starts from a short flight of wooden stairs adjacent to a home at the junction of Stanyan and 17th Streets in the quiet Cole valley neighborhood. It is also a short distance away from San Francisco's MUNI bus stop. You can take the N-Bus (towards Ocean Beach) if arriving from downtown San Francisco.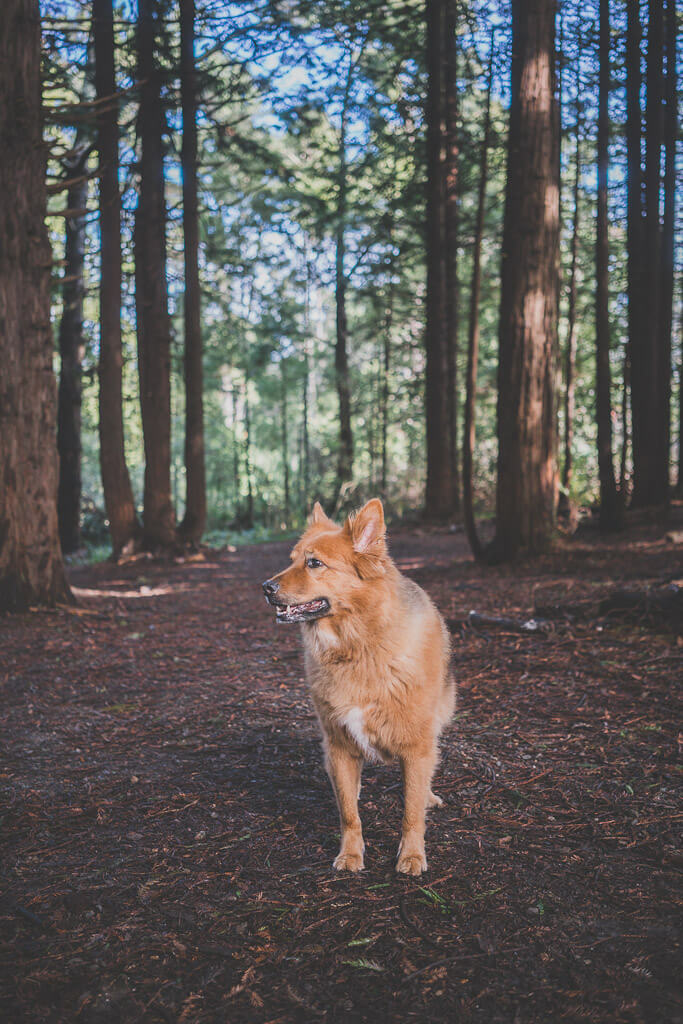 3) Coastal trail: local's favorite hiking trail that leads to hidden gems
The coastal trail is possibly San Francisco's best kept secret in hiking with dogs. This dog friendly trail (dogs on leash please) offers Panoramic views of the Marin headlands, our blue ocean and of course the towering Golden Gate bridge.
The trail starts from the parking lot adjacent to Land's End lookout (near Cliff House and Sutro Bath) and is a 4.4 mile trail that goes all the way up to the Golden Gate bridge, passing many beautiful vistas along the way, including the Mile Rock Beach and the Labyrinth, a hidden gem in San Francisco. This trail is a moderate one but gets very narrow at certain places. Come dressed in warm layers since it gets pretty cold and windy here.
4) Land's End Trail: a "secret" trail with gorgeous views
The Land's end trail welcomes dogs (on leash) and starts from the colorful Lincoln Park steps at the very end of California street. This narrow trail also boasts of gorgeous views of the Golden Gate Bridge, especially at the Eagles Point lookout.
This is a 3.4 mile loop trail and can be accessed from the parking lot near the Holocaust Memorial (at the end of the Legion of Honors drive) as well. The trail ultimately meets the coastal trail further west.
Fluffy babies along the Land's End Trail
5) Bonus hiking trails: other popular dog friendly hikes in the Bay Area
For those of you outdoorsy dog parents with some time on their hands, here are some fantastic options to explore the Bay area via easy day trips from San Francisco.
There are some gorgeous dog friendly hikes leading to cascading waterfalls that are best enjoyed in spring when the waterfalls are gushing down in full glory as well as relatively non-crowded, quiet hikes through the Redwoods. These can also be weekend getaways from San Francisco if you are looking for longer breaks.
Muir Beach lookout
All of these Bay Area dog friendly hiking spots are a mere 1-2 hours away from the city and form an excellent short getaway from the hustle and bustle of San Francisco. These are all in Marin county, north of the Golden Gate bridge which abounds in natural beauty and is home to famous landmarks such as Muir Woods, pristine beaches and charming coastal towns like Sausalito and Tiburon.
i) Muir Beach lookout: Although the super popular Muir woods is off-limits for dogs, this lookout offers a fantastic view of the coast and has a meandering dog friendly hiking trail along the bluffs.
ii) Tiburon Old St. Hilary Open Space reserve: If you have time to explore only one dog friendly hiking trail in the Bay Area, then please let this be the one. With sweeping views of San Francisco and Angel Island, this hike is as panoramic as it gets.
iii) Dog friendly hikes to waterfalls: Be it the tranquil Dawn Falls trail in Larkspur leading to its namesake fall or Cataract Falls in Mt. Tamalpais or the Cascade Falls in Mill Valley (a charming town merely 30 min north of San Francisco), a visit to the city in spring means exploring at least one of these hikes with your dogs.
Hiking in Tiburon
Dawn Falls Trail in Larkspur
Getting around in San Francisco with your dog
Let's face it: the easiest way to go around in any American city is with a car/private vehicle at your disposal. However, when it comes to San Francisco, driving around as well as parking can be a real challenge, especially for visitors not used to our steep hills and tight spots. Many tourists may also not have the proper documentation to rent a car in USA or might not even feel like taking on the stress of driving while on vacation in a new city with different road rules.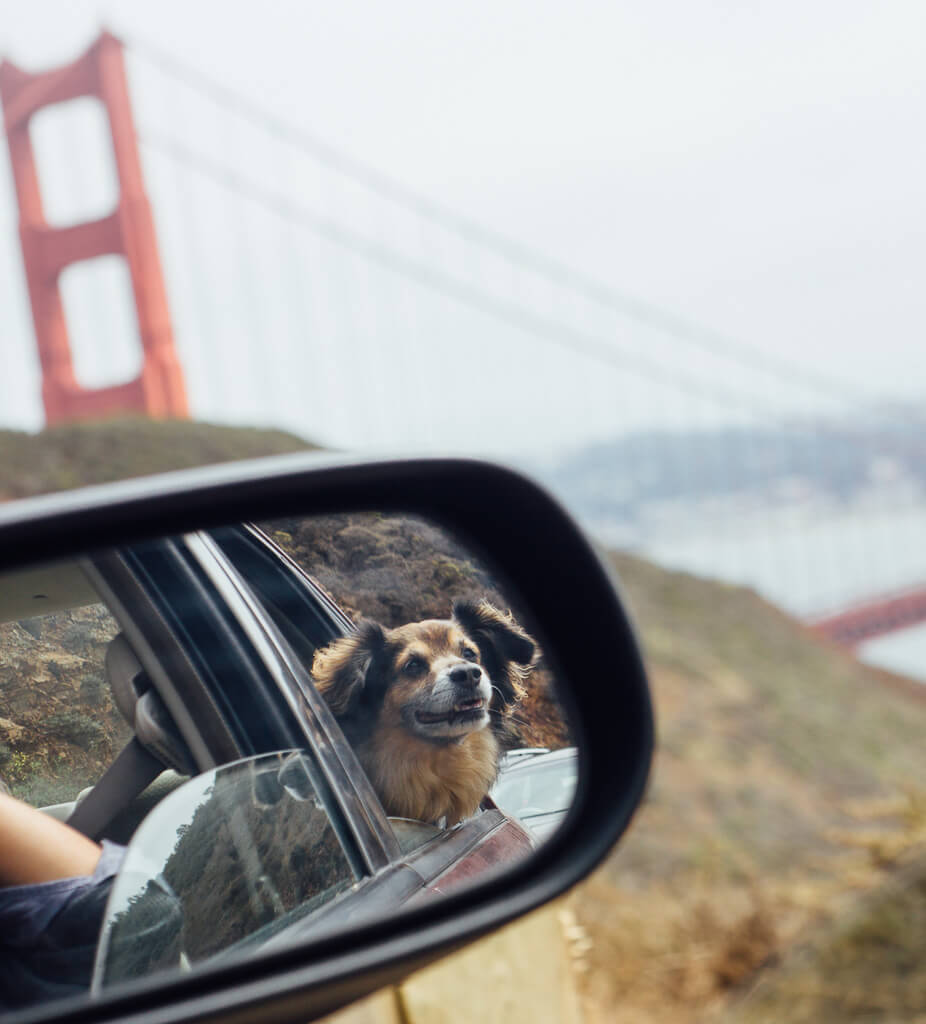 For those of you not planning to rent a car in San Francisco when visiting with your dog, here are my helpful tips on using public transit to help you figure out the public transportation that allows dogs in San Francisco:
1) Dogs on BART: San Francisco's subway
This is an acronym for our beloved, smelly but mostly reliable subway (aka Bay Area Rapid Transit) which has a total of 8 stops in the city more or less located on the main artery of the city, i.e. Market Street. BART allows dogs aboard but in secure carriers (service dogs are exceptions but need to be on leash) which should always be on the floor and not on a seat next to you. Read the BART pet policy here.
2) Dogs on MUNI: Our buses/trains/trams
Dogs are allowed on our MUNI buses, trains (that share the same station as our BART) and trams but you will need to pay for full ticket price for them. Leashed or muzzled dogs are welcome to ride on the passenger's lap. Dogs cannot ride the MUNI during peak hours which includes Mon-Fri 5-9 AM and 3-7 PM. Read the full MUNI pet policy here.
3) Dogs on Caltrain
Caltrain runs from the South Bay to San Francisco and has three stops in the city. Dogs are not allowed on Caltrain unless they are service animals (not emotional support).
4) Dogs on Golden Gate Rapid Transit buses
The GGRT buses ply between San Francisco and north of the Golden Gate bridge to Marin county (where all the aforementioned gorgeous dog friendly hikes are). Dogs are allowed on the buses but they must be secured in carriers that are either handheld or an airline approved one. The carriers have to be on the floor and should not occupy a passenger seat. Read the GGRT pet policy here.
5) Dogs on Ferry
San Francisco's Ferry building is the premier stop for all incoming and outbound ferries to Sausalito, Tiburon and Larkspur via the Golden Gate Bridge ferry service. It shares the same pet policy as GGRT, as in dogs are allowed but in secure carriers which should be on the floor.
6) Are dogs allowed on Lyft/Uber?
San Francisco is the home to these two mega rideshare companies which are expensive but allow the convenience and luxury next only to having your own car. However, do these rideshares allow dogs inside?
According to Lyft's pet policy, allowing your furry friend to ride with you is completely up to the discretion of the driver unless the dog is a certified service animal. Your best bet is to book the ride, call the driver to ask for permission and if unsuccessful, cancel the ride and contact Lyft Support.
I'd go the extra mile and recommend that you book the more expensive "non-share" option so that there is no other passenger (with potential pet allergy problems) with you. It is also a good idea to travel with a carrier since most people may not be comfortable with your dog being on your lap or not secured. Uber's pet policy is also similar and can be found here.
Dog friendly restaurants in San Francisco
San Francisco is one of the culinary meccas of USA and the best part about dining here is that dogs are allowed by law to join you for al-fresco/outdoor/patio dining. Thanks to our former Governor Jerry Brown (with two fluffy Corgis of his own), dining in California with your dogs is now a breeze! It goes without saying that your dog needs to be on leash, quiet and well-behaved.
In my 10+ years of living in San Francisco, we've dined in many places with Babu mainly for lunch and brunch since evenings are pretty chilly in the city and it is not advisable to dine outdoors. Some of our favorite dog friendly restaurants in San Francisco are listed below based on our dining experience (food and seating). This list is accurate as of April 2020 but things may change in future as is the nature of doing business in a big city, so please check on Yelp before you make a reservation/decide to go.
1) Bakeries and cafes
i) Jane the Bakery : My favorite bakery in San Francisco. It has a small outdoor seating area but a HUGE assortment of baked goods, pastries, breads, sandwiches, tarts and of course coffee.
ii) b. patisserie: Belinda Leung's French style patisserie has lines out the door for its Kouign Amann (delectable flaky pastry from Brittany, France), so come in early.
iii) The Mill: Known for its homemade toast, coffee and pizza, the Mill is a great place to stop by for an afternoon pick me up
iv) Mazarine coffee: This French cafe located between downtown and Financial district is one of the cutest cafes in San Francisco with bright yellow tables and chairs outside.
v) Cinderella Bakery and Cafe: This inner Richmond neighborhood favorite has yummy Russian baked goods and savory dishes for a hearty brunch (think borscht, piroshkies and blinis).
vi) Duboce Park cafe: Offers tasty treats with dog friendly seating right next to Duboce Park, another dog friendly park in the city.
vii) Diamond Cafe: This pint sized cafe in Noe Valley has good food and outdoor seating.
2) Lunch and brunch
i) Front Porch: for delectable southern fare in San Francisco, visit this adorable place in Bernal Heights.
ii) Palm House: Island food and delish cocktails make this place good for brunch and happy hour with your pup
iii) Cassava: This restaurant in outer Richmond serves a delicious Japanese breakfast to satisfy you soul, amongst other offerings.
iv) The Grove: The Fillmore street location (lower Pacific heights) is a huge hit with brunch loving pet parents.
v) La Mediterranee: A few blocks away from the Grove, this Mediterranean themed cafe on Fillmore serves yummy middle eastern brunch. In fact, Fillmore street has lots of dog friendly restaurants with outdoor seating that you will find as you walk down. This has been my neighborhood for 10 years, so I cannot help but be a wee biased!
vi) Piccino: This Italian-Californian restaurant in Dogpatch is what restored the entire neighborhood single handedly-the food is really that good! Lots of outdoor seating too and they now have their cafe next door.
vii) Plow and Rose's cafe: Plow in Dogpatch and Rose's Cafe in Cow Hollow are both famous for the brunch and are dog friendly restaurants. Both are insanely popular amongst SF brunch goers, so arrive early!
viii) Khamsa: Thi Moroccan restaurant in the Mission has a heated patio for dining.
ix) Kitchen Story: This hit Castro brunch spot (food with a Korean twist) has outdoor seating-but come early!
x) a Mano: This trendy pasta joint in Hayes Valley is super crowded due to its finger licking good pasta
xi) Wildseed: This wildly popular pet friendly San Francisco restaurant in Cow Hollow is also totally plant based (vegan)!
xii) Zazie: Saving the best for the last, this dog friendly French bistro in Cole Valley is a San Francisco pride! Not only is the brunch delicious (hello the best pancakes ever) but so is their pup friendly Monday night dinners in the inside garden area.
Looking to relax with a drink and your dog curled up next to you ? then check out these dog friendly bars in San Francisco
Map of all dog friendly places, hotels and restaurants in San Francisco
Downloadable PDF of the best dog friendly things to do in San Francisco
Hurray! you made it to the end of this ginormous post! As a reward, here is the much promised free cheat sheet of all the amazing dog friendly things to do in San Francisco mentioned in this article plus a few bonus spots that only us residents know of (insert my pathetic attempt at winking). Just click on the link below.
>>Download your free cheat sheet on all dog friendly things to do in San Francisco<<
I hope I have given you plenty of pawsome spots for outdoor activities with your dog when in San Francisco. Do follow yrofthemonkey for more dog friendly adventures in and around California! Thanks so much for reading this dog friendly San Francisco guide.
Like this post? Pin it for later
«