Last Updated on July 29, 2022 by Paroma
Are you owned by a dog and are looking for some of the coolest dog friendly hiking trails in the Bay Area to enjoy the outdoors? Then you've come to the right post where I, a local dog mom and San Francisco resident has scoured out over 40 of the best dog friendly hikes in San Francisco Bay Area for you to check out. These Bay Area hikes with dogs are the best way to explore the natural beauty of Northern California and are appropriate for all levels of hikers. So let's get started!

Disclaimer: My blog posts may contain some affiliate links. Clicking on them may earn me a small commission at no extra cost to you for the product. Thank you for supporting this blog and its free content!
BAY AREA HIKES WITH DOGS: SO MANY TRAILS TO CHOOSE FROM!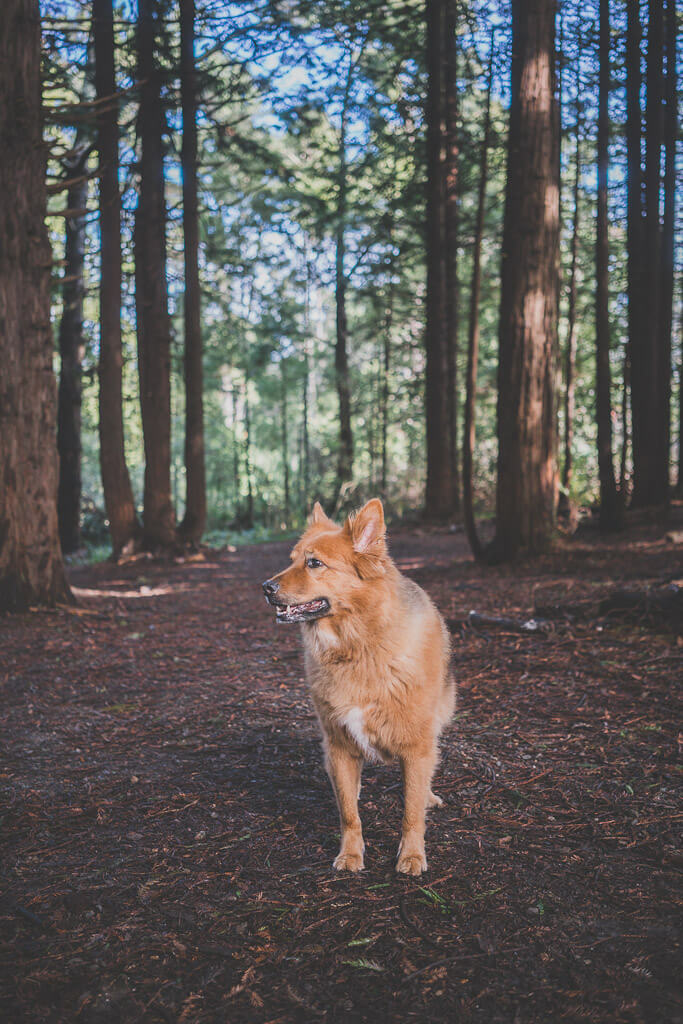 When it comes to dog friendly outdoor adventures in Northern California, San Francisco Bay Area takes the cake with a variety of dog friendly hiking trails that can be enjoyed year round. As dog parents, we have experienced many beautiful Bay Area hikes with our dog, Babu who has traveled pretty much all over California with us.
Starting all the way from Marin county in the north to Berkeley and Oakland in East Bay and the Peninsula in the south, we've done quite a bit of dog friendly hiking in the Bay Area. Naturally, this post includes all the dog friendly hiking trails that we've covered in the Bay Area, which although is pretty diverse, is certainly not definitive or exhaustive by any means.
Currently, this list includes the Marin county, San Francisco, some of East Bay and few in the Peninsula (San Mateo County), knowing fully well that there are many other left to explore (such as those in South Bay). This is a list in progress which I will keep on updating with more dog friendly hikes all over the Bay Area.
For the sake of convenience, I have divided this post geographically to showcase the best dog friendly hikes in different parts of the Bay Area. For visitors wondering on where to take your dog hiking in the Bay Area, I hope article serves as a helpful starting point for exploring many of these beautiful Bay Area hikes that allow dogs.
As an added bonus for visitors, I have also included a handy map at the end of the post which shows all these dog friendly hiking trails mentioned here.
PS: If you are new to hiking, do read about these hiking tips for newbies and don't forget to carry your hiking essentials in a good quality hiking backpack!
HIKING WITH DOGS IN BAY AREA: WHAT YOU NEED TO KNOW
LEASH LAWS WHEN HIKING WITH DOGS
Most dog friendly trails require dogs to be on a leash (not more than 6 ft long) cause the trails are shared by bicyclists and other hikers (who may not be comfortable with dogs loose on the trail). For example, in San Francisco, most of the scenic hiking trails are narrow and heavily trafficked; so you are required to leash your dog at all times.
I understand going on long hikes with your pup on the leash might not be terribly fun, but please obey posted signs and leash laws for every trail. If you're hiking very early on an enclosed trail that is wide enough with very few people sharing it and have a pup with excellent recall manners, it may be OK under those circumstances to let your pup be leash free. But always err on the side of caution and keep your dog on leash.
PICKING UP AFTER YOUR DOG ON A TRAIL
Please be the responsible pet parent and pick up after your dog promptly! Also, please don't leave stinky poop bags lying behind on the trail. It is our responsibility to keep the trails clean for everyone to enjoy and help it stay accessible to dogs. So please dispose off dog waste in a trash receptacle (you will find at least one near all trailheads).
HIKING ATTIRE
San Francisco has extremely "so not sunny California" like weather and so does Marin county, at least the Marin Headlands. East Bay and South Bay are warmer and sunnier, but coastal trails are almost always windy, cold and foggy. Best to dress in layers and please wear sturdy, hiking boots or waterproof sneakers.
BEST TIME TO HIKE WITH DOGS IN THE BAY AREA
That is undoubtedly Spring (March-May), which is also the best time to visit San Francisco in case you're wondering. You will find some rain and mud, but overall, the trails are lush with greenery and the air is cooler. Plus, wildflowers abound everywhere during this time.
DOG FRIENDLY HIKING IN BAY AREA: 40+ HIKES TO ENJOY WITH YOUR DOG
This growing list of dog friendly hikes in the Bay Area features all the trails that we've been to over these past 12 years with our pups Babu and Gunda. From wine country in the north to the Peninsula in the south, this list of 40+ dog friendly Bay Area hiking trails showcases the best of Northern California and I hope to get to explore at least a few of them with your pups!
A. DOG FRIENDLY HIKING TRAILS IN WINE COUNTRY (NAPA AND SONOMA)
Napa and Sonoma counties lie north of Marin county and are part of the Bay Area. Although these two counties are the prime wine growing regions in California with many dog friendly wineries (read my Napa and Sonoma dog friendly wine tasting posts here), you don't have to spend all your time in wineries and restaurants with your pup. There are lots of nice dog friendly hiking trails in wine country and here are the ones that you should explore:
DOG FRIENDLY HIKING IN NAPA VALLEY
We've visited Napa dozens of times over the last 12 years, but mostly for wine tasting in dog friendly Napa wineries. However, Napa does have some pretty good dog friendly hiking trails as well and Oat Hill Mine Trail in Calistoga is our favorite.
1. OAT HILL MINE TRAIL IN CALISTOGA
Oat Hill Mine trail is a dog friendly trail in Calistoga within a 4 minute walking distance from the Calistoga Motor Lodge. The trailhead is at the intersection of Lincoln Avenue and Silverado trail N. Dogs on leash are welcome on this trail that winds upwards with beautiful views of adjacent wineries.
This trails follows 8.3 miles of an old stagecoach route connecting trail Calistoga to the Aetna Spring road in Pope Valley with an elevation change of 1500 ft. Definitely check this dog friendly hike out if you're visiting Calistoga with your pups.
DOG FRIENDLY HIKES ON SONOMA COAST (BODEGA BAY)
Bodega Bay on the Sonoma coast is perfect for a dog friendly day trip from San Francisco or for a long weekend getaway from SF since it is the gateway to the lovely Sonoma coast that is filled with some of the most beautiful stops on a San Francisco to Mendocino road trip. Bodega Bay also boasts of some of the most beautiful coastal trails in the Bay Area that welcomes dogs, which are as follows:
2. PINNACLE GULCH TRAIL
This 1.9 mile round trip trail is perfect for beginners and leads to a secluded beach. This Bodega Bay hiking trail is mostly level with steps leading down to a valley that leads all the way up to the beach. Dogs are welcome on the trail. Google Maps does a perfect job of taking you to the trail head.
3. BIRDWALK COASTAL ACCESS TRAIL
This trail is right off Highway 1 and is a paved path leading off a parking lot that meanders through the Sonoma coast wetlands, making it an excellent means for seeing those pretty waterbirds (herons and egrets and so many others). This is also a dog friendly trail and please keep your dog on leash at all times since this is a sensitive habitat for waterfowls. You will have to pay $7 to park (the parking lot closes at sunset) since it is maintained by the Sonoma County Regional Parks system.

4. JOE RODOTA TRAIL IN SEBASTOPOL (SONOMA)
Named after Joe Rodota, the director of Sonoma County Regional Parks, this is a 8.5 mile paved trail that links Sebastopol to downtown Santa Rosa. This trail is extremely popular with cyclists and so dogs must be on leash at all times.
The trail is pretty open and hiking here in summer can be quite tedious with the hot sun beating down on you. The trailhead in Sebastopol can be accessed from the intersection of Mill Station Road and Highway 116 (you can read my dog friendly guide to Sebastopol for more information).
B. DOG FRIENDLY HIKING TRAILS IN MARIN COUNTY
Marin county is a treasure house of a gazellion hiking trails, thanks to its abundant natural beauty and landmarks. Perched north of San Francisco just beyond the Golden Gate Bridge, this county boasts of some of the most beautiful sights of Golden Gate Bridge, vistas and outdoorsy attractions that amply showcase the beauty of Northern California.
Not surprising that Marin county also boasts of many dog friendly hiking trails. For the sake of convenience, the dog friendly hikes here are categorized into those in Marin headlands, urban hikes (in Sausalito, Tiburon, Larkspur and Mill Valley) and that in West Marin (Mt. Tamalpais and Point Reyes National Seashore).
DOG FRIENDLY HIKES IN MARIN HEADLANDS
Marin Headlands is home to some of the most scenic dog friendly hikes in the Bay Area. This part of Marin county, just north of the Golden Gate Bridge is known for its coastal hikes and those leading to spectacular views of the Golden Gate Bridge. Here are our favorite ones:
5. COASTAL TRAIL
This is the most popular of all dog friendly hikes in Marin Headlands (a hilly peninsula across the bridge for spectacular views) and can be accessed from the Rodeo beach parking lot, an off leash dog beach favorite with the locals. The trail snakes along the bluffs atop the Pacific Ocean revealing dramatic views of the coastline.
Although the trail merges with several others crisscrossing all the way up to Muir Beach, many of those are not accessible to dogs. You can either do the 5.1 mile loop with Miwok Trail near the Old Bunker road or the smaller loop from the parking lot to Battery Townsley and back along a paved road.
6. JULIAN TRAIL
This is technically a segment of the coastal trail that can be accessed from the coastal trail parking lot. This trail allows dogs (on leash or voice control) but they should be on leash as this path is very narrow, graveley and is very popular with bikers (also shared by horses). Plus it is also an habitat of a special kind of butterfly and so it's best to keep dogs on leash during the hike. Come as early as possible to avoid crowds and for parking.
7. MIWOK TRAIL
This whopping 10.4 mile trail is an inland hiking trail meandering through rolling hills that is pretty wide (dogs can be on leash and voice control) unlike the Julian trail and and is not that crowded. This trail meets the Hill 88 trail (scenic spot) on the Wolf Ridge trail (1.1 miles away). Get on the trail head from a parking lot near Rodeo beach.
8. HAWK HILL
Hawk Hill is not only an excellent place to spot raptors during their annual migration, but has one of the best Golden Gate bridge viewing areas that can be enjoyed with dogs. The 0.75 mile of moderately hikeable trail takes you to the very top of the hill for sweeping views of the Orange Bridge with San Francisco in the background and the very blue waters of the Pacific for as far as the eyes travel.
Hawk Hill is located just before the exit to Sausalito, north of the Golden Gate bridge. If you are driving from the south, the GPS on Google maps does a good job of getting you there or you can refer to this website for help.
You can park on the side of the two way Conzelman road and the Hawk hill trail head begins from where Conzelman road becomes a one way. Fun fact: if you drive all the way down Conzelman road, you will get to Battery Rathbone Indoe, another excellent spot to view the bridge.
You can either walk around the hill and climb up the winding path or take the tunnel (as we did) and climb up the stairs to go to the top of Hawk hill to be greeted by a gorgeous Golden Gate bridge viewpoint. Dogs must be on leash all the time on the trail and on Hawk hill.
DOG FRIENDLY HIKING IN MILL VALLEY, TIBURON AND LARKSPUR
9. DAWN FALLS TRAIL (LARKSPUR)
Head over to Larkspur, north of the Golden Gate Bridge, for a peaceful trip to wilderness in the lush and tranquil Baltimore Canyon. Although there are several trails crisscrossing this area, the most popular perhaps is the Dawn Falls trail to its namesake falls and back.
This is a short trail (about 1.1 miles) and is one of the most tranquil dog friendly hiking trails in the Bay Area. The falls are best visited in Spring when they are in full force after our winter rains. The trail is shaded by a dense canopy of trees and is of moderate difficulty.
10. CASCADE FALLS (MILL VALLEY)
Cascade Falls lies in Mill Valley, a charming town in Marin county and a lovely winter getaway in California. This hike to the falls (about 1 mile from the main sign) is easy but watch out for the loose rocks. This is a popular dog friendly hiking trail in the Bay Area and is completely shaded thanks to a dense overhead canopy.
The falls is inside Cascade Park which is about 3 miles away from downtown Mill Valley. Owing to the ease of this hike, it is also perfect for older or ageing dogs. This fall is best visited in spring (March-May) when the waterfall is gushing down in its full force.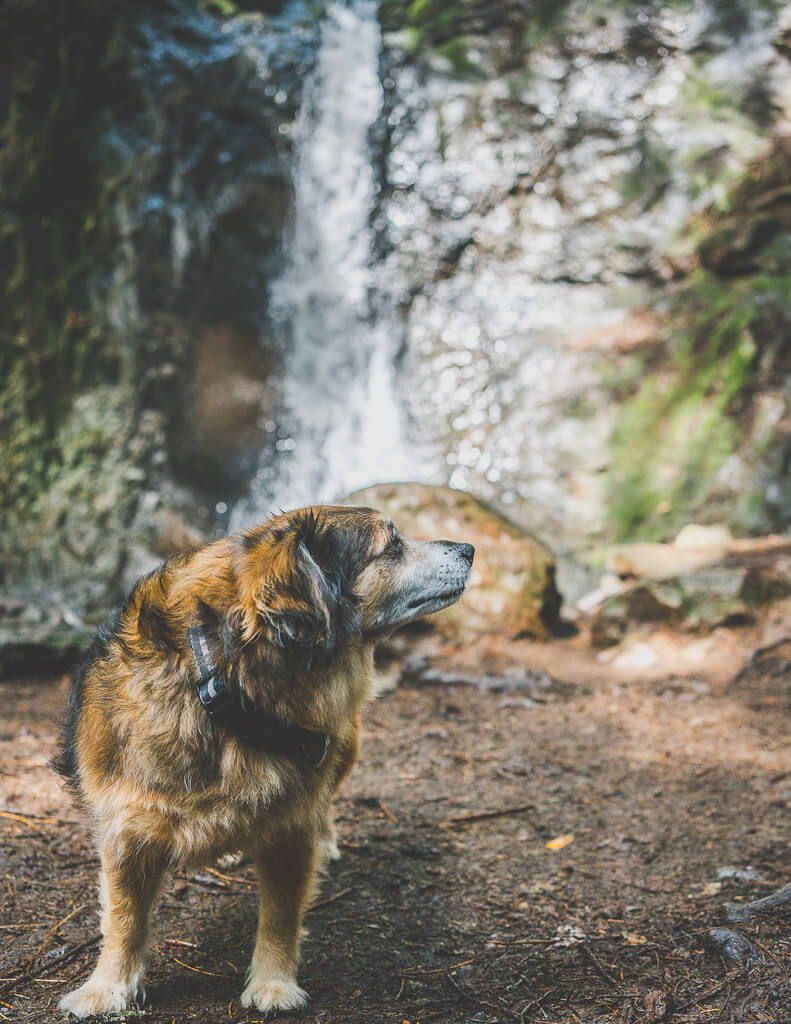 12. VERNA-DUNSHEE TRAIL (MT. TAMALPAIS, MILL VALLEY)
Mt. Tamalpais State Park (open 7AM-sunset everyday) is located on the western end of Mill Valley and spreads over Mill Valley, Fairfax and Bolinas. It is the highest point in Marin County and is home to many spectacular trails, but most are not accessible to dogs. The good news is that the few dog friendly hiking trails in Mount Tam offer spectacular views of San Francisco Bay or lead to some tranquil lakes such as Phoenix, Lagunitas and Bon Tempe Lakes and are pretty easy to tackle.
One of the most rewarding trails in Mount Tam is the dog friendly Verna-Dunshee trail that starts from the Mount Tam East Peak right next to the visitor center. Park and pay the $7/$8 day registration fee and then follow signs to the 0.7 mile Verna Dunshee trail loop that is essentially a paved path with a railing that reveals stunning views of the Bay as you walk along it. This is one of the most beautiful dog friendly hikes in the Bay Area and should not be missed!
13. CAMINO ALTO OPEN SPACE PRESERVE (MILL VALLEY)
This 170 acres of open space preserve lies at the foot of Mount Tamalpais and has three easy-moderate hikes in fire roads criss crossing the area. Dogs are welcome on leash on the trails and off-leash but under voice control on the fire roads. The easiest hike to tackle is the Escalon Fire Road from which the Camino Alto and Del Casa Fire Roads bifurcate off after a short distance.
This open space preserve has several entrances and you can park at the junction of Overhill Road and Escalon Drive to get onto the Escalon Fire Road. The trail is wide and does not have a whole lot of elevation, which makes it a pleasant, easy hike for all levels of hikers.
14. BAY TRAIL (MILL VALLEY AND SAUSALITO)
This 5 mile paved path is also known as the Mill Valley-Sausalito bike path and hugs the shores of Richardson Bay. This path is very popular with joggers, bikers and of course dog parents (dogs must always be on the leash). You can get on this path from either the Bayfront Park or Bothin Marsh Preserve in Mill Valley.
15. TIBURON HISTORICAL TRAIL (TIBURON)
This 2.5 mile paved trail connects downtown Tiburon to Blackie's Pasture (so named after a horse that used to graze on the field here and whose bronze statue now stands on that spot) and is one of the most beautiful dog friendly hiking trails in Marin County, not to mention the easiest too.
You can either start from the Old Rail trail at Harvey's Garden from Blackie's pasture or from the other end, i.e. Shoreline Park near downtown Tiburon that passes by the Tiburon railroad and ferry museum. This trail was built as a joint project of the Tiburon Peninsula Foundation and the Belvedere-Tiburon Landmarks Society. There are man plaques lining the path, each of which displays an early photograph taken from the location of this plaque for a fun then and now comparison.
16. OLD ST. HILARY OPEN SPACE PRESERVE (TIBURON)
This hike up a hillock/open space natural preserve in Tiburon with spectacular views of the Golden Gate bridge, San Francisco and Angel island is undoubtedly one of the most scenic dog friendly hiking trails in the Bay Area. The other great thing about it is that it is pretty empty with only one or two enthusiastic locals around.
DOG FRIENDLY HIKES IN WEST MARIN (MT. TAMALPAIS, LAGUNITAS AND POINT REYES)
17. CATARACT FALLS
Cataract falls hike begins at Mount Tamalpais and is the only hiking trail here that allows dogs, albeit on leash. The cataract falls marin county trail head, starts from the junction of east and west Ridgecrest leads to its namesake.
This dog friendly Bay Area hike is a 6.4 miles loop from the trailhead to the falls, and the trail is partly covered with regions of light (via open fields) and shade. As usual, the best time to visit this falls is during late winter/early spring and summer.
18. KEHOE BEACH TRAIL: DOG FRIENDLY HIKE IN PT. REYES NATIONAL SEASHORE
Kehoe Beach is one of the few dog friendly beaches in Point Reyes National Seashore, a piece of heaven along California's coastline in West Marin and one of the most romantic getaways in Northern California.
The beach is accessible only by the Kehoe Beach trail that is about 2 miles long and is pretty narrow-so your dog has to be on leash at all times. The trail passes by marshy land and protected vegetation with a final sandy stretch that leads to the beach. The trail is pretty flat and the hike is easy-moderate.
19. DOG FRIENDLY HIKE IN BAY AREA LEADING TO A REDWOOD GROVE: CROSS MARIN TRAIL
This is one of those rare dog friendly hikes in the Bay Area that leads to a Redwood grove. The Cross Marin Trail at Lagunitas totals 3.9 miles and parallels the Lagunitas Creek.
The trailhead in the south starts from Shafter bridge and is a pretty easy hike up a mostly paved path. The trail leads to Samuel P. Taylor State Park, which is a serene Redwood grove and then further up to Kent Lake. Since parking is difficult to find, arrive early to start the hike. Dogs must be on leash all the time for this hike.
20. RANDALL TRAIL: DOG FRIENDLY HIKING TRAIL IN POINT REYES
This is a mostly open, 4.3 mile dog friendly hiking trail in West Marin near Point Reyes Station with the trailhead accessible right on Highway 1 via a gate (see Google Maps below for location). Although pretty wide, the trail winds upwards and is of moderate difficulty. Dogs must be on leash all the time since it is popular with bicyclists.
C. DOG FRIENDLY HIKING TRAILS IN SAN FRANCISCO
HIKING IN THE PRESIDIO WITH DOGS
San Francisco has a zillion dog friendly spots and even more trails to hike with dogs! The city's green Presidio, once an army outpost, is one of its best neighborhoods to take your dog for a hike. The Presidio has some of the best urban hikes in SF and most of these are dog friendly! Here are some of our favorite Presidio hiking trails that allow dogs (dogs must be on leash at all times on these trails):
21. CALIFORNIA COASTAL TRAIL
This 2.7 mile scenic trail runs parallel to the coast and leads all the way to the Golden Gate Bridge Vista Point (it is one of the many spots to get an amazing view of the GG Bridge). The trail difficulty is easy-moderate (mostly level trail) and is good for beginners. The trail head starts from 25th Avenue gate near Baker Beach, one of the dog friendly beaches in San Francisco. Alternately, you can park at Langdon Ct. parking lot and hike down towards Baker Beach.
Main attractions: Baker Beach, Battery Chamberlain, Battery Cranston, Battery Boutelle, Golden Gate Overlook
22. ECOLOGY TRAIL
This super easy trail is 1.4 miles long and connects to El Polin Spring trail. This is hands down one of our favorite hiking trails in the Presidio, with the trailhead starting from the Inspiration point overlook at Arguello boulevard. Although dogs must be on leash, don't be surprised to see off-leash playful canines (locals/San Franciscans get a bit lax with leash laws)
Main attractions: Connects to El Polin Spring trail, a wildlife haven
23. MOUNTAIN LAKE TRAIL
This trail is 2.6 miles long and leads to a tranquil lake, of the last remaining natural lakes in San Francisco. The trail is pretty easy to hike. The trailhead starts at the parking lot near the "Wood Line" (close to Lyon Street Steps, one of the many hidden gems in San Francisco) from where you need to walk down Pacific Ave.
Alternately you can head straight to Mountain Lake via Lake Street between 9th-14th Ave. You can also get on the trail from near Inspiration Point at Arguello Boulevard where the trail intersects the Ecology Trail (go down the steps from Inspiration point) and turn right to get on the trail.
Main attractions: Wood Line, Mountain Lake, Mountain Lake Park (dog park)
24. LOVERS' LANE
This 0.6 mile dog friendly hiking trail is the oldest footed trail in the Presidio and connects the Presidio Gate at Lyon Street to the Main post. To the right of this trail/walk is the famous "Wood Line" Sculpture (see photo below) that is not to be missed. The trailhead is at the Presidio gate near Lyon Street steps.
Main attractions: Wood Line, Yoda Fountain
This 1.7 mile trail runs south to north in the Presidio, all the way from 14th Avenue gate to Crissy Field which has one of the best leash-free dog beaches in San Francisco. My favorite part of the trail is where it intersects with another short trail to the National Cemetery overlook with a great view of the Golden Gate Bridge. The trailhead lies at 14th Avenue Gate (southern boundary of the Gate). You can also access it from near the Mountain Lake area of the Presidio.
Main attractions: National Cemetery Overlook, waterfront at Crissy Field
Golden Gate Promenade is a semi-paved path that runs through Crissy Field between Marina Green and Fort Point (a Civil War-era brick fort) and allows dogs on leash. You can walk all the way down this promenade to go up to Fort Point right below the bridge to see paddle boaters and surfers in action.
Bring your picnic baskets to relax at the West Bluff picnic area which is also dog friendly. This is an easy 4.3 mile trail with the trailhead starting from the Marina district, but you can also get on the trail at Crissy Field. Dogs should definitely be on leash on the trail cause it is shared by cyclists.
Main attractions: Crissy Field dog beach (leash free beach)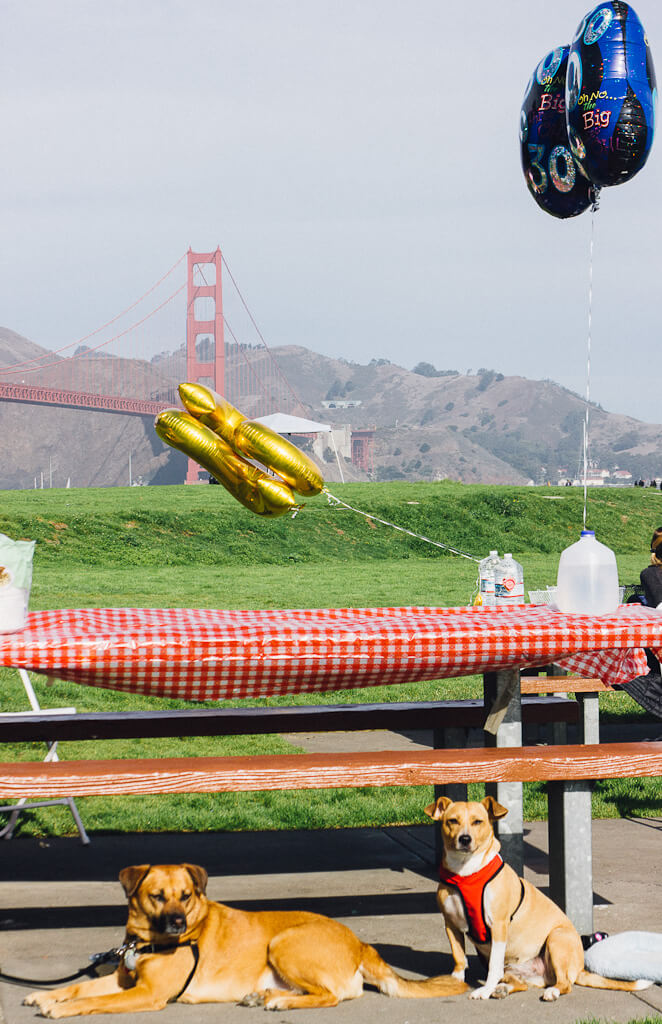 This 2.1 mile easy hiking trail takes you through the different sights and scenes of the Presidio and is one of the most leisurely trails in this beautiful serene San Francisco neighborhood. Don't forget to take a photo with the cute Yoda Statue at the Yoda fountain near the offices of Lucasfilm Ltd! The other attractions of this trail are the Crissy Field overlook for spectacular views of the Bay and the Golden Gate Bridge. The trail ends at Battery East from where another gorgeous view of the Bridge awaits. Trailhead is at Lombard Gate and also at the Yoda fountain (1 Letterman Drive)
Main attractions: Yoda Statue, Crissy Field Overlook, Wayburn Redwood Grove, Golden Gate Bridge

OTHER DOG FRIENDLY HIKES IN SAN FRANCISCO
San Francisco abounds in some of the best dog friendly hikes in the Bay Area which is not limited to the Presidio. I am talking about open spaces and an abundance of hilly dog parks where you can hike to your heart's content with your best friend. Here are some other fantastic trails to take your dog on a hike in San Francisco:
28. LANDS END TRAIL
This 3.4 mile trails is one of the most scenic trails in San Francisco and literally hugs the coast to reveal amazing views of the rugged coastline and the Marin Headlands. The trailhead starts from the Sutro Bath ruins (Lands End Main Parking lot at 48th and Point Lobos Avenue on the west or El Camino Del Mar and 32nd Ave on the east) and leads to hidden photo spots and a secret beach in San Francisco! This is a moderate-difficult trail due to several steep descends.
Main attractions: Sutro Bath house ruins, Mile Rock Beach, Land's End Labyrinth, Legion of Honor Museum, Lincoln Street steps
29. MT. SUTRO OPEN SPACE RESERVE
This is one of the greenest and most tranquil dog friendly hikes in San Francisco through a dense canopy of native trees, best experienced in Spring when everything is green and lush. This beautiful reserve comprising of 5 miles of trails for public use is maintained by UCSF.
Our favorite is the Historic Trail but if you want to explore the many other trails in this reserve, read this updated article on hiking at Mt. Sutro. There are several trailhead to be found (see helpful trail map here), with the Historic Trail trailhead starting from from Stanyan and 17th streets (between two houses).
30. DOG FRIENDLY HIKING IN MT. DAVIDSON
San Francisco's Mt. Davidson is its highest point. This hillock looming over the city provides one of the best views in San Francisco and the dog friendly hiking trails is a short, relatively easy one to conquer. Once you get to the top, you can turn right to a trail leading upwards to the Armenian-American Cross dedicated to the lives lost in the Armenian genocide by Turks.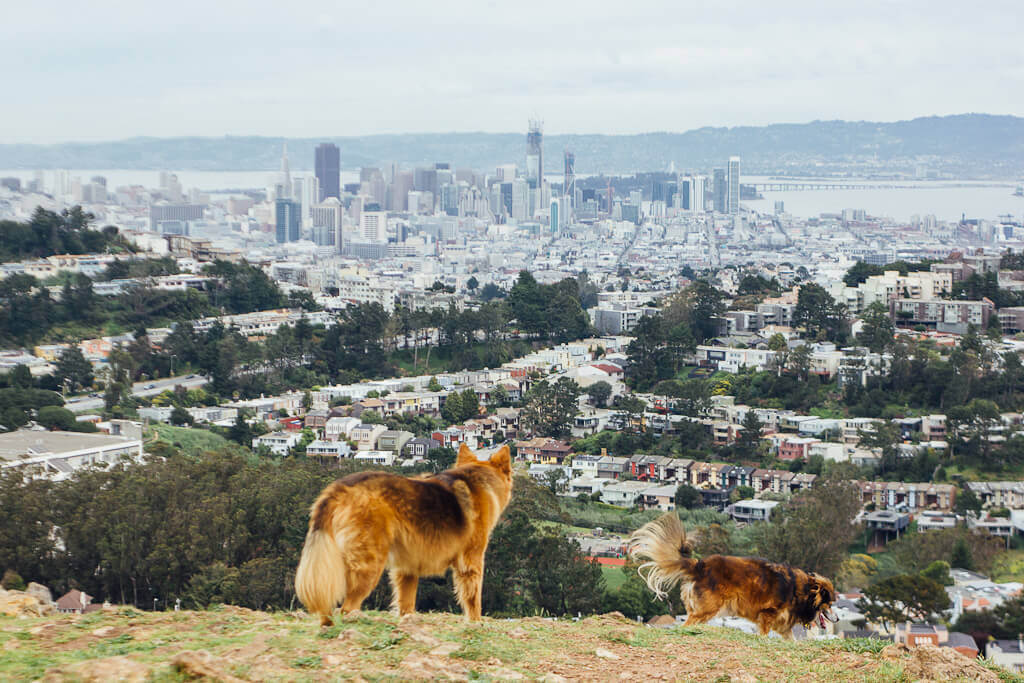 31. TANK HILL, KITE HILL AND BILLY GOAT HILL
These "hills" or "hilltop parks" are either isolated open habitats or open spaces in San Francisco that provide some of the most panoramic views of the city and are our best kept secrets. All of them are dog friendly and you can climb to the top via short (somewhat steep) hikes. These places get really windy so please dress appropriately!
HIKING WITH DOGS IN SAN FRANCISCO PARKS
San Francisco's parks are some of the best places to get panoramic views of the city because all of them require some kind of uphill climbing. Although you can read all about them right here in this one post, here are some of the best dog friendly parks to hike in for great views:
32. GLEN CANYON TRAIL (GLEN CANYON PARK)
Glen Canyon Park has some of the best dog friendly hiking trails in San Francisco and what makes them so special is because you'll be hiking on the edge of a Canyon. Although there is a vast network of trails intersecting the park, I have hiked along the Glen Canyon trail that can be accessed from the intersection of Elk and Chenery streets, in the quiet neighborhood of Glen Park (my very first neighborhood in San Francisco 11 years ago!). The trail length is 1.8 miles (this is a moderate-difficult trail) and is best experienced in Spring with the wildflowers blooming everywhere
33. PHILOSOPHER'S WAY TRAIL (JOHN McLAREN PARK)
The prized attraction of John McLaren Park (second largest park in SF) is the Philosopher's Way Trail, which is an amalgamation of 2.7 miles of hiking trails spiraling upward and downward throughout the park. This San Francisco hiking trail is pretty unique in some ways, mostly because it was borne out of a partnership between San Francisco Arts Commission and the San Francisco Public Utilities Commission.
Dogs must be on leash on this winding trail, at least in parts where it gets pretty narrow. The 2.7 mile trail itself is easy-moderate to tackle, with the trailhead starting from the parking lot at 1229 Mansell street.
Main attractions: Jerry Garcia Amphitheatre, McNab Lake

34. BERNAL HILL (BERNAL HEIGHTS PARK)
Bernal Heights summit or Bernal Hill is in Bernal Heights Park and is the holy grail of dog lovers and photographers for its near 360 degree view of the city. This is actually an hillock which will test all your strength as you climb the semi-paved gravelly trail snaking around it. The hike up can be intense, but once you get there dogs can run free on the hill. Parking is available at 3450 Folsom street.

35. CORONA HEIGHTS PARK
This is another hillock in the guise of a dog friendly park in San Francisco and is pretty close to Kite Hill and Tank Hill. The 1 mile hike upward starts at the15th street Tennis court entrance which has a prominent "hike" sign next to it. The first 0.2 miles of the 1 mile hiking trail is pretty steep with loose gravel but overall you will encounter dirt paths and staircases scattered along the trail as you hike to the top. Once you get there, the views are spectacular!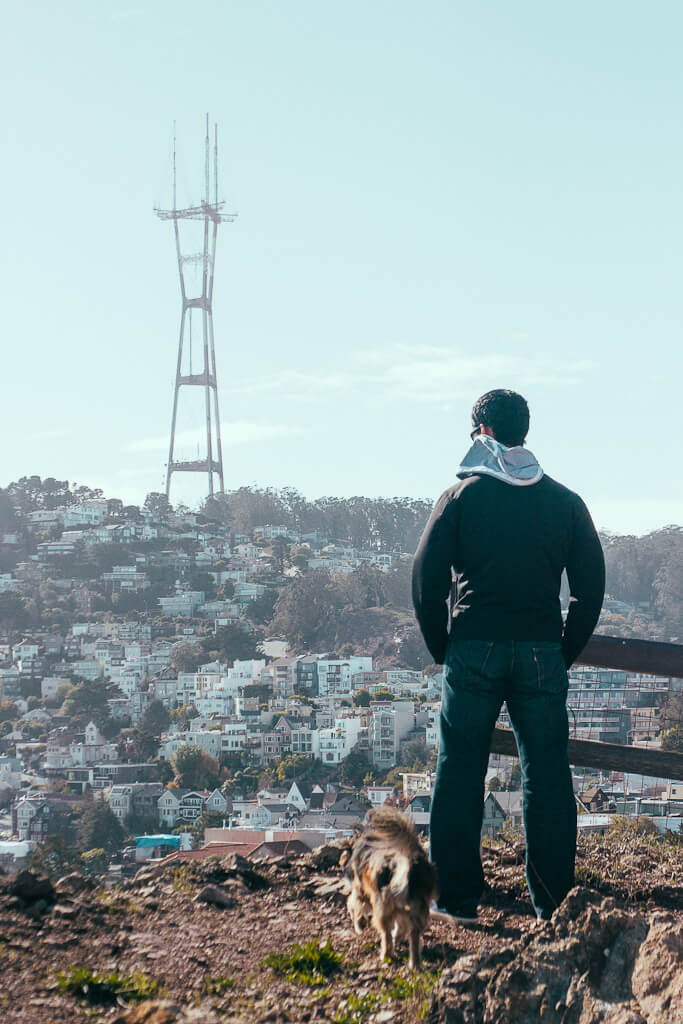 4. DOG FRIENDLY HIKING TRAILS IN SAN FRANCISCO BAY AREA: EAST BAY
36. CLAREMONT CANYON REGIONAL PRESERVE (BERKELEY)
One of the most spectacular (and steep) hikes in Bay Area is inside this open space reserve in Berkeley and is the Stonewall-Panoramic trail that is about 1.5 miles in length. The trail connects Stonewall road one one end of the preserve with Panoramic way on the other (therefore the name) is a steep climb with some of the best views of East Bay, Bay bridge and the San Francisco skyline.
This trail is very popular with hikers and horse riders and although dogs can be off-leash on some parts, it is best to keep them on leash since the trail is shared with others and is a tedious climb. The trail is partially shaded and is best tackled in early mornings or evenings because it can get really hot during the day in summer.
37. INSPIRATION POINT (ORINDA)
Inspiration Point in Tilden Regional Park, Orinda (East Bay), is the highest elevation in the park and is a hillock really from where you can get a beautiful view of the San Pablo reservoir snaking through the mountains. Inspiration point is located along the Wildcat Canyon road which is a paved road good for hiking and is one of the most popular dog friendly hikes in Bay Area.
38. JOAQUIN MILLER PARK (OAKLAND)
Truth be told, I did not have the slightest inkling that a massive Redwood park system with tons of dog friendly hikes had been hiding from me in plain sight (thanks to my ignorance) right across the Bay in Oakland!
Both Joaquin Miller Park and Reinhardt Regional Redwood Park mesh to form a massive interconnected system of a gigantic Redwood grove with lots of serene trails to explore. Dogs must be on leash all the time on these hikes cause they are heavily used by mountain bikers.
We visited the park in January 2021, a few weeks before our beloved Babu passed away (he was 17 and was fighting cancer). So naturally we went on the easiest/gentlest hike with him, along the Camp Trail starting from the Redwood Glen Trailhead that took us to the Redwood Bowl Staging Area in Joaquin Miller Park. Here is a trail map of Reinhardt Regional park and these are some lovely dog friendly trails in Joaquin Miller Park.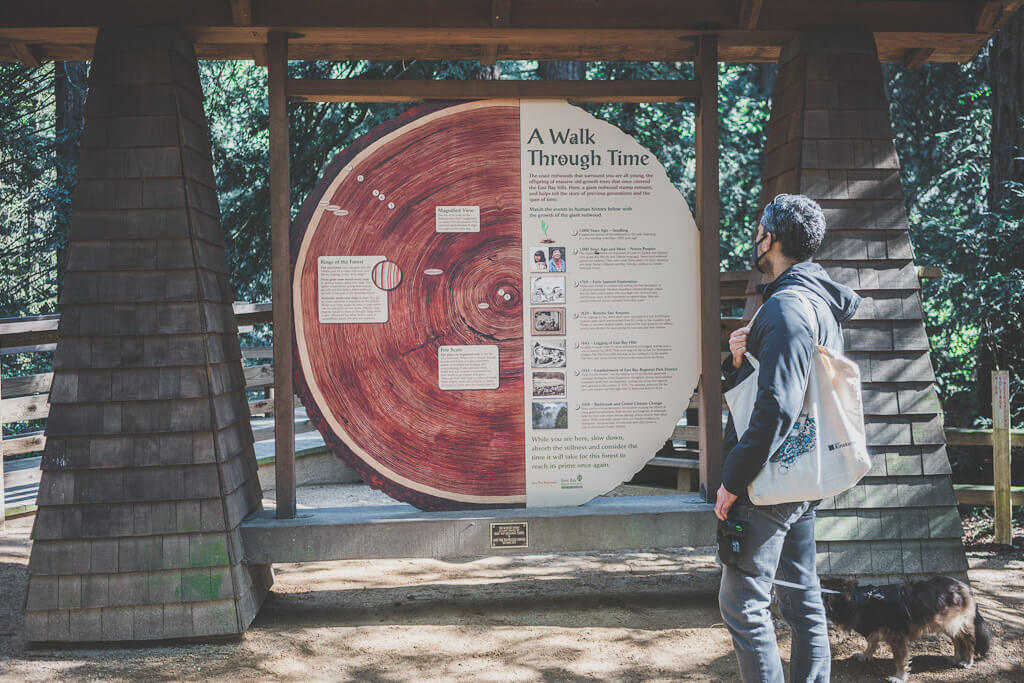 39. LEONA CANYON REGIONAL OPEN SPACE PRESERVE (OAKLAND)
This is one of those spots in Oakland that only locals know of and is a treasure trove of dog friendly hiking trails. This 290-acre of pristine wooded parkland is located near Merritt College in Oakland and dogs on leash are allowed on all trails (except in the creek). Dogs can be off leash on certain parts of the trail (there is a designated off leash zone as you walk along the trail) but they need to be under voice command at all times.
The trailhead to Leona trail starts from the parking lot which can be reached by driving through a residential area known as "Ridgemont on the Skyline". You have to make a left on Canyon Oaks Drive to get to the parking lot (don't park inside the residential area). From there you will see a gate leading to a wide trail that is unshaded for some time but then gets a pretty dense canopy of trees, which gives it ample shade for hiking even on a hot day.
The trail does not have much of an elevation gain and is perfect for beginners or those simply out to enjoy a brisk walk. However, the path is rough with lots of pebbles and stones so please wear sturdy footwear. Carry plenty of water on the hike. You may see locals with their dogs running off-leash, so please be careful if you are not comfortable doing the same for your pup.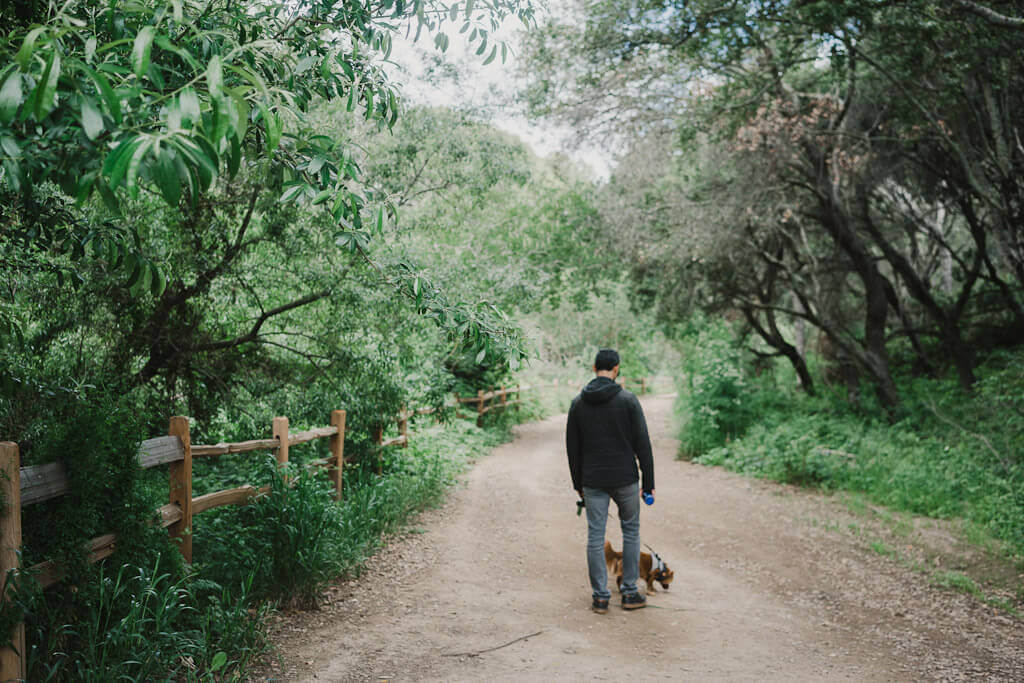 5. HIKING WITH DOGS IN THE PENINSULA
We haven't ventured too far out south of San Francisco for dog friendly hiking in the Bay Area but hope to change that in the near future. We've loved exploring the nearby towns on Half Moon Bay and Pacifica that are popular beach towns in San Mateo county, just south of San Francisco county. A short 20-30 min drive from the city, these are popular but easy dog friendly hikes to take your pup on. I highly recommend coming in as early as possible because both are extremely popular with Bay Area locals and get pretty crowded over the weekend.
40. MORI POINT LOOP IN PACIFICA
Mori point loop trail is a 2.5 mile easy semi paved trail starting from the Mori Point Parking lot. Take the Old Mori Road (the first accessible trail in San Mateo county) down to the beach where you make a left to climb up the Bootleggers Steps (turning right takes you on the Coastal Trail) to reveal gorgeous views of the ocean. There are many other trails to explore here, but you can simply take the Lishumsha trail that loops down and back into Old Mori Road. Dogs must be on leash on the trail.
41. DARDANELLE TRAIL IN MOSS BEACH
Dardanelle trail is a serene 0.3 mile, easy peasy trail that runs parallel to the Coastal Bluff trail in San Mateo County and is part of the California Coastal Trail. This is the only hiking trail in Fitzgerald Marine Reserve where dogs are allowed (dogs are not allowed on any beaches or the coastal bluff trail). The trail head starts from the intersection of California Avenue and N. Lake Street (just Google "Moss Beach Trailhead" to take you there) with a dedicated parking spot nearby.
The best part about this shaded dog friendly hiking trail in Bay Area is that it is lined by tall, gnarly Cypress trees (a section of this trail is thus named "Cypress road") that provide the much needed shade on hot days and reminded us of the Cypress tree tunnel in Point Reyes. The trail loops into the bluff trail from where you have to turn around and walk back to the parking lot. This trail is definitely a great option for older dogs who cannot hike as rigorously on steep trails.
Dogs must always be on leash on this trail and no more than three dogs per person is allowed. Dog parents should always pick up after their dogs.
42. DOG FRIENDLY COASTAL TRAIL IN HALF MOON BAY
The famous California coastal trail that passes through San Francisco's Presidio (see above) also runs through Half Moon Bay, passing by several of its famous beaches (many are dog friendly) and is hands down one of the most relaxing dog friendly hikes in Bay Area. This is an easy, scenic trail that runs all the way from the HMB Golf Links in the south to Pillar Point Harbor in the north, revealing beautiful vistas, bluffs and sandy beaches as take in the beauty of California's coast with your pup on leash.
The best way to access the trail is to park at the Poplar beach parking lot (you need to pay to park) and head northbound on the trail (or southbound towards the HMB Golf links). The northbound route towards Pillar Point is more scenic with many dog friendly beaches along the way.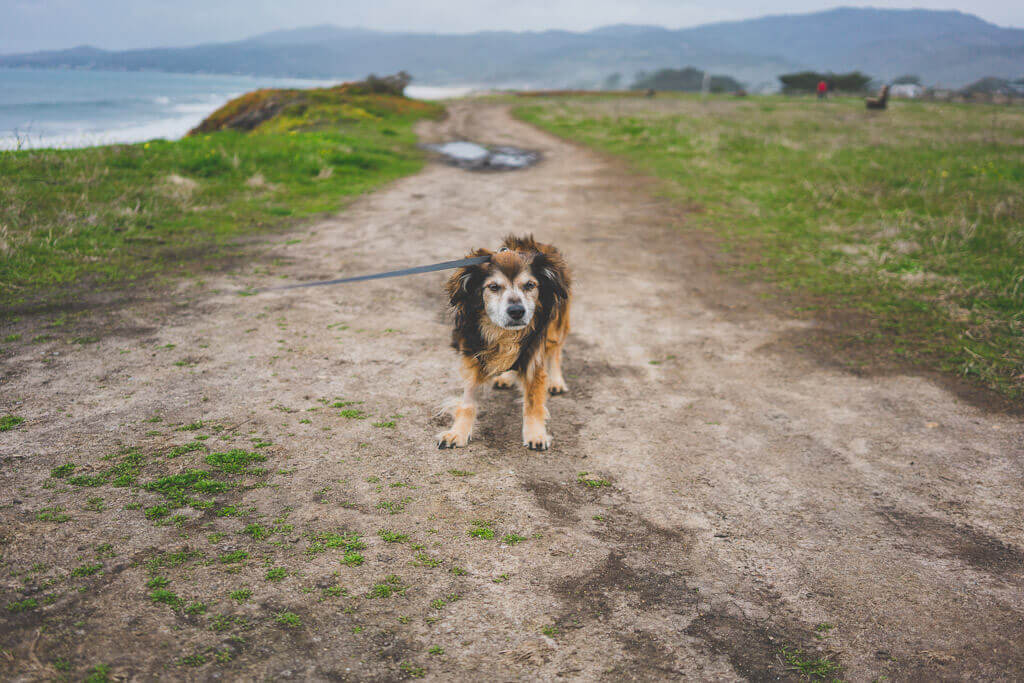 BAY AREA DOG FRIENDLY HIKING TRAILS MAP
As promised, here are all the trailheads, locations and landmarks (near the trailheads) for the all the dog friendly hiking trails in San Francisco Bay Area mentioned in this post. Happy wagging tails on trails!
I hope you enjoyed reading this post and are already planning some epic Bay Area hikes with your dogs in the coming months. There are a lot of dog friendly hikes in Bay Area, so please take your pup along with you to enjoy the beauty of California's outdoors! Follow all of Babu and Gunda's adventures in California right here!
Like this post? Pin it here

«