Last Updated on June 11, 2022 by Paroma
Looking for the best views of the Golden Gate Bridge from Sausalito? Look no further than this post on the the top spots for panoramic views of the Golden Gate Bridge from the Marin Headlands, right across the bridge and north of San Francisco. These epic Golden Gate Bridge views in Marin Headlands are a photographer's dream come true, so keep on reading to find the best places to photograph the Golden Gate Bridge in Marin County!
View from Battery Spencer at sunrise
Disclaimer: This post may contain some affiliate links. Clicking on them may earn me a small commission at no extra cost to you for the product. Thank you for supporting free content on this site!
WHY VISIT MARIN HEADLANDS FOR GOLDEN GATE BRIDGE VIEWS?
View from Slacker Hill
Any San Franciscan worth her/his salt knows that the best views of the Golden Gate Bridge are not offered in San Francisco itself, but north of it, i.e. by crossing the bridge onto Marin Headlands. Although San Francisco has its fair share of places from where you can get a pretty good view of the bridge, nothing beats the magnificence and near 360 degree views that Marin Headlands has to offer, thanks to its perfect location and elevation.
Marin Headlands is a hilly peninsula that is the southernmost part of Marin County just north of the Golden Gate Bridge as you drive northbound from San Francisco. The nearest town is Sausalito on the eastern side, which is a charming artsy spot perfect for a weekend getaway from San Francisco (or in our case, a frequent staycation with our pup).
Despite my love for San Francisco (12+ years of living and going strong) and its amazing viewpoints, I have to admit that the Golden Gate Bridge views seen from Marin Headlands beats any of those from the city or for that matter anywhere else! Being at an elevation, you get to admire our world famous orange bridge from afar, with the skyline of San Francisco as an added bonus in the background.
In this post, I am going to cover several spots both touristy (popular) and hidden gems from where you can get a terrific view of the bridge to photograph. These are based on my repeat visits to Marin Headlands and I have also provided a handy location map, with clear instructions on finding some of the trickier spots.
TIPS FOR VISITING GOLDEN GATE BRIDGE VIEWPOINTS IN MARIN HEADLANDS
Thanks to the internet and bloggers galore, what used to be a local's day out to north of the bridge has now become a full fledged touristy affair, with most vantage points in the Marin Headlands being choc-filled with cars and tourists vying for those Instagram worthy photos. Here are my tips to plan a hasslefree trip near Sausalito to see those epic views of our beloved bridge (trust me, you'll thank me later).
WHERE ARE THE BEST VIEWPOINTS IN MARIN HEADLANDS?
Almost all the viewpoints mentioned here for panoramic Golden Gate Bridge sights are exclusively along Conzelman Road, a winding road which is pretty much one way as it snakes through Marin Headlands. There are small pull out points or parking lots near vista points but you can also park on the shoulder region of the road. Since this is a one way, drive cautiously.
BEST TIME TO VISIT MARIN HEADLANDS FOR GOLDEN GATE BRIDGE VIEWS
I highly recommend sunrise or sunset from at least one of the spots (preferably Battery Spencer since it is easier to access) for an experience of a lifetime. Sunsets will almost always be crowded while you'll have the place all to yourself during sunrise (if you are an early riser and can brave the chilly winds).
Also, visit on a weekday if at all possible for considerably less crowds. If visiting on a weekend, come in as early as possible since those so called tiny parking lots get filled up pretty quickly. Remember to never leave valuables in your car since San Francisco is witnessing a spate of "Smash and Grab" car thefts, especially in touristy areas.
HOW TO DRESS FOR VISITING THE MARIN HEADLANDS
It is cold and chilly in the mornings north of the bridge with the day getting progressively warmer followed by windy, cold evenings. So dress in layers and wear sturdy shoes. Carry water since it can get really hot during the day. Remember to bring a camera equipped with a wide angle lens (I use my mirrorless Sony Alpha a7RII with a 35mm Zeiss lens) and use these stylish camera bags.
DRIVING IN MARIN HEADLANDS
Conzelman road is pretty much one way after Battery Spencer (near Hawk Hill). So be very careful while driving and be mindful of the turnarounds. If you want to get back to the city or go to Sausalito, simply drive on till you hit Field road that will take you to Bunker road towards CA-101.
GOLDEN GATE BRIDGE PHOTOGRAPHY TIPS
Bring a camera with a wide angle lens to capture the bridge in its entirety. Visit during Golden Hour (before 10 AM or an hour or two after sunrise or 1 hour before sunset) for the best golden, diffused light that is perfect for photography. You can see my sunrise photo from Battery Spencer vs the one shot in bright, midday light and it is a no-brainer that the sunrise photo is the money making shot.
ARE THESE GOLDEN GATE VIEWPOINTS NEAR SAUSALITO DOG FRIENDLY?
Marin Headlands is part of the Golden Gate National Recreation Area, which prohibits entry of dogs in several places for conservancy purposes. As a result, several of the viewpoints here (beaches and hikes) are not dog friendly.
However, you will still see some pesky locals (or tourists) breaking the rules. Don't be that person, because there are plenty of dog friendly places in San Francisco and Marin county where your pups are welcome without the guilt of rule breaking.
For inspiration, read my dog friendly Sausalito guide, my ultimate dog friendly guide to San Francisco or find this amazing list of over half a dozen dog friendly beaches in SF to take your dog to. You can also explore scenic hikes in Tiburon and waterfall hikes in Larkspur with your pup, which are other charming small towns in Marin County.
BEST GOLDEN GATE VIEWS IN MARIN HEADLANDS (NEAR SAUSALITO)
Now that we are done with logistics, here are my tried and tested spots for getting the absolute best views of the Golden Gate Bridge near Sausalito in Marin Headlands. I will list them in the order of ease of accessibility and distance. Here they are: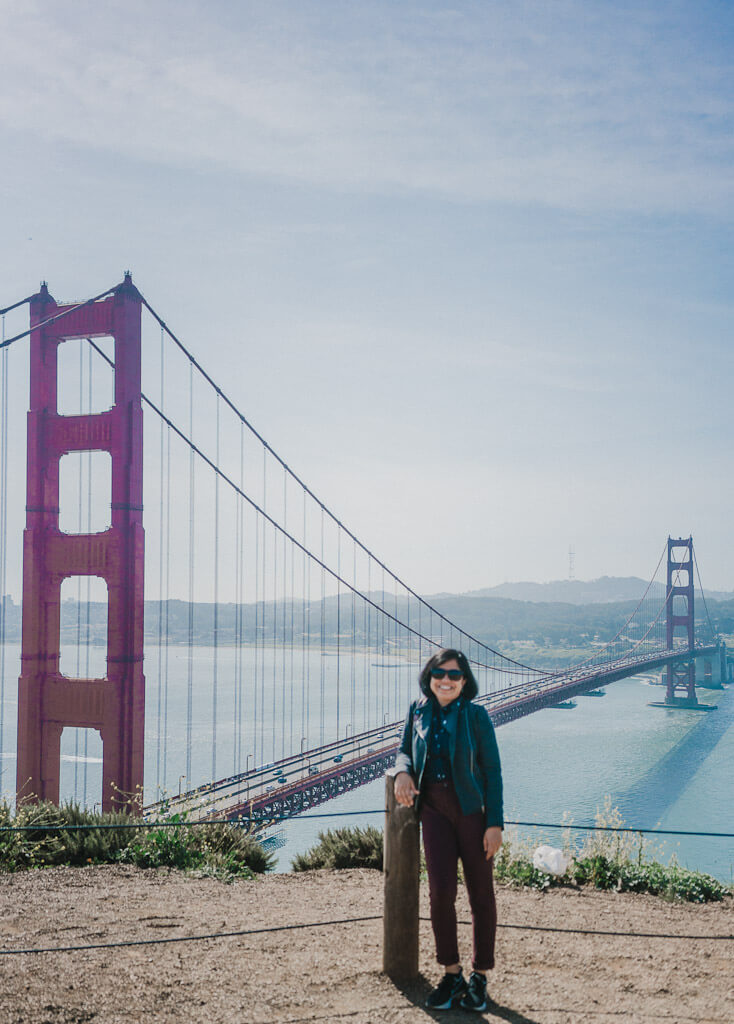 View from Battery Spencer at after 10 AM on a very bright day (see the stark shadow?)
Location: Conzelman Road in Marin Headlands
Tip: Arrive early, since the tiny parking lot gets filled in no time! This is a dog friendly site.
Getting there: Just type "Battery Spencer" in Google Maps and you can drive there
Conzelman road is dotted with old Batteries (coastal defence sites for cannon ball shooting guns) that are not only relics of the past but also serve as great vantage points or viewpoints for sweeping views of the bay, the bridge and the San Francisco skyline across it. Of all the batteries on Conzelman road, Battery Spencer is the undoubtedly the most popular one for viewing the bridge.
Battery Spencer is the easiest and most accessible spot for getting one of the best views of the Golden Gate Bridge from Marin Headlands. Many people argue that it is in fact THE MOST SPECTACULAR VIEW OF THE BRIDGE, but I disagree (scroll down to find out why). However, given the fact that you can drive all the way up to without additional hiking, makes it a pretty convenient spot for marvelling at the views.
Battery Spencer is our go to spot to bring in friends from out of town for the ethereal experience of viewing a sunrise at the Golden Gate Bridge. This is also where a lot of movies and commercials are shot for the bridge views. Despite this being a very popular spot with tourists, you can still get a great photo by standing anywhere along the fence because of the elevation and the angle.
BATTERY WAGNER
Location: next to Battery Spencer
Tip: Arrive early, since there is no additional parking lot and you need to park at Battery Spencer. Dogs not allowed on the trail leading to the battery.
Getting there: As you face the bridge, look to your bottom right. You will see a yellow gate on a trail with signs saying "Kirby Cove Beach". Go past that gate (gate is visible as you park and walk towards Battery Spencer viewing point) and within a few hundred feet you will see the Battery Wagner to your right. You can walk down the steep path to the battery or enjoy the views from the road itself.
Battery Wagner is that cousin of Battery Spencer that is pretty hidden and no one seems to go there. That is indeed a shame cause this is also another place in Marin Headlands to get a great view of the Golden Gate Bridge, minus the crazy crowds at Battery Spencer. Since this Battery is at a lower elevation, the bridge views are different (but still dramatic) as you climb onto its roof.
KIRBY COVE BEACH
Location: Hidden beach accessible via a trail next to Battery Spencer. This beach does not allow dogs.
Getting there: Park near Battery Spencer, locate the yellow gate to the bottom right and keep on walking down the windy trail till you reach the beach. The trail is about 0.8 miles with no cover/shade and it can get pretty hot during the day.
Good to know: Although Kirby Cove beach has its own parking lot, you cannot drive past the yellow gate if you do not have an overnight camping permit (yes Kirby Cove has its campground). So for day use, you have to near Battery Spencer and hike to the beach.
This local's favorite hidden beach is no longer that hidden, thanks to Instagram but is still way less crowded than Battery Spencer because not everyone wants to hike down a mile. You can get photos of the Golden Gate Bridge from the adjoining Battery Kirby or walk down to the sandy beach (there are two flights of steps leading to it) and enjoy bridge views from there with fewer people around. I recommend getting a picnic basket and enjoying the views either from the Battery or the beach itself.
If you're curious about the famous (or shall I say infamous) Kirby Cove Swing that folks put up on Instagram and Pinterest, don't be disappointed if you don't see one. In all my 12+ years of living in San Francisco, I am yet to encounter a swing in the major viewpoints in the city because these are put up by locals and promptly dismantled by park maintenance workers. Kirby Cove is also no exception. My bad luck chased me here as well and so I could see no signs of a swing during my visit.
Kirby Cove is not dog friendly. Just go to the nearby Rodeo Beach with many dog friendly trails to enjoy a day in the sun and sand.
HAWK HILL
Location: Conzelman road near Battery 129. This is a dog friendly site.
Tip: Arrive early, since the word is out and the parking lot gets filled up quickly
Getting there: Just keep on driving along Conzelman road till you see signs for Hawk Hill.
Hawk hill, just past the Golden Gate Bridge, is a hilly elevation near Battery 129 which gets its name from being the observing point of many a raptor (hawks and the like, thus the name Hawk hill). This is one of the very few sites maintained by the Golden Gate National Recreation Area which has a dog friendly trail.
Hawk Hill is famous for is the sight that it offers once you get to the top of this 0.57 trail of moderate hiking ability, which includes an unobstructed view of the bridge and is definitely one of the best places near Sausalito to photograph the Golden Gate bridge from. On a clear day, you can get a majestic view of the bridge, the Bay Bridge, Alcatraz and the San Francisco skyline!
Hawk hill is a favorite of birdwatchers in the fall season to observe the migration of hawks, condors and other raptors. This spot is a must visit if you want to have the best view of Golden Gate Bridge in Marin county and the surroundings and is a great Golden Gate bridge lookout point.
SLACKER RIDGE TRAIL
( AKA THE BEST GOLDEN GATE BRIDGE VIEWPOINT IN MARIN HEADLANDS)
Location: Across from Coastal Trail Parking. The trail does not allow dogs.
Getting there: In this step by step instructions, I will tell you exactly how to get to the trail because it is hidden and not at all obvious. First, type "Coastal Trail Parking" on Google Maps. This is the location where Conzelman road meets McCullough road at the turnabout. Now get to that parking lot and look across the road (opposite side).
You will see a gate from the parking lot-it will either be to your left or right, I am a little fuzzy on the details, but if you cannot see it directly across from the parking lot just carefully cross the road and you will see it at a stone's throw. Don't be scared, the gate is open, so just walk through it onto the trail. Follow the signs to the Slacker Ridge viewing area.
Slacker Ridge is the least known of all the viewpoints that undoubtedly has THE BEST VIEW of Golden gate Bridge in Marin Headlands. The hike up to it is a short one of about 0.6 miles, but a killer and is meant to test your gams to the max (this one ain't for any slacker). As you hike up, the trail bifurcates and you will see signs leading you to the viewing area.
Being at the highest elevation (atop Slacker Hill), you will get the most sweeping view of the bridge that is simply jaw dropping! The bridge spans majestically across the blue expanse of the Bay streaked with white boats and yachts. You will also get a great view of Alcatraz island in the distance. After getting a fill of this view, you can continue hiking on to the SCA trail or venture further down through the rolling hills, you will hit the bridge up and close at about 1.2 miles or so.
BATTERY RATHBONE-MCINDOE
Location: Conzelman Road in Marin Headlands. This is a dog friendly site.
Getting there: this little known viewpoint is located west of the secret black sands beach as you drive on Conzelman road towards Fort Barry. This battery has its own tiny parking lot.
This battery was a surprise find for us one sunny day as we were driving down Conzelman road after hiking the Julian trail. Since it is a bit distant from the bridge, you will get a breathtaking view of both the orange bridge and the waters from the very top, and this time without the crowds thronging Battery Spencer or Hawk Hill. I recommend enjoying the views with a picnic basket.
You can get onto the coastal trail from a gate on the other side of the road across from this battery. Fort Barry is just up the road and its chapel now serves as the Marin Headlands Visitor Center.
OTHER THINGS TO DO IN MARIN HEADLANDS BESIDES GOLDEN GATE BRIDGE VIEWS
Foggy day lookout from Point Bonita Lighthouse

The Marin Headlands is home to some of the most spectacular, scenic hikes criss crossing the peninsula and some of the best beaches in California, several of which like Kirby Cove and black sands beach remain a bit hidden. Here are some of my suggestions for hikes, beaches and scenic vista points:

1. Visit Point Bonita Lighthouse, one of the last functioning lighthouses on the west coast. Hours are Sundays and Mondays from 12:30 pm to 3:30 pm.

2. Spend some time with your pup at Rodeo Beach

3. Hike the scenic coastal trail (trailhead is accessible from Rodeo Beach) or go on the Julian Trail or inland Miwok trail. All these trails are dog friendly. Here is a list of all the trails that you can enjoy in Marin Headlands.

4. Discover the beauty of the hidden black sand beach

5. Explore the charming artsy town of Sausalito

I hope you enjoyed reading this post on the where to find the best Golden Gate Bridge Views in Marin Headlands! Thanks so much for stopping by and safe travels! Here's the location maps as promised for these Marin Headlands viewing points:

LIKE THIS POST? PIN IT FOR LATER

«