Last Updated on August 15, 2022 by Paroma
This dog friendly guide to Sausalito, California features recommendations on dog friendly activities in Sausalito, dog friendly Sausalito restaurants and how to make the best of your weekend in this artsy, seaside town. Read this guide to find out how incredibly dog friendly Sausalito is and plan your next getaway with your best friend today!
Disclaimer: This post may contain some affiliate links. Clicking on them may earn me a small commission at no extra cost to you for the product. Thank you for supporting free content on this site!
WHY SHOULD YOU VISIT SAUSALITO WITH YOUR DOG?
Sausalito is a small strip of a town saddled along the Richardson Bay and to your right the minute you cross the Golden Gate Bridge from the south. A perfect winter getaway in California, this Northern California beach town is filled with that rare European charm that you'll be hard pressed to find elsewhere!
This tiny town buzzing with art galleries and waterfront restaurants has tons of outdoor activities to enjoy with your pup-namely coastal hiking trails, scenic vista points, some of the most amazing views of Golden Gate Bridge and a super popular off-leash dog beach that your pup will enjoy as much as you! For these reasons and its proximity to San Francisco, I highly recommend staying overnight in Sausalito and soaking in the California way of living.
PLANNING A DOG FRIENDLY SAUSALITO VACATION? HERE ARE THE FAQs
WHERE IS SAUSALITO?
Sausalito is about 35 miles north of San Francisco International airport. The best way to get to Sausalito is via a car which you can rent from pretty much anywhere in San Francisco or the SFO airport. Depending on where you live in the city, it can take about 20-40 minutes to get to Sausalito.
ARE DOGS ALLOWED ON THE SAUSALITO FERRY?
The Golden Gate Bridge Ferry departs to Sausalito regularly from San Francisco's Ferry building Terminal B (see schedules and fares here). Pets are allowed on the ferry if they remain in an approved carrier throughout the trip duration. Pets are not allowed to sit on their owners laps or wander around off-leash. Read their full pet policy here.
DO SAUSALITO BEACHES ALLOW DOGS?
Rodeo Beach in Sausalito is an off-leash dog beach that is extremely popular with pet parents. Other beaches such as Black Sands Beach or Kirby Cove do not allow dogs.
HOW MANY DAYS SHOULD YOU SPEND IN SAUSALITO WITH YOUR DOG?
Sausalito is very tiny and you can pretty much see everything (plus do some hiking) in one day. I recommend staying overnight or adding one additional day to explore nearby Tiburon and Larkspur since they also have some fantastic hikes. Even a day trip from San Francisco is a good idea don't have a ton of time on your hands.
WHEN IS THE BEST TIME TO VISIT SAUSALITO?
Anytime is a great time since Sausalito has mild weather year round. Winter (Dec-Feb) does get rainy, so please be aware of that. Spring is definitely a great time to visit due to the greenery and wildflowers seen on coastal trails.
DOG FRIENDLY SAUSALITO HOTELS
During our very first staycation in Sausalito, we had the most memorable and unique experience of staying with our first dog Babu in a houseboat. The houseboat, docked to the Marina was tiny, but extremely functional.
The space was partitioned into a kitchenette area with a functional electric stove, and a small dining table. There were utensils inside the cabinet and a sink for washing. The other half was fashioned into a loft style bed and a small sofa/lounge area beneath it. A small door in the middle led to a shower. The boat had a front porch to relax and take in the beautiful sunset and an upper deck for even more lounging. The only caveat was that you'd have to get off the boat to the dock for accessing a proper restroom.
Sadly, this Airbnb listing is no longer available. However, there are some other great dog friendly hotels in Sausalito, such as Casa Madrona Hotel and Spa and Cavallo Point Lodge that you can check out.
THE BEST DOG FRIENDLY THINGS TO DO IN SAUSALITO
HIT THE MARIN HEADLANDS FOR THE BEST GOLDEN GATE BRIDGE VIEWS
The Marin Headlands is the hilly peninsula right across the bridge and is technically part of Sausalito. The winding Conzelman road running through this area is dotted with many vantage points for spectacular views of the Golden Gate Bridge, and some of the top ones are dog friendly. These are the Battery Spencer and Hawk Hill viewing points from where you must experience either a sunrise or sunset. Dress in layers cause it does get chilly here.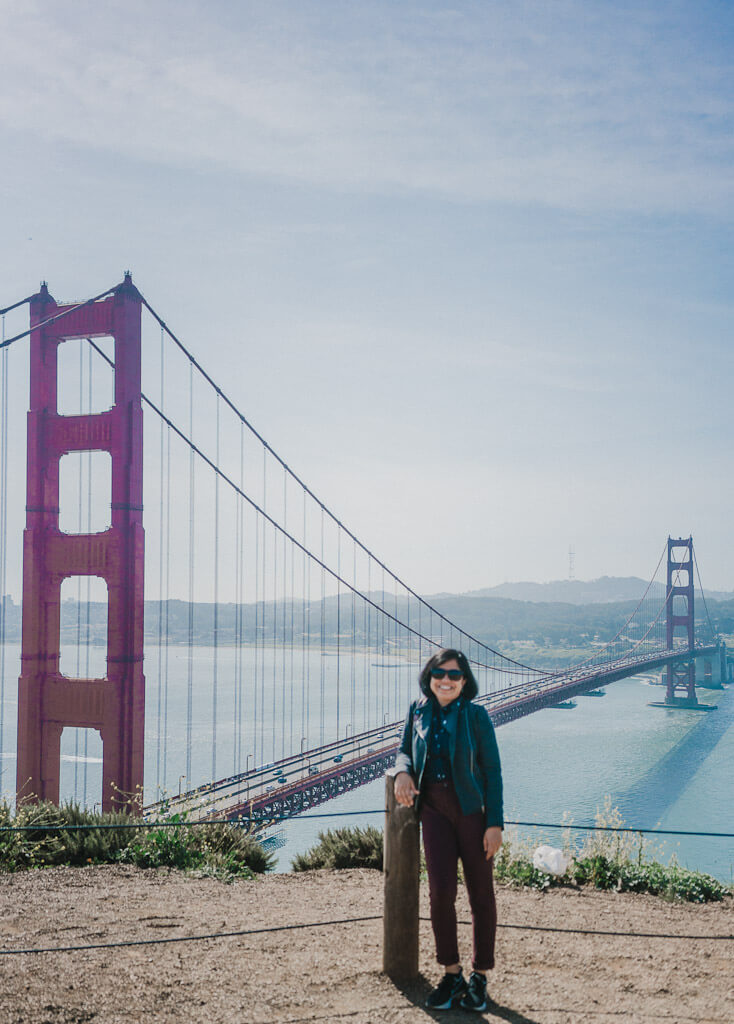 WALK DOWN SAUSALITO WATERFRONT
Sausalito is extremely dog friendly and almost all places are accessible to your pet. So there are a lot of things to do in Sausalito with your dog on a weekend getaway from San Francisco even though it is a tiny little town.
For starters, take a walk alongside the tiny rocky beach running parallel to Bridgeway road that runs through the downtown. You will get fantastic views of San Francisco across the waters and your dog will get some much needed exercise.
The harbor side is abuzz with people, cars and cyclists, so keeping your dog on a leash is a must. Keep an eye out for the Sea Lion Statue by artist Al Sybrian which is a key attraction of this rocky promenade.
Additionally, please be aware of marine life and mindful of your surroundings. Seals are often spotted swimming near the rocks and we saw one of them resting on the rocks as we strolled by. It was so nice to see the mindfulness of the residents who immediately stood near the rocks forming a human chain and diverted foot traffic from that spot so as not to cause the baby seal any stress.
EXPLORE DOWNTOWN SAUSALITO
Downtown Sausalito runs along Bridgeway promenade and is very picturesque with lots of boutiques, art galleries, ice-cream parlors, cafes and restaurants. There is a beautiful patch of green on one side, which is dedicated to its sister city in Chile with a tiny fountain to match.
Don't be afraid to venture into the tiny lanes that you may stumble upon cause they lead to a a flight of stairs opening into secluded neighborhoods with beautiful mansions and even more winding alleys, beautiful mosaic steps when you turn a corner or a splash of color via a cheery yellow water hydrant. Sausalito is whimsical and beautiful and the best way to discover these dog friendly Sausalito attractions is on foot and away from the touristy, harborside.
CHECK OUT THE SAUSALITO HARBOR/MARINA
The deck along Sausalito Marina is another good spot for walking your dog and does not have a lot of foot traffic. Keep an eye out for the replica of the Taj Mahal on of the docks.
EXPLORE RODEO BEACH (BEST DOG FRIENDLY BEACH IN SAUSALITO)
When in Sausalito with your dog, you have to hit Rodeo beach, one of the most popular off-leash dog friendly beaches in Marin County Unlike the Black Sands Beach or Kirby Cove beach (which is a great spot for viewing the Golden Gate Bridge from Marin Headlands), you can safely take your dog to this beach for some quality sun and sand time!
This dog friendly California beach itself is famous for the semi precious stones such as Jade and tourmaline, often found when sifting the sand (people are urged not to collect them). However, it was a blistery, cold day with chilly winds and so our stay was a short one.
GET GOING ON A SCENIC HIKE ALONG THE COASTAL TRAIL
Marin county is filled with many dog friendly hikes such as those in Tiburon , Mt. Tamalpais, Larkspur and Muir Beach overlook (this is also an excellent stop on Highway 1 on your way to Mendocino from San Francisco).
Sausalito, being near Marin Headlands, also has some terrific coastal hikes that allow dogs. The easiest dog friendly trail to get onto is the coastal trail that starts off from the Rodeo beach parking lot. The trail snakes along the bluffs atop the Pacific Ocean revealing dramatic views of the coastline.
Although the trail merges with several others crisscrossing all the way up to Muir Beach, many of those are not accessible to dogs. You can either do the 5.1 mile loop with Miwok Trail near the Old Bunker road or the smaller loop from the parking lot to Battery Townsley and back along a paved road.
DINE AT ONE OF THE MANY DOG FRIENDLY SAUSALITO RESTAURANTS
Dog Friendly Sausalito is a tiny strip of town, "tiny" in the literal sense of the word, as in you can simply whiz through the city in a couple of hours and you will be done.
Having said that it packs quite a punch in its small size and has several good dog friendly restaurants, most of which have outdoor seating. This includes the ones at harbor side leading to downtown and around it.
I recommend Bar Bocce (Italian) for its outdoor patio, Scoma's (they have an outdoor seating area right on the water and excellent seafood), Avatar's Burritos (Indian-Californian and funky to boot) and the super popular Fish as some of the places that you should try.
The other highly recommended dog friendly Sausalito restaurant for breakfast is the trendy and hep Cafe Cibo, which serves yummy breakfast food, pastries and hot caffeinated beverages of all kinds. The interior decor is minimalistic and chic and they also have a great outdoor seating area.
I hope you enjoyed reading this dog friendly Sausalito post to get lots of ideas for planning your next pet-friendly adventure in Sausalito and beyond. Read my guide to a secret beach in Sausalito here for more Sausalito attractions. You can follow my dog friendly California adventures here.

Like this post? Pin it here

«